RedBud Track 'n Trail
Buchanan

,

MI
Race Center: RedBud
Lucas Oil AMA Pro Motocross Championship
Welcome to the Racer X Race Day Feed, your one-stop shop for round six of Lucas Oil Pro Motocross from Buchanan, Michigan, at the RedBud National. We'll be updating this post throughout the day with news, notes, and results from qualifying and the motos, so be sure to check back throughout the day. You can also follow Racer X on Twitter, Instagram, and Facebook to stay up on all the action.
(Note: All updates will run top to bottom, starting with the morning report and going through the motos. So, make sure to scroll down for the latest.)
Morning Report
Lucas Oil Pro Motocross has made its annual Fourth of July weekend trek to Buchanan, Michigan, for round six of the championship from RedBud. What was once a hard clay base back in the 1980s and '90s has transformed into one of the best tracks on the circuit. Riders love it, the fans that aren't too "hydrated" love it, and the long, gradual declines will certainly play a factor today. The track did get rain on Friday morning, but the forecast is perfect for today with highs only expected in the low 80s.
One major difference you'll notice this year is the change to LaRocco's Leap. Created by RedBud's Tim Ritchie and Mike LaRocco back in 1992, the 125-plus foot jump has been recreated adjacent to the original leap. "LaRocco's Leap 2.0 is an exact replica of the original," said Ritchie. "It's about 80 feet to the south, running uphill on the same pitch with the same lip. And there's a considerably deeper landing area on the backside."
Added Mike LaRocco: "Tim and his crew obviously did a great job with it. The takeoff is pretty much exact, and the landing is longer and steeper. The S-turn leading into it will be interesting, a lot tougher than in the past. I think the 450s can do it from the inside lane, depending on how rough it gets. With multiple lines going the guy up front will definitely have the advantage, but that'll also allow for more passing opportunities."
In a press release, Ritchie said the reasoning behind the move was to allow room for new grandstands and to add some lap time and interest to the north side of the track.
The points chase in the 450 Class is tightening after Monster Energy Kawasaki's Eli Tomac dominated the second 450 moto at Muddy Creek last weekend. After his fourth moto win on the season (most in the class), Tomac is within four points of leader Blake Baggett. Last weekend, Baggett salvaged a ton of points as he charged back to third after being down in the first turn with Cooper Webb and Broc Tickle. The other 450 moto last weekend belonged to Jason Anderson, who finished second overall and is 19 points back in the championship. The racing this summer continues to be good.
Motocross 450 Standings - 2017
Full Standings
---
In the 250 Class, Zach Osborne is beginning to pull away. After his second moto win last weekend (he finished second overall) Osborne holds a 31 points lead over Alex Martin just five rounds in. Jeremy Martin, who won the overall at High Point, had several crashes last weekend and dropped to third in points, 36 behind Osborne.
Motocross 250 Standings - 2017
Full Standings
---
In injury news, Monster Energy Kawasaki's Josh Grant will race after suffering a forearm injury in practice at Muddy Creek last weekend. Grant, who elected to sit out both motos last Saturday, was initially ruled out by the team, who sent out a press release stating that he would miss this weekend. Grant then posted on his Instagram that he would be racing. We contacted a member of the team and they confirmed that Grant was feeling better and would be racing. For a full breakdown of who's in and who's out, check out our Injury Report.
Practice is almost underway, make sure to check back throughout the day.
First Sessions
The first set of practice sessions are done at RedBud and we have a surprise at the top of the 250 leaderboard. Prior to Muddy Creek, Shane McElrath told us his early season struggles were mainly due to an injury he sustained in supercross and that he expected to get back toward the front soon. He finished seventh overall at Muddy Creek—his best finish of the season—and has come out firing at RedBud.
McElrath set a 2:03.342 to take the top time by more than a second over Aaron Plessinger (2:04.460), who won the overall last week. RJ Hampshire finished third ahead of Dylan Ferrandis and Mitchell Harrison—the third Yamalube/Star Racing Yamaha rider in the top five.
Points leader Zach Osborne was sixth, followed by Jeremy Martin, Adam Cianciarulo, Alex Martin and Justin Hill.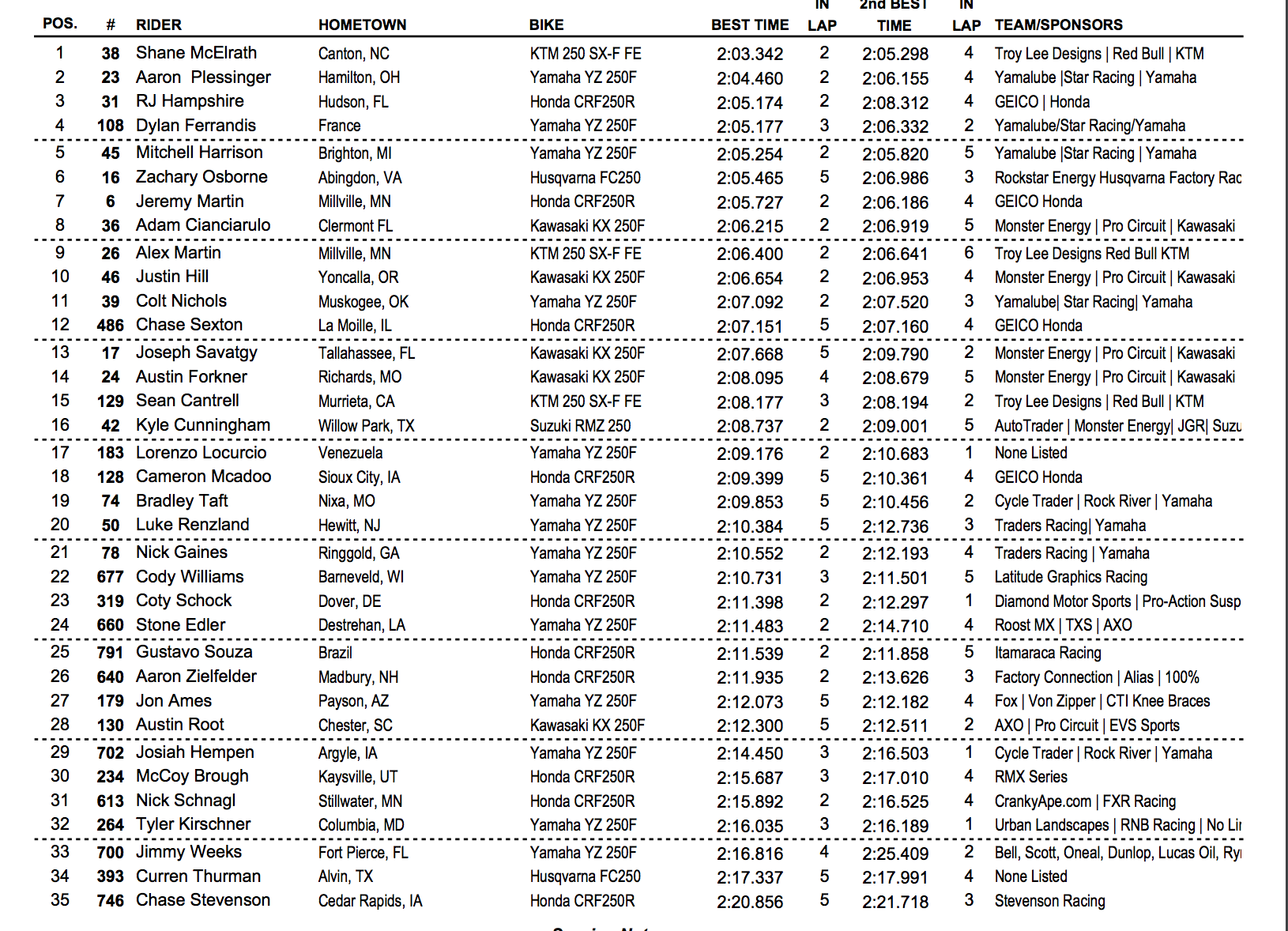 In the 450 Class, Blake Baggett stole the pole late in the first session with a 2:00.730. Marvin Musquin, who is riding with a torn meniscus, had the top time until Baggett put down a heater late. Musquin's 2:01.258 was second fastest.
Eli Tomac also held the top time at one point, but his 2:02.96 was only good enough for third. Broc Tickle, who scored a podium at RedBud in 2016, was fourth over Justin Barcia, Jason Anderson, Justin Bogle, Christian Craig, Cooper Webb and Josh Grant.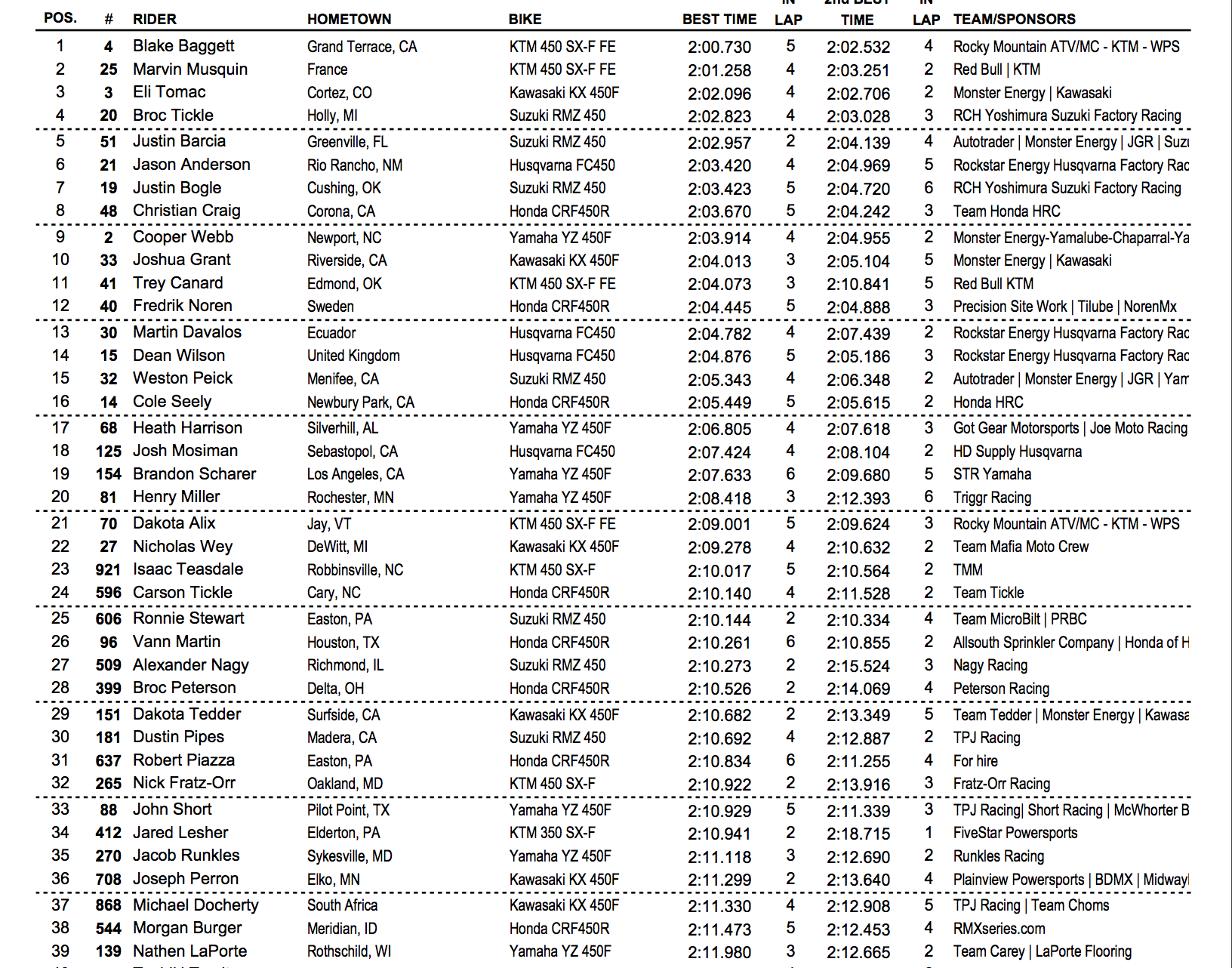 Second Sessions
Practice is complete at RedBud and points leader Zach Osborne captured pole in the 250 Class. In the first qualifying session, Osborne was just sixth fastest, but he bounced back in session two with a 2:02.558, which nearly three full seconds better than his first time. He was the only 250 rider to dip into the 2:02s in either practice.
Alex Martin was second quickest with a 2:03.292, which was a few tenths of a second faster than Shane McElrath. McElrath's 2:03.342, which was fastest in the first session, held up for third overall. Jeremy Martin was fourth fastest overall, followed by Aaron Plessinger, Justin Hill, Joey Savatgy, Adam Cianciarulo, Dylan Ferrandis and Austin Forkner.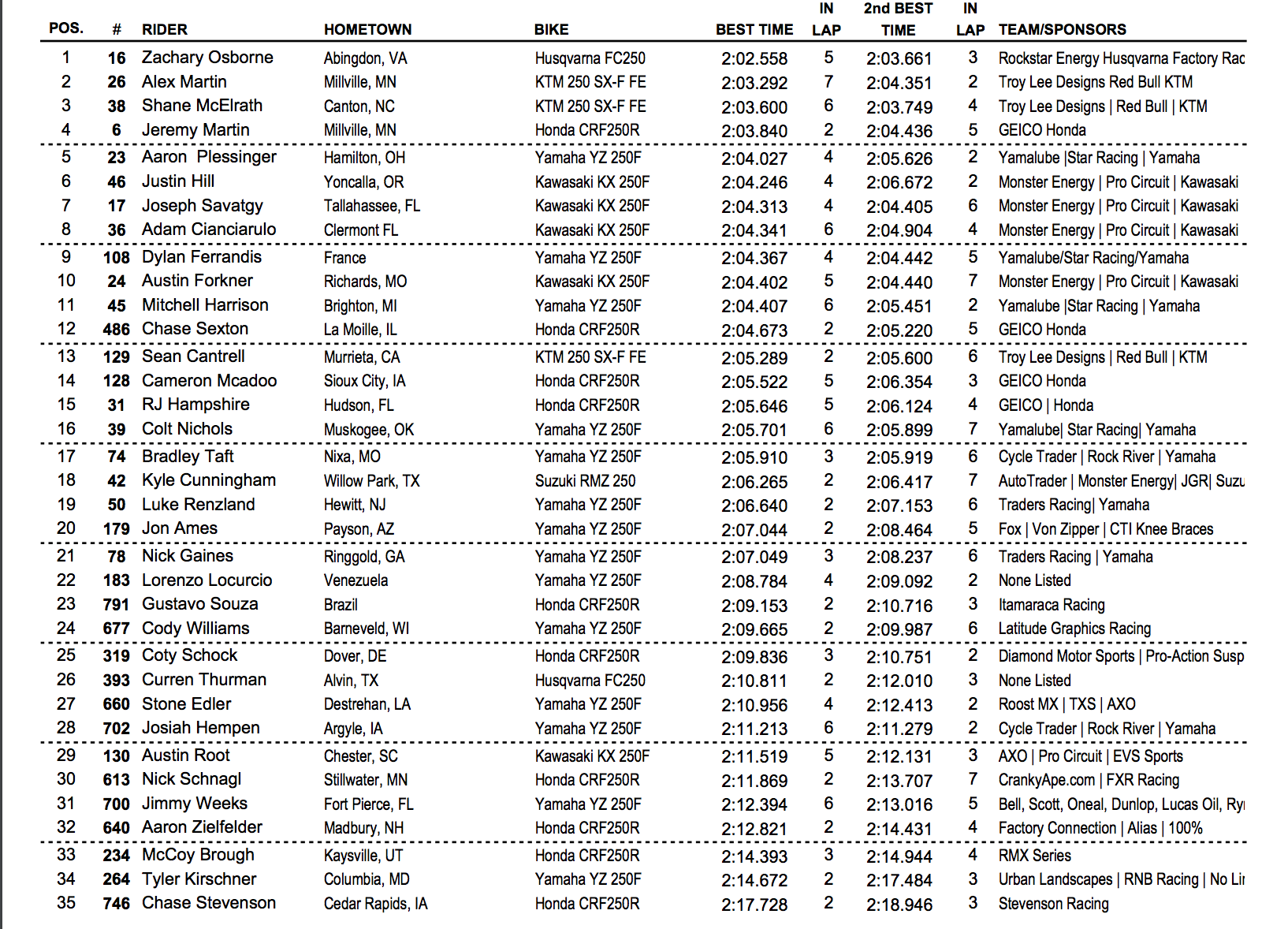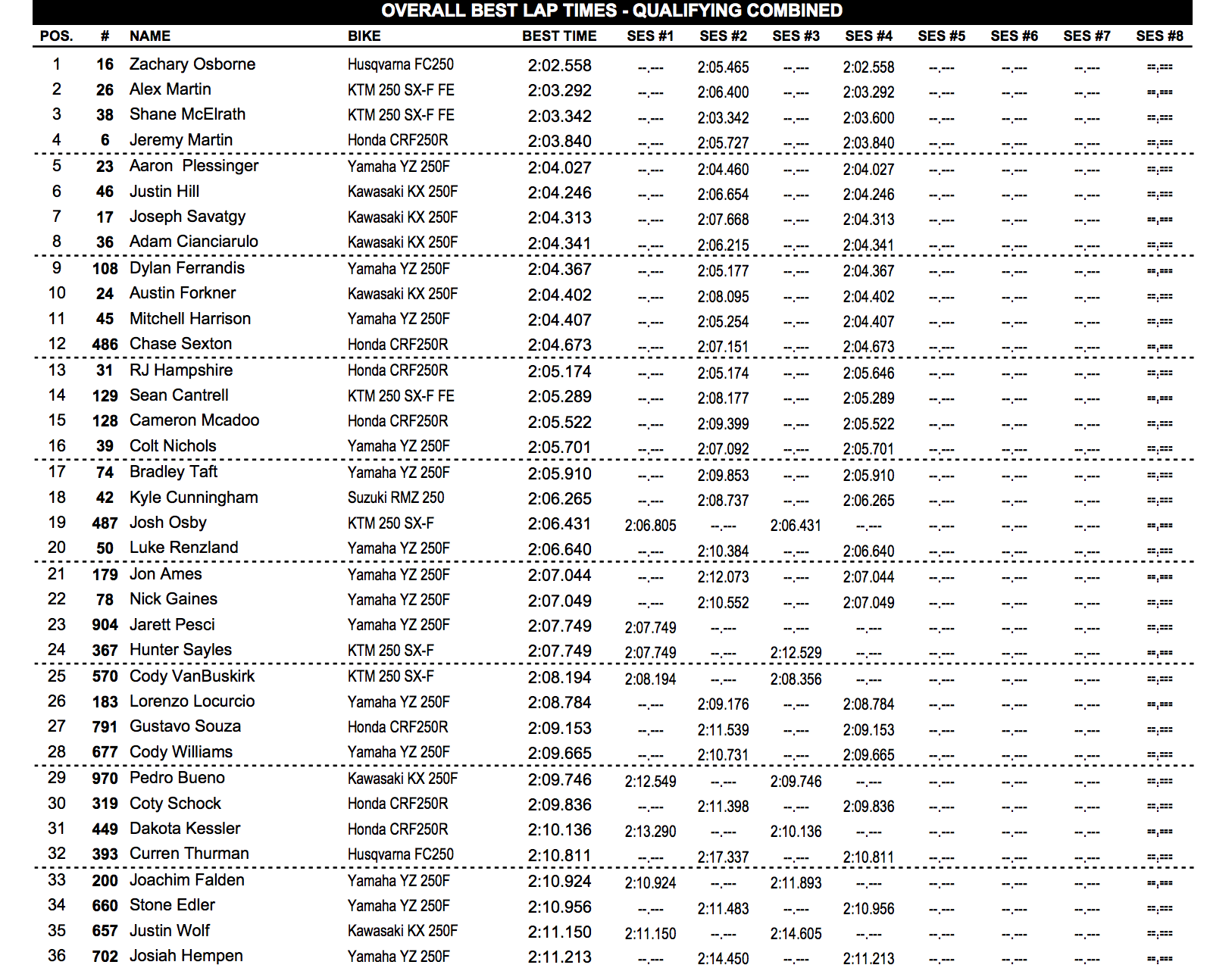 Things are tight at the top of the 450 Class. A good sign for Marvin Musquin and Red Bull KTM came in the second session as the former points leader set the fastest time with a 2:00.759. Musquin, who's been dealing with a knee injury, looks more in line with his early season form than the past two rounds. His time was quick enough to grab pole, though, as Blake Baggett's 2:00.730 from the first session held up.
Eli Tomac was the only other rider to run in the 2:00 range, setting the third quickest time with a 2:00.998. Broc Tickle only completed two laps in the second session (we're unsure what happened) but his first time was good enough for fourth overall. He's more than two seconds off the pace of Baggett and Musquin.
Justin Barcia finished fifth, followed by Cole Seely, Trey Canard, Jason Anderson, Justin Bogle and Martin Davalos.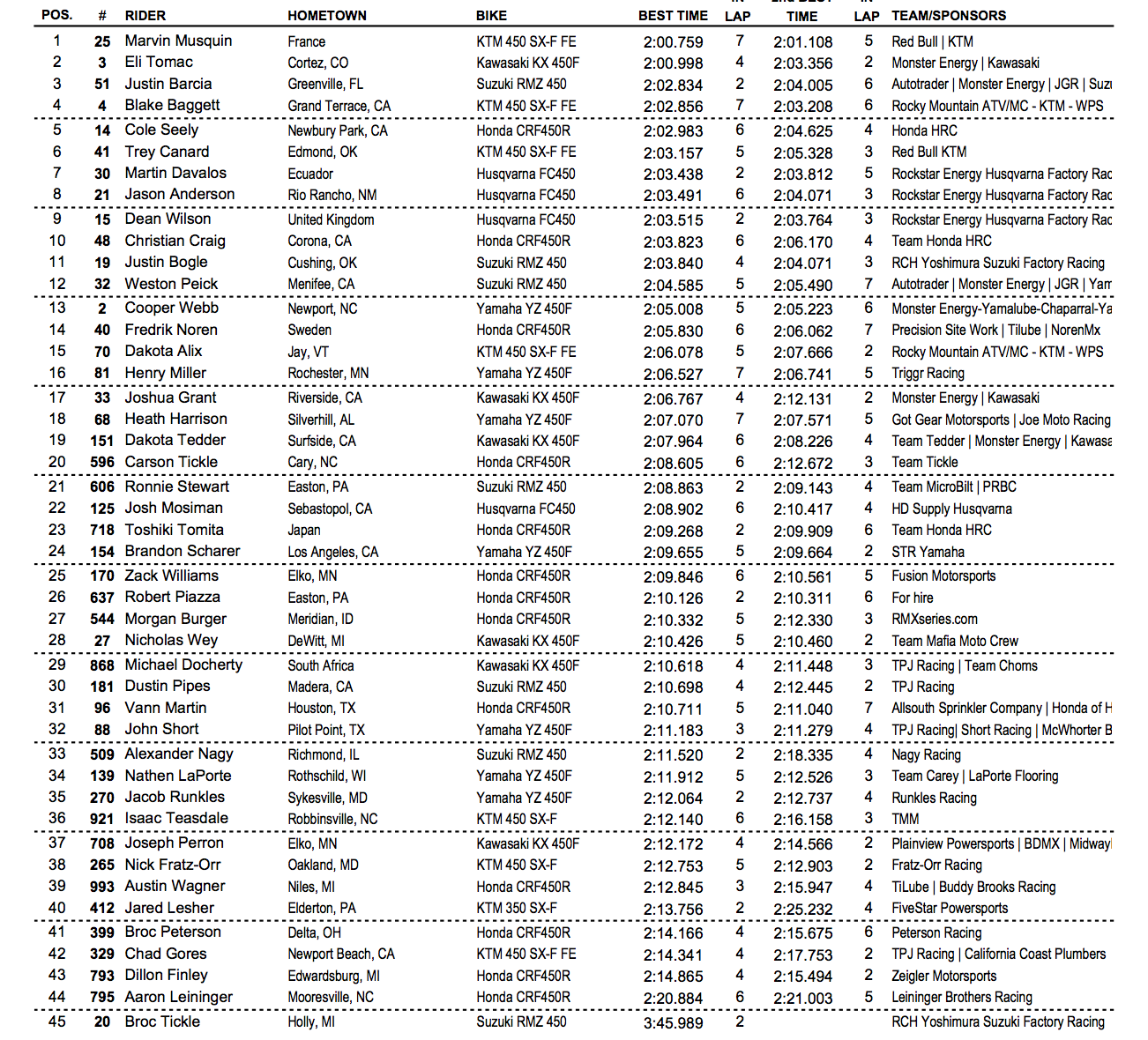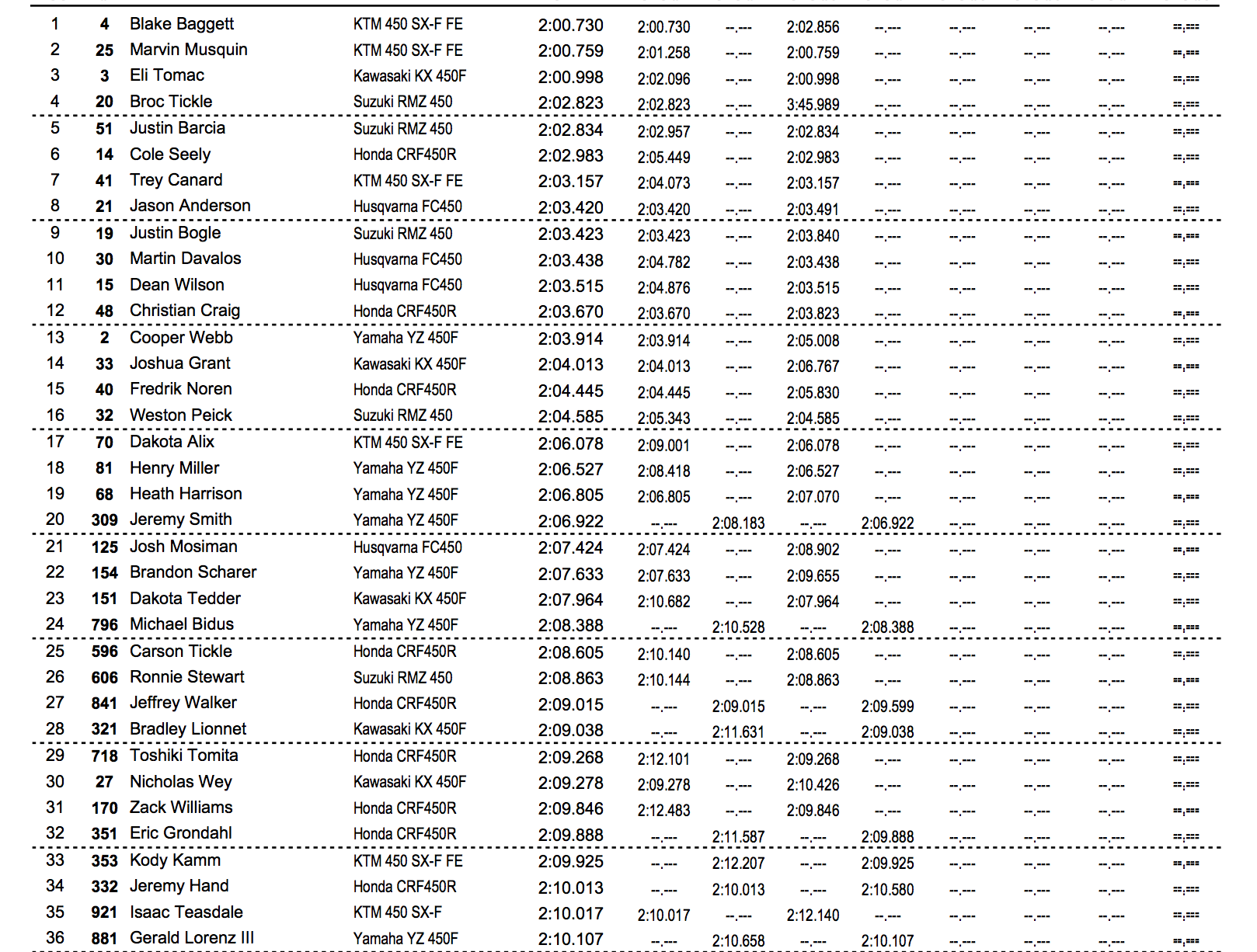 250 Moto One
Coming off a disappointing Muddy Creek last Saturday, Jeremy Martin needed to bounce back quickly at RedBud if he were to get back in the thick of the championship chase.
Jeremy got off to a quick start grabbing the holeshot in the first 250 moto. He had company in the form of points leader Zach Osborne, his brother Alex, Austin Forkner and RJ Hampshire.
Jeremy and Osborne were able to put a small gap on Alex early in the race. The two yo-yoed throughout the early part of the moto with Jeremy holding up under heavy pressure from Osborne. Jeremy appeared to have the moto in control as he built a three second lead late. But Osborne dug deep and put in another late charge—helped by the fact that Jeremy missed the two lap board by 24 seconds late in the moto—and closed to within a second with three laps to go. Jeremy was again up for the challenge and shook off Osborne late to capture the moto win by 4.6 seconds.
Alex finished third, 6.9 seconds behind his brother. Austin Forkner held off a late challenge by Yamalube/Star Racing teammates Dylan Ferrandis and Aaron Plessinger to take fourth.
Plessinger made a move in the rollers late in the moto to take over fifth from Ferrandis, but Ferrandis was able to rebound and retake the position. Mitchell Harrison finished seventh ahead of Adam Cianciarulo, who came from outside the top 10 to grab eighth. Shane McElrath and Colt Nichols rounded out the top 10.
Hampshire, who ran inside the top five for a good portion of the moto, had a mechanical late and DNFd.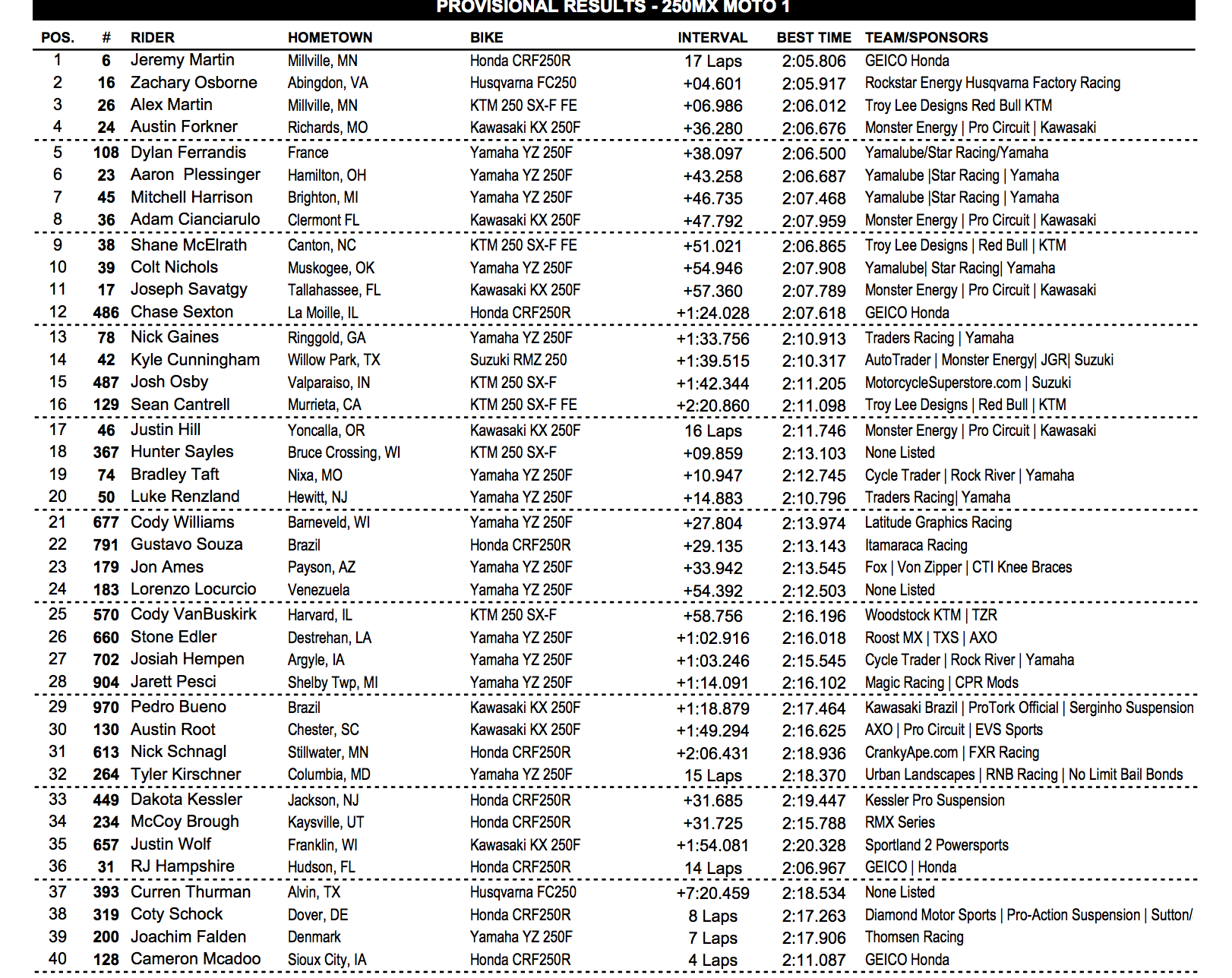 450 Moto One
Only one point separates Eli Tomac and Blake Baggett in the 450 Class after a wild first moto at RedBud.
The moto opened with two pileups off the start with Cooper Webb losing the front and ejecting into the track markers. Trey Canard, Weston Peick, and Broc Tickle were all held up by the crash. Webb would eventually pull out of the moto. Up front it was Christian Craig grabbing the holeshot in his return after missing Muddy Creek due to a hand injury. Marvin Musquin slotted into second with Blake Baggett in third. Eli Tomac was around eighth.
Baggett was super aggressive in the opening laps and it appeared he'd quickly jump out to an early lead. But after getting around Musquin early, his charged stalled, as Musquin eventually made the pass back. Meanwhile, Tomac was charging through the pack and quickly caught onto the rear of Baggett.
On the third lap, Musquin made the pass on Craig to take over the lead. On the same lap, Tomac got around Baggett for third and Craig for second. Three laps later Tomac would take over the lead for the first time in the race. Tomac began to open a small gap over Musquin and Baggett, who had moved into third. While his early moto charge stalled, Baggett would make a huge final push. With three minutes plus two to go, Baggett moved into second and began to cut into Tomac's lead. With a lap remaining, Baggett pulled to within a second, but Tomac responded, putting in his fastest lap of the race—2:03.084—to hold onto the moto win by 1.4 seconds. Baggett finished second ahead of Musquin.
The hard charge of the race belonged to Jason Anderson. Last week's moto one winner was in 20th after the first lap and came back to finish fourth. Craig held on for fifth over his teammate Cole Seely, who slid out early in the race while in fourth. Justin Barcia, Dean Wilson, Justin Bogle, and Josh Grant rounded out the top 10.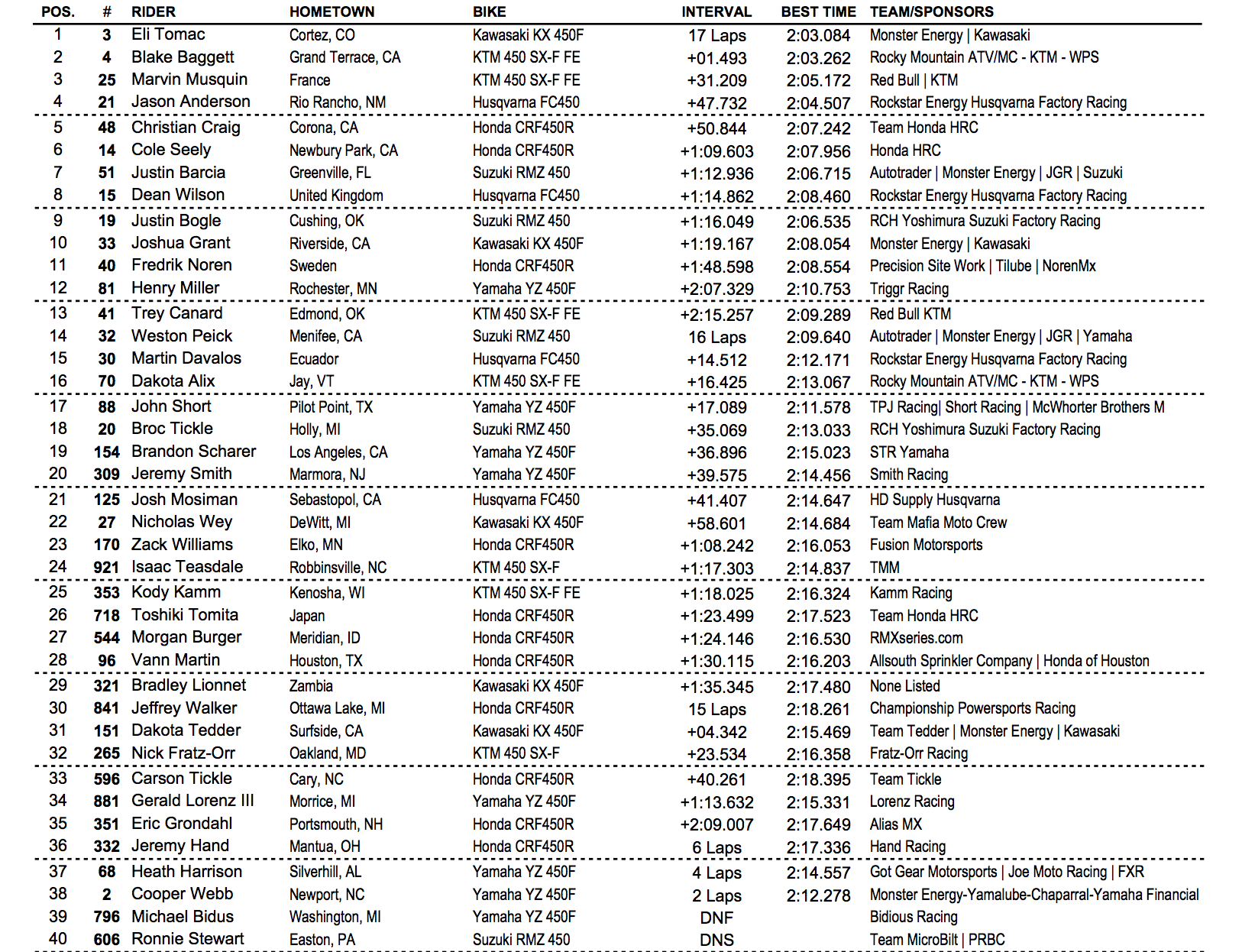 250 Moto Two
A familiar winner, costly mistakes from the Martin brothers, and a surprise podium performer, the second 250 moto at RedBud featured it all.
After his first moto win, Jeremy Martin was looking to capture his second overall on the year and grabbed his second holeshot on the day with Austin Forkner right behind. But entering the second corner, Jeremy went down, as did Forkner right behind him. He would come back from last to salvage eighth. Forkner finished 14th.
With his brother down, Alex Martin inherited the lead over Mitchell Harrison, Luke Renzland and Justin Hill. Zach Osborne, who finished second in the first moto, was around eighth.
Alex Martin held a comfortable four second lead for the majority of the moto and was inline to grab the overall over Osborne. But as Osborne began to make a late moto charge, Alex lost the front end entering the rollers with seven minutes plus two to go, which gave the lead to Harrison. Alex was able to remount in second, but in the corner prior to LaRocco's Leap, Osborne made the pass to take over second.
Osborne then began to make a charge at Harrison, the second year pro from Michigan. But Harrison rode like a veteran and held Osborne off for a brief time. With four laps to go, Osborne ducked to the inside after the rollers and moved into the lead. Harrison was still under pressure from Alex Martin and Dylan Ferrandis at the end of the moto and was in danger of finishing off the podium. Again, Harrison stood his ground and actually was catching Osborne on the final lap. He feel short of the win, but finished in second just .931 behind Osborne. Alex Martin took third, .996 behind Osborne, with Ferrandis in fourth, 1.6 seconds behind.
Justin Hill made a late pass on Renzland to capture fifth. Renzland, Chase Sexton, Jeremy Martin, Shane McElrath, and Joey Savatgy rounded out the top 10.
RedBud - 250
Pos

ition

Rider
Hometown
Motos
Machine
1

Zach Osborne

Abingdon, VA
2 - 1
Husqvarna FC250
2

Alex Martin

Millville, MN
3 - 3
KTM 250 SX-F FE
3

Jeremy Martin

Millville, MN
1 - 8
Honda CRF250R
4

Mitchell Harrison

Lansing, MI
7 - 2
Yamaha YZ 250F
5

Dylan Ferrandis

Avignon, France
5 - 4
Yamaha YZ 250F
6

Aaron Plessinger

Hamilton, OH
6 - 11
Yamaha YZ 250F
7

Austin Forkner

Richards, MO
4 - 14
Kawasaki KX 250F
8

Shane Mcelrath

Canton, NC
9 - 9
KTM 250 SX-F FE
9

Chase Sexton

La Moille, IL
12 - 7
Honda CRF250R
10

Joey Savatgy

Thomasville, GA
11 - 10
Kawasaki KX 250F
11

Adam Cianciarulo

Port Orange, FL
8 - 13
Kawasaki KX 250F
12

Justin Hill

Yoncalla, OR
17 - 5
Kawasaki KX 250F
13

Colt Nichols

Muskogee, OK
10 - 12
Yamaha YZ 250F
14

Luke Renzland

Hewitt, NJ
20 - 6
Yamaha YZ 250F
15

Kyle Cunningham

Aledo, TX
14 - 16
Suzuki RMZ 250
16

Nick Gaines

Ringgold, GA
13 - 18
Yamaha YZ 250F
17

Josh Osby

Valparaiso, IN
15 - 17
KTM 250 SX-F
18

Lorenzo Locurcio

Cairo, GA
24 - 15
Yamaha YZ 250F
19

Sean Cantrell

Murrieta, CA
16 - 21
KTM 250 SX-F FE
20

Bradley Taft

Nixa, MO
19 - 20
Yamaha YZ 250F
21

Hunter Sayles

Merrill, WI
18 - 28
KTM 250 SX-F
22

Gustavo Souza

Brazil
22 - 19
Honda CRF250R
23

Cody Williams

Barneveld, WI
21 - 23
Yamaha YZ 250F
24

Cody Vanbuskirk

Harvard, IL
25 - 22
KTM 250 SX-F
25

Jon Ames

Riverside, CA
23 - 25
Yamaha YZ 250F
26

Pedro Bueno

Brazil
29 - 24
Kawasaki KX 250F
27

Jarett Pesci

Shelby Twp, MI
28 - 27
Yamaha YZ 250F
28

Austin Root

Chester, SC
30 - 26
Kawasaki KX 250F
29

Nick Schnagl

Stillwater, MN
31 - 30
Honda CRF250R
30

Stone Edler

Destrehan, LA
26 - 36
Yamaha YZ 250F
31

Tyler Kirschner

Columbia, MD
32 - 32
Yamaha YZ 250F
32

McCoy Brough

Kaysville, UT
34 - 31
Honda CRF250R
33

Josiah Hempen

Argyle, IA
27 - 38
Yamaha YZ 250F
34

Curren Thurman

37 - 29
Husqvarna FC250
35

Justin Wolf

franklin, WI
35 - 33
Kawasaki KX 250F
36

Dakota Kessler

Farmingdale, NJ
33 - 37
Honda CRF250R
37

Joachim Falden

Denmark
39 - 34
Yamaha YZ 250F
38

Coty Schock

Dover, DE
38 - 35
Honda CRF250R
39

R.J. Hampshire

Hudson, FL
36 - 39
Honda CRF250R
40

Cameron McAdoo

Sioux City, IA
40 - 40
Honda CRF250R
Full Results
Motocross 250 Standings - 2017
Pos

ition

Rider
Hometown
Points
1

Zach Osborne

Abingdon, VA
501
2

Jeremy Martin

Millville, MN
420
3

Adam Cianciarulo

Port Orange, FL
374
4

Aaron Plessinger

Hamilton, OH
337
5

Joey Savatgy

Thomasville, GA
324
6

Dylan Ferrandis

Avignon, France
305
7

Colt Nichols

Muskogee, OK
303
8

Alex Martin

Millville, MN
296
9

Mitchell Harrison

Lansing, MI
279
10

Shane Mcelrath

Canton, NC
248
11

R.J. Hampshire

Hudson, FL
222
12

Chase Sexton

La Moille, IL
188
13

Austin Forkner

Richards, MO
184
14

Sean Cantrell

Murrieta, CA
176
15

Luke Renzland

Hewitt, NJ
141
16

Kyle Cunningham

Aledo, TX
134
17

Nick Gaines

Ringgold, GA
124
18

Lorenzo Locurcio

Cairo, GA
119
19

Justin Hill

Yoncalla, OR
110
20

Bradley Taft

Nixa, MO
90
Full Standings
450 Moto Two
We have a new points leader in the 450 Class after a huge shakeup in the championship in the second moto at RedBud.
Blake Baggett grabbed the holeshot in the second moto, but was quickly passed by Justin Barcia. Jason Anderson was running third, with Eli Tomac not far behind. Anderson quickly went on the attack and tried to get around Baggett on the opening lap for second. Their lines ended up coming together and Baggett went down. He would round lap one in 35th (out of 36).
By the fifth lap, Tomac had finally made his way around Anderson and into second. He began to pressure Barcia for the lead, but couldn't make anything stick. On lap seven, under heavy pressure from Tomac, Barcia lost the rear and went down. He remounted in fifth, and finished the moto in sixth.
Once into the lead, Tomac steadily stretch the gap over Anderson. In the end, he won the moto by 15.7 seconds. Anderson took second. Marvin Musquin finished third ahead of Weston Peick and Josh Grant. Barcia took sixth ahead of Justin Bogle, Dean Wilson, and Cole Seely.
Unlike Thunder Valley or Muddy Creek, Baggett had trouble moving through the pack in the second moto. But he charged all the way to the finish and gained two valuable spots on the final lap, passing Christian Craig and Trey Canard to grab 10th.
Tomac now holds a 13 point lead in the championship over Baggett.
RedBud - 450
Pos

ition

Rider
Hometown
Motos
Machine
1

Eli Tomac

Cortez, CO
1 - 1
Kawasaki KX 450F
2

Jason Anderson

Edgewood, NM
4 - 2
Husqvarna FC450
3

Marvin Musquin

La Reole, France
3 - 3
KTM 450 SX-F FE
4

Blake Baggett

Grand Terrace, CA
2 - 10
KTM 450 SX-F FE
5

Justin Barcia

Monroe, NY
7 - 6
Suzuki RMZ 450
6

Josh Grant

Riverside, CA
10 - 5
Kawasaki KX 450F
7

Cole Seely

Newbury Park, CA
6 - 9
Honda CRF450R
8

Justin Bogle

Cushing, OK
9 - 7
Suzuki RMZ 450
9

Dean Wilson

Scotland, United Kingdom
8 - 8
Husqvarna FC450
10

Weston Peick

Wildomar, CA
14 - 4
Suzuki RMZ 450
11

Christian Craig

Hemet, CA
5 - 12
Honda CRF450R
12

Trey Canard

Shawnee, OK
13 - 11
KTM 450 SX-F FE
13

Fredrik Noren

Sweden
11 - 14
Honda CRF450R
14

Martin Davalos

Quito, Ecuador
15 - 13
Husqvarna FC450
15

Henry Miller

Rochester, MN
12 - 16
Yamaha YZ 450F
16

John Short

Pilot Point, TX
17 - 15
Yamaha YZ 450F
17

Broc Tickle

Holly, MI
18 - 17
Suzuki RMZ 450
18

Dakota Alix

Jay, VT
16 - 40
KTM 450 SX-F FE
19

Dakota Tedder

Surfside, CA
31 - 18
Kawasaki KX 450F
20

Toshiki Tomita

Kanazawa, Japan
26 - 19
Honda CRF450R
21

Brandon Scharer

Gardena, CA
19 - 33
Yamaha YZ 450F
22

Nicholas Wey

DeWitt, MI
22 - 20
Kawasaki KX 450F
23

Jeremy Smith

Marmora, NJ
20 - 21
Yamaha YZ 450F
24

Josh Mosiman

Sebastopol, CA
21 - 23
Husqvarna FC450
25

Zack Williams

Elko, MN
23 - 24
Honda CRF450R
26

Kody Kamm

Kenosha, WI
25 - 26
KTM 450 SX-F FE
27

Morgan Burger

Nampa, ID
27 - 28
Honda CRF450R
28

Carson Tickle

Cary, NC
33 - 25
Honda CRF450R
29

Bradley Lionnet

South Africa
29 - 30
Kawasaki KX 450F
30

Isaac Teasdale

Robbinsville, NC
24 - 35
KTM 450 SX-F
31

Nick Fratz

Oakland, MD
32 - 29
KTM 450 SX-F
32

Ronnie Stewart

Easton, PA
40 - 22
Suzuki RMZ 450
33

Jeremy Hand

Mantua, OH
36 - 27
Honda CRF450R
34

Jeffrey Walker

Ottawa Lake, MI
30 - 34
Honda CRF450R
35

Vann Martin

Houston, TX
28 - 36
Honda CRF450R
36

Gerald Lorenz III

Morrice , MI
34 - 31
Yamaha YZ 450F
37

Eric Grondahl

Portsmouth, NH
35 - 32
Honda CRF450R
38

Cooper Webb

Newport, NC
38 - 37
Yamaha YZ 450F
39

Heath Harrison

Silverhill, AL
37 - 39
Yamaha YZ 450F
40

Michael Bidus

Washington, MI
39 - 38
Yamaha YZ 450F
Full Results
Motocross 450 Standings - 2017
Pos

ition

Rider
Hometown
Points
1

Eli Tomac

Cortez, CO
470
2

Marvin Musquin

La Reole, France
453
3

Blake Baggett

Grand Terrace, CA
451
4

Dean Wilson

Scotland, United Kingdom
340
5

Cole Seely

Newbury Park, CA
330
6

Justin Bogle

Cushing, OK
308
7

Weston Peick

Wildomar, CA
268
8

Cooper Webb

Newport, NC
268
9

Martin Davalos

Quito, Ecuador
263
10

Jason Anderson

Edgewood, NM
216
11

Christian Craig

Hemet, CA
216
12

Fredrik Noren

Sweden
202
13

Justin Barcia

Monroe, NY
191
14

Dakota Alix

Jay, VT
152
15

Broc Tickle

Holly, MI
146
16

Josh Grant

Riverside, CA
143
17

Henry Miller

Rochester, MN
108
18

Matt Bisceglia

Weatherford, TX
78
19

Benny Bloss

Oak Grove, MO
73
20

John Short

Pilot Point, TX
70
Full Standings