Muddy Creek Raceway
Blountville

,

TN
Race Center: Tennessee
Lucas Oil AMA Pro Motocross Championship
Welcome to the Racer X Race Day Feed, your one-stop shop for round five of Lucas Oil Pro Motocross from Blountville, Tennessee, at the Muddy Creek National. We'll be updating this post throughout the day with news, notes, and results from qualifying and the motos, so be sure to check back throughout the day. You can also follow Racer X on Twitter, Instagram, and Facebook to stay up on all the action.
(Note: All updates will run top to bottom, starting with the morning report and going through the motos. So, make sure to scroll down for the latest.)
Morning Report
Jason Weigandt likes to say: "Don't predict on Tuesday a mud race on Saturday." Despite the best efforts of Tropical Storm Cindy a perfect forecast is set for round five of the Lucas Oil Pro Motocross Championship from Muddy Creek Raceway in Blountville, Tennessee.
And we need it. The championship has been too good to throw in a mudder. A three-way title fight has broken out in a 450 Class that seemed destined to belong to Eli Tomac prior to the start of the season. After consecutive overall wins—the first of his career—Blake Baggett enters the weekend with an eight-point lead over Marvin Musquin and holds the red plates for the first time in his 450 career.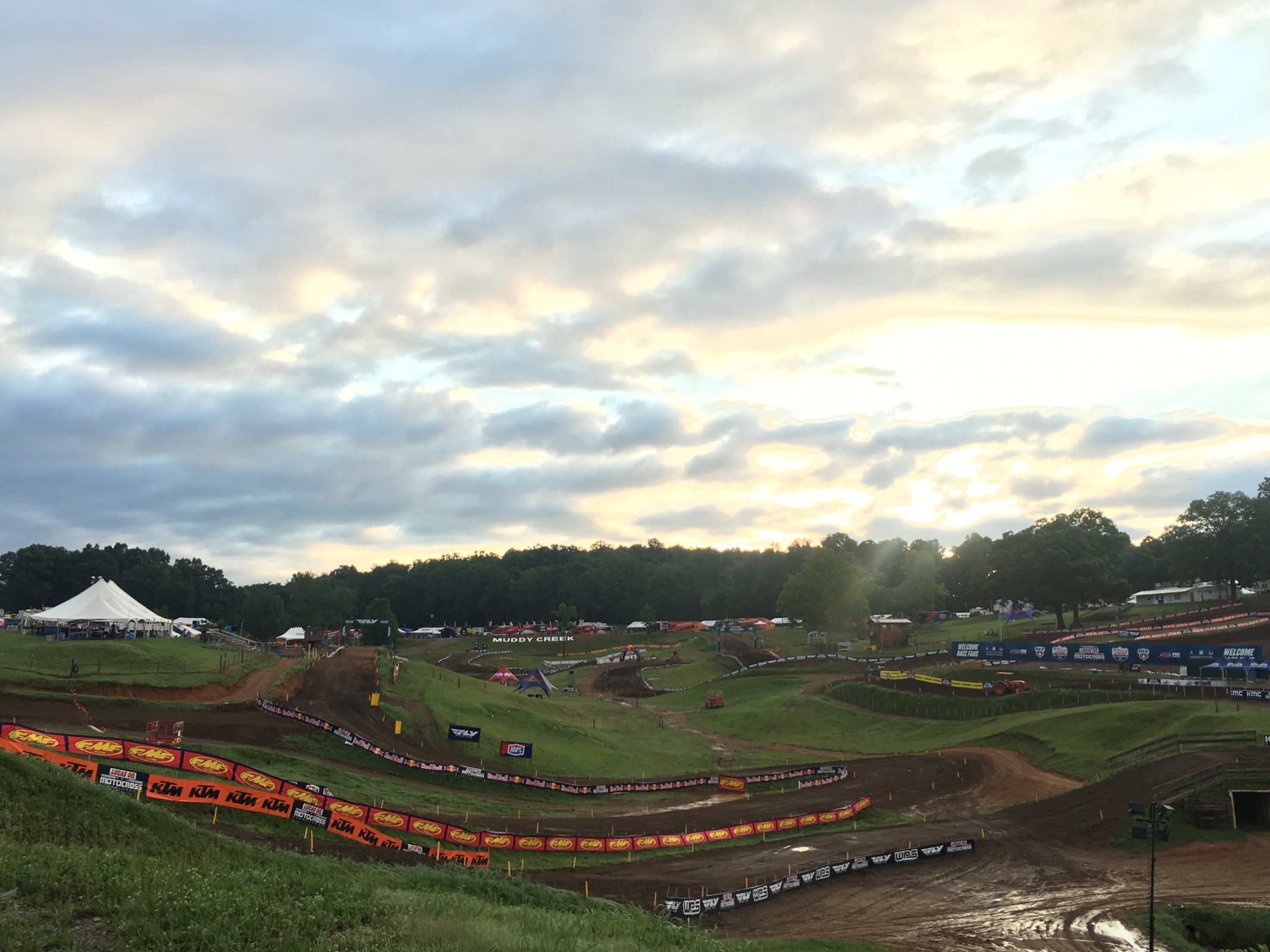 The big news from the Musquin camp came last week prior to High Point. On Thursday before the race, Musquin tore the meniscus in his left knee and struggled to 16-6 finishes that afternoon. Jason Weigandt spoke to Musquin on press day Thursday and he said the knee is feeling much better this week and he even rode in Florida and it felt good. Press day was cancelled due to rain on Thursday, but Musquin did get to test his knee on Friday for the rescheduled press day session. We'll have to wait and see how Musquin holds up under two 30 minute plus motos.
Motocross 450 Standings - 2017
Full Standings
---
If Musquin is unable to get back to 100 percent, Baggett and Tomac may run away with this title. In the eight motos run this year, the two have combined for five moto wins (Tomac 3; Baggett 2) and were a step above the rest at High Point last weekend. Tomac was able to rebound last Saturday, picking up his first moto win since Hangtown in the second moto (he crashed in moto one and finished 12th) and trails Baggett by 11 entering the weekend.
In the 250 Class, 10 riders enter every moto with a legit chance of winning. But, whether through crashes or bike problems, the points chase has become a two-way race, as Jeremy Martin (18 back) is the only rider within 20 points of leader Zach Osborne. After dealing with a virus at Thunder Valley, Osborne was back to 100 percent last weekend and it showed. He followed a commanding win in the first moto with a come-from-behind second in moto two to split the overall in points with Jeremy Martin (Martin won the tie-breaker). Martin, the two-time 250MX champion, has been hot since a DNF in the opening moto of the year. He's only finished outside the top three once (seventh in Glen Helen second moto) and captured his first overall last weekend since leaving Yamalube/Star Racing Yamaha for GEICO. Muddy Creek is Osborne's "home" race, as the Virginia native raced here throughout his amateur career, so Martin will have a challenge on his hands today.
Motocross 250 Standings - 2017
Full Standings
---
In injury news, Red Bull KTM's Trey Canard is back a week earlier than anticipated. Canard's first season with the team has been riddled with injuries, as he competed in just six rounds of Monster Energy Supercross and missed the first four rounds of Lucas Oil Pro Motocross. Canard rode the rescheduled press day on Friday, and will make his debut today. We've been told that AutoTrader.com/JGR Suzuki's Justin Barcia, who missed High Point after hitting his head in practice, will attempt to ride practice and see how he feels. For a full rundown on the injury front, check out our Injury Report.
All the motos are live today either on TV or the NBC Sports Gold app. First motos can be seen on MAVTV beginning at 1:00 p.m. EST with second motos switching over to NBC Sports Network at 3:00 p.m. EST. Practice is almost underway, check back later for a full report.
First Qualifying Sessions
Less than one second is all that separated the top ten in the 250 Class in the first qualifying session of the day. Further, the top 15 were all in the 1:53 range with Jeremy Martin taking the top spot with a 1:52.311.
There was a lot of shuffling early in the session with Shane McElrath, Austin Forkner and Alex Martin all holding the top spot at points. In the end it was Martin snipping Adam Cianciarulo (1:52.330). Alex Martin was third, followed by Forkner, McElrath, Zach Osborne, Justin Hill, RJ Hampshire, Joey Savatgy and Mitchell Harrison.
The surprise of the first session: Aaron Plessinger (13th) and Dylan Ferrandis (16th) falling outside the top ten.
Justin Barcia was a question mark entering the weekend after hitting his head in qualifying at High Point and sitting out the motos. Yet, in the first session Barcia jumped to the top early with a 1:51.679. His time looked like it would stand up until Jason Anderson put in a heater late in the moto to just clip Barcia with a 1:51.030. Eli Tomac took third with a 1:52.381.
In his first Lucas Oil Pro Motocross race of the year, Trey Canard was fourth fastest with a 1:52.613. Dean Wilson finished fifth ahead of points leader Blake Baggett. Josh Grant, Broc Tickle, Justin Bogle and Cooper Webb rounded out the top ten.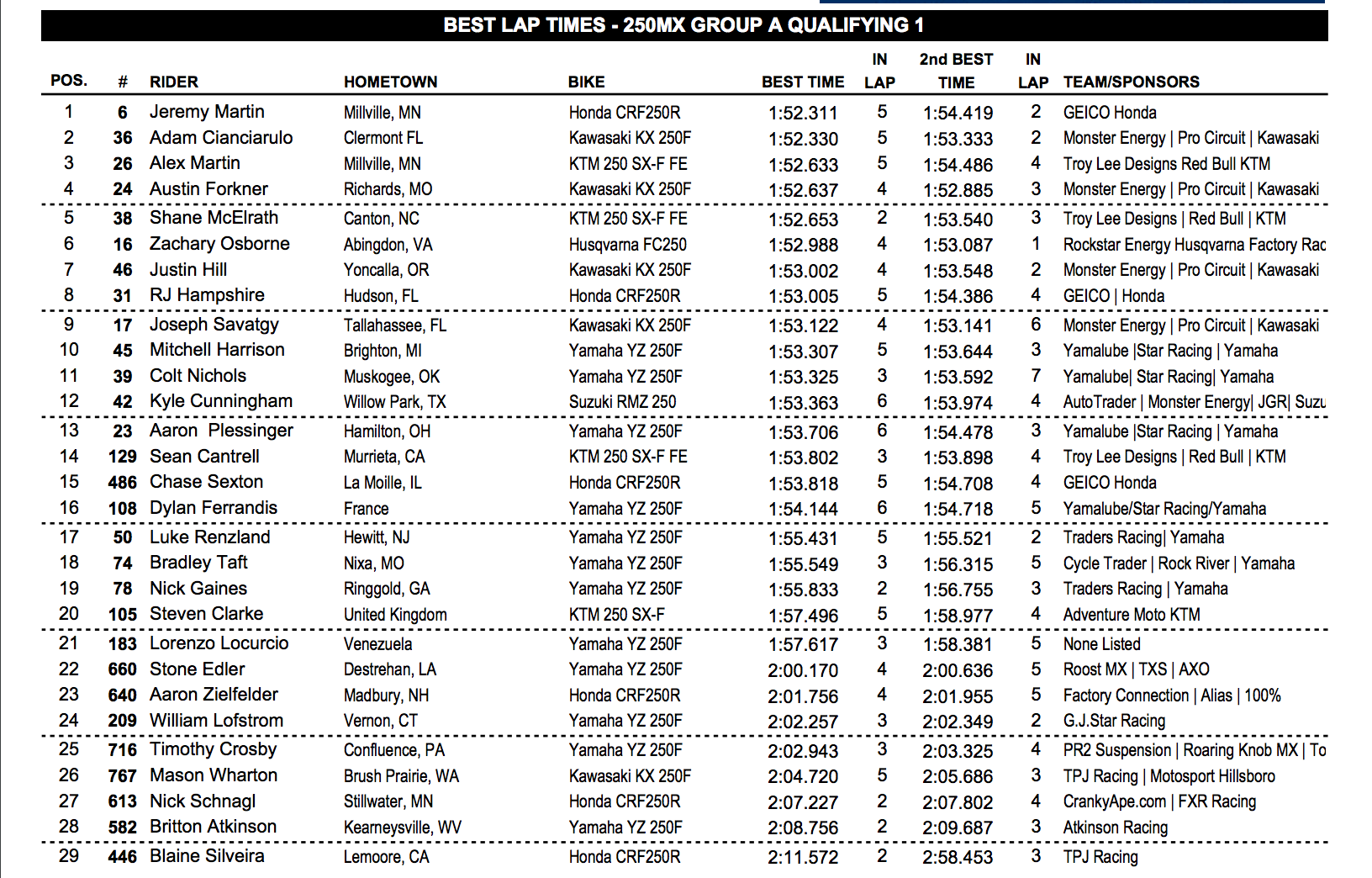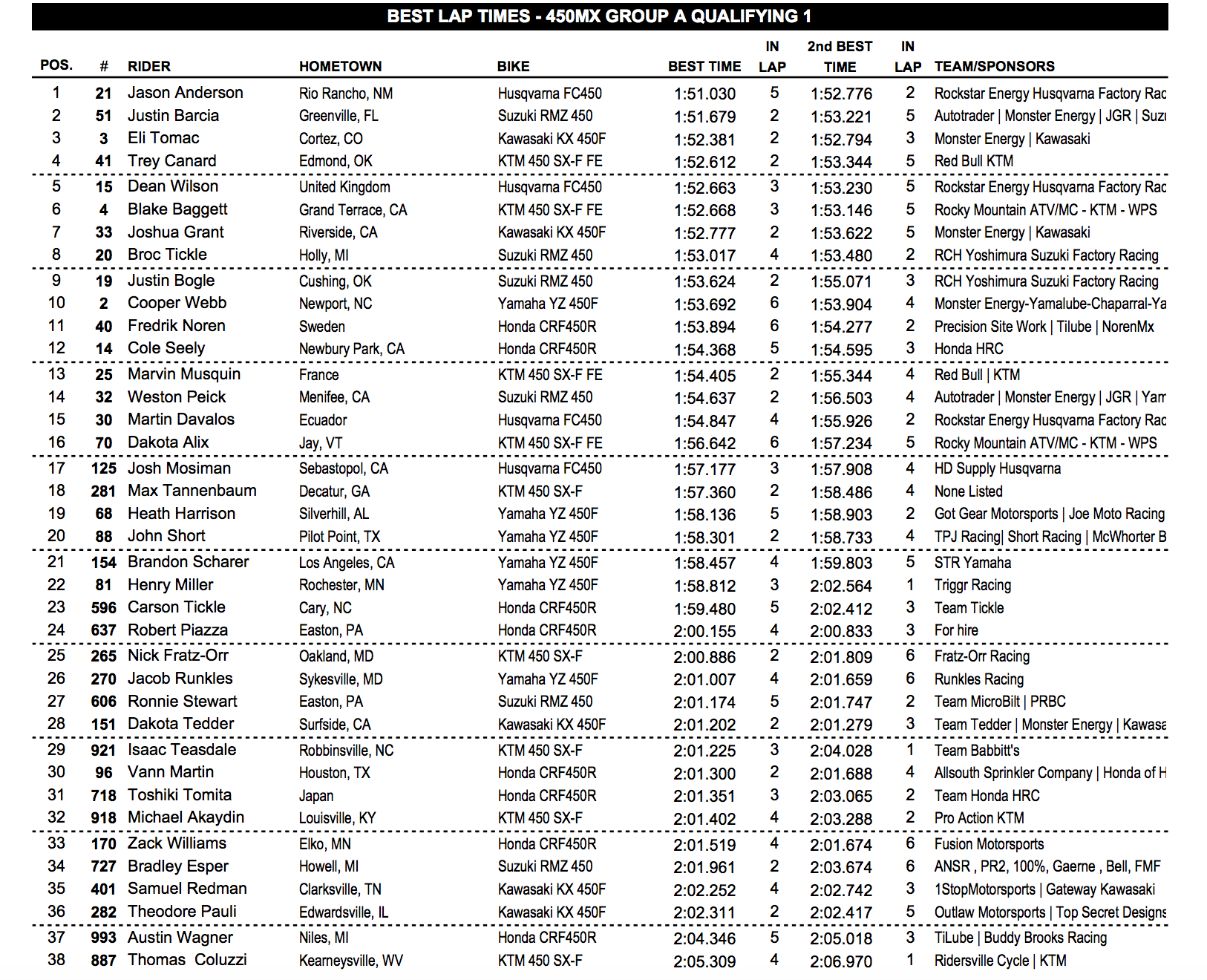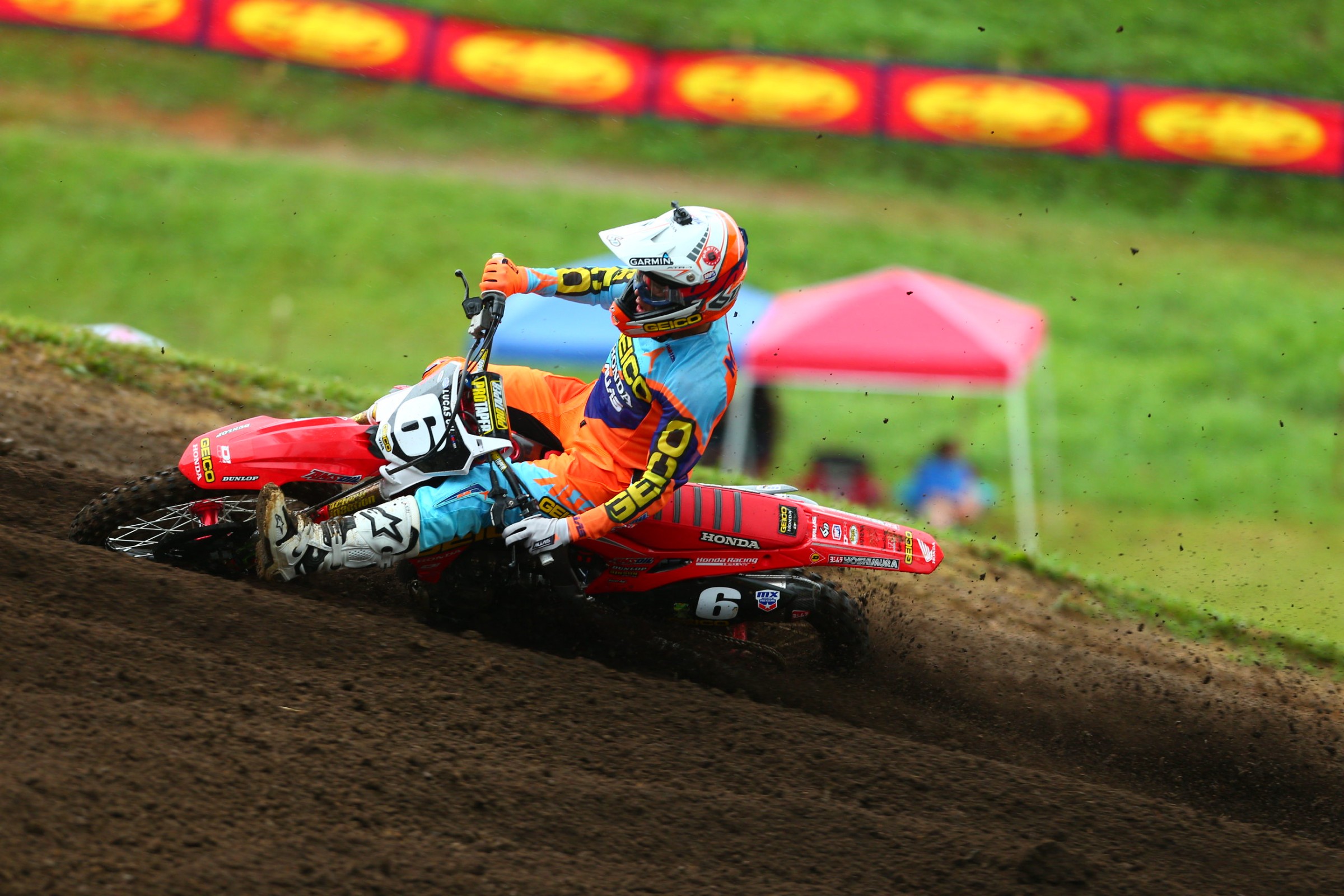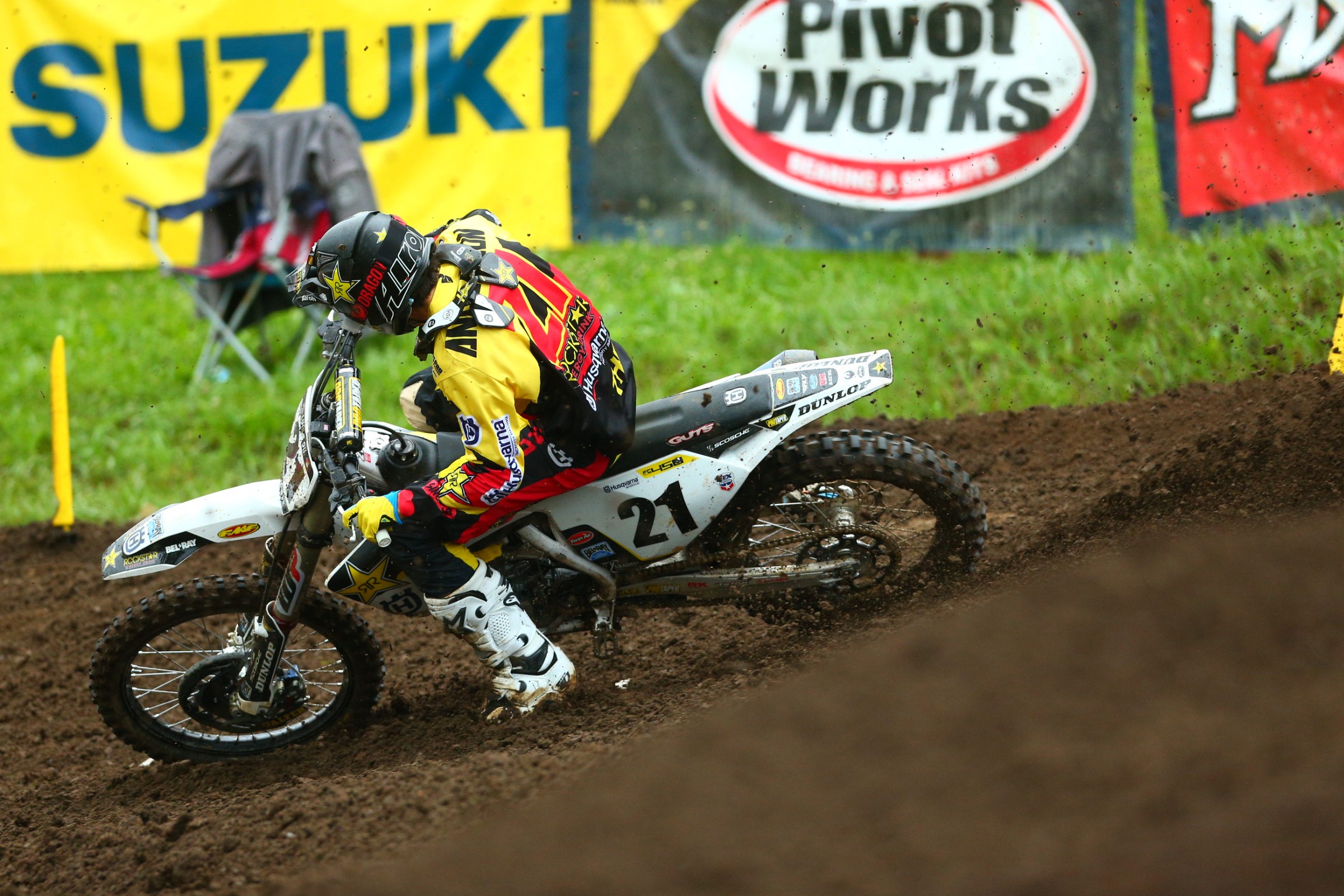 Second Qualifying Sessions
Due to rain in between qualifying sessions, the top qualifying time in the second 250 session was just over four seconds slower. Joey Savatgy took over the top spot late, but his 1:56.505 would have ranked 19th in the first session. Alex Martin took second, followed by Zach Osborne, Dylan Ferrandis, and Shane McElrath.
With the first session times holding up, Jeremy Martin takes pole over Adam Cianciarulo, Alex Martin, Austin Forkner, and Shane McElrath. The rain is expected to clear by the start of the first motos, but it will be interesting to see just how much damage its already done.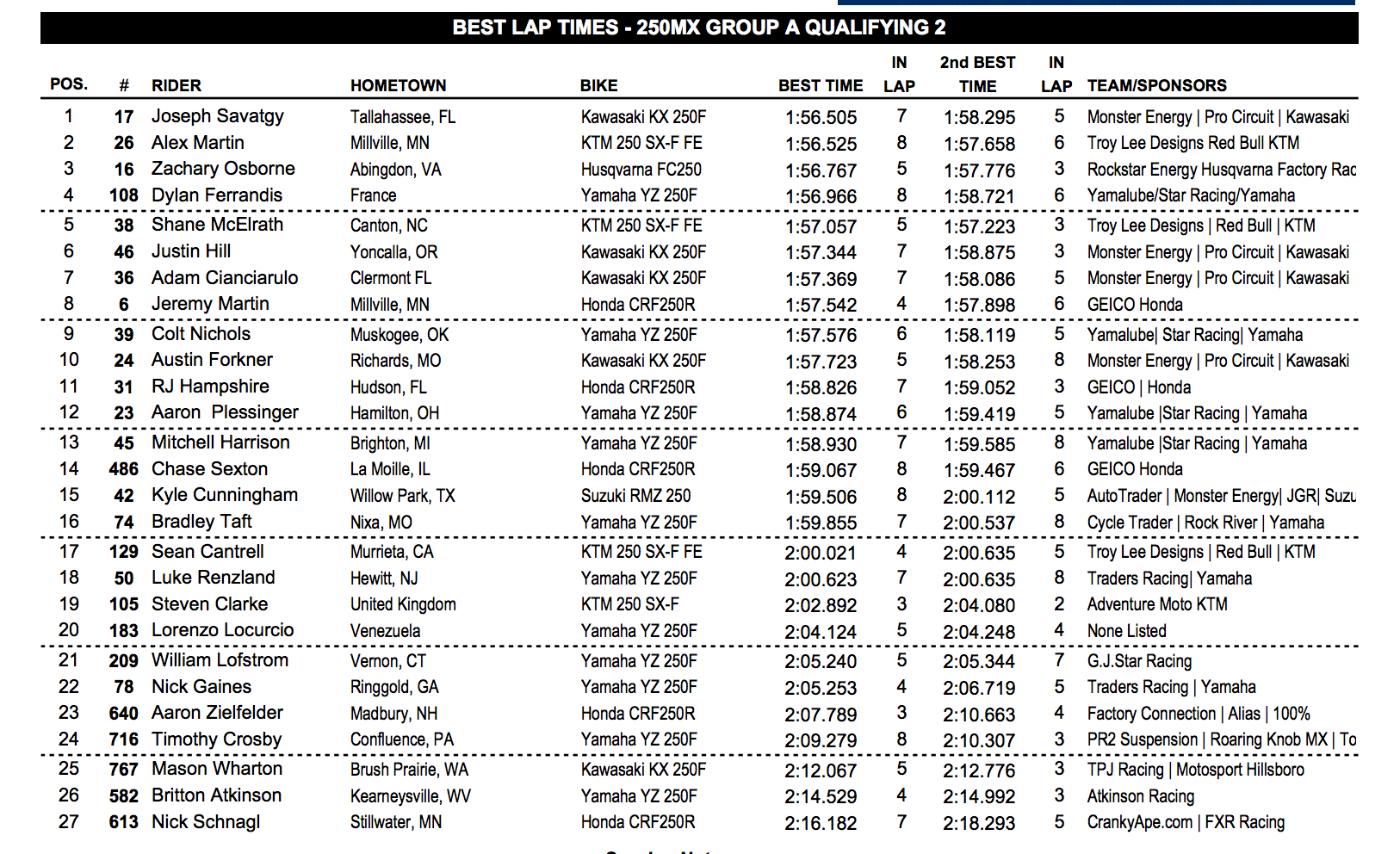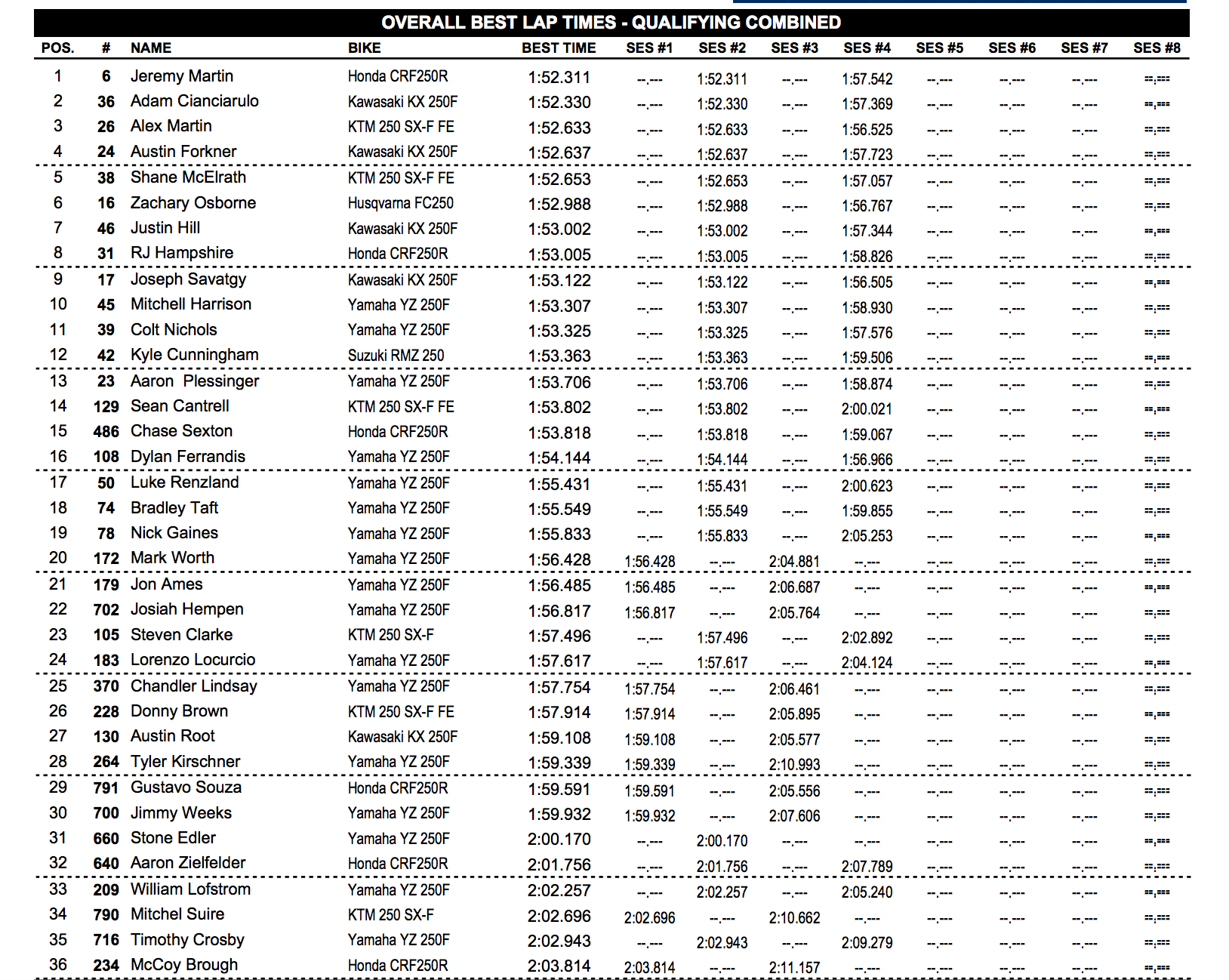 As we saw in 250s, the 450 times in session two were slower—about two seconds in this case. The times shuffled around with Blake Baggett, Broc Tickle, Jason Anderson, Eli Tomac, and Trey Canard hovering inside the top five. Baggett looked to have the top time wrapped up until Tomac put in a 1:53.217 at the end to snag the top spot. Baggett took second over Tickle, Anderson, and Canard.
It won't matter in the grand scheme of things, though, as Anderson's first session time of 1:51.030 will stand as the top qualifying time. Justin Barcia was second overall, followed by Tomac, Canard, and Dean Wilson. Points leader Baggett qualified sixth overall.
Motos start at 1:00 p.m. EST on MAVTV and NBC Sports Gold app.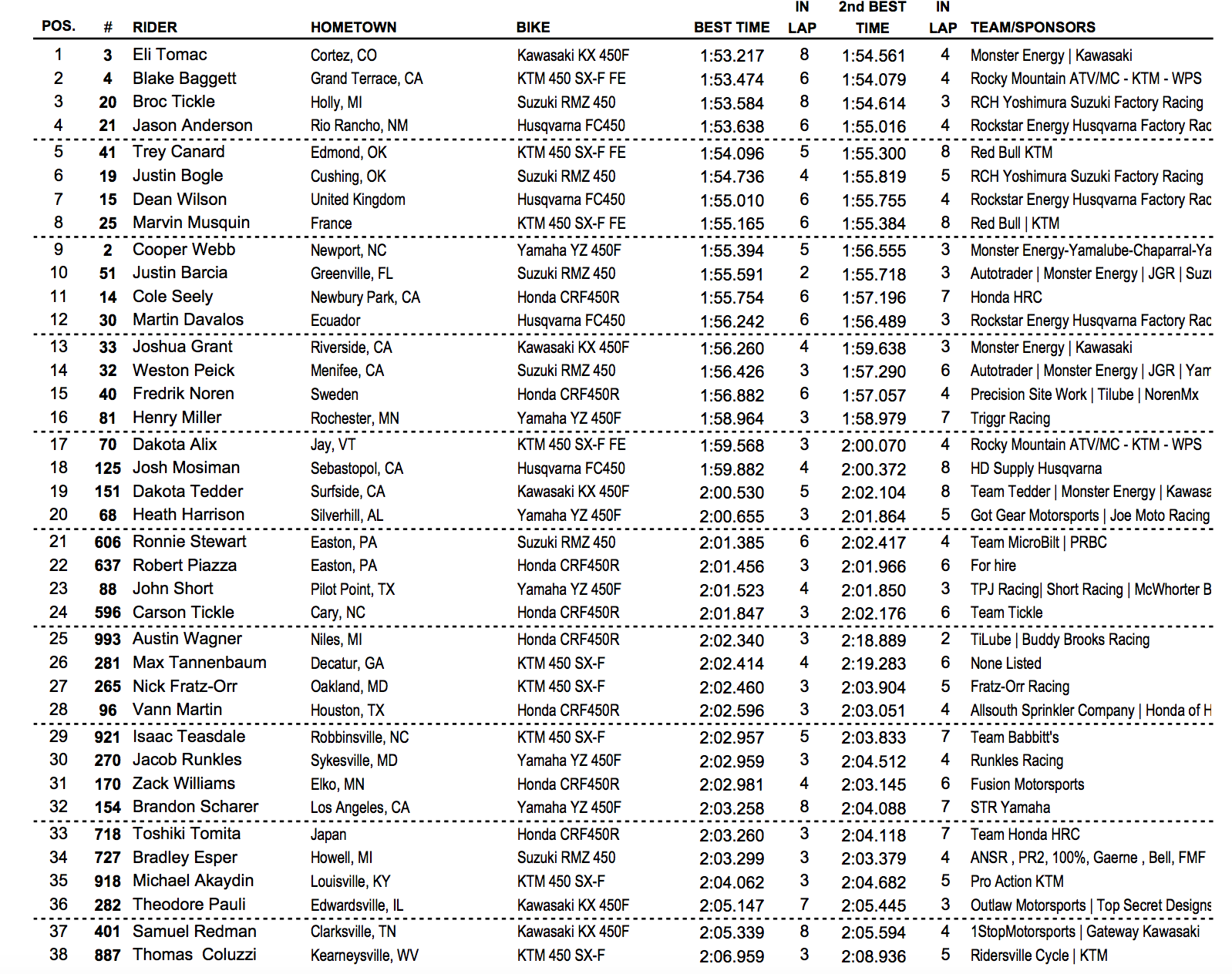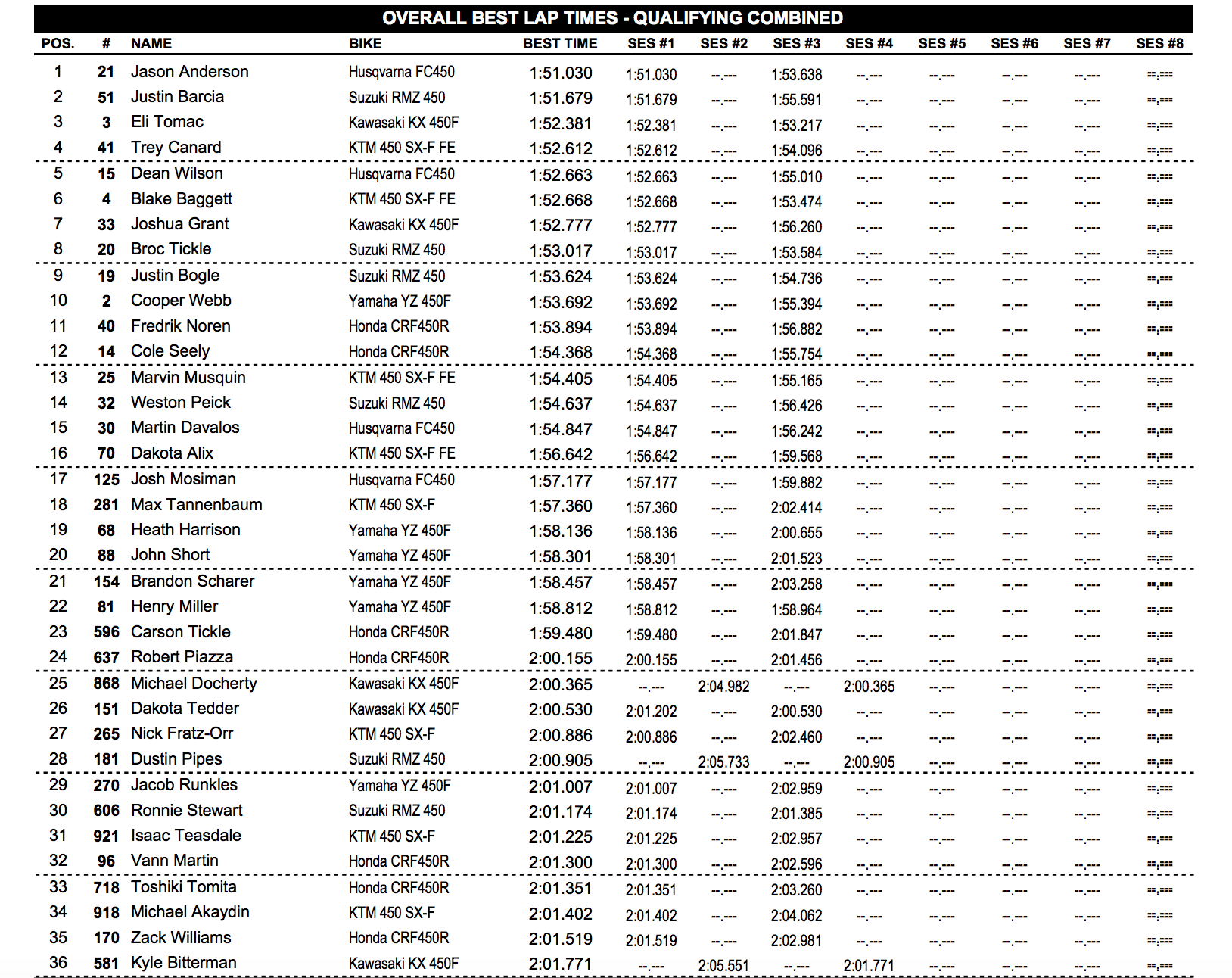 Injury Update
Monster Energy Kawasaki's Josh Grant is reportedly out of the motos today at Muddy Creek after hurting his shoulder in qualifying. We'll have more details as they are provided.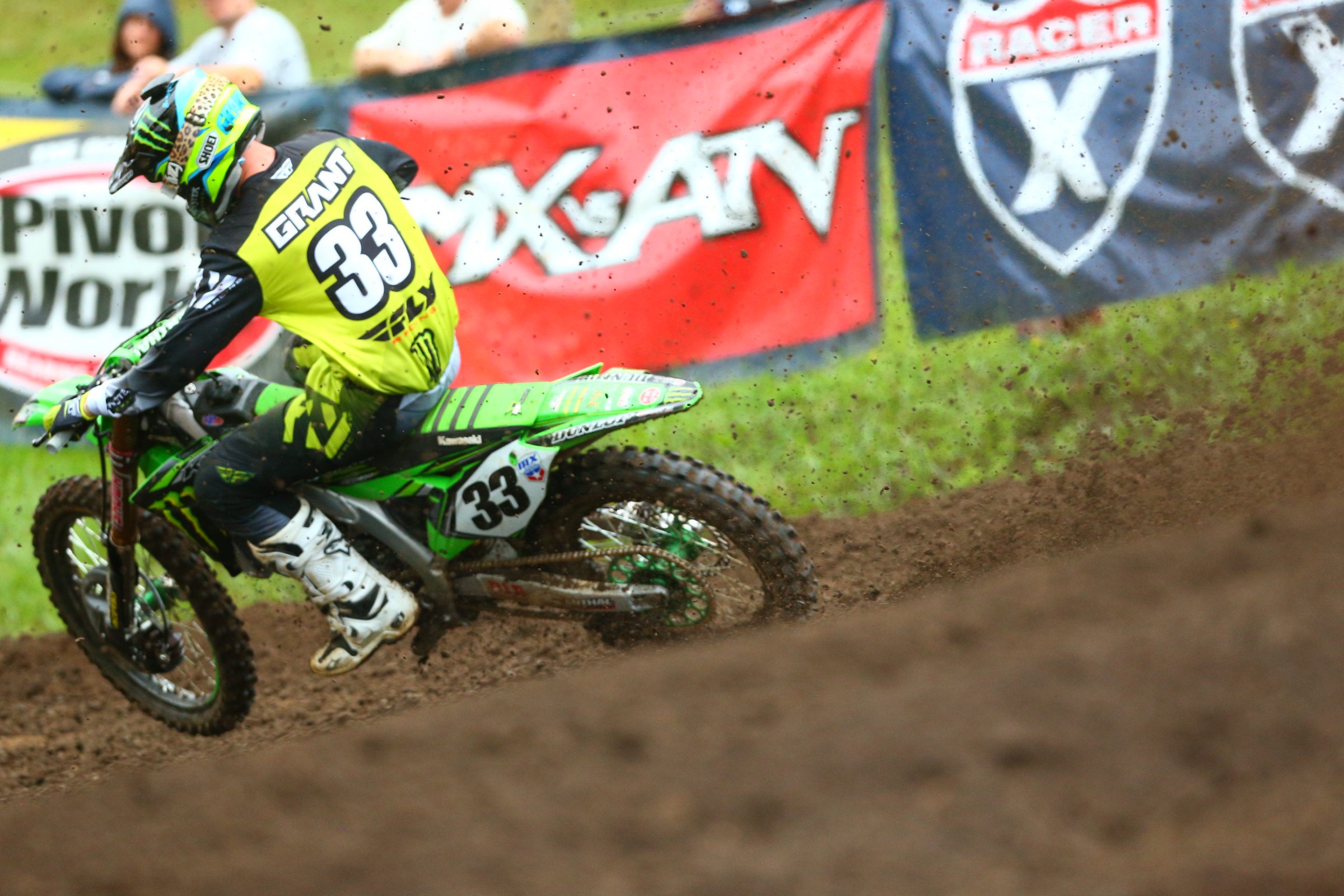 250 Moto One
We didn't even make it past the first turn before we got a huge shakeup in the championship points. While Aaron Plessinger was lumbering toward the holeshot, Jeremy Martin, Joey Savatgy and Dylan Ferrandis were all down in a first turn pileup. It opened the door for points leader Zach Osborne to make up even more ground in the championship, as he was around seventh entering the second turn.
Adam Cianciarulo slotted into second, with his teammate Austin Forkner, and GEICO Honda's RJ Hampshire following behind. Later in the race, Hampshire would pull out of the moto while running seventh due to a bike problem.
Up front, Cianciarulo kept Plessinger within striking distance for much of the first half of the moto, staying within three seconds of the leader. But as the laps wound down, Plessinger began to find his groove and opened a comfortable gap. He would go on to win the moto by 4.9 seconds.
Meanwhile, Ferrandis and Jeremy Martin were experiencing their own problems coming through the pack. Ferrandis went down with Justin Hill coming into the first turn. A lap later, Jeremy Martin slid out while chasing Kyle Cunningham and Savatgy. While he would only lose one spot to his teammate Chase Sexton but it seemed to stymie his charge through the pack. He finished the moto in thirteenth.
With three laps remaining, Alex Martin, who had to fight off a hard charge from Osborne, closed on Forkner for third. He cut Forkner's gap down to one second with two laps remaining. Forkner upped the pace, and the two distanced themselves from Osborne. Martin tried to find a line on the tight track and even closed to the rear wheel of Forkner on the final lap, but couldn't make anything stick.
Plessinger took the first moto over Cianciarulo, Forkner, Alex Martin, Osborne, McElrath, Cantrell, Nichols, Ferrandis, and Harrison. Savatgy rebounded to finish eleventh.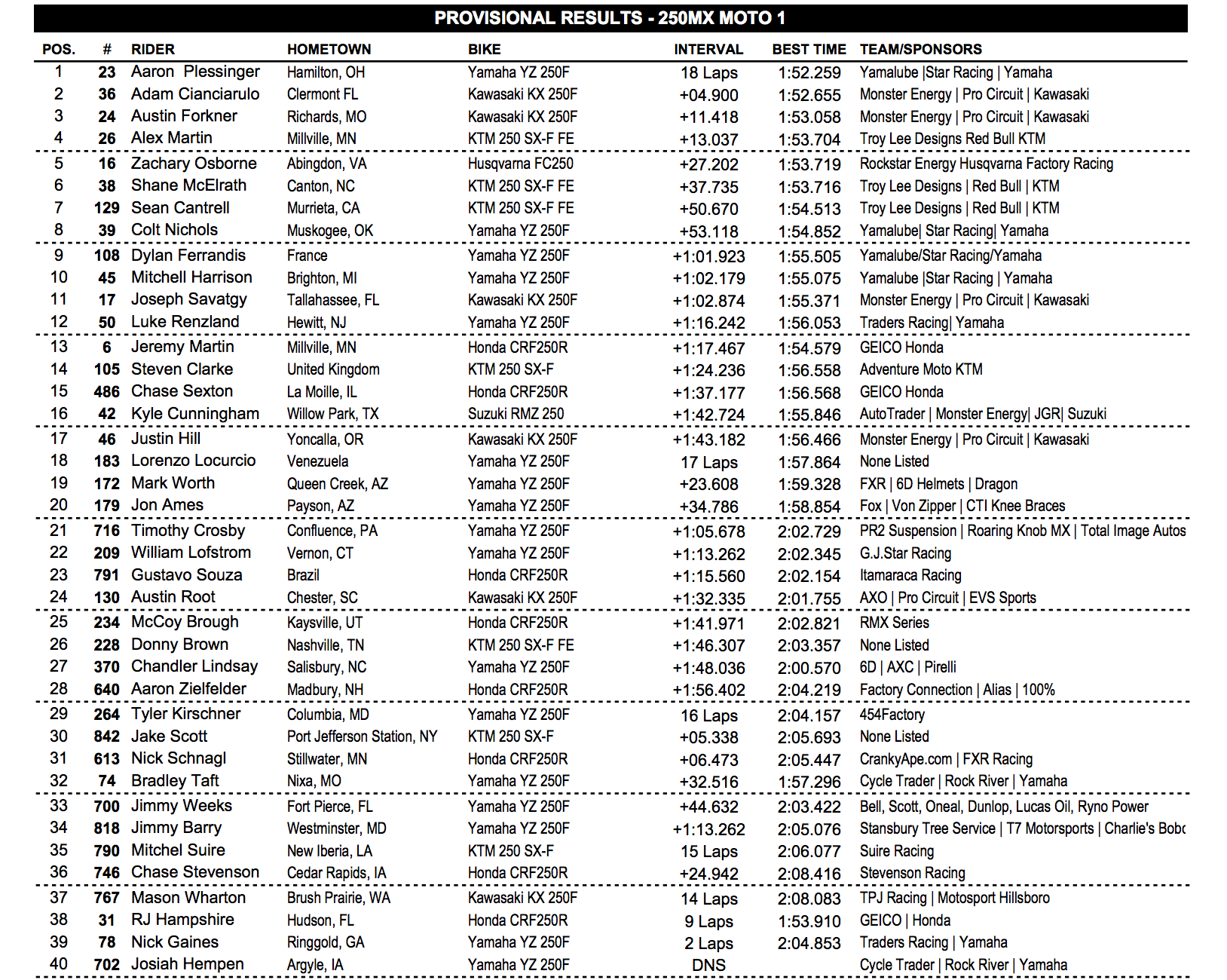 450 Moto One
A week after missing the High Point National, Justin Barcia was up front at the beginning of the first 450 moto, grabbing the holeshot over Jason Anderson, Justin Bogle and Weston Peick.
Anderson quickly pounced on the lead, taking it briefly, before Barcia fought back, and then taking it for good a few corners later. Meanwhile, Eli Tomac and Blake Baggett were at the tail end of the top ten.
On this day, there was no catching Anderson. He shot out to a quick six second lead by lap four and was never challenged en route to the first moto win.
The real action was coming from the Suzuki wall of Barcia, Bogle and Peick as first Tomac had to crack it, then Baggett. After a very aggressive, clean pass on Peick, Tomac went after Bogle and finally got him at the 18-minute mark. By the time he moved into second, Anderson had stretched his lead to 15 seconds and Tomac never made a charge.
Baggett had his own problems with the Suzuki trio. After nearly going down on the back portion of the track, he finally made his way around Bogle. On lap 11, he finally got around Peick and Barcia as well, but wasn't within striking distance of either Tomac or Anderson.
Anderson cruised to the first moto win over Tomac. Baggett took third. Peick got Barcia lap to finish fourth. Tickle, Musquin, Wilson, Webb and Canard rounded out the top ten.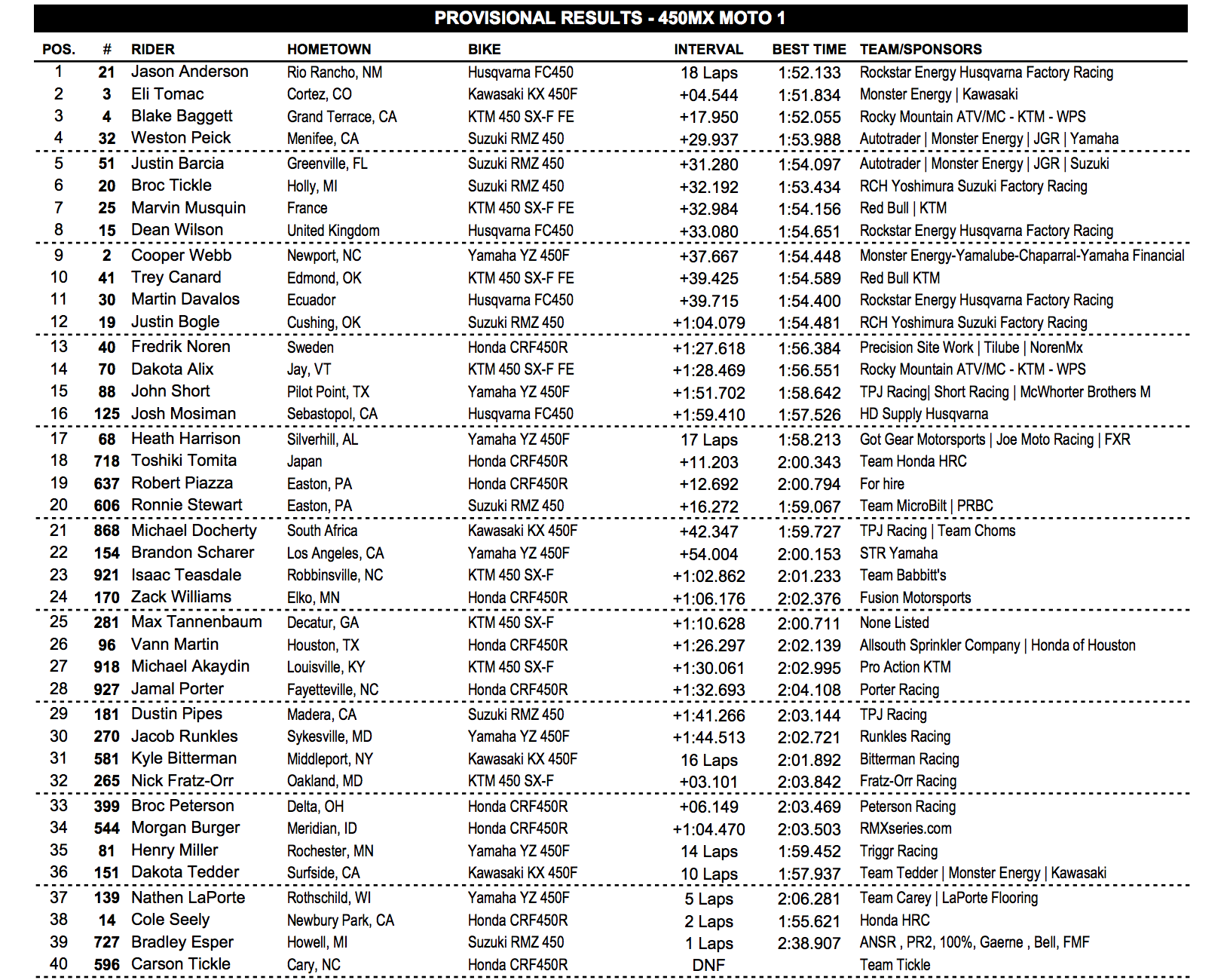 250 Moto Two
Another moto, another shakeup in 250 points. In a carbon copy to moto one, it was Aaron Plessinger taking the holeshot in the second 250 moto. This time he had points leader Zach Osborne all over him.
Plessinger and Osborne set the pace early and distanced themselves from Austin Forkner, Alex Martin and Adam Cianciarulo. Plessinger was riding well, keeping Osborne at a comfortable distance. Just when it seemed like the battle would run the distance, Plessinger made a crucial mistake that allowed Osborne an easy route into the lead. Osborne then opened around a five second gap and maintained that pace throughout the rest of the 30 minute plus two laps. Plessinger finished a comfortable second.
Another tough moto for Jeremy Martin. Entering the round second in points, Martin couldn't make a charge in the second moto and finished sixth. Coupled with a crash in the first moto, Martin lost a ton of points on this day.
For a second straight moto Alex Martin hounded Austin Forkner throughout, but could never made anything stick. He tried once again late in the moto, but the second year pro was up for the challenge. Adam Cianciarulo took fifth.
Joey Savatgy, Colt Nichols, Chase Sexton and Mitchell Harrison rounded out the top 10.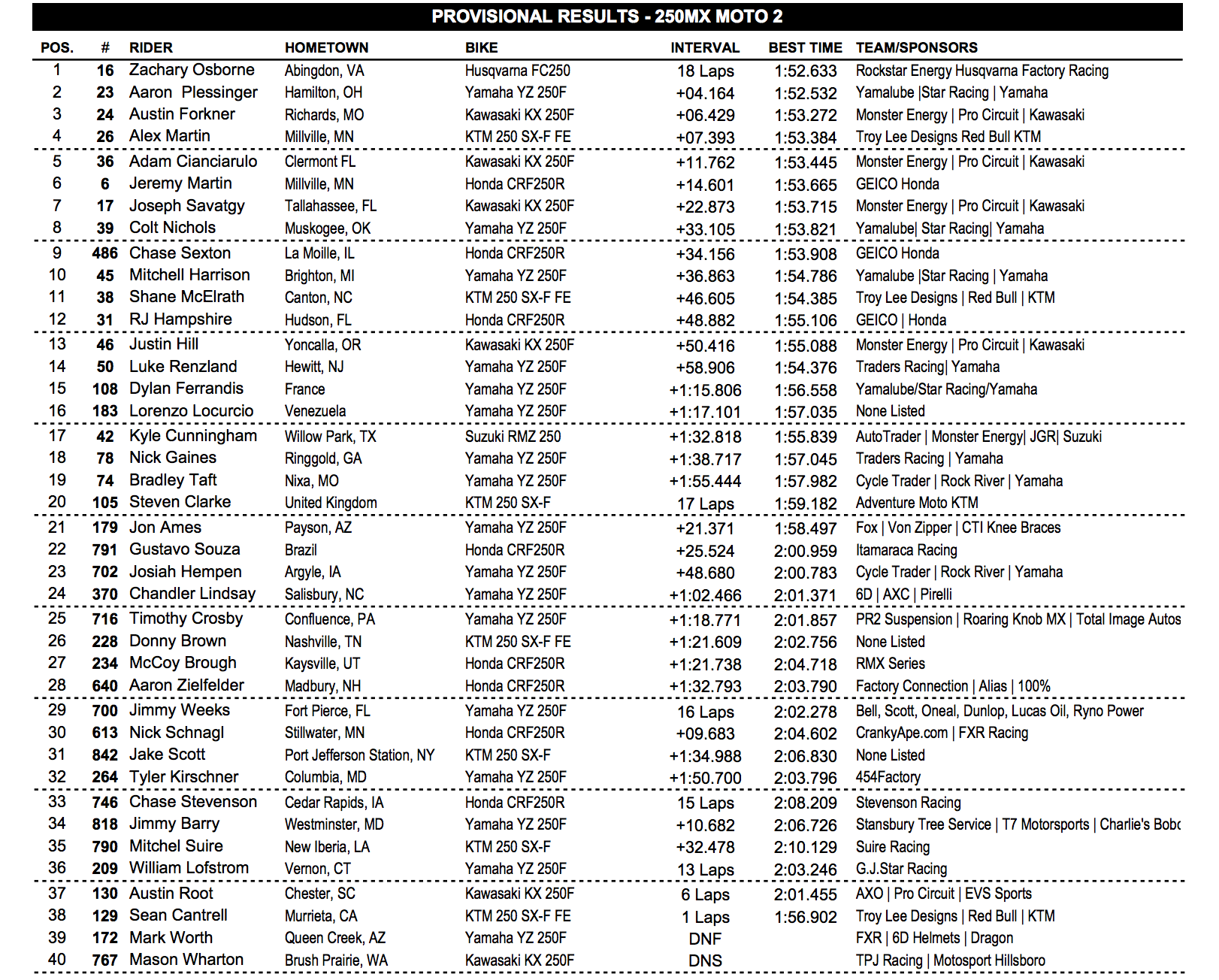 Tennessee - 250
Pos

ition

Rider
Hometown
Motos
Machine
1

Aaron Plessinger

Hamilton, OH
1 - 2
Yamaha YZ 250F
2

Zach Osborne

Abingdon, VA
5 - 1
Husqvarna FC250
3

Austin Forkner

Richards, MO
3 - 3
Kawasaki KX 250F
4

Adam Cianciarulo

Port Orange, FL
2 - 5
Kawasaki KX 250F
5

Alex Martin

Millville, MN
4 - 4
KTM 250 SX-F FE
6

Colt Nichols

Muskogee, OK
8 - 8
Yamaha YZ 250F
7

Shane Mcelrath

Canton, NC
6 - 11
KTM 250 SX-F FE
8

Joey Savatgy

Thomasville, GA
11 - 7
Kawasaki KX 250F
9

Jeremy Martin

Millville, MN
13 - 6
Honda CRF250R
10

Mitchell Harrison

Lansing, MI
10 - 10
Yamaha YZ 250F
11

Chase Sexton

La Moille, IL
15 - 9
Honda CRF250R
12

Dylan Ferrandis

Avignon, France
9 - 15
Yamaha YZ 250F
13

Luke Renzland

Hewitt, NJ
12 - 14
Yamaha YZ 250F
14

Sean Cantrell

Murrieta, CA
7 - 38
KTM 250 SX-F FE
15

Justin Hill

Yoncalla, OR
17 - 13
Kawasaki KX 250F
16

R.J. Hampshire

Hudson, FL
38 - 12
Honda CRF250R
17

Kyle Cunningham

Aledo, TX
16 - 17
Suzuki RMZ 250
18

Lorenzo Locurcio

Cairo, GA
18 - 16
Yamaha YZ 250F
19

Steven Clarke

Cairo, GA
14 - 20
KTM 250 SX-F
20

Nick Gaines

Ringgold, GA
39 - 18
Yamaha YZ 250F
21

Bradley Taft

Nixa, MO
32 - 19
Yamaha YZ 250F
22

Mark Worth

Queen Creek, AZ
19 - 39
Yamaha YZ 250F
23

Jon Ames

Riverside, CA
20 - 21
Yamaha YZ 250F
24

Gustavo Souza

Brazil
23 - 22
Honda CRF250R
25

Timothy Crosby

Confluence, PA
21 - 25
Yamaha YZ 250F
26

Chandler Lindsay

27 - 24
Yamaha YZ 250F
27

Donny Brown

26 - 26
KTM 250 SX-F FE
28

McCoy Brough

Kaysville, UT
25 - 27
Honda CRF250R
29

Aaron Zielfelder

Madbury, NH
28 - 28
Honda CRF250R
30

William Lofstrom

Vernon, CT
22 - 36
Yamaha YZ 250F
31

Nick Schnagl

Stillwater, MN
31 - 30
Honda CRF250R
32

Jake Scott

Port Jefferson Stations, NY
30 - 31
KTM 250 SX-F
33

Tyler Kirschner

Columbia, MD
29 - 32
Yamaha YZ 250F
34

Austin Root

Chester, SC
24 - 37
Kawasaki KX 250F
35

Jimmy Weeks

Fort Pierce, FL
33 - 29
Yamaha YZ 250F
36

Josiah Hempen

Argyle, IA
40 - 23
Yamaha YZ 250F
37

Jimmy Barry

34 - 34
Yamaha YZ 250F
38

Chase Stevenson

36 - 33
Honda CRF250R
39

Mitchel Suire

35 - 35
KTM 250 SX-F
40

Mason Wharton

Brush Prairie, WA
37 - 40
Kawasaki KX 250F
Full Results
Motocross 250 Standings - 2017
Pos

ition

Rider
Hometown
Points
1

Zach Osborne

Abingdon, VA
501
2

Jeremy Martin

Millville, MN
420
3

Adam Cianciarulo

Port Orange, FL
374
4

Aaron Plessinger

Hamilton, OH
337
5

Joey Savatgy

Thomasville, GA
324
6

Dylan Ferrandis

Avignon, France
305
7

Colt Nichols

Muskogee, OK
303
8

Alex Martin

Millville, MN
296
9

Mitchell Harrison

Lansing, MI
279
10

Shane Mcelrath

Canton, NC
248
11

R.J. Hampshire

Hudson, FL
222
12

Chase Sexton

La Moille, IL
188
13

Austin Forkner

Richards, MO
184
14

Sean Cantrell

Murrieta, CA
176
15

Luke Renzland

Hewitt, NJ
141
16

Kyle Cunningham

Aledo, TX
134
17

Nick Gaines

Ringgold, GA
124
18

Lorenzo Locurcio

Cairo, GA
119
19

Justin Hill

Yoncalla, OR
110
20

Bradley Taft

Nixa, MO
90
Full Standings
450 Moto Two
The first turn had major implications on the championship in both classes.
The first turn COULD have had major implications on the championship in both classes.
It was Justin Bogle grabbing the holeshot over Trey Canard, Eli Tomac, Jason Anderson and Weston Peick. But the major storyline was playing out behind the leaders as Blake Baggett, Cooper Webb and Broc Tickle were all down in the first turn.
Tomac didn't wait long to charge to the lead. And then it was over. He was flawless en route to a 33.9 second win. Anderson moved into second early but wasn't able to challenge for the lead.
The other story developing was Baggett's incredible charge through the field. He quickly made his way into the top twenty, but then he really began to make a charge, putting three to four seconds a lap on those in front of him. By lap 14, he had caught fourth place Justin Bogle and third place Weston Peick. In one swoop, he passed both and finished the moto in third.
Peick and Bogle held off a hard charge from Martin Davalos to finish inside the top five. Dean Wilson, who went down midway through the moto, rebounded to finished seventh. Fredrik Noren, Cooper Webb, and Justin Barcia rounded out the top ten. Canard finished 11th after a great start. Tickle came back to 12th.
Marvin Musquin pulled out of the moto early due to a bike problem. NBC Sports Network's Georgia Albertson reported that a rock hit his front brake caliper.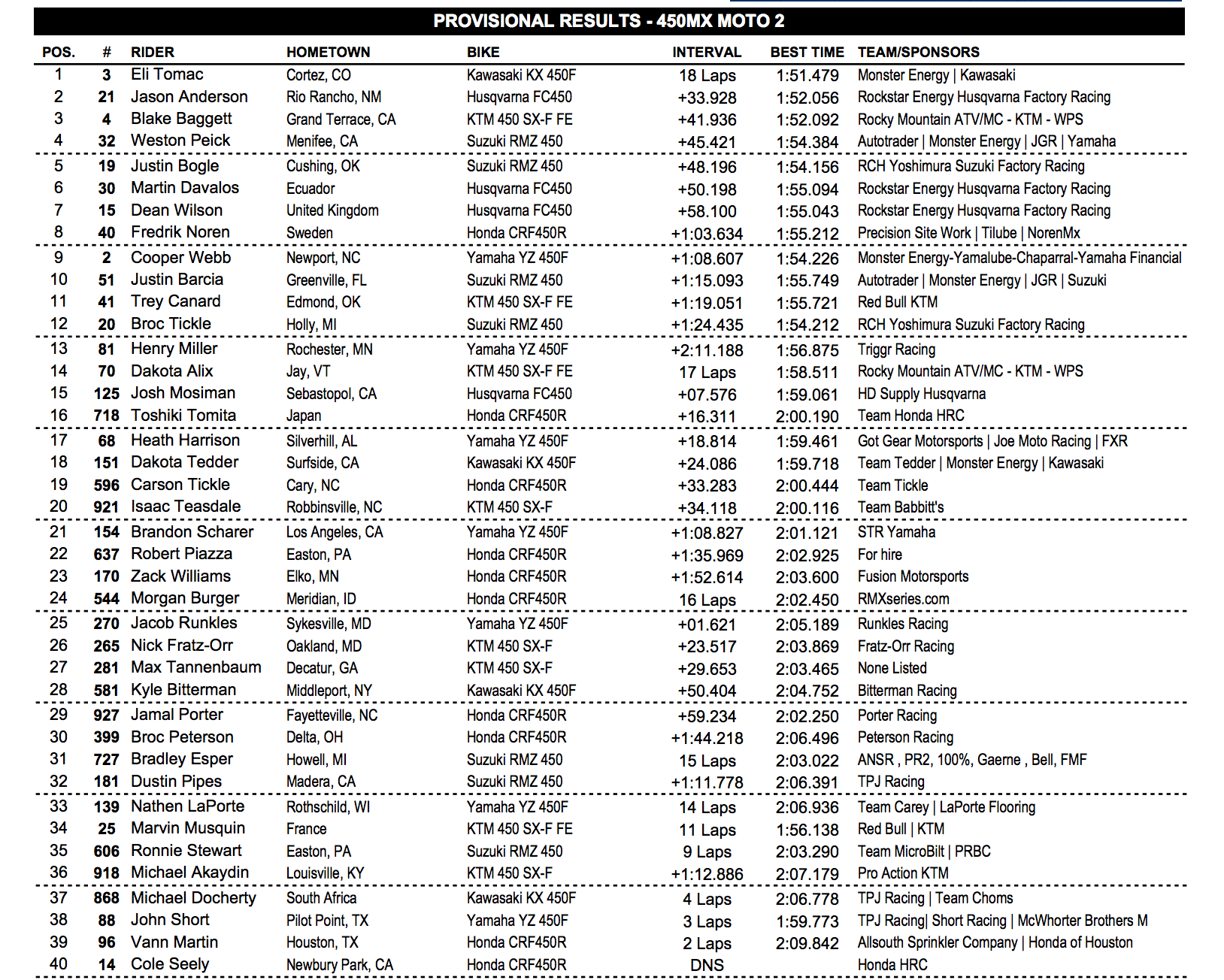 Tennessee - 450
Pos

ition

Rider
Hometown
Motos
Machine
1

Eli Tomac

Cortez, CO
2 - 1
Kawasaki KX 450F
2

Jason Anderson

Edgewood, NM
1 - 2
Husqvarna FC450
3

Blake Baggett

Grand Terrace, CA
3 - 3
KTM 450 SX-F FE
4

Weston Peick

Wildomar, CA
4 - 4
Suzuki RMZ 450
5

Dean Wilson

Scotland, United Kingdom
8 - 7
Husqvarna FC450
6

Justin Barcia

Monroe, NY
5 - 10
Suzuki RMZ 450
7

Justin Bogle

Cushing, OK
12 - 5
Suzuki RMZ 450
8

Martin Davalos

Quito, Ecuador
11 - 6
Husqvarna FC450
9

Cooper Webb

Newport, NC
9 - 9
Yamaha YZ 450F
10

Broc Tickle

Holly, MI
6 - 12
Suzuki RMZ 450
11

Fredrik Noren

Sweden
13 - 8
Honda CRF450R
12

Trey Canard

Shawnee, OK
10 - 11
KTM 450 SX-F FE
13

Dakota Alix

Jay, VT
14 - 14
KTM 450 SX-F FE
14

Marvin Musquin

La Reole, France
7 - 34
KTM 450 SX-F FE
15

Josh Mosiman

Sebastopol, CA
16 - 15
Husqvarna FC450
16

Henry Miller

Rochester, MN
35 - 13
Yamaha YZ 450F
17

Toshiki Tomita

Kanazawa, Japan
18 - 16
Honda CRF450R
18

Heath Harrison

Silverhill, AL
17 - 17
Yamaha YZ 450F
19

John Short

Pilot Point, TX
15 - 38
Yamaha YZ 450F
20

Dakota Tedder

Surfside, CA
36 - 18
Kawasaki KX 450F
21

Carson Tickle

Cary, NC
40 - 19
Honda CRF450R
22

Robert Piazza

Easton, PA
19 - 22
Honda CRF450R
23

Isaac Teasdale

Robbinsville, NC
23 - 20
KTM 450 SX-F
24

Ronnie Stewart

Easton, PA
20 - 35
Suzuki RMZ 450
25

Brandon Scharer

Gardena, CA
22 - 21
Yamaha YZ 450F
26

Zack Williams

Elko, MN
24 - 23
Honda CRF450R
27

Max Tannenbaum

Lilburn, GA
25 - 27
KTM 450 SX-F
28

Jacob Runkles

Sykesville, MD
30 - 25
Yamaha YZ 450F
29

Jamal Porter

Fayetteville, NC
28 - 29
Honda CRF450R
30

Morgan Burger

Nampa, ID
34 - 24
Honda CRF450R
31

Nick Fratz

Oakland, MD
32 - 26
KTM 450 SX-F
32

Michael Docherty

South Africa
21 - 37
Kawasaki KX 450F
33

Kyle Bitterman

Lockport, NY
31 - 28
Kawasaki KX 450F
34

Dustin Pipes

Fresno, CA
29 - 32
Suzuki RMZ 450
35

Broc Peterson

Toledo, OH
33 - 30
Honda CRF450R
36

Michael Akaydin

Louisville, KY
27 - 36
KTM 450 SX-F
37

Vann Martin

Houston, TX
26 - 39
Honda CRF450R
38

Bradley Esper

Howell, MI
39 - 31
Suzuki RMZ 450
39

Nathen Laporte

Wausau, WI
37 - 33
Yamaha YZ 450F
40

Cole Seely

Newbury Park, CA
38 - 40
Honda CRF450R
Full Results
Motocross 450 Standings - 2017
Pos

ition

Rider
Hometown
Points
1

Eli Tomac

Cortez, CO
470
2

Marvin Musquin

La Reole, France
453
3

Blake Baggett

Grand Terrace, CA
451
4

Dean Wilson

Scotland, United Kingdom
340
5

Cole Seely

Newbury Park, CA
330
6

Justin Bogle

Cushing, OK
308
7

Weston Peick

Wildomar, CA
268
8

Cooper Webb

Newport, NC
268
9

Martin Davalos

Quito, Ecuador
263
10

Jason Anderson

Edgewood, NM
216
11

Christian Craig

Hemet, CA
216
12

Fredrik Noren

Sweden
202
13

Justin Barcia

Monroe, NY
191
14

Dakota Alix

Jay, VT
152
15

Broc Tickle

Holly, MI
146
16

Josh Grant

Riverside, CA
143
17

Henry Miller

Rochester, MN
108
18

Matt Bisceglia

Weatherford, TX
78
19

Benny Bloss

Oak Grove, MO
73
20

John Short

Pilot Point, TX
70
Full Standings