Thunder Valley Motocross
Lakewood

,

CO
Thunder Valley
Lucas Oil AMA Pro Motocross Championship
The RCH/Yoshimura Suzuki team caught fire in Colorado. Literally. Broc Tickle's bike lit up when a blow torch combined with gasoline fumes, and the team went scrambling for a fix. Justin Bogle's bike was pretty much unharmed, but something lit inside him for the first moto, when he simply motored away from the field to win his first-ever Lucas Oil Pro Motocross moto.
He was so stoked he admitted he couldn't quite dial it in again in moto two. Our Steve Matthes talked to him after the race.
Racer X: Congratulations, man. That was awesome. You were on fire under the truck and then on fire in the first moto.
Justin Bogle: We were joking about that. We were like, man, it's lit over here. Broc was like, we're just giving a preview of how on fire we're going to be today. First moto was incredible, dude. Best I felt in a really long time. I've been struggling with racing at the races. It's been tough.
I think through four motos though it's been good for you, no? Not awesome incredible, but solid.
Yeah, it's been solid. That's been the goal. I want sustainable growth. I don't want to go out and do what I've done in the past. I say that as I won a moto today, but…
You had a rough supercross. Let's face it. So you've got to build, right?
Of course. I changed everything about my life. Every single part. I'm living in a little apartment. I don't even have a couch. I haven't had a couch for a month. I have two lawn chairs in my living room. I'm raw dogging it right now. Just whatever I got to do. It's been awesome. I'm having a good time down at the farm at Ricky's [Carmichael]. It's been very tough, but obviously it's for the best.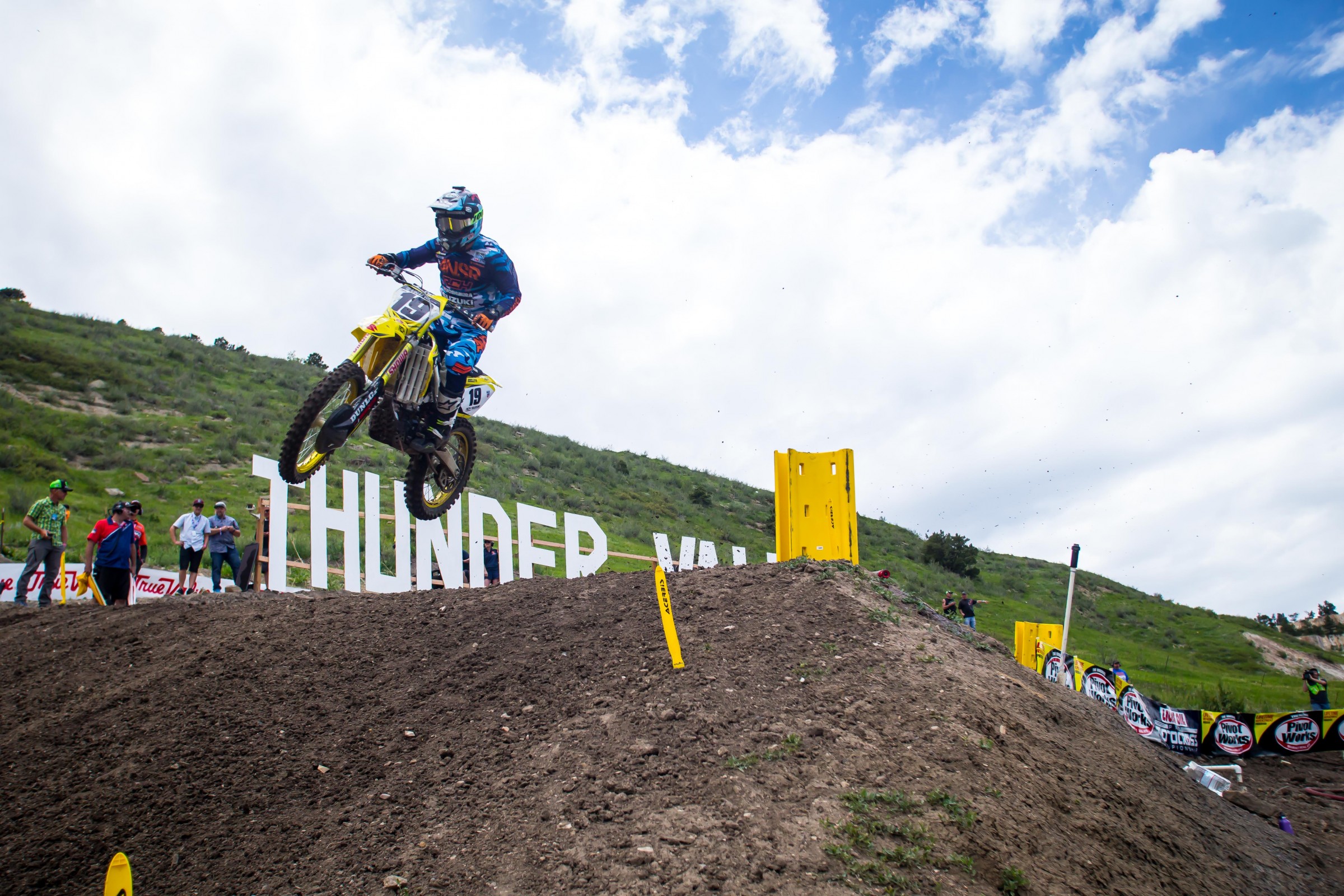 Did I see a little bit of leg swag early in the moto?
I was having fun out there, especially towards the end. Once I realized I had about 12 seconds at one point, I was like, I'm going to win this thing. I was having fun. There's nothing like winning. It just feels incredible. It's been so damn long since I've done it.
A lot of times when I talk to guys who get their first wins in motos or whatever, some of them tell me, "It felt like I really wasn't pushing." Is that true for you?
Yeah, but I think this track lends itself to a style like that. It's brutal but in a different way. So rutty and it gets hard and weird, choppy ruts. So, that first moto I just had an incredible flow. It did feel pretty easy, as it can. Second moto I was so amped up after that first one. We were all so excited. It's been a hellacious season in supercross. I damn near hung my boots up last week after the first moto just struggling. So, to get that weight of I've never won a moto in my career, 250, 450, whatever. So, to get that, to get a moto win, I was amped up. I never really calmed down from it. Kind of struggled that second moto. I was pretty flat. But I proved to myself that I could do it. Still I'm not expecting 12-second wins every time. I want to keep building.
But it's nice to know my bike setup is on point, I'm on point, my fitness is on point. You know that, no questions.
Yeah. There's room to improve all the way around like there always is. But on the fitness side of things, I'm getting so much better. It feels like weekly that I'm just making huge improvements. I'm working with a guy named Corey. He was in the sport quite a few years ago, but he's an awesome dude. Just super badass. I'm excited about that. It's just progress. You know how it is. It takes time. This stuff don't happen overnight. This is gnarly stuff. Got to build into it.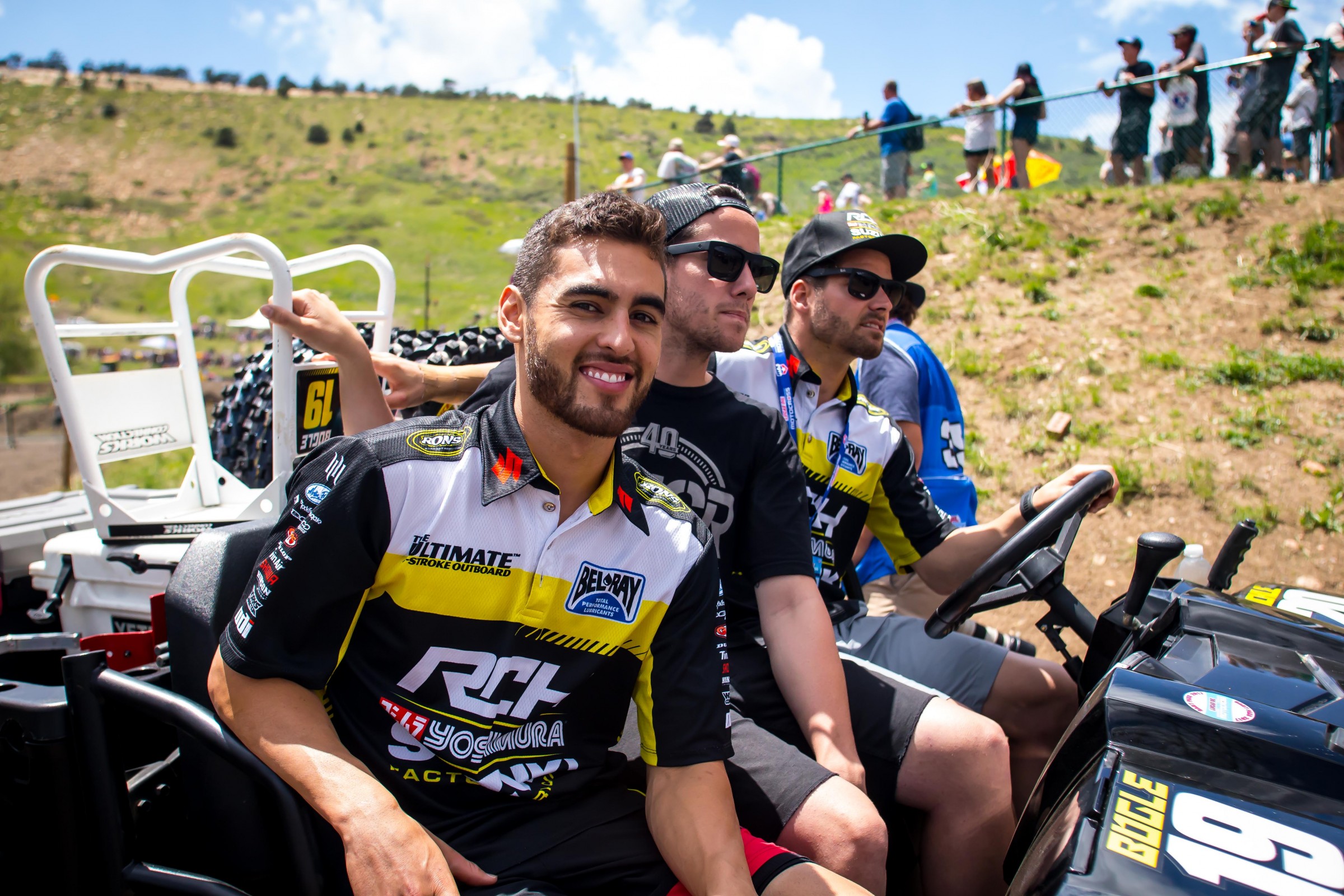 Five moto winners in the first six motos. It's awesome to watch for all of us.
Of course. That's got to be incredible. I'm very excited to be one of them.
I think everyone's happy for you. Even the JGR guys are like, "Hey, look, the Suzuki's good." I think everybody's happy.
For sure. Obviously we were all stoked, but I was feeling the love from the fans that first moto. People were feeling it. I could everywhere just hear them. I know people were a little surprised, not expecting me to go out there and do that. I surprised myself a little bit.