Hangtown Motocross Classic
Rancho Cordova

,

CA
Hangtown
Lucas Oil AMA Pro Motocross Championship
Welcome to Racerhead. I guess I picked one hell of a race to miss, because the Las Vegas Supercross seemed to have it all: drama, danger, intrigue, tempers, fireworks, triumphs, mic-drops, and of course the prerequisite flame-throwing Monster Girls. In the end, two champions were decided in spectacular fashion, and two would-be champions were left trying to figure out where it all went wrong. And at the end of it all was quite possibly the best hour in the history of Monster Energy AMA Supercross, which dates back to 1974. But since I wasn't there, I will let Weege get into that later. Congratulations to the three SX champions and their teams, as well as all the folks at Feld Motor Sports, on a fantastic season.
The end of supercross means the beginning of Lucas Oil Pro Motocross, now just eight days away. It will immediately offer Kawasaki's Eli Tomac and Joey Savatgy the chance to avenge themselves after the demise of their respective SX title dreams. It will also offer guys like GEICO Honda's Jeremy Martin and JGR Suzuki's Justin Barcia the chance to start all over again after less-than-ideal stadium seasons. As a result, the practice tracks have been humming with activity, and people are starting to point themselves toward the outskirts of Sacramento, where the Hangtown Motocross Classic will get the whole thing started. Here's a glimpse of some of the riders as they were making the quick transition from SX to MX yesterday at Glen Helen.
This week, I skipped ahead a little—11 rounds, actually—and wound up at Ironman Raceway in Indiana, site of the final round of Lucas Oil Pro Motocross in August. The track got a few nips and tucks during the off-season, and I wanted to check it out, plus make a stop at Throttle Jockey to visit the Davis brothers and see the 2017 Racer X National stickers. It was more fun than work, and the bench racing of course centered around the Las Vegas SX finale, Zach Osborne's remarkable late-race charge, and whether or not we've seen Ryan Dungey's last race. It was like being on Vital MX, in person.
My second season (okay, second job) has already been well up and running, as has everyone else next door at MX Sports Pro Racing. The 2017 Lucas Oil Pro Motocross Championship should be a summer long blast, and we can only hope it comes down to the final laps, just like Vegas. Now it's time to take it outside!
The Night of Nights (Jason Weigandt)
The first season of supercross I followed weekly was 1987. That makes this year the 31st straight season of supercross I've watched and read about each week as a fan or a journalist, and in those 31 seasons, there has never been a final three-race stretch like what we just witnessed. Every single lap of the last three 450SX main events were nail-biters: Eli Tomac's incredible charge in Salt Lake City, then Marvin Musquin's "will he or won't he?" pullover for his Red Bull KTM teammate and training partner Ryan Dungey in New Jersey (while also watching Tomac's unsuccessful attempt to mount another comeback), and then the completely and totally bonkers Las Vegas final. There have never been three races to end a season that packed this much drama and excitement. Also, kudos to those semifinal races in New Jersey, which have now been forgotten in the aftermath of Las Vegas, but still make me laugh when I think of them.
I don't know if this was the best season ever, or if any one race was the best race ever, but I do know this stretch (which started with two riders tied for the points lead) was as good as we've ever seen it. Also, the final hour of the season—the collective time between 9:15 and 10:15 p.m. PST, when the 250SX and 450SX finals took place—was the most exciting hour of supercross ever. Stamp that.
I wish words were invented that could accurately describe the atmosphere at Sam Boyd Stadium on Saturday night. It wasn't bonkers, it was bizonkers! Two years ago, Vegas was such a snoozer that we had more fun in the press box watching a helmeted track worker sprint back and forth fixing Tuff Blocks than watching the actual racing. This year, my heart rate was literally up the entire time during the final races. I really, actually, literally mean that. My heart rate was up!
I know this week has also been a polarizing one, with so much conjecture between the Zach Osborne/Joey Savatgy pass and the Tomac #bunchup strategy, but both races came down to the final corners of the final lap. The fans knew it. Kudos to the Las Vegas crowd for knowing enough about racing to realize that a battle for seventh in the 250SX Dave Coombs Sr. East/West Showdown was really the battle for everything. When Savatgy fell, the fans responded. When Jordon Smith fell, the fans responded. When it became clear on the final lap that Osborne had a shot to catch Savatgy, the crowd responded. It was just incredible, and whatever you think of Osborne's pass, a season coming down to the final turns of the final lap is movie-script stuff, and also what we live for as racing fans.
The 450SX main was equally amazing. At points, when Dungey was stuck behind Tomac and the pack was catching back up, everyone realized there was a chance Tomac could pull off the impossible, and the collective feeling of 30-some thousand people getting nervous all at once is something not often experienced at a supercross. Huge, huge credit to Dungey for holding up under that pressure. With Tomac slowing and tangling him, and guys like Josh Grant closing fast in the rear view, those were some ultra-stressful moments. Just hanging in there made it a championship-level effort from Dungey.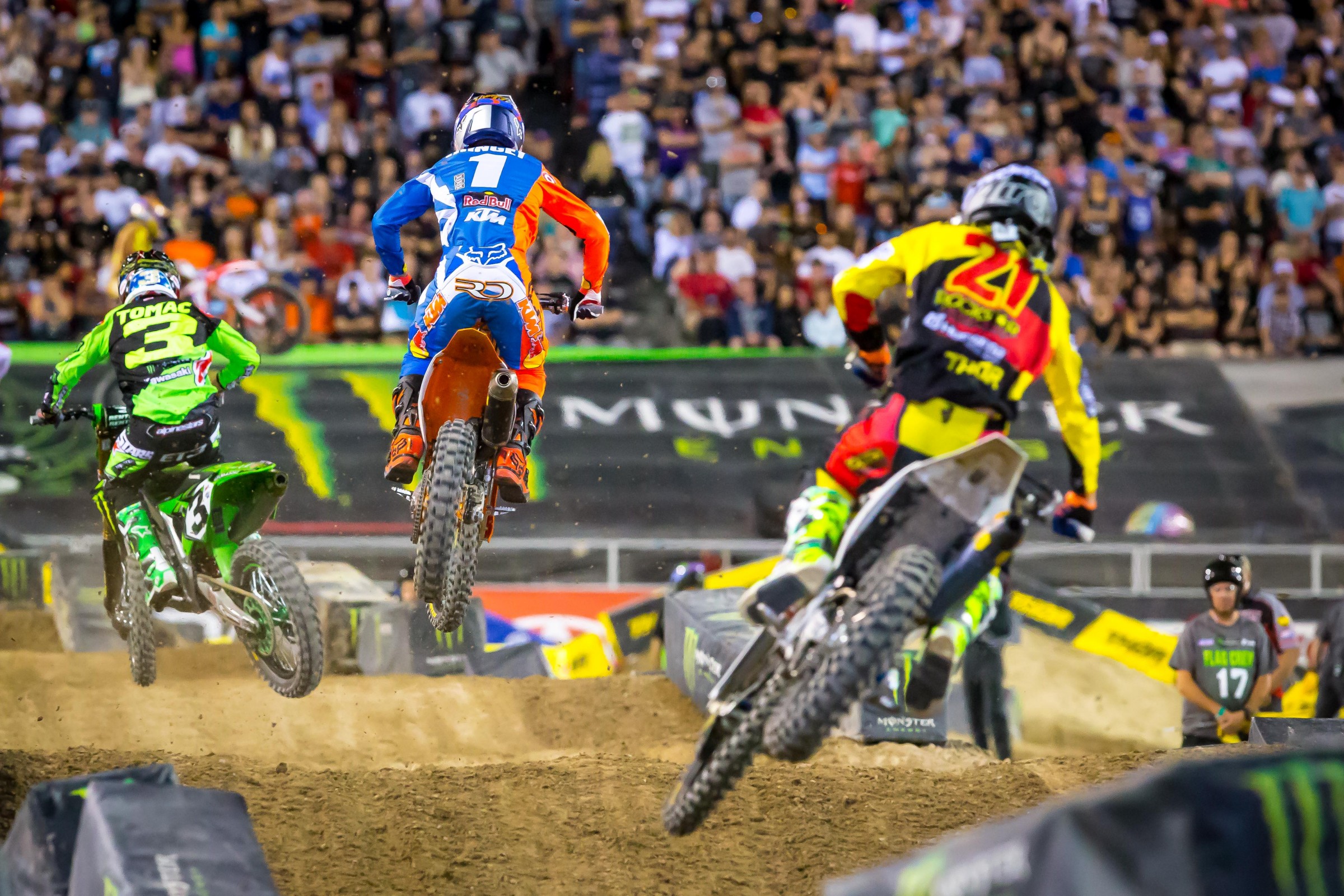 How stressful was it? Many rumors are now running through the industry that Dungey is going to hang up the boots soon. As in right now. Nothing is set in stone yet, as many decisions and explanations have to take place behind the scenes for this to happen—just imagine how many sponsors and contracts and negotiations that would have to take place for Ryan to shut it down suddenly—but I think a lot of the rumors come simply from understanding Ryan's situation. This was a tough, tough, tough campaign, and holding on against Tomac might have been the final act for Dungey. Even his indomitable spirit, work ethic, and love of racing might have finally been exhausted by this season.
Surely we'll know what's next for Dungey between now and the next Racerhead on Friday, because by then, the riders and teams will all have gathered at Hangtown. Will Ryan be there? I don't know. But if Vegas was his last race, it will only make the Night of Nights for supercross just stand out that much more.
When Less is More (Andras Hegyi)
This 2017 Monster Energy AMA Supercross Championship seemed like a repeat of a past season, and not just because the champion Ryan Dungey has won it before. In a way, it felt like the 1992 season. Or maybe 2010. Those were seasons when the champion did not win the most races. Twenty-five years ago, Jeff Stanton only won three races, but still took the championship, which is exactly how many races Dungey won this time, compared to nine for the runner-up Eli Tomac.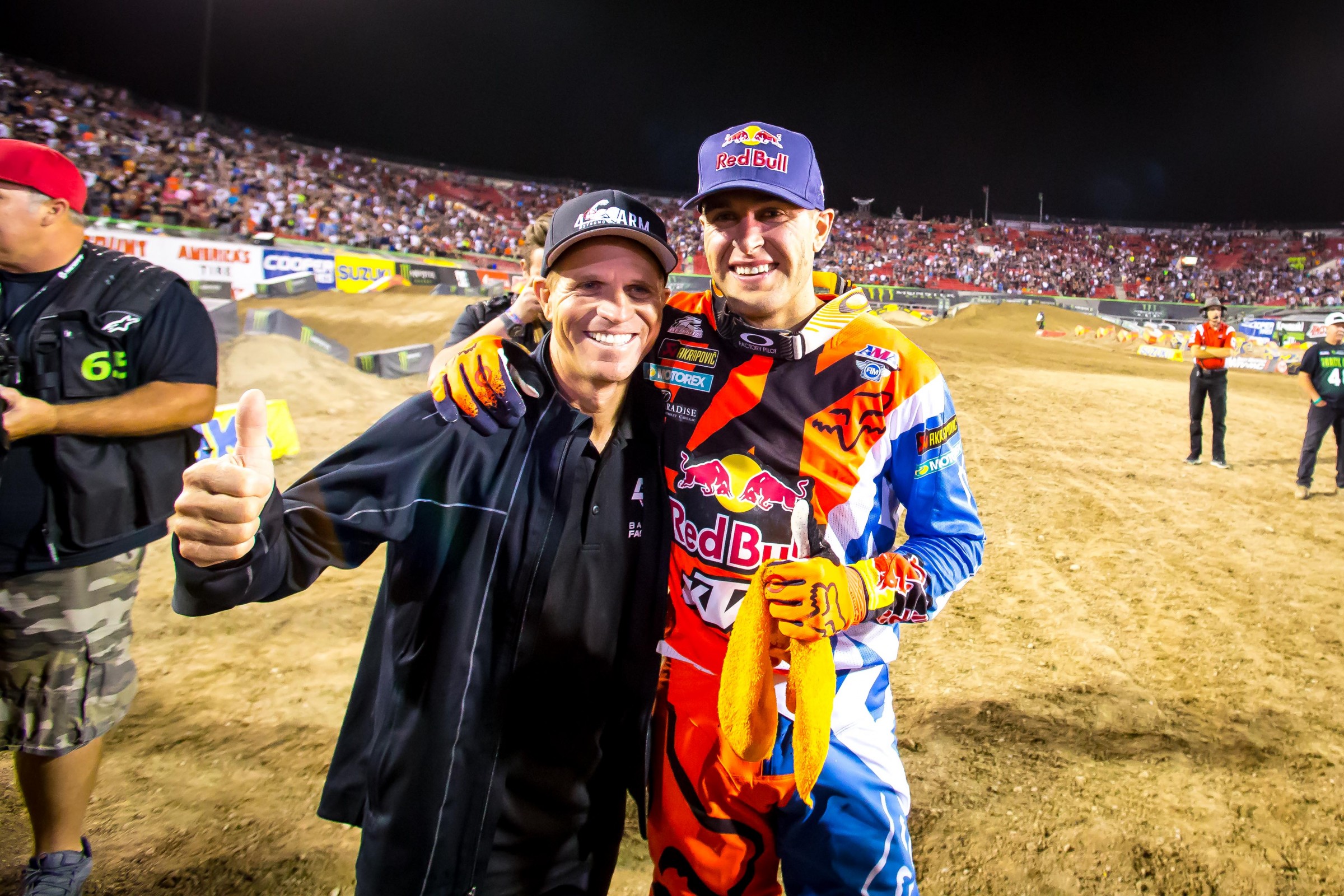 Here's a look at the premier-class seasons in which the champions did not get the most wins.
1976
Both Jim Ellis and Marty Smith got two wins each, but the champion was Jim Weinert, with only one victory. He also became the first Kawasaki-mounted AMA Supercross Champion.
1983
Bob Hannah got five wins, and Mark Barnett collected four, but the champ was David Bailey with three.
1985
Honda's Ron Lechien got three wins; his teammate and defending champ Johnny O'Mara got two wins. The Scottish-born Jeff Ward took only one victory, but he also took the title.
1987
This season was a duel between Jeff Ward and Ricky Johnson. Johnson had more wins—seven—but Ward's five were enough for the title.
1990
A three-strong-battle: Yamaha's Damon Bradshaw and Honda's Jean-Michel Bayle scored five wins each, but the champion was Jeff Stanton with four.
1992
Damon Bradshaw had more wins than he did in 1990, but he lost again—and to Stanton again. The Beast from the East made nine wins, but Stanton's three wins were enough.
2003
The Australian Chad Reed had a sensational rookie season with eight wins, but he could not defeat then-Honda rider Ricky Carmichael, who had seven. One year later, Yamaha's Reed would become champion.
2006
James Stewart took eight wins in his first season of four-stroke SX, but he could not prevail over Suzuki's Ricky Carmichael, who ended up getting six.
2010
The rookie Ryan Dungey had fewer wins than the sophomore Ryan Villopoto. Kawasaki's Villopoto picked up seven wins, but at the peak in points was Dungey with six wins.
2017
For the second time during his career, Dungey defeated a Kawasaki rider for the title. Like Bradshaw in '92, Eli Tomac had nine wins and the points lead with two rounds to go; Dungey had only three wins but never finished lower than fourth, and that made all the difference.
NEW ISSUE, NEW DESIGN (Jordan Roberts)
We hit a pretty big milestone this year when Racer X Illustrated turned 20 years old. It's easy to look back at the good times we've had through the years (and some have more under their belt than others, whether that's measured in years or good times….), but at the same time, there's never a good time to take our eye off of the future.
With that in mind, the unsung heroes of Racer X in the design team got to work creating a brand-new look for the magazine, all while tackling deadlines for the 2017 Lucas Oil Pro Motocross souvenir yearbook and also working on launching our new digital edition platform—talk about stressful! Cheers to creative director David Langran, senior designer Mike Fisher, and assistant graphic designer Michelle McGettigan for putting in a solid 30-plus two on those efforts. I was able to take a trip to our printer to watch our fully redesigned magazine come to life firsthand—literally hot off the presses. Check out the video below for a quick behind-the-scenes look at the printing and redesign.
Subscribe today for only $9.98, and we'll make sure you get your money's worth. You'll get a look at the completely redesigned magazine, access to our all-new digital platform, and a pair of Scosche Rockstar Edition Thudbuds (which alone retail for $19.99).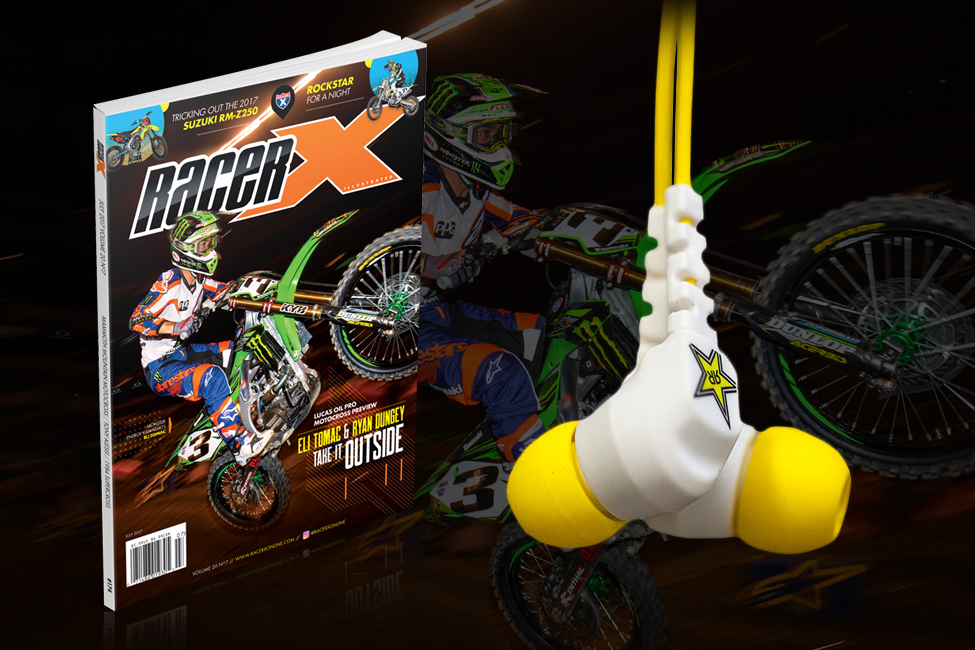 ROCKSTAR FOR A DAY
For the Detroit Supercross, Jason Weigandt shadowed the Rockstar Energy Husqvarna Racing team to find out what race day is really like for all involved.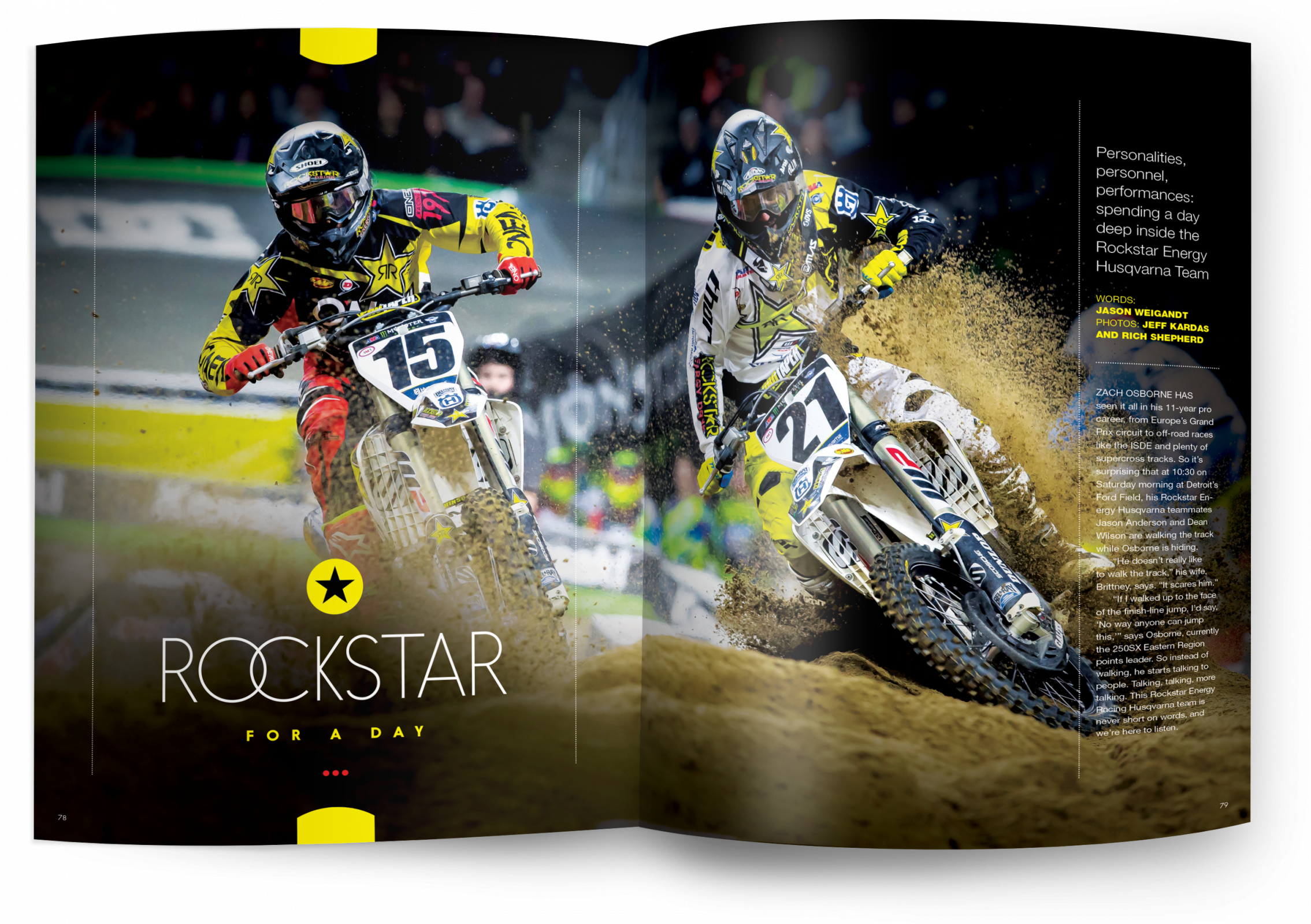 50 YEARS ON THE MOUNTAIN
Almost every famous motocrosser has competed at the Monster Energy Mammoth Motocross, whose roots stretch all the way back in 1968.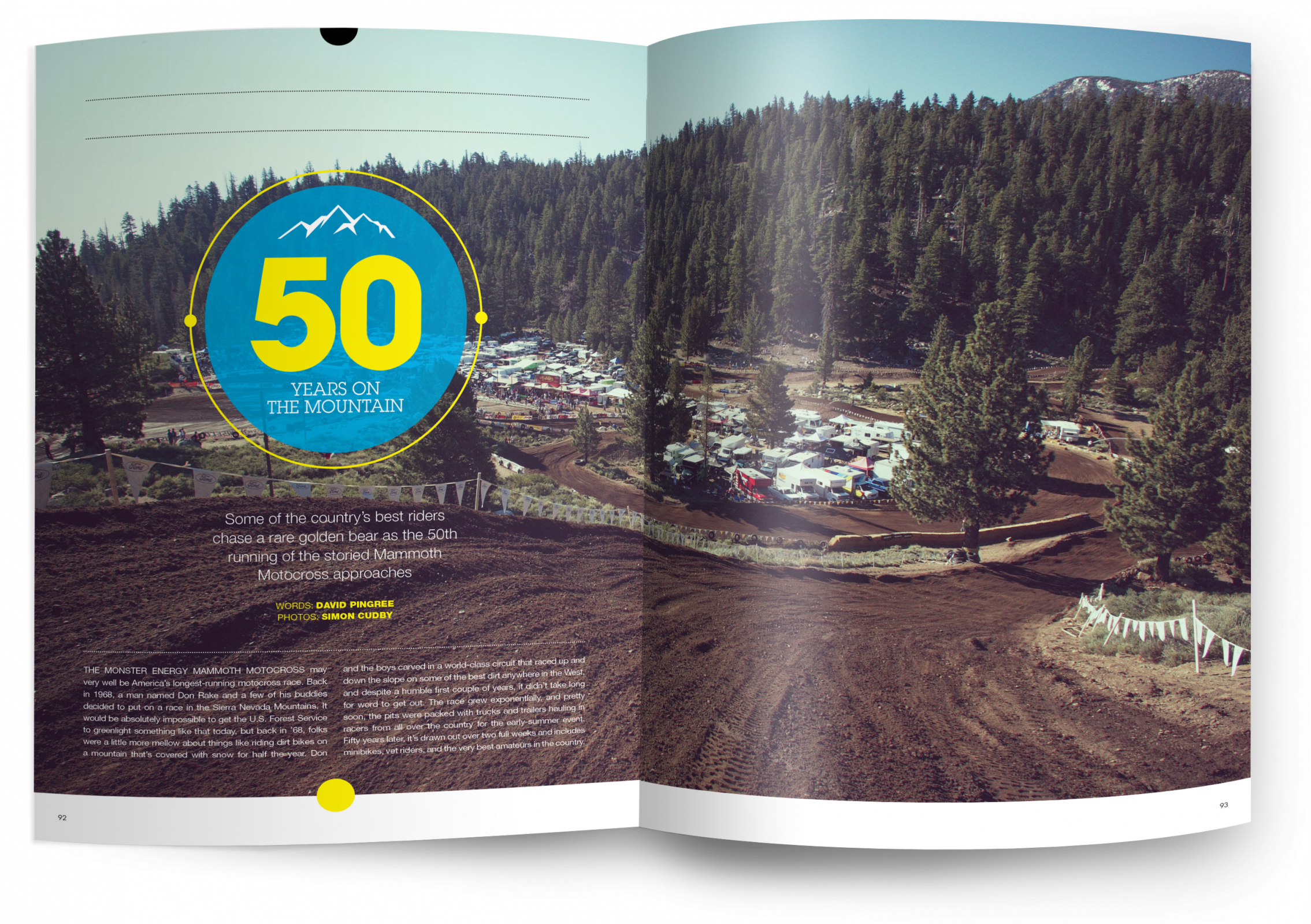 CONFESSIONS OF A MINI DAD
Tony Alessi's reputation precedes him—and he knows it all too well. The Smartop/MotoConcepts team manager spoke with us for this candid interview.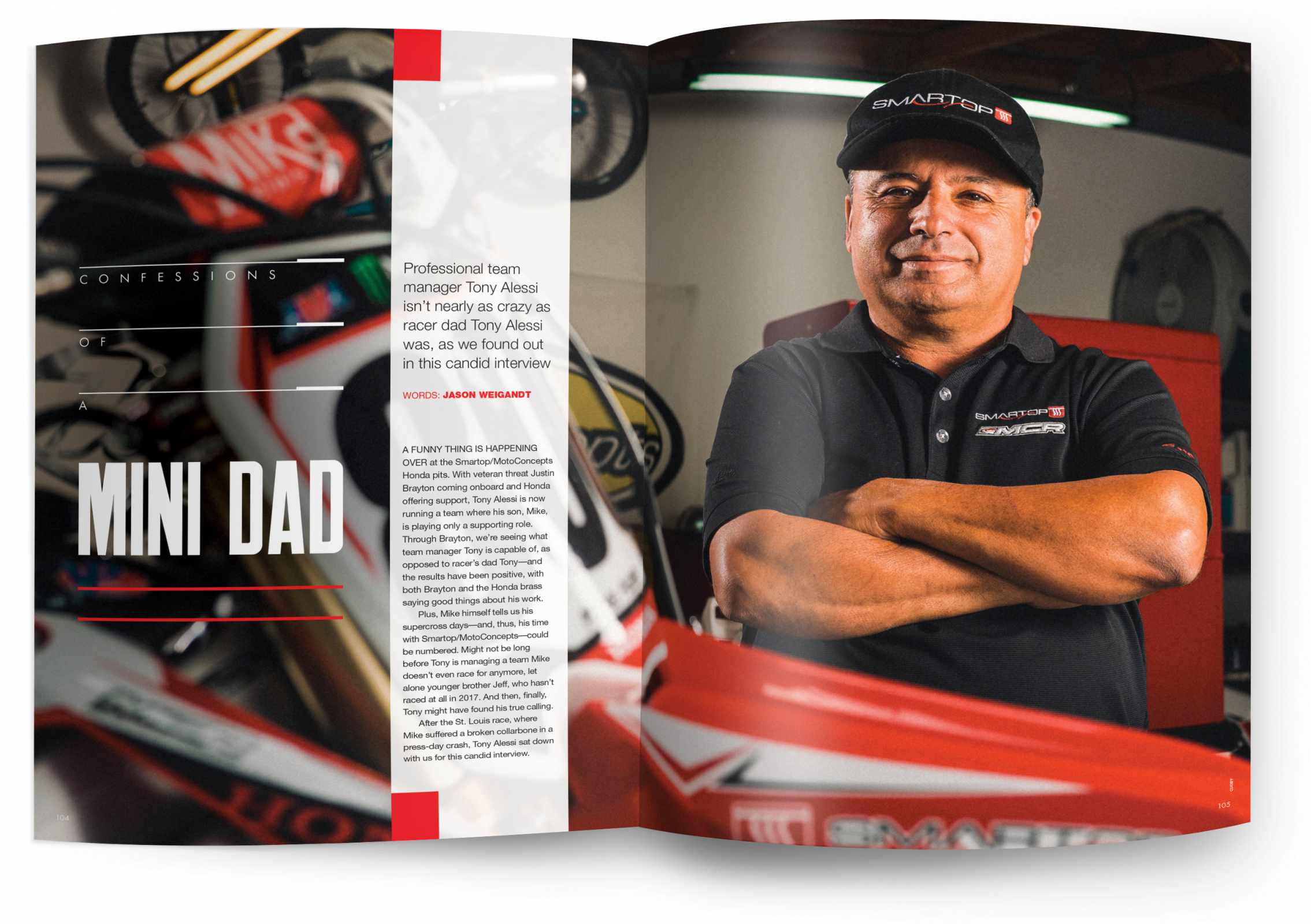 THE BONEYARD
Idaho's Boise Vintage Cycle & Salvage is a wonderland of parts, bikes, and memories for anyone who loves dirt bikes.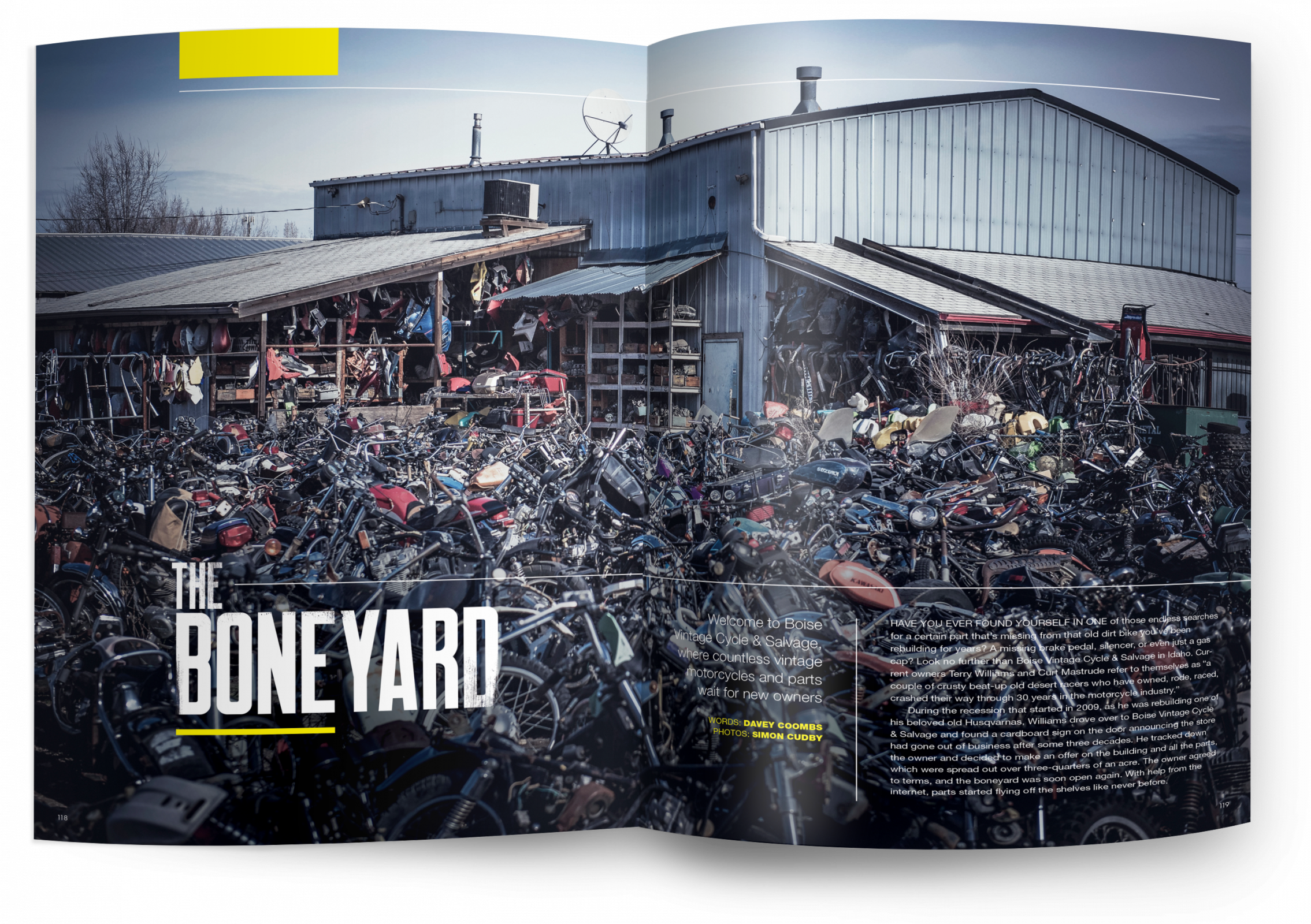 1984
The 1984 AMA Supercross Championship featured some of the greatest racers of all times. David Bailey, Johnny O'Mara, Rick Johnson, Ron Lechien, and Bob Hannah tell us all about it.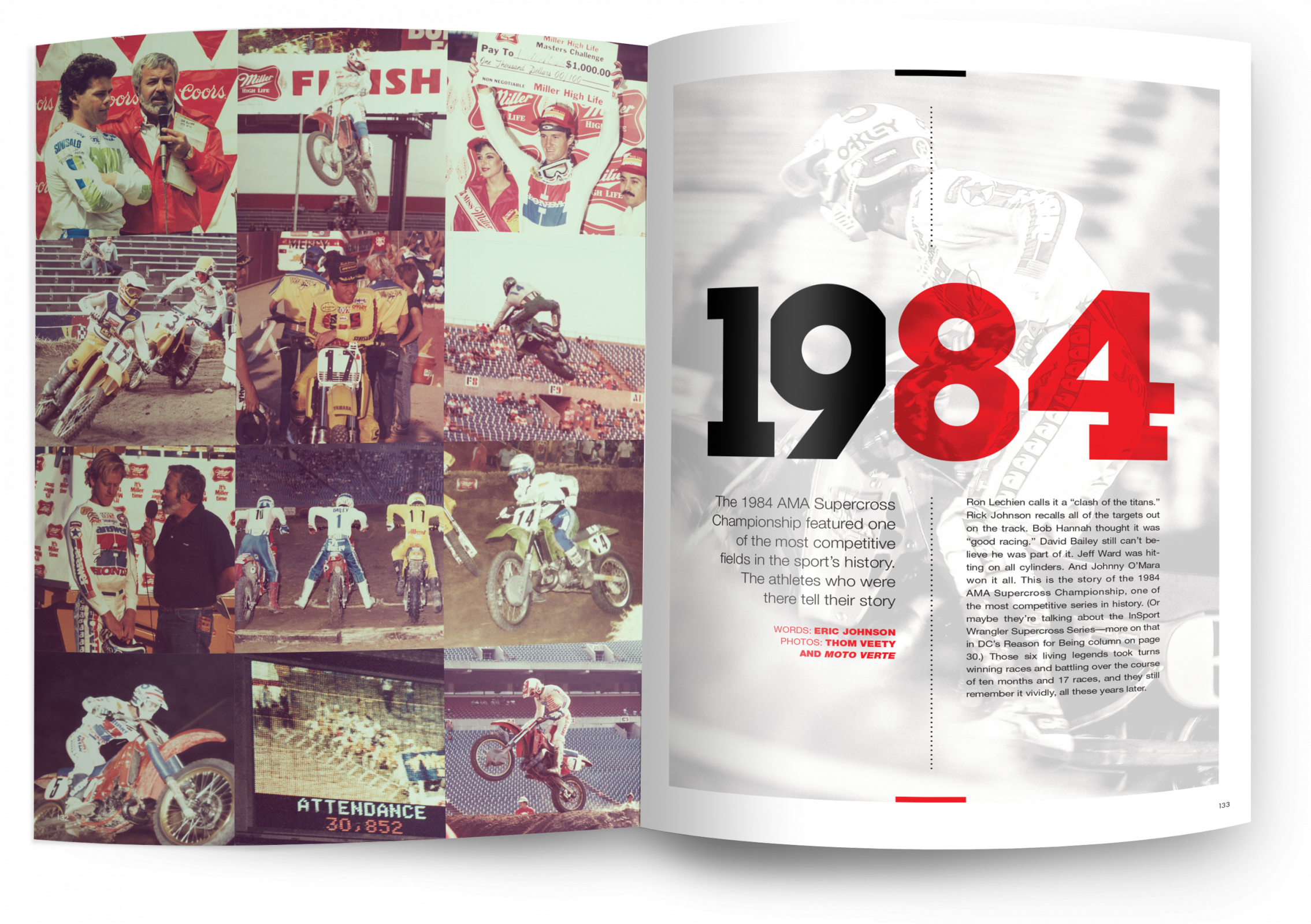 Ducati Scrambler (Kyle Scott)
On Tuesday I headed over to Ducati Newport Beach and they let me do a demo on the new Ducati Scrambler. The Scrambler is not only a whole new bike for Ducati, but it's a whole new line of bikes and they're even calling it an entirely new brand.
With seven different models to choose from, chances are they've got the right one to fit your style. The names of the different models are as follows: the Sixty2, Icon, Urban Enduro, Classic, Full Throttle, Flat Track Pro, and Italia Independent. Each one is tailored to a different riding niche and each accessory is interchangeable throughout all models. From tank covers, to seats, to racks, and lights, Ducati did a lot of forward thinking when they built the Scrambler line.
I rode the Icon, which is more tailored to the dual sport rider. I personally own a dual sport KTM so I'm coming from a bike that is designed for off-road that you can ride on the street. The icon is a bit of the inverse, but so much more. With beefy suspension and a steel frame, they built this thing to be jumped, to get dirty, and to do some serious miles on the road.
I wanted to give it a thorough test in varying conditions so I did some street, freeway, and off-road. I rode from Newport Beach down Pacific Coach Highway to Laguna Beach, through Laguna Canyon, down the 405 freeway to Silverado Canyon and back up the freeway to Newport Beach Ducati. I got some shots of the bike in Laguna at a nice vantage point. It was a tough day in the office, but someone has to do it (insert sarcasm). From Laguna I was hoping to get back into one of the few spots you can legally ride close to my house back in Silverado Canyon and unfortunately the gate was locked so I did some not so legal riding on a trail close by.
I didn't find any jumps to hit, but I did get the sampler I was looking for and must say I was very impressed with the Ducati Scrambler. Aaron Klink, the sales manager at Ducati Newport Beach, likes to describe the Scrambler as the smallest of the big bikes. It's bigger than a Grom, but smaller than an adventure bike and I feel is a nice happy medium—the power band is also in that realm. The bike doesn't feel like it's ripping out of your hands off the line, but it is not sluggish by any means either. It has an 800cc engine and it rides like a Cadillac. So many times I'd be riding along and look down at the speedometer and be doing 80, but it felt like 45.
My only complaint was directed toward myself for not bringing my Leatherman to tighten down the mirror after it came loose in the dirt. As you'll see in the video below I had to get a little sketchy to hold the right mirror in place with my left hand to help me get out of the carpool lane and onto my freeway intersection, but that's obviously a simple fix.
Thanks again to Ducati Newport Beach for the test ride, you can contact Aaron Klink at aaron@ducatinewportbeach.com if you're local and looking for a test ride of your own or you can contact your local dealer for more information.
Finally, it's Herlings! (Andras Hegyi)
Over in Europe, everyone has been waiting for Jeffrey Herlings to break through in the MXGP division. The all-time winningest MX2 GP rider was expecting to be in the hunt in his rookie season in MXGP, but he began the season injured. In the first five rounds, Herlings was nowhere near the podium, but then the sandy tracks came up on the schedule. In Valkenswaard, Holland, he got his first podium, finishing second. Last weekend in Kegums, Latvia, he won for the first time in the MXGP class. With the win, the KTM-supported Herlings became only the seventh Dutch rider to win in at least two different classes.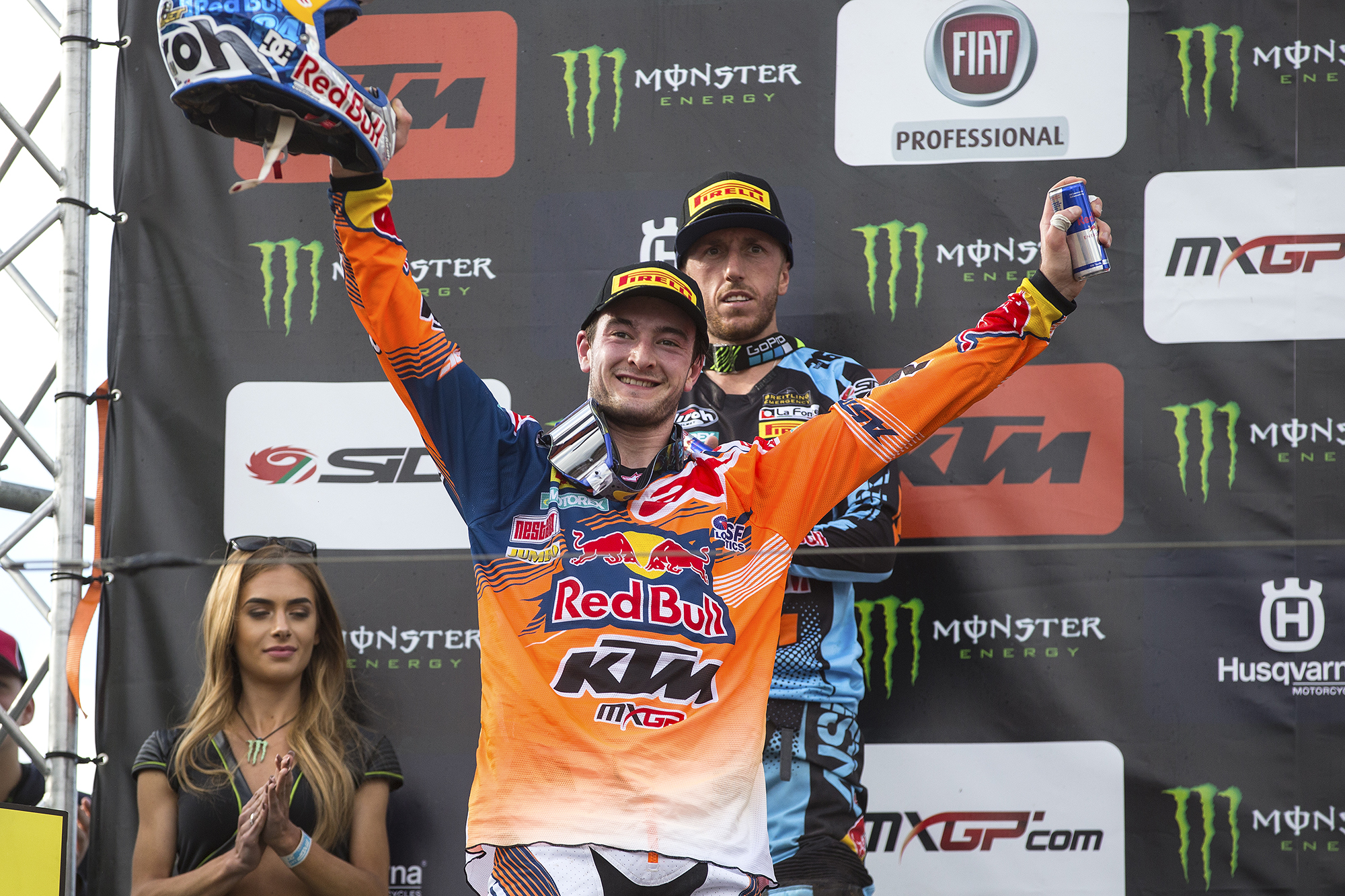 – Kees Van der Veen got 18 GP wins in three different categories. He collected 10 GP wins in 250cc, and four each in both in 125cc and 500cc categories.
– Marc De Reuver made only four GP wins, but he also was successful in three different classes. Marc got two GP wins in MX1 (now MXGP) and he picked up one victory both in 125cc, and then one in MX2.
– Dave Strijbos, the 1986 125cc World Champion, obtained 26 wins in 125cc racing and one triumph in 250cc.
– John Van den Berk was the Netherlands' first two-time world champion, collecting seven 125cc GP wins and two 250cc GP wins.
– Gert Van Doorn took five GP wins in 250cc racing and one in 500cc.
– Glenn Coldenhoff had two GP wins, one in MX2 and one in MXGP.
– Jeffrey Herlings is the most successful Dutch motocrosser ever, with a record 61 GP wins in MX2 between 2010 and 2016. And in his seventh race in MXGP, he got his first one win in the premier class.
– And let's not leave out the great Dutch rider and AMA Motorcycle Hall of Famer Pierre Karsmakers. He emigrated to the U.S. in 1973 to race for Yamaha and became the first AMA Supercross Champion, as well as a winner in the 250 Nationals and 500 Nationals. And for good measure he won a 500cc Grand Prix in Canada in 1976 while riding for Team Honda.
Hey, Watch It!
Racer X Films: 2017 RM-Z250 Build
Racer X Films: The Weege Show with Zach Osborne
Racer X Films: 2017 Pro Motocross Testing at Pala
Random Notes
At his home race in Seattle in April, Noah McConahy was involved in a scary crash with Chase Marquier. McConahy suffered a broken L5 that required surgery and is currently recovering at home (and is expected to make a full recovery). To help raise money for McConahy, Dedicated Ride Co. released a new T-shirt with proceeds going to McConahy. Head over to www.dedicatedrideco.com a grab one today.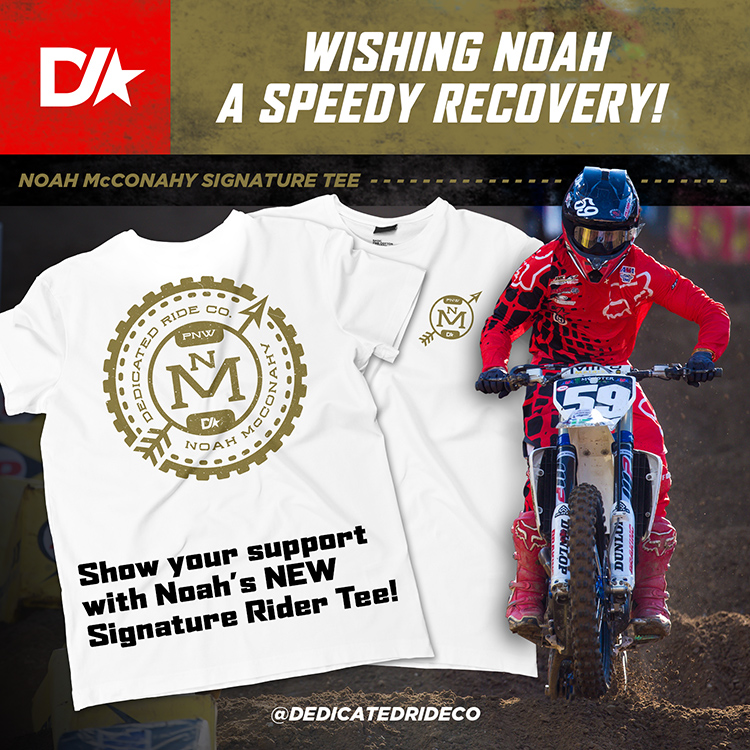 For the latest from Canada, check out DMX Frid'Eh Update #20.
---
Thanks for reading Racerhead, and Happy Mother's Day to all you moms out there. See you at the races.