Centurylink Field
Seattle

,

WA
Seattle
Monster Energy AMA Supercross Championship
Ryan Dungey has never been a big talker. Then the one time he decides to say something, he says it about the wrong person at the wrong time. Of the 21 other riders on that starting gate last Saturday night, only Chad Reed would react in the way Chad Reed did in the main event. Chad's not the dirtiest rider on the track, but he is the most prideful and stubborn, so those words from Dungey stung him more than others. Also, because Chad has so much pride, his emotions are already rubbed raw from his below-standards results this year. He was already pissed about the season, then already pissed about last week's first turn crash, then even more pissed about the heat race talk.
That pride and stubbornness has always powered Reed, on and off the track. It's that dynamic that makes him one of the biggest personalities the sport has ever produced. He is someone who can be incredibly heroic or madly frustrating. And this time, he was both on the very same night.
When the night started, he was a hero, passing Dungey and fighting like hell to hold on and win a heat race. The freaking dome went crazy. Crazy! Those laps were by the far the loudest I've heard a supercross crowd this year, and this was a heat race, led by a rider well out of championship contention. This is the power of Chad Reed, the fans respecting the inarguable facts of his badassery: He stares all odds in the face and says "Eff it, I'm going for it." Is Chad Reed faster than Ryan Dungey right now? No. But he's going to try to beat him anyway. He fights for it. That's what Reed has done his entire career. Even when he shouldn't believe, he believes, and everyone believes in that.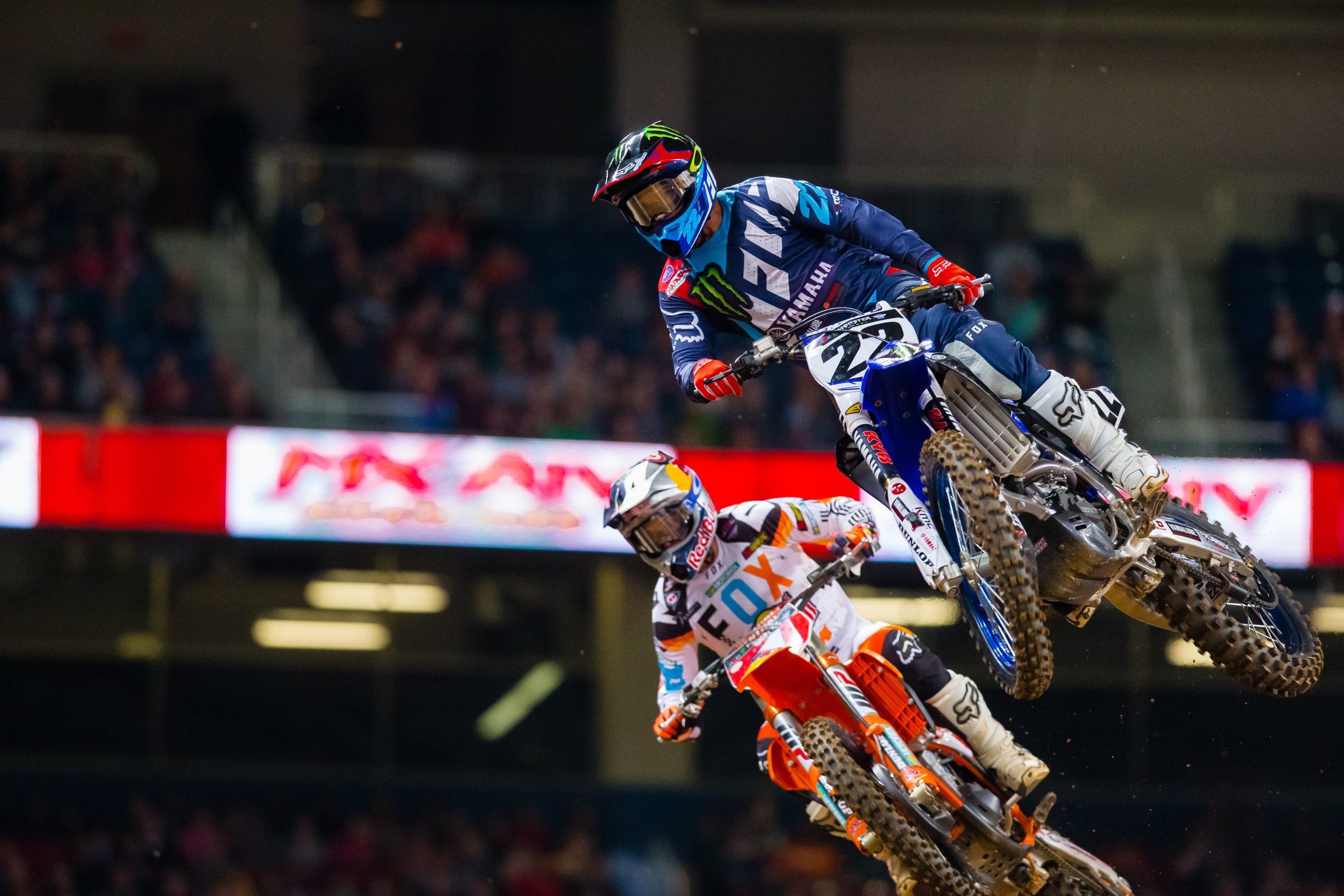 The same stubbornness that made people love him in the heat race made people hate him a few hours later. Just as sure as we know "Oh shit! Chad's got a start! He's going to go for it!" we also know "Oh shit! Chad's pissed! He's going to get his revenge!"
He took the wrong route this time.
Chad was aggressive in his attempts to hold off Dungey in the heat race, but that was okay because he was trying to win the race. Again, that's fine. Personally, I think aggressive racing and contact is one of the things that separates this motorsport from most others, and that's great, which I've written about before. Holding someone up as a lapped rider? It's hard to invent any scenario where that's acceptable.
When you consider what Dungey did to supposedly deserve that treatment, it sounds far-fetched. A first turn crash last week? Yes, in Chad's opinion Dungey caused it and caused him considerable pain. I saw the photos, Chad was really shredded up from that crash. First turn crashes, though, usually have a huge element of randomness instead of intent, it should be difficult to pin 100 percent of blame on someone for that.
Recommended Reading
Some words on the podium? I can think of a half dozen things that other riders have said or done this season alone that were worse than Dungey's infractions here, and you can too. The proper retaliation to that is to mess with him while being lapped?
Dungey could have been more aggressive trying to get around Reed in the main, and maybe even blasted Reed to get his point across. There's an extreme risk to that, though. Dunge has been averse to those moves throughout his career and thus probably isn't even good at it (I supposed that's on him for not developing that skill to use it when needed). Most of all, though, Dungey knows it's a huge gamble to engage in a block pass war with someone who has nothing to lose. What if he tried to park Reed and bent a front brake disc? What if he tried to force the pass and Reed slammed him back? I would surmise that when Dungey was behind Reed in the main event, he was more scared of being next to him than behind him. In the main, Chad did nothing dirty whatsoever. He just used the insides and stayed in the main race line. But surely as they entered the whoops each lap, Dungey had heat race flashbacks.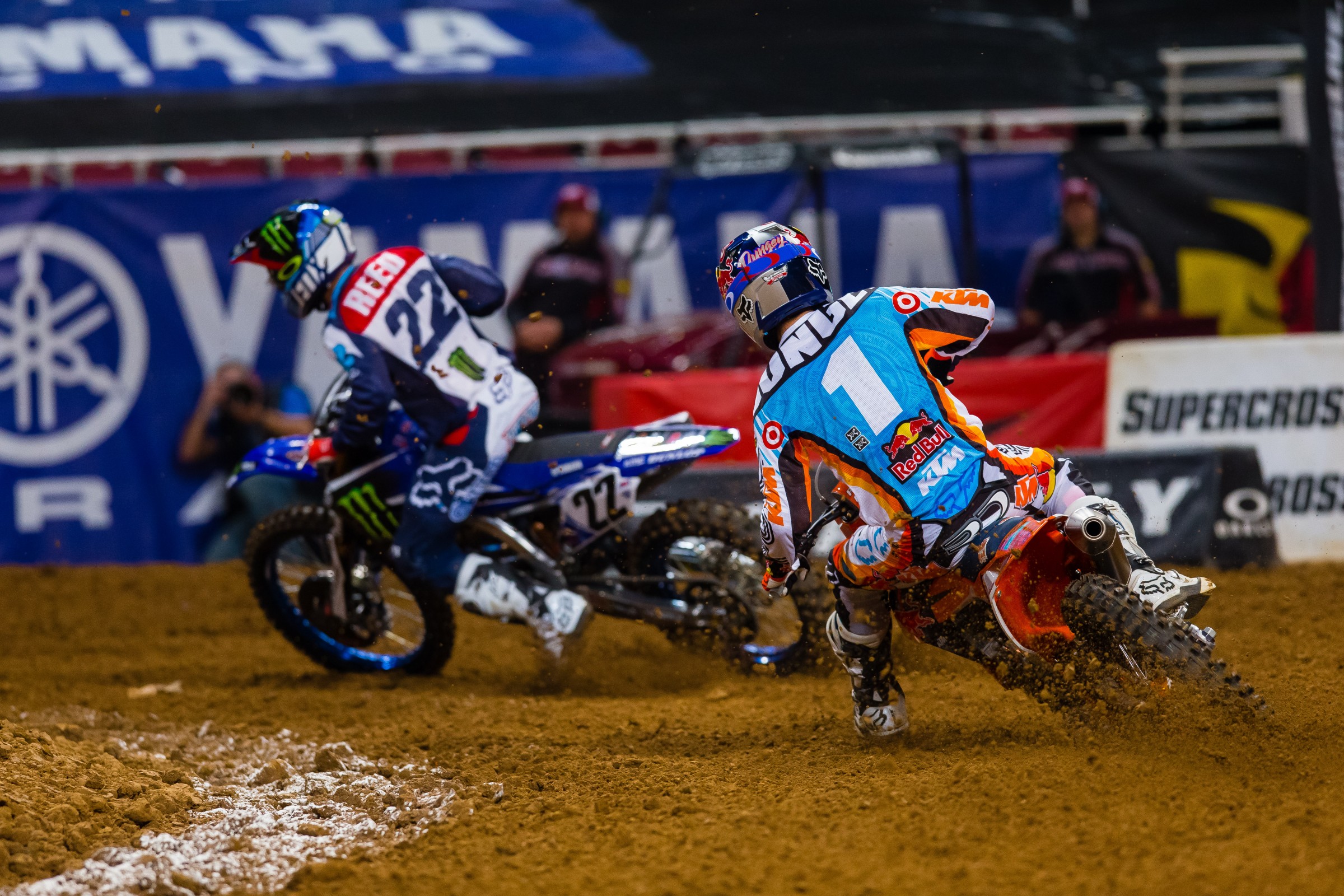 Anyway, opinions vary in all things but especially in powder keg incidents like this. Reed is getting the majority of the heat, but some points have also been made about Dungey. He's just whining, he wouldn't have caught or passed Tomac anyway, he should have known better than to engage Reed with words or should have just gotten around him or slammed him in the main. Elements of all of those things are true, but do any of those things make what Reed did right? No. As proof, just imagine if someone had done the same thing to Reed during those many seasons where he was in a close title fight. Dude would have gone ballistic.
Because that's the thing about pride: It can give you a kick in the ass both ways.