Edward Jones Dome
St. Louis

,

MO
St. Louis
Monster Energy AMA Supercross Championship
It's been quite the adjustment for 450SX rookie Malcolm Stewart. Through 10 races, the Ride365.com/Stewart Racing Suzuki rider garnered just one top 10 finish. Stewart showed impressive speed in his heat races, but hasn't been able to put the pieces together in the main event.
Entering St. Louis, Stewart said he tried to forget about the endurance aspect of the race (a big change going from what was 15 laps in 250SX last year to 20 plus one lap this year) and focus on doing the best he could. It paid off, as he had his best main event all season. Stewart ran fifth for a majority of the race, before being passed late by Josh Grant. Although he dropped a few more spots after falling with two laps to go, Stewart said he's happy with his ninth.
We spoke with him more at the post-race press conference in St. Louis.
Racer X: I was afraid that there were two different versions of you—like a heat race you and the main event you, but heat race you showed up in the main, for almost all of it.
Malcolm Stewart: Heat race me actually went pretty good. I'm going to tell you right now, those heat races are nerve-wracking actually.
Really? You looked like you were loving it.
Well, compared to the Lites [250SX] class, I know worst case scenario I can get ninth and I'll still qualify, but this one to qualify out of the heat race you've got to be top four. Moving to the rookie class in the 450, there's some fast guys. It's tough. We carried over from the heat race to the main event, and I had a pretty positive attitude. I felt pretty good today. Yeah, my practice didn't go as well, but something changed. I don't know if it was I stopped worrying about just trying to have endurance through the race and just go out there and do the best that I can. The last time I had that same attitude I actually won, which was actually at Oakland in 2014. So the same attitude, it actually was a reward. So I just went out this weekend and did the best that I can. I was actually running fifth for a little, for quite a bit of the race. I made a good pass on [Cole] Seely and that put me in fifth. Was just counting down. I didn't look at nothing. I didn't pay attention to the time clock. I was just doing laps, doing laps. I made a few mistakes and [Josh] Grant came around and got me. Right at the tail end, right with two laps to go I tucked the front right before the dragon's back, so that was a little disappointing. But I got back up and got ninth. Coming in this weekend the goal was to get a top 10. What can I say? I'm happy. First thing, I want to thank Eli [Tomac] for definitely not lapping me. I actually did 24 total laps this weekend, so I'm pretty stoked on that one.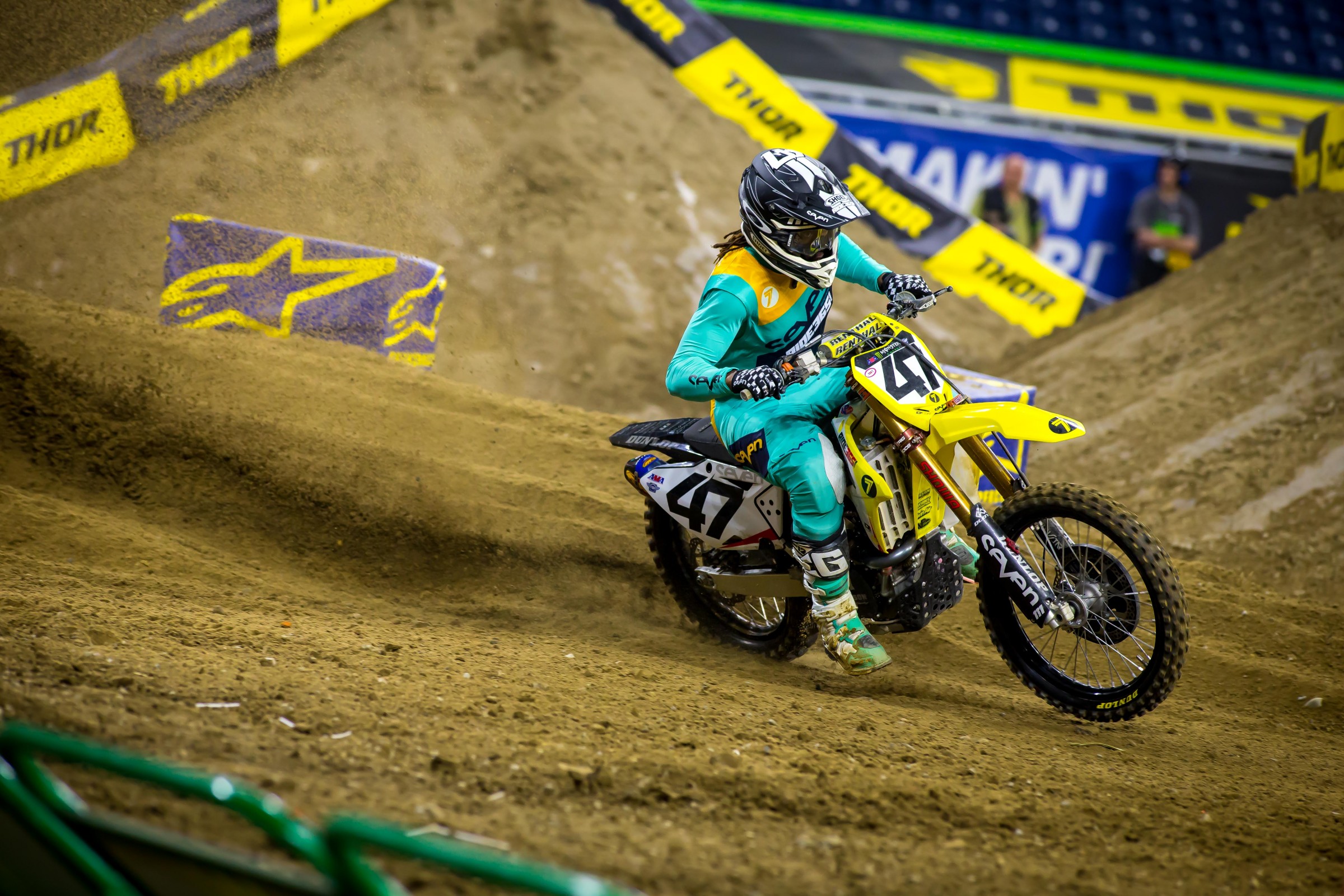 Have you not been on the lead lap yet? Is this the first one?
This is my first one. You go from winning a championship in the Lites class and rookie class in the 450 and getting lapped every single weekend. It's not a big confidence booster. So I changed a lot this week and I felt like this boosted my confidence up for sure, even getting ninth. I was capable of running a top five. It's a start. We've been down quite a bit for the last couple races. It's good to pick it back up and finally start paying off. Unfortunately you've only got four more races to go, but we're just taking it race by race. Going to take this same momentum and go to Seattle.
What changed? Just you and your attitude or did you change your training, change the bike?
We made a couple bike changes with suspension. I think that definitely got a lot better with the chassis, and just mentally. Just stopped worrying about endurance and worrying about people around you. Just go out there and do what we're supposed to do. Try to go back to what you did when you won a championship. When you get beat down so much, you lose that mindset. You forget why you're even here. I forgot. I'll be honest with you, I totally forgot. It's like waking up in the morning and you know what you're supposed to do. You're supposed to go out there and do two 20-minute motos. I was like me waking up and I'm like, I don't know what I'm going to do. So I just got to get back to that mindset, and I changed all that and ended up with a ninth. So you can't take anything away from it.
Recommended Reading
How gnarly is it? This is probably the most races in a row you've done. I know you missed the first two, but it's more than a 250 class season. So is that something to deal with?
Yes. It's funny, I was talking about that yesterday to one of my friends. I was like, Lites class, you only got nine races. This you've got 17 races. It's a lot. It's a lot of traveling. [Ryan] Dungey and those guys were talking about the traveling and stuff like that. It's definitely a lot. I can tell you what hotel to stay at at what race, from the Best Western all the way to the Ritz Carlton. I could tell you right now. But it's fun. I don't really mind it. I think it's a huge experience with me. I definitely see that even when you do have bad weekends, you've got more races to make it up. Like I said, that's the reason why we come out here. I've changed the attitude and we got ninth tonight. So there was nothing I can do.
Was it basically before you were like, I can't ride all out because I've got manage it for 20 minutes and tonight you just said, I'm just going to ride hard and see what happens?
I just got to start going back. Literally this week I started watching races from last year.
Did it pump you up?
Yeah. It's just mentally. This sport is definitely physical, but it's a lot of mental too. I had to just go back to the drawing board. Like I said, you've got to realize what you're here for and why you're doing it. I started to kind of figure that out. That's the results I got for tonight.