Lucas Oil Stadium
Indianapolis

,

IN
Indianapolis
Monster Energy AMA Supercross Championship
Eli Tomac can seem to do no wrong at the moment. He's dialed in his starts. He's patient when called for (see Daytona). He'll pounce quickly if needed (see tonight). He's been able to lead wire-to-wire (see Toronto). In the last three races, the Monster Energy Kawasaki rider has led 57 of a possible 69 laps. After tonight, he's won six of the last eight races, and has made a series out of a championship that looked lost not that long ago. After Toronto, Tomac pointed to changes made prior to Glendale. Since that race, he's been on an absolute roll. With the exception of Arlington, where he experienced front brake problems, Tomac has finished no worse than second, and has won six other rounds. In that time, he's cut what was a 25-point deficit (entering Glendale) to 12.
Lucas Oil Stadium in Indianapolis, Indiana, site of Round 11 of Monster Energy Supercross, looked like it would host another epic battle between the titans of the sport, akin to Ryan Dungey and Ken Roczen's showdown just a year ago. After Tomac got around early leader Blake Baggett, Dungey followed suit. Tomac stretched his lead to around three seconds, only to have Dungey cut it to around one. Once Dungey cut it to one, Tomac seemed to kick it up another notch.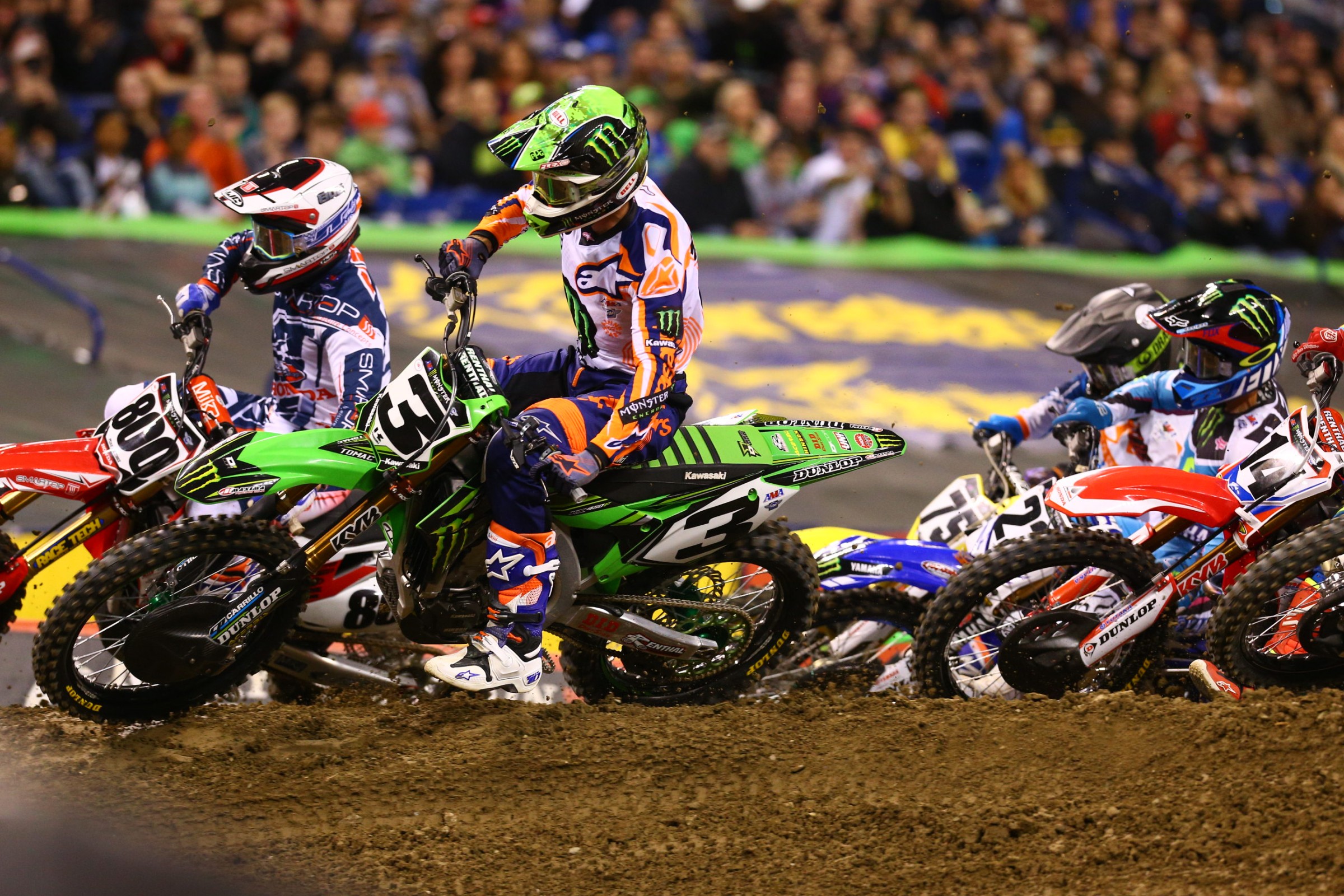 "Yeah, you know, I'm watching for sure," Tomac told the media after the race when asked if he was aware of his lead shrinking. "If you do have a little bit of a gap on someone, you can mark them on the track. I saw it. And I was making a few little mistakes here and there. I was struggling before the finish line with that on-off there and just little things that were eating at us. I ended up cleaning those up, which was good, but it was a hard fought 27 laps tonight.
"Yeah, I'm feeling good that we're getting race wins, but we're still 12 points out," continued Tomac. "If I go out and win every race right now, that still takes four races to get there and that's a big ask. Just doing what we can right now, and taking it week by week."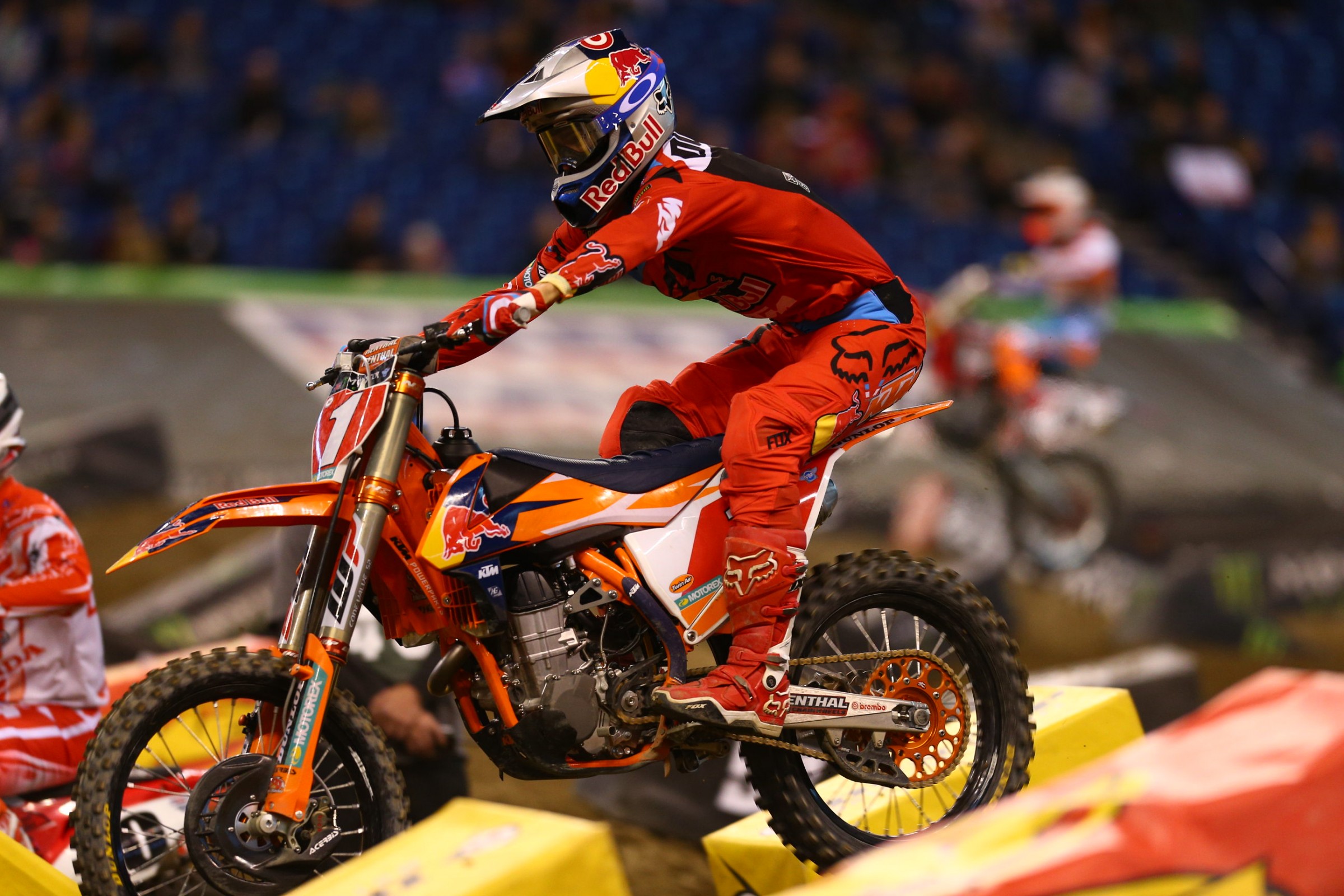 While he's seen his points lead trimmed to 12, and on a night where he wasn't at his best (losing ground to Tomac and then being passed by his teammate Marvin Musquin for second) Dungey is still happy to be in the position he's in with six rounds remaining.
"The pressure isn't on me necessarily. I've won championships. These guys haven't [yet]. So they are going for their first one. If anything, I'm in a good position, with the position I'm in with the points. I wouldn't change it for the world. I've been in his [Tomac's] position. I was behind Ryan Villopoto for four years and I don't like it and it bothered me and it upset me a lot to the point where I hated the sport. I didn't like it all. I wanted to be done."
After battling the flu the past two weeks, Musquin looked back to 100 percent. He qualified fastest, and then after starting fourth, he tracked Dungey down late in the race and made the pass for second on lap 19 of 27.
"It was really difficult," Musquin said of battling his illness. "You don't want to be sick when you have 17 rounds in a row. Every weekend you have your routine and your program and your putting in a lot of work and you get sick—it happens. But I was sick pretty bad. I had a bad flu. I had a fever every night."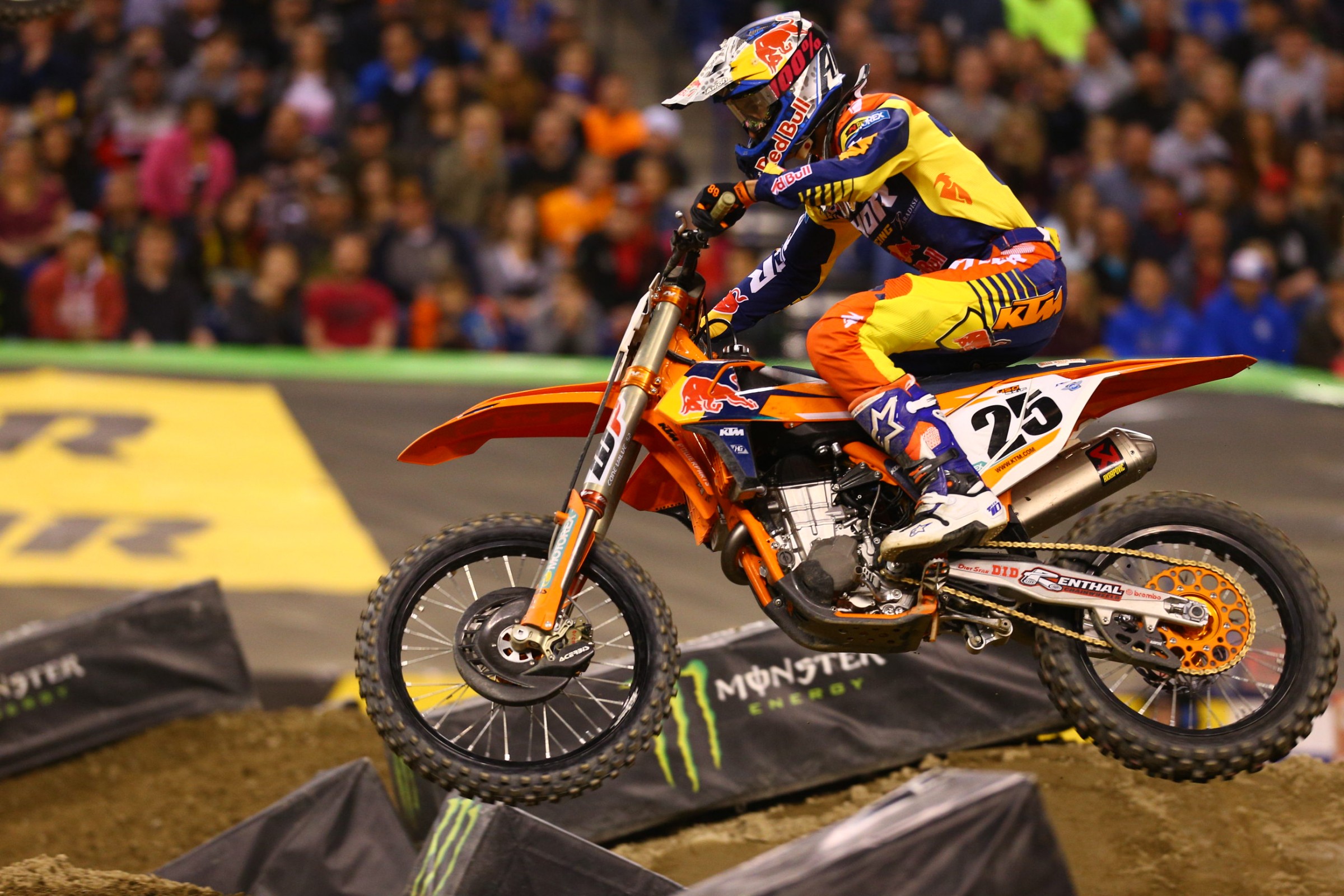 Rocky Mountain ATV-MC-WPS-KTM's Blake Baggett was a strong fourth. He held third until lap 11 when he made a mistake in the rollers and crashed. It was a very similar crash to Alex Martin's in the 250 main event. He only lost one spot, though, and rode to his best finish since a podium in Atlanta.
Red Bull KTM's Trey Canard was back for the first time since a crash in qualifying in Toronto. He went down in a first turn crash in his semi race and had to go through the LCQ (which he won) to make the main event. He finished 14th after rounding lap one in 21st.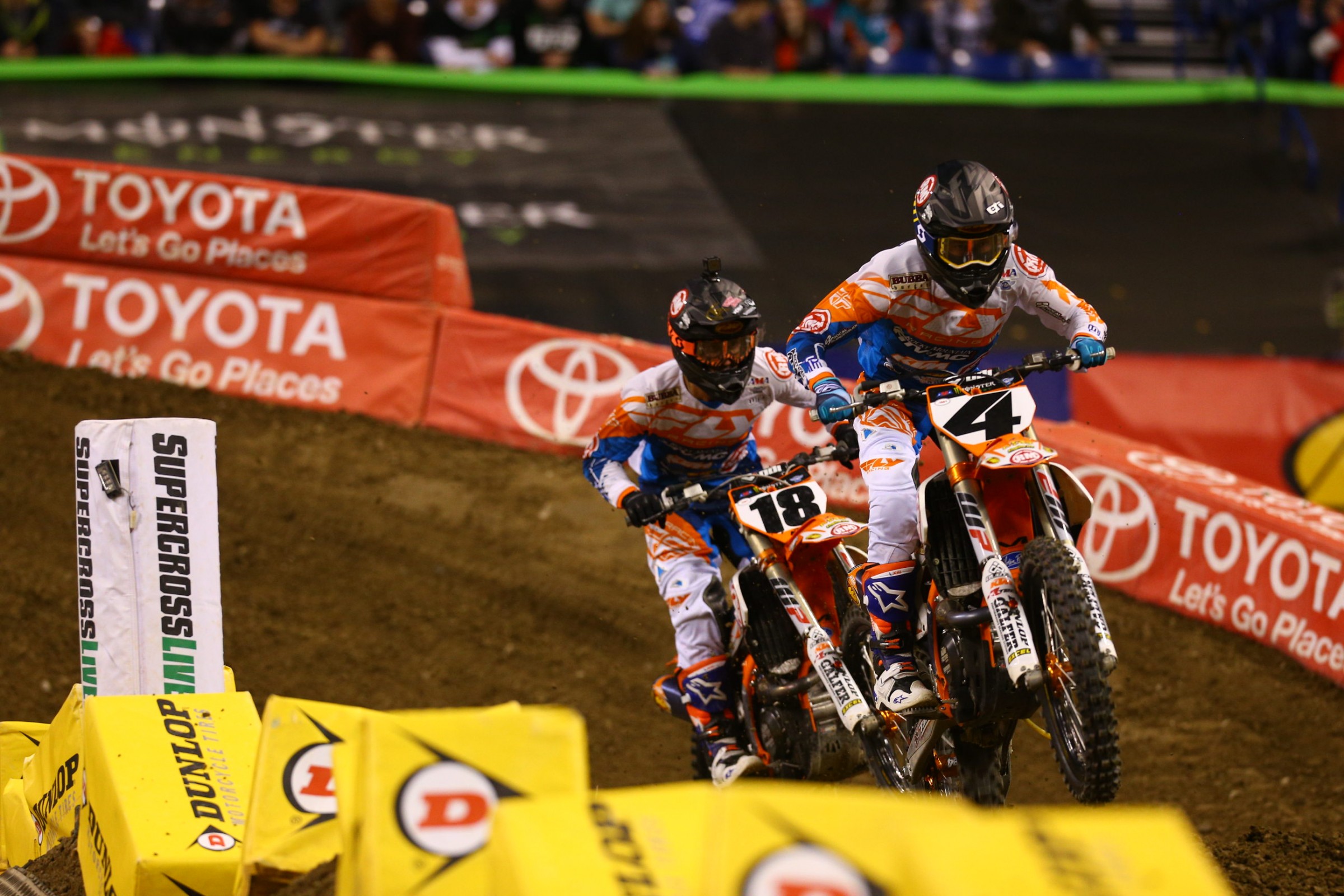 Indianapolis - 450SX
| | Rider | Hometown | Machine |
| --- | --- | --- | --- |
| 1 | Eli Tomac | Cortez, CO | Kawasaki KX450F |
| 2 | Marvin Musquin | La Reole, France | KTM 450 SX-F FE |
| 3 | Ryan Dungey | Belle Plaine, MN | KTM 450 SX-F FE |
| 4 | Blake Baggett | Grand Terrace, CA | KTM 450 SX-F FE |
| 5 | Cole Seely | Newbury Park, CA | Honda CRF450 |
| 6 | Davi Millsaps | Cairo, GA | KTM 450 SX-F FE |
| 7 | Chad Reed | Kurri Kurri, Australia | Yamaha YZ450F |
| 8 | Broc Tickle | Holly, MI | Suzuki RM-Z450 |
| 9 | Jason Anderson | Edgewood, NM | Husqvarna FC 450 |
| 10 | Justin Barcia | Monroe, NY | Suzuki RM-Z450 |
| 11 | Dean Wilson | Scotland, United Kingdom | Husqvarna FC 450 |
| 12 | Justin Brayton | Fort Dodge, IA | Honda CRF450 |
| 13 | Josh Grant | Riverside, CA | Kawasaki KX450F |
| 14 | Trey Canard | Shawnee, OK | KTM 450 SX-F FE |
| 15 | Justin Bogle | Cushing, OK | Suzuki RM-Z450 |
| 16 | Jake Weimer | Rupert, ID | Suzuki RM-Z450 |
| 17 | Vince Friese | Cape Girardeau, MO | Honda CRF450 |
| 18 | Malcolm Stewart | Haines City, FL | Suzuki RM-Z450 |
| 19 | Mike Alessi | Apple Valley, CA | Honda CRF450 |
| 20 | Kyle Chisholm | Clearwater, FL | Honda CRF450 |
| 21 | Nick Schmidt | Maryville, WA | Suzuki RM-Z450 |
| 22 | Adam Enticknap | Lompoc, CA | Honda CRF450 |
Full Results
Supercross 450SX Standings - 2017
| | Rider | Hometown | Points |
| --- | --- | --- | --- |
| 1 | Ryan Dungey | Belle Plaine, MN | 359 |
| 2 | Eli Tomac | Cortez, CO | 354 |
| 3 | Marvin Musquin | La Reole, France | 293 |
| 4 | Jason Anderson | Edgewood, NM | 273 |
| 5 | Davi Millsaps | Cairo, GA | 221 |
| 6 | Blake Baggett | Grand Terrace, CA | 220 |
| 7 | Cole Seely | Newbury Park, CA | 212 |
| 8 | Dean Wilson | Scotland, United Kingdom | 185 |
| 9 | Chad Reed | Kurri Kurri, Australia | 182 |
| 10 | Josh Grant | Riverside, CA | 175 |
Full Standings
---
Following a season-worst fifth in Daytona, and seeing his points lead trimmed to just six, Rockstar Energy Husqvarna's Zach Osborne got back on track with a huge win in Indianapolis, and he had to go through his chief title rival Joey Savatgy to get it done. Savatgy led the opening nine laps with Osborne directly behind him the entire way. When Savatgy was jumping through the whoops, Osborne was able to blitz them and made contact with Savatgy in the following corner and pushed into the lead. While he wasn't able to open a gap on Savatgy, who stayed close, Osborne held strong under pressure and claimed his third win of the season by 2.2 seconds. In the process, he stretch his points lead back to nine over Savatgy.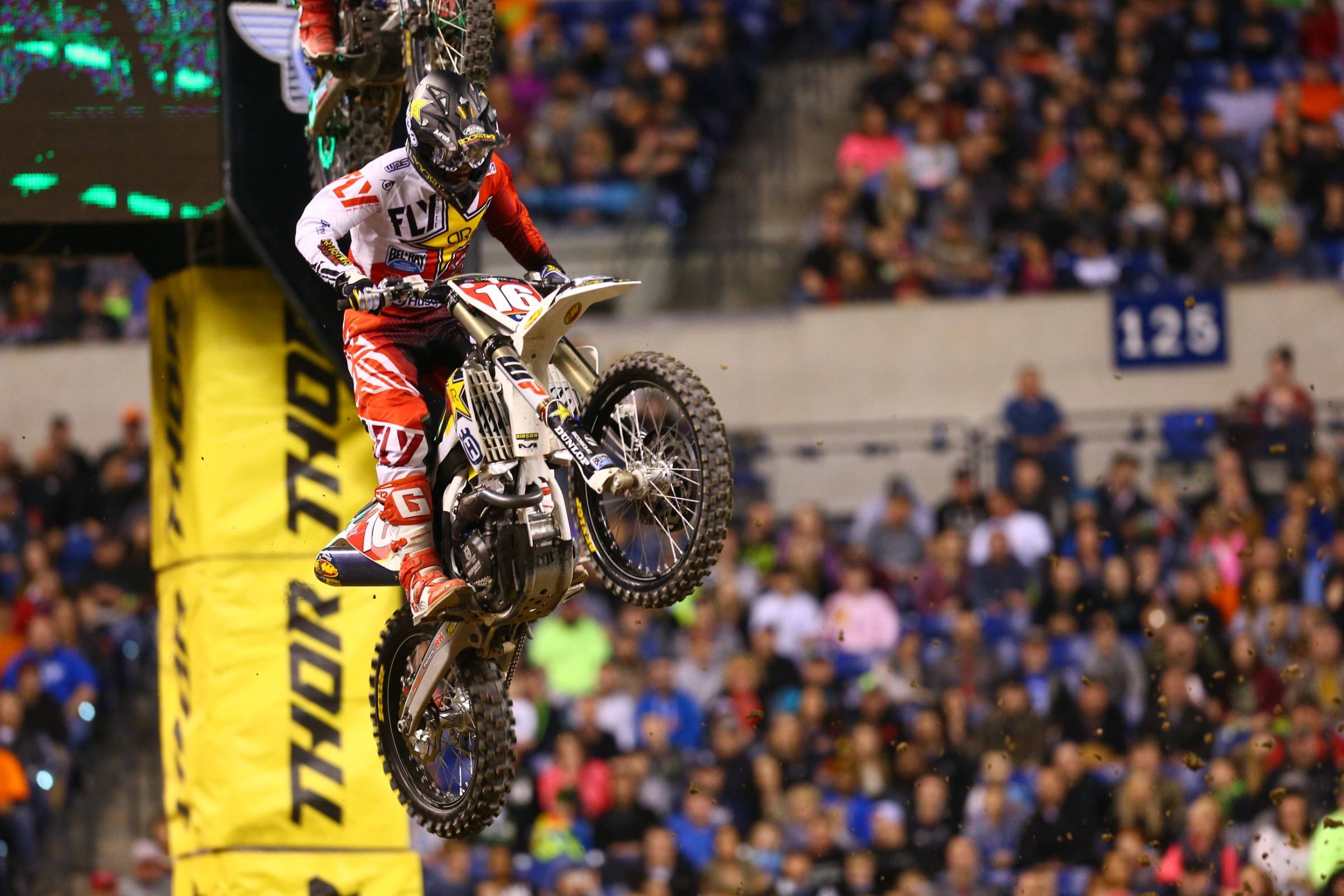 "You know, I kind of maybe gave that away too early," Osborne told the media after the race about the inside line he used to pass Savatgy after the whoops. "I maybe should have waited a couple of times until I was closer. But I knew from the start whenever he pulled the holeshot that it was going to be a tough race. I just tried to bide my time and make it happen when I did. But it's going to be a tough championship all the way to the last lap in Vegas."
With short lap times (the leaders were in the 48-49 range) and a huge pileup, which collected a lot of the field on the first lap in the rhythm section, the lead pack caught up to lappers quickly and ended up lapping up to eight place Mitchell Harrison. The overall theme was that the lappers weren't a problem, but that the crashes that were happening around them were.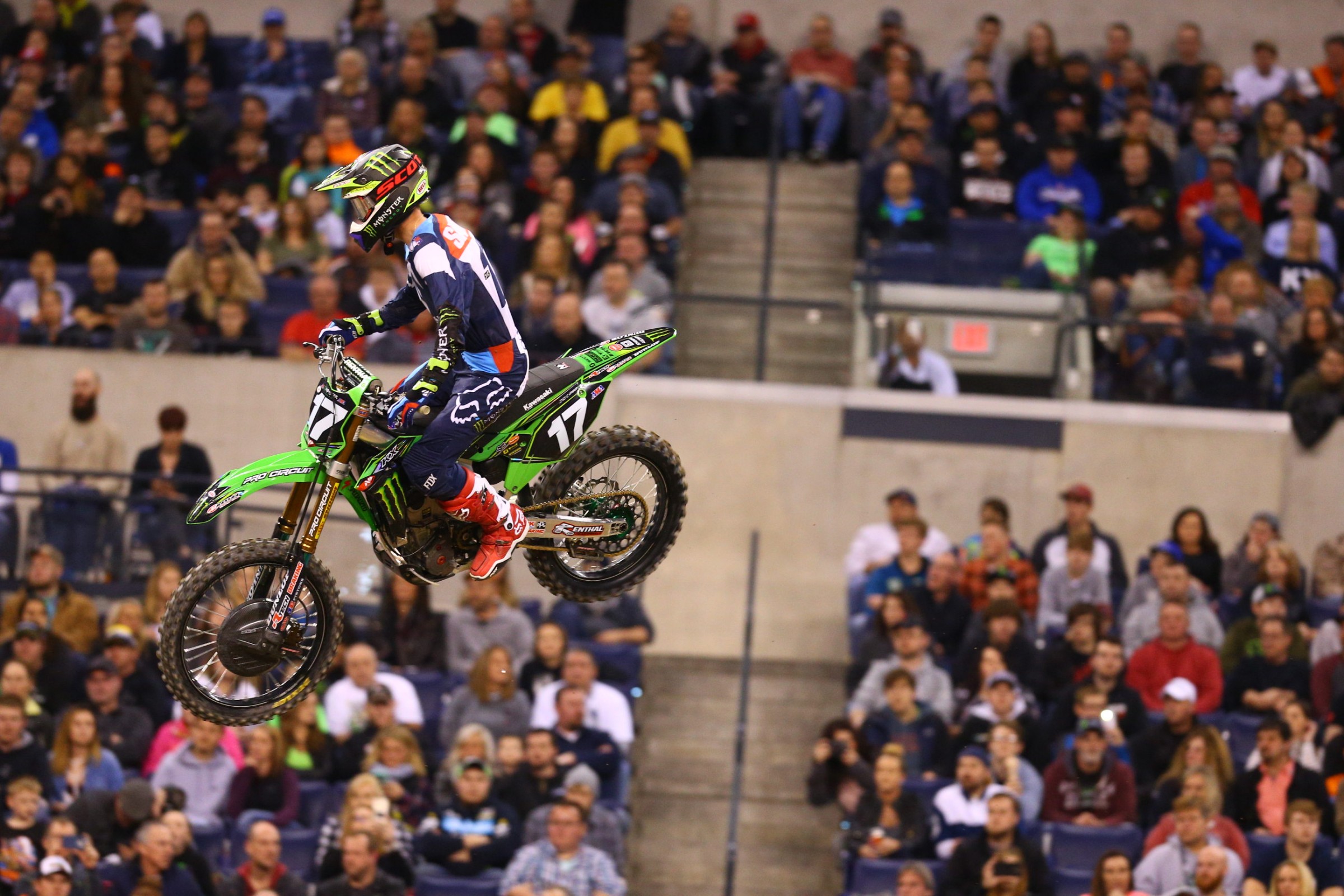 "I didn't think they were terrible," said Savatgy. "There were obviously times where they definitely affect the flow and not intentionally get in the way, but you have your line you take every lap and they are in your line so you gotta change it up a little bit. But there definitely was a little bit of carnage—the crash on the on-on section. All in all for me personally I struggled to find the flow a little bit and didn't let the track come to me quick enough. But that's something we'll learn [from], build on, adapt and make it better."
In his first year with Troy Lee Designs/Red Bull KTM Jordon Smith has turned the corner as far as consistency goes. Tonight was just another example. He was part of the lead group—fourth behind Osborne, Savatgy and Alex Martin—and was staying close, but when Martin went down in the rollers, he didn't have room to get around and got held up. While he didn't lose any spots, he lost ground on the leaders and rode to a quiet third. It was his first podium since the opening round in Minneapolis, but he's been in the top five in all but one race and his worst finish is a seventh. He now trails Adam Cianciarulo by three points for third.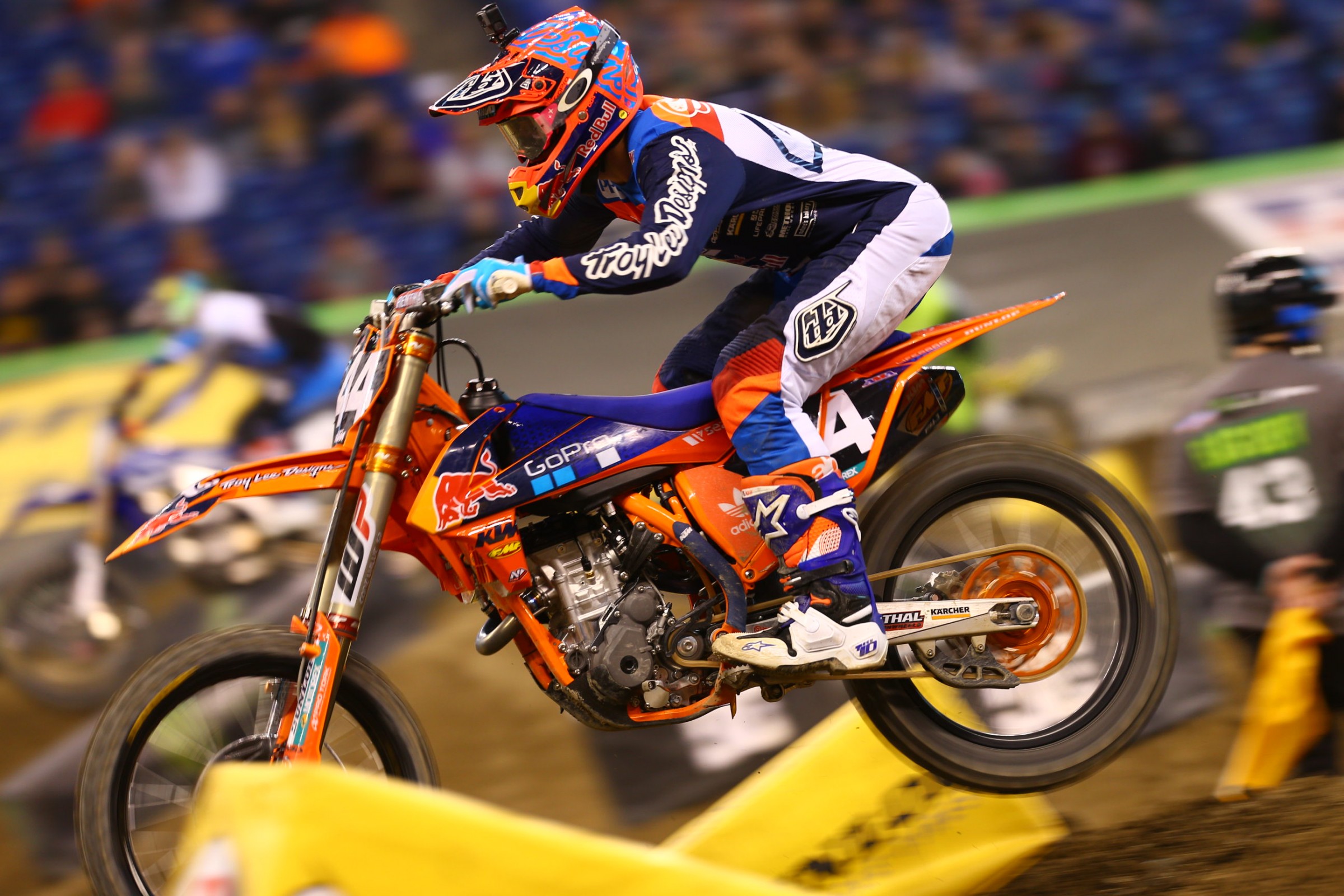 "Alex had a little tip over about halfway through the race and I got hung up with him," said Smith after the race. "I let those guys get really far away, which was kind of a bummer. I felt like I had the speed to run with those guys and challenge them a little bit."
As for Martin, he would lose third to Smith but rebounded to hold off Cianciarulo for fourth. "It was really just a case of me not being smart enough out there," Martin said about the crash after the race. "In practice I made the same mistake two times, in the last practice, I crashed twice in that corner. You're coming off the finish line, and you wheel tap three and then quad and you have a lot of speed coming into that corner and I was getting a little tired, arms were a little rubbery and I just lost the front end."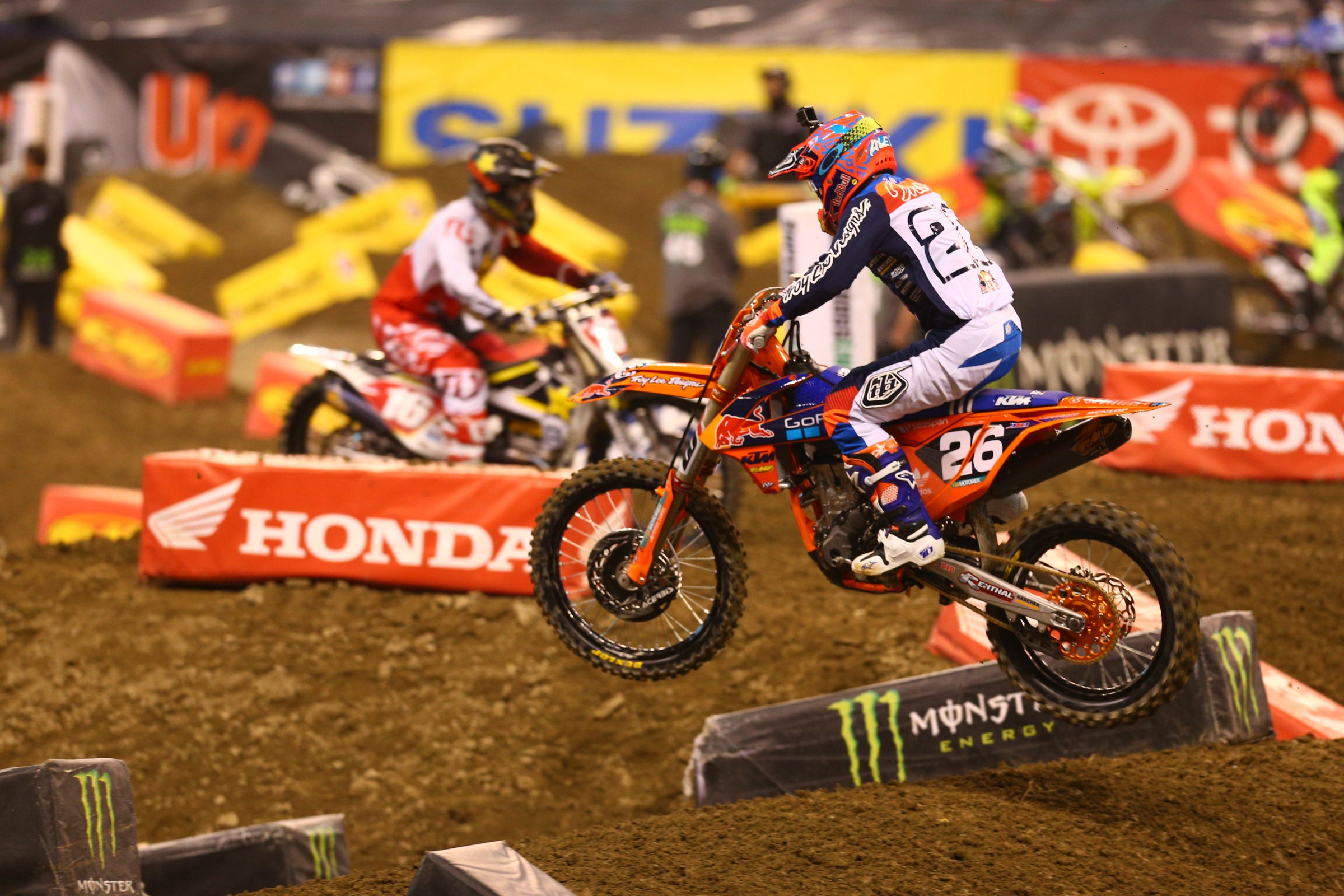 Adam Cianciarulo, who injured his knee in qualifying after getting slammed off the track by Osborne and didn't finish the session, finished fifth [we also hear he initiated the fracas with Osborne, and Osborne was just retaliating]. Cianciarulo told us after the race that although he hasn't had an MRI, they don't fear that he suffered any structural damage and that he hyperextend his knee when he went off the track. He said that while he may not be able to ride this week, he doesn't expect to miss any time.
"It really wasn't that bad, I just kind of jumped off the track and just planted my leg a little bit and hyperextended it and man it stung. It was God-awful pain. Even for like the first 30 minutes after. I was like man, there's no way I'm gonna be able to do it tonight. Luckily we were able to get decent enough for the practice for me to throw down an okay lap. I felt decent in the heat race. The knee actually started to loosen up at the end. The main event, too… But I'm not too bummed on my ride. For what we were dealing with with the knee."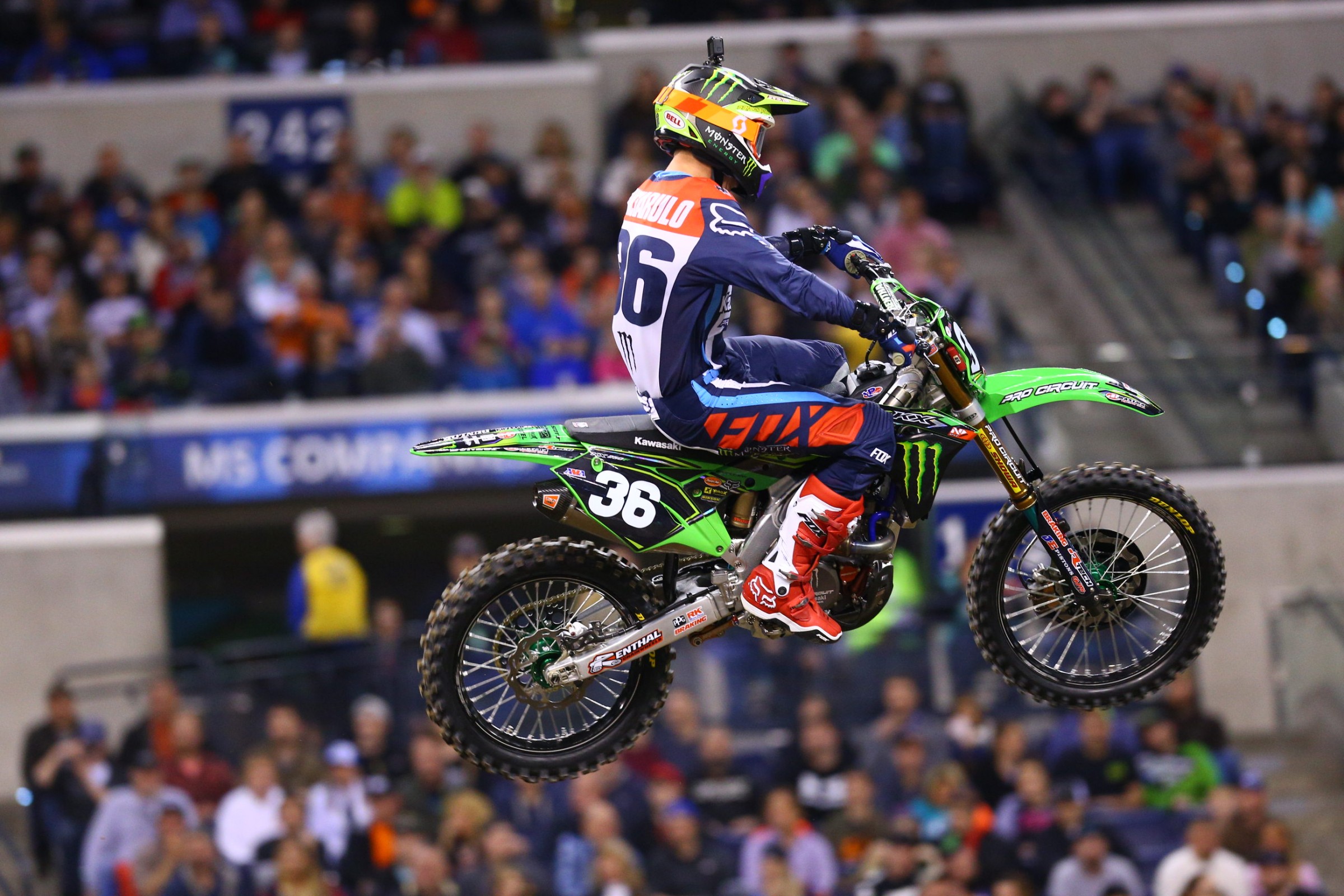 Indianapolis - 250SX East
| | Rider | Hometown | Machine |
| --- | --- | --- | --- |
| 1 | Zach Osborne | Abingdon, VA | Husqvarna FC 250 |
| 2 | Joey Savatgy | Thomasville, GA | Kawasaki KX250F |
| 3 | Jordon Smith | Belmont, NC | KTM 250 SX-F FE |
| 4 | Alex Martin | Millville, MN | KTM 250 SX-F FE |
| 5 | Adam Cianciarulo | Port Orange, FL | Kawasaki KX250F |
| 6 | Christian Craig | Hemet, CA | Honda CRF250 |
| 7 | Dylan Ferrandis | Avignon, France | Yamaha YZ250F |
| 8 | Mitchell Harrison | Lansing, MI | Yamaha YZ250F |
| 9 | Anthony Rodriguez | Caracacus, Venezuela | Yamaha YZ250F |
| 10 | Kyle Cunningham | Aledo, TX | Suzuki Rm-z250 |
| 11 | Henry Miller | Rochester, MN | Yamaha YZ250F |
| 12 | Dakota Alix | Jay, VT | KTM 250 SX-F |
| 13 | John Short | Pilot Point, TX | Suzuki Rm-z250 |
| 14 | Luke Renzland | Hewitt, NJ | Yamaha YZ250F |
| 15 | Dylan Merriam | Corona, CA | Yamaha YZ250F |
| 16 | Eric Grondahl | Portsmouth, NH | KTM 250 SX-F |
| 17 | Joshua Cartwright | Tallahassee, FL | Yamaha YZ250F |
| 18 | Gradie Featherstone | United Kingdom | Yamaha YZ250F |
| 19 | Cole Thompson | Canada | KTM 250 SX-F |
| 20 | Jesse Wentland | Elk River, MN | Honda CRF250 |
| 21 | Fredrik Noren | Sweden | Honda CRF250 |
| 22 | Jerry Robin | Hamel, MN | Yamaha YZ250F |
Full Results
Supercross 250SX East Standings - 2017
| | Rider | Hometown | Points |
| --- | --- | --- | --- |
| 1 | Zach Osborne | Abingdon, VA | 173 |
| 2 | Adam Cianciarulo | Port Orange, FL | 171 |
| 3 | Joey Savatgy | Thomasville, GA | 166 |
| 4 | Jordon Smith | Belmont, NC | 161 |
| 5 | Dylan Ferrandis | Avignon, France | 144 |
| 6 | Christian Craig | Hemet, CA | 97 |
| 7 | Mitchell Harrison | Lansing, MI | 86 |
| 8 | Luke Renzland | Hewitt, NJ | 84 |
| 9 | Anthony Rodriguez | Caracacus, Venezuela | 82 |
| 10 | Kyle Cunningham | Aledo, TX | 77 |
Full Standings