Lucas Oil Stadium
Indianapolis

,

IN
Indianapolis
Monster Energy AMA Supercross Championship
Welcome to Racerhead, and welcome back to our regularly scheduled programs. After two weeks of very different supercrosss races—Toronto in another country and of course Daytona is just another world—it's back to business as usual for Monster Energy AMA Supercross. The gang is all headed to the Lucas Oil Stadium in Indianapolis, where Monster Energy Kawasaki's Eli Tomac will keep trying to catch Reb Bull KTM's Ryan Dungey in the points standings. Momentum in on #3's side right now, but #1 has some breathing room, as Jason Thomas will explain a little later.
But first, Bike Week. Daytona is always a long haul of a week for me and everyone here at Racer X Online, our neighbors next door at Racer Productions (GNCC Series promoter) and MX Sports (Ricky Carmichael Amateur Supercross promoter), and especially Tim Cotter—he's our secret MVP when it comes to the really hard work of organizing big amateur events, and the only week(s) that's harder work for him than Daytona are the week before and the week during the Loretta Lynn's AMA Amateur National Championship.
This year Tim was on double duty, as the GNCC Series opened a week earlier than normal in South Carolina, and a ridiculous 1,922 individual riders showed up. Then he went to Daytona to prepare for the RCSX, which was packed again to the tune of over 1,400 riders. And while that was getting started on Sunday, the second round of the GNCC Series was going off in the mud over in Palatka, and another 1,300 riders were there! Somehow, Tim seems to keep it all on the tracks, remembers everyone's name, and has the patience of a saint, because running a big amateur race (with open pit riding like Daytona) is like herding cats—hundreds of them, all motorized. I just wanted to tip my visor to Tim Cotter here, and not because he's a lifelong friend. It's because he actually has the hardest job in motocross, even without the add-ons of GNCC.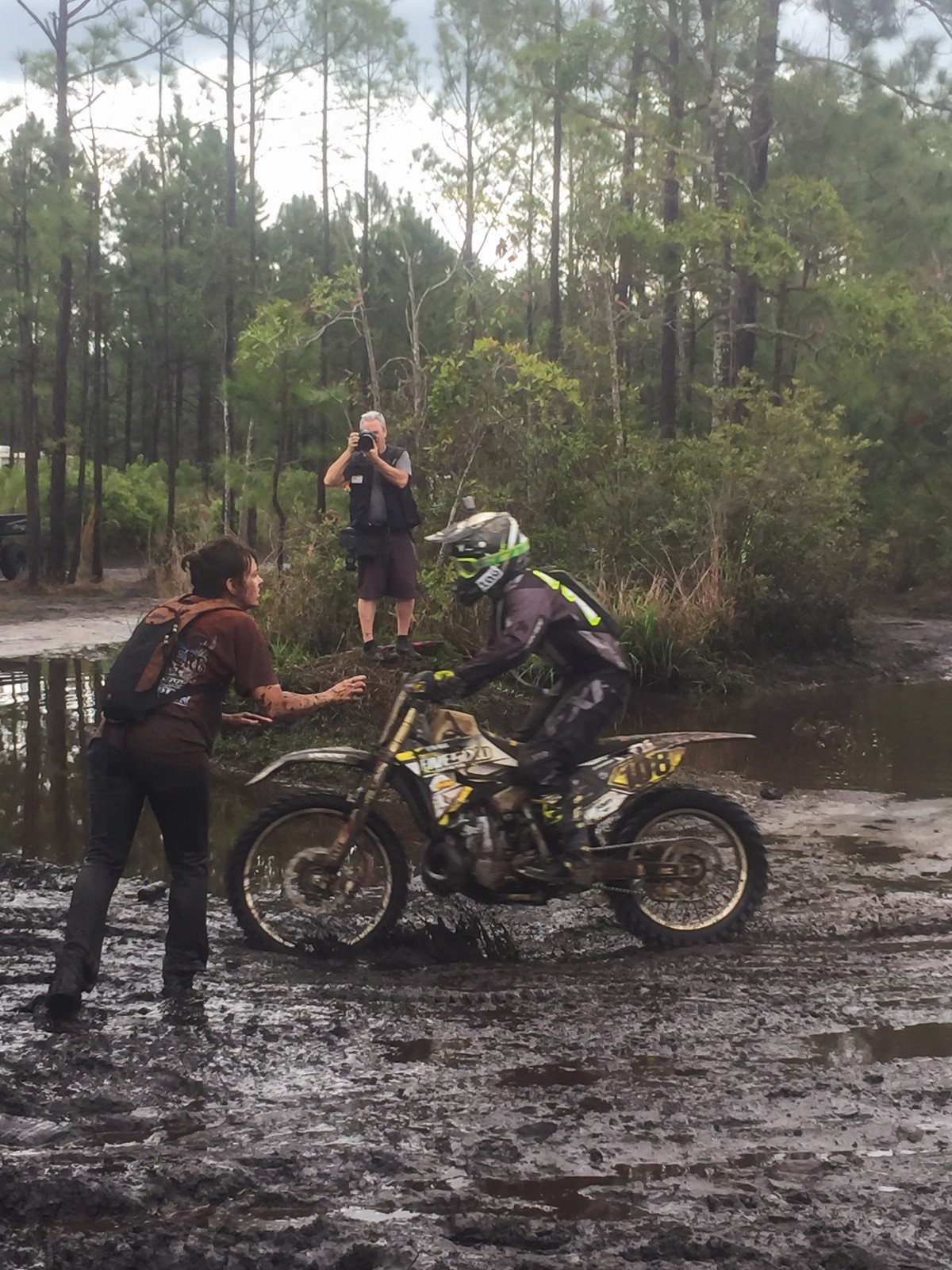 Of course there was another add-on last Saturday when Tim Cotter, host of the big press conference, introduced MX Sports Pro Racing CEO Carrie Coombs-Russell—my sister—and she announced that MX Sports Pro Racing and Youthstream, organizers of the FIM World Motocross Championship and the FIM Motocross of Nations, have reached an agreement to cooperate and organize a new U.S. Grand Prix every Labor Day Weekend, and also bring the Motocross of Nations back to America "every four or five years," beginning in 2018. There was also the announcement of the extension of our contract with AMA Pro Racing to continue to organize Lucas Oil Pro Motocross for many years to come, and also a long-term extension of MX Sports' deal with the AMA to organize the AMA Amateur National Motocross Championship at Loretta Lynn's, an event my mom and dad and Paul Shlegel founded in 1982 (and Cotter's been present at ever since).
As far as press conferences go, this one was pretty packed with news. Real news. And good news. I only hinted at it last week in Racerhead because it was still a very fluid situation, especially with Youthstream. We have long seen things differently and have not worked together much on anything, not here or in Europe, where they are based. But in the days after last year's Motocross of Nations at Maggiora, Italy, I received a call from Youthstream's Giuseppe Luongo, who had been urged call by none other than Roger DeCoster. Giuseppe wanted to have a successful MXGP race in America, where such primary sponsors as Monster Energy, Parts Unlimited, and Fox Racing are based. But he had not been successful for a variety of reasons, ranging from the weather and maybe some market saturation out in California, and start-up costs at last year's race in Charlotte. He was about to wash his hands with the U.S. market all together, but a GP in America is important to the AMA, to the industry, and also of course to Roger DeCoster, the five-time FIM 500cc World Champion, four-time Trans-AMA Champion, and all-time motocross ambassador. The Man's suggestion was simple: If Youthstream and MX Sports could work together on this one race, rather than apart, maybe it would finally return the USGP to the glory days of Carlsbad, Unadilla and Mid-Ohio in the seventies and eighties. And it would also help get the MXoN back after a longer-than-expected hiatus (it was last here in 2010). The elephant in the room was the practically non-existent relationship between Youthstream and MX Sports, which really began with the bidding war for AMA Pro Racing's motocross rights back in 2007, where we more or less campaigned against one another for the purchase of AMA Pro Motocross, as well as the top riders in the world—we each wanted them in our respective series.
In the end Daytona Motorsports Group won the bidding war, then reached out to MX Sports Pro Racing to run motocross. But the hard feelings stuck around, fueled by sometimes-prolific online scribes/pundits/agent provocateurs (with equally skullduggery names) like TFS, Matthes, MX Geoff, The Rock, Nerd, McCready, Fresh Top End, Mr. Info and more, not to mention even someone going with the easy-to-spell, easy-to-blame eponymously-initialed "DC." But through it all both Lucas Oil Pro Motocross and Monster Energy MXGP churned on, despite the very rough economic times of 2009 to, well, still. Giuseppe and I even met a few times, but we never found ourselves on the same page. At least not until that phone call.
In the months that followed Giuseppe reaching out that olive branch, we settled a lot of old differences and misunderstandings, and also discussed what may or may not be possible. We discovered a common passion and commitment to putting on the best races possible, and a continued commitment to the future of motocross. Neither of us are going anywhere except to the races, so why not go to one together? Someday. Maybe.
When Charlotte Motor Speedway let Youthstream know that they did not want to renew their deal, the USGP was nearly scuttled for 2017. We asked Giuseppe to give us a little time to think it through and come up with a viable option and a possible replacement. We believe we found it in the Southeast, but invited Giuseppe to come see if it might work on the way home from Indonesia and on to Argentina, where this week's MXGP race takes place, and also to maybe discuss a long-term agreement to cooperate. Giuseppe was in Europe, so he sent his son David—his protégé—and Youthstream CEO Daniele Rizzi and events manager Gustav Valentin in his place. That's how they ended up at Bike Week in Daytona, and in that press conference with my sister, myself, the AMA's Rob Dingman, and AMA Pro Racing's David Atlas.
As much as I would love to break the news here on the location of the 2017 United States Motocross Grand Prix, there are still some details being sorted. Same goes for the 2018 Motocross of Nations. What I can tell you is that if you're a motocross purist, you're going to be pleased with both facilities—they are permanent, well-known American motocross tracks. What I can't tell you is which top U.S.-based riders are going to be there, but we are hoping it's a sizable contingent, as well as maybe a 125cc "Futures" race for the best U.S. prospects against the rest of the world's best young talent, and a whole bunch of other possibilities.
We will continue to do things in our own ways, but for this one weekend a year we hope to bring the motocross worlds together, first for a successful U.S. round of the Monster Energy MXGP, the FIM World Motocross Championship, and then every few years the Monster Energy FIM Motocross of Nations. We all have a lot of work to do, but I am already impressed with David, Daniele, and Gustav and everyone we've been working with at Youthstream, and I am also glad that Giuseppe picked up the phone and made that call.
Thank you, Mr. DeCoster.
J-MART'S J-LAW MOMENT (DC)
Who would have ever thought that 10 weeks into the 2017 season the best finish for either one of the Martin brothers—Troy Lee Designs/Red Bull KTM's Alex Martin and GEICO Honda's Jeremy Martin—would be a runner-up 450 cameo ride for Jeremy at Daytona? In what has been an otherwise lost season so far for both brothers—each multi-race winners and podium regulars last year with Yamalube/Star Racing Yamaha—J-Mart jumping up onto Ken Roczen's available Honda CRF450R seemed more like a gimmick than a real threat to win a race. After all, this was the Daytona Supercross by Honda. But Jeremy was more than game in his first pro race on the bigger bike, leading for 12 laps and scoring a solid second-place. Had Eli Tomac not been in the race, Martin might have been the first 125/250 class competitor to win a cameo race since Kevin Windham did it back at Charlotte Motor Speedway in 1997, winning on a Yamaha YZ250 while on his way to the 125 West Region title—and Windham would win the Dallas 125 SX one week later.
Charlotte - 250SX
Full Results
(That was a race with a peculiar mark in MX journalism: the late Steve "TFS" Bruhn shot one of the first widely-printed digital photos of Windham and his Yamaha teammate and runner-up Ezra Lusk jumping alongside one another.)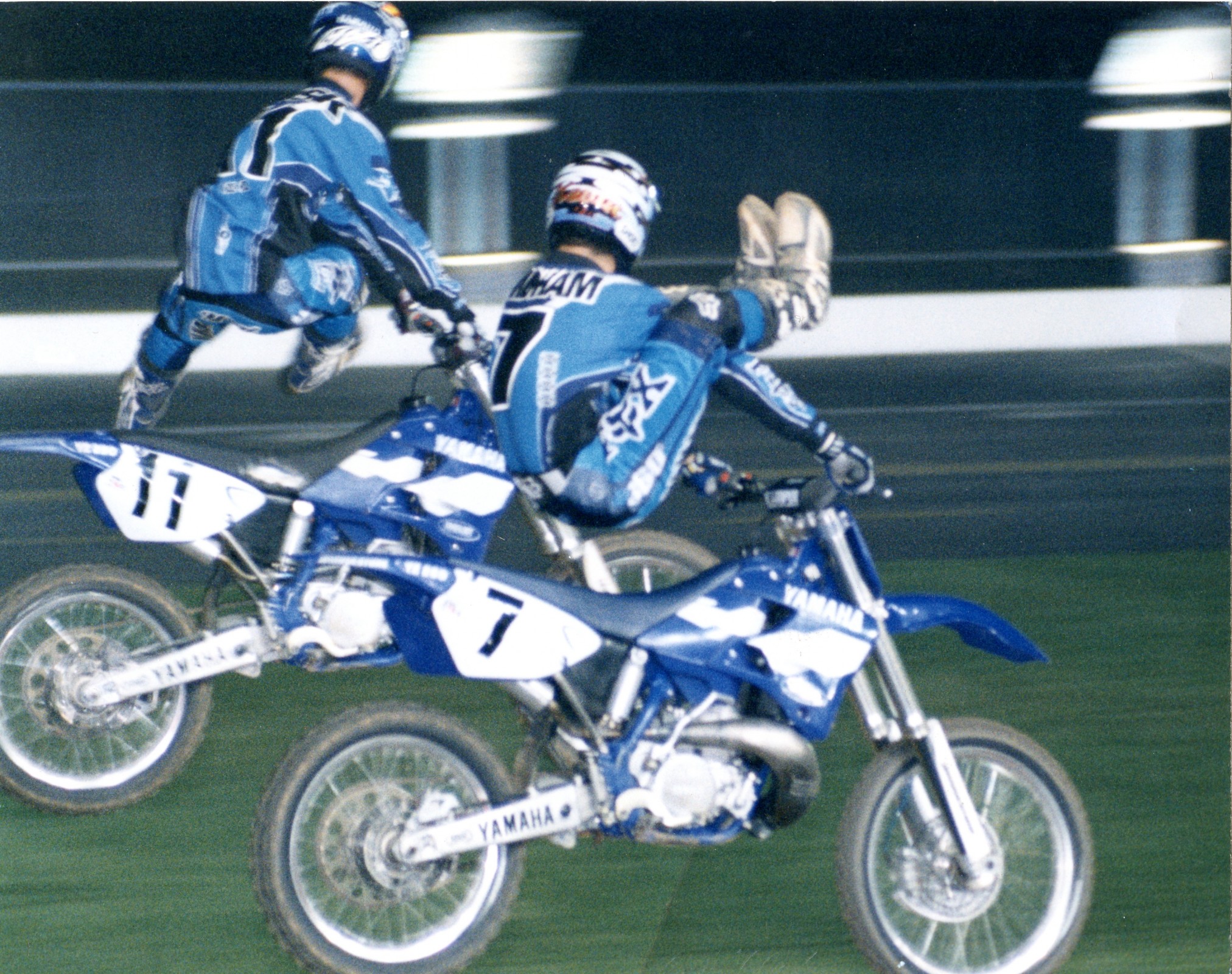 It all reminded me of what Jason Lawrence did back in 2009. Lawrence was in the middle of a tough season, his downward spiral caused more by off-track escapades than injuries and on-track crashes like Jeremy Martin has been dealing with. Lawrence showed up at Daytona on a Boost Mobile AMPM Yamaha, having not raced since the second Anaheim Supercross in January in the Lites class. Jason got the holeshot while a big pileup happened off the start when James Stewart and a bunch of others went down on the wet grass. Lawrence got through the pileup and ended up leading 14 laps of the main event before defending AMA Supercross Champion Chad Reed finally ran him down. Lawrence held on for second, the best finish of his 450 career. He also landed on the cover of Racer X Illustrated for his efforts at Daytona; not sure if J-Mart will be on our next cover, but he certainly put in a deserving ride!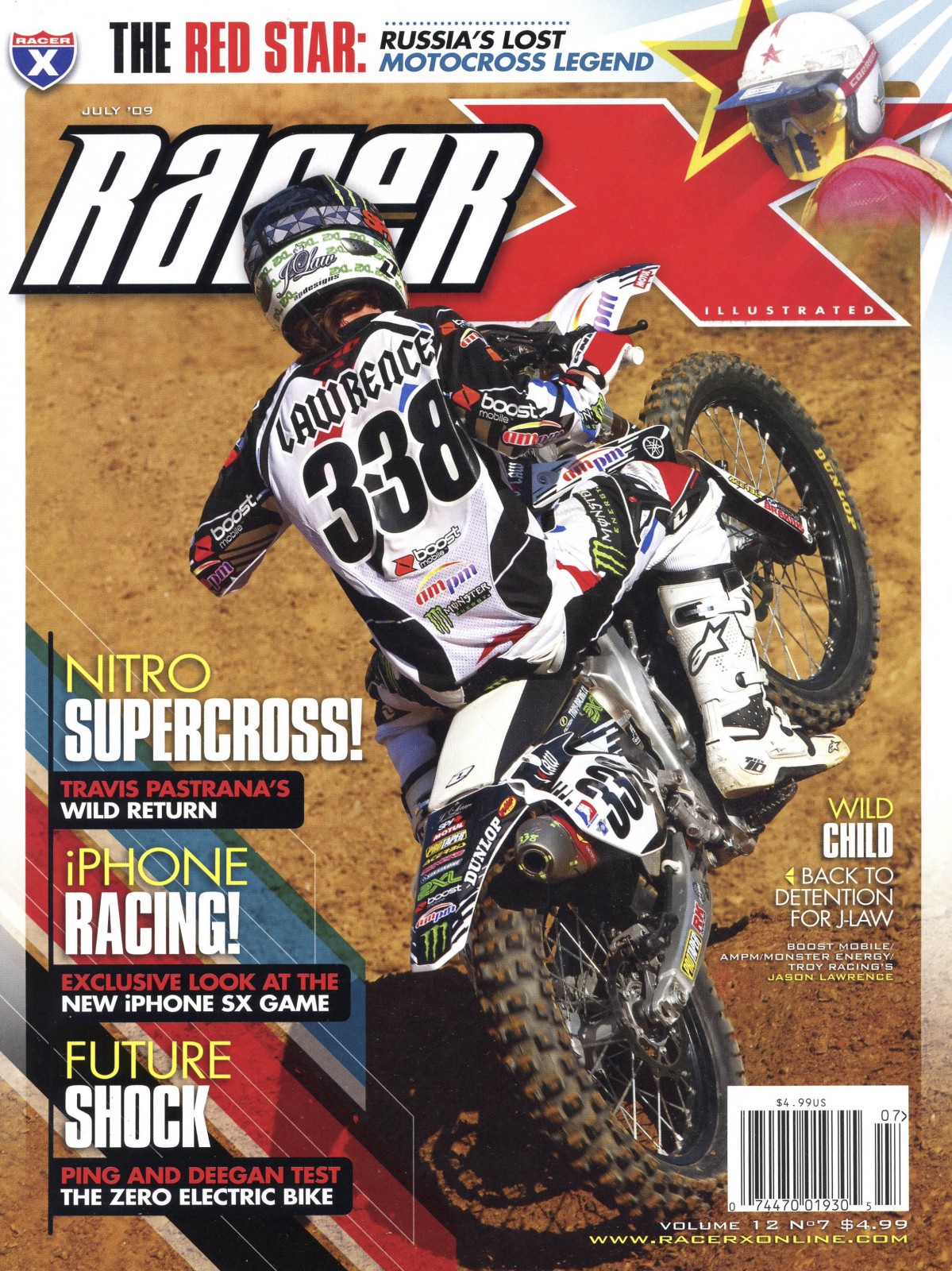 One year before Jason Lawrence finished second at Daytona in his cameo ride, Ryan Dungey was racing the SX Lites West Region for the Rockstar/Makita Suzuki team. When the series went east Dungey jumped up to a 450 for the Indianapolis, Daytona, and Minneapolis rounds. He would finish fourth at Indy, 10th at Daytona, and then reel off a runner-up finish at his home race in Minneapolis. He then parked for a month before winning the last two Lites West Region races. Ironically, he would famously lose the title to none other than Jason Lawrence, at the time riding for Yamaha of Troy and generally considered a big thorn in the side of Dungey. Since then Dungey has had a Hall of Fame career; Lawrence's career went the other direction, more of a cautionary tale than anything else. But the one who may have gotten the best out of this whole turnaround was Fox Racing. When One Industries, which was then Dungey's clothing brand—signed his rival Lawrence to their team at the start of the 2009 season, Dungey was furious and said as much. One Industries responded by canceling his contract, issuing this statement:
"Effective immediately, One Industries is terminating our 3-year contract with Ryan Dungey as a result of the recent events that have transpired during the last week…. One Industries is an icon in the industry and when we launched our motocross apparel line we wanted to work with riders that we believed shared our ambitions and vision for the brand."
Pete Fox and the gang at Fox Racing were very interested in the suddenly available Dungey and signed him before the next race. Seven major titles, three MXoN wins, two ESPYs, and one Wheaties box cover later, they obviously bet on the right horse.
Tomac's Five and Dime (Andras Hegyi)
In five of the first 10 rounds of the 2017 Monster Energy AMA Supercross Championship, Eli Tomac has emerged the winner. It's an impressive number for the second-year Monster Energy Kawasaki man, but it isn't a rarity. In fact, this is the 32nd year in which a rider has gotten at least five wins in the first 10 rounds. In 26 of those seasons, that rider went on to be champion. (Also, the series did not have at least 10 rounds until 1977.)
| | | |
| --- | --- | --- |
| Year | Rider | Wins |
| 1977 | Bob Hannah | 6 |
| 1978 | Bob Hannah | 6 |
| 1979 | Bob Hannah | 6 |
| 1980 | Mike Bell | 5 |
| 1981 | Mark Barnett | 5 |
| 1983 | Bob Hannah (Not Champion) | 5 |
| 1987 | Ricky Johnson (Not Champion) | 5 |
| 1988 | Ricky Johnson | 7 |
| 1989 | Ricky Johnson (Not Champion) | 5 |
| 1991 | Jean-Michel Bayle | 6 |
| 1992 | Damon Bradshaw (Not Champion) | 5 |
| 1993 | Jeremy McGrath | 6 |
| 1994 | Jeremy McGrath | 7 |
| 1995 | Jeremy McGrath | 7 |
| 1996 | Jeremy McGrath | 10 |
| 1998 | Jeremy McGrath | 5 |
| 2000 | Jeremy McGrath | 7 |
| 2001 | Ricky Carmichael | 8 |
| 2002 | Ricky Carmichael | 6 |
| 2003 | Ricky Carmichael | 6 |
| 2004 | Chad Reed | 7 |
| 2005 | Ricky Carmichael | 7 |
| 2006 | Ricky Carmichael | 6 |
| 2007 | James Stewart | 7 |
| 2008 | Chad Reed | 6 |
| 2009 | James Stewart | 7 |
| 2010 | Ryan Villopoto (Not Champion) | 5 |
| 2011 | Ryan Villopoto | 5 |
| 2012 | Ryan Villopoto | 5 |
| 2013 | Ryan Villopoto | 5 |
| 2016 | Ryan Dungey | 5 |
| 2017 | Eli Tomac | 5 |
Pro Perspective (Jason Thomas)
Leaving Daytona, we enter the final stretch of the 2017 Monster Energy AMA Supercross Championship. We have a few Midwest rounds which should be great indoor racing, but our last four rounds are outdoor venues and the weather could be a huge factor. For Eli Tomac and Ryan Dungey, it's crunch time. They both know the situation and what they have to do. Eli's mission is simple: He just needs to win, as he can win this title simply by winning out. Dungey has a bit more wiggle room, but winning shouldn't be discounted. With just a couple of wins he can completely change the landscape of those final rounds. The six-point swing between first- and second-place is a giant pendulum each weekend. If Ryan can push it back to 20-plus points and hold it for a few weeks, he will be able to go back to management mode for the end run. If he can't, and Tomac wins a couple more here in March, it will become an all-out war in April. These next three to four rounds will be key, maybe even more important than the last couple. Momentum and hope are so crucial when looking at title chances. Dungey has an opportunity to take pressure off and also discourage Eli. Both riders will have bad intentions as we enter Indy and only one narrative can prevail. Bring it on.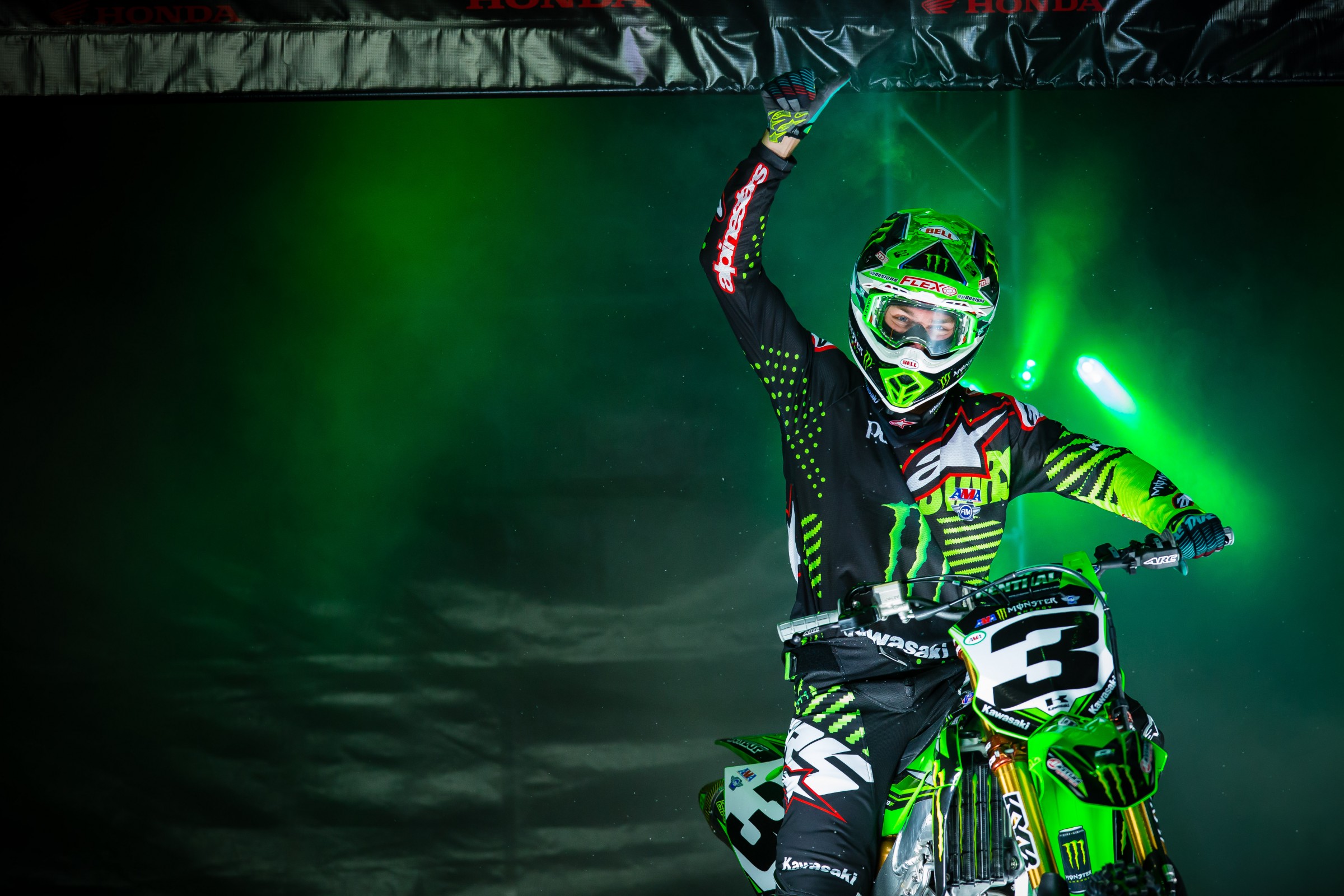 Dungey's Numbers (Aaron Hansel)
In 1996, Jeremy McGrath won a mind-numbing 14 of 15 supercross races (93.33%). The next season he won two races, was on the podium nine times, and finished second overall. For most riders that'd be a fantastic season, but not for The King, who'd set a ridiculously high standard the year before (not to mention the three seasons before that). His performance in 1997 was the subject of many bench racing sessions, and people had all kinds of theories to explain what was wrong. Today, Ryan Dungey finds himself in a somewhat similar situation, albeit not to the same degree as McGrath.
As you'll see in the numbers below, Dungey is clearly not achieving the same results he was in 2015 and 2016—he's down in almost every single category. But even though his stats through the first 10 rounds of 2017 haven't been great for him, most riders would trade places with him before you could say, "Red Bull/KTM." Still, his performance has been the subject of many bench racing sessions, and people have all kinds of theories to explain what's wrong. Thing is, he's still leading this championship. So is he actually having an off year, or does his retention of the lead illustrate an outstanding ability to successfully weather the storm? You be the judge.
| | | | | | | | |
| --- | --- | --- | --- | --- | --- | --- | --- |
| | Points Percentage | Fastest Qualifier | Heat Wins | Main Wins | Podium Percentage (Including Wins) | Main Event Laps Led | Main Event Holeshots |
| Ryan Dungey 2015 | 91.76% (390 of 425) | 23.53% (4 of 17) | 70.59% (12 of 17) | 47.06% (8 of 17) | 94.12% (16 of 17) | 43.53% (148 of 340) | 17.65% (3 of 17) |
| Ryan Dungey 2016 | 92% (391 of 425) | 35.29% (6 of 17) | 52.94% (9 of 17) | 52.94% (9 of 17) | 94.12% (16 of 17) | 50.59% (172 of 340) | 29.41% (5 of 17) |
| Ryan Dungey 2017 (through 10 rounds) | 85.6% (214 of 250) | 20% (2 of 10) | 20% (2 of 10) | 20% (2 of 10) | 80% (8 of 10) | 30.53% (69 of 226) | 20% (2 of 10) |
"Florida Man" (Kyle Scott)
Wow. The week-long trip to Florida is over. What a week it was. Daytona Supercross press day marked the first stop. We talked to Ricky Carmichael, Jeremy Martin, Christian Craig, Adam Cianciarulo, and Cole Seely. You can watch the press day video here.
On supercross race day I was in charge of the race day feed. Racing on the infield of Daytona International Speedway is a cool for TV, but it's a real pain for the media. In a normal stadium, you can see the whole track from the press box, but Dayton's press building sits a couple hundred yards away from the track and it doesn't have any windows. Apparently that's normal for a NASCAR track, but I didn't see the point of flying to Florida just to watch the race on a TV screen, so I took my laptop into the stands. Well, except media credentials don't actually get you a seat in the stands. I went to a place where I could best see the track and hunted for vacant spots. I ended up needing to move about five different times for people returning from their bathroom breaks and beer trips.
Luckily, the speedway upgraded its WiFi since last year so at least I was able to update the race day feed without having to run back to the media building between races—which is almost impossible since you have to slice through the crowd, security, and about 10 fences and gates. My laptop battery survived until right before the 450 LCQ so from there I switched to my phone's notepad where I jotted things and screenshotted the live timing for future reference when polishing the main story. After the mains were over I emailed myself the notes before fighting the crowds back to the media building and so I could make it to the post-race press conferences. If you wonder why the Race Day Feed sometimes takes a little while to update with main event reports, now you might understand. If you want up-to-date info, check our Twitter….

On Sunday, Weege and I headed to the Hog Waller GNCC out in the sticks. On the way out it started pouring rain. Maybe it's just because I'm from Southern California, but I was a little nervous and not dressed for a total down pour nor did I want to be part of it. Weege assured me rain would mostly likely stop soon, because "This is Florida, man." That became the theme of the week, "Florida Man." Check the news headlines for "Florida Man" and you'll find stories of some bizarre thing you don't typically hear happening any place else. Florida…it's unique. For example, when we pulled up to the GNCC race, sure enough, Weege was right and the sun came out. Then I saw the biggest truck I've ever seen and what does Weege say? Sure, that was Florida Man's official ride.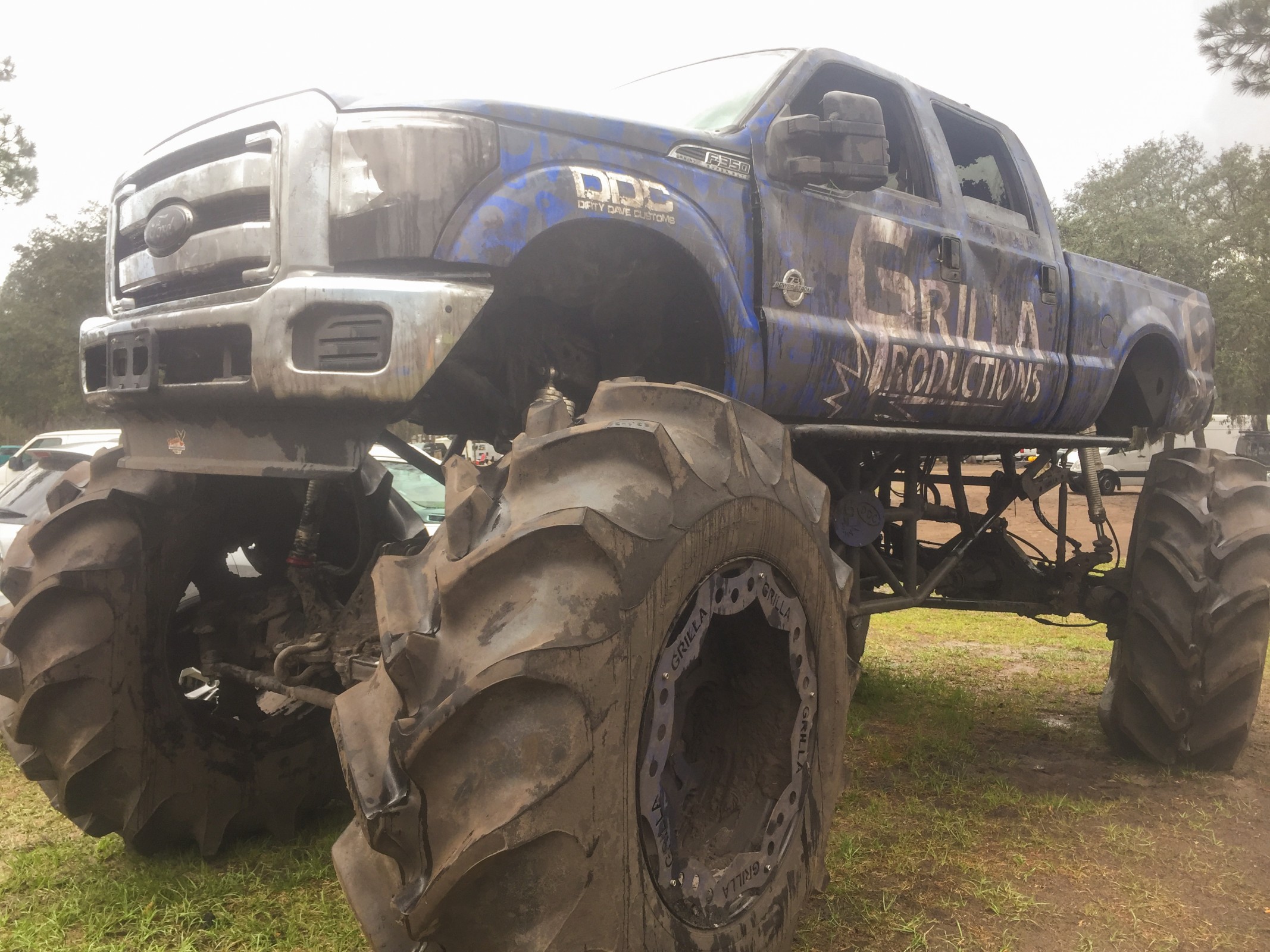 The rain made it muddy, but these off-racers don't mind it and neither do their fans. People were still out in full force, soaked and stoked when we pulled up. While we checked out the race we found Kailub Russell's mom in the mud directing not only her son, but all the racers through this deep mud-hole for the smooth line. She called herself "The Line Lady." Yes, this is Florida, man!
On Monday I filmed the Ricky Carmichael Amateur Supercross. I was nervous about the rain again but luckily the torrential downpour didn't start until literally 15 minutes after the racing ended! That was amazing, and we celebrated our good luck (and three long days at the races) with some dinner closer to downtown. Oh, we also picked up Georgia Albertson, who had been in the hospital since Saturday afternoon with her husband Jimmy, who hurt himself badly at the supercross. I'm not sure if it was Carrie or Davey's idea to go rescue her for a bit, but it's one reason I do love working at Racer X. They won't tell most of the stories publically, but Davey and Carrie really do care about the racers much more than you know. While at the GNCC, I saw Carrie handing out water to random racers as they came across the finish, and when we heard that Ryan Sipes had crashed in the middle of the woods, Davey and Carrie bolted (on foot) through the swamps and sand to get to him. On Monday, Carrie picked Georgia up at the hospital and took her to her hotel so she could shower, and even went to the store to get her some fresh clothes—and she also checked in on any other racers that had been injured during all of the races.
Let me tell you something I learned visiting the hospital: the emergency room is a bit crazier than normal during Bike Week. You know what I mean? And it also had some of that standard Florida weirdness going for it. Florida Man. You know?
I don't get a lot of face time with the Coombs since I work in California, but some of the stuff they were doing behind the scenes to help riders and families was mighty impressive. You spend a week at Bike Week and you see the entire motorcycle world reach out to each other in ways that you wouldn't anywhere else.
When the Daytona festivities were done, Weege and I headed to central Florida to hit some rider compounds. We tried to visit Chad Reed's track but the rain messed that up, we found Blake Baggett's El Chupacabra Ranch was actually high and dry despite the rain so we headed there. Check out our video for an update on this incredible facility.
On Wednesday, we visited Ken Roczen at his house—keep an eye out for more from that visit next week.
Then we decided to head down the road to the famous James Stewart compound. I took out my camera and started snapping pictures of the front gate when an SUV came rumbling down the road toward us. Mookie was behind the wheel! Weege was pretty scared Malcolm was playing security guard and about to beat the hell out of us for taking photos, but instead we ended up joining he and his crew for dinner at Manny's in Haines City. Couple hours of amazing bench racing there, and a perfect end to the week. At dinner, we were all just a bunch of motorcycle guys talking shop just like any other fans would do. We weren't even in Daytona anymore, but the spirit of Bike Week was still there.
Oh, but before dinner ended, a random old guy took a seat at our table and started giving us travel tips for no reason. According to him, we all need to go visit Utah, the most beautiful place in the world. No idea why he sat down and started talking to us, but, you know, Florida Man.
Melting Pot (Jason Weigandt)
As Kyle mentioned above, nothing quite matches the spirit of Daytona Bike Week, where all the different motorcycle groups circle in the same orbit. That's a traditional part of the deal down there, which is already cool, but over the last 15 years Bike Week has an added element in that most top supercrossers have a Florida compound to ride and a house to live. I'll have to ask someday, but I assume back in the 1980s, riders and teams just lived out of hotel rooms for weeks during the Daytona Supercross/Gainesville National Florida foray? Nowadays Florida is the mecca, and no week provides the quality "bro time" that this one does. I'm serious, these riders should start charging fans to come by and hang out for a day. It would be a priceless experience and could defray the costs of track maintenance almost instantly. Just one hour in the shop hanging at Blake Baggett's, Aldon Baker's, or Chad Reed's place would be a life-changing experience for most fans. Sell some tickets to it next year, guys!
Last night I attended the first ever Daytona TT, which is now the opening round of the American Flat Track Series (the race used to take place on a small circle track on the far end of the Daytona property, now they built a TT track right where the supercross runs, on the Speedway infield). Of course no event besides the Daytona 500 can really pack the 101,000 person capacity grandstands, but I was pretty impressed with the crowd last night, especially since it was unseasonably cold out and this American Flat Track series has just been relaunched. Hopes are that this series will be hot in a few years, and this is just the start. But a good crowd showed up, and once again I saw a nice mix of familiar moto faces that probably won't make another flat track race all year. But this series is worth looking into for the big-time industry people—there's a vibe in Flat Track that seems to be attracting newcomers to motorcycles, kind of a retro-cool hipster vibe, and the industry is salivating over finding new young men and women to sell some bikes to. So, while the hardcore moto crowd might not be into flat track, the success of that sport could help the industry at large. If that's the case, then I'm rooting for it.
Kyle covered the rest of Bike Week above—and everything we haven't said yet has to remain in the confidential bin. Lots and lots of deep, important, conversations when you jam so many industry people into one town for one week. Basically, what happens in Daytona stays in Daytona!
RETURN OF THE FRENCH? (Andras Hegyi)
The French motocross school has begun producing fast supercross talent again. Before Dylan Ferrandis arrived in the USA he had already been somewhat successful in the FIM World Motocross Championship by getting two MX2 Grand Prix wins and 19 podiums. While that may not be an earth-shattering amount of wins, they came at the time when Jeffrey Herlings was dominating the class. In addition, Ferrandis was also a member of the winning French team for the 2014 Motocross des Nations. But despite all his success, Ferrandis' debut in America was shaded with some doubt as he was a rookie in supercross. However, Ferrandis has adjusted and adapted himself pretty quickly. He led for awhile in Toronto and now has his first AMA Supercross podium in just his fourth race. Ferrandis has become the 27th non-American crosser to get a podium in the small-bore SX class and he is now the ninth French rider to podium in the class.
French Podiums in 125/250 AMA Supercross
Stephane Roncada (26 podiums)
Marvin Musquin (20)
Mickael Pichon (18)
Christophe Pourcel (15)
David Vuillemin (7)
Rodrig Thain (6)
Eric Sorby (6)
Steve Boniface (4)
Dylan Ferrandis (1)
TOP JIMMY DOWN (DC)
Jimmy Albertson suffered a brutal crash at Daytona and is still in Halifax Hospital near the speedway. A few of us went to visit Jimmy and his wife Georgia and he was hurting big time, with a broken sternum at the top of his lengthy list of damage. We took sushi with us to at least give him a culinary change of scenery. Later in the week, he posted this message to his fans and friends on his IG @JimmyAlbertson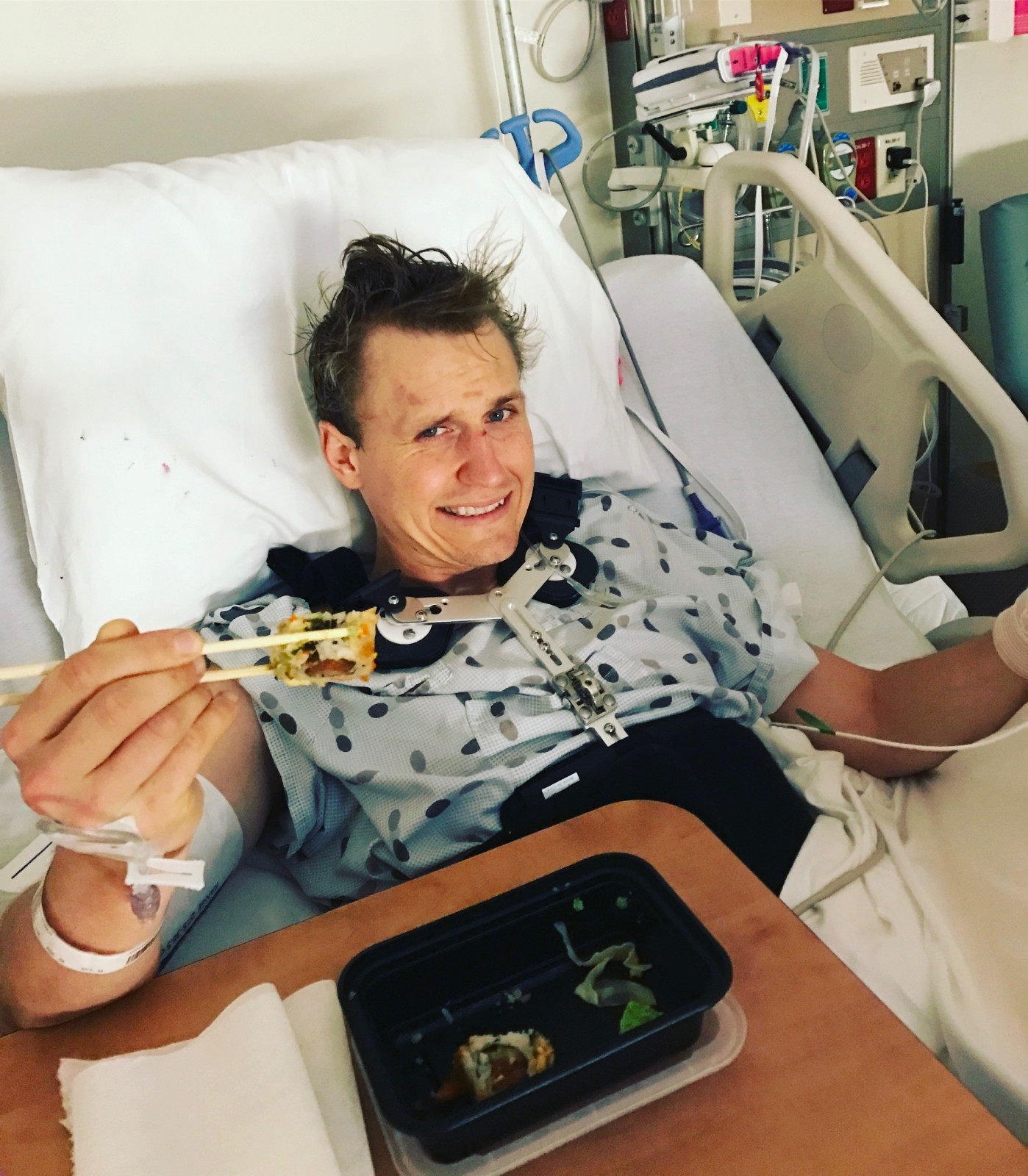 @jimmyalbertson Headed in for surgery this morning to reattach my sternum. I just want to say thank you to everyone who has came to visit and sent me kind/motivating messages this past week. Sorry I have not responded, I really do enjoy reading them. We have been getting good news the last couple days. It looks like my spine and lungs are stable enough to have the proper operation to repair my sternum which is a big deal so I can start rehabilitation on my back. @road2recovery has also stepped up to make this injury easier for us. I have great health insurance and always have, but things like getting a medical flight home were just going to be out of our budget. It was hard for me to accept their help. I know there are other athletes in far worse situations than me. That being said, any money that is left after our medical expenses will be put towards a rider that needs the money ASAP! I hope to have more news by the end of the day to update everyone with
MIKE ALESSI'S MAY SCHEDULE? (DC)
Next month Glen Helen Raceway will host it's annual Two-Stroke World Championships on Saturday, April 15, which is an off-weekend for Monster Energy AMA Supercross (Sunday is Easter). The Glen Helen race has an added twist this time: the top-20 overall will qualify to race in the Two-Stroke Support Class race at the May 27th Glen Helen AMA Pro National, the second stop on the Lucas Oil AMA Pro Motocross Championship. That's one week before the start of the 2017 Rockstar Energy Drink Canadian National Championship, which will be at Whispering Pines Raceway, Kamloops, British Columbia. What do these three race dates have in common? Well, Smartop/MotoConcepts Honda's Mike Alessi is racing supercross right now, but he is also the defending Two-Stroke Champion from Glen Helen in 2016. Come May, Alessi will likely park his Honda CRF450R and head to Canada again to compete in that national series. But what if he wins the Glen Helen Two-Stroke race again? Will he line up for the Support class at the Glen Helen National, eight days before the CMRC opener in British Columbia? Alessi hasn't raced on the AMA Motocross circuit full-time since he got sick on the eve of the 2014 opener (which was coincidentally at Glen Helen). If he lines up on May 27 for the Two-Stroke race, our man Ping won't have a chance!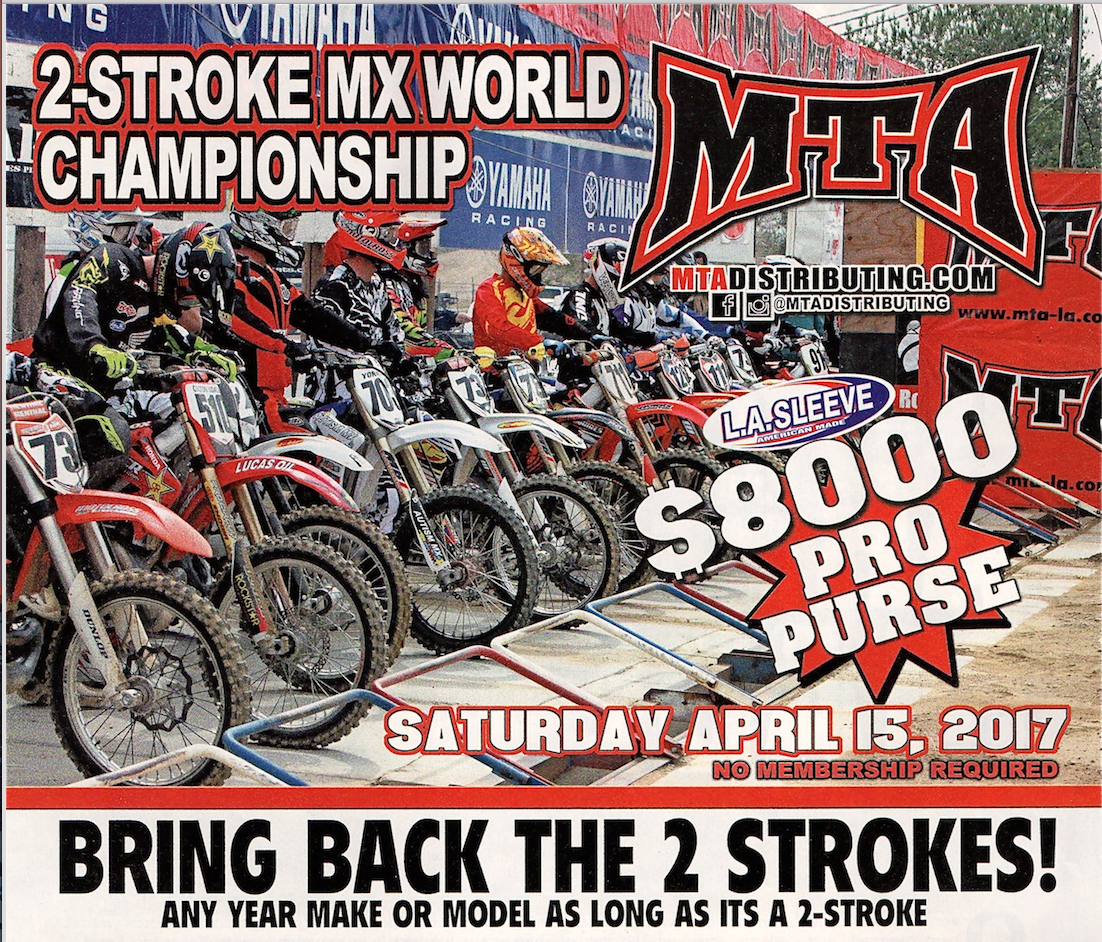 Fly racing/Western Powersports Headquarters Tour
Random Notes
The Millsaps Training Facility is currently looking to hire a full-time motocross mechanic. If you are interest, please send your questions or resumes to the email below.
WANTED! Full time motocross mechanic.
Millsaps Training Facility has a full time position opening up in our shop in Cairo, Georgia. Experience is a must. Please contact David Walls for more information. Email your inquiries and resumes to dwrmsllc@gmail.com
Subscribe at Indianapolis SX and get a Free $25 Rocky Mountain Gift Card
Headed to Indy SX this weekend? If so, be sure to stop by the Racer X booth—located in the Party in the Pits—and pick up a free copy of Racer X Illustrated. Also, don't forget to subscribe or renew for as low as $10 to get a one-year subscription, a free $25 Rocky Mountain ATV/MC gift card, and an extra issue!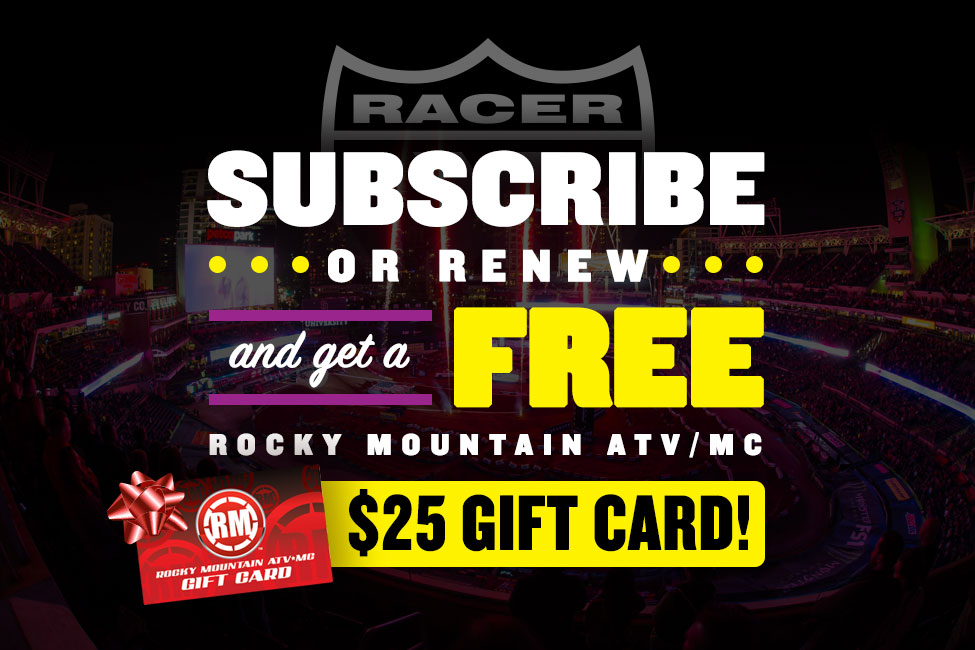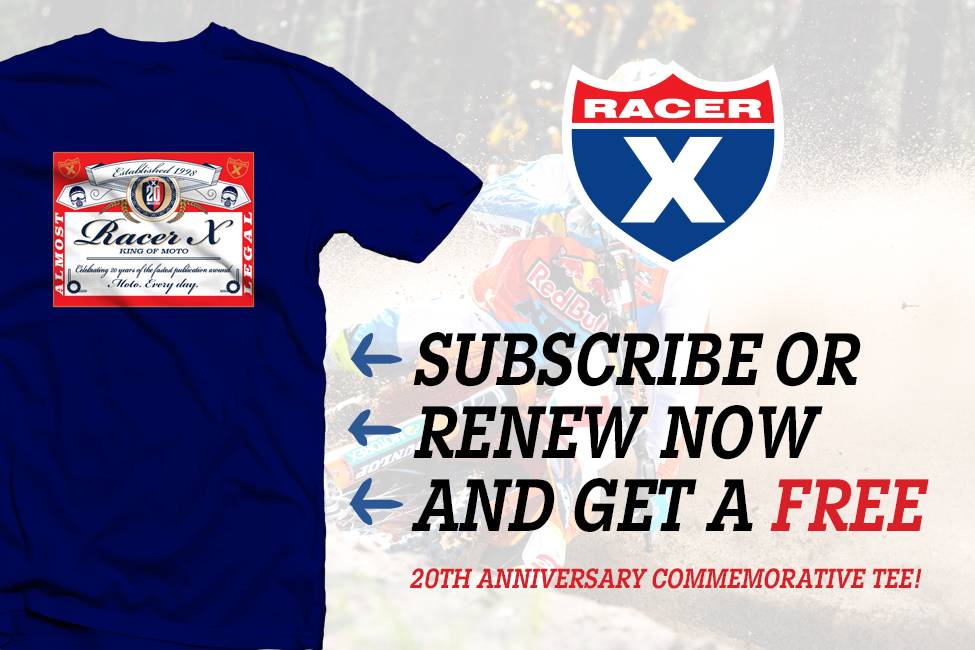 That's all we've got for now. Thanks for reading Racerhead. See you at the races.