Daytona International Speedway
Daytona

,

FL
Daytona
Monster Energy AMA Supercross Championship
Zach Osborne | Rockstar Energy Husqvarna | Fifth in 250SX
Zach Osborne's win streak is over, but the points leader found a way to salvage the day after a crash early in the main event. We talked to him about it in the Rockstar Energy Husqvarna truck after the race.
Racer X: You can't win them all.
Zach Osborne: You can't win them all. Definitely a strange track. I feel like there wasn't a whole lot of passing options for us, especially on the 250. I felt kind of stuck where I was. I got up into fourth there on the second or third lap and fell over in the sand, and then went back to like 10th. Made it hard work for myself. There at the end I felt like I really should have gotten third, but it is what it is. There's no turning back now. I still have the championship lead. As I said on the podium earlier, I'm still kind of learning this whole deal as it comes to me because I've never been in this position in America. I won a British Championship and all that stuff, but it's a little bit different in terms of magnitude. So I'm just trying to take it day by day. When I fell down I freaked out a little bit. I don't want to submit any points and lose any ground, but at the same time I just need to sort of focus on myself and keep plugging away at it.
The fall, was that just tucking the front?
Yeah. Just pushed the front and that was that. It was just a basic mistake. I felt like had that not happened—if I could have gotten by him quick—I could have made some ground up to the front too. But it is what it is.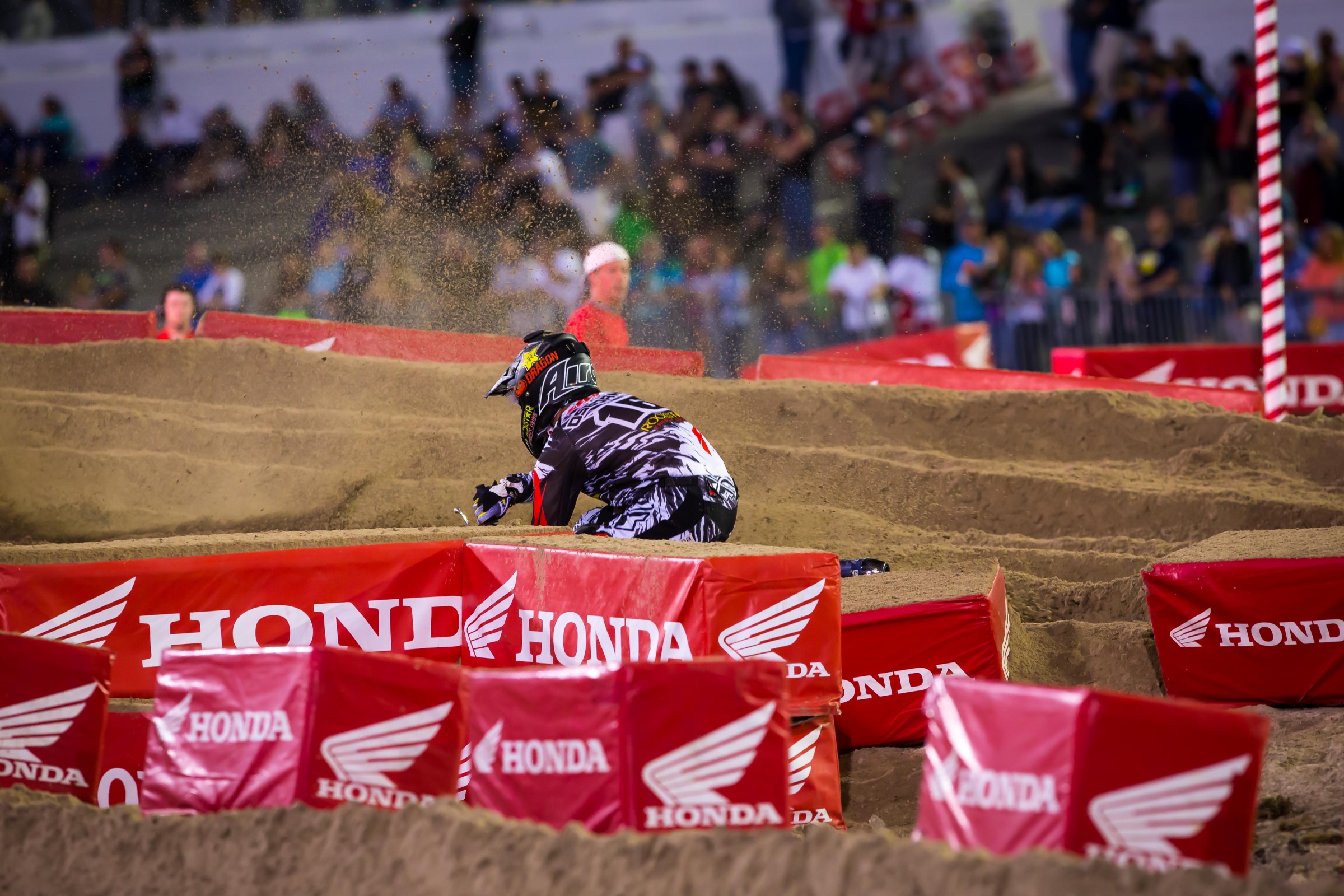 I give you credit though—you figured out a couple places to make passes where I did not see anybody … you were just like, screw it, I'm not using a rut or berm. I'm just cutting.
It was that kind of deal where it was either T-bone someone or try to set it up. At the end of the day, we have to race these same guys every weekend and it's probably going to go down to the wire for this title I hope, so I need to keep as many friends as I can. So I'm not trying to T-bone anyone or anything like that. It is what it is. All in all, we have good momentum and I'm better than I've ever been by far. I'm not too concerned.
---
Alex Martin | Troy Lee Designs/Red Bull KTM | Eighth in 250SX
For a moment, it looked like Alex Martin might win the Daytona 250SX race, and match his brother Jeremy's victory in it last year. A-Mart was the fastest qualifier in the class and won his heat race, but then he got a bad start in the main and it all came undone via some arm pump. We talked about it with him after the race.
Racer X: You had the inside gate in the main, and I'm like, it's guaranteed, he won the heat, he has the gate pick, he's going to get the holeshot and win. You did it in the heat. But the start was not good. What happened?
Alex Martin: I started I think two spots over in the main compared to where I was in the heat.
You weren't on the inside in the main?
I was third out. But regardless, I had a really good jump in the heat. In the main I kind of wheelied a little bit, so Zach got ahead of me. I actually still came out like sixth or seventh, but to be honest, I have had such bad issues with arm pump this year. That's been one of the biggest things holding me back for whatever reason. Fitness-wise, diet, everything's pretty much been the same. Obviously the bike's different. It's just really bad arm pump. It's one of those things where the speed's there, so I can do it in practice, put down a fast lap. I won my first heat race. So there's a lot of positives, but anything over five or six laps I'm toast.
So even after the heat did you kind of know like, "I might have a problem?"
It's been in the back of my mind because when you go out on the track and you ride hard 10 minutes in practice and you never get a sign of arm pump, then that's confidence to me. Even if I'm like sixth in practice if I don't get arm pump I'm pumped, but when I'm out there even if I'm winning practice and I have it, I'm like, ah….
So you only do good in practice sometimes?
Yeah.
You never really had an issue before?
No, it's been an issue for my whole career. Now I actually get it like first moto was pretty bad in outdoors last year on the Yamaha, but I was able to kind of just … you get into a flow in outdoors, and especially if you're out front you can almost get away and get rid of it.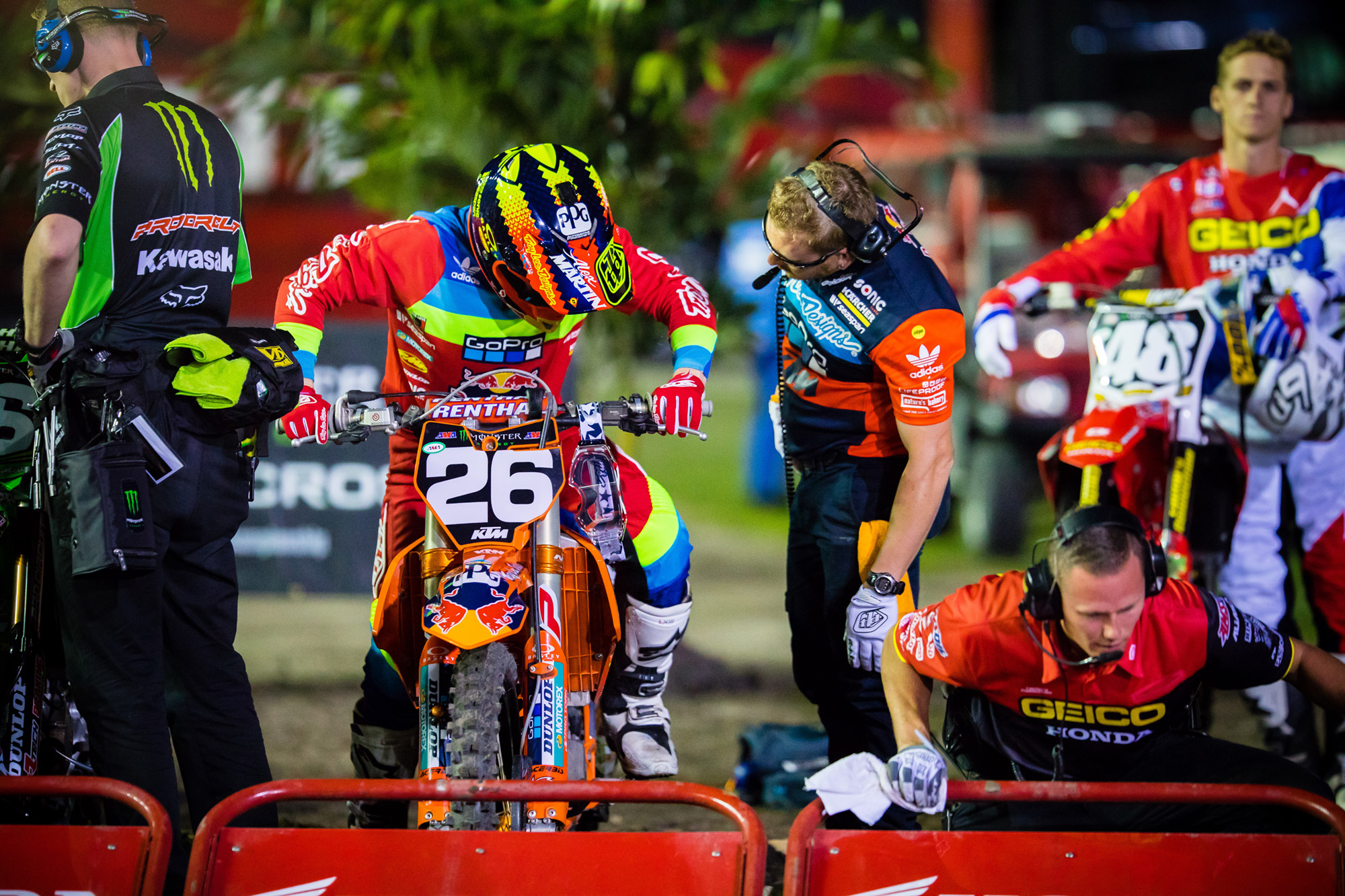 But your second motos were better, so that's part of the reason?
There's something about, I think when you do a hard effort like that for 35-40 minutes you kind of flush it out. You don't get that hard effort in supercross. You're out for eight minutes, 10 minutes.
The heat race is enough to do it.
Yeah. But it's a pretty sad excuse, really.
Well I don't know how to categorize it. It's not like you're lying. It's a real thing. In Atlanta did you have it when you were leading?
I did, but the thing is in Atlanta that track was really hard-pack. It's so much easier to ride with arm pump when it's not rutty. It really is. When you have a track like Daytona or Toronto it is really hard to ride with it, with all the ruts and such.
Maybe I shouldn't have picked you to win, then. I was like, "This is going to be great! We're going to have the Martin brothers winning this race two years in a row." Oh and then your brother almost won the main.
That was really impressive. That cheered me up a little bit. Before that I was pretty suicidal.
You were bummed?
Yeah, devastated. I thought I was going for the main win, too. Just one of those nights.