Rogers Centre
Toronto

,

Canada
Toronto
Monster Energy AMA Supercross Championship
Welcome to Racerhead, coming to you from a very cold Toronto, where the international round of Monster Energy AMA Supercross will go off tomorrow night in the Rogers Centre next to the big CN Tower, all 1,815.3 feet of it. The building has a roof, thankfully, but it's going to be a cold day in the pits for sure. Fortunately, Canadian fans know this drill well, and we should see a decent crowd and a good race tomorrow night.
Of course, Ryan Dungey fans can now breathe a sigh of relief. The Red Bull KTM rider put in one of his patented rides last weekend at the last race in the Georgia Dome to extend his points lead in 450SX to exactly 25 over his teammate Marvin Musquin, with Monster Energy Kawasaki's Eli Tomac another two back. There's still nine rounds left and a lot of things can and likely will happen—ask Ken Roczen or Cooper Webb. Still, as steady as Dungey has always been, it's hard to imagine him making any big mistakes.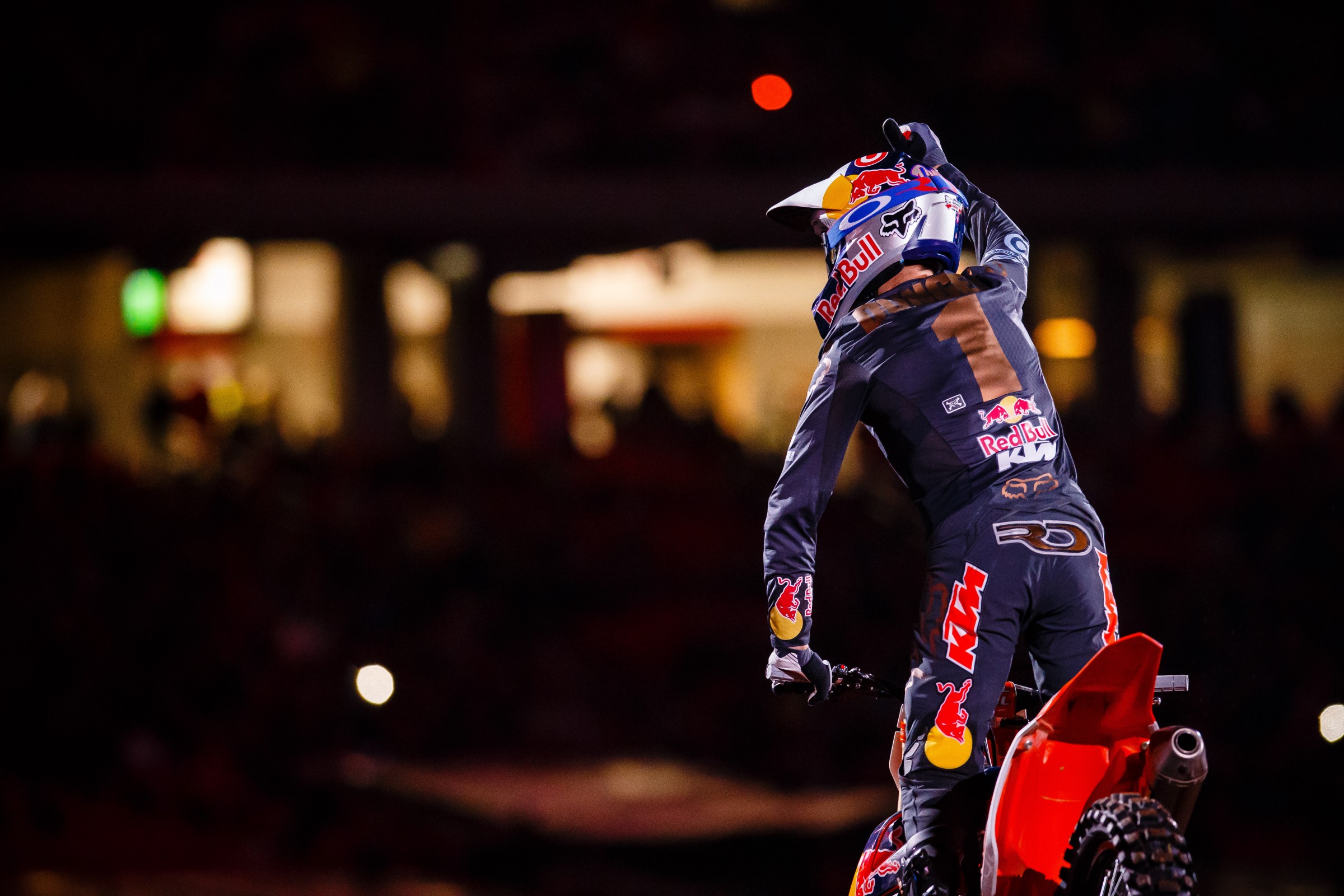 There was also the fact that it was the last race at the Georgia Dome, the site of Ryan Dungey's first AMA Supercross back in 2007. Riding the #62 RM-Z250, Dungey won the first time he ever raced under the lights (unless you go back to, ironically, one of the Canadian stops in the series in December of 2006, which Dungey raced but they did not count for AMA points at the time and as such most of the factory riders did not compete. Oh, and he also once raced the KTM Junior Supercross Challenge). On that night in Atlanta in 2007, among the riders he beat was Zach Osborne, the seventh-place finisher. Eleven years later, Zach also had a big night, winning his first AMA 250SX main event. (Coincidentally, as Jason Weigandt explained in 250 Words, Osborne won the KTM Junior SX Challenge at the Georgia Dome back in 1998!)
So now it's Toronto, and as we turn the corner for the second half of the series, it's starting to feel like Dungey's going to be tough to catch, and Osborne is finally in real contention for what would be a first-ever championship. Tomorrow night should be awesome!
Also, last week we lost a dear friend in Dylan Slusser, a District 5/PAMX rider from Butler, Pennsylvania, who had been going the privateer route in SX and MX the past few years. Today—Friday, March 3—there will be a viewing from 10 a.m.to 7 p.m. at Boylan Funeral Home, located at 856 Evans City Rd, Renfrew, PA 16053.
Finally, It's Osborne (Andras Hegyi)
Zach Osborne is a special rider, riding better than ever right now, and he already has some spots in the record books. He has the most 125/250 supercross podiums in Monster Energy AMA Supercross history among Husqvarna riders, with seven and counting. He also has the most 125/250 National podiums among Husqvarna riders. In 2016, he became the first Husqvarna winner to win a 125/250 National. In 2017, he has become the third Husqvarna rider to win in small-bore supercross besides Travis Preston and Ecuadorian Martin Davalos. But Osborne is the sole Husqvarna rider to win both in AMA Motocross and AMA Supercross.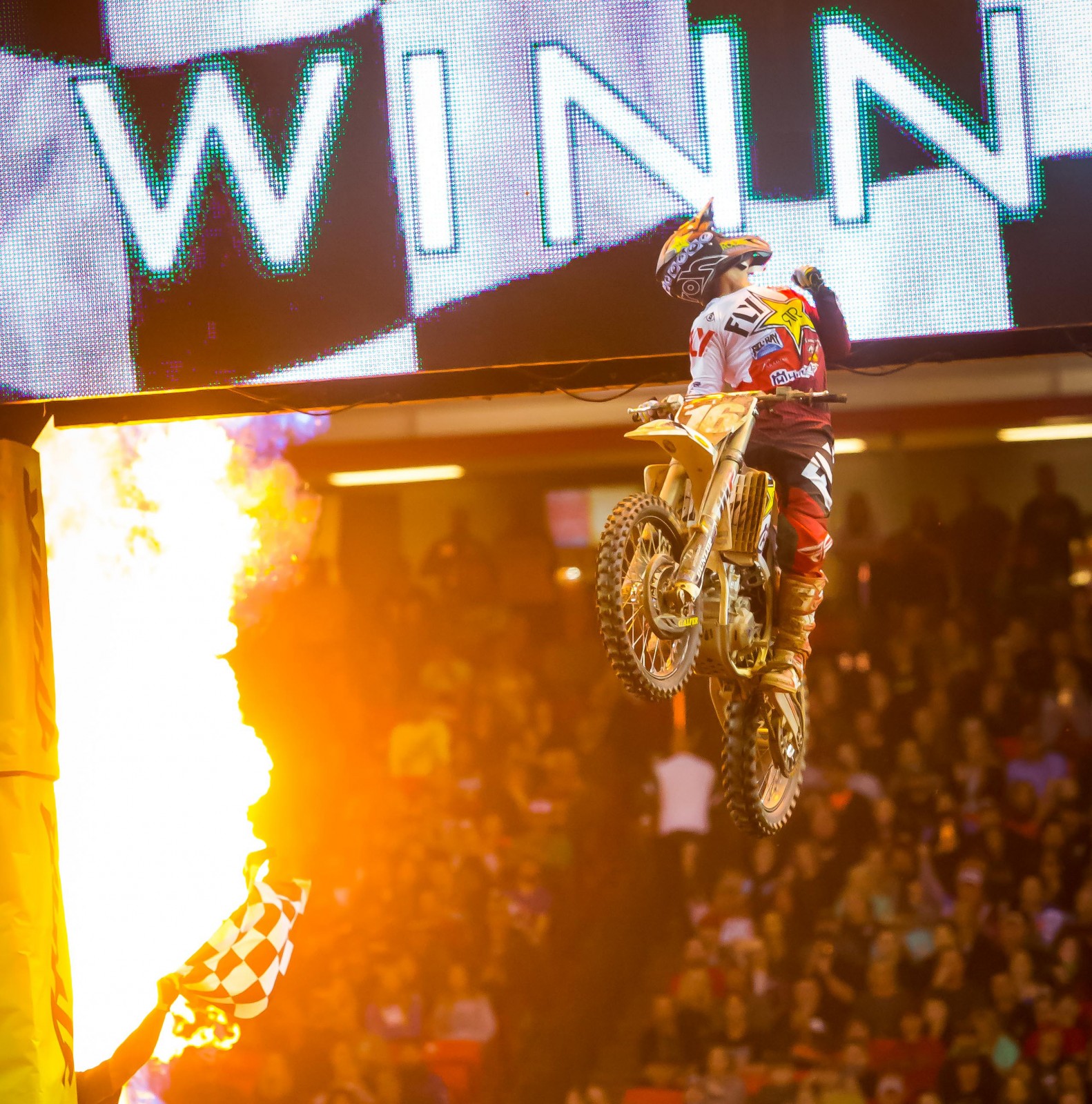 Finally, the 28-year-old Virginian is now the 11th rider in AMA/FIM history to win a 125/250 AMA National, 125/250 AMA Supercross, and MX2 FIM World Grand Prix. Here's the full list.
| | | | |
| --- | --- | --- | --- |
| Rider | SX Wins | National Wins | GP Wins |
| Donny Schmit | 4 | 3 | 7 |
| Tallon Vohland | 3 | 1 | 1 |
| Mike Brown | 4 | 8 | 3 |
| Mike Kiedrowski | 2 | 10 | 1 |
| Cooper Webb | 11 | 7 | 1 |
| Zach Osborne | 1 | 1 | 1 |
| Ken Roczen | 5 | 2 | 12 |
| Ben Townley | 3 | 6 | 10 |
| Christophe Pourcel | 12 | 7 | 6 |
| Marvin Musquin | 11 | 8 | 14 |
| Grant Langston | 7 | 9 | 7 |
New Face at Race Day Live (Chase Stallo)
When you tune into Race Day Live! tomorrow afternoon, you'll be greeted with a new face. After a little over two years, Andy Bowyer has decided to step down as the play-by-play announcer for the live streaming show. Bowyer will be replaced by Daniel Blair, the former supercross and arenacross rider who currently serves as the color analyst for Amsoil Arenacross on FS1. Bowyer will continue his full-time role with Feld Entertainment as a digital marketing specialist.
When we reached out to Bowyer earlier this week, he explained that his time on the road has taken away from his responsibilities in that role.
"My digital marketing specialist position within Feld has grown to the point I could not miss meetings and responsibilities on Friday, 17 weeks a year," he told us. "Given the option to come off the road to handle more responsibility with Amsoil Arenacross, Monster Energy Supercross, and Monster Jam was an easy option. I've established a solid footprint within the ever-growing digital platform at Feld Entertainment and am very excited to continue to grow within the effort."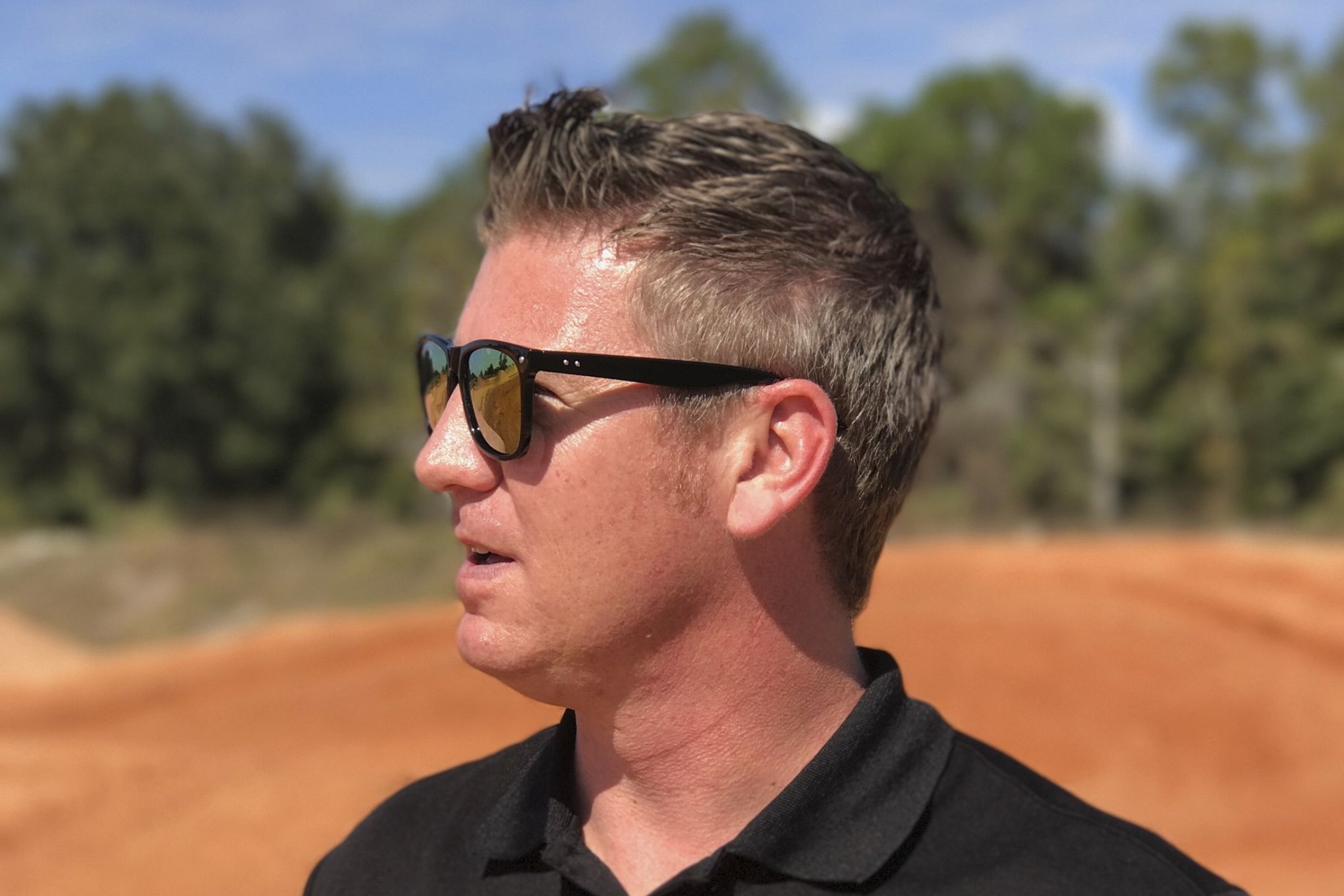 Bowyer, who has two young girls, also said that it was important to him to spend more time with his family: "The opportunity to spend more time with my family made it an easy decision. I will still be hitting up Monster Energy Supercross and even Pro Motocross Championship rounds, but the weekly travel will be no more."
Bowyer will still be involved in the show, and may even appear as a special guest later this year. "It was the greatest privilege of my career to be a voice for the fans on Race Day Live! I'm still very much involved with the show, just behind the scenes marketing Daniel Blair and Jim Holley. I'll likely be making an appearance as a guest before the season is over with some digital highlights and fantasy information."
Blair will make his first appearance on the show this weekend at the Toronto Supercross alongside color analyst Jim Holley.
Moving On Up (Weigandt)
Last weekend's Atlanta Moto Fest (which combined Amsoil Arenacross on Friday with Monster Energy Supercross on Saturday) was my first chance to see the RC Road to Supercross in action, in person. Some big amateur names came out to race, like TLD/KTM's Mitchell Falk, Rocky Mountain ATV/MC-WPS KTM's Max Markolf, and Husqvarna's Jordan Bailey. Unfortunately, all three of them went down and down hard. Faulk got the worst of it with a broken leg suffered on Friday afternoon, and that will likely end any chance of qualifying for the Rocky Mountain AMA Amateur National at Loretta Lynn's this summer. Bailey went down in the whoops during the night show and so did Markolf, in fact at one point they were basically laying down on the left and right side of the whoops at the same time! Bailey was battered and bruised, but came back to race again that night. Markolf suffered a broken collarbone, which he has now had plated. In defense of this Road to SX program, though, this was a full-scale supercross track, not an arenacross track. Yeah, they skipped half of it but on the half of the track they did use, the obstacles, turns, and whoops were the same as the SX dudes hit on Saturday. And you saw how difficult those whoops were! I'd imagine at a regular arenacross, where the speeds are slightly slower and the whoop section, while not any easier, is at least shorter, it's slightly easier on these riders when things literally go sideways. As crazy as this sounds, I've even heard people say that in arenacross, there's a greater chance of landing on a tuff block because the track is smaller. I guess that's bailed some dudes out in the past!
There was more bad news when GEICO Honda's Carson Mumford broke his arm by over jumping the triple on his CRF150 (think about that). Mumford was racing in the Amsoil Dominator Supermini class—he's too young to be part of the Road to Supercross program—but his injury set the tone for the whole weekend for his team. Poor Chase Sexton broke his femur with a crash at the end of the whoops, and Christian Craig, fastest of any 250 rider in the whoops all day, crashed in his heat race and suffered a concussion. That makes it easily one of the worst days ever for the GEICO Honda team.
So maybe it's good for that the squad gets to do something different next weekend in Daytona, when Jeremy Martin gets to hop on Ken Roczen's vacant 450 for the Daytona Supercross. This is a Honda-backed event so the brand has to be happy to get another red rider out there. Martin won last year's Daytona SX in the 250 class, and we know he has motocross skills and stamina, no problem. Will be interesting to see how he does on the big bike. I can hear the "he's too small!" chorus right now, but I feel like we've learned through the last decade or so not to equate height or size to 450 results. It's not like Carmichael or Ryan Villopoto were big dudes and they seemed to have no problems. You really never know.
Finally, a note on our interview this week with Feld's communications training director (media trainer) Nonalee Davis. I think it's awesome that supercross is investing in its own media training for the riders, and I think you can already see some results if you look closely. For some strange reason Blake Baggett and I have always gotten along well and have done some funny, crazy interviews together. But most of the time on the podium, Blake doesn't let that side out. He's gotten better this year, and he credits training with Davis.
"I cannot express how helpful she's been," said Baggett. "She's coaching me to express my personal thoughts when I get a question, and it's definitely showing."
Also Malcolm Stewart said, "I think Nonalee is great for our sport. I am thankful I'm able to work with her. I've already learned a lot about representing myself and my sponsors for my fans, and I hope to keep working with her in the future."
We all know Malcolm is a funny interview, but media training can make everything more polished, but, most importantly, keep it genuine and interesting. You can see that in Baggett. Blake's been funny this year in all venues, from the podium, to the post-race press conference and whatever wacky interaction I have with him. I think we can all agree some more exciting podium interviews would be good for everyone!
Racer X Ride Day (Kyle Scott)
On Wednesday we held a ride day at Castillo Ranch. It was a nice sunny day with the temperature around 65 degrees at the coolest motocross facility I've ever been to. With a supercross track, motocross track, hip, ramp, and hill jumps scattered across nearly 500 acres in the hills of Los Alamos, CA, Castillo Ranch is basically Disneyland for dirt bikes. Jim Castillo purchased the ranch in the early 1990s and if you've seen a motocross video from that era you've probably seen shots from Castillo Ranch. With Ken Roczen's remake of Jeremy McGrath's part in Terafirma recently coming out, it only made sense to theme the day to pay homage to classic pieces also shot at Castillo Ranch. With all the history this place has and all the legends who have ridden there, it was cool to simply be there.
805 Beer and a taco man were on hand as well as about 75 people or so that came out to enjoy the long and technical grass track laid out by David Pingree, as well the motocross track groomed to perfection by Frankie Garcia. We invited our advertisers out to say thank you for their continued support and to enjoy a day of riding. We also invited some pro riders such as Grant Langston, Carey Hart, Tyler Bereman, Arik Swan, Darryn Durham, and little ripper Talon Hawkins. The day started on the grass track, shifted to the motocross track and then moved to the hills where the pros were getting upside down throwing whips and going big until dark.
I'm still in the middle of physical therapy for my shoulder and I still can't lift my hand above my head, but that didn't stop me from strapping on a helmet and spinning a lap on the grass track. Speaking of the grass track, take a lap with Dusty Marvin, while it was still grassy.
A big thank you to Jim and Dave Castillo for allowing us to come out and tear up their hills and enjoy their ranch. We hope everyone had a good time and hope we get invited back next year!
INDONESIA (DC)
The FIM World Championships have a long history of trying out some very exotic locales that don't always scream "motocross" but they are in countries that either have a growing bike culture (Thailand) or some serious local government support (Qatar, Argentina). Now they will add Indonesia to the list as the second round of the series gets underway at a brand new facility in a place called Pangkal Pinang. Last weekend they were in Qatar for the annual opener, and it was a KTM sweep: Tony Cairoli won his 78th MXGP to get back on top in the standings for the first time in a while, and Latvian rider Pauls Jonass won his first MX2 Grand Prix with a 1-1 sweep under the lights in Losail. (Our man in Hungary, Andras Hegyi, will have more on both Cairoli and Jonass below.)
The race this weekend will likely be a hot one—they used to go straight from Qatar to Thailand, but that race is not on the schedule this year. Instead, it's off to Indonesia, which will likely be a hot race, and possibly a wet one. And I can't wait to watch it on MXGP-TV.com and see how Paul Malin gets around with some of the less familiar names to Grand Prix motocross: Wicaksana M. Arjuna, Hanif Kusparwanto, Delvintor Alfarizi Muhammad, and Hendro Fahrodj Farhan. And if you want to watch the races live online, head over to our How to Watch feature for all the information.
It's been raining in Indonesia but fortunately for the traveling teams they have a small arena to work indoors with their race prep.

Stefan Everts shows you just how muddy it can get after a big rain in Indonesia!
On the home front, still no word on what the replacement round or venue come September will be for the Monster Energy U.S. Grand Prix of America, but I'm guessing that will be resolved within a week. Stay tuned.
Cairoli's numbers (Andras Hegyi)
Eight-time MXGP World Champion Tony Cairoli has begun his 2017 season in winning form. For the third time in his illustrious career, the KTM rider has won the season opener, getting double moto wins. Cairoli also did so in '07 and '12. The Sicilian went on to win the FIM world title those two seasons.
Qatar has been a part of the world championship since 2013, but this is actually Cairoli and KTM's first-ever victory there. Here are Cairoli's results in Qatar:
2013: 2nd (3-1)
2014: 3rd (2-3)
2015: 4th (3-4)
2016: 5th (6-4)
2017: 1st (1-1)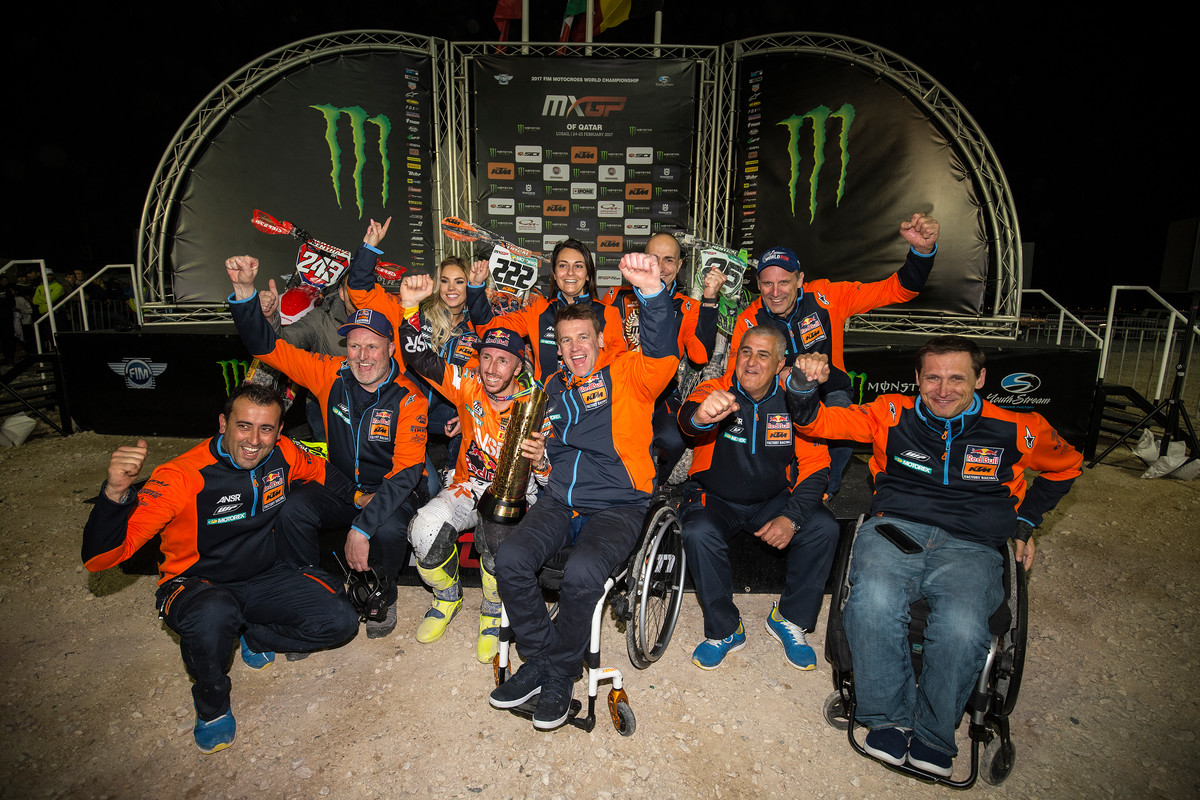 Losail, Qatar, is the 39th venue where Cairoli has been able to win an MXGP race. By now he is the second most successful in this regard. Only the 10-time world champion Belgian Stefan Everts is more successful than Cairoli, winning at 49 different tracks.
Cairoli debuted in world motocross championship in 2004. Since then he has been able to win every season, which means he has won at least one race for 14 consecutive seasons. This continuous winning series is an absolute record in not only FIM Motocross, but the AMA circuit as well. The aforementioned Stefan Everts won in 15 different seasons, but not in a row.
Cairoli's Qatar win means he has collected his 78th GP first-place trophy. Only Everts has more, with 101 wins.
First Latvian (Andras Hegyi)
The 20-year-old Pauls Jonass has become the first Latvian rider ever to win in motocross world championship. And since Qatar was the first round, he has also become the overall points leader. But for him, this status is not an unknown one. In 2015 he led overall points standings but ended up second in the championship. Latvia is the 29th country that has given a GP-winner in motocross world championship: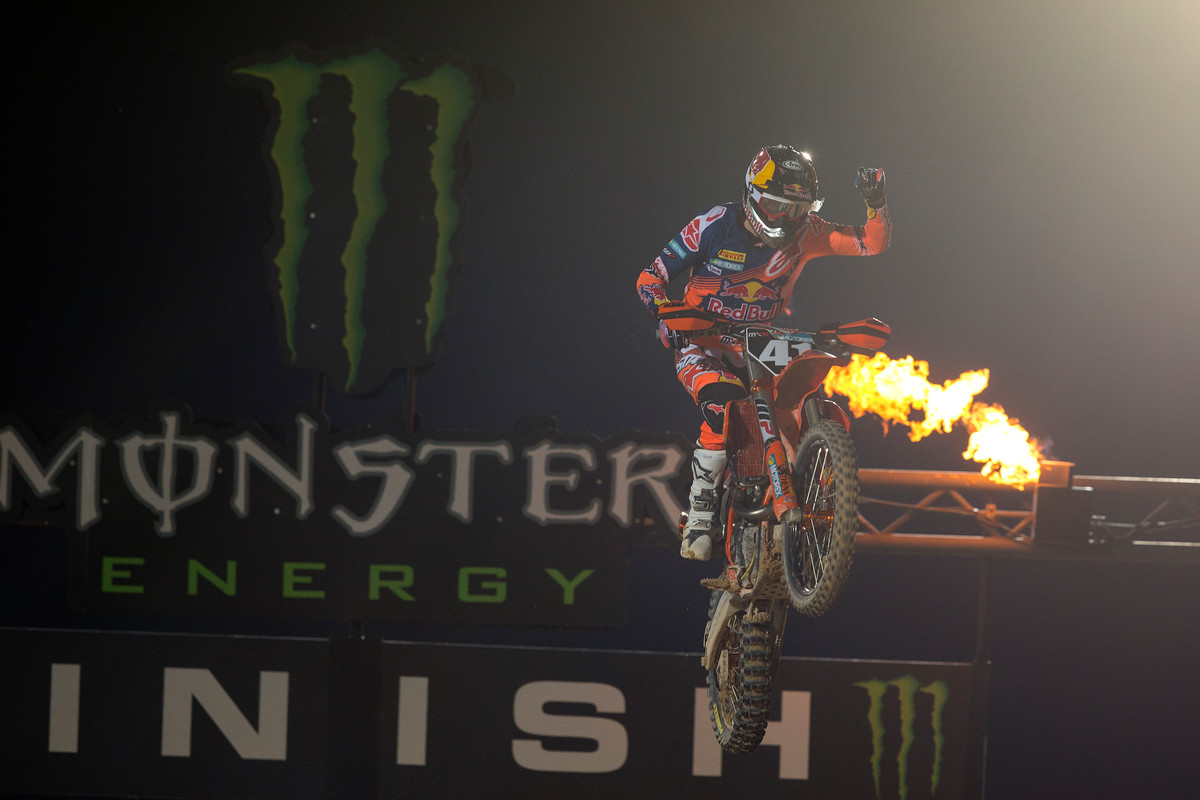 Germany
Austria
Switzerland
Belgium
The Netherlands
Sweden
Norway
Denmark
Finland
Great Britain
Ireland
South Africa
USA
Australia
New Zealand
Italy
France
Spain
Portugal
Japan
Soviet Union (former state)
Russia
Czechoslovakia (former state)
Czech Republic
German Democratic Republic (former state)
Slovenia
Bulgaria
Estonia
Latvia
Amazingly, with Herlings moving up to MXGP, there are now just two riders in the MX2 class with overall wins in their career: Thomas Covington (2015 in Mexico) and now Jonass.
Hey, Watch It!
Go behind-the-scenes of the Atlanta Arenacross with the TiLube/Jack Links/TUF Racing team
Check out this gem Eric Johnson uncovered and sent recently of the 1970 FIM World Motocross Championships. The first track is the Citadel at Namur, Belgium, and shows just what a crazy track that used to be!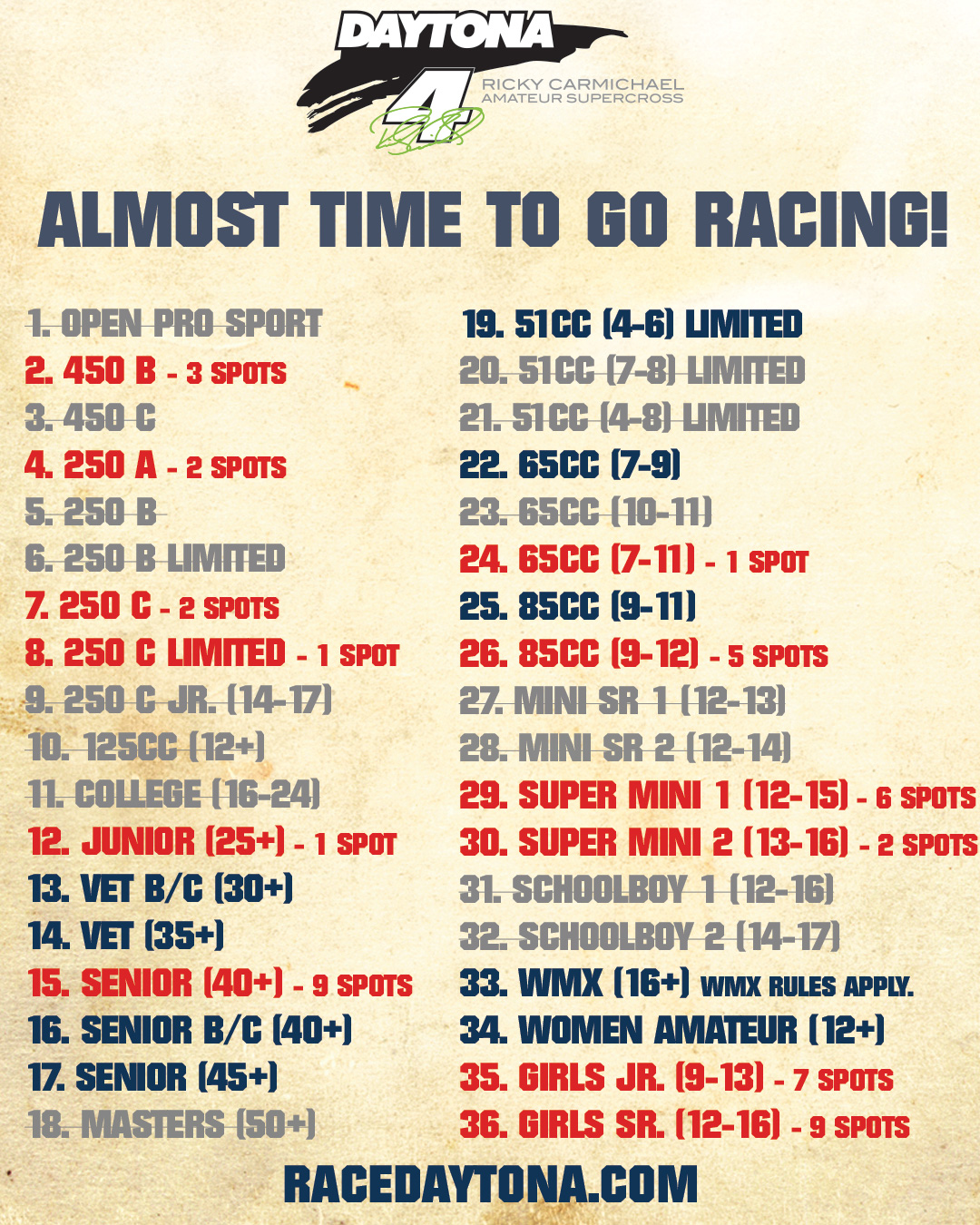 The first Husqvarna World Championship race/reunion takes place this weekend.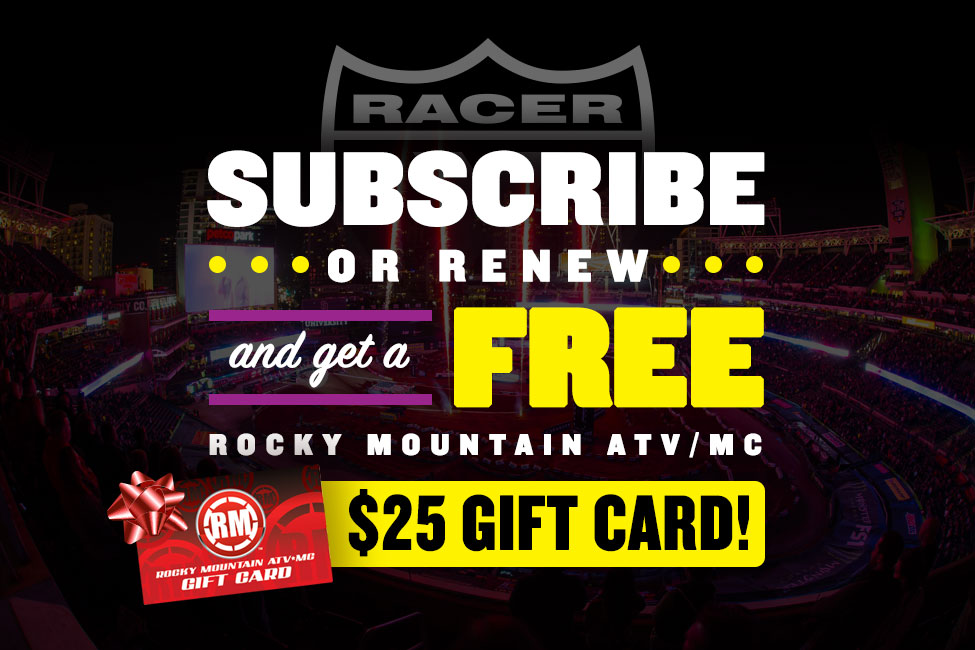 Thanks for reading Racerhead. See you at the races.