Rogers Centre
Toronto

,

Canada
Toronto
Monster Energy AMA Supercross Championship
Atlanta time! Monster Energy Supercross is heating up and we're heading into the home stretch. Eight rounds down, nine to go and the question is, can anyone catch Red Bull KTM's Ryan Dungey? Or is he on his way to a third-straight 450SX title?
As we've been chronicling in this column and on my various shows, the riders are telling me more and more that with these new timed formats, the tracks aren't holding up that well. More dirt, more time to work on them, or a combination of the two need to be looked at. It's nice to see the riders out there for a consistent amount of time, but most people I speak to think Dirt Wurx/Feld need to be looking internally at what they can do differently so that the tracks turn into something that's race-able, safe, and entertaining all at the same time.
I asked Eli Tomac about the tracks after the race:
"Yeah, they're turning into survival. It's like, how many weekends in a row do you have to see the concrete show in a flat turn? So if there's a couple of those flat 180s or 90s, why not throw another six inches of dirt on there, or whatever it would take? I don't know. The rest of the track, it kind of it what it is, but the flat stuff and the concrete, it's not really that cool."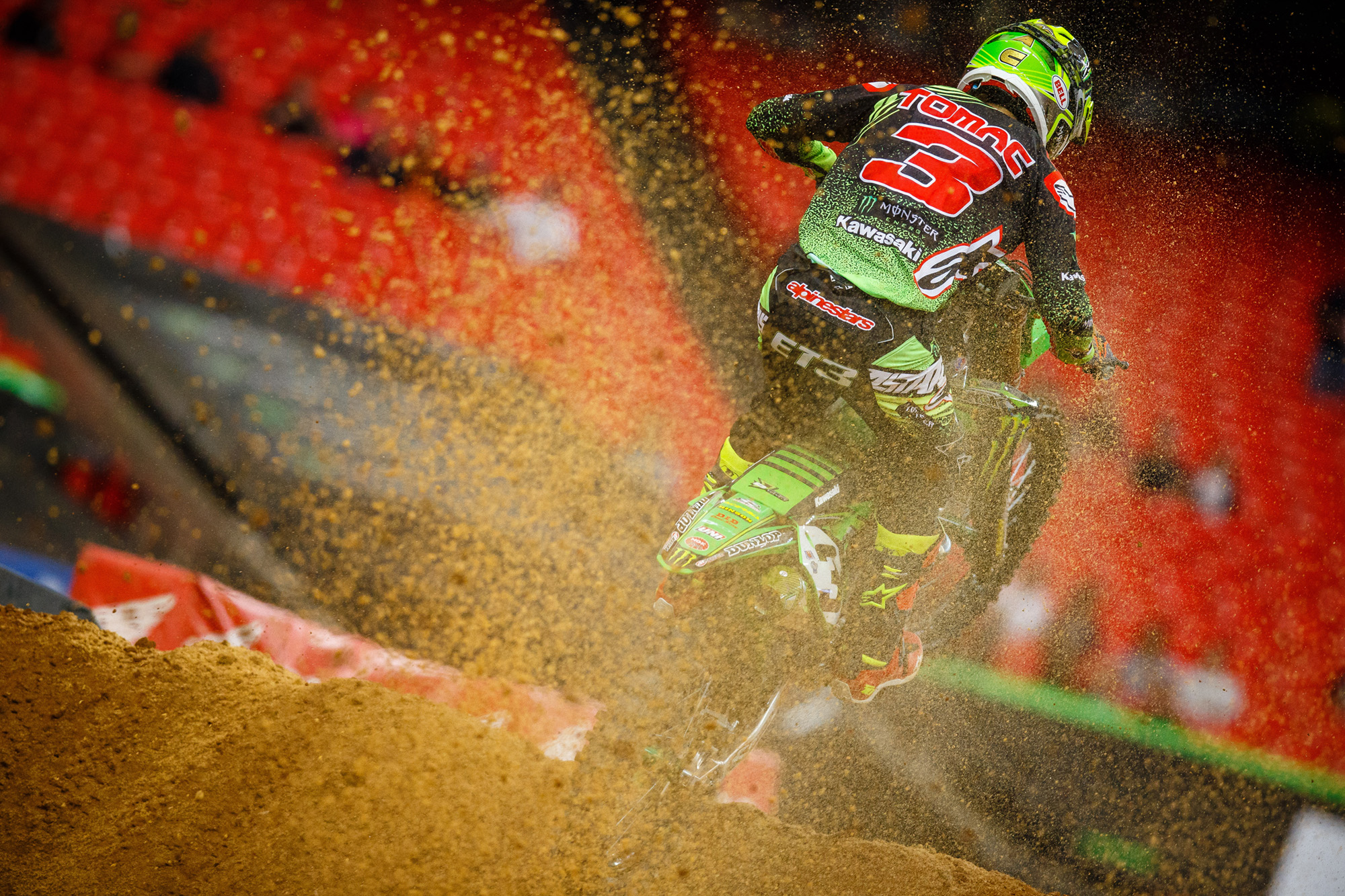 Ryan Dungey told the assembled media his thoughts on the tracks:
"So the tracks are breaking down a lot. I feel like we need more time to do a little more fixing. We were going through the whoops and we were skimming them all day and then we're jumping them at the end. There's not enough time to do any work."
Then I asked Roger DeCoster about them:
"The tracks are the same for everybody, but they definitely have not been easy."
There you go, another brutally honest answer from The Man himself. What else did you expect?
Atlanta was another track that was a bit follow-the-leader with little in the form of imagination in the design. I know building a track is harder than ever since the four-strokes came in, but I remember when the guys used the riders to design some tracks, we saw some pretty cool things. Maybe it's time for that idea to be looked at again?
Ryan Dungey changed things up a bit this weekend; he appeared to be a bit more aggressive in practice in order to get a good time. He didn't qualify at the top of the board, but he was better than he's been in past weeks. He did exactly what he needed to do with this track and grabbed the holeshot. He rode flawless through a beat-down track to win his second race of the year. And by the way, all these top guys have some SERIOUS stuff to deal with when it comes to lappers. As I said about the tracks, they're giving the best guys in the world trouble, can you imagine the, uhhh, not quite best in the world riders out there? Dungey had some close calls out there darting in and out of back-markers. It's like Frogger for him!
Back to Dungey. Great ride and with it, he stopped all of us from asking "What's wrong with Dungey?" and it stopped Weigandt from writing 4000 words this week about it. Or did it? He only had the fourth fastest lap time of the night and had a clean track in front of him for several laps. Also, Blake Baggett caught him for a few laps early on—when in the heck has that ever been typed before? I'm not here to shit on Dunge (like, say, our "Shit on Shane McElrath" podcast) but I really think if Tomac, Jason Anderson, Marvin Musquin and heck, maybe Chad Reed were put in that same scenario with the same main players in the same spots, they would've won.
Yeah, "If ifs and buts were candy and nuts" … I get it. I'm just not convinced Dungey's back, you know? Great work by him, he extended his points lead and all that, but if these other dudes can figure things out, he might be in trouble for this title. I'm standing by.
I talked to someone who works around the KTM team and they were telling me that the "problem" with Dungey is that he's a bit sketched out with the tracks and how tough they've been to go fast on. He's finally back in Florida and perhaps can test more on the soft dirt to get his bike working better also. Being out in Southern California hasn't helped set up the bike for the softer, beat down East Coast tracks. It's nothing physical or mental, he's just not as comfy as he's been in the past.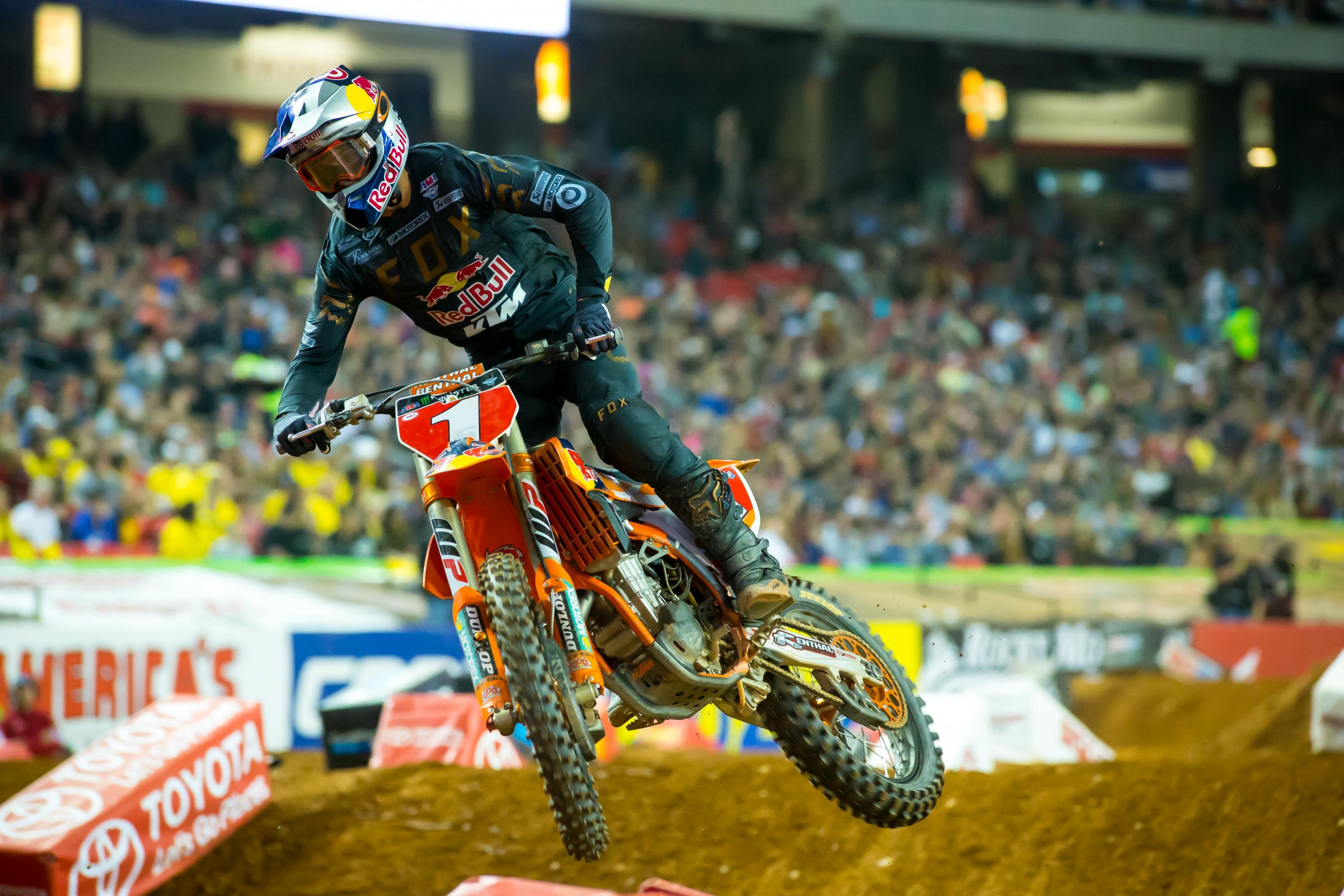 A few of us have been wondering if Dungey is going to retire at the end of the year. His contract is up and usually by now a rider on his level would have re-upped with their OEM if they wanted to keep going. And I hear that KTM's had a contract for Ryan on the table for a while now, but he hasn't signed it. Remember, Eli Tomac's contract is up as well so that would be a big fish for KTM to go out and try to get if they needed to replace Dungey. All of these things are going on now, trust me.
I asked DeCoster about Dungey's future plans:
"I talked to him about it before the start of the season and we both agreed that whatever he does, we will support his decision. From what I can see he is healthy, he is really healthy. He could ride another four or five years if he decides to. A lot of people started asking questions. I don't know why all of a sudden everybody's starting to talk about it. He's 27 years old. Look at [Chad] Reed. Ryan lived always healthy. He has not had big injuries. So he will do what he likes to do, what he wants to do. Whatever he chooses to do."
Have you given him a timeline at all or anything?
"No, he can decide whenever he wants. He earned that."
The people I talk to say that Ryan is a bit hesitant to sign back up as of now, that he's mulling retirement over and will decide after supercross what he's doing. Also, what's the 2018 supercross format going to look like? Big changes are supposed to be coming (I know, I know, we heard that last year and nothing really happened) and maybe whatever those changes turn out to be will sway Ryan's mind one way or another.
Tomac didn't get that bad of a start, he tucked in right behind Baggett who came out second and was creeping around the inside like TLC. But he couldn't jump the next rhythm lane like he wanted to so that put him around 10th. From there it was WFO through some really fast dudes like they weren't even there and he closed on Dungey late in the race. Big freaking deal if you're Eli, closing in on Dungey doesn't matter—the bottom line is you lost three points, but his ride was glorious for sure. Hat tip for the effort oh green one! I could tell in the press conference that he wasn't impressed, though.
Blake Baggett's been fast all year long, his average qualifying time is fourth overall, yet he sits ninth in points due to crashes and other things. The #4 KTM rider appears to be gelling with his new ride, he's working hard and I think the Rocky Mountain ATV/MC-WPS-KTM team hiring Michael Byrne to a multi-year contract to work with the team riders was a smart thing. Byrner's a sharp dude, he's helped Mike Alessi and Andrew Short not too mention his buddy Chad Reed over the years and although he never won a race here in America, he came close plenty of times and is a cerebral guy. I don't know how much Baggett's been working with Byrner, but he's appeared to have acquired a bit more supercross skill this past off-season. In Atlanta, he won a heat, got a great start and at one point was catching Dungey! Blake settled in for hard-earned third and hey, look at that … Daytona is coming up!
If I don't talk about Baggett as a HUGE sleeper for the Lucas Oil Pro Motocross Championship will you just please punch me in the face the next time you see me? Watch out for the BB gun outdoors, bro.
I went over to Chad Reed's pits between practices to see what was up and, to the surprise of nobody, his forks were off. Chad Reed and "his forks were off" pretty much goes together like peanut butter and jelly. The #22 has never met a setting that he didn't want to try. And let's be honest here, he needs to try just about anything at this point because he's really been sucking lately. Remember Glendale? That was a long time ago.
But there's some hope here, folks. In Atlanta he was good … really good. The new "thing" for the #22 was getting out front in each practice and laying down some fast laps and he qualified second. He rode well in the heat and in the main he got a decent start and was charging forward. As he told us on the Pulpmx Show on Monday, he thought that a podium was very doable for him as he worked forward. But then he crashed and those dreams were over. He rode hard to get back to seventh, and yeah, on paper it's a seventh but he was better than that. Trust me!
Reed's average start is currently 13th best out of the top-16 riders and that's been an issue for him this year. He's switched from hydraulic to cable clutch and back again and on Monday he told me he's done with practicing starts because it's all getting into his head. Which I agree with. Too much thinking, too much worrying about something and you could turn into a basket case. As I wrote a few weeks ago, I think he needs to trust the GET Data ECU for his starts and go from there.
In the 250SX class it was "Wacko" Zacho [Zach] Osborne taking his first career 250SX win with a great ride, passing TLD/Red Bull KTM teammates Alex Martin and Jordon Smith to take an easy win. Well not easy, but you know what I mean. We talked about it last week, Osborne got the best third place he's ever gotten in his career, but he wasn't that happy about it. He knew he had the speed last week to win if it wasn't for a bad start and a crash. And this week it was a methodical ride to the front.
He wasn't the fastest qualifier like last week, but that's because he wasn't that good in the whoops. It was rather smart of Zacho not to stress or freak out when Christian Craig zoomed by him in every practice like he was dragging a large bear behind his bike. Some guys would freak out over that and be a mental basket case … maybe even a younger Osborne, if you remember the Salt Lake City SX whoops breakdown when he was on GEICO Honda.
Osborne told me afterwards "… when we started jumping them already in the second practice I knew by the end of the night, just like last weekend, they were going to break down. Maybe not as bad, but I knew that for sure we would be jumping. So I tried to just kind of make my laps with jumping and not be so spun out about skimming and lap times."
Through two races we saw Joey Savatgy get a great start and ride off with a commanding win (Minneapolis), while Osborne came from a little ways back. This week it was the opposite as Savatgy was buried and rode hard to get to fourth. Maybe this week we see both of these dudes get together and battle it out because I think—I know we have lots of races to go—it's Osborne or Savatgy for this title.
And that's because Craig's gone 12-DNS through two races, Alex Martin's finished DNF-2 and the wonder-boy, Adam Cianciarulo, has racked up 6-7 finishes. It's only two races but some of the guys we thought would be in there for a title have shot themselves in the foot.
Craig crashed in the whoops pretty good, sustained a concussion, and called it a day. The only thing that's started off worse than Craig this year was the Titanic. I think he'll get a win still, but his title hopes are over.
Cianciarulo crashed while near the front and then got caught up when Dylan Ferrandis went down in front of him and he had to ride real slowly down a whole lane around the outside of the track, and then sneak back on through the sand. When I asked him after the race why he went so, so slow on the pavement he said it's slippery and then called me a name.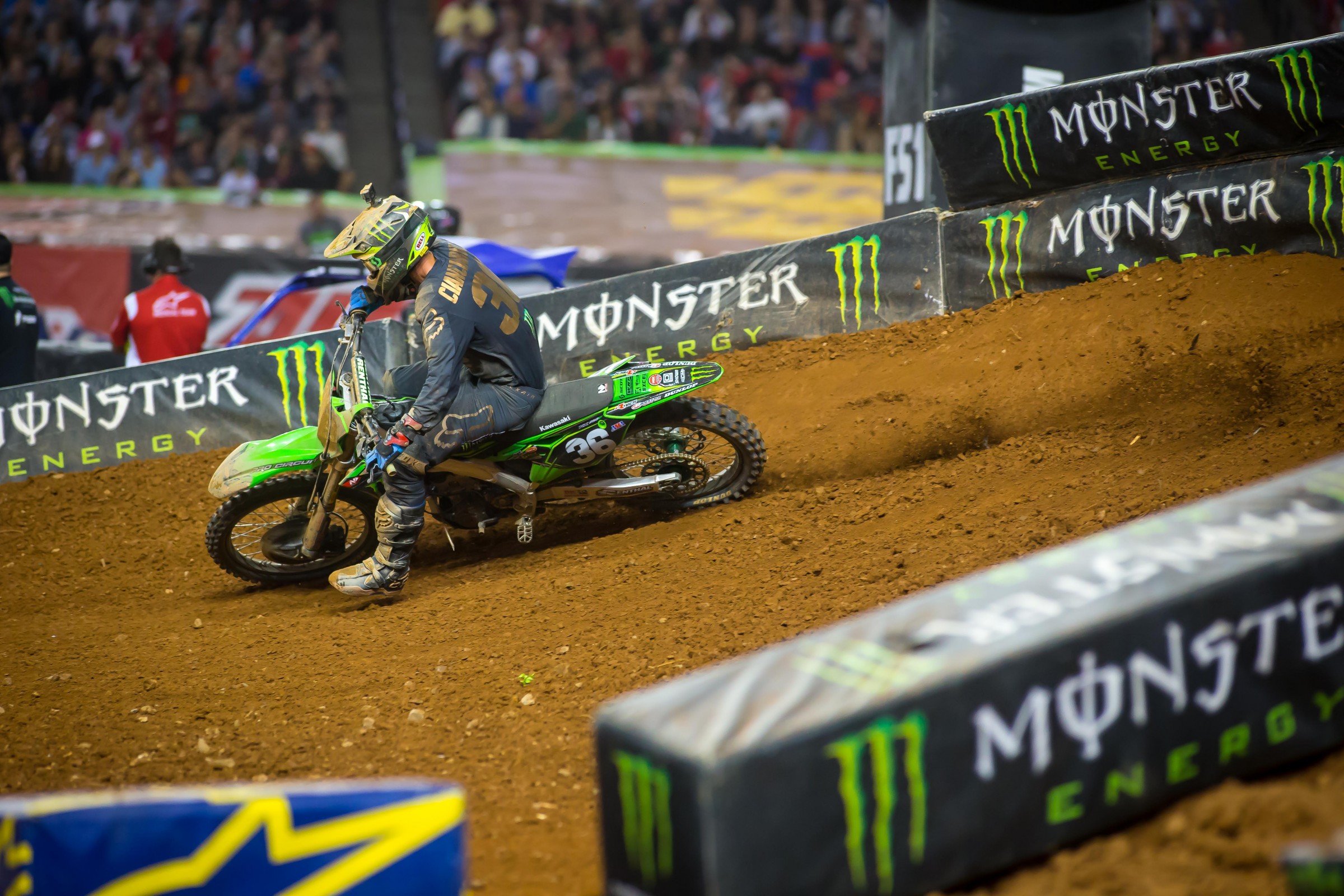 Alex Martin was very good in Atlanta and looked awesome. He was telling me that he's getting along with Tyler Keefe, the TLD KTM team manager, very well and no matter how things go in practice or in qualifying that Keefe is there to encourage and support him which he said is great.
Colt Nichols, bro! I have no idea how but he made it to the start of the 250SX East Region after breaking a femur in December! When he first sustained the injury I was surprised when I heard that he would be back for the East Coast. Yeah, and I'm planning on lining up for a triathlon next month. Easy to say, hard to do. Anyways, Nichols rode well to get a third in Atlanta and last week, as I reported here, he was very good in coming from a big crash and being dead last to 10th. Keep on eye on this guy, something cool could be happening.
I was thinking that Jordon Smith's probably never started this well through the first two races but in looking back, he went 5-3-6 to start last year's 250SX West Region before it all cratered in. So far he's gone 2-5 and probably should've been a third had he not hit Martin and tipped over. Instead he got a fifth, but he's pulled two holeshots now and looks great. After the race I thought he'd be pretty pissed at Martin for the contact but upon watching it back, it wasn't that bad. Smith handled it pretty well at the press conference although I'm sure in his mind he owes A-Mart one.
Justin Barcia's back with AutoTrader.com/Monster Energy/JGR Suzuki and he's not at his best right now after missing time with an injury, but he's still doing Bam-Bam things. It's got to be frustrating for guys like Cole Seely (heat) and Broc Tickle (main) who have caught Barcia from behind, are riding better than the #51 right now, and Justin continues to square up corners and go for front wheels. If this was for a podium spot near the end of the race and he was "peak" Justin Barcia, I get it. He's not where he needs to be (he knows that) but I suppose he just can't help himself. All it does is get himself and another dude out of rhythm as well as slow everyone up. Seely and Tickle both had to be wondering what they ever did the #51. I know Tickle wasn't amused.
Speaking of RCH Suzuki, anyone else see Marvin Musquin's move on Justin Bogle in the main and wonder where in the heck that came from? I have to admit I was surprised that Moose-Can was that aggressive with Dungey in Minneapolis (and let's face it, that move wasn't exactly vicious but, I mean, it's Dungey!) and same with this move on Bogle. Marv's feisty!
Super trainer Aldon Baker was cornered on track walk by the animals on Privateer Island and it didn't go that well. Alex Ray, Adam Enticknap, Cade Clason, Tyler Enticknap, and maybe a few more were asking Baker when they could come over to the factory for some lessons. Seven-Duece-Duece said that they could be "lapper practice" while Ray said that he could put #21 on his Husky, some Thor gear, and pretend to be Anderson. Then they started saying that they loved Waffle House and at this point Baker was slowly backing away. Who let these guys loose, man?
Speaking of Ray, he's going to ride for CycleTrader.com/Rock River Yamaha for the rest of SX as a replacement for the now-retired Tommy Hahn. Nice work by CT to pick him up and Ray will start in Daytona on a Yamaha and hopefully he can make something happen with this chance.
JGR Suzuki's Jake Weimer started off pretty well with the new team but has been crashing and crashing and then crashing some more the last two or three races. He went to North Carolina to test some but hurt his back in Minneapolis and didn't ride all week. And it showed with more crashing in Atlanta. Weimer's ridden the heat, semi, LCQs, and the mains the last two weeks. It's been rough for the #12.
I didn't like Scott Champion's move in the 450SX LCQ. Well, I loved the move to blitz the whoops WFO and pass Clason in the last turn for the last spot into the main. That was cool, but then he punked Clason over the finish and when Cade rode over to say "Good job" he continued to sort of punk him. I'm old so maybe what he was doing was some sort of sign, I'm not sure, but it looked like a punking. Act like you've been there before, you know?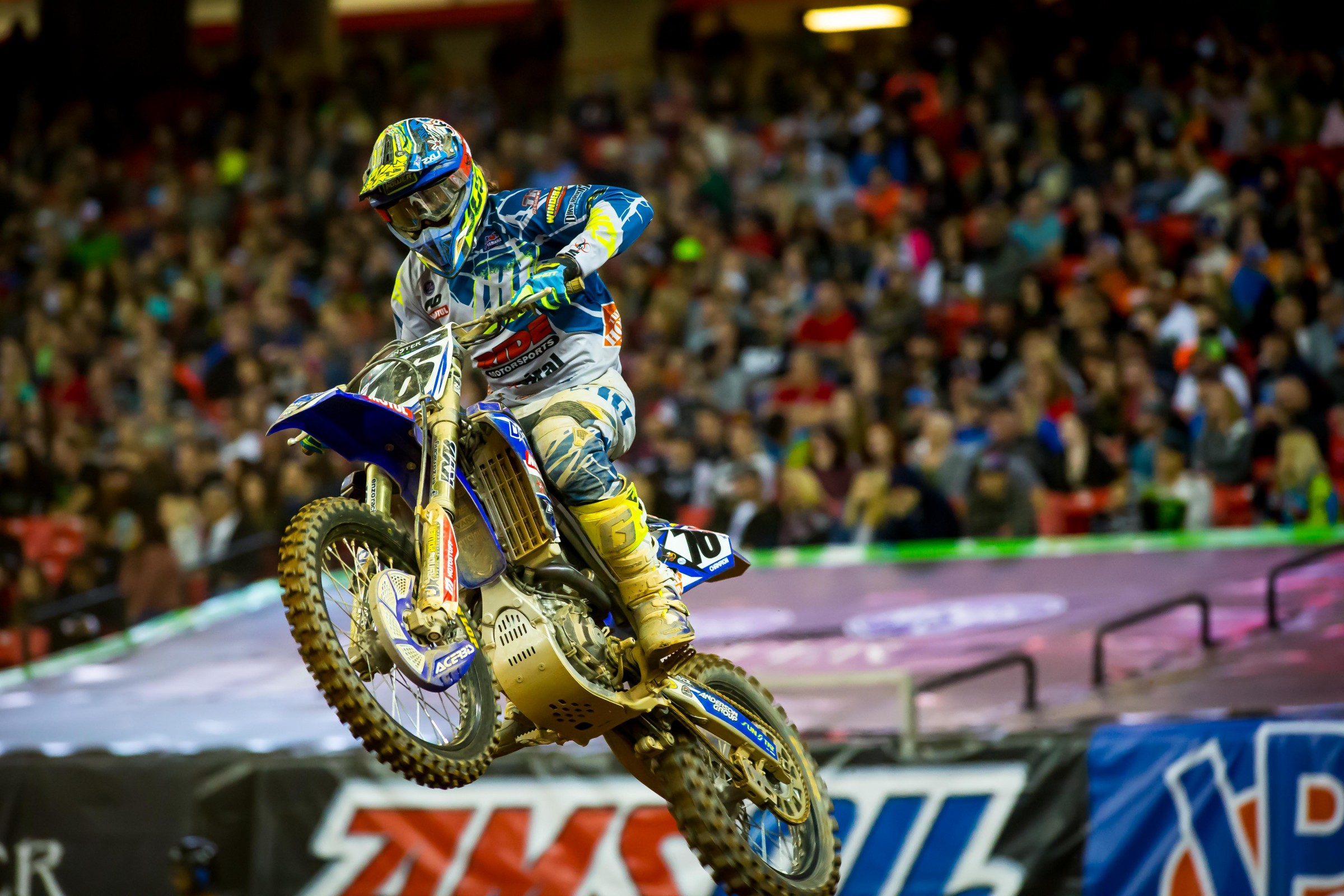 I don't know about you guys but I'm waiting for the Mookie Stewart breakout ride annnnnyyytime now. The #47 is good, he's real good, but one 10th since he's joined the 450SX class isn't what I thought he'd do. Talking about Weimer, Mook is probably figuring out that crashes and a deep field and races stacked week after week is not an easy deal. When you're struggling a bit, it's hard to reset yourself and turn the ship around.
Sneaky good 250SX riders through two rounds? Luke Renzland and Cameron McAdoo. Seriously, they've been way better than you've noticed.
Thanks for reading, good times, everyone! Email me at matthes@racerxonline.com if you want to chat about the ATL or whatever.