Georgia Dome
Atlanta

,

GA
Atlanta
Monster Energy AMA Supercross Championship
Heat Races
250 Heat 1: Luke Renzland grabbed the holeshot in the first 250 heat, but Dylan Ferrandis got around him for the lead. Adam Cianciarulo quickly up to second. Meanwhile, a bad start for Craig. He worked his way quickly up to fourth but then went down in the turn that connects back to the starting straight. Then, while trying to comeback, he just piled it in the whoops, going down and down hard.
Cianciarulo closed in on Ferrandis and took the lead, and then held on to win the heat. The crowd saluted his effort, cheering his pass and then his win. People are digging the comeback story.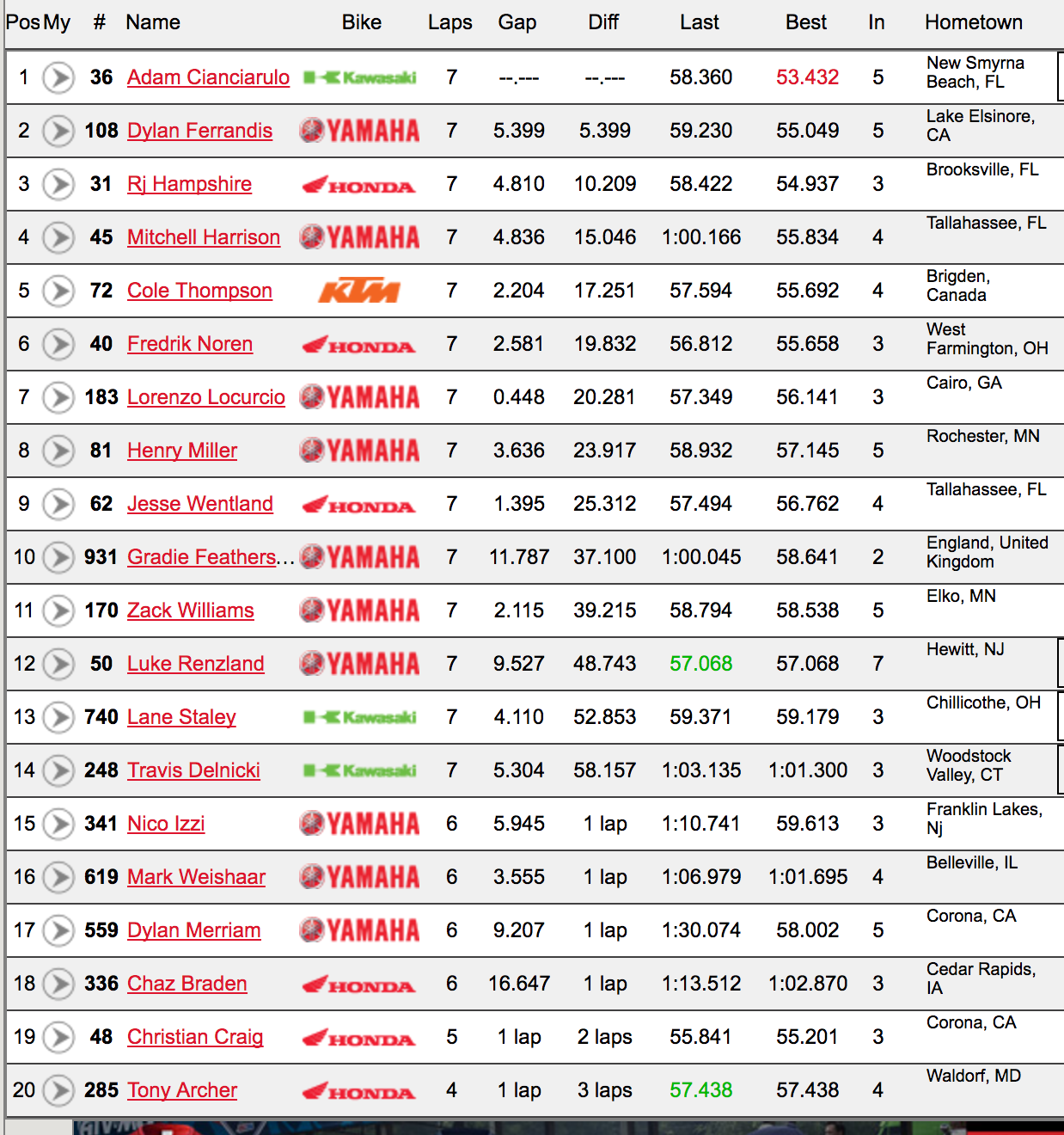 250SX Heat 2: Josh Cartwright grabbed the holeshot. It's his first race of the season after he had bike problems last week and didn't get to race. He even led most of the first lap before Zach Osborne got around him. Meanwhile Kyle Peters was on the move up to second, then Joey Savatgy got in on it to take second, setting up a Savatgy versus Osborne battle. Savatgy continued to close to the end, but Osborne had enough gap on the last lap to hold him off.
Cartwright ended up crashing and didn't make the main, as did Renzland, who got the holeshot in the first heat. They'll be back for the LCQ, but we believe Craig's status in in doubt after that big crash in the whoops.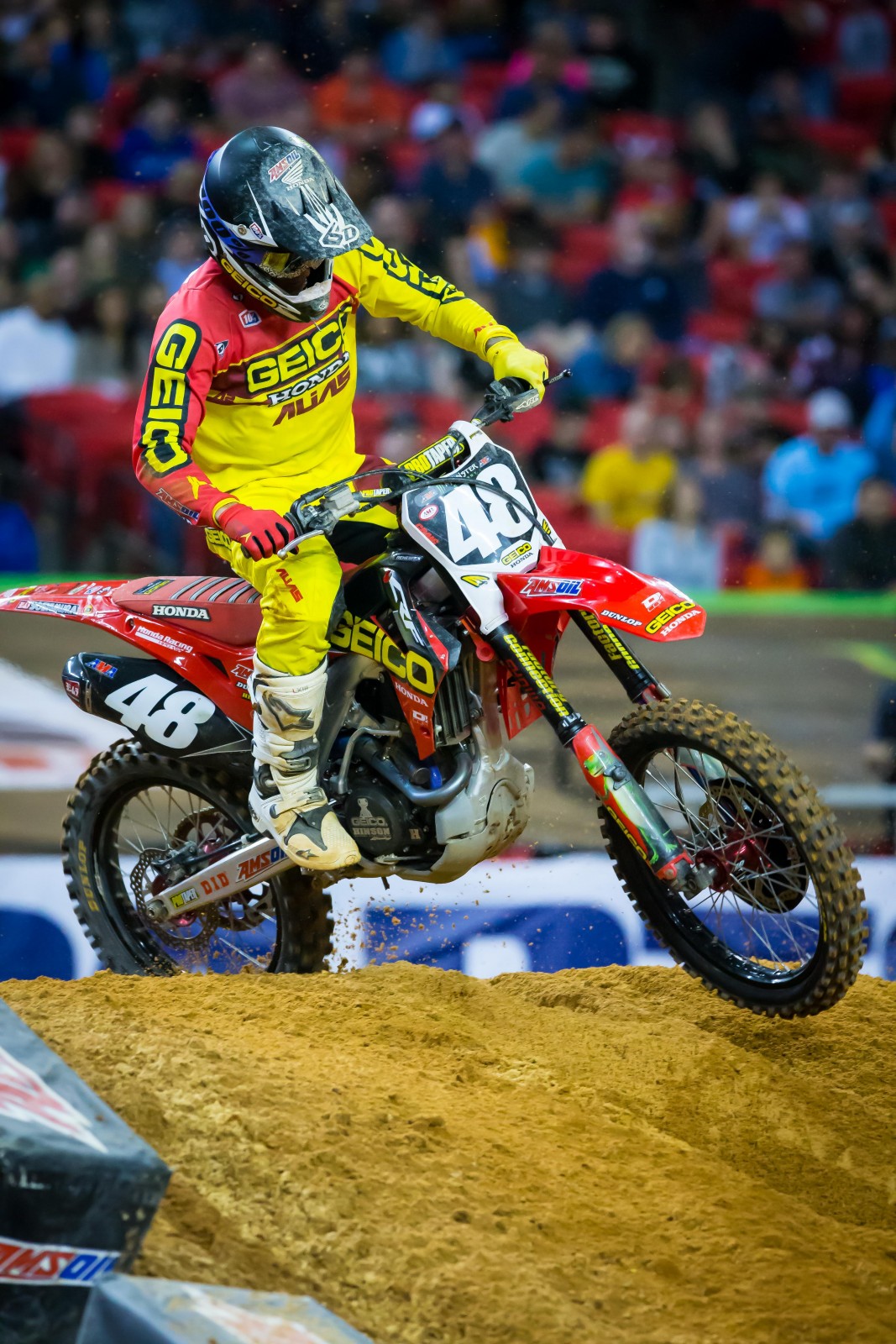 450 Heat 1: Tickle a holeshot! Now that's something you don't see very often. But Ryan Dungey grabbed a good start, too, and gets by him. On the second lap, Malcolm Stewart blazed through the whoops at Mach 3 to try to make a move, he ended up colliding with Trey Canard, and Canard went down. A lap later, Malcolm went for the pass on Tickle and got him for second, but Tickle got him right back and then Mookie stalled it. From there the fans started watching Chad Reed, who was on the gas again after strong runs in practice. He got around Tickle to take second, the fans cheered, and he went on to finish there. His best lap was a tenth quicker than Dunge, too, so there's that. Tickle and Cole Seely took the final transfer spots. Seely had to survive a big battle with Justin Barcia, who finished fifth.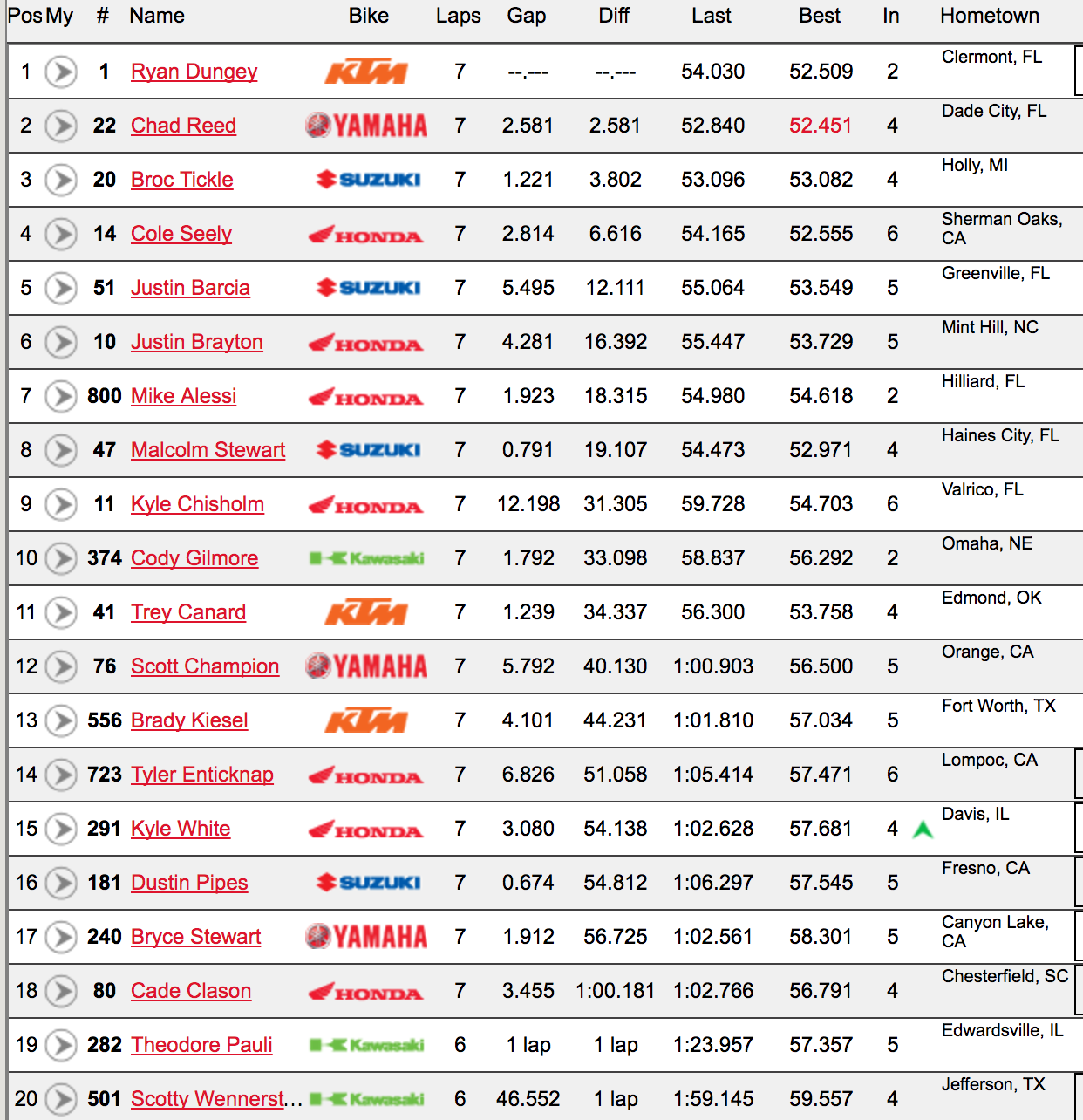 450 Heat 2: Blake Baggett is going to figure this out one day. He's been fast in practice and the heat races all year, and this time he found another notch by jetting off to the early lead and winning this heat. That's good news for his Rocky Mountain ATV/MC KTM team, which lost Davi Millsaps to a wrist injury after a crash early in practice--but he was almost going to suit up tonight so hopefully Davi's not that bad.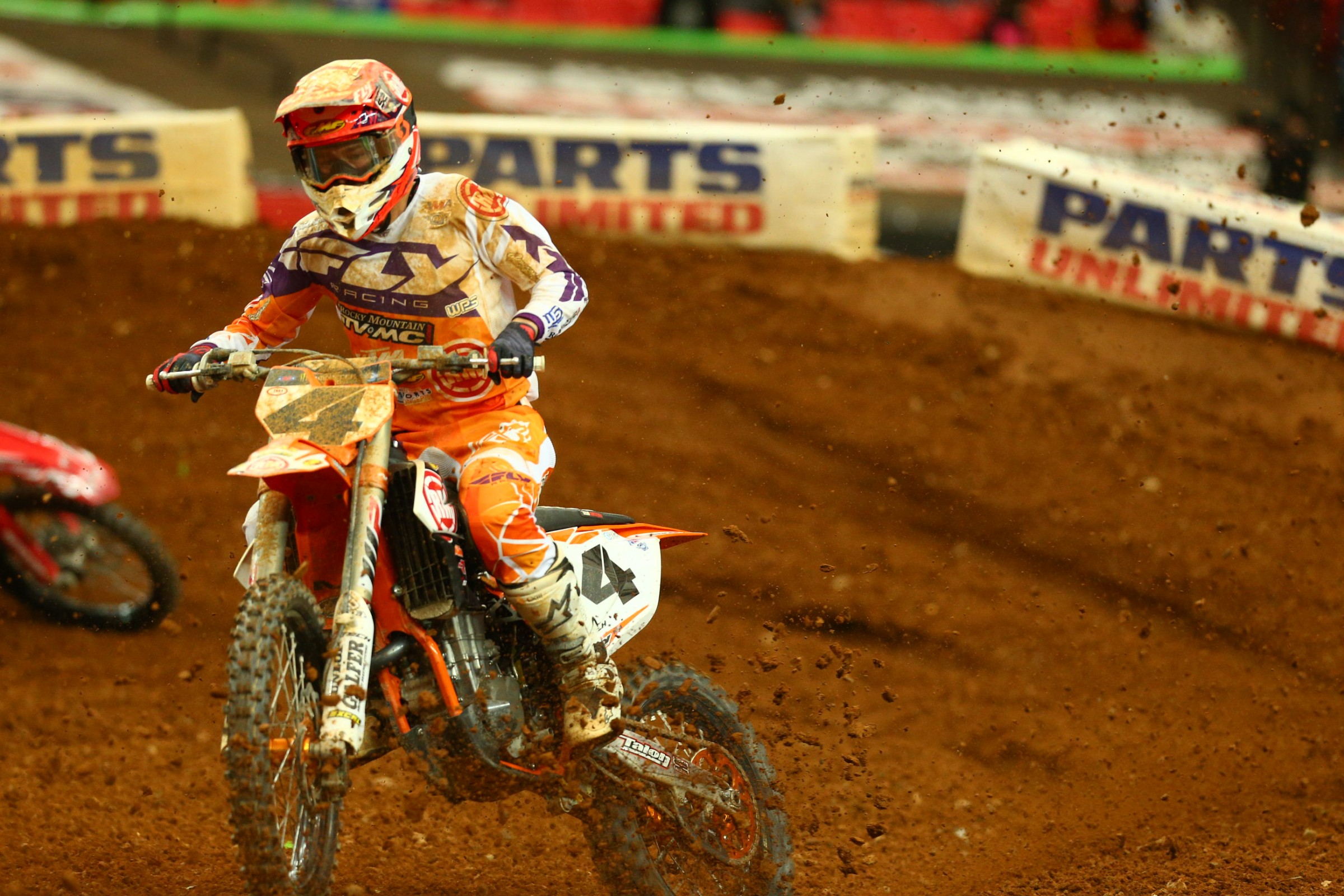 Anyway, Baggett checked out and won the heat. The favorites in this one could have been Eli Tomac and Marvin Musquin...but they got bad starts. Musquin was able to come through, but Tomac is headed to the semi along with some other big names.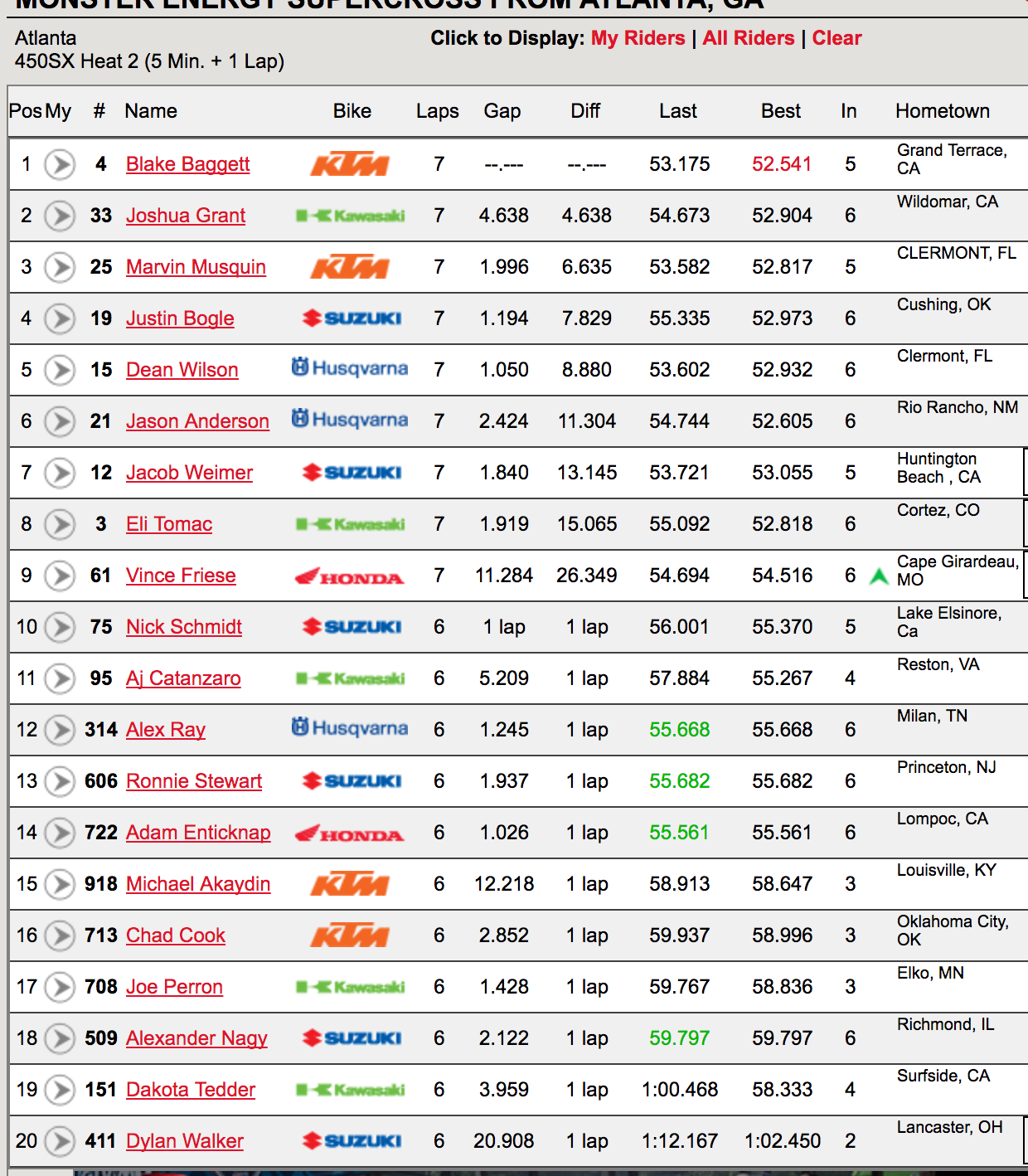 250 LCQ
Renzland, who never gets good starts, now has two holeshots tonight after getting the start in both his heat and the LCQ. This time he held on. Kyle Cunningham kept him honest for most of it with Tony Archer running by himself in third. The battle for the final spot came down to three riders, Cody Williams, Paul Coates and John Short. Coates worked his way through to fourth, and Short came so close but couldn't get a wheel on him--this means Short is Just Short of the main.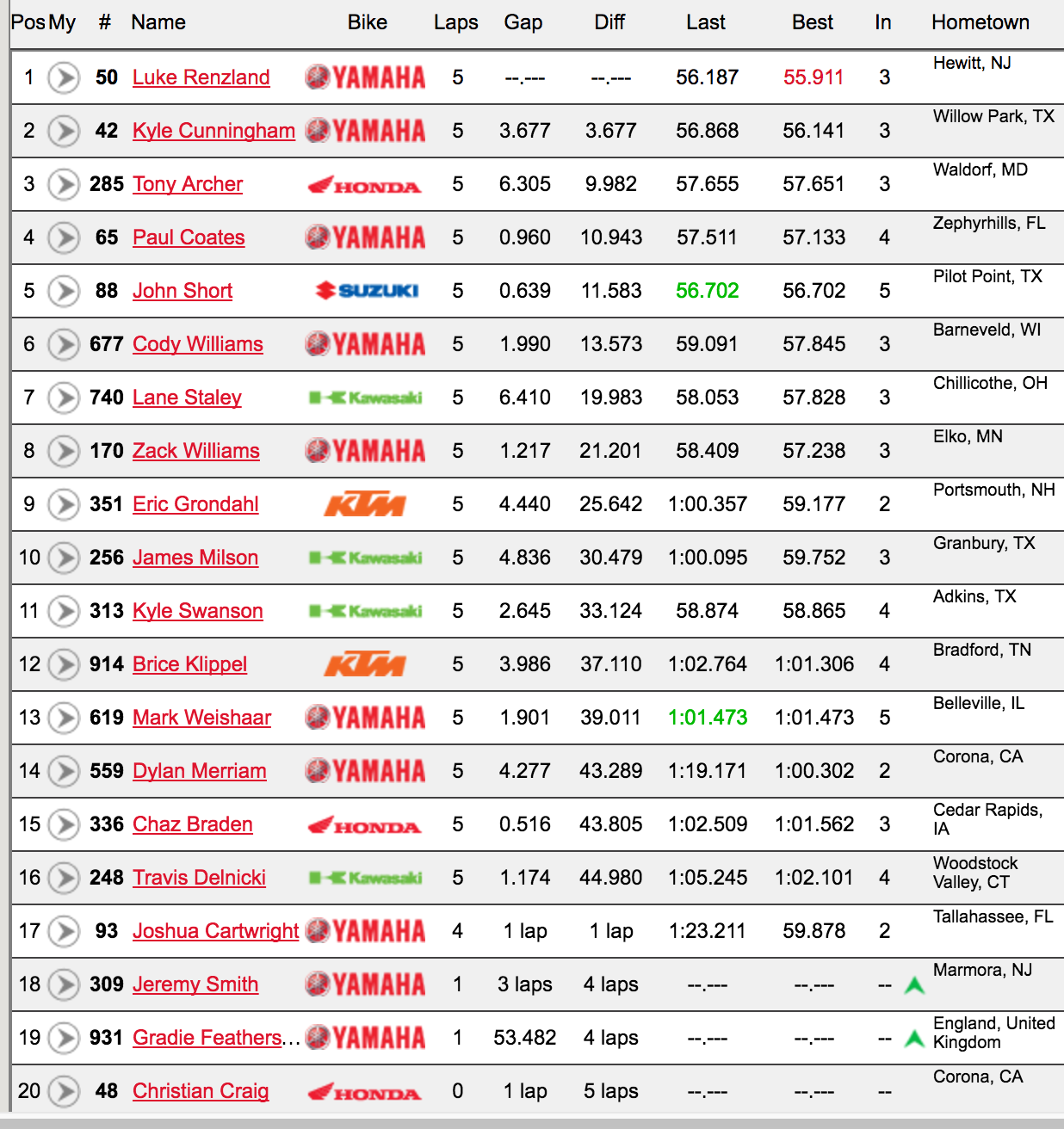 SEMIS
450 Semi 1: Jason Anderson got out front early, Eli Tomac moved to second and began to close, but couldn't get him. Justin Brayton, back in action after missing last week with a concussion, is next, ahead of Malcolm Stewart. Nick Schmidt took the measure of Cade Clason to get the final spot.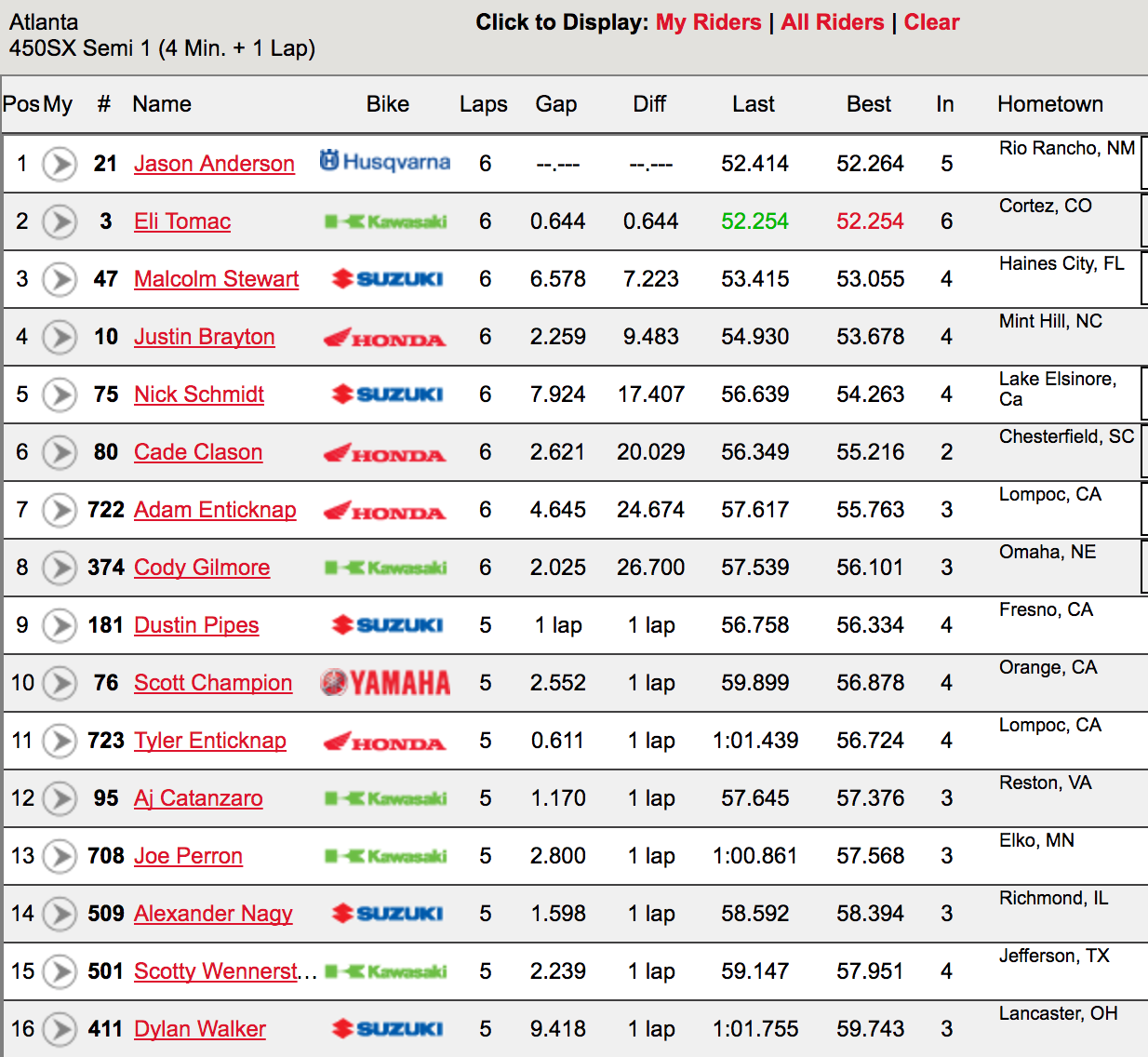 450 Semi 2: Mike Alessi led them into turn one but went wide, allowing Trey Canard to get to the inside and take the lead. He held on from there, but Dean Wilson put on a strong charge in the second half of the race to close in and take second. Canard has been quick today, but the question is where his endurance will fit in during the main event. This is his third race back from injury.
Barcia got around Alessi to take third, and Vince Friese took fifth ahead of Kyle Chisholm, who is riding his own privateer 450 with a little help from the SmarTop MotoConcepts team. Chizz is headed to the LCQ, as is Jake Weimer, who crashed twice.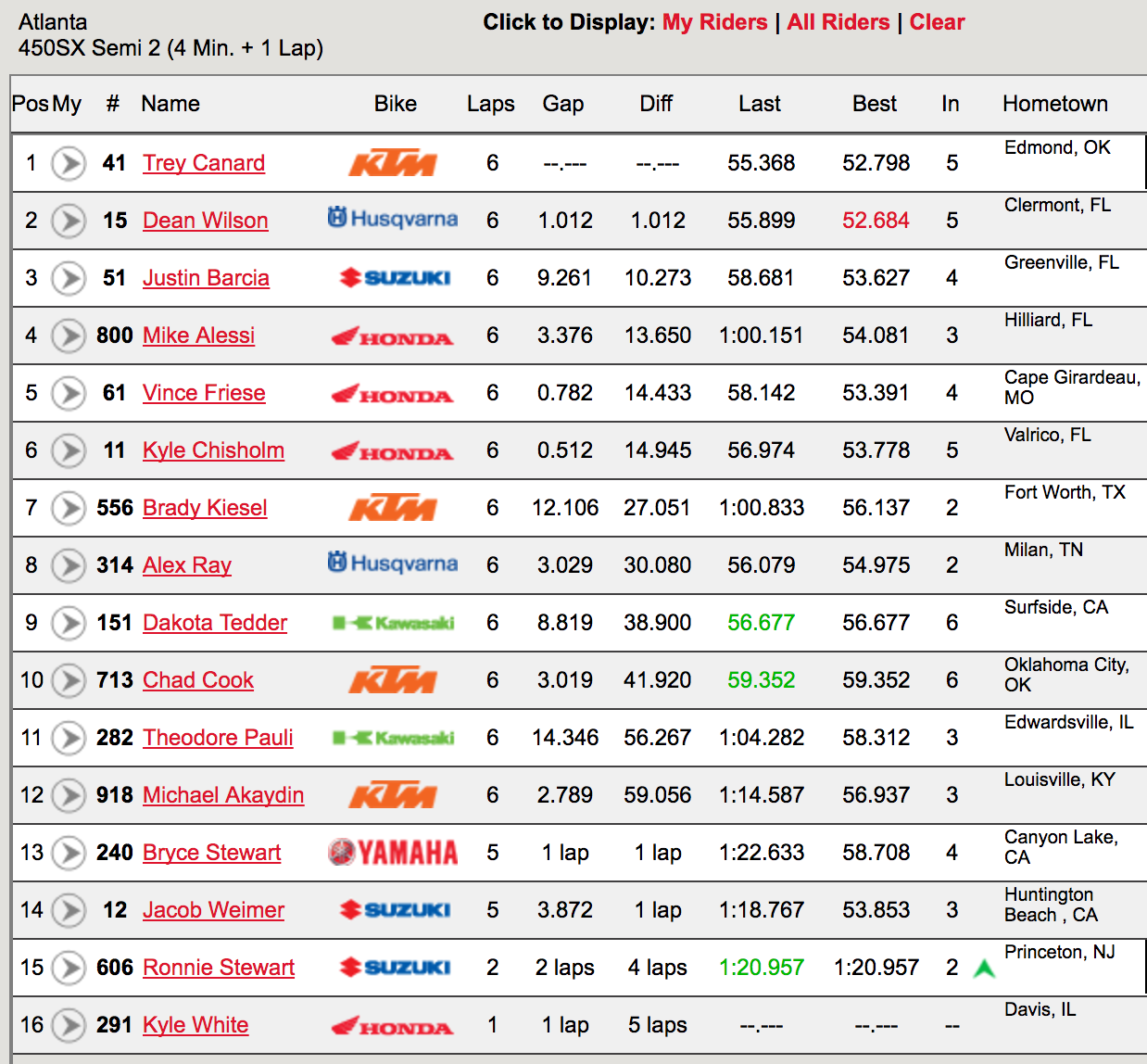 450 LCQ
Jake Weimer needed the start in this one and he got it--the early lead and was gone. Cody Gilmore held a solid second, and Alex Ray got aggressive to move from about sixth to third. Then came the battle for the final transfer...and what a battle.
Scott Champion was there the whole time, but on the last lap made a few mistakes, and Cade Clason was pushing hard to take advantage. He did, sliding inside of Champion to make the pass. But Champion didn't give up and stayed close, and when Clason bobbled in the whoops, Champion charged hard, setting up a side by side through the final turn. Champion made it happen and edged him out, steeling the final transfer.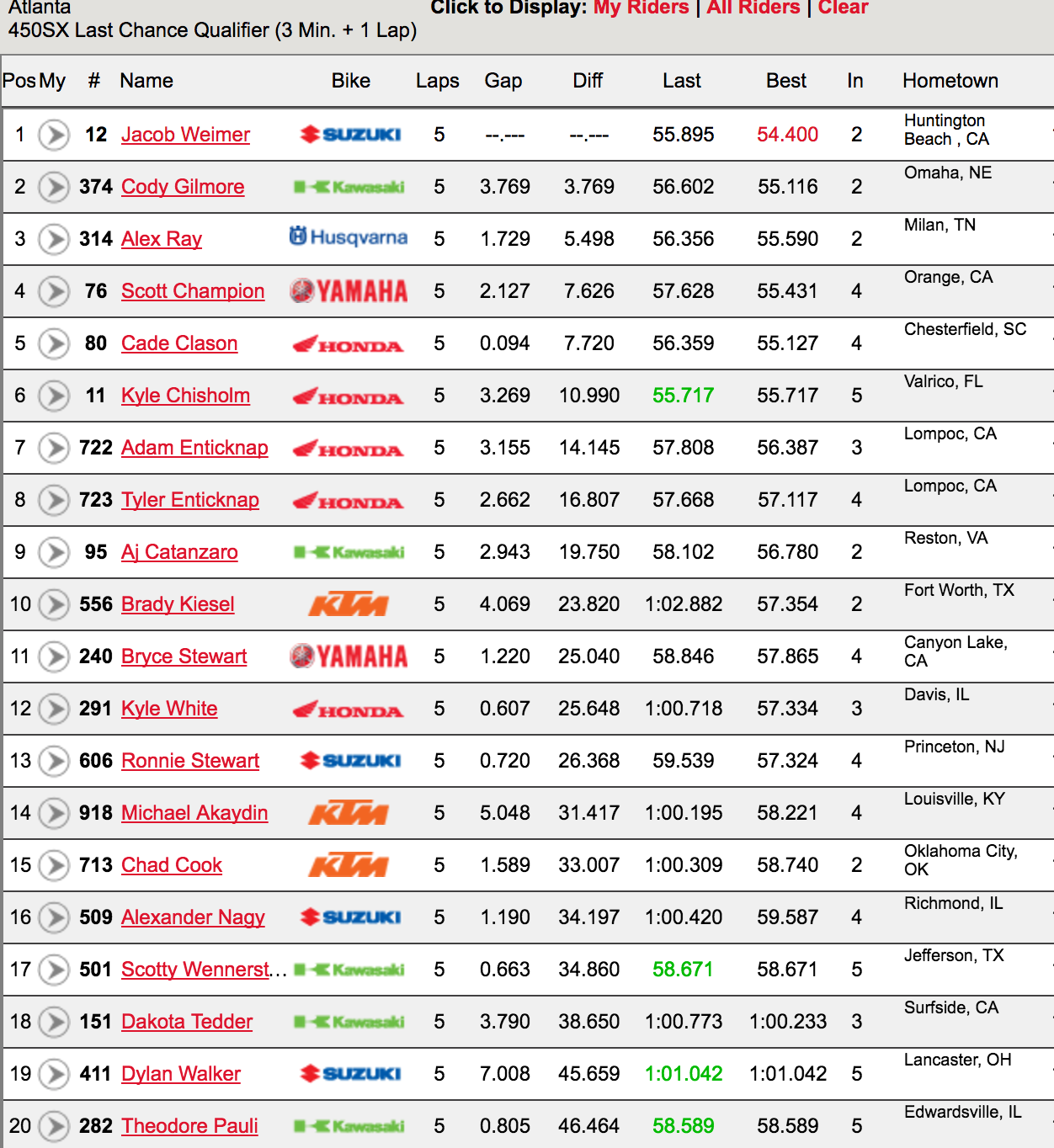 250 Main Event:
It was all TLD KTMs off the start as Jordon Smith grabbed the holeshot, and his teammate Alex Martin quickly got around Dylan Ferrandis to take second. Soon Zach Osborne was into third and putting on a charge, bringing the same speed he had last week in Minneapolis. He battled hard with Martin to take second, and then caught and passed Smith in the turn after the finish on lap 5 to take the lead. From there, it was over. Osborne checked out to win his first-ever 250SX main event, and also take over the points lead.
Halfway through, Martin started making tracks toward his teammate Smith for second. He passed him, then Smith got him back, then AMart got aggressive and bumped his teammate to re-take second, while Smith went down. That shook everything up. Colt Nichols was running strong in fourth, he took third after the Smith crash.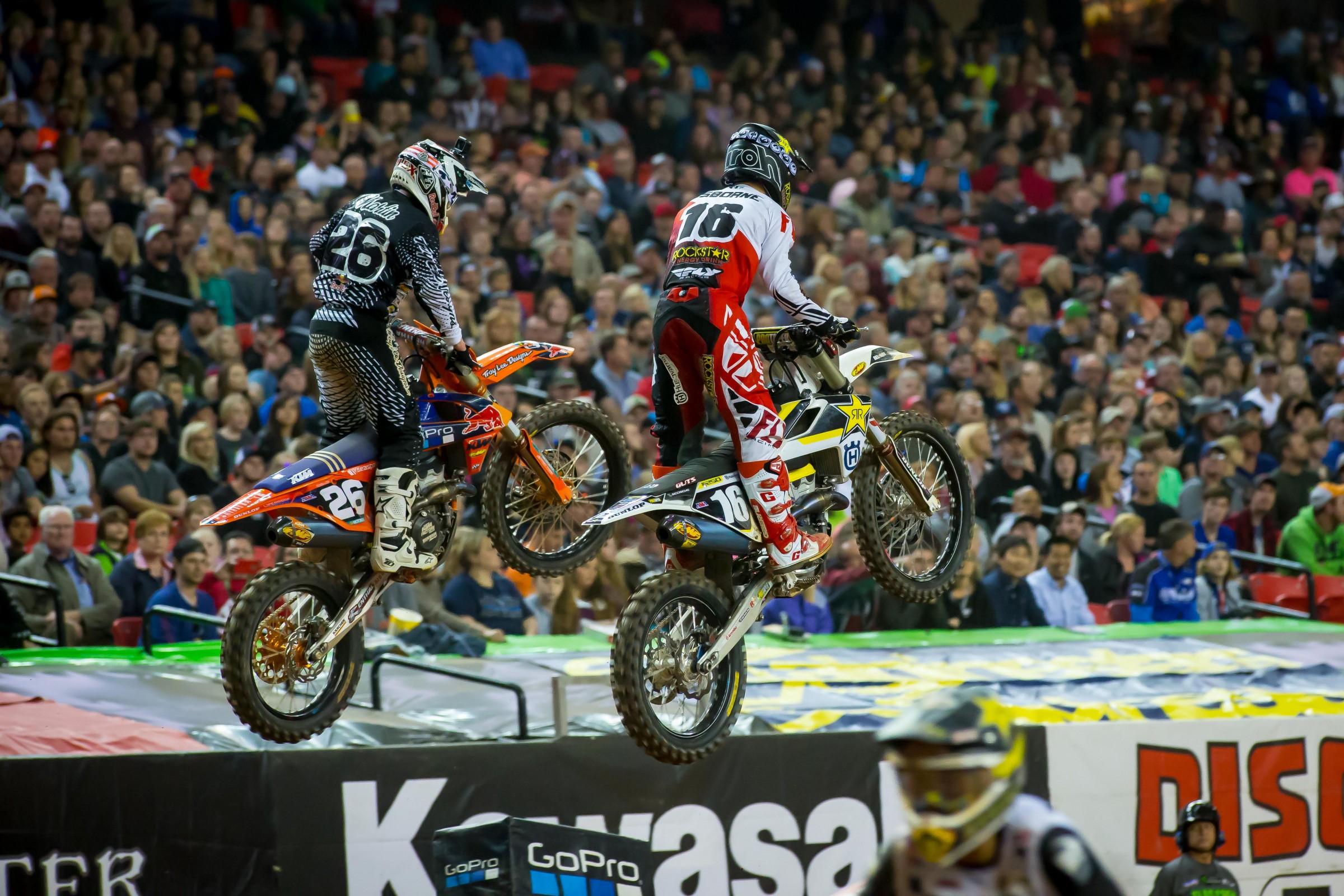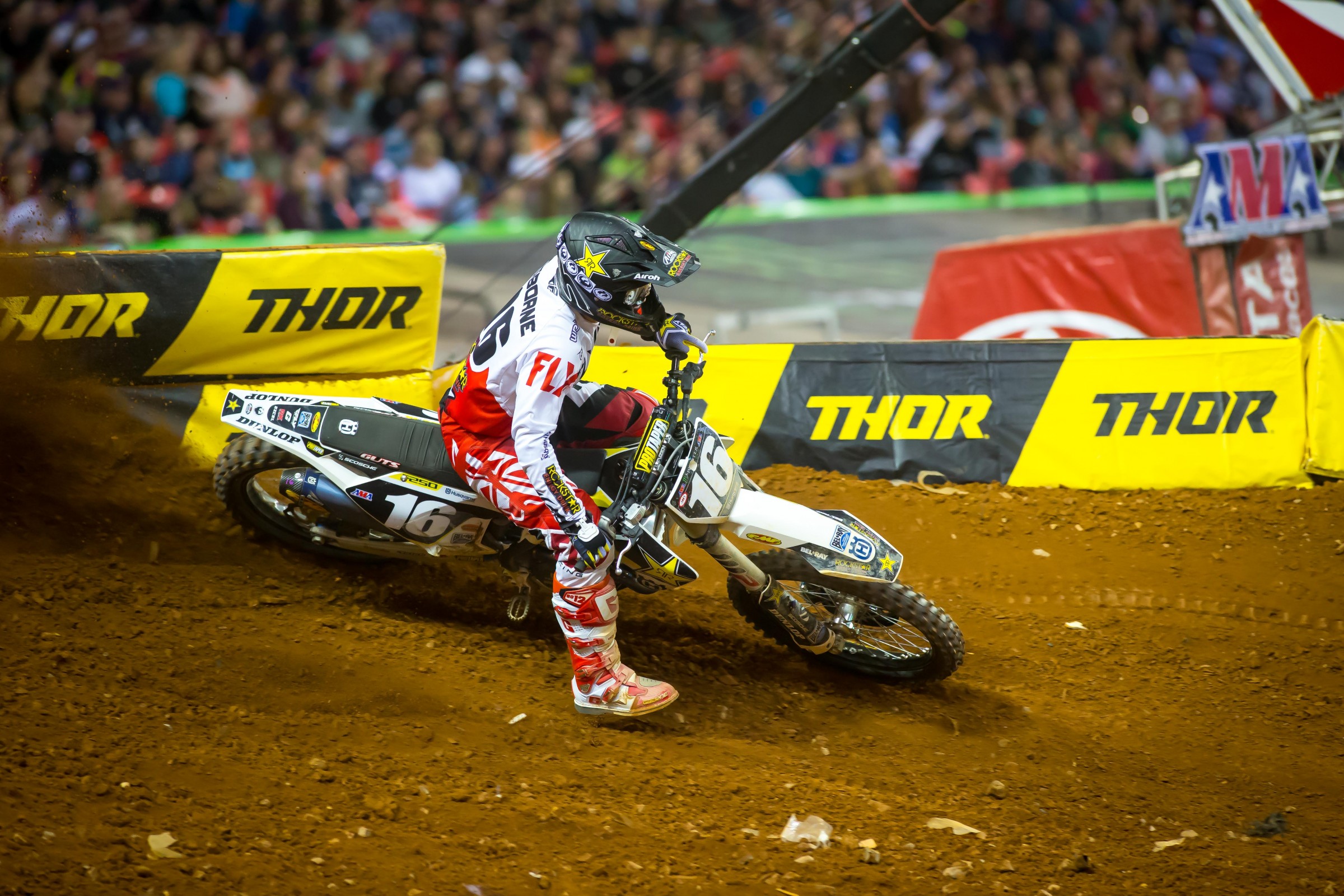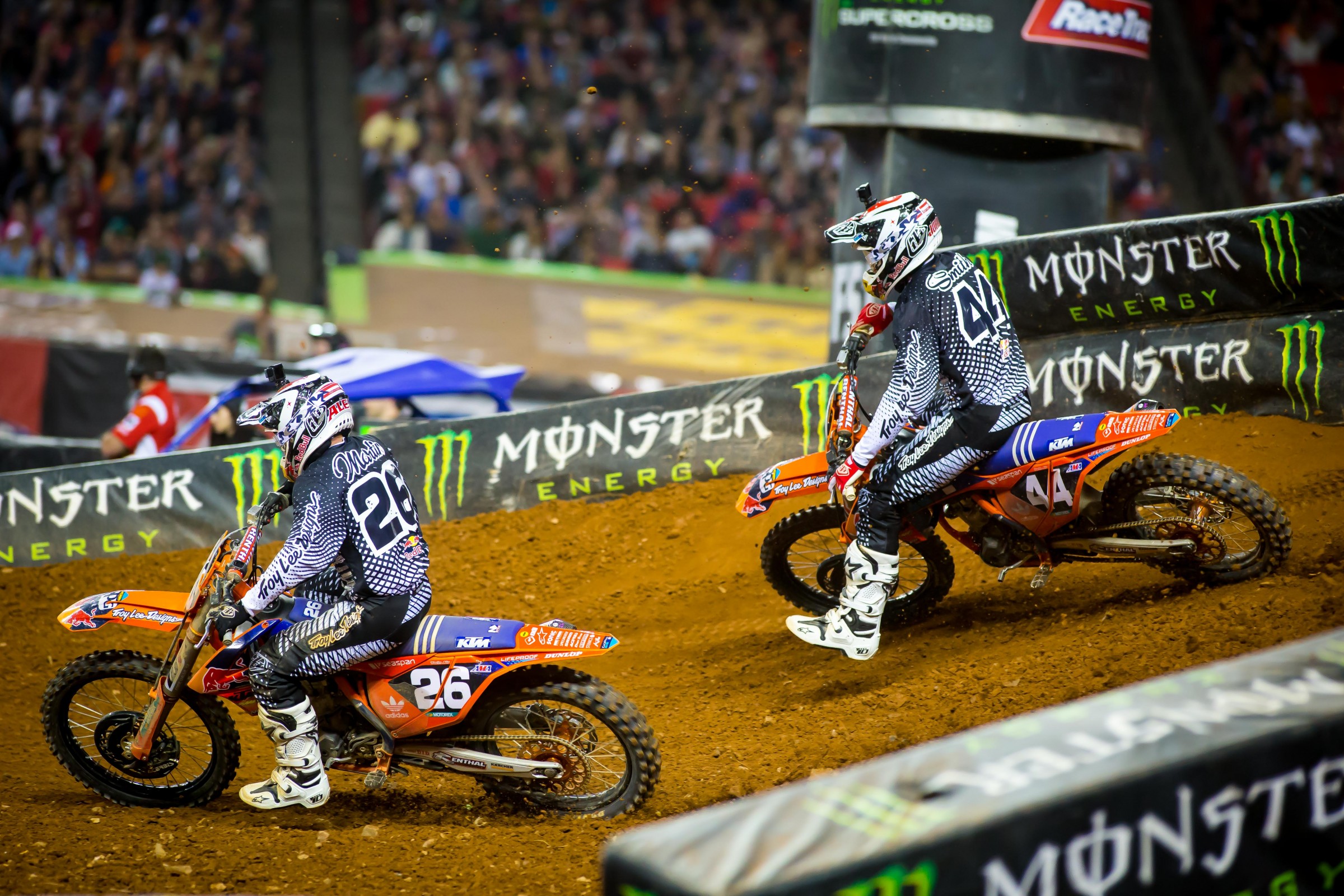 Last week's winner Joey Savatgy got a so-so start, and he didn't light it up like expected coming forward. He got to fifth, then took fourth after the Smith crash. Smith recovered to round out the top five, with Luke Renzland logging a solid race for sixth.
Early in the race, Adam Cianciarulo was in fourth, but he washed the front end in a corner and went down. This is what allowed Nichols to move up to fourth. There was more drama for Cianciarulo, as a few laps later Dylan Ferrandis crashed and Cianciarulo hit him and bounced off the track. He lost a few more spots in that melee but kept digging, catching Fred Noren for seventh and then putting a block pass on him on the last lap to take the spot. Ferrandis, meanwhile, ended up 18th.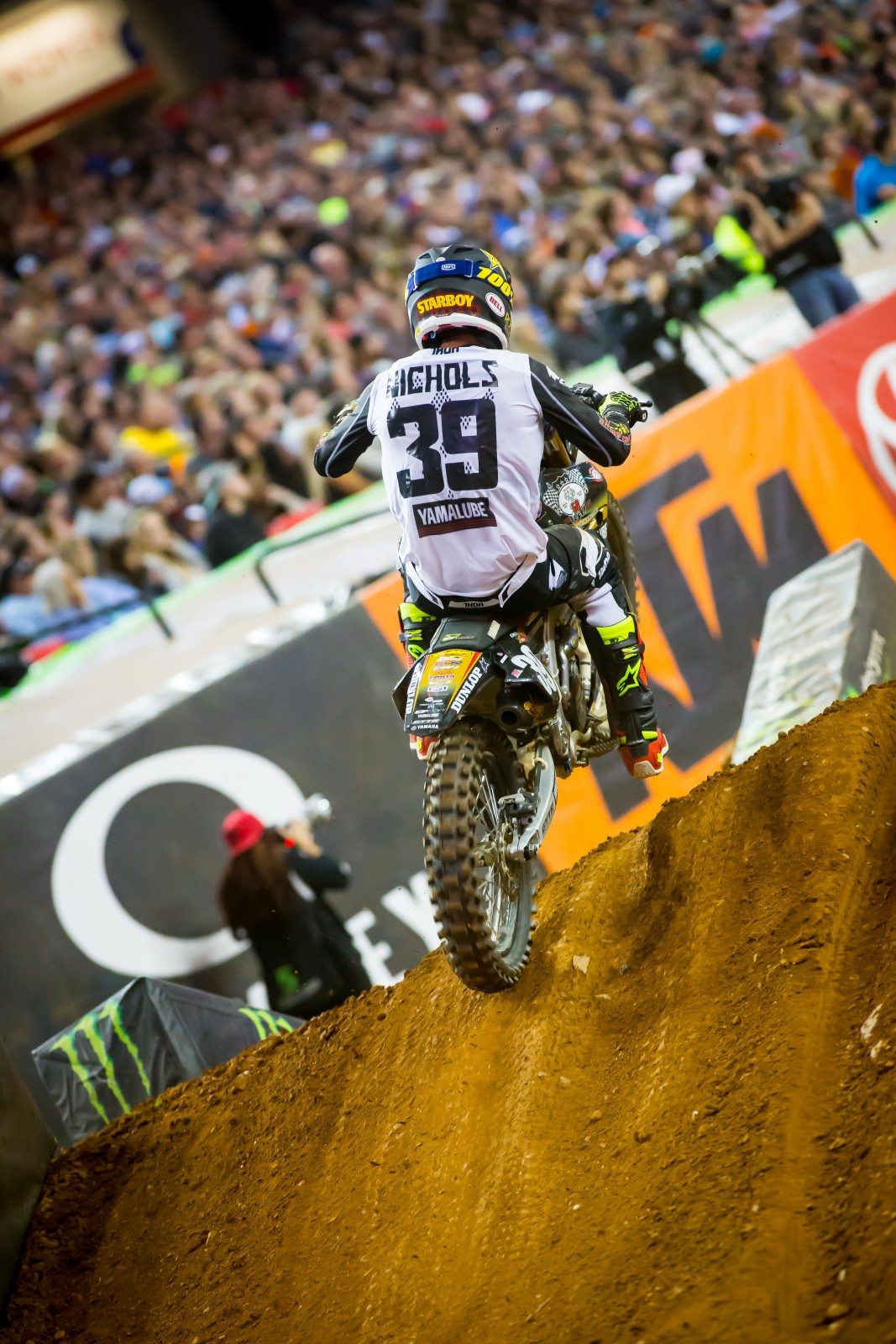 RJ Hampshire completed GEICO Honda's rough day (broken femur for Chase Sexton, concussion for Christian Craig) by crashing while battling for a top five. He recovered to salvage tenth.
450SX Main Event
Ryan Dungey grabbed the holeshot over Mike Alessi and Blake Baggett, bad starts for Eli Tomac and Marvin Musquin. On lap three, Baggett tripled past Alessi in a rhythm lane to take over second while Dungey continued to pull away. Then, for a few laps, Baggett actually matched or even exceeded Dungey's pace, keeping the gap around 2.5 seconds. Baggett finally tightened up a little bit and started losing time, and Dungey just kept plugging away with solid laps.
Justin Bogle made a move on Alessi for fourth, with Cole Seely and Chad Reed battling right behind him. Tomac then joined that battle, pushing Reed hard as Reed tried to get Bogle for fourth….then Reed went down at the end of the whoops!
Tomac kept going, making quick work of Bogle and then immediately catching and passing Seely to take third. Later, Seely would have to deal with his old rival Jason Anderson, who took fourth away from him with seven minutes to go.
Tomac kept working on Baggett down the stretch, closing slowly but surely, then he made the move. He kept going….in fact at one point Tomac started to get close to Dungey as the leader hit the lappers. But Dungey held steady enough. On the last lap Tomac got the gap down to 1.5 seconds, but it was too late—Dungey had executed the start and did what he needed to do to notch his second win of the year. Anyone wondering what was wrong with him? Nothing, apparently.
Baggett held on for third, under heavy fire from Anderson, who had passed Seely for fourth. Later, Musquin came through to take fifth away from Seely.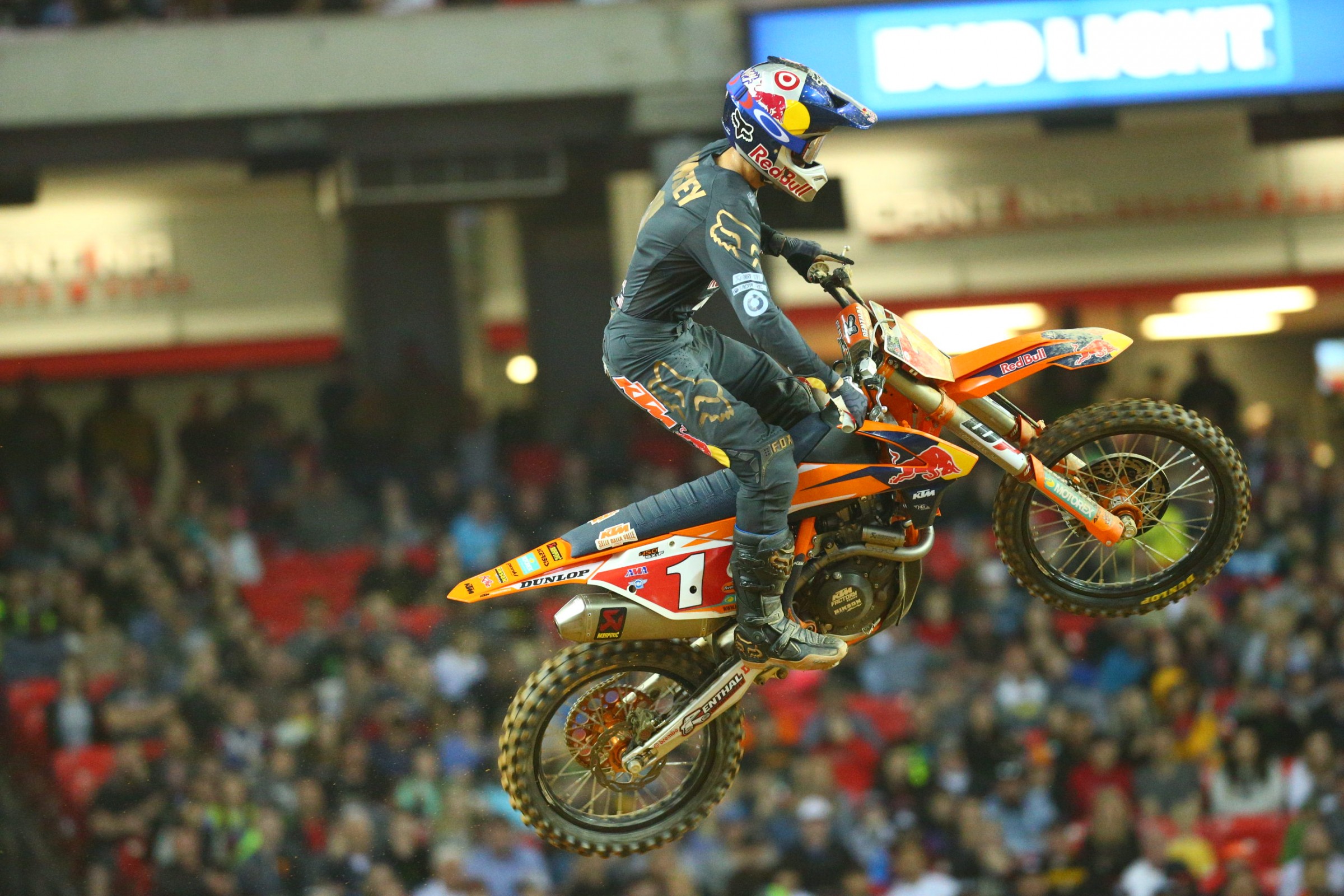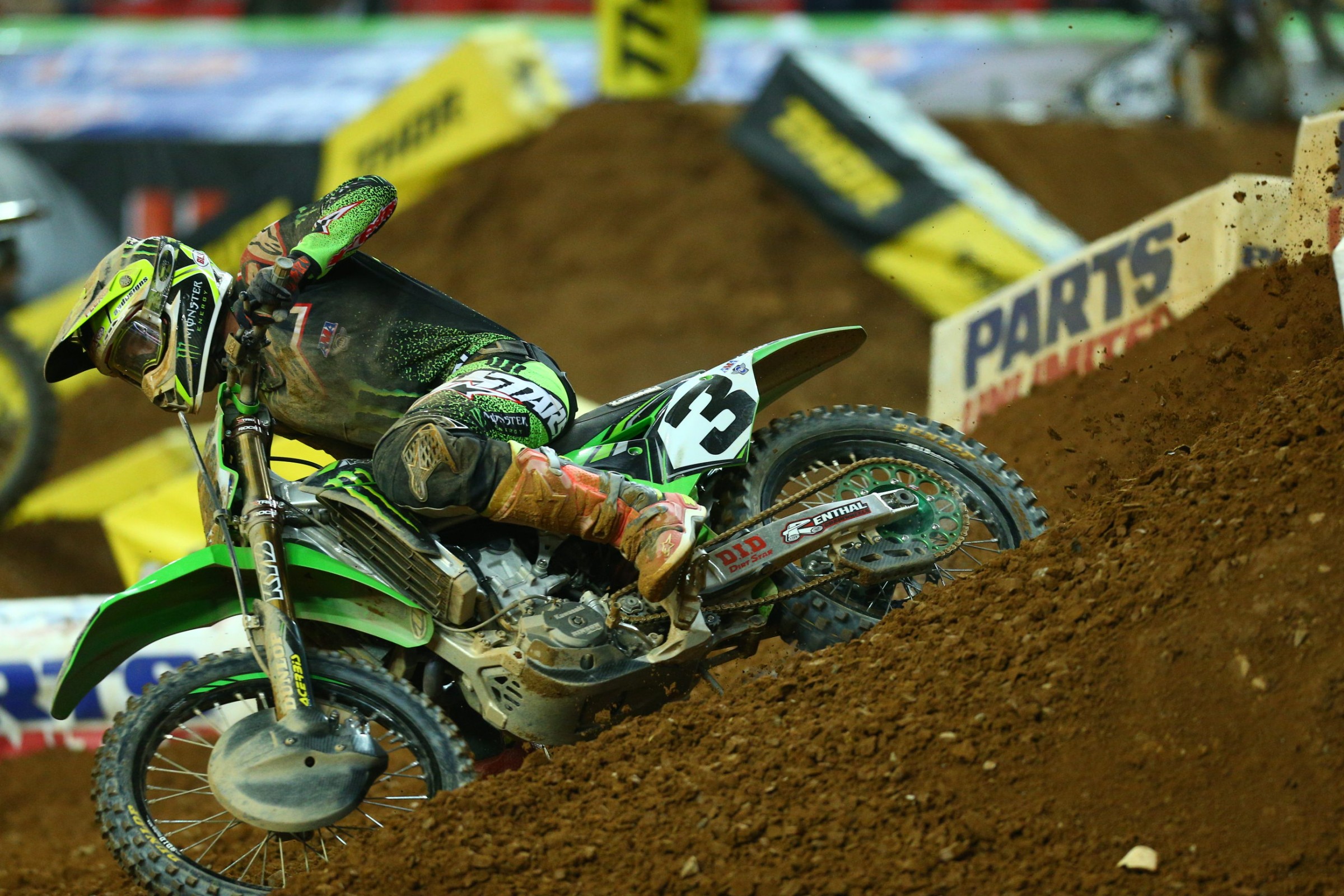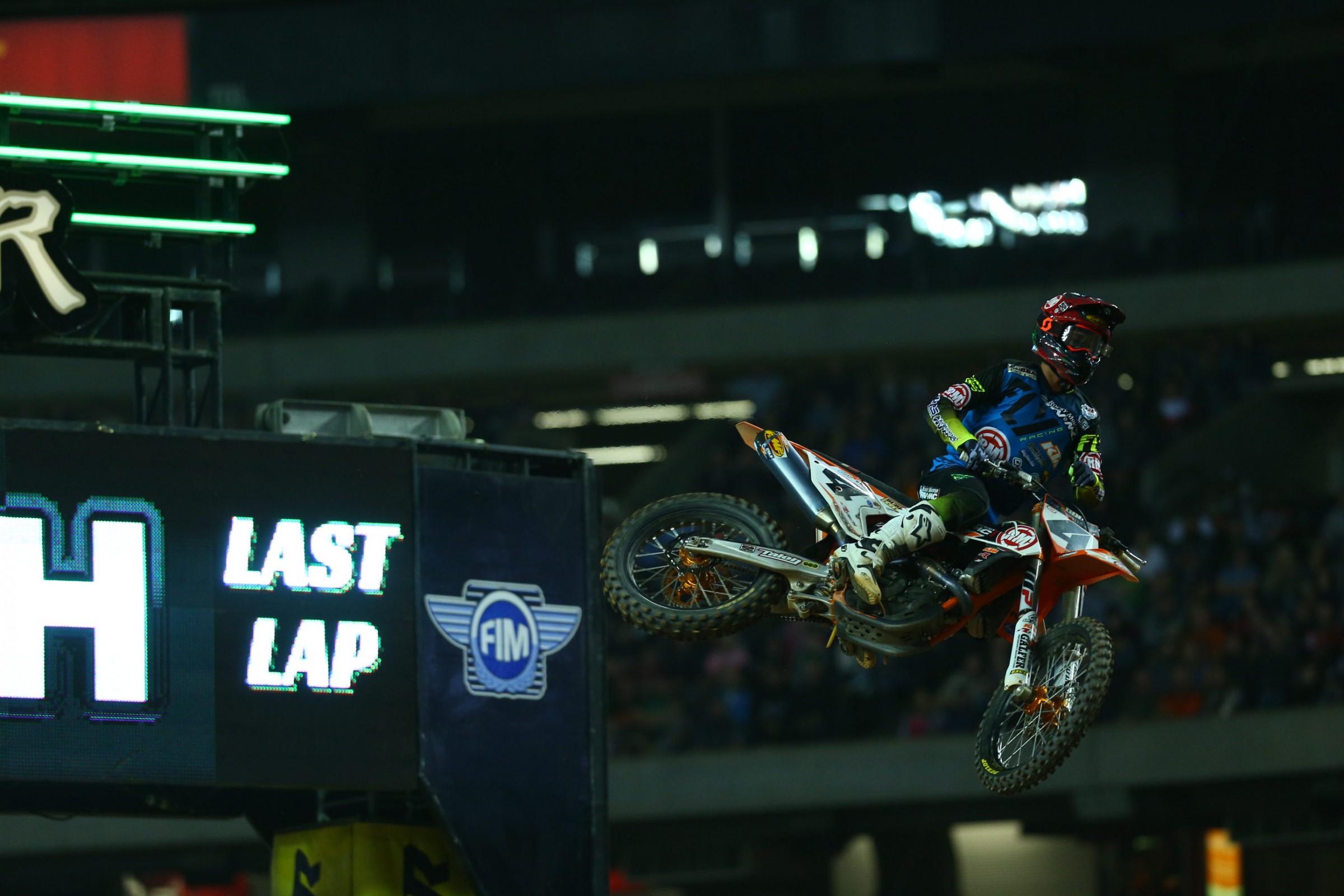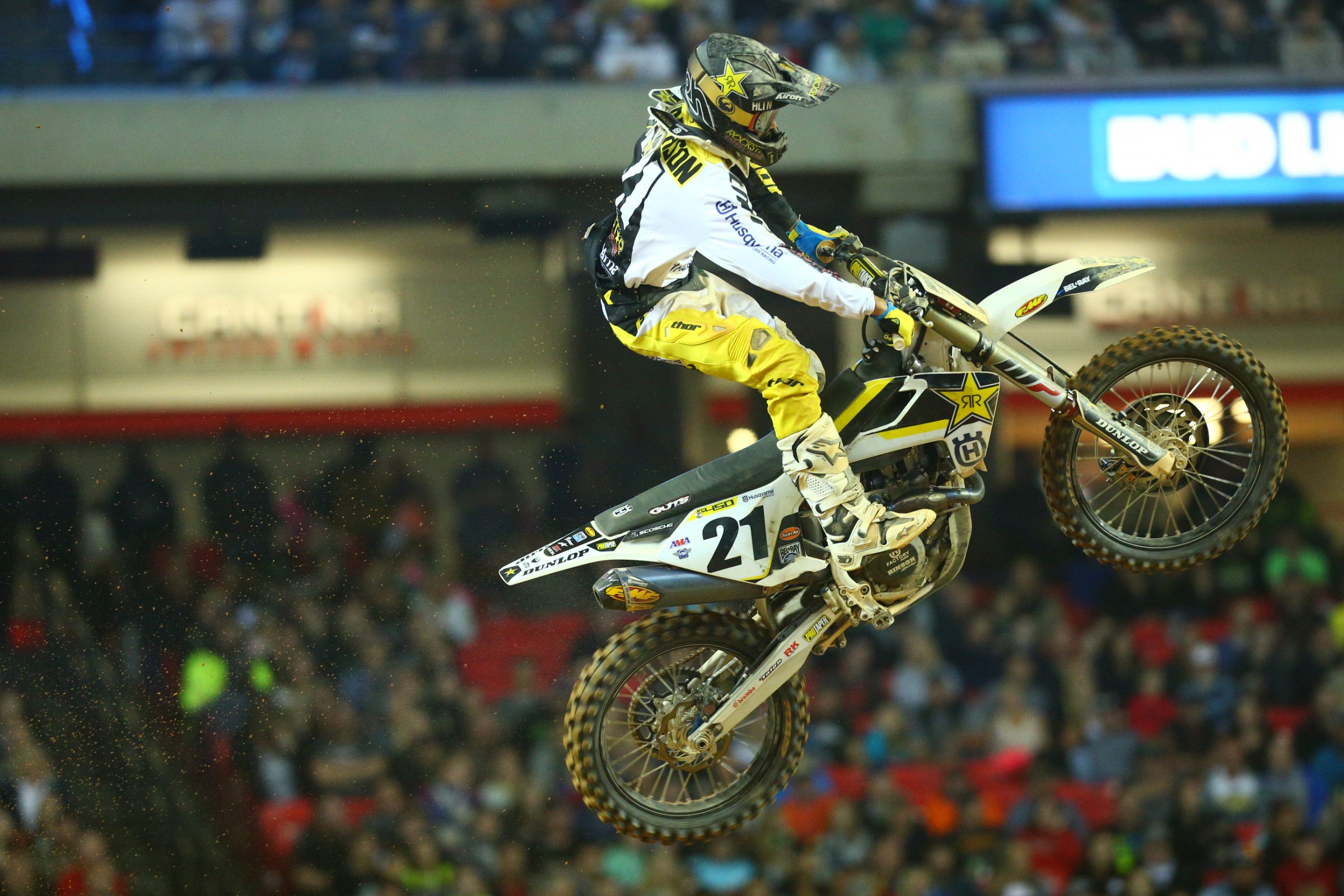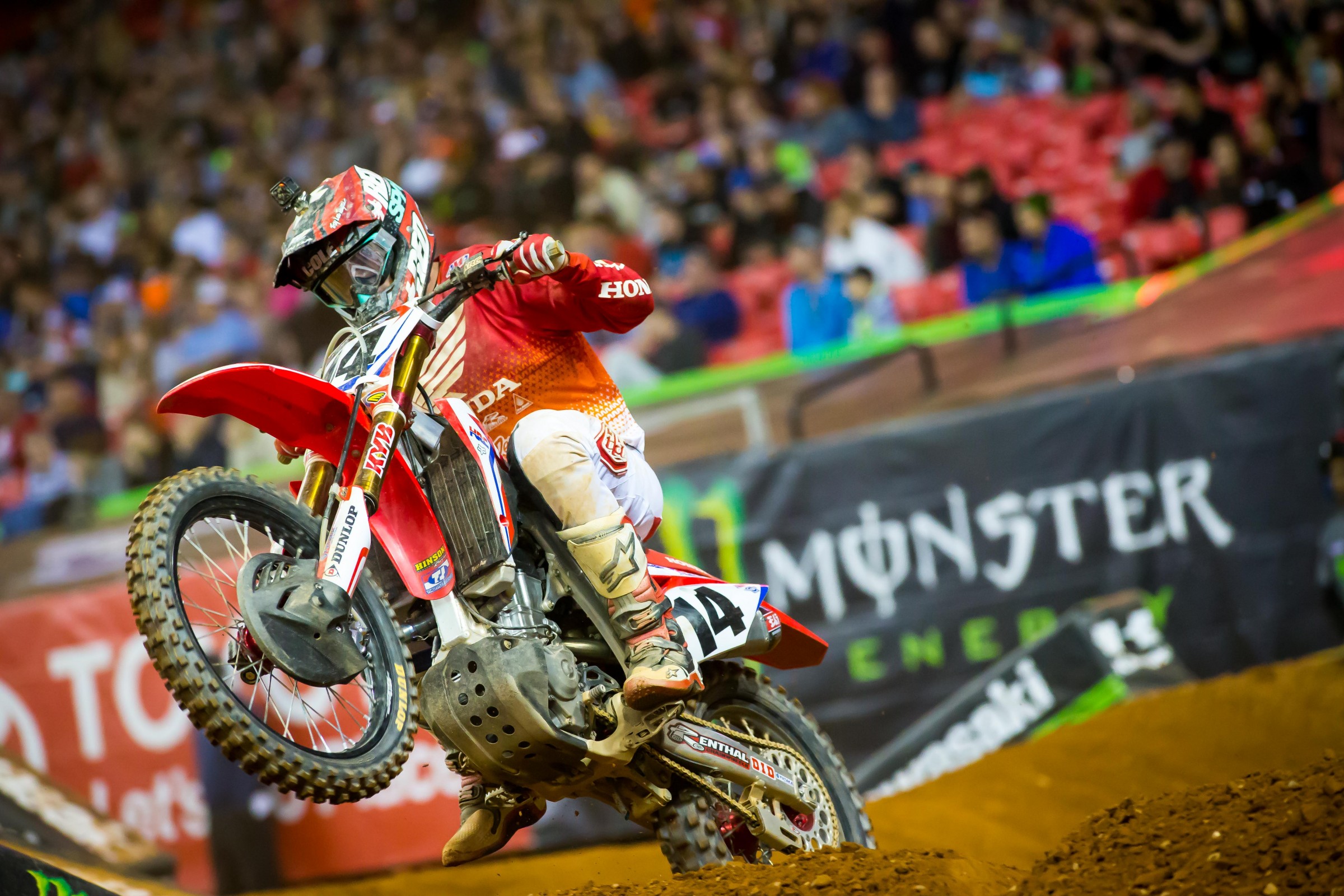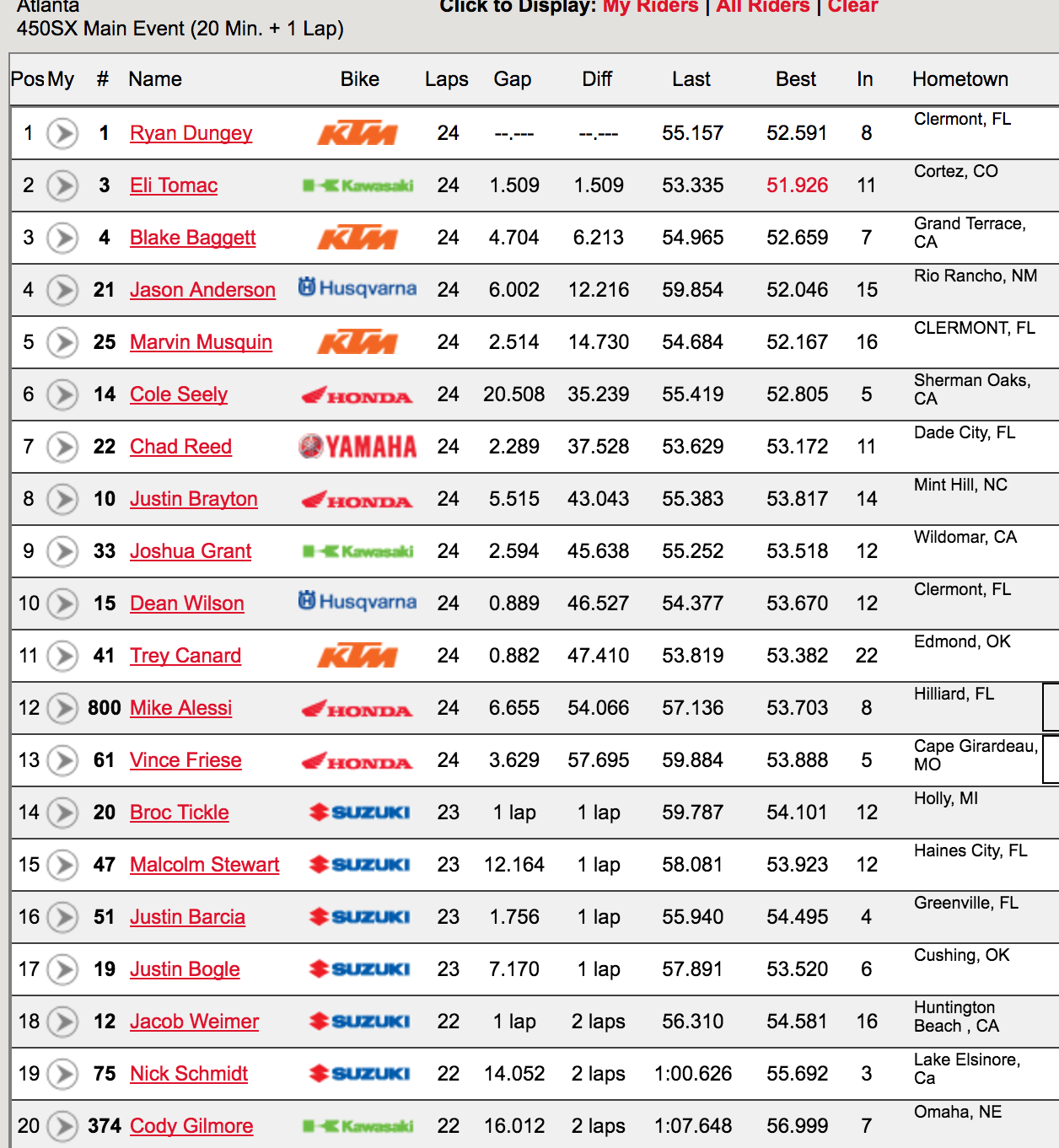 Second Timed Practices
This 250 practice looked like a darned moto between Craig and Osborne, they both wanted a clean track and to get out front. Osborne was just head early and then Craig blew past him in the whoops. Osborne is good through that section, but Craig is next level. Then they chased each around around for awhile, before Joey Savatgy, who has been quiet, finally got in on it and jumped into P2 behind Craig. Then Chase Sexton went down hard just after the whoops. This poor guy was injured before his pro MX debut, then his wrists weren't recovered enough to race last weekend, and then he finally made it to Atlanta, only to have another crash—he was carted off by the Asterisk medics, we're not sure of his condition but it looks unlikely he will be able to ride tonight. So, the pro debut is still yet to happen for the young GEICO Honda rider.
The session was red flagged due to the Sexton crash. After the restart Craig and Osborne hooked up again and chased each other around, then Savatgy hung back before launching a heater and taking the top spot.
We expected the whoops to break down but they really haven't. We'll see if that changes later on.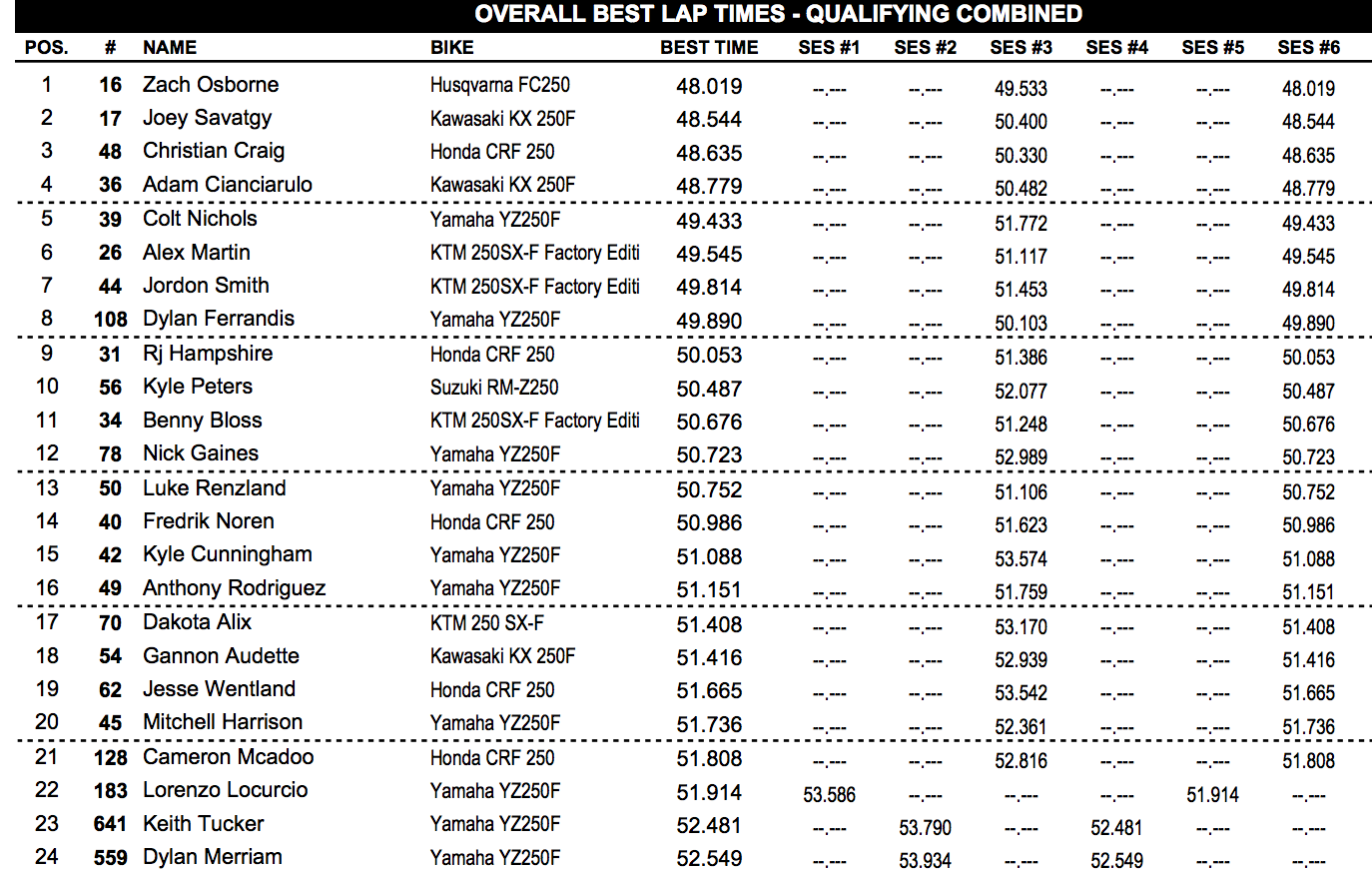 Late in the session, Osborne got in one last flyer to grab fastest overall, that's the second week in a row for him.
In the 450s, well, he wasn't the fastest in practice but Chad Reed was second, which is like a damned win for him. He was sending it, too, launching bigger and farther into the sand than anyone. Seeing Chad push hard in practice is new, like, something-we-haven't-seen-in-ten-years new. So getting second, behind the always-fast-in-practice Eli Tomac, is something.
But yeah, Tomac was fastest. By the way the second timed sessions were faster than the first in both classes, so we'll just show the 450 final session here.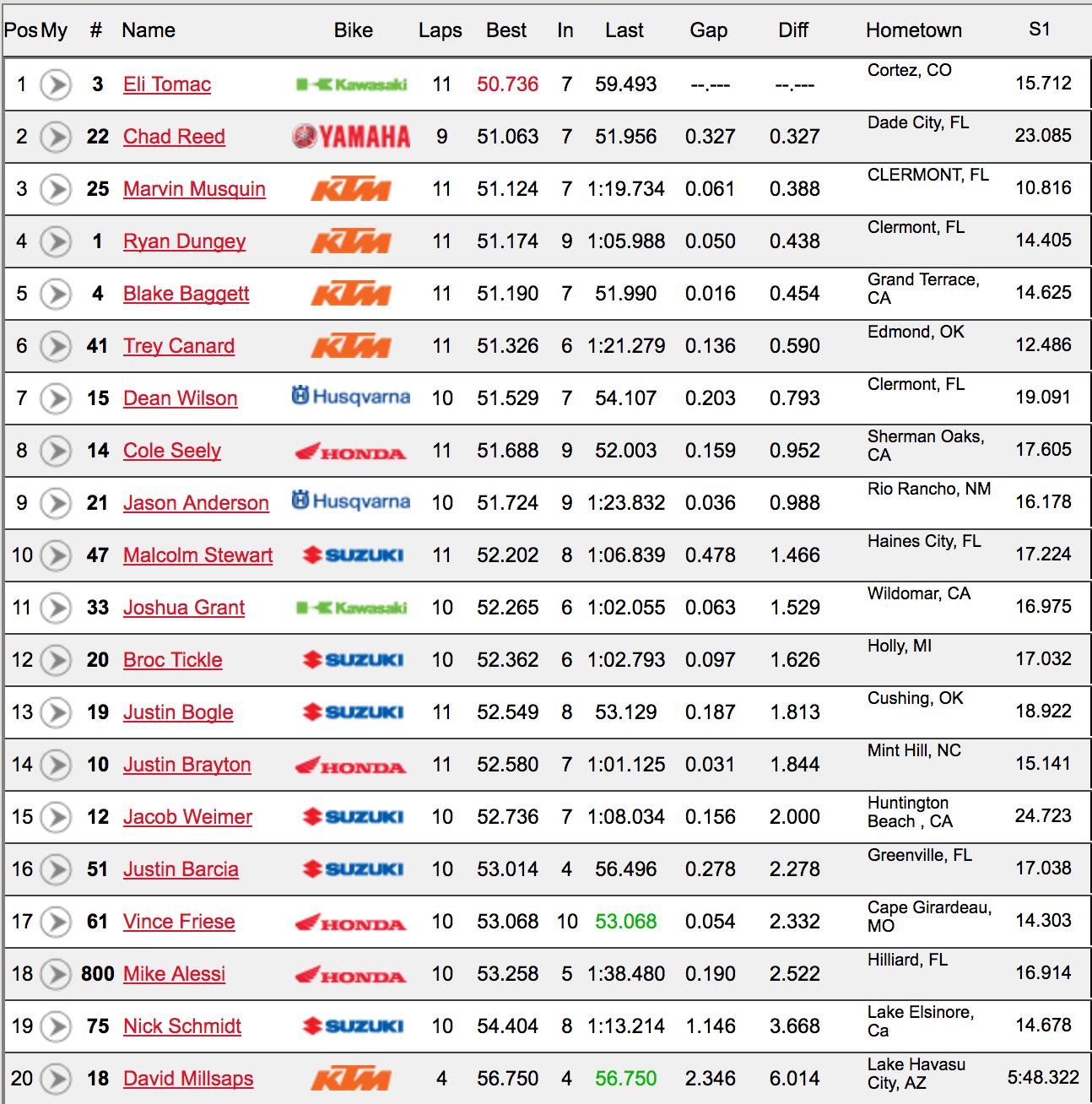 Tomac and Reed managed to edge a KTM brigade (orange brigade?) with Musquin, Dungey, Baggett and Canard right there. Canard looks very good--again, consider him your dark horse. Also, Musquin tried and tried to get his jumping technique to work in the whoops, he was close but couldn't nail it perfectly. As the track gets worse, though, he might have as edge over everyone else.
Davi Millsaps got caught in a pileup in the first practice session today and hurt his wrist. He skipped the second session but came back for this one, with his wrist heavily taped. He rode, but he never got up to speed and ended up last in the session--we'd say his status for the night is in doubt.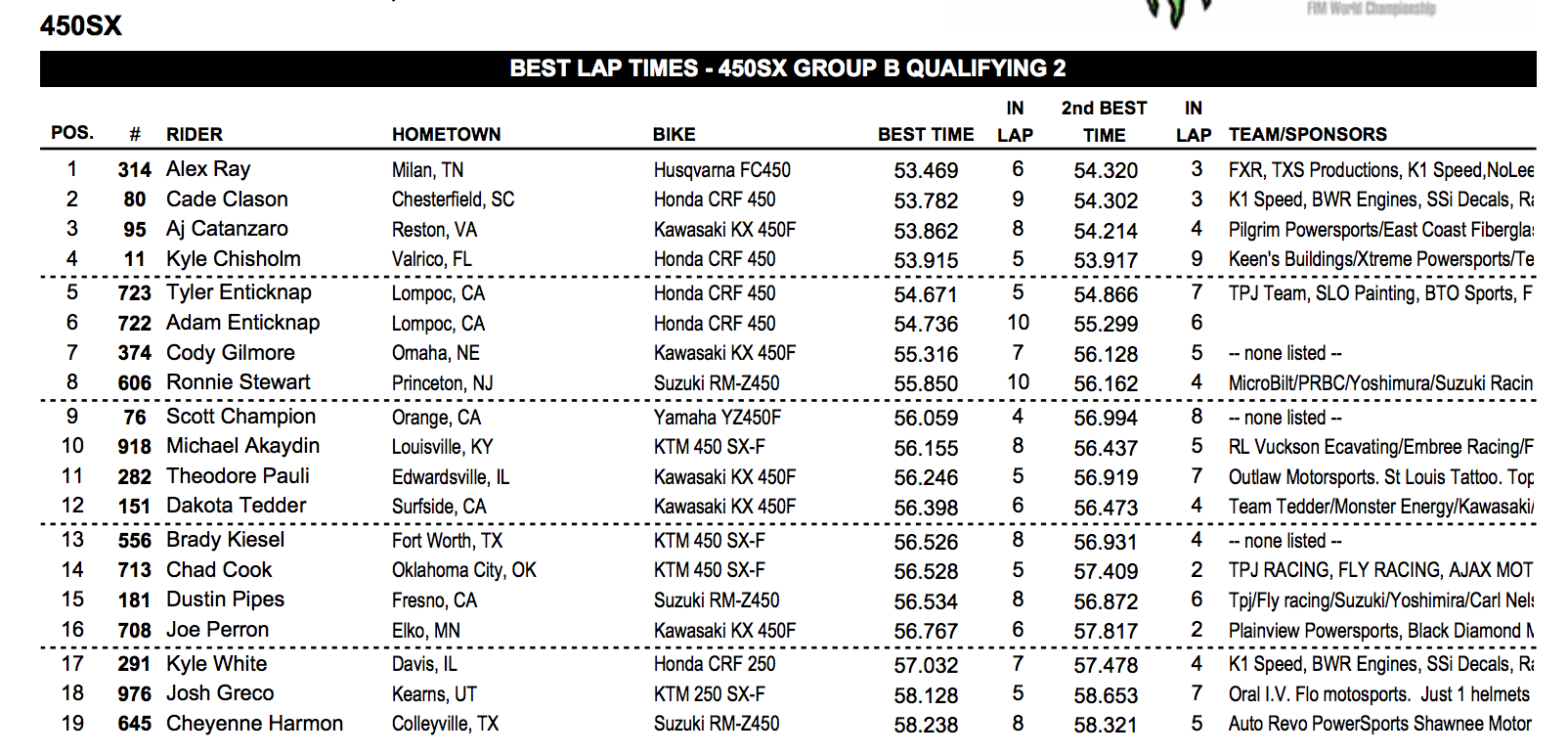 First TimeD Practices
There aren't any major jump combos that anyone can do differently out here, so the 250 class is going to come down to the whoops. Three riders can get through them fast and smooth, and their smoothness in the section is reflected in the order of practice times. Christian Craig is the best, Zach Osborne is second best, and Adam Cianciarulo third. That's also were they ranked in times. Craig is crazy, super, nutso fast but also not scary or sketchy at all through the whoops. He has a big advantage there, but the big question is, as these whoops break down, can he maintain that edge? Or will all the riders be forced to eventually start jumping through the whoops?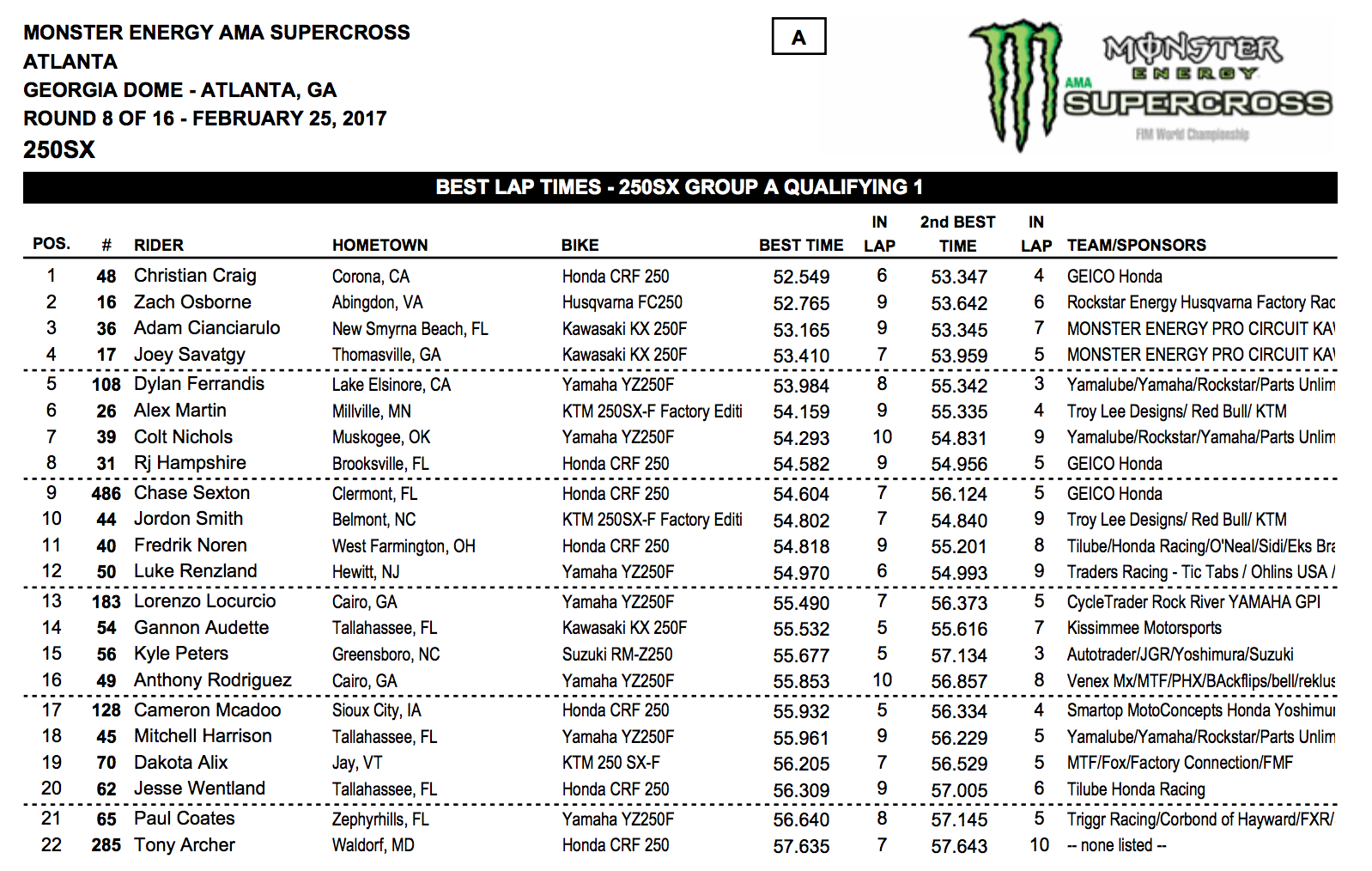 In the 450s, man, it almost seems like the class is getting more stacked! Trey Canard is getting quicker by the week and looked very good, at one point his #41 was at the top of the board. So just add him to the list of fast and potential podium guys in this class. His KTM teammates Ryan Dungey and Marvin Musquin joined him near the top, too, and at one point KTMs held the top three spots. Eli Tomac eventually jumped up in there for second-fastest time behind Musquin. Dungey was next followed by Canard and yet another KTM rider, Blake Baggett. The only bad news for KTM is that Davi Millsaps went down early in the untimed practice earlier, and we hear Davi is out for tonight.
Chad Reed is looking frisky. He was one of the first riders out onto the track in both sessions and the #22 was actually on top of the board early. That's not Reed-like. We spotted Reed's ultimate pep talker Ellie (his wife) here with him on track walk, maybe the usual Ellie pump up speech will get Reed back to a 2015 Atlanta-like performance. He freaking needs to get a start though—been awhile since he's had a good one.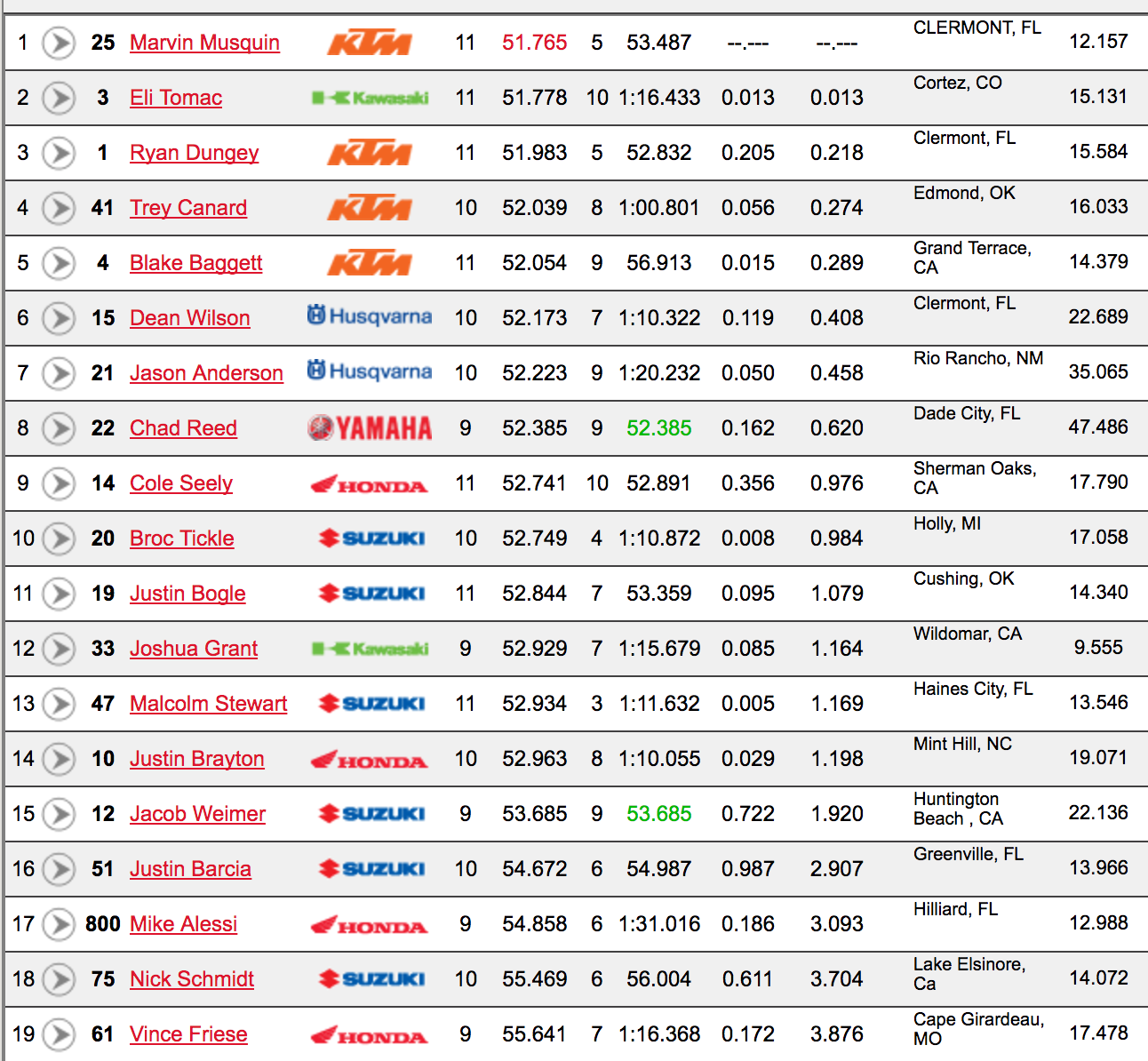 One cool thing to note are some track changes made after last night's AX. There was a 180 right turn last night that was super one-lined, favoring the inside. Some tuning, including pushing the inside tough blocks out a few feet, have made the outside now a viable option.
Morning Report
For the final time, Monster Energy Supercross has come to the Georgia Dome in Atlanta. Don't freak out, the race is just moving next door to the new gazillion-dollar Mercedes-Benz stadium. The ATL fans are hoping for a big send off for the Georgia Dome, though, which grew to become one of the premier stops in this series. Packed, raucous crowds are the norm, and this year the stadium hosts Moto Fest, which featured Amsoil Arenacross last night and amateur arenacross tomorrow. From last night's AX, which used half of the supercross track, we have a little advanced knowledge of how tonight's track will shape up—such as, the whoop section is long, nasty, and will break down in a hurry. We'll see how long riders can keep skimming over the top as this section gets more and more rutted.
The extra laps are becoming a real theme lately, as we shift from the longer laptimes in the western baseball stadiums to shorter laps in the rectangular NFL domes (baseball floors are larger than football floors, but the diamond shape prevents long, straight, rhythm lanes. Hence, lap times get shorter in the football stadiums). Laps in the first free practices here in the Georgia Dome were in the mid 50s, so we're in for longer than 15 and 20 lap mains tonight in the 250SX and 450SX classes. We're hearing a lot of riders comment on the tracks late in the races, as they're shifting into survival mode instead of race mode. But remember, as long as everyone races on the same track, it's the same for everyone, and now riders who have an extra set of skills on tough, beat up tracks get to take advantage.
Put Eli Tomac and Marvin Musquin at the top of that list. Tomac has won three of four races, and Musquin has gone 1-2 in the last two. Tomac has always been able to hammer through the rough stuff, and Marvin is using technical skill—especially when jumping through whoops—to full advantage. Meanwhile, points leader Ryan Dungey seems to be a little more cautious later in the races as the tracks get nasty. That's part of the reason he has a 16-point lead right now.
The 250SX East Championship kicked off last weekend and Joey Savatgy won it. But Savatgy, and most of the riders, said they were dealing with opening race jitters and hopes to ride even better tonight. Zach Osborne was the fastest rider in qualifying last week and had the fastest lap in the main, he was also fastest in the untimed free practice this morning. Zach is not at all bothered by these tracks that break down, and he says he's gained that extra intensity from having to ride motos against Musquin, Dungey and Jason Anderson all week, as they battle him on 450s.
But do not count out Christain Craig tonight, as this long, tough whoop section plays to his strengths. He was ridiculous fast through them in free practice. Osborne and Adam Cianciarulo also had some good runs through the whoops. But they were pretty tough on a lot of the 250 riders.
In other news, Trey Canard looked a little sharper in free practice today than he did at his first two races back from injury, he could be a dark horse. Justin Barcia told us he is slowly getting better, not quite at 100 percent level after missing the first six races with injury, but he's progressing.