AT&T Stadium
Arlington

,

TX
Arlington (Dallas)
Monster Energy AMA Supercross Championship
Last Saturday night, while watching the Oakland Supercross play out on Fox Sports 2, I started wondering just how safe Ryan Dungey's lead was—not only in the race but the series. Red Bull KTM's Dungey took over the red plate the moment Ken Roczen hit terra firma at Anaheim 2, snapping his arm and a lot of the energy that was building in what promised to be a simmering rivalry. Dungey won that night, securing a comfortable points lead. Sure, there are plenty of races to go, but Dungey learned from the boss himself—Ricky Carmichael—how to manage a points lead and a championship. Fox Sports' Ralph Sheheen even pointed out how long it had been since Dungey had lost a race while leading, let alone a championship.
Well, you know what happened: Eli Tomac came from maybe 10-seconds back to track Dungey down and passed the #1 orange bike to take consecutive 450SX wins for the first time in his career. Dungey didn't seem too fazed—the Oakland track was technical, tough, and very tricky—and his points lead actually grew from 15 (over teammate Marvin Musquin) to 17 (over new runner-up in the rankings Tomac) as the series made the turn east to Dallas this weekend.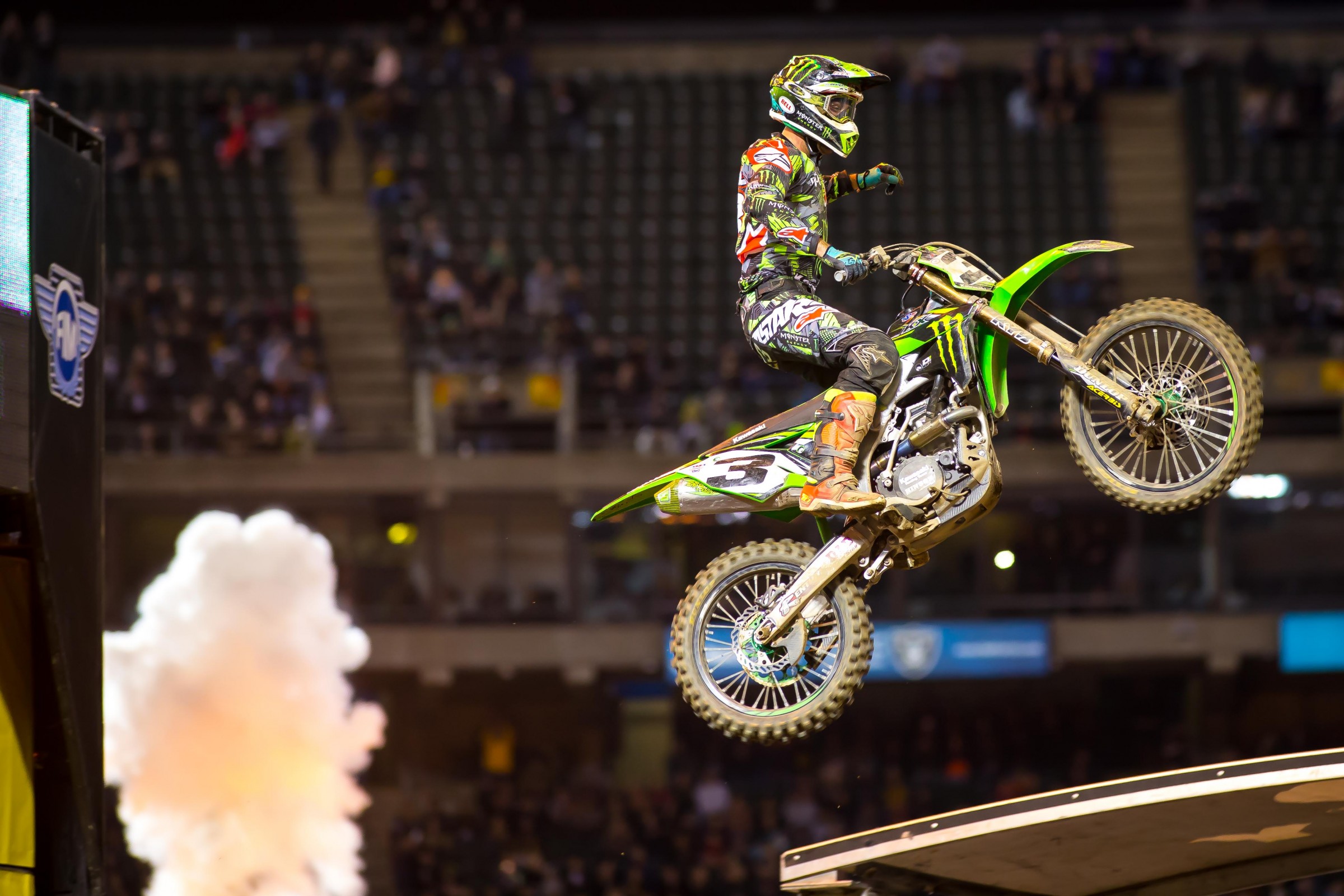 If anything over the last year, sports has taught us that no lead is safe. Think about it. In basketball, the Golden State Warriors were up three games to one on the Cleveland Cavaliers before LeBron James and friends mounted a furious comeback to take the NBA title at the very last minute. In college basketball, it was a buzzer-beating three-pointer by Villanova's Kris Jenkins that snatched the NCAA title right out of the hands of the North Carolina Tarheels. In baseball, the Cleveland Indians were one game away from winning the World Series for the first time in more than 60 years, only to have the Chicago Cubs storm back those last three games and win for the first time in more than 100 years. The end of that losing streak for the Cubs wasn't as long as it was for British soccer team Leicester City, which was founded in 1884 and somehow climbed up out of the third-tier league to win their first Premier League title in what has been called "a modern-day football miracle" (ask your British friends at the pub tonight what that was all about and watch them tear up).
Closer to home, think about our recent U.S. presidential election: Has anyone come back from a deeper hole than Donald Trump? Forget about where you stand on him or his policies; somehow, someway, he came from the underdog in a field of 17 Republicans to win the nomination and then beat Hillary Clinton, who had been all but crowned by many.
And even that wasn't the biggest comeback of the year. Instead, that honor goes to Tom Brady and the New England Patriots, who came from 25 points behind with something like 17 minutes to go to win the Super Bowl over the Atlanta Falcons, scoring 31 unanswered points. It was the biggest comeback in the biggest game of the biggest sport in this country.
Add it all up, and it just goes to show that no lead is safe—especially in a sport as rough-and-tumble as Monster Energy AMA Supercross. There's still a long way to go!
CANARD IN, GRANT OUT (Matthes)
Red Bull KTM's Trey Canard is back this weekend, which is a good thing. We haven't seen the #41 since the opening round, when he rode the LCQ then didn't line up for the main. The bad thing is we lose Monster Energy Kawasaki's Josh Grant. The Kawasaki guys I spoke with earlier this week were hoping JG would be able to race, but Friday we got the PR that he's out. So with him being on the edge of coming back, it doesn't seem like his hand/thumb injury suffered in practice in Oakland is something that's going to keep him out for long.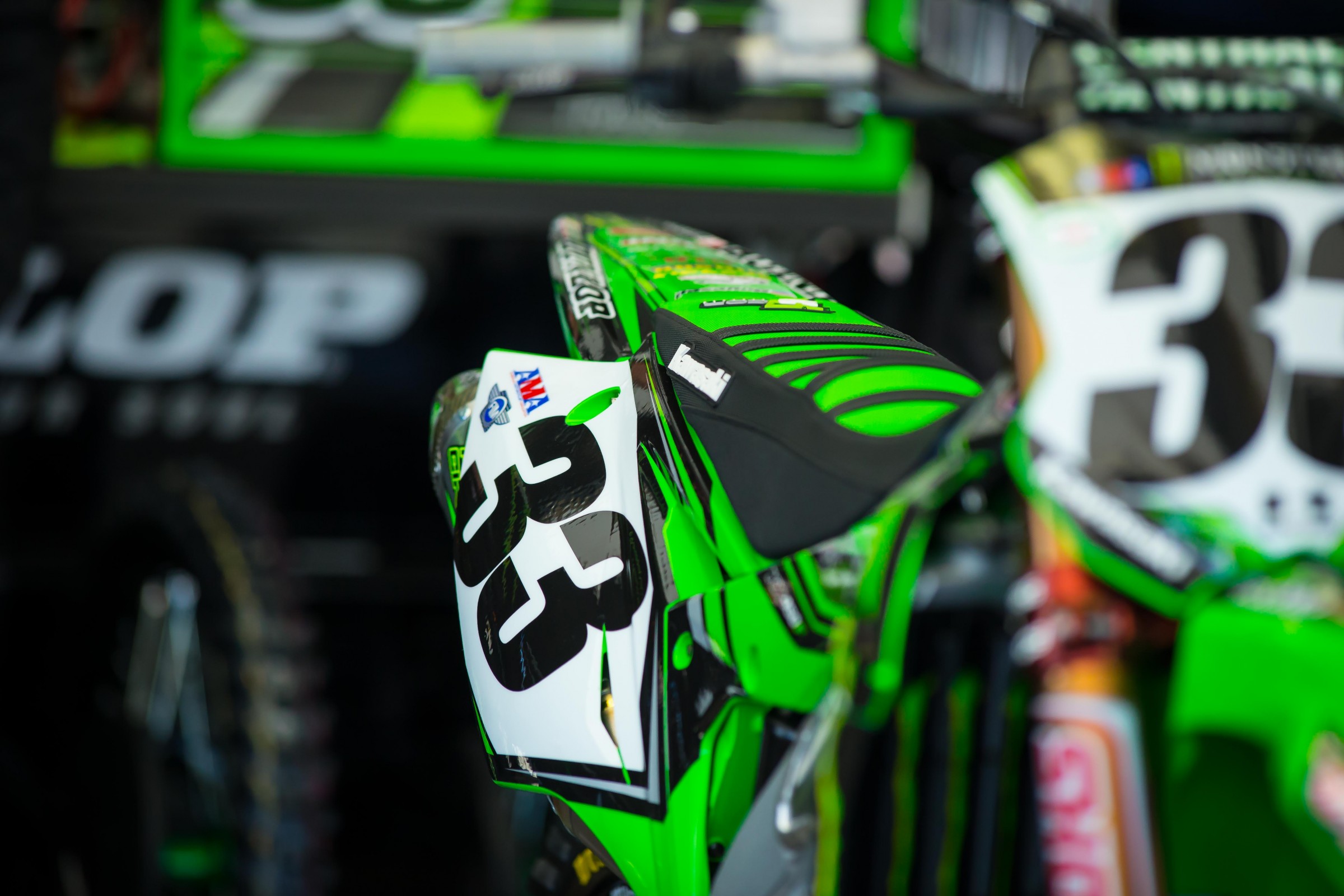 Canard's return is going to be interesting. We haven't seen what he can do yet on the orange bike because his bad practice crash obviously affected him throughout the day at Anaheim. This is as close as it gets to a home race for the 41, so he'll be pumped to be there and show us he's ready to go on the new KTM.
Pro Perspective (Jason Thomas)
This is the last West round of the 250SX class for a while. They have passed the halfway point for their championship, and both Justin Hill and Shane McElrath have staked their respective claim for the title. They enter Dallas with a one-point separation, though Hill has stolen the momentum after back-to-back-to-back wins. For both of these guys, this weekend is critical. There will be a long break before we get back to West Region racing, and that means a lot of time to sit around and think. Leaving this round on a positive note will mean a much easier break mentally. They will be able to sleep easy knowing they are sitting in a good spot when the races roll back around. Whoever emerges ahead from this round will carry the points lead and red plate for the next weeks and months, and the peace of mind that goes along with that.
But I'm guessing I'm not the only one who's surprised that Monster Energy/Pro Circuit Kawasaki's Hill and Troy Lee Designs KTM's McElrath are the only two winners we've seen so far in this class. With two-time 250 MX Champion Jeremy Martin moving out west with GEICO Honda—not to mention the seasoned veteran Martin Davalos of the Rockstar Husqvarna team, and Yamalube/Star Racing Yamaha's Aaron Plessinger having shown he could win indoors last year, and the debut of the highly-touted rookie Austin Forkner—not many would have been surprised to see five different winners in these first five rounds. But this isn't playing out anywhere near that scenario. It's looking like a two-man battle to finish, and although the stretch run is an extended one that won't be decided for a couple of months, tomorrow night will be critical for both Hill and McElrath.
CHIEF MECHANIC WANTED (DC)
One thing that never goes unanswered long is a "help wanted" sign outside of a professional racing team, so let's get this one out of the way early: Team Tedder/Monster Energy Kawasaki Racing is now interviewing for a chief race team mechanic. This will be a full-time, full-benefits position and requires travel to all AMA Supercross and Pro Motocross events. Dakota Tedder is looking for a personal mechanic for practice and racing. The responsibilities include managing race bikes, managing practice bikes, and being in Southern California. Experience is required. If you are interested and have the necessary skills, email resumes to: Matt.Tedder@HamptonTedder.com.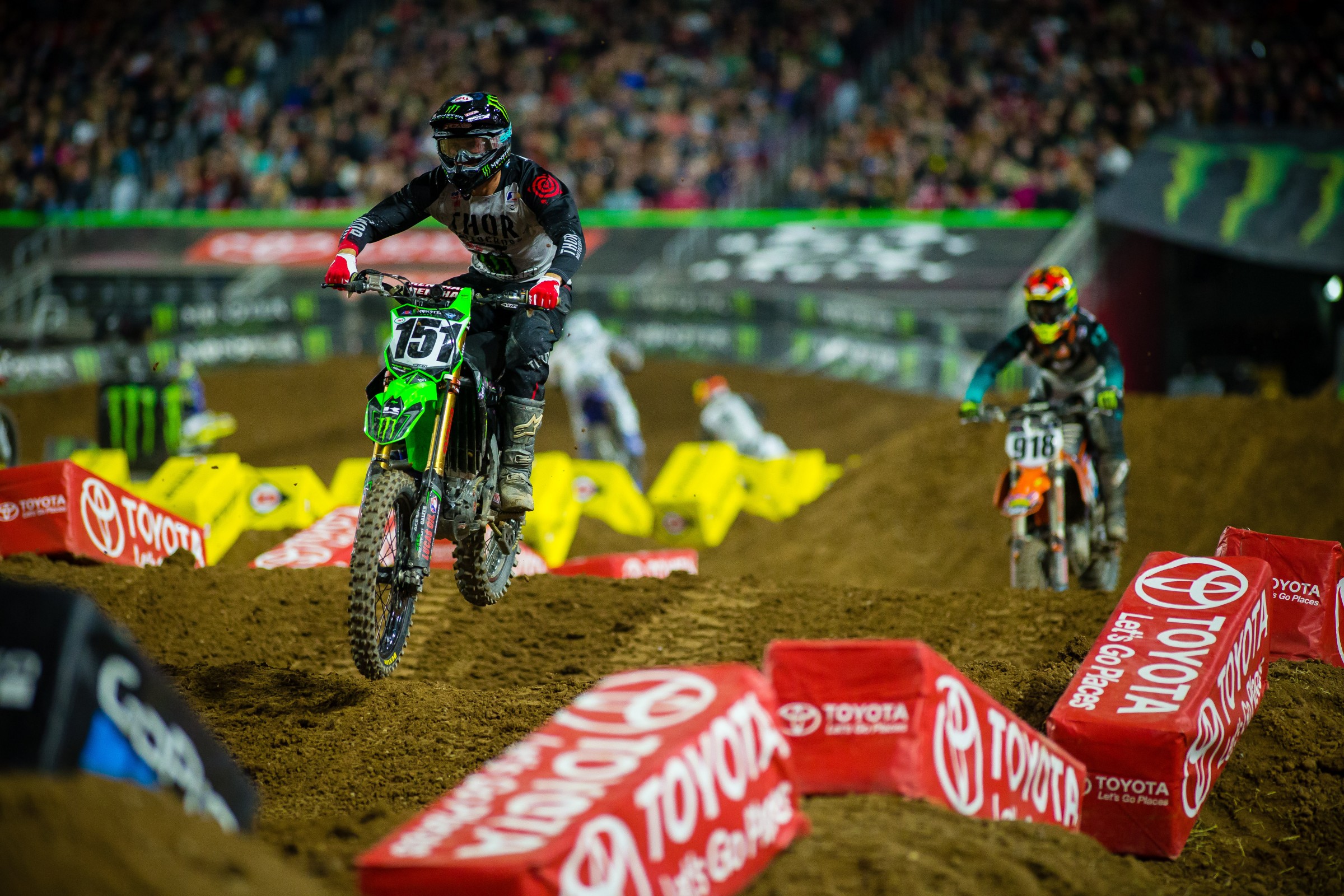 Trey's Back (Jason Weigandt)
Trey Canard was a late entry into this weekend's race in Dallas, but he's decided he's recovered enough to go racing this weekend. He rode press day today and I had a chance to chat with him.
"Been a little over two weeks back on the bike," he said. "Started small on a turn track, then did some supercross going around the whoops, then eventually into full motos. Didn't get a lot of riding this week due to the rain in California, but at least we got to ride today."
Trey crashed on the second lap of the season—the first practice session at Anaheim 1. "It was really just embarrassing," he said. "I got up so quick and I was like 'I'm okay! I'm okay!' I just wanted to ride through it. I qualified and made it to the parade lap, but I tried to charge a couple of sections and I realized I could easily have an arm come off the bar. I was just in so much pain, I realized I'd better stop. The Monday after I was really scared, I was afraid I'd need surgery, but luckily I didn't. The team's been good to me through this whole thing and I just want to pay them back."
As for the rest of press day, it was jam-packed, with Rockstar Energy Husqvarna, Yamalube/Star Racing Yamaha, Red Bull KTM, and Smartop/MotoConcepts on hand. A lot of the riders are pumped to be back on regular dirt this weekend after over a month of dodging rain in California. Ryan Dungey said it actually took some getting used to being back on hard packed dirt.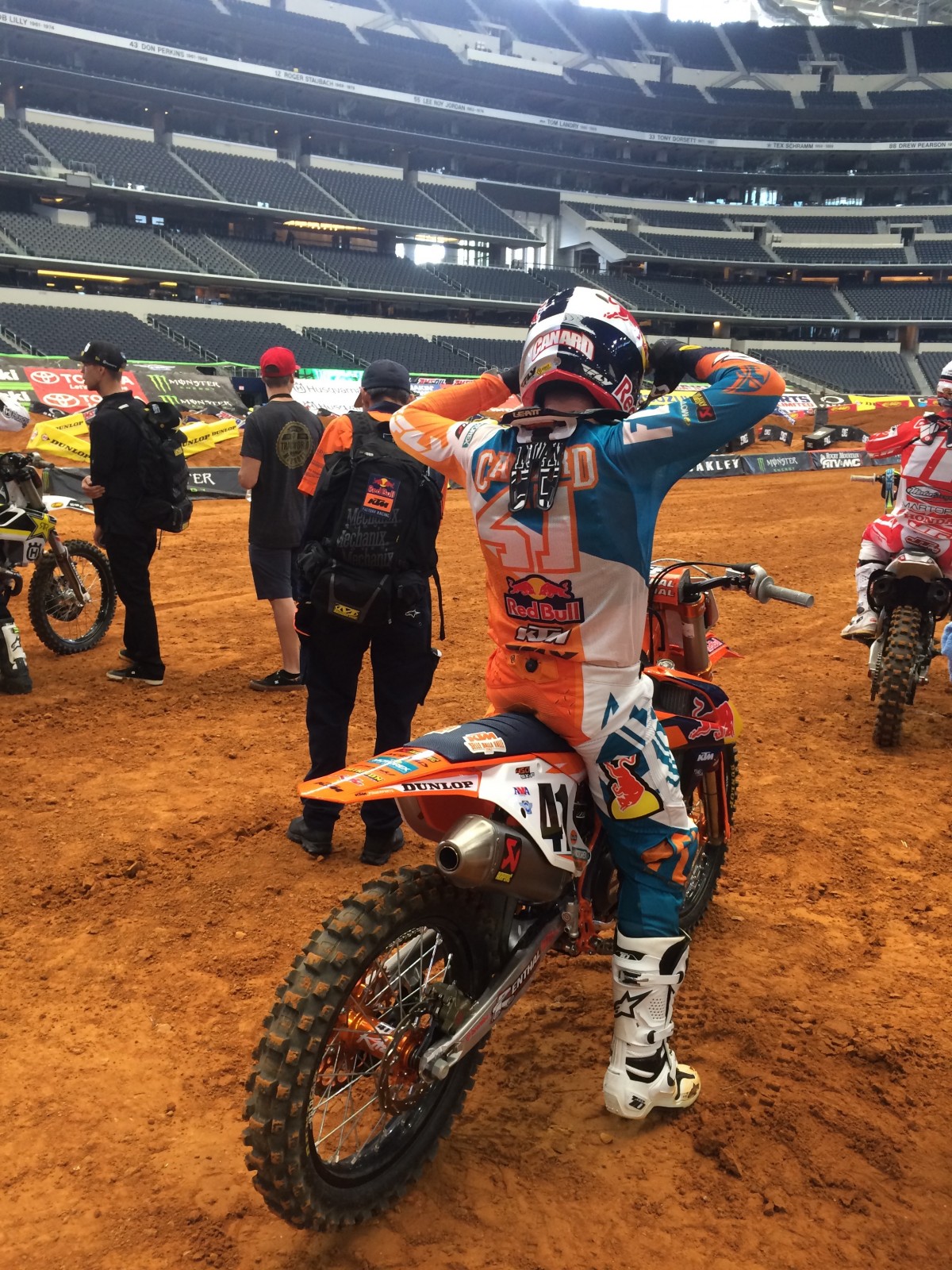 I also checked in with Marvin Musquin, who was fast last week but crashed. Marvin said he was trying to pass Vince Friese, who got the holeshot and was running up front. Marv, though, was feeling good and said he actually passed eventual race winner Eli Tomac early. But then Friese cross rutted on a dragon's back and went sideways into Marvin, then Marvin had to roll a jump and a bunch of riders went by. He then crashed in a turn and got run over by Blake Baggett. Now Marv is sporting a huge bruise along with some swelling on the inside of his upper arm. Amazingly enough, that's the same injury his buddy Jason Anderson is dealing with after his collision with Friese in Anaheim 2. Their trainer Aldon Baker told me: "Hey if these guys want to make their biceps look bigger, this is not the way to go about it!"
Could It Be a Revolution? (Jason Weigandt)

Motorcycling is in some trouble. Yeah, Monster Energy Supercross looks awesome, but bike sales have only rebounded slightly after the huge economic drop-off years ago. Worse, the average motorcyclist's age continues to rise. The industry needs new riders to get involved, and some heavy hitters in the sport may have come up with a way to help.
The United States Motorcycle Coaching Association (USMCA) launched in earnest this week with a two-day summit here at AT&T Stadium. This association is led by industry vets Jon-Erik Burleson (former president of KTM North America), Jeff Emig, and Mark Blackwell. The USMCA's goal is to lower the barriers to entry for new riders into the sport, and the best way to do that is to make sure qualified, smart, safe instructors are available for anyone who wants to give riding a shot.
What if a kid sees supercross on TV and wants to try it, but his or her parents don't know the slightest thing about how to ride? What if your local dealer could point that family toward a network of coaches that have completed background checks and safety seminars? The same type of program is used to increase participation in sports like cycling and skiing, and thus a few USMCA members attended camps for the U.S. Ski and U.S. Cycling teams to learn how it's done there. Current riding coaches such as Buddy Antunez and Nathan Ramsey met with folks from those organizations to get an idea of what those programs do. Then, this week's summit introduced over 100 existing coaches to the basic idea. And yes, the big hitters showed up and showed interest. We're talking the gang from MTF and GPF, Aldon Baker, Gareth Swanepoel, Ryan Hughes, Robbie Reynard, Mike Craig, and many more, as well as riding instructors from the road side. The USMCA will hold workshops throughout the rest of this year to try to find basic ideas all the existing trainers and coaches can agree on, and then a certification process can begin. The goal is for coaches to gain an USMCA certification, which would then help parents and new riders know immediately that a coach that they're hiring knows what they're doing.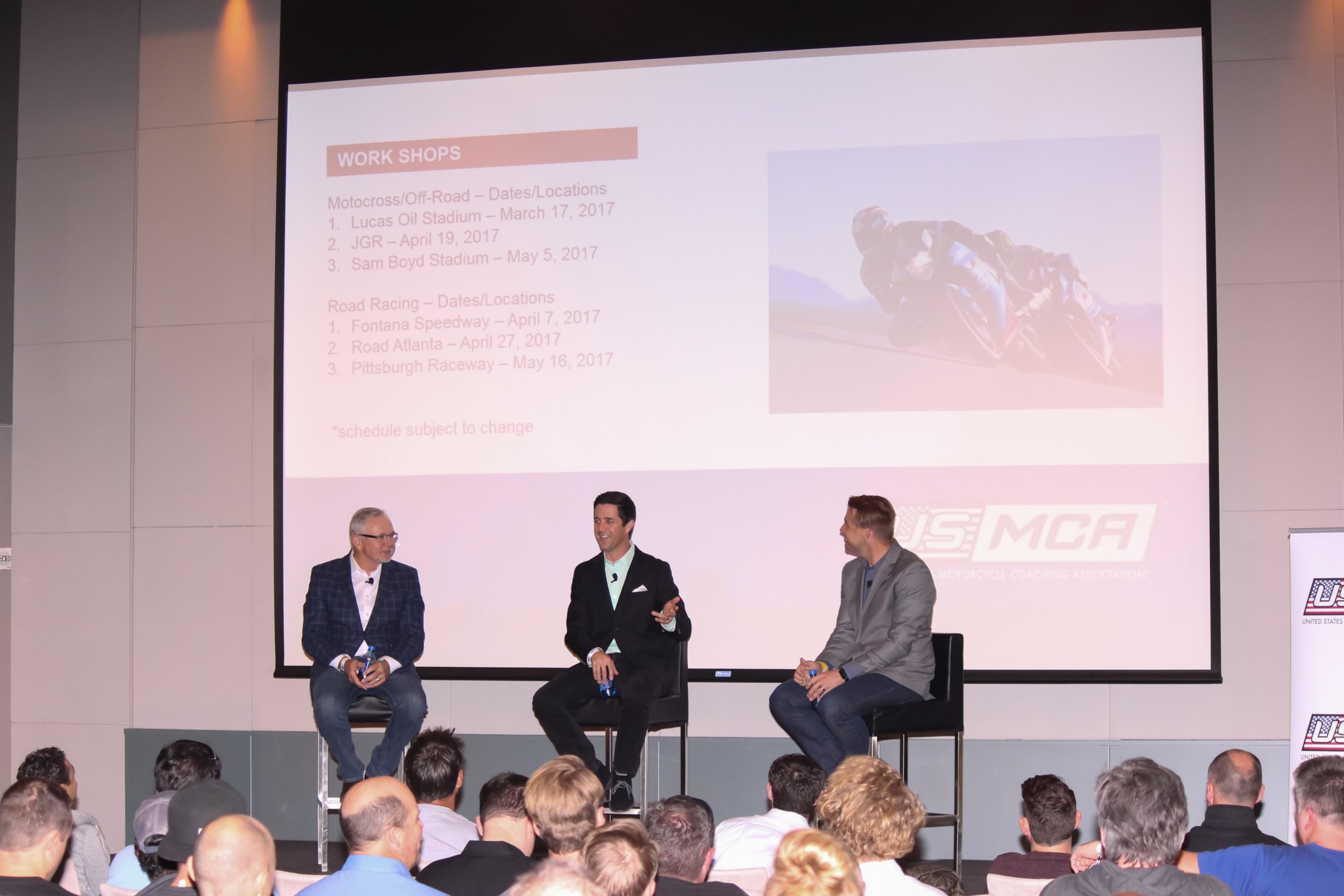 Now, there are a lot of egos in a room when you get so many big-time coaches together, and I was honestly worried we'd see a rumble when this program launched. But when everyone saw the industry numbers—i.e. falling ridership—they realized this is a problem everyone has to address. When you get Ryan Hughes standing up and saying he doesn't even care if people learn from him, he just wants more riders to learn how to ride safely so the sport can reduce injuries, it speaks volumes about the enthusiasm for this project.
It's just getting started, but in a few years, it could be very big. Huge kudos to the industry folks who are volunteering their time to make this happen.
DAYTIME DRAMA (Matthes)
Tomorrow marks the second week in a row that the Monster Energy AMA Supercross is running a day format, and we'll have two more of these, I believe, on the year. I always thought that Feld Motor Sports was going to the day format to fit into a Fox Sports TV window, but seeing as how this week's race in Dallas is delayed, guess that doesn't quite fit my thought pattern.
So how are these things going? Well, I think it's a mixed bag. I think without a doubt last year's race in St Louis didn't have the same crowd count as in past years, but that's just from memory. The atmosphere at the outdoor races is definitely not the same, as the sun is out when the races start, but hey, times change, and we need to adapt. The plus side is, I feel the day is shorter (although with the weather in Oakland the day was shortened even more) and people like to get everything done in a decent time at night. The racers I spoke to about it tell me they do feel a bit fresher for the mains because they haven't been up for 13 hours and then it's time for the main event.
I do think the crowds for these races are a bit more subdued than our usual night races, probably due to not as many refreshments partaken in as they would in a night show. So I'm not quite sure why we're going daytime again, but I intend to ask someone official if I see them as to why Dallas and Oakland are day races.
IN THE MAG – Arc Levers/Bob Barnett (Aaron Hansel)
"If I ever complain, punch me in the face," I recently said to a friend in response to a question about what my job is like. It's true—being a reporter in this sport is pretty cool on a lot of different levels. In addition to getting to attend a lot of races, you get to meet some pretty cool behind-the-scenes people you otherwise wouldn't even know existed. And sometimes, if you're lucky, you get to tell those people's stories in the magazine.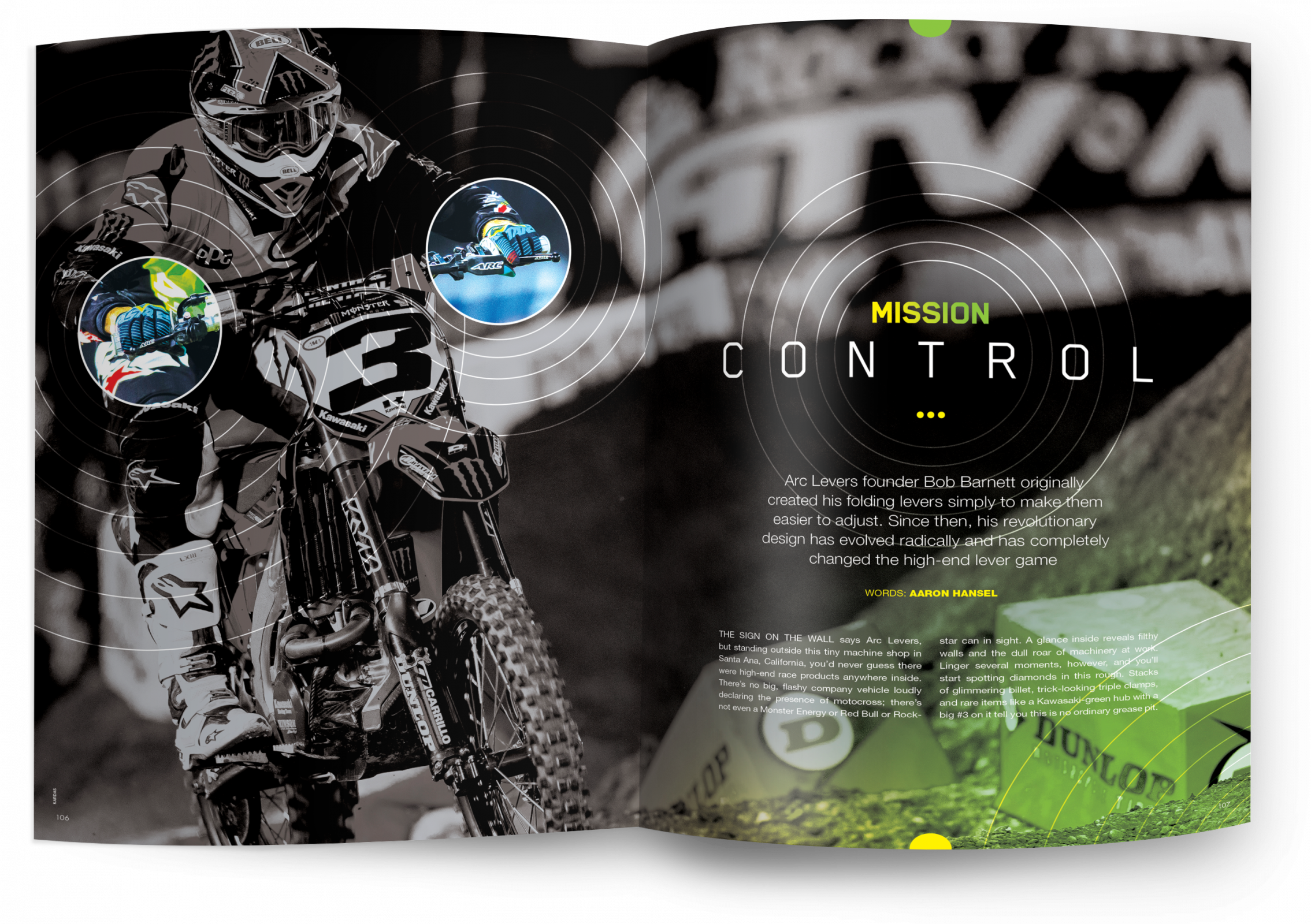 Bob Barnett, on a consumer level, is known as the founder and operator of Arc Levers, but there's much more to his story than that. I met Barnett at his machine shop in Santa Ana the Friday before A1 and spent the afternoon chatting with him and shadowing him as he delivered custom parts to a whole bunch of factory teams in the pits. I found myself captivated by the seemingly endless relationships he's built with just about everyone. Every time he walked into a team's area it was like watching Norm walk into the bar in an episode of Cheers, only Barnett delivers trick parts on an old bicycle instead of sitting on a stool guzzling beers.
To the teams, he's known as a guy who can quickly manufacture just about anything they need, and there are plenty examples—several from Roger DeCoster himself—of him doing so in "Mission Control," our feature about him in this month's print edition of Racer X Illustrated. If you like reading about behind-the-scenes stuff and gaining insight into what it takes to form relationships with the most prominent teams in the sport, this story is right up your alley.
Here's some more stuff from the new issue:
THE KING FOR A DAY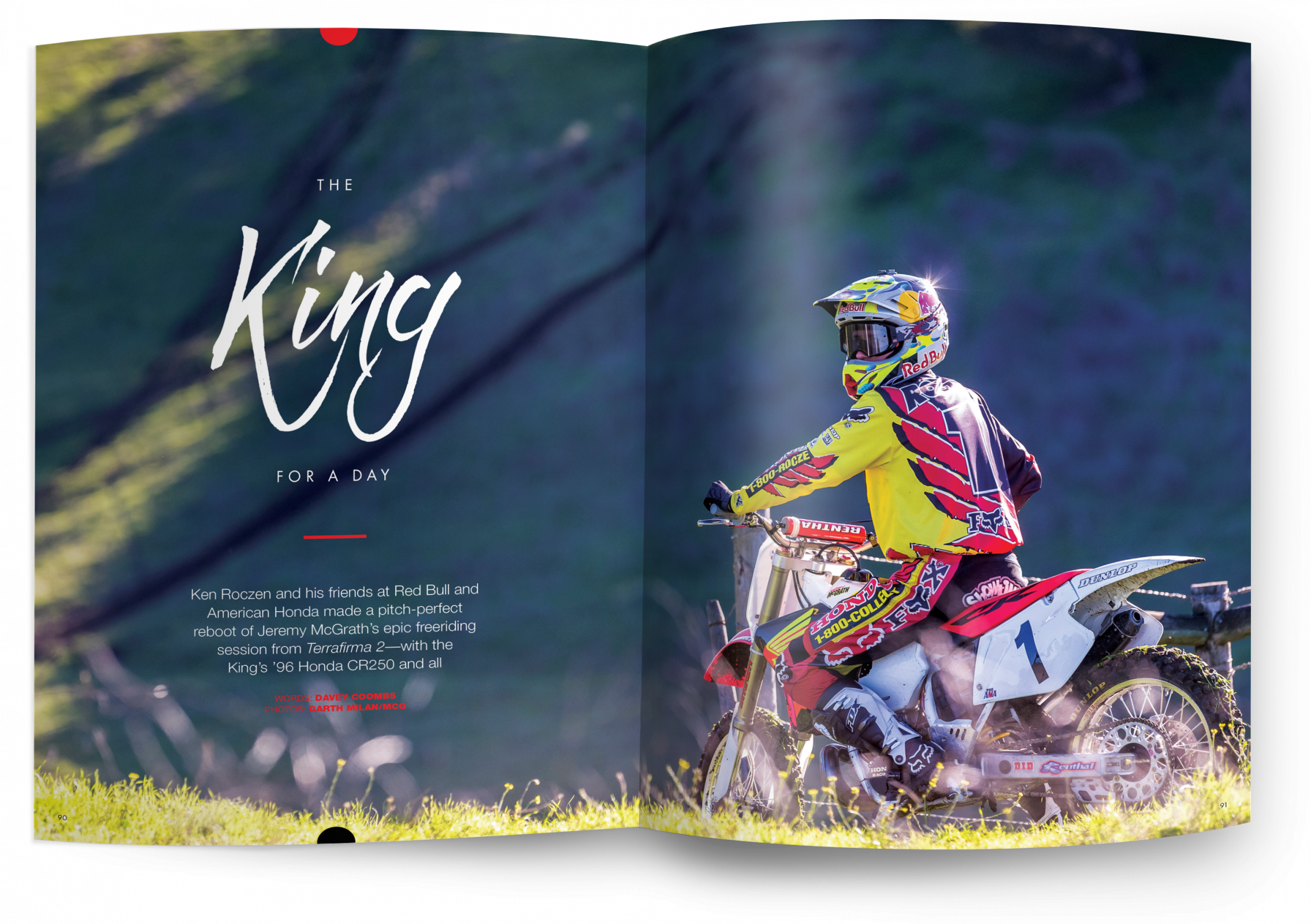 Ken Roczen (with help from Red Bull and American Honda) made a pitch-perfect reboot of Jeremy McGrath's epic freeriding session from Terrafirma 2—with the King's '96 Honda CR250 and all.
DEAN WILSON CAN'T TURN BACK NOW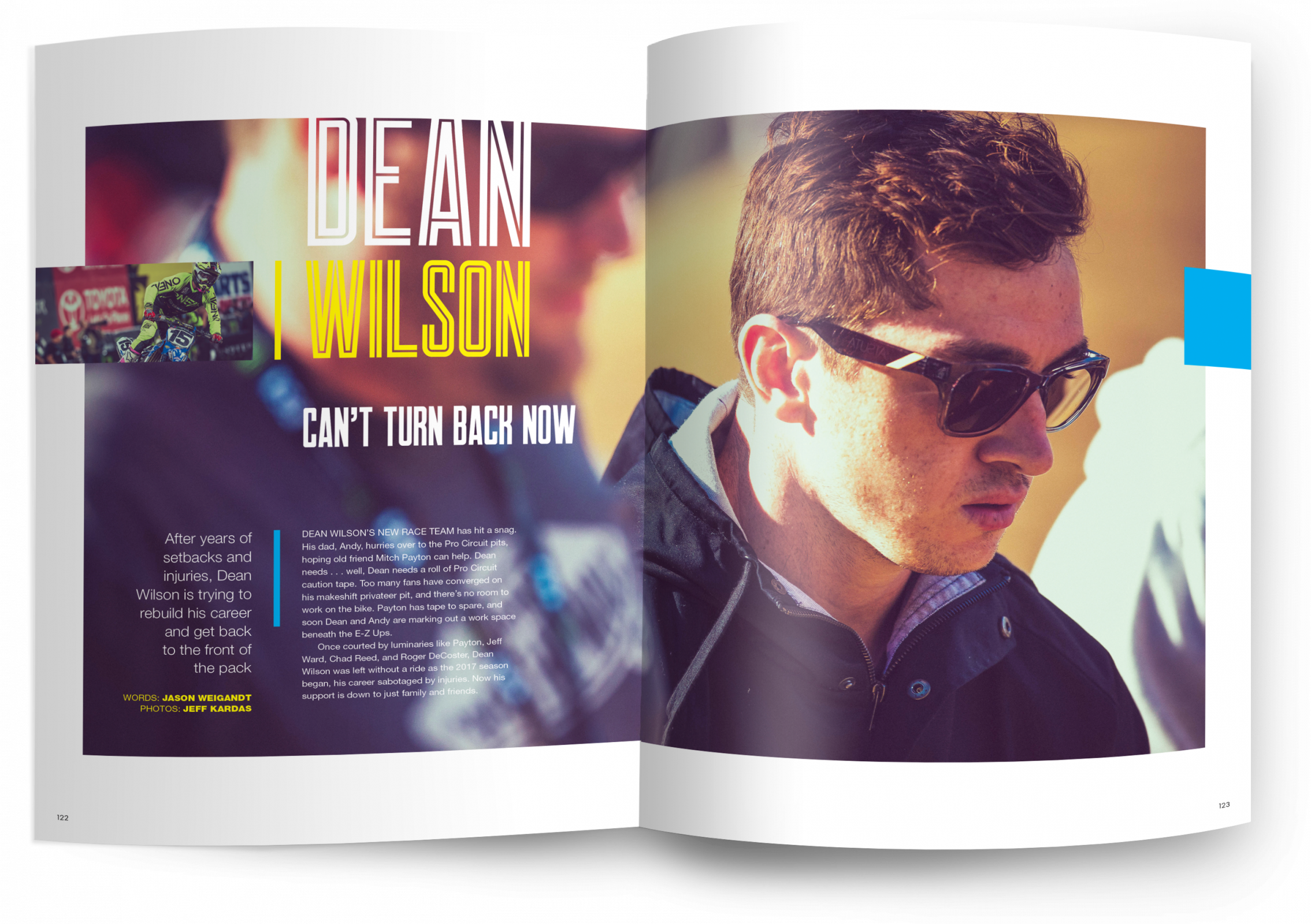 Injuries and bad breaks have hampered Dean Wilson's career for five years. Now, working out of a van with his father, he's hoping to make an impression on the factory teams once more—and this was before he got called up by Rockstar Husqvarna last week!
MOTOCROSSFIT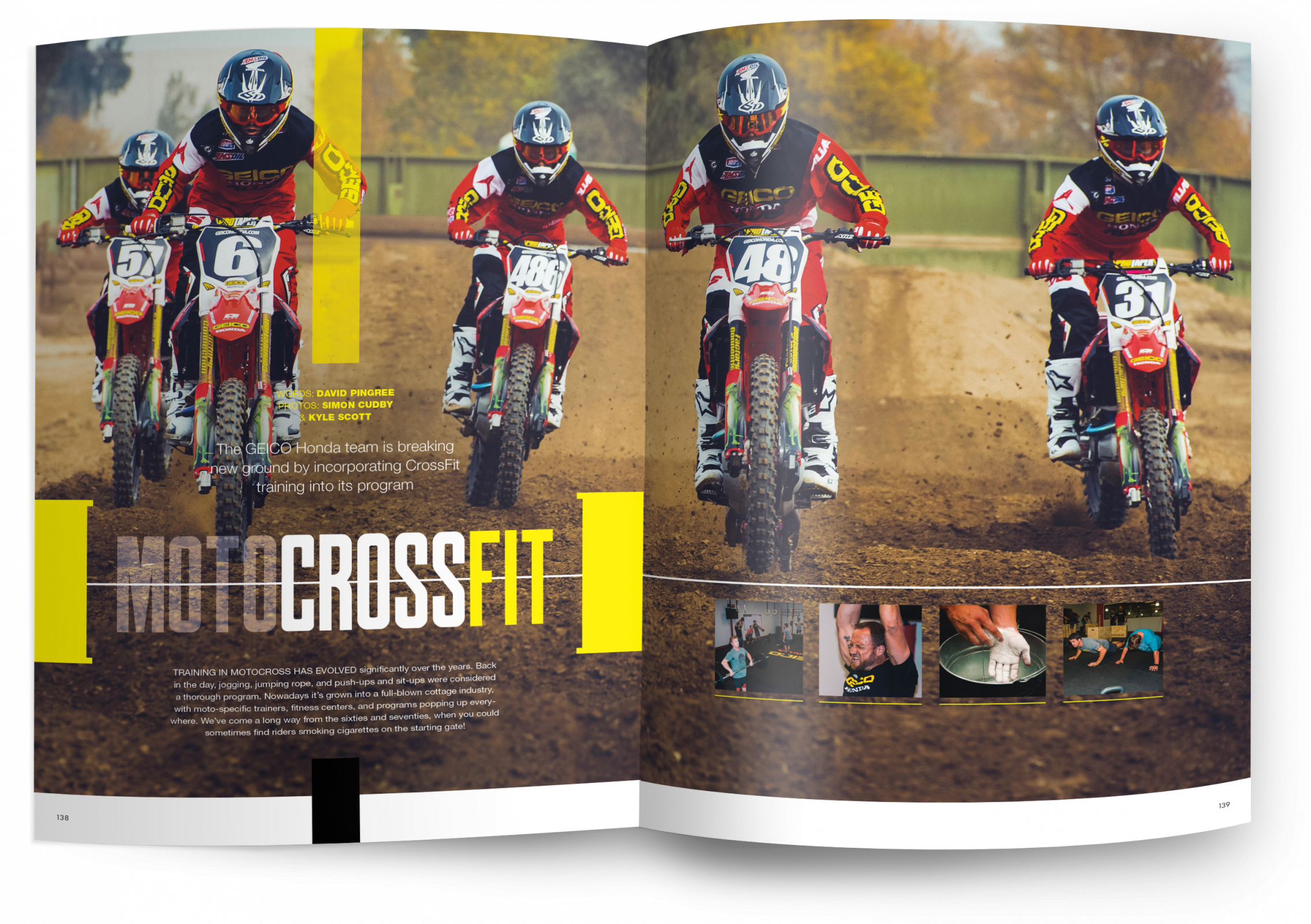 CrossFit training has officially come to motocross, in the form of a deal with Mike LaRocco's GEICO Honda factory team.
MA Bans Helmet Cams (Chase Stallo)
As we reported on Monday, Motorcycling Australia has announced a stunning rule that will eliminate the use of helmet cameras, unless the camera is integrated into the helmet by design of the manufacturer. The rule change will not only affect supercross and motocross in Australia, but road race, historic road race, classic MX and classic dirt track, enduro, ATV, speedway, dirt track, trail, Supermoto, and minikhana.
"Cameras may be fitted to the motorcycle provided they are securely mounted," MA said in the announcement, adding, "In line with Bulletin #1604 published March 3, 2016, MA take this opportunity to remind all competitors that the use of Helmet Vinyl Wraps, Skins and any adhesive coverings on helmets across all disciplines is also currently under review."
You can read the full announcement here.
This is the second major announcement by MA in recent months. In December, citing environmental issues, MA banned the use of tear-offs beginning this year. The new rule will force riders to use roll-off systems in all disciplines of off-road and motocross racing.
The Fifth Element (Andras Hegyi)
For the first time ever in his 450SX career, Eli Tomac has been able to win two consecutive rounds in Monster Energy AMA Supercross. Tomac has joined a very exclusive Kawi club. So far there have been 17 different Kawasaki riders to win at least a single race, but only five of them managed to take two wins in a row.
Ricky Carmichael: The GOAT raced for Kawasaki in the premier class between 1999 and '01. Carmichael only got one win the first two seasons, but in 2001 he won an astonishing 13 races in a row to end the season. In doing so, he matched Jeremy McGrath's remarkable 1996 season with Team Honda when "Showtime" almost went unbeaten. You can read about that season right here in Steve Matthes' epic online feature "Fourteen and One."
Jeff Ward: The first Kawasaki rider to get two consecutive wins in the premier class was Jeff Ward. The Scotland-born crosser won the first two races in 1987. He did another double later on that year and became champion. Wardy managed to get two wins in a row in 1989 as well but was not champion.
James Stewart: Every season between 2005 and '07, Bubba would get at least two consecutive wins. In 2005 he had a double. In '06 he first had a triple then a double. And then in 2007 he repeated the '06 season, first doing a triple then a double. And then at the end of the season he became unstoppable, sweeping the last seven rounds on his way to the championship.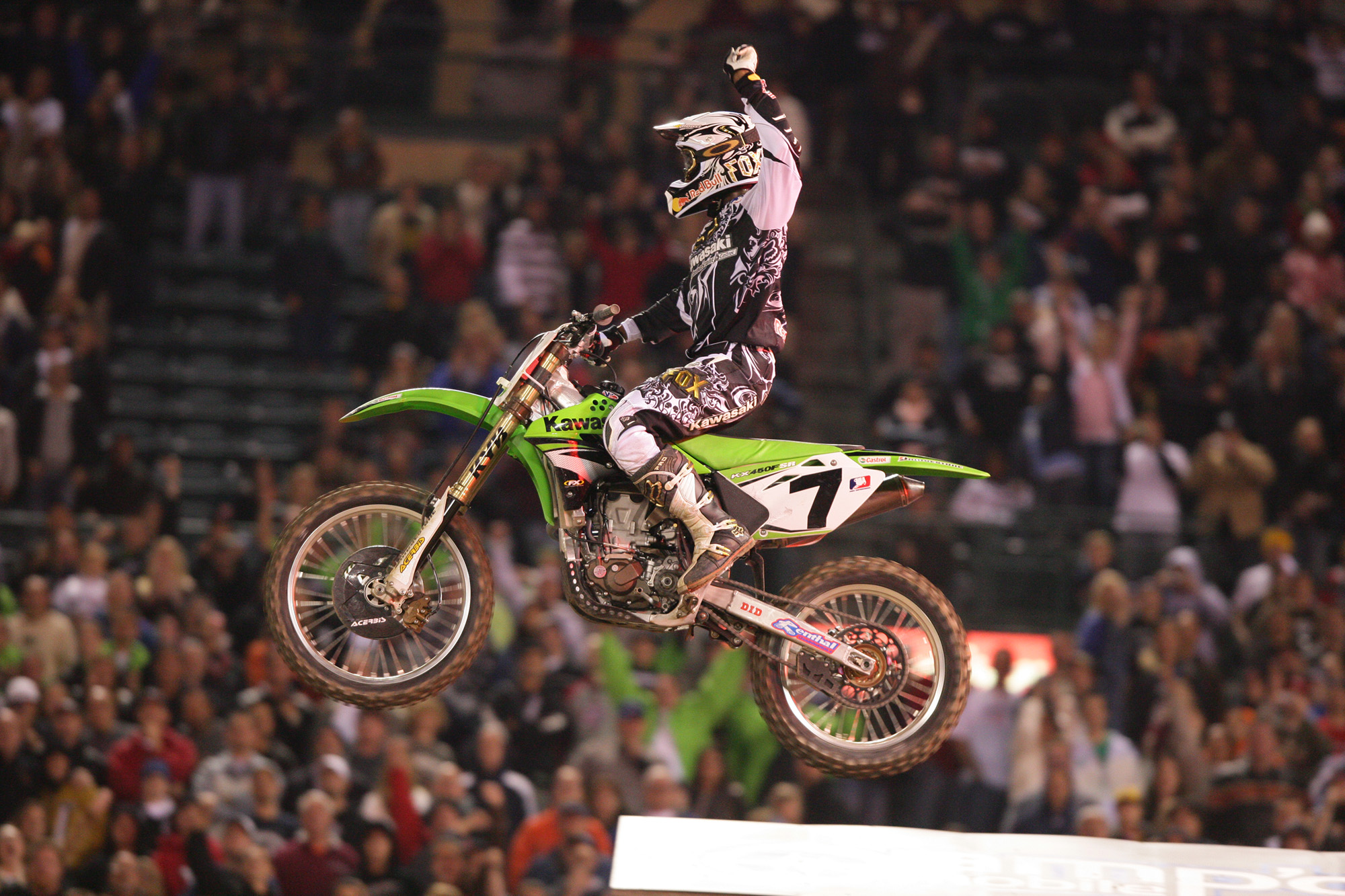 Ryan Villopoto: The most successful Kawasaki rider ever, Ryan Villopoto took at least two successive wins in five different seasons. Between 2010-'14 he was always able to get two triumphs in a row, a record for Kawasaki. In 2010, RV got two consecutive wins three times. In '11 he had three wins in a row. In '12, first he took a triple, then he won four straight victories. In '13 Villopoto got two doubles and in midst of them he got five-straight wins. Then in his last year Villopoto bid farewell in a very memorable way, winning the last four rounds of the season, leading every lap of the way.
Eli Tomac: Tomac has ridden in 450SX since 2014. The '15 season has been his best season so far, when he finished second overall. He earned three wins but was not able to collect two consecutive wins while riding for GEICO Honda. Now a Kawasaki crosser, Tomac has earned the first pair of back-to-back wins of his career.
Hey, Watch It!
Dialed In: 2017.5 KTM Factory Editions
You wouldn't find a motorcycle hanging in a meat locker, so why include them in a trade dispute over beef? Go to Regulations.gov for more information and to learn how to voice your concerns on the Bikes for Beef tax proposal.
Cole Seely and Ken Roczen build a bike.
Random Notes
Head over to RacerXBrand.com to get that special someone something for V-Day. Or, you know, something for yourself for U-Day is perfectly acceptable too.
Heading to the Arlington SX this weekend? Stop by the Racer X booth—located in the Party in the Pits—to pick up a free copy of Racer X. You can also sign up or renew for as low as $10 to get a one-year subscription, a free $25 Rocky Mountain ATV/MC gift card, and an extra issue!
Not going to Arlington? No worries—you can still subscribe to Racer X Illustrated for as low as $9.98 right now and get a free $25 Rocky Mountain ATV/MC gift card, plus immediate access to the current digital issue.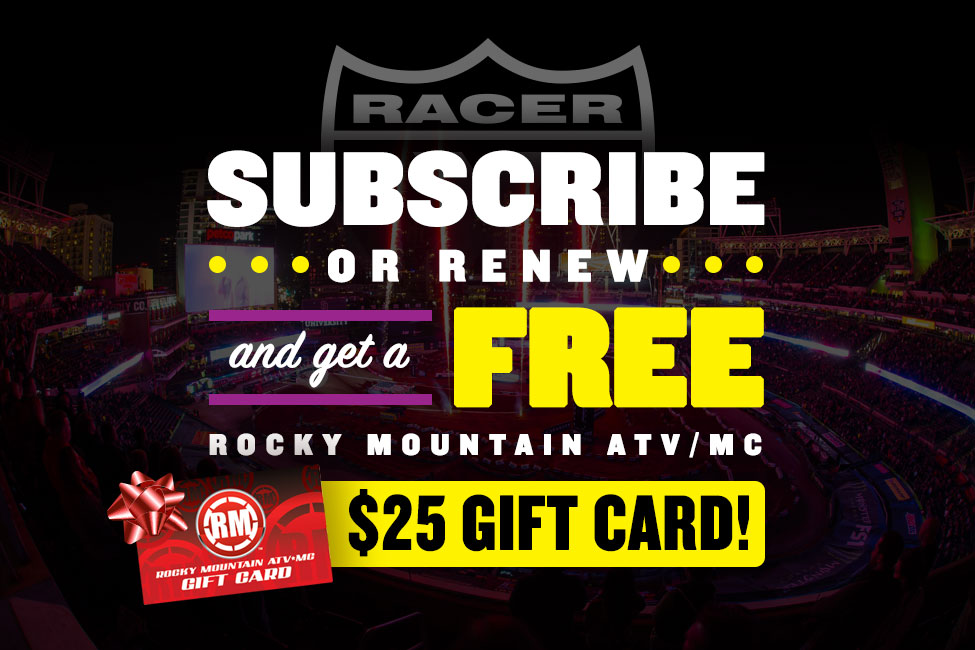 That's all for this week. Thanks for reading Racerhead. See you at the races.