O.co Coliseum
Oakland

,

CA
Oakland
Monster Energy AMA Supercross Championship
The first four rounds of the 2017 season of Monster Energy Supercross have provided plenty of craziness, and with a whole lot of rain coming down in the days leading up to the fifth round in Oakland, it looked the fans in Northern California were in for another wild night. The soft dirt and rain delivered too, presenting the riders with the toughest and most treacherous racing surface of the season. To see how it all played out in chronological order, start at the bottom of this page and work your way up. If you want to get straight to main event business, summaries from both the 250SX and 450SX mains are directly below.
450SX Main
Once again the 450SX class will not set into a predictable rhythm, just like the rides were unable to tonight on the crazy rough and rutted track. All night, Ryan Dungey had been on the ropes, taking ninth in qualifying, getting passed out of a transfer position in his heat, and then having to qualify through the semi. Just when it seemed like something was amiss for Dungey, who was also slightly off of his A-game last weekend, he did what Dungey does—nailed a great start when it counted, then made slick moves in the first few turns to end up with the lead. After that, it's over, right?
Behind Dungey, Jason Anderson was second, but Cooper Webb continued his strong night by putting his Yamaha into second, making a move on him to take the spot. Anderson stayed close for a bit and then got into a battle for third with his old buddy Cole Seely. As Webb tried to make tracks for Dungey, Seely and Anderson battled it out—until they got swallowed up by a shark.
Eli Tomac, last week's winner, didn't look so hot early in the day, either, getting a terrible start in his heat race and also having to go to a semi (he and Dungey were winners in the separate semis tonight). But he clearly figured some things out in that semi, after the track had dried out. He got another bad start in the main, but it didn't matter because Tomac was going to the front.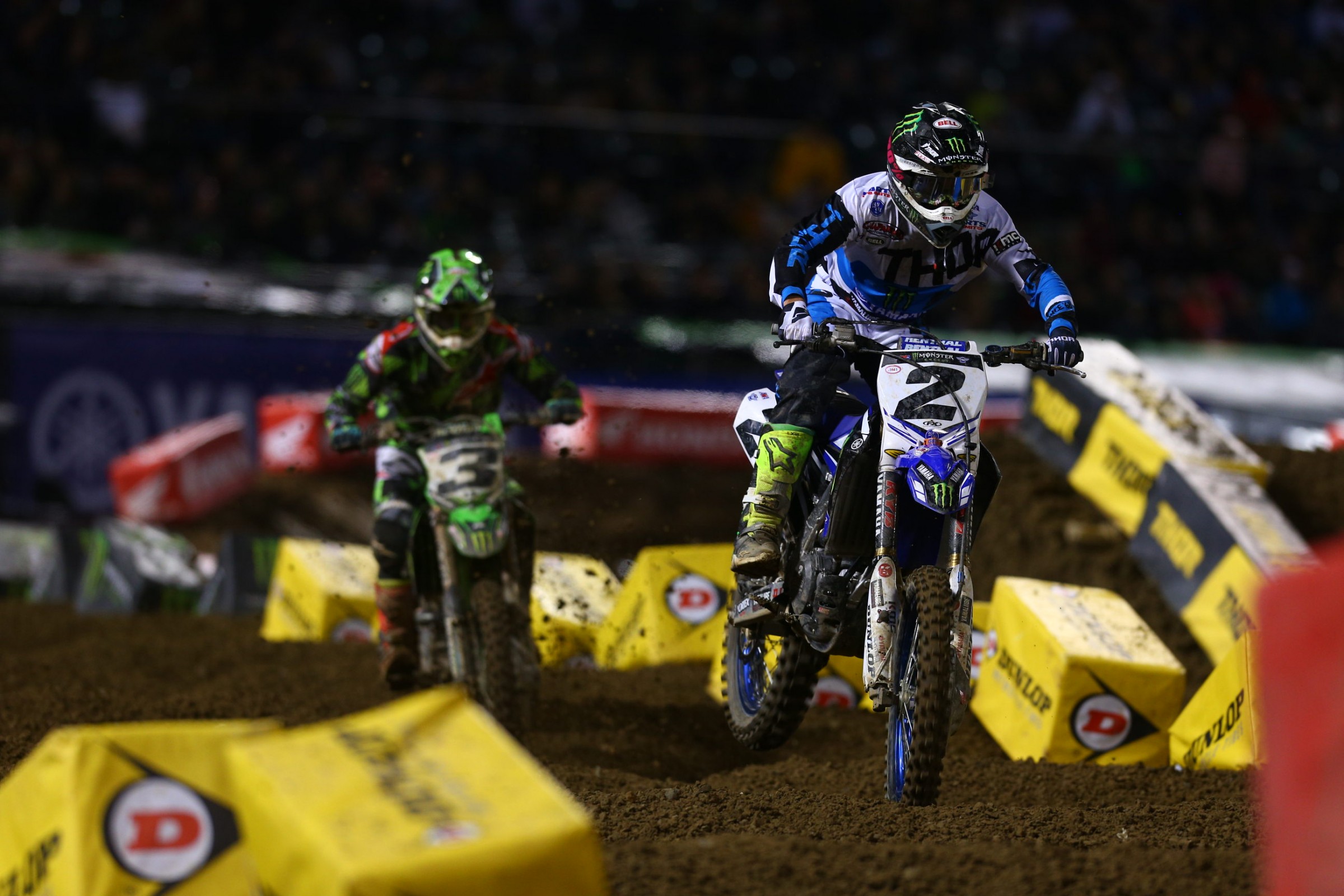 Tomac was eighth on lap one, and by the time he got to fifth and caught the Seely/Anderson battle, he was eight seconds down on Dungey. He worked past Anderson and Seely and then set sights on Webb, who was still solid in second but no longer close to Dungey. Tomac caught Webb quickly, but Webb gave it a heck of an effort to hold him off, even adopting Tomac's ballsy triple-quad through a rhythm lane. The rookie finally bobbled on a jump and Tomac shot past, still around 3.5 seconds down on Dungey. But Tomac was on fire, and he kept his pace going and went right after Dungey. He caught him quickly, and he and Dungey spent a lap or so squaring off, figuring out the best lines to pass and prevent passes. Then Tomac blew by Dungey in the whoops, and it was over. Tomac went on to his second-straight win, while Dungey backed off the pace and brought it in safely for second. Afterwards, Tomac was elated, saying everything was suddenly just clicking, while Dungey showed no frustration from the runner-up ride, and was actually happy to have made so much progress during the day and to have survived on a gnarly track. He also still holds a 17-point lead on Tomac in the standings.
Webb rode well but survived a late scare when mud appeared to collect in his rear brake pedal, leaving him to pause momentarily to reach down and clear it. Anderson caught him again, but Webb pulled back ahead to nail his first career podium. Anderson and Seely rounded out the top five.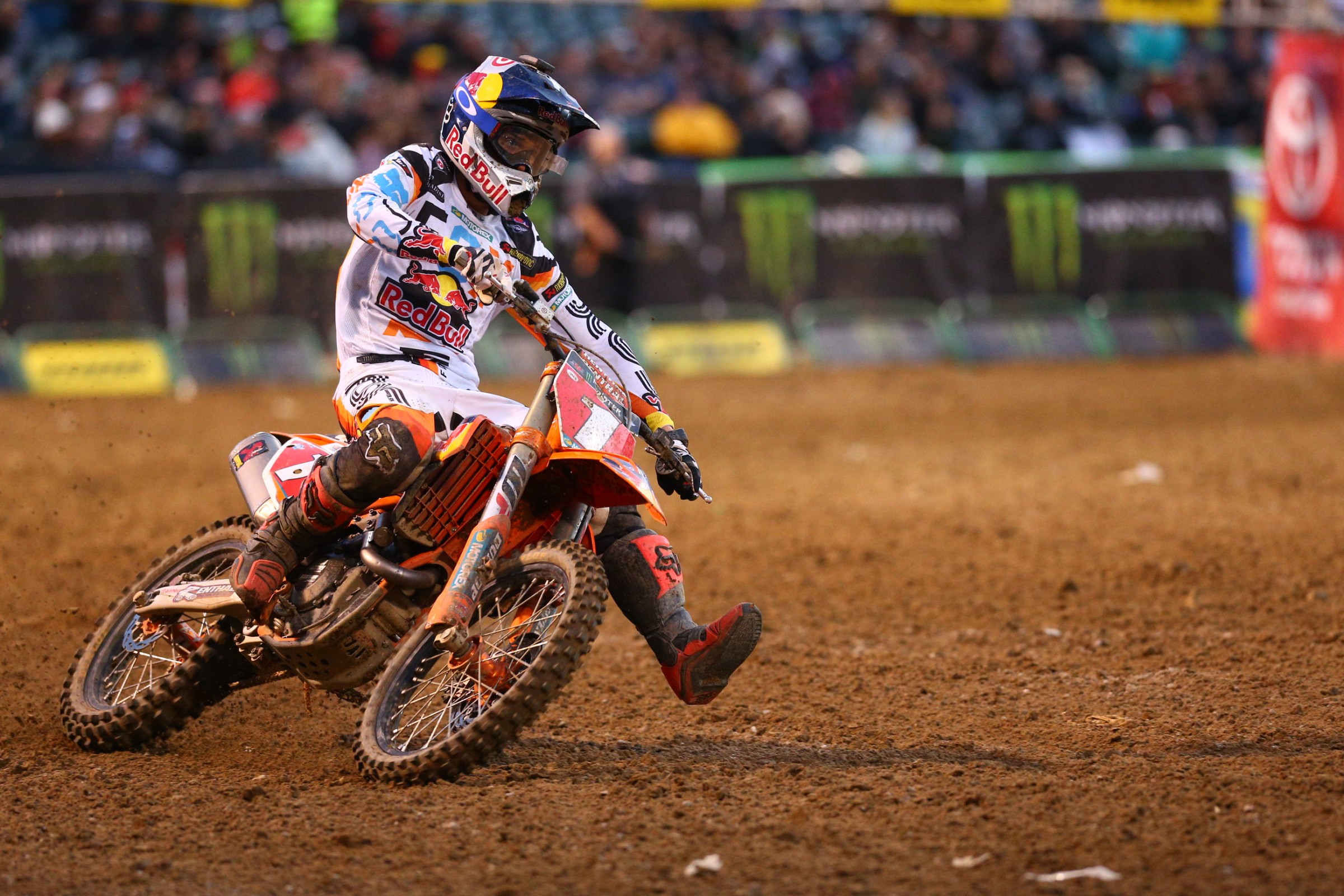 Davi Millsaps came back from deep in the pack to score sixth ahead of his teammate Blake Baggett. Chad Reed was also buried early but salvaged eighth. Marvin Musquin looked to have a problem early in the race and was coasting around the track shaking his hand off the bar at one point, but he regrouped and came back through for ninth. Dean Wilson, in his debut for Rockstar Energy Husqvarna, scored his first top-ten of the season with tenth.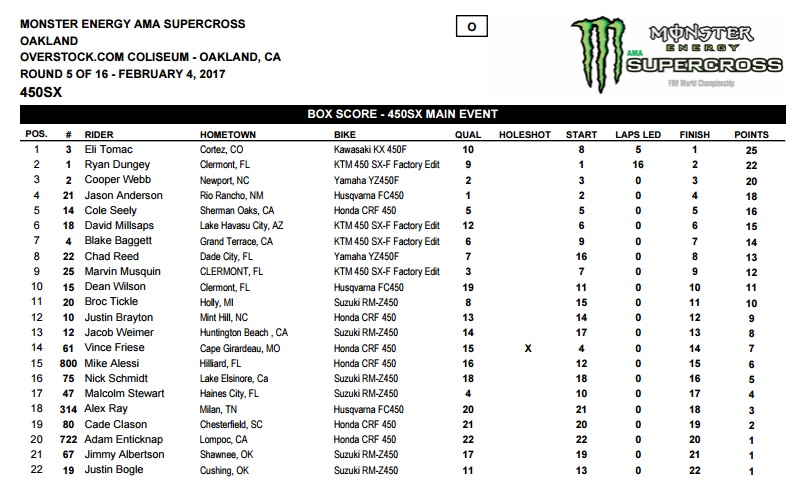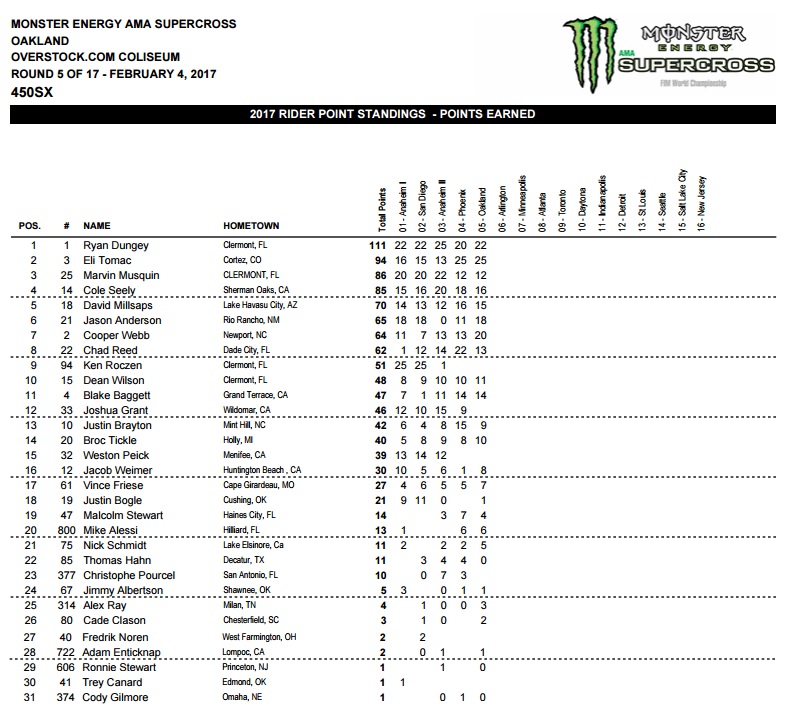 250SX Main
This one got going with a a big pileup in the second turn that was triggered when Austin Forkner went down. Fortuntely for Martin Dvalos he was ahead of it due to a holeshot, but Justin Hill soon took the lead away, with Shane McElrath and Jimmy Decotis chasing Davalos. Aaron Plessinger, meanwhile, ran outside the top ten after getting held up in the opening lap carnage. A couple laps later Decotis got around McElrath, but McElrath would get him back about ten minutes later. McElrath started going after Davalos at that point, but when he got close Davalos stretched it back out. The two yo-yoed like that a couple times before Davalos finally got away for good. Then Hill, who had built a massive lead, went down, prompting a huge gasp from the crowd. He managed to get going again just as Davalos came up on him and maintained the lead. McElrath, meanwhile, had lost quite a bit of ground and was under fire from Decotis again. Decotis gave McElrath all he could handle but his fate was sealed on the final lap when he was forced to double a triple, which gave McElrath just enough breathing room to hold onto third. Despite crashing, Hill took the win, with Davalos and McElrath rounding out the podium.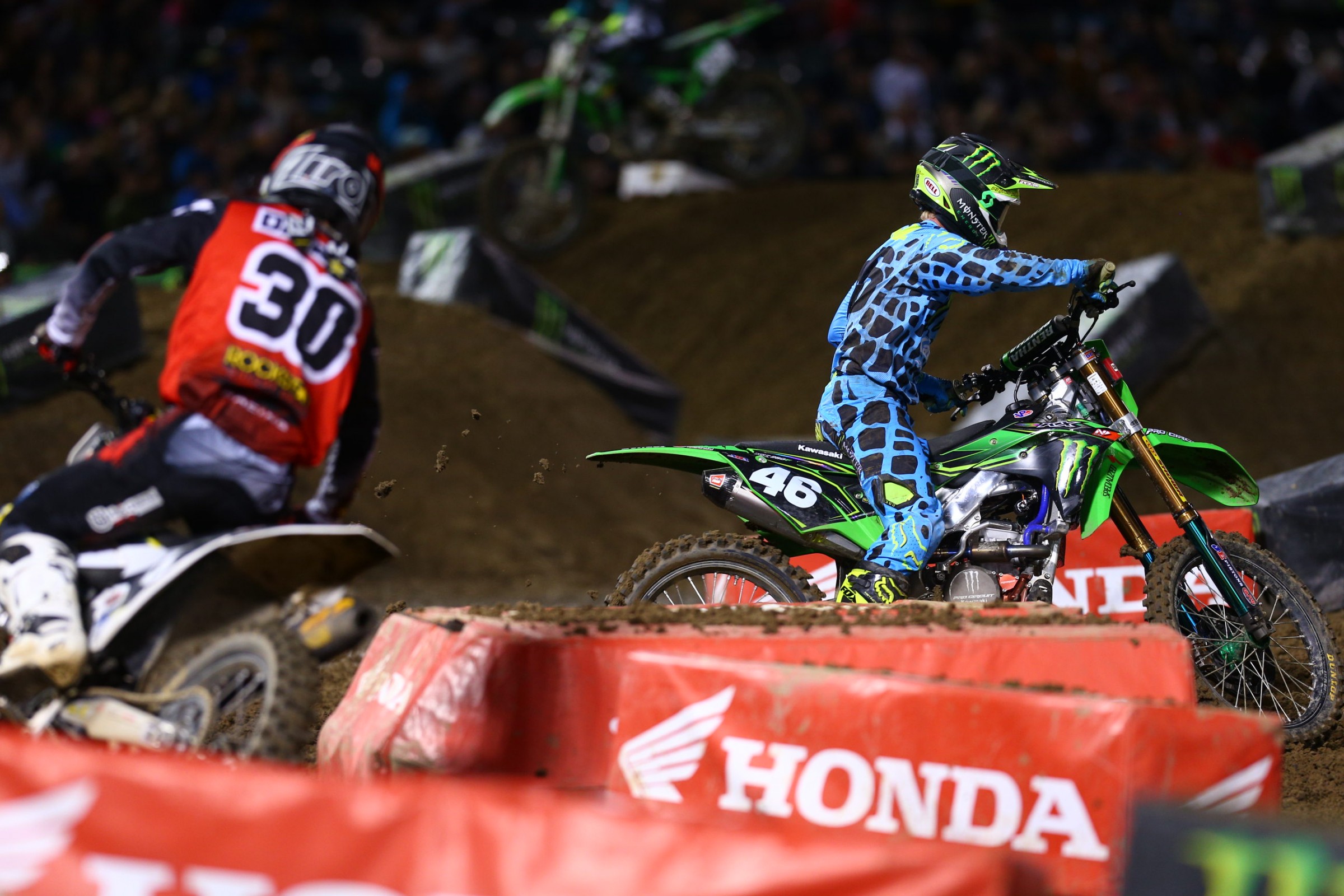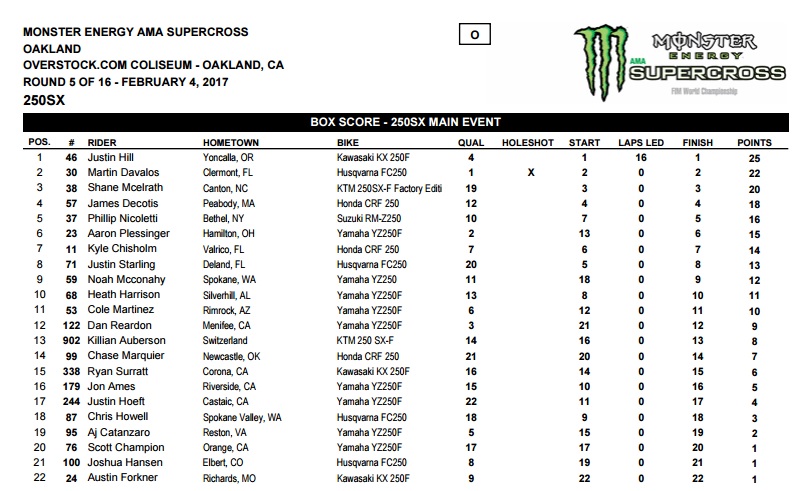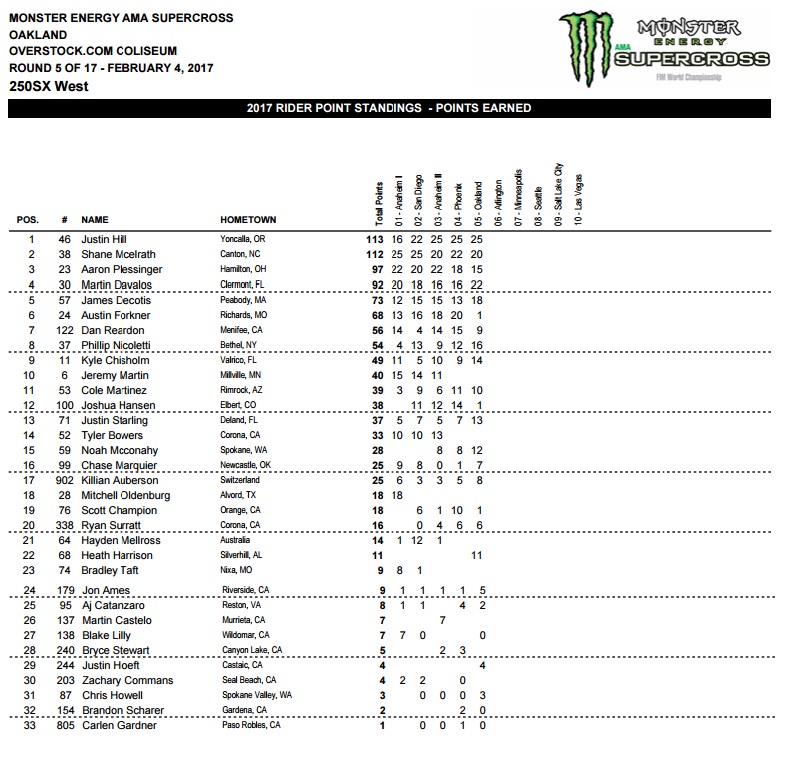 450SX LCQ
Dean Wilson launched out of the gate for a decisive holeshot and pretty much disappeared up front. Behind him Alex Ray rode in a lonely second, with Cade Clason and Adam Enticknap engaged in a loose battle for fourth. Cody Gilmore wasn't far behind in fifth and was ready to strike if Clason or Enticknap made any mistakes. It didn't happen though, and Gilmore came up just short of a qualifying position. Wilson, Ray, Clason, and Enticknap all advanced to the main.
450SX Semi Two
Jimmy Albertson and Justin Bogle were side by side for a couple turns to start this one off, but Albertson shut Bogle down in the sand section and earned a little breathing room. Ryan Dungey quickly caught Albertson, pressured him, and used a better line in a rhythm lane to take over the lead. Albertson dropped a few more spots to Bogle, Justin Brayton, and Vince Friese, but still held a qualifying spot and a big gap over Alexander Nagy in sixth. Dungey won, and Bogle, Brayton, Friese, and Albertson all went to the main.
450SX Semi One
Eli Tomac shot to the front right out of the gate, with Davi Millsaps, Jake Weimer, Dean Wilson, Mike Alessi, and Nick Schmidt in tow. Tomac quickly gapped everyone, with Millsaps alone in second. There was a great battle for third behind him though, with Wilson and Weimer really going at it for a few turns. Wilson ended up making the pass and getting away, but then Weimer started reeling him back in. It ended up not mattering though because Wilson made a mistake in a rhythm lane and went down all by himself. That solidified the finishing order, with Tomac, Millsaps, Weimer, Alessi, and Schmidt all transferring to the main.
250SX LCQ
Bradley Lionnett took the early lead in this one with Chase Marquier in second, but Shane McElrath quickly took over second and went after Lionnet. He made the pass in the whoops and disappeared with the win. Marquier, meanwhile, lost another spot to Justin Starling but was able to hold his position from there and even moved up a spot when Lionnet went down on the final lap, handing the final transfer spot to Justin Hoeft. McElrath, Starling, Marquier, and Hoeft all earned spots in the main.
450SX Heat Two
Cooper Webb meant business in this one. After taking the holeshot he immediately started gapping the field and it wasn't long before he'd disappeared with the win. Malcolm Stewart rode alone for most of the race in second place, but a few seconds behind him a battle was raging for third between Justin Brayton, Broc Tickle, Ryan Dungey, and Blake Baggett. Tickle was able to get around Brayton, and Dungey and Baggett quickly followed, dropping Brayton to sixth. Then Baggett got around Dungey, dropping him out of the final transfer spot, and went on to get by Tickle. But then Baggett bobbled right after the dragon's backs, slowing Tickle and nearly allowing Dungey by both of them. The order held though, with Webb winning, followed by Stewart, Baggett, and Tickle. Ryan Dungey and Eli Tomac, who finished fifth and sixth, will have to ride semis tonight.
450SX Heat One
Jason Anderson rocketed out of the gate and took off in the lead, and that was that. Anderson rode to an unchallenged win, although Musquin was closing on him on the final lap. Third was Cole Seely, who rode all by himself after passing Chad Reed. Anderson, Musquin, Seely, and Reed claimed this heat's transfer spots. Davi Millsaps went down early in this one right after the second dragon's back and pulled out of the race.
250SX Heat Two
Early in the race it was Jimmy Decotis and Shane McElrath side by side, with McElrath soon taking command of the lead. After another lap Aaron Plessinger got around Decotis and soon he was all over McElrath for the lead. A mistake in a rhythm lane from Plessinger temporarily gave McElrath some breathing room, but a few turns later Plessinger blasted by McElrath in the whoops. After that things started tightening up for second—Decotis closed back up on McElrath, with Justin Hill close behind, and went for the pass in the whoops. As McElrath and Decotis exited the whoops they came together and they both went down. Decotis was able to salvage a transfer spot but McElrath looked like he was holding his hand or forearm and pulled out of the race. Plessinger went on to take the win, followed by Hill, Cole Martinez, Josh Hansen, Phil Nicoletti, Decotis, Killian Auberson, Ryan Surratt, and Chris Howell, who all transferred to the main.
250SX Heat One
Wild start to this one when Austin Forkner got sideways in the first rhythm lane and went off the track, narrowly avoiding other riders in the process. Dan Reardon ended up with the lead, but Martin Davalos was hot on his tail and started pressuring him after a couple laps and made the pass. After that he checked out for the win. Forkner, meanwhile, who was way back after his first-lap crash, had worked back up to tenth and was knocking on the door for ninth with about a lap-and-a-half remaining. By the time the checkers came out he was fifth. Davalos, Reardon, AJ Catanzaro, Kyle Chisholm, Forkner, Noah McConahy, Heath Harrison, Jon Ames, and Scott Champion all transferred to the 250SX main.
Qualifying – Session Two
Just like the first set of qualifiers, there wasn't a ton of action in the final set. In 250SX Justin Hill, who was the fastest qualifier, looked very fast while Shane McElrath was sixth fastest in the session, over two-and-a-half seconds slower than Hill. Aaron Plessinger was fast too and put in a flyer at the very end to put him in second.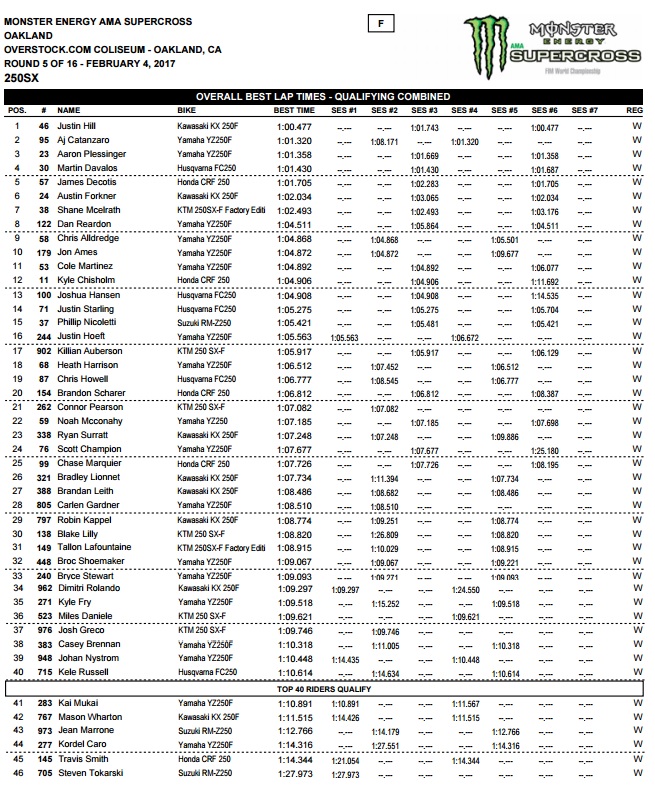 In 450SX action Broc Tickle and Dean Wilson were fastest at first, but it wasn't long before the big number three of Eli Tomac shot to the top of the board. Then Cooper Webb busted out a 58.354, which would stand firm until the end of the session. Like the first session, some of the bigger names were a little further down the board than usual. Conditions are pretty tricky and a lot of the guys were having a tough time laying down a single fast lap without making a mistake. The rain has been off and on all day, and it started coming down when the 450C group was wrapping up their final practice. Bottom line, the track is already technical and tough, and it's going to get even nastier during today's racing thanks to the rain. Strap in, we're in for a wild one!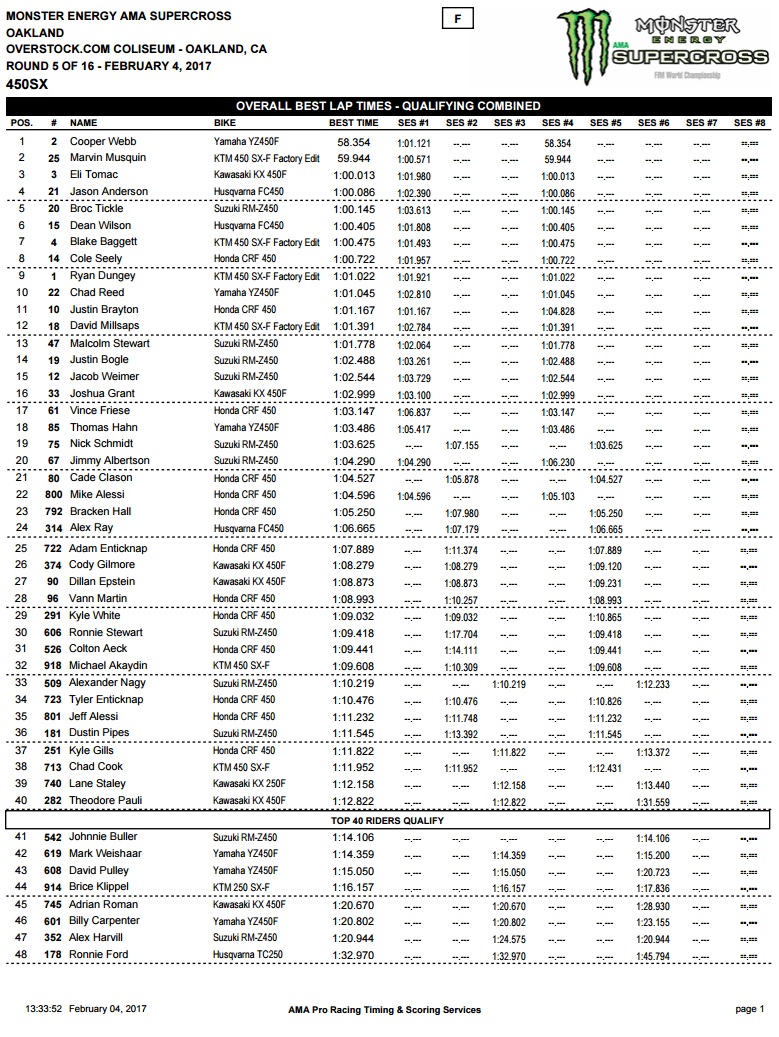 Qualifying – Session One
After walking the track we can say with certainty it's going to get nasty tonight. The dirt is soft and wet, and despite an incredible job by track workers, there's still more than a few mushy spot in turns and jump transitions. It also started drizzling as soon as track walk ended, which isn't going to make the track any better.
There are two main obstacles that could get tricky. First, a pair of long whoop sections—one is thirteen and the other is twelve. If it continues to drizzle they might get slick, but a single beat-down line could also develop like we've seen here in the past. We'll just have to wait and see how they hold up in the mains. They've already claimed quite a few riders in the initial qualifying sessions. The other tricky section consists of a pair of dragon's backs, which are basically short uphill whoop sections. A good portion of the guys seem to be struggling in them and they could be a separator later during the races. The track is already starting to develop ruts all over the place and things are going to be gnarly later in today's mains.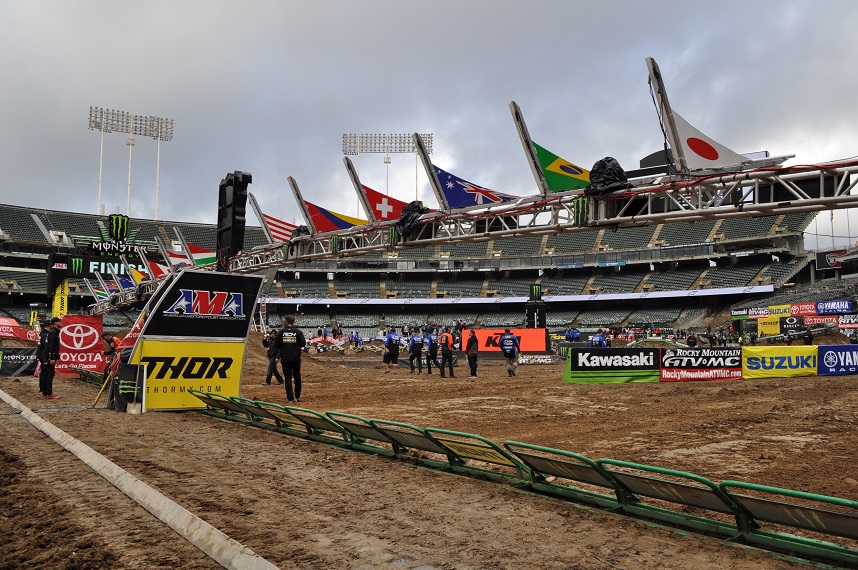 Not much action to report from the qualifiers themselves, which saw sporadic rain coming down. In 250SX guys like Martin Davalos, Justin Hill, Aaron Plessinger, Shane McElrath, and Jimmy Decotis all bounced around in the top five, with Davalos eventually setting the fastest time. In the 450SX qualifier Justin Brayton was fast the whole time, while a few of the bigger names seemed just a shade off. Eli Tomac looked like he had a couple hot laps ruined when other riders got in his way, and a mistake on the dragon's back on his final lap ruined his attempt to lay down a heater. The rain is still coming down, so times from the second session may not get any better.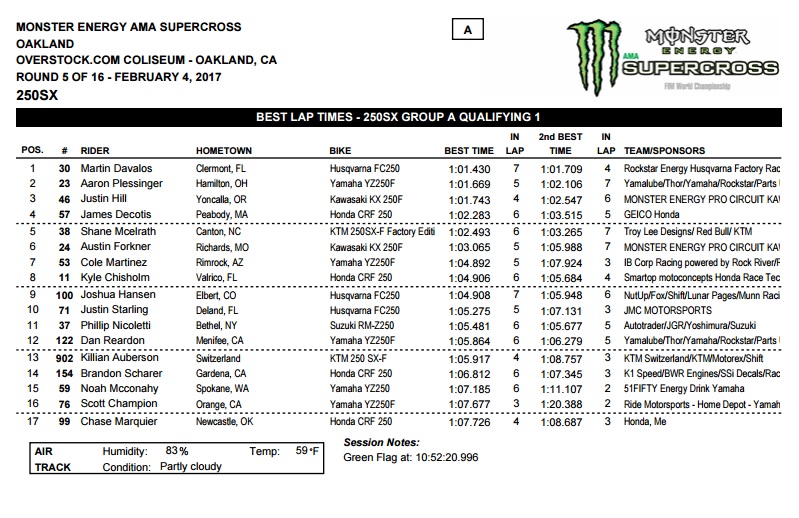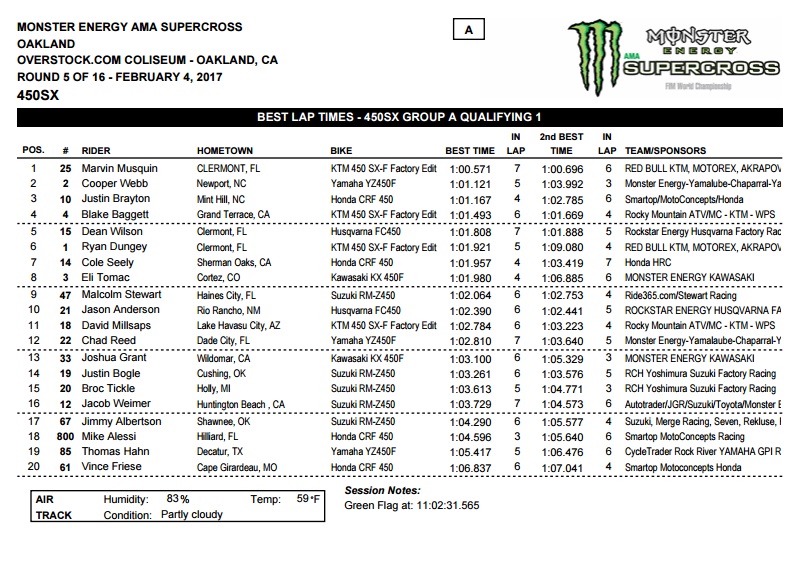 Morning Report
With track walk yet to happen, we haven't set foot on the stadium floor yet, but the view from the press box reveals what looks like the wettest dirt so far. Track crews are busy mixing in drying agents and trying to work the track into shape, but there's only so much you can do when you're in a region that's been hit with a ton of rain lately. And even without additional moisture the Oakland dirt is on the soft side anyway, which means tonight's track is probably going to deteriorate quickly and get downright nasty during the main events. The good news is the track isn't halfway flooded out like some of the local tracks here in Northern California, and since the rain isn't expected to come down any time soon, it should stay that way. [Update: lot long after this was posted rain started falling sporadically, and as of noon, hasn't stopped.]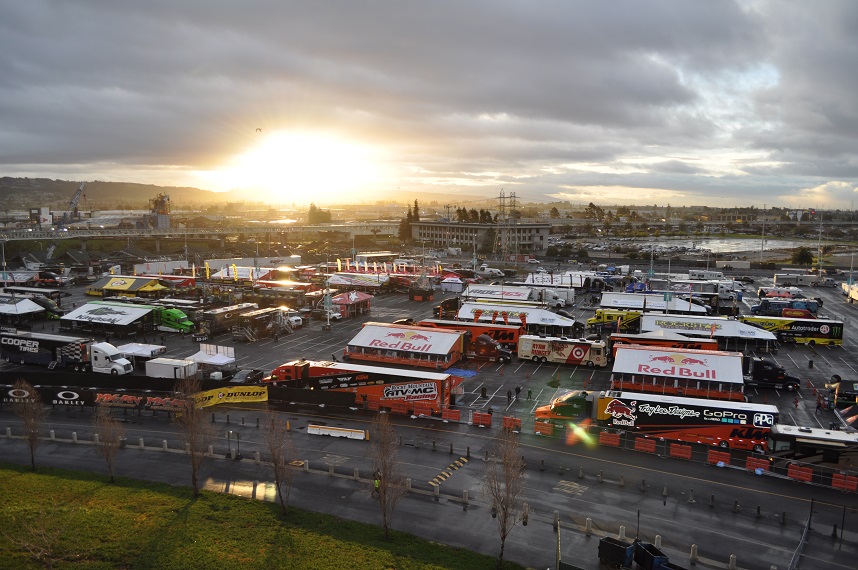 Of course, there's much more than just the weather to watch today. In the 250SX Class the obvious storyline is the ongoing battle between Shane McElrath and Justin Hill. McElrath leads Hill by just four points and the two each have a pair of wins. Will one of them take the advantage in the season's win count, or will another competitor like Aaron Plessinger, Martin Davalos, or Austin Forkner force their way into the winner's circle? One thing's certain, it won't be Jeremy Martin, who's sitting out today with a concussion after getting wrapped up with Tyler Bowers' motorcycle last week during practice when Bowers crashed and fractured his femur. Noah McConahy will be racing for the 51 Fifty team, who is also missing Hayden Mellross in addition to Bowers. On the plus side, Chris Alldredge is making his return from a broken collarbone today.
Tonight could be big for the 450SX Class. Eli Tomac, last week's winner, seems like he's solved the arm pump issues he was dealing with at the first three rounds, Chad Reed was incredibly fast last week, and Ryan Dungey will be looking to make his fifteen-point championship lead even bigger this afternoon. It's a big night for Dean Wilson too, who will make his debut with the Rockstar Energy Husqvarna Factory Racing Team. Wilson will be with the team all season, as Christophe Pourcel, who says he's still dealing with a neck injury, is sitting the rest of supercross out to get ready to race the Canadian Nationals for Rockstar Energy Husqvarna Factory Racing. Unfortunately Weston Peick won't be racing tonight after dislocating his wrist and lacerating his kidney last week in Glendale. For a complete look at who's in and who's out today, check out our weekly Injury Report.