O.co Coliseum
Oakland

,

CA
Oakland
Monster Energy AMA Supercross Championship
Welcome to Racerhead, and welcome to February, and welcome to Oakland, the future former home (again) of the Raiders. They appear to be headed for Las Vegas, although the deal took a weird turn earlier this week, just like Monster Energy AMA Supercross will when it wraps up in May. Between now and then we will see if anyone can catch Red Bull KTM's Ryan Dungey in points, whether Monster Energy Kawasaki's Eli Tomac can get on a role now that he's won again, and who will be the better Yamaha rider in the end, the rookie Cooper Webb or the never-surrender, never-count-out Chad Reed.
(Random thought: I think Chad and Cooper have the largest age disparity among teammates since John Dowd and Kevin Windham were riding Yamahas together, leading Windham to once joke to me something to the effect of, "If Dowdy were into girls as early I was, he could have been my dad!")
By May we will probably know if we're ever going to see James Stewart race again or not, and whether or not this will be the year that #47 finally wins, because Malcolm Stewart will likely be riding supercross-only… Unless he's going to Canada, too, along with Christophe Pourcel. (And I think #47 has won up in Canada before, because surely Ross "Rollerball" Pederson wore than number—and probably every other number—at least once.)
By May we will definitely know whether GEICO Honda's Jeremy Martin will ever rediscover his luck, because supercross has always been cruel to him, and this year is no different. Again. We may or may not hear about some new races, either here or abroad, and I will no doubt get more petitions and angry letters about the WMX, Loretta Lynn's class structure, the outdoor TV package, two-strokes, and an entire box van full of Matthes complaints/congrats/get-rid-of-hims. It all comes with the territory. The one thing that I am absolutely certain of that we won't know by May is just exactly what else will turn up in the Racer X Archives, discovered by the Racer X Scanning Mafia and soon to come to your computer, phone, tablet or whatever. Confused? Let me explain.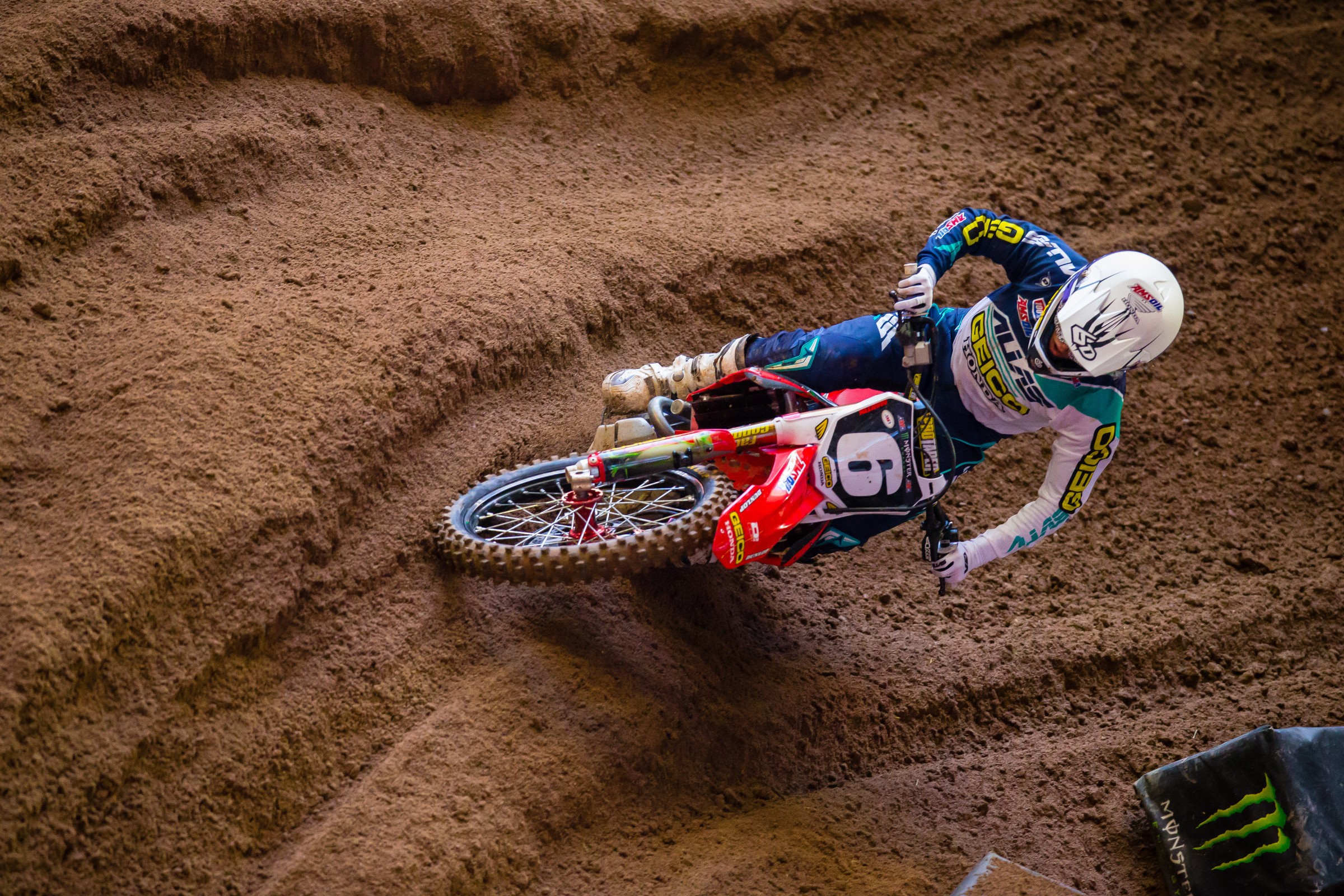 I've been lucky enough to live my whole life around motocross, and as I result I have collected a lot of motocross things along the way. Stickers, toys, posters, magazines, pit passes, vintage trophies—pretty much everything but jerseys (always hated asking a friend for a jersey). As I went from being a racer to a journalist, I also collected photographs, not just ones that I shot for myself but ones that would come along through contributors, friends who quit the sport and didn't want to keep their old files, businesses that shut down, whatever, wherever.
Maybe 15 years ago Scott Wallenberg asked me if I would be interested in buying former Motocross Action magazine editor Dick Miller's personal archives. Dick was getting older and had long been out of the sport. He worked for MXA from 1973 until maybe '82 and still had a bunch of his old photos, press kits, team media folders, old magazines and newspapers, owner's manuals, etc. He didn't want much money—just enough to buy a used Toyota Camry. I am not making this up.
When the boxes arrived here in West Virginia, we started going through them and found some real gems from Miller's days at the helm of MXA and later a contributor to other magazines. His coverage of races from all over the world—forgotten supercrosses, nationals, Grand Prix races, Trans-AMAs, Inter-Ams—it was like a gold mine of bench racing, from things that happened before I even heard of Heikki Mikkola or Roger DeCoster.
We weren't really sure what to do with it all, and over the years it's mostly sat in boxes in our old film room, where we keep all of the photo files that belonged to Simon Cudby, or stuff that I myself shot over the years, or Chris "Beav" Hultner when he worked here, or Jimmy T. Talkington, Eric Johnson, Bill Frehs, or amazing retired shooters like Steve French, who entrusted us with much of his work from the West Coast in the seventies, or Gary Van Voorhis of Cycle News fame, or Thom Veety of Action Photos, who covered every major East Coast and amateur for decades, or even the beautiful old slides from Scott Wallenberg's dad, Wally, who shot every race Scott rode in for many years. We even got a call from my dad's old friend Rick "Super Hunky" Sieman, who worked for many magazines between 1968 and '85, including Dirt Bike, Modern Cycle and Popular Cycling, and he heard I might want to add his old collection to the one here under our roof. Even famed Florida promoter Bill West hooked me up with his old office memorabilia!
But what do you do with a bunch of slides and prints in the digital world we now live in? What good is a photo of, say, Jaroslav Falta in 1974 until you can get it into someone's phone or computer? And who has time to scan in what have become literally hundreds of thousands of old slides, negatives, prints, film and stickers and post cards?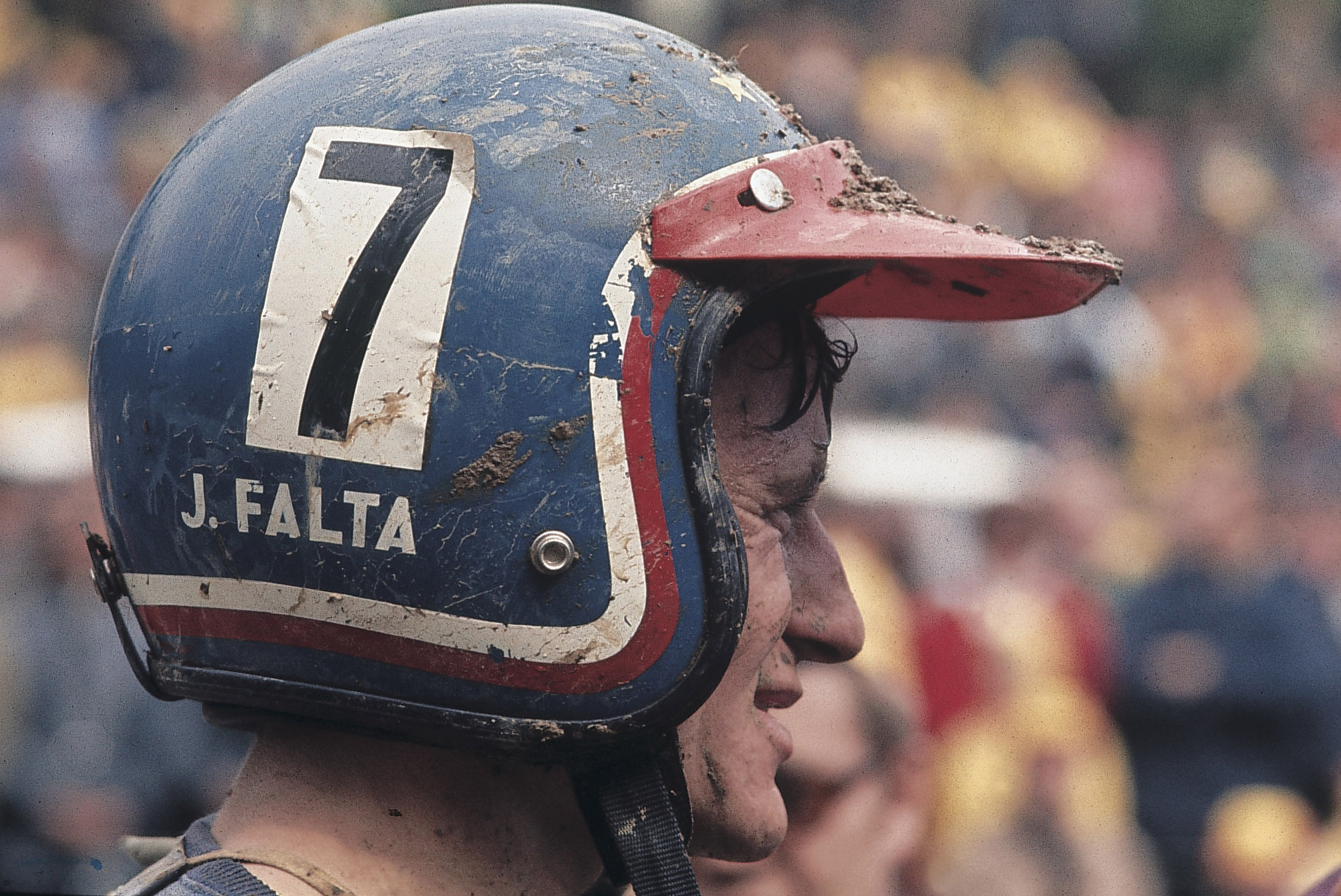 The answer came from my 14-year-old son Vance, who was looking to make a little money after school. He's a smart, hard-working kid, and though he doesn't race himself, he's grown up around the motocross business, and he loves the magazine side of things in particular. Is there anything I can do at the office, Dad? And what about my friends Nate and Jaxon—is there anything for them to do? One phone call and two Amazon clicks later, we had three new photo scanners on the way, and Vance now has himself his first small business: the Racer X Scanning Mafia. (He's 14, remember.) We set a room up with all of the equipment and turned the boys loose. They started on Simon's stuff, and some of my stuff, and pretty soon some of the other stuff… They have barely made a dent in the massive library we have here, and now that some of my fellow shooters like New England icon Paul Buckley and the very talented Michael "FTE" Stusiak have heard about this very inexpensive way to get their old slides scanned, Vance and friends are starting to take on other people's photos too.
So what does that mean to you? It means stayed tuned for a ton of random motocross history, both here online and in the magazine and on our social media, and to show just how cool some of this stuff is, here was today's comment from the RX Scanning Mafia bunker that really made me smile: "Dad, who is J. Falta? And I thought James Stewart was #7…"
They unearthed photos of the 1974 FIM 250cc World Championship battle between the Czech hero Jaroslav Falta and his Russian nemesis Gennady Moisseev haven't seen the light of day in who knows how long? We don't know who shot them, and we certainly won't be selling them if we don't know their genesis, but we'll share them here with you, thanks to those hard-working young ballers-in-the-making that currently call themselves the Racer X Scanning Mafia.
Now, back to the future.
WILSON, WHERE ARE YOU? (Castaway reference) (Steve Matthes)
I was sitting on a plane having just landed in Seattle for a story on what Ryan Villopoto is up to these days when I did what most people do on planes: I checked my Instagram account. In there was a direct message from someone I don't know that's in the orbit of the Rockstar Husqvarna team telling me that Dean Wilson was going to join the squad. That's it, no other details and not really anyone that I know well enough about to give them the benefit of the doubt that this was going to happen.
And to further complicate things, I had just talked to Wilson's agent, Tony Gardea, the day before about some other stuff and we touched on Dean going east with some Yamaha team and how he's got to make that happen. Gardea gave no hint of anything in the works.
Ok, hmmm, I need to see what's up. I text a person close to Dean and they actually confirm it and tell me that it's for SX and MX but whatever I do, don't attach them to the report. Ok, no problem there. I ask about what's happening with Christophe Pourcel but this person doesn't really answer that or doesn't know. I can't see the team running three riders so with Pourcel's sub-par results to start the year (only four races, though) I logically conclude that they're probably going to let the 377 go and pick up the 15. But I don't KNOW that. I text another person close to the team and they don't know anything about anything. So, feeling confident that my original source is good. I tweet out:
Dean Wilson to Rockstar Husky for SX & MX. Great to hear, he's used to the bike so should hit the ground running #sourcessay

— Steve Matthes (@pulpmx) February 1, 2017
Then I get off the plane, grab a rental car and head over to a hotel near Villopoto's house. The next day I wake up to texts from industry people and friends asking me about Wilson and what's happening, is the team adding a third rider, is Pourcel off the team, etc., etc. I still have to just hope that my two sources are correct and I stand by what I tweeted (and re-tweeted on Racer X Twitter) and no, I don't know if it's a two or three man team now.
I get a text from someone else that is close to the team saying that they're not happy with me that I put that out there. Too bad I reply, I'm doing my job. At this point there are some spy photos of Wilson on the Husqvarna at a local track to which I always shake my head. The teams in this sport, they don't do a great job of keeping things secret then get upset at the media for breaking things. So my tweet was a full TWELVE HOURS ahead of Wilson showing up on a Husky at a local Southern California track. Reminds me of when Justin Barcia was riding a factory Honda 450 at a public track as he was jumping ship out of the 250MX class and the GEICO bike and when I tweeted it, I was asked by Honda to pull it down (which I didn't). C'mon teams, you've got to be smarter than this.
Anyhow, back to the story… wait, someone texts and says that Michael Lindsey of Vital MX says that Wilson will now be staying on blue and that I'm wrong. I can't be bothered to source any of this out because I'm with Villopoto and James Lissimore making a video, taking photos, driving around the woods of the Pacific Northwest. I'm literally holding this flash box-thingee in front of Villopoto, a coffee and my phone that's buzzing over and over with texts. And one of RV's French Bulldogs is sniffing my flip-flop-equipped feet with his cold nose, no doubt smelling my dogs. This feels weird.
There could be something to this Lindsey report. I do know that when Yamaha gives you bikes and some support, you sign a contract that says they have the right to match any offer you get while riding for Yamaha. So if Rockstar Husky wants to put Dean in the truck, then there is a possibility that Yamaha could "match" that offer and put Wilson, a rider they had told they wanted for 450MX when Chad Reed's SX-only deal is up, in the factory Yamaha truck and match the pay. So while I didn't think that was going to happen, there was a possibility that Lindsey was right. Meanwhile, I'm sorting out photo shoots with Villopoto, going to his coffee hut and at one point holding one of his babies while he shows me his guns. Things were 100 percent weird at this point.
Someone who knows Pourcel says that he says he's still on the team but that's strange to me. And Wilson, no doubt his phone blowing up by now with texts and calls from people who saw my tweet, is posting photos of him on a Yamaha. Was I wrong? Did my two sources make mistakes? Oh wait, no time to worry about that because Villopoto and I need to talk about his racing career.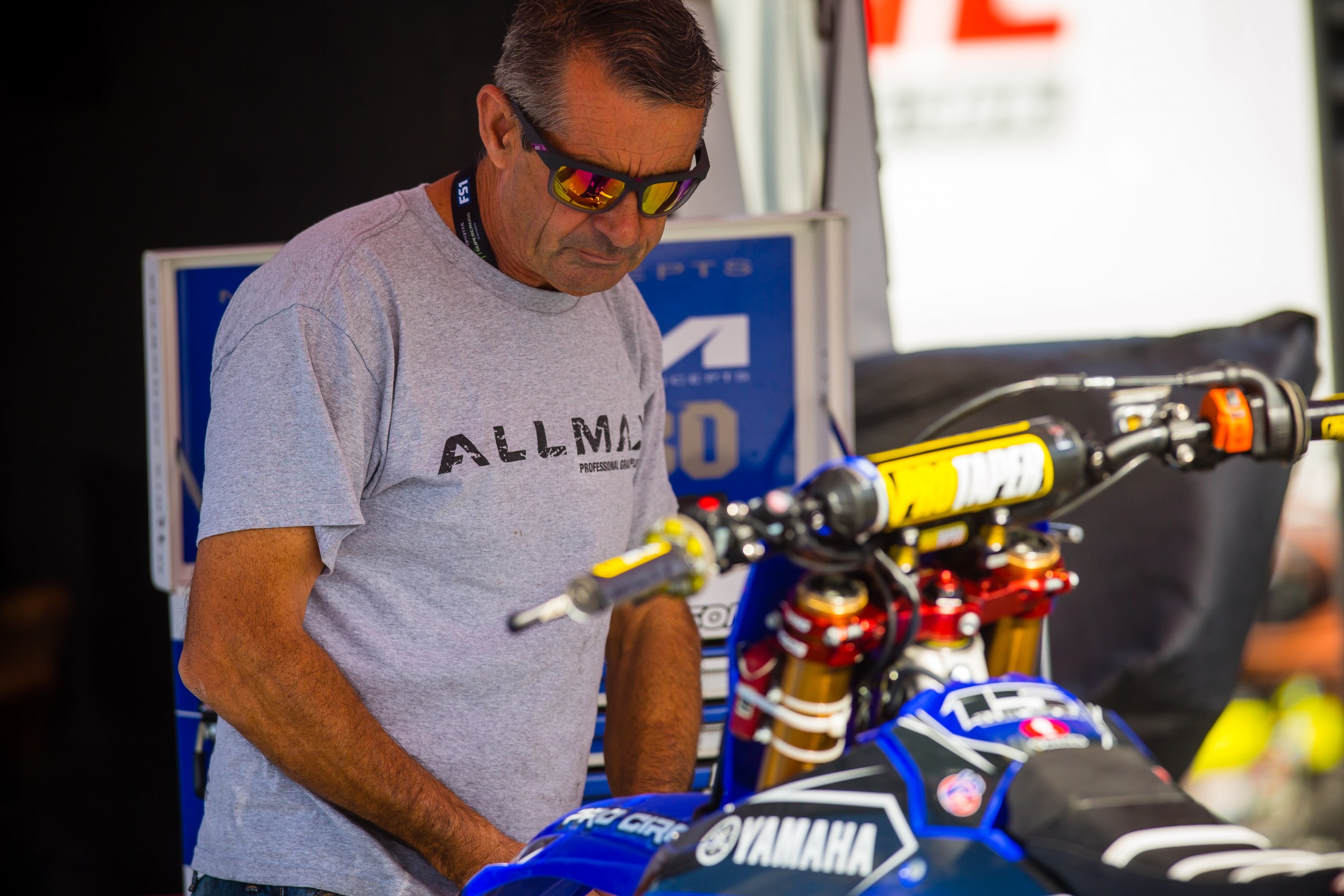 That was all day Wednesday and I flew home later that night landing at 1 a.m. in Las Vegas from an eventful outing. Yesterday I got it more sourced out that the deal was done, Wilson to Rockstar Husky and that Pourcel was off the team but still trying to race…something. EnduroCross was something kicked around, maybe some GNCC's and I felt good enough about all of this to talk about it my Thursday noon Fly Racing: Moto 60 Show with my guests.
And today (Friday) the official press release comes out: Wilson on the team for SX and MX and Pourcel to the Canadian Nationals this summer (which was never speculated on), where he'll go on his "You don't want me but you're paying me so I'll race something" tour of the north.
Things returned to normal in the supercross world and I pack up to fly today to Oakland. Wait, one last text this morning from Dean Wilson saying, "God damn you have sources though."
CP3 PO'D? OR JUST TIME FOR A CHANGE? (Jason Weigant)
The word was out pretty early this week that Dean Wilson was headed for Rockstar Energy Husqvarna. The story was broken by our own Steve Matthes on Tuesday night. Then everyone started wondering how other riders on that team might be impacted. If Rockstar Husky could find the room and budget to simply add Dean, well, they probably would have signed him before Anaheim 1. So, that led to the thinking that something else must be changing—maybe someone was getting cut to make room?
Jason Anderson has had his problems at the last two races but he's obviously not going to be let go. But what about Christophe Pourcel? CP has been struggling big time this year. He missed two mains, he was lapped in two others, and in qualifying we've seen him try his old tricks but not find the magic (or speed) that made him so incredible to watch in previous years, indoors and out. Something, clearly, is amiss there. Well, remember, Pourcel came to the U.S. full time in 2009 after a year in hell in 2008, missing an entire season after suffering major injuries at a GP, and even spending some time in a wheelchair. He's seen the dark side, and after breaking his neck last year, twice (once in supercross right after Daytona, and again at Washougal), he hasn't been the same rider.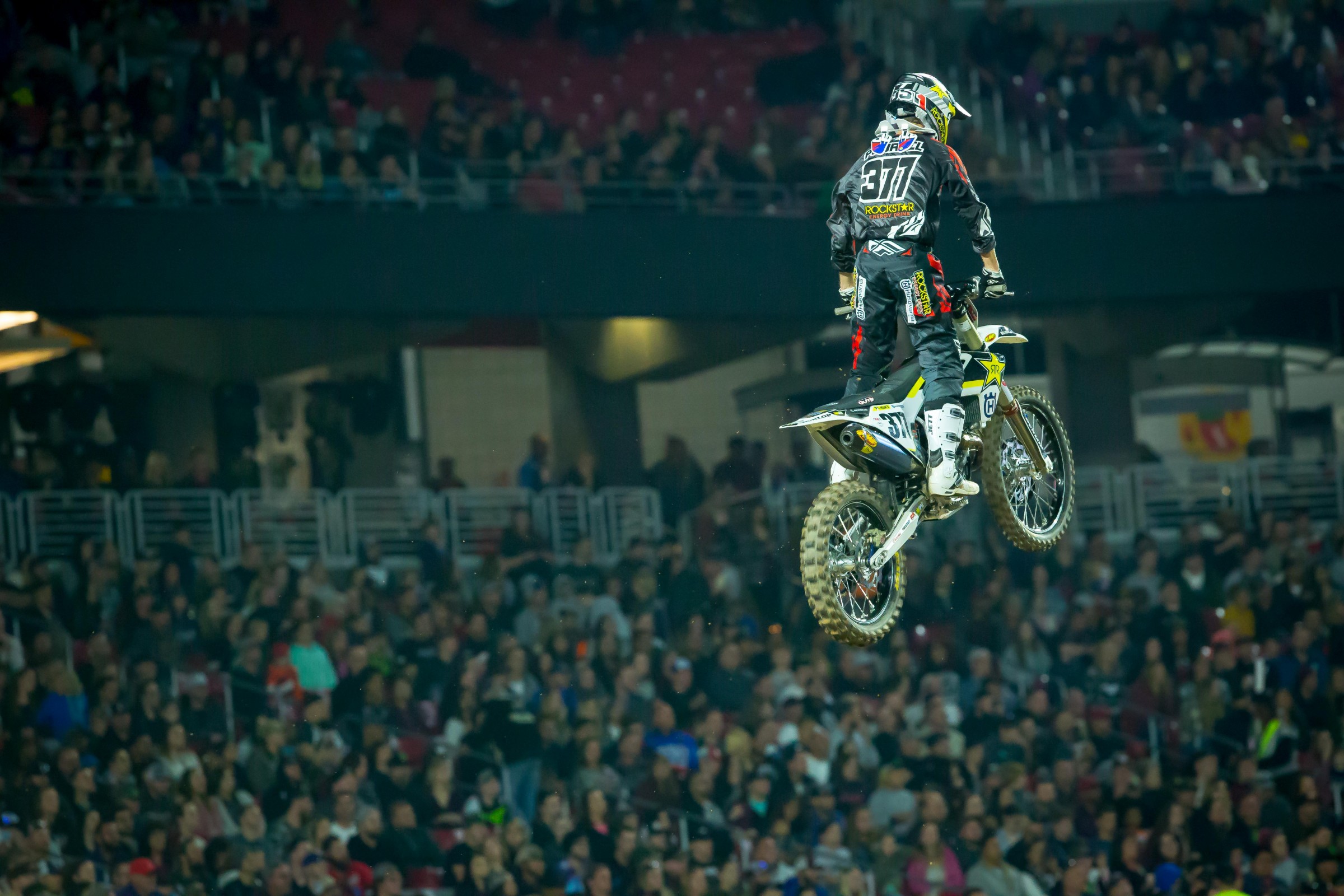 The good news is Rockstar Husky team owner Bobby Hewitt is one of the most loyal bosses in the pits, and since Pourcel had a contract through this season, the team looks to be finding a way to keep paying him. The Canadian Nationals make for a good fit, and now a factory Husqvarna team up there has been fast-tracked in order to give Pourcel a place to go. I've heard rumors of a few other places for him, possibly, too, maybe even EnduroCross. Pourcel has a contact and the team is going to do what it can to honor it, at least in some way. That's better than just straight cutting the guy (contracts never seem as binding as you think in this sport, for some reason).
As for Wilson, betting on himself for the last four weekends has paid off. I've spent a lot of time over in Dean's makeshift Yamaha pit this year while working on an upcoming story on him in Racer X Illustrated. It was both fun for Dean and his family to go back to old-school racing out of a van, but it was getting very stressful with the East Coast swing coming up. So, this weekend, pour one out for Dean's dad, Andy, who had been totally and completely busting his ass to keep Dean's bikes going the last few weeks. Now he gets to back off and step back up into the grandstands. If anyone has earned the right to party like a rockstar this weekend, it's Andy. Have at it!
More Surgeries for Roczen (Chase Stallo)
Ken Roczen underwent a fifth surgery this week, with another scheduled for today (Friday), according to an Instagram post on his personal page.
Roczen said that following his surgery on Friday, he'll return home for eight days before a final surgery "to fix everything up."
As we noted last week, Roczen is under the care of Dr. Randall Viola at The Steadman Clinic in Vail, Colorado. Dr. Viola, who specializes in hard, wrist and elbow injuries, is a team physician for the Men's U.S. Alpine Ski Team, and a medical consultant for the Denver Broncos.
"This obviously isn't the way I was hoping the supercross season would go, but I've accepted the challenge and am putting all of my effort into getting healthy again," said Roczen in a statement last week. "I want to thank everyone at The Steadman Clinic, and specifically Dr. Viola and 'Team Viola' for all the care. It's great knowing I have the best people possible helping me through this. The support from my fans and the industry on social media has been incredible too. I especially want to thank my team at Honda, which has truly become like a family, and of course my other partners who have been behind me 100 percent. I look forward to getting back to racing as soon as possible."
We will provide more updates as they are provided.
COPPER AND GREEN (Andras Hegyi)
It was a nice night to celebrate for Kawasaki in Arizona, which is the Copper State. Thanks to Eli Tomac, Monster Energy Kawasaki won in the 450 Class for the first time this season, and thanks to Monster Energy/Pro Circuit Kawasaki's Justin Hill, the brand has collected its second straight victory. Add the two wins together and Saturday night was the first time since 2014 that Kawasaki has been able to win both the 250 and 450 main events at the same round. The last time it happened in Las Vegas was in 2014, and it was actually THREE wins: Ryan Villopoto won in the 450 Class—his last AMA race and win ever, by the way—Dean Wilson won the 250 East Region main (he hasn't won since, but he is in the news today for good reason) and the same Justin Hill won the 250 East-West Shootout.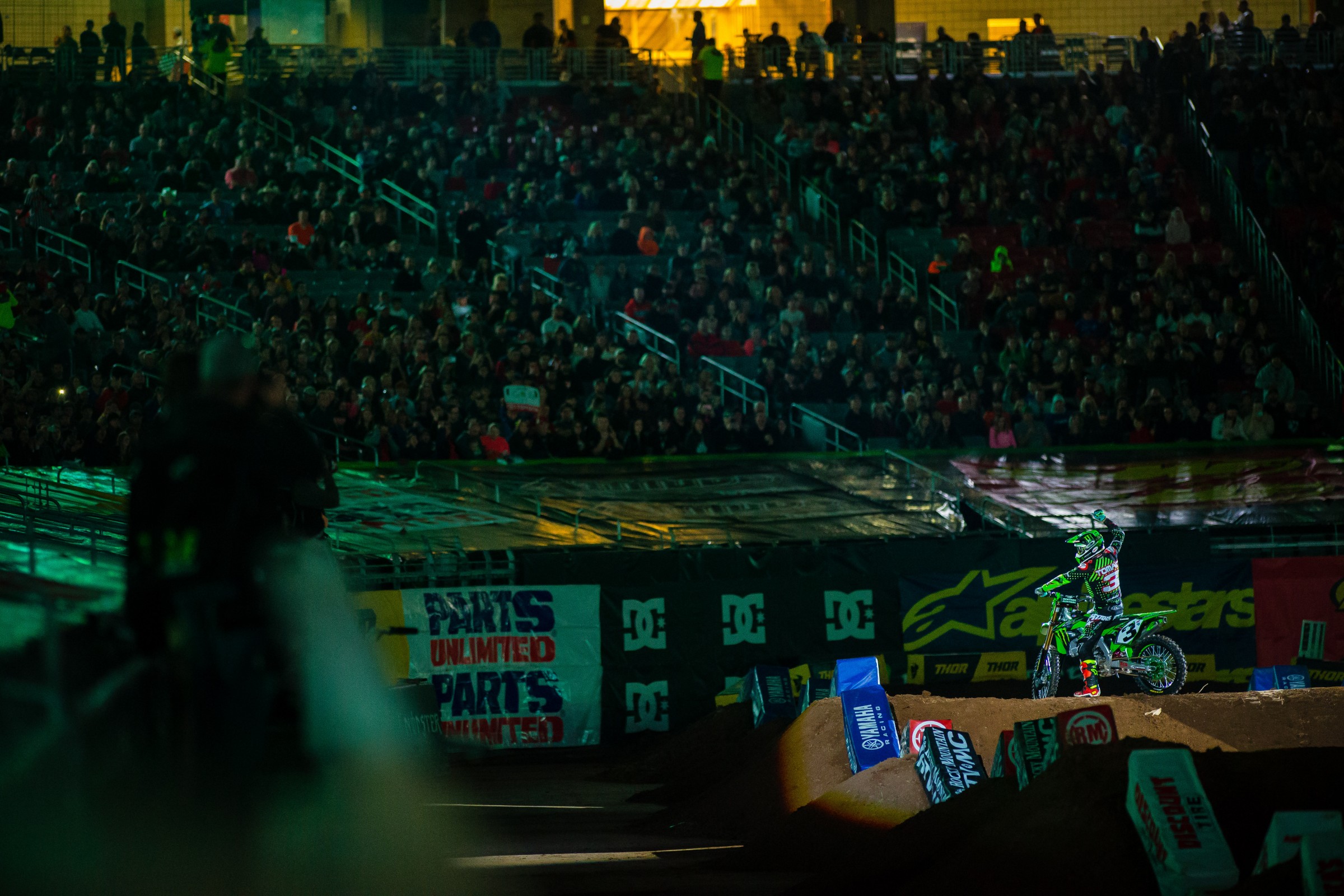 Kawasaki has taken double victories in Phoenix twice before, 2003 and 2007. In '03, Ezra Lusk won the 250 Class, while James Stewart was the 125 winner. In '07, James Stewart triumphed on the 450 and Christophe Pourcel did it on the 250.
Kawasaki could also celebrate a rookie in Phoenix. Austin Forkner, 19, got his first SX podium, finishing third in his fourth-ever race. The farm boy from Missouri became the 76th Kawasaki rider to get podium in small-bore supercross category since 1985. The Kawi rider with the most podiums is James Stewart, who recorded 21 podiums while with the brand, 18 of which were wins.
And here's more on Justin Hill. He's joined a long line of Kawasaki riders have been able to win at least two consecutive races. Hill is now the 16th Kawasaki rider to get at least two consecutive supercross wins in the class. Here are the Kawasaki riders with at least two consecutive SX main event victories in a 125/250 season:
Eastern Region:
Eddie Warren (1985)
Mickael Pichon (1996)
Ricky Carmichael (1998)
James Stewart (2004)
Grant Langston (2005)
Ben Townley (2007)
Ryan Villopoto (2008)
Christophe Pourcel (2009, '10)
Dean Wilson (2011)
Western Region:
Jeff Matiasevich (1988, '89)
Nathan Ramsey (1999)
Shae Bentley (2000)
James Stewart (2002, '03)
Ivan Tedesco (2004)
Ryan Villopoto (2007)
Jake Weimer (2009, '10)
Josh Hansen (2011)
Justin Hill (2016)
E-ROCZEN (DC)
If you haven't been following @kenroczen94 on Instagram, we strongly recommend you do. It's not for the squeamish—especially his post-op selfies of his mangled left arm, or descriptions of the doctors being forced to dig dirt out of his wounds. But he's also incredibly positive, open and just downright interesting, from visits by his longtime friend Andrew Short to the mundane pre-op moments where he and his girlfriend Courtney just wait things out in his Colorado hospital room. Roczen has a long road ahead of him, but it's obvious that he has absolutely no doubt in his mind that he will be back and he will be as good as ever. Roczen also posts some useful opinions and equipment suggestions like this:
Everyone that saw my crash saw that it was suuuper gnarly. I literally smashed head first into the next jump. We now have magnetic visors that can pop off on heavy impact rather than catch on the dirt and possibly twist your head. They are strong so that they don't pop of with just roost coming at you. I think it's time to shoutout the @foxheadinc @foxracing@motoxlab crew for protecting my head. I didn't hurt my head. I wasn't knocked out. I didn't even see stars. For that type of crash, I think that is remarkable. That helmet did more than it's job and I am absolutely blown away. Here's the bottom line: I think every rider deserves good head protection. I have seen in the past that riders settle for a pile of crap because they already struggle to make it to the races. They don't want to spend the few extra dollars and they get a shitty helmet. They think, 'welp, let's do it.... what ever it takes to go racing, right!? What could go wrong?' Until this happens. So please, helmet brands, please put in the extra little bit to protect rider's heads because this crash could have been it for me. How much is your head worth?
Get well soon Ken. Follow him at @kenroczen94.
Head-Scratching Headlines
"Dale Earnhardt Jr. says he's 'freakin' pumped' about return to racing" – ESPN.com
Hey, Watch It!
A 250SX East Region preview with the newest member of the Baker's Factory.
Alex Martin on his move to KTM, 2017, and more.
Random Notes
Around the Industry
Chris Jonnum is launching a brand-publishing shop specializing in content related to motorcycles, ATVs and side-by-sides. During his career in the powersports field, Jonnum has served in editorships with Road Racer X and Cycle News, as well as MotoGP press officer for Ducati Corse. Most recently he was the powersports director for Dispatch Communications.
"Everyone loves good storytelling, and powersports enthusiasts even invented their own word for it—bench racing," Jonnum said. "There's nothing I enjoy more than creating unique, relatable, strategic content programs, and I'm excited to enable powersports brands to effectively communicate their messages through multiple platforms."
For more information on Jonnum Media's experience and services, please visit www.jonnummedia.com.
---
Earlier this week we got an email from Kawasaki promoting a Pre-Race Party before the Minneapolis Supercross. This is your chance to rub elbows with the pros when they aren't locked into that race day zone. Here's the full PR from Kawi:
As we switch gears to the East Coast, Kawasaki is hosting a Pre-Race Party on Friday evening at Lakes & Legends Brewery Taproom a few blocks from the stadium. We will have Tomac, Grant, Savatgy, and Cianciarulo available for interviews and will hold an autograph session from 6:00-7:00pm. There will also be a food truck and a band starting at 9:00pm.
This event is open to the public. Below you will find the address and a link to our Facebook events page.
Facebook.com/events/
Lakesandlegends.com
368 Lasalle Ave
Minneapolis MN 55403
---
Eight-time world champion Tony Cairoli is switching to Answer for 2017. As is his Red Bull KTM teammate, Glenn Coldenhoff. Check out the video introducing the duo.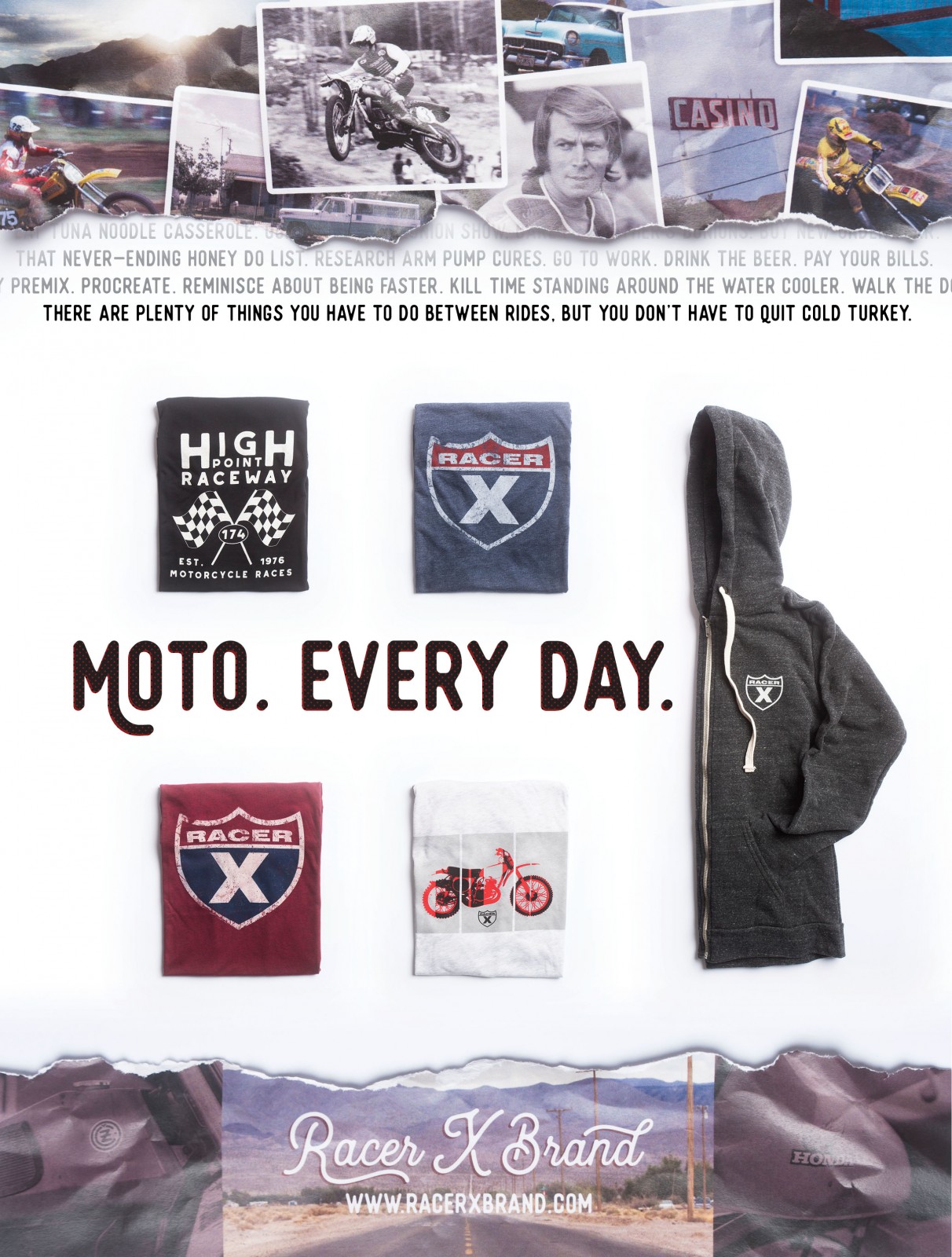 ---
Subscribe or renew for as low as $9.98 to get a one-year subscription, a FREE $25 Rocky Mountain ATV/MC gift card, and an extra issue. You're essentially getting paid to read your favorite motocross magazine!
---
For the latest from Canada, check out DMX Frid'Eh Update #5.
---
That's it for this week, thanks for reading Racerhead, see you at the races.