You want to know how much rain Southern California has gotten lately? It's so bad that the perennially water-stressed Golden State is saying their drought has actually been solved—at least in the northern part of the state. According to an LA Times article posted yesterday, a Florida-based meteorologist has calculated that an average of 3.5 inches of water fell across the state over the last 10 days.
Southern California isn't out of the red yet, but it has taken on a lot of rain lately, which is awesome for everything except supercross riders. This is a stressful time of year for riders and teams. Leading into Anaheim 1, the riders usually like to ride, ride, ride to get the jitters out and make absolutely sure they are ready. Then the races start, and everyone realizes where their bikes were wrong and they have to get back to the test tracks ASAP.
This makes the week after Anaheim 1 super critical. Guess what? It was the rainiest week of all.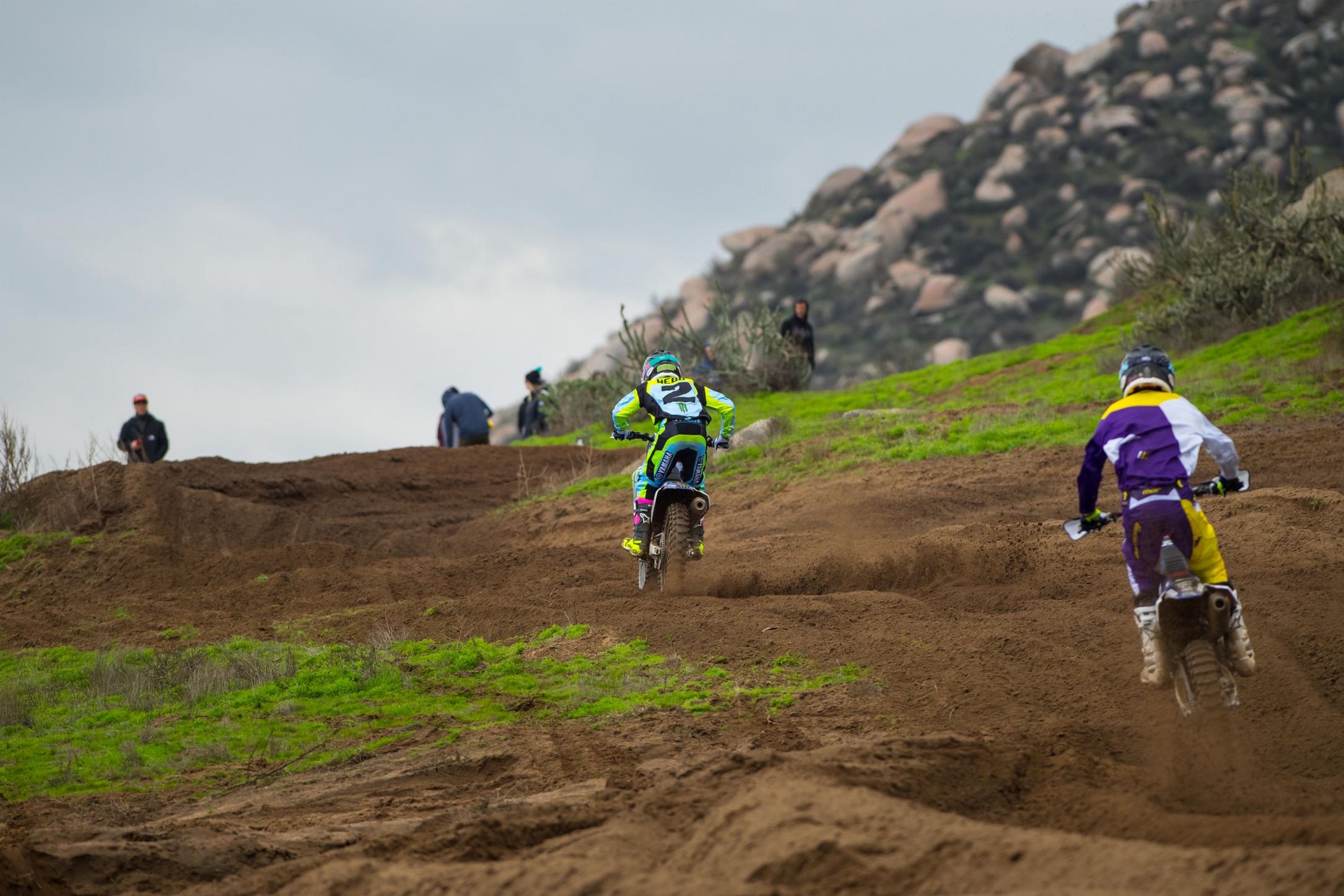 "Did you see the weather this week?" Jason Anderson said in the post-race press conference after San Diego. "We did a few mud motos. We were surprisingly able to do a little bit of riding this week at our test track, but it was kind of hard to change anything. We were just lucky to be able to ride. Other than that there wasn't much we could change. We were just like, if we had a window of an hour to ride, that's what we were doing. Then the rest of the time we'd either be riding the spinner inside, doing our little workouts or whatever."
A few riders hightailed it to the nearest dry ground, which was, incredibly, about six hours away in Arizona. Dean Wilson was out there on Monday. Honda HRC's Ken Roczen and Cole Seely rode there on Tuesday and Wednesday. Honda's Lars Lindstrom and Andrew Short (yup, Shorty!) drove out there with bikes, and Roczen and Seely flew out. How crazy that some random track in Arizona ended up with factory riders logging motos! Turns out Justin Brayton was the linchpin. He had some connections out there and let the riders know. Lindstrom told us the SX track out there wasn't quite up to Honda's pristine SX track standards, but that was good in its own way because a little bit of a beat up track is good practice from time to time. The good news for Honda was that Seely and Roczen didn't need to make huge bike changes after Anaheim, so the Arizona track served just for riding time, instead of testing.
By the way, Shorty has very quickly become an integral part of the Honda race outfit. He's implemented a team Impact Award that gets handed out every weekend to an employee. In San Diego, Lindstrom got it for handling the Arizona trip.
The rain finally backed off early this week, but it was expected to start last night and wash out any hopes of riding today and Friday. The good news is Saturday's forecast is good, and the track is already built and covered, so we shouldn't have a mudder. But the riders had to adjust riding schedules accordingly. We talked with Troy Lee Designs/Red Bull KTM team manager Tyler Keefe yesterday morning, and he said last week his guys got in a bit of SX riding on Tuesday, and otherwise it was just outdoor sand motos. This week, the normal Monday-Tuesday-Thursday riding schedule was changed to Monday-Tuesday-Wednesday, as no one expects to ride today and Friday.
There are three KTM/Husqvarna tracks in California, with the Red Bull KTM and Rockstar Husky tracks at the bottom of the hill, and a TLD track at the top. Keefe tells us the Husky track was in decent shape on Monday so all the riders did their motos there. That's not normally the case, but these last few weeks have led to some changes to make sure everyone gets some seat time.
***
Feld Motor Sports sent out their weekly SX notes package with stats for Anaheim 2, and one jumped out to us: this will be the 70th Anaheim supercross. [Ed note: They don't count the 1975 American Motocross Finals, which was not an AMA race.] Why is that crazy? Because we recently tallied up Chad Reed's Anaheim numbers and realized this will be his 41st Anaheim supercross. Yes, by Saturday night, Reed will have raced in 41 of the 70 total Anaheim supercrosses!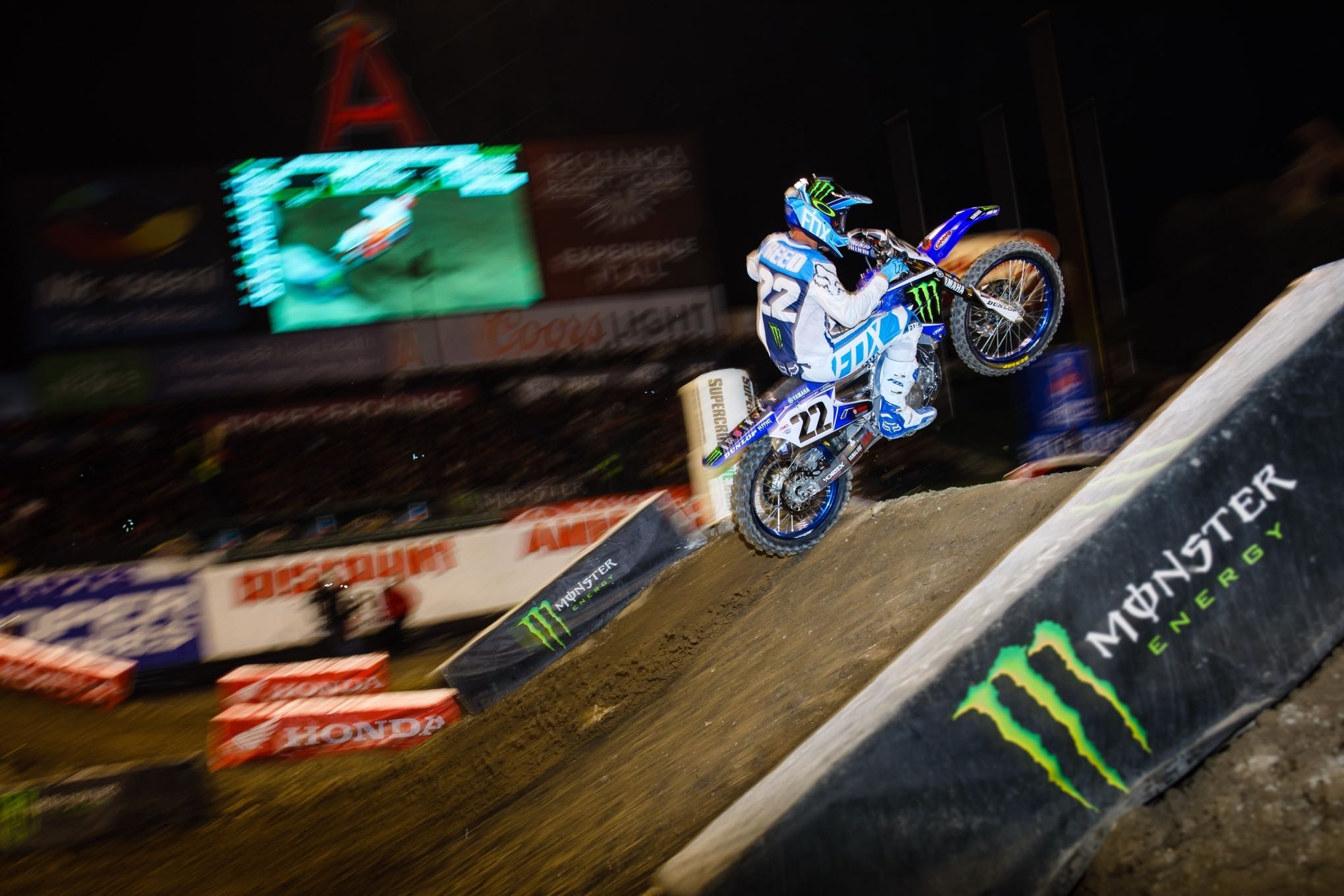 It seems impossible, but he's had fortunate timing. Anaheim began hosting multiple supercrosses in 1999, and Reed started racing there in 2002. So he's only raced during the multi-Anaheim years, and he's also rarely missed one. The only Anaheims we can remember Reed missing were A2 and A3 in 2010, when he was out with a broken hand incurred at round two in Phoenix. Otherwise, he's always there. He also has eight Anaheim wins, and will once again go for the gold this weekend to try to get the all-time Anaheim win record. Right now he's tied with eight, the same career total for Jeremy McGrath, Ricky Carmichael, and James Stewart. That's a pretty fitting Anaheim all-time group, isn't it?