PETCO Park
San Diego

,

CA
San Diego
Monster Energy AMA Supercross Championship
The second round of the 2017 Monster Energy Supercross Championship took place in San Diego on Saturday, and after dominating the 450SX action last week in Anaheim, Ken Roczen had to have been anxious to get back to business in Petco Park. Same goes for Shane McElrath, who kicked off the 250SX Western Region by taking the first win of his career. And with a very competitive field looking forward to exacting some revenge after last week's stinging defeats,the ingredients were there for an epic night of racing. To see how it all played out, start at the bottom of this page and work your way up. If you prefer to jump straight to the main events, they're directly below.
450SX Main
Ryan Dungey rocketed out of the gate to take the early lead in this one. Marvin Musquin was close behind, but nearly looped out in a rhythm section right away. He somehow saved it but ended up jumping off the track. Ken Roczen, who'd inherited second, tried to put a move on Dungey for the lead less than a lap in but Dungey fought him off and Roczen ended up having to roll the triple, which gave Dungey some breathing room. About six minutes later Roczen was all over Dungey again and eventually made a move stick. It looked like Roczen might just take off with the lead at that point, but Dungey wasn't about to let that happen. The Red Bull KTM rider hung around, never letting Roczen make a break for it, and with a few minutes left he was in a position to retake the lead if Roczen made even a slight mistake.
With two laps left Dungey was about a bike length off Roczen's rear wheel and the crowd started getting loud, wanting Dungey to make something happen. He nearly did too, pulling alongside Roczen in a turn, but then one small mistake in a turn right before a rhythm lane with about half a lap to go put an end to Dungey's charge. Roczen held on for his second win of the season. Elsewhere Eli Tomac got a mediocre start but made a couple moves before fading slightly for the second race in a row. He ended up in sixth. Marvin Musquin rode to a lonely third, followed by Jason Anderson and Cole Seely, who passed Tomac back after Tomac started to fade. Weston Peick took seventh, but nearly zapped Tomac at the very end for sixth.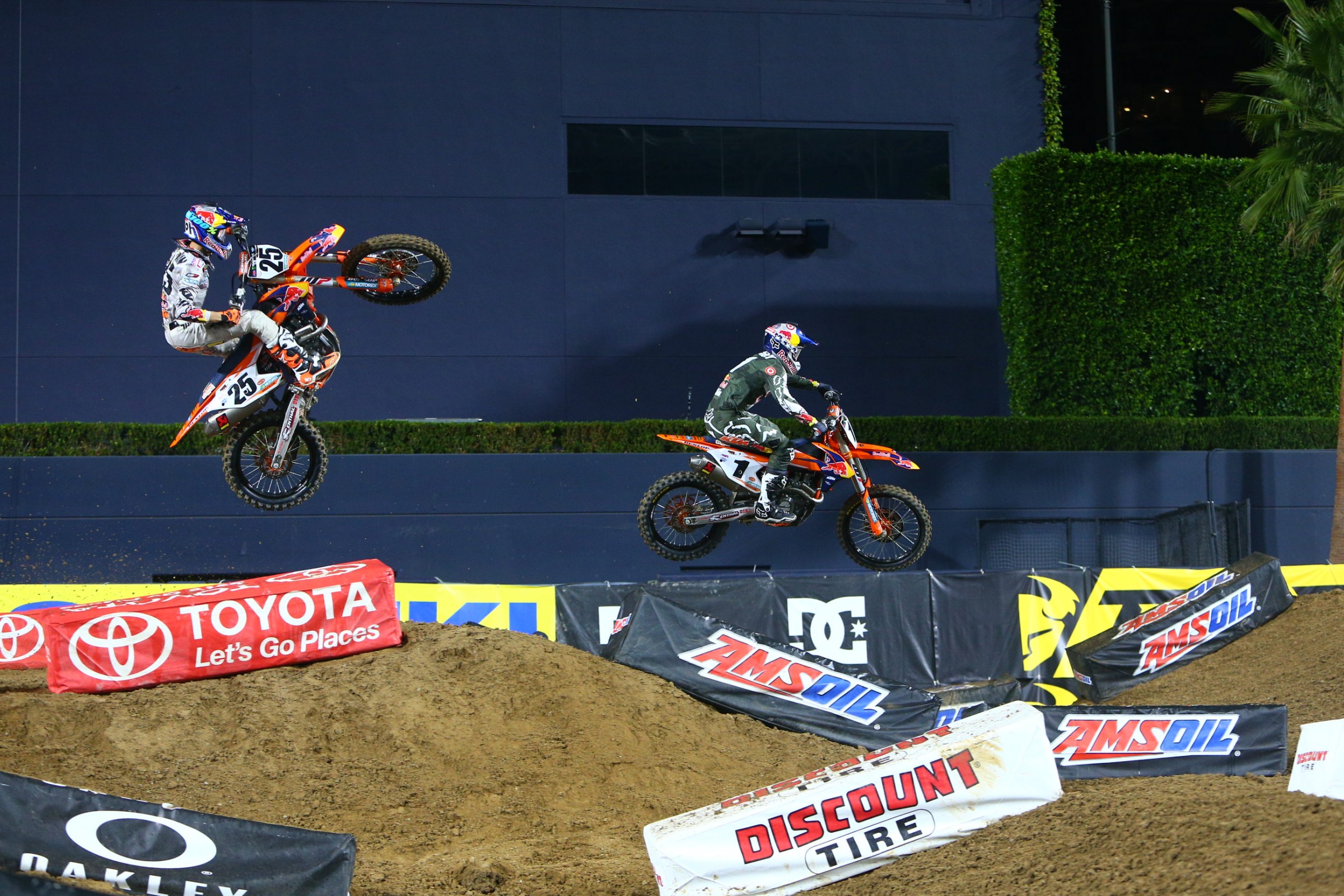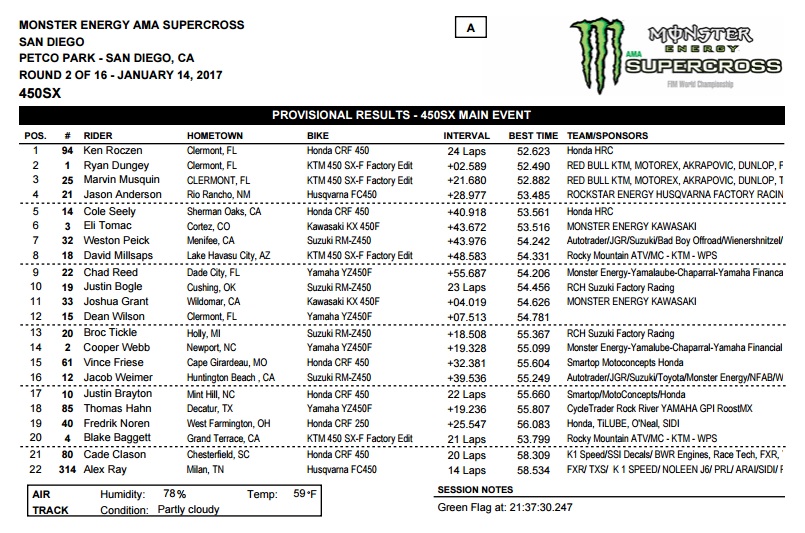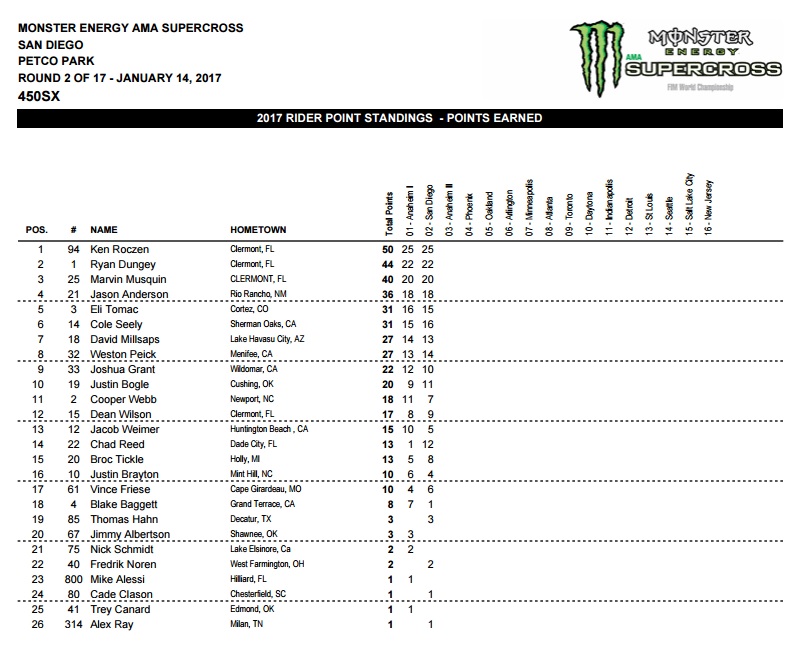 250SX Main
A wild first lap kicked off what ended up being a great race. Jimmy Decotis nailed the holeshot and started taking off while Jeremy Martin and Josh Hansen found themselves stuck in the gate. Shane McElrath put a block pass on Austin Forkner, but in the next turn Forkner punted McElrath off the track. McElrath didn't crash though and put his head down and started charging. At about the halfway point Martin Davalos had closed on Decotis and was about to put a move on him when he bobbled, giving Decotis more breathing room. That allowed McElrath to close on Davalos, and it wasn't long before both of them had caught and passed Jimmy Decotis, who in turn ended up fading back to sixth.
Davalos continued to lead, but McElrath was all over him. Several times it looked like he had the pass made but Davalos fought hard and maintained the lead. Finally, nearing the end of the race, McElrath was able to pull the trigger for good. But then, out of nowhere came Justin Hill, who'd worked his way up after getting a mediocre start. He was flying and with one lap to go was nearly on McElrath's rear wheel. Hill closed the distance and with half a lap left was tantalizingly close to McElrath, but Hill just ran out of time, losing to McElrath by 0.387 of a second. Aaron Plessinger did well too, setting the fastest lap of the race and making his way up to third after a so-so start. Davalos, after leading, took fourth.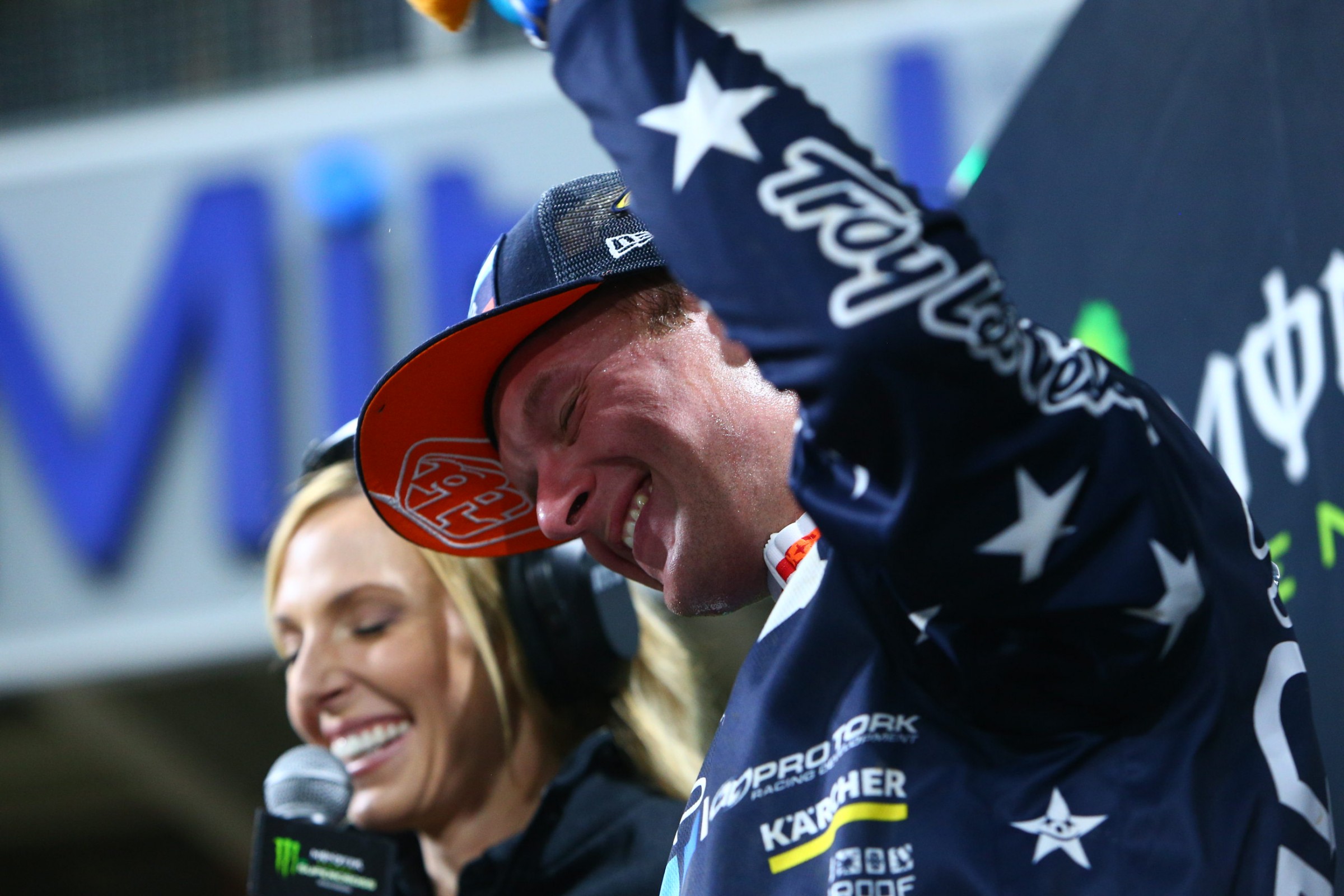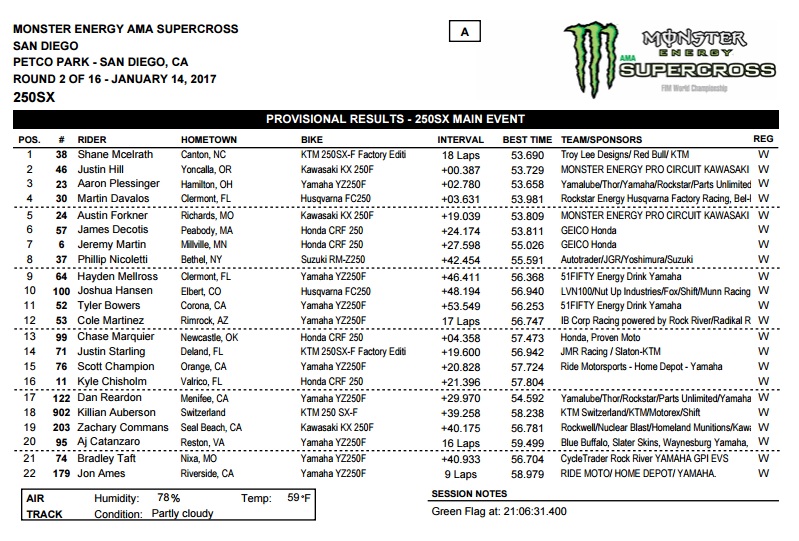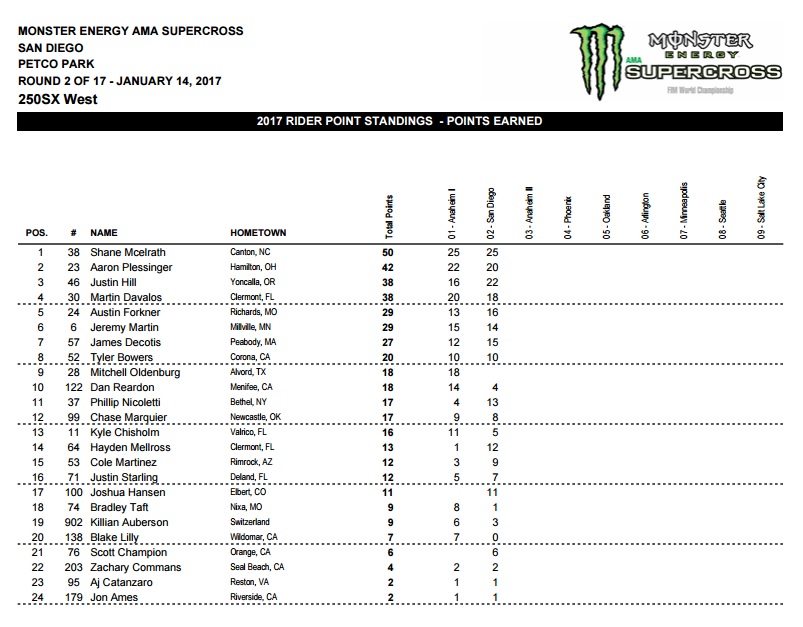 450SX Last Chance Qualifier
Alex Ray did what he needed to do to get into the main by nailing the holeshot and pulling a disappearing act. Fredrik Noren worked up to second, while Tommy Hahn, who started outside of a qualifying spot, worked into third to go to the main. Cade Clason passed Tyler Enticknap for the final transfer spot on the last lap. Heartbreak for Enticknap, who spent a good portion of the race in second. Ray, Noren, Hahn, and Clason all headed to the main. Elsewhere there was plenty of banging around going on. Dakota Tedder punted Ronnie Stewart off the track but it didn't matter as both weren't in a position to transfer. Even further back Bracken Hall absolutely and deliberately nailed Adam Enticknap. Hall went down though, while Enticknap went off the track but kept riding.
450SX Semi Two
Cole Seely kicked off the second 450SX semi with a holeshot and that was the end of the battle for the lead. Seely took off and was never under any pressure from anyone. Behind him the transfer spots sorted out pretty quickly and the guys in them got pretty spread out. Seely, Weston Peick, Dean Wilson, Justin Brayton, and Vince Friese all cruised to the main.
450SX Semi One
Cooper Webb flashed out of the gate first but Davi Millsaps wasted no time in taking the lead away. A few laps alter Josh Grant caught up to Webb and started trying to find a way around, which he did after about a lap-and-a-half. At about the same time Blake Baggett went around Jake Weimer for fourth, but Weimer still had a huge gap over sixth place and was never in any danger of not qualifying. Millsaps, Grant, Webb, Baggett, and Weimer all earned a trip to the 450SX main.
250SX Last Chance Qualifier
Zac Commans took the early lead in this one but Justin Starling moved past about a lap in. Colton Aeck and Ryan Surratt ran third and fourth, but Scott Champion displaced both of them, with Cole Martinez following suit. Champion went after Commans on the last lap but ran out of time. Starling, Commans, Champion, and Martinez all filled the final 250SX transfer positions of the night.
450SX Heat Two
Ken Roczen took over right away and that was that. The Honda rider gapped Ryan Dungey in second and rode off for an unchallenged win. Cooper Webb was running third early but ended up fading back to eighth. Roczen, Dungey, Marvin Musquin, and Chad Reed all transferred to the main.
450SX Heat One
The action started before anyone even secured the holeshot in this one—twenty feet out of the gate Blake Baggett looped out all by himself and crashed hard. It looked nasty, but credit to Baggett for getting back up and rejoining the race, despite having no chance at working up to a transfer spot. Up front Tomac was leading but Jason Anderson only waited a few turns before taking the lead away. Tomac stayed close though and took the lead back before the triple. He started gapping Anderson but on the last lap Anderson caught back up and started putting the screws to Tomac. For some reason, despite the heavy pressure, Tomac kept going wide in the turns and leaving the door open. Predictably, Anderson took advantage and was eventually able to make a move stick. Elsewhere Christophe Pourcel crashed while running third and buried his handlebar in the dirt, trapping his glove in the process. Anderson, Tomac, Broc Tickle, and Justin Bogle all transferred to the main.
250SX Heat Two
Great action in this one. Austin Forkner nailed the holeshot but it didn't take long for Justin Hill to pass into the lead. Forkner tried to challenge back, but Hill, who qualified fastest today, had the edge and rode off with the win. Jeremy Martin, meanwhile, had caught up to Forkner and was putting all kinds of pressure on him. Forkner withstood the onslaught for a few laps but Martin finally made a pass stick. But a few turns later Forkner came right back and passed Martin! Martin stayed close and made another pass in the last turn of the last lap as the two navigated around a lapper for a thrilling finish. Hill, Martin, Forkner, Jimmy Decotis, Tyler Bowers, Dan Reardon, Phil Nicoletti, Chase Marquier, and Killian Auberson all transferred to the main.
250SX Heat One
Shane McElrath got the racing going by streaking to a holeshot. Martin Davalos passed him momentarily but bobbled and McElrath went back by and rode to an unchallenged win. Davalos regrouped and worked his way back up to second. Behind him Josh Hansen and Hayden Mellross were battling pretty hard for several laps until Hansen ran Mellross wide and into some Tuff Blocks. Mellross went down but was able to remount and get going without dropping out of transfer position. Transfer spots went to McElrath, Davalos, Aaron Plessinger, Hansen, Bradley Taft, Hayden Mellross, AJ Catanzaro, Kyle Chisholm, and Jon Ames.
Qualifying - Session Two
After recording the fastest time in the first qualifier, Justin Hill came out and started carving out fast times right away in the second. Shane McElrath was fast too, though, and refused to let Hill's times stand for very long. The two spent most of the session going back and forth, each consistently beating the other's time, sometimes by just a few hundredths. The music had to stop at some point though and when it did Hill was the one who was sitting on top. Jeremy Martin crashed big and went over a berm (in the same place Mitch Oldenburg broke his collarbone in the first qualifier) in this one and took a few moments to collect himself. Fortunately he was able to remount and get back on the track. To see the crash, go here.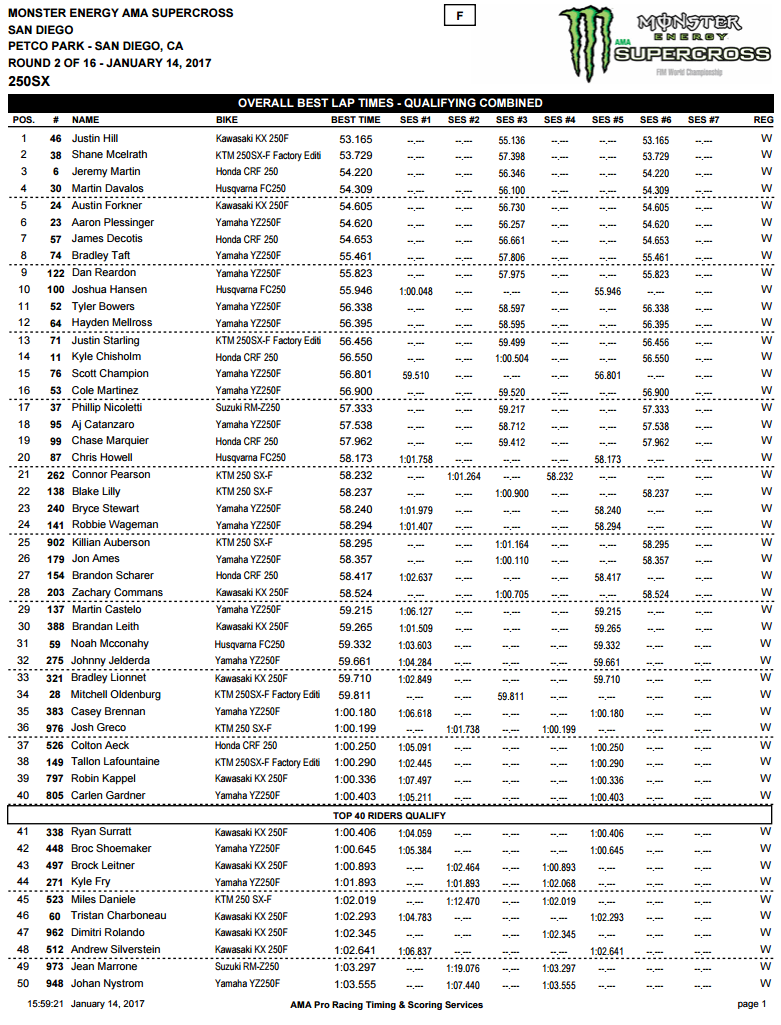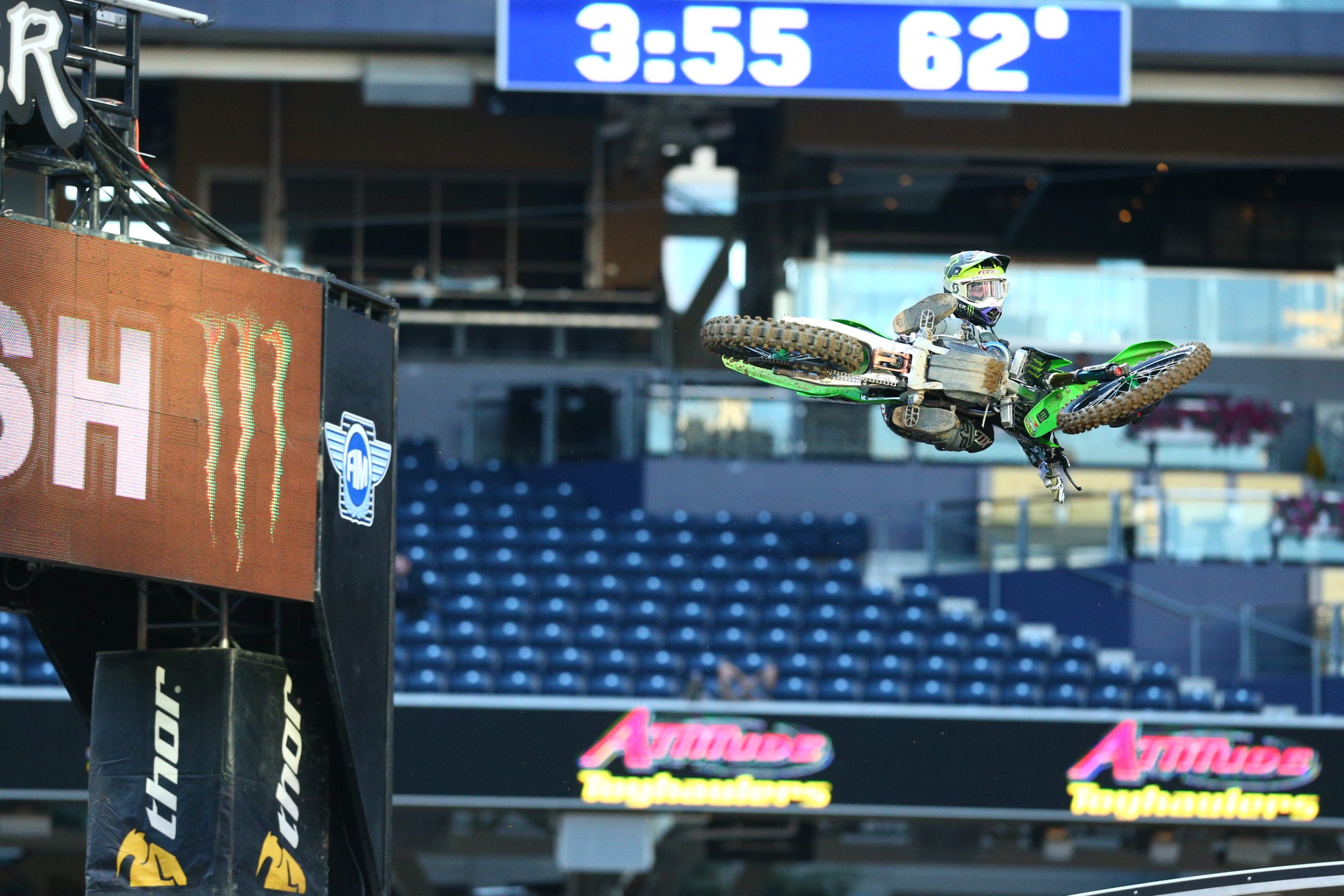 In 450 action a red flag came out early after Jimmy Albertson took a hard digger into a berm. It was the same spot where Martin and Oldenburg crashed, prompting the track crew to reshape the landing of the jump before the berm. Albertson was down for a few moments but was eventually able sit up and walk under his own power to the Alpinestars Medical Mule. When action resumed Jason Anderson was fastest. He even lowered his own time a few laps later, but then Ryan Dungey came out of nowhere to log the fastest time. Anderson retaliated by taking the spot back shortly after, but Dungey snuck one in at the very end to be fastest by about two tenths of a second.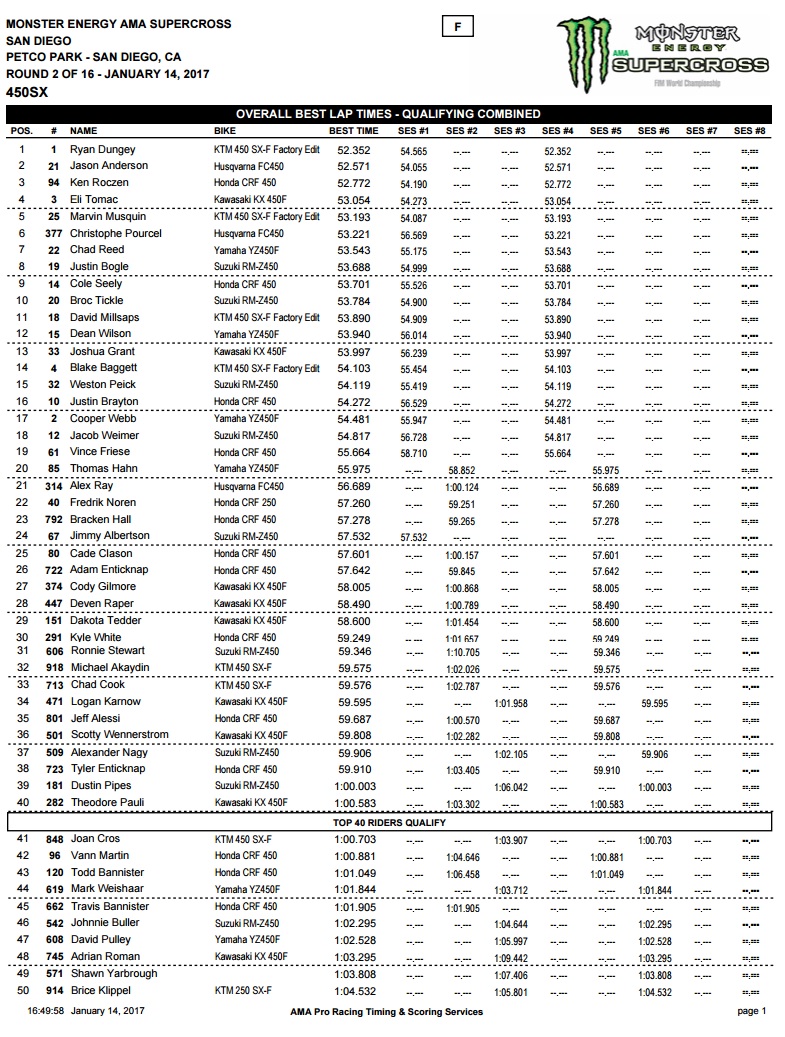 Update From Qualifying
Unfortunately Mitch Oldenburg went down early in his first qualifier and broke his collarbone. He will not be racing tonight. Bummer for Oldenburg and the Troy Lee Designs/Red Bull/KTM team, as Oldenburg rode strong last week and finished fourth.
Qualifying – Session One
After walking today's track we can conclude the riders will definitely start the afternoon on a track that has more moisture in it than last year. It's not sopping wet in many places, and there are sections that seemed completely dry, but there are areas that are pretty muddy too, especially between some of the jumps. Some of the turns are pretty wet too and some ruts are starting to develop in places.
The track is more technical than last week, and the whoops are much larger. The set consists of nine individual whoops, and the size of them seemed to get a lot of attention during track walk, although most of the guys seemed to get through them pretty well once qualifying started.
Speaking of qualifying, the first 250SX A qualifier wasn't underway for long before Mitchell Oldenburg took a tumble and prompted a red flag. He ended up leaving the stadium in the Alpinestars Medical Mule but was sitting up under his own power on the way out. We'll try to get an update on that situation as soon as possible. When the session restarted we got to see what might be a preview of tonight's main when Shane McElrath dropped in behind Aaron Plessinger and started chasing him around. Soon Jeremy Martin settled in behind them and the three proceeded to rip around the track for about a lap and a half. McElrath backed off after the trio set the three fastest times, only to see Davalos knock them all down a peg. Plessinger responded by setting another fastest time, but shortly after Justin Hill busted out a time nobody could beat. He looked like he was having fun out there too, throwing the occasional whip. Afterward he said he was feeling pretty comfortable and liked the technical layout and conditions.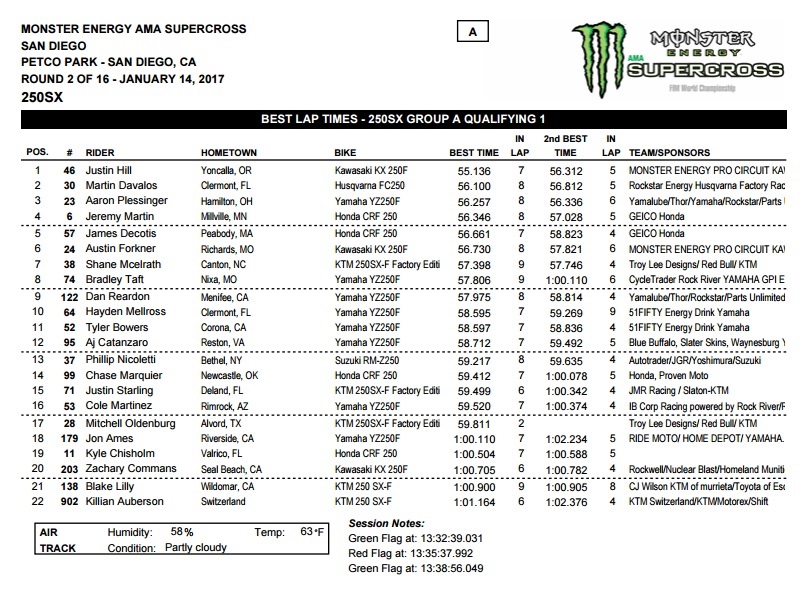 When the 450s rolled out Weston Peick's name was one of the first to shoot to the top of the board, but Marvin Musquin took over the top spot quickly. After that Ken Roczen and Musquin traded the fastest time back and forth, but it was Jason Anderson who threw down a heater toward the end to be fastest in this qualifier. Mike Alessi, who cased a triple in the worst kind of way during last week's main, wasn't in qualifying and will sit round two out.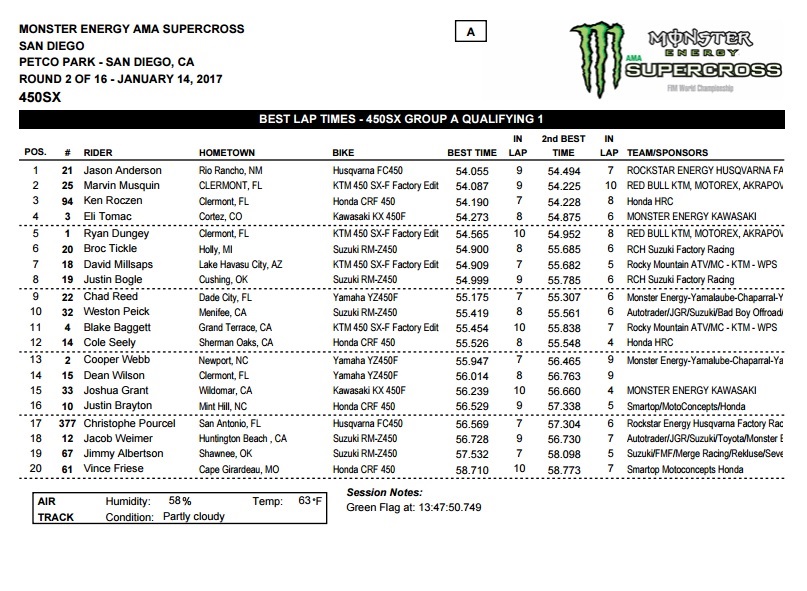 Morning Report
The first bit of news this morning is the delayed schedule. Southern California has had a fair amount of rain over the week (so much that many of the riders headed out of state to places like New Mexico to practice during the week) and track workers needed additional time to work a fairly wet track into a premium racing surface. The extra time will come at the expense of the untimed practice sessions, meaning riders will head straight into qualifying just like last week. It's not ideal, but these guys are pros and the lack of a short practice session shouldn't pose a huge problem. The good news is the sun is shining and no more rain is expected for the rest of the day. From the press box the track does look a little wetter than last week, but Roczen, who was just in the press box, seemed confident the track would work in.
In other news, today is Military Appreciation Day, and many of the teams and riders will be donating items and gear used in tonight's race to be auctioned off, with proceeds going to the USO (United Service Organizations). There's also going to be a military holeshot challenge, where riders from different branches of the military will compete during tonight's main event. The bikes they'll be riding have been donated by the factories and will also be auctioned off.
Track walk is scheduled to begin shortly so check back soon for an update after we're able to set foot on tonight's dirt.