PETCO Park
San Diego

,

CA
San Diego
Monster Energy AMA Supercross Championship
Welcome to Racerhead, and Ken Roczen's Week. Well, maybe not officially his week, but it sure seems like it. Ever since he rolled up to the Anaheim press conference in that sports car looking sharper than any NBA baller, he's been on quite a run. Of course he won the Anaheim SX opener from start to finish, giving Team Honda its first Monster Energy AMA Supercross points lead since Ricky Carmichael in 2003—and in emphatic style, leaving absolutely no doubt that he was ready for 2017. Roczen's weekend win was followed by the Tuesday drop of that extraordinary homage to Jeremy McGrath's famous Terrafirma 2 waltz around Castillo Ranch back in the mid-nineties, during the heyday of Honda's supercross reign. The fact that the play-riding video was shot just after Christmas, less than a fortnight before the Anaheim opener, on a 20-year-old two-stroke that Honda won't make anymore, is another signal that Roczen's doing things his own way.
From the beginning, there have been murmurs that Kenny's independent lifestyle would clash with Honda's button-down corporate ways, but that's clearly not the case—he wouldn't be wearing black-and-yellow riding gear if Honda had their say. He's bucked the system ever since last summer, bowing out of significant events like the Motocross of Nations and not-so-significant-but-seemingly-mandatory events like Red Bull Straight Rhythm, choosing instead to "ball harder" than everyone else. He found himself in a few Twitter wars, Trump-style, over everything from Audis to Aldon, and yet he showed up Saturday night with laser focus on the task at hand, won the race, dropped the mic, and drove off. It was an awesome display of showmanship, race craft, and sheer confidence.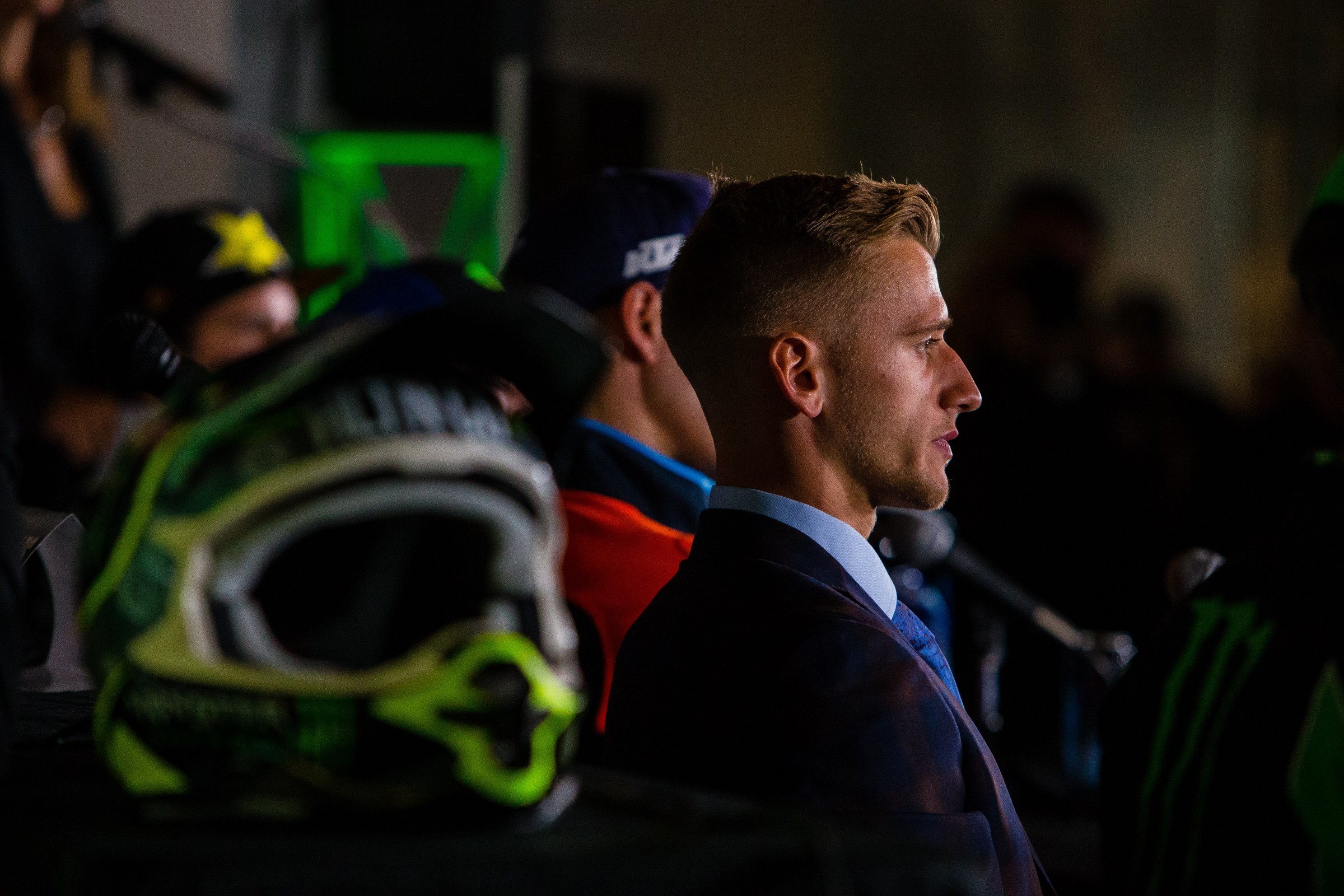 No championship is won on the first night, and there's still about 320 main event laps to go in this one (going by the old system, not the timed one). But the first week of 2017 belonged to #94, no denying that. How everyone else responds—and how Ken backs up his week—might be an even bigger story after San Diego.
Overall, Anaheim felt like a really good night for supercross. The place was packed, despite ominous weather reports, and pretty much everyone was healthy, save for Justin Barcia and Trey Canard, both of whom are already out with injury. Their bad luck seems to have followed them to their new brands. But there is no rest for anyone; San Diego is already upon us, with its red-white-and-blue military theme. There's no need for Ryan Dungey, Eli Tomac, Jason Anderson, etc. to panic, but if Roczen shows up in a red-white-and-blue suit, they all might be in for a long night.
Here's Racerhead (and the rest of Ken Roczen's Week).
In the Webb (Jason Weigandt)
We all know Cooper Webb as one of the most cerebral and headstrong riders in the sport, but even he wasn't immune to the opening-night jitters of Anaheim 1, admitting to us that he had some "stage fright" on Saturday. I think part of that was that expectations got too high for him. Not his own expectations or expectations from his team, but from outsiders who thought the rookie might be a smart pick to win the race. After all, Anaheim 1 often produces surprise winners, right? Why not pick the rookie?
"I think the biggest thing was just the nerves and the pressure that I kind of had around me," said Webb. "Not from the team or anybody like that but I think the fans. I think everybody kind of expected me to go out there and be fighting for a podium, which obviously I want to be, but just not quite ready for that yet."
At about 6 p.m., I was chatting with a former AMA Supercross Champion in the pits, and he told me Webb was his pick to win the race. I won't even tell you who that rider was, because he was forced to send me an email on Monday admitting that he was way, way off, obviously, since Webb ended up 10th. But his reasoning was that Webb just has this confidence about him that makes his best come out when the spotlight comes on, and Anaheim 1 is a big, bright spot.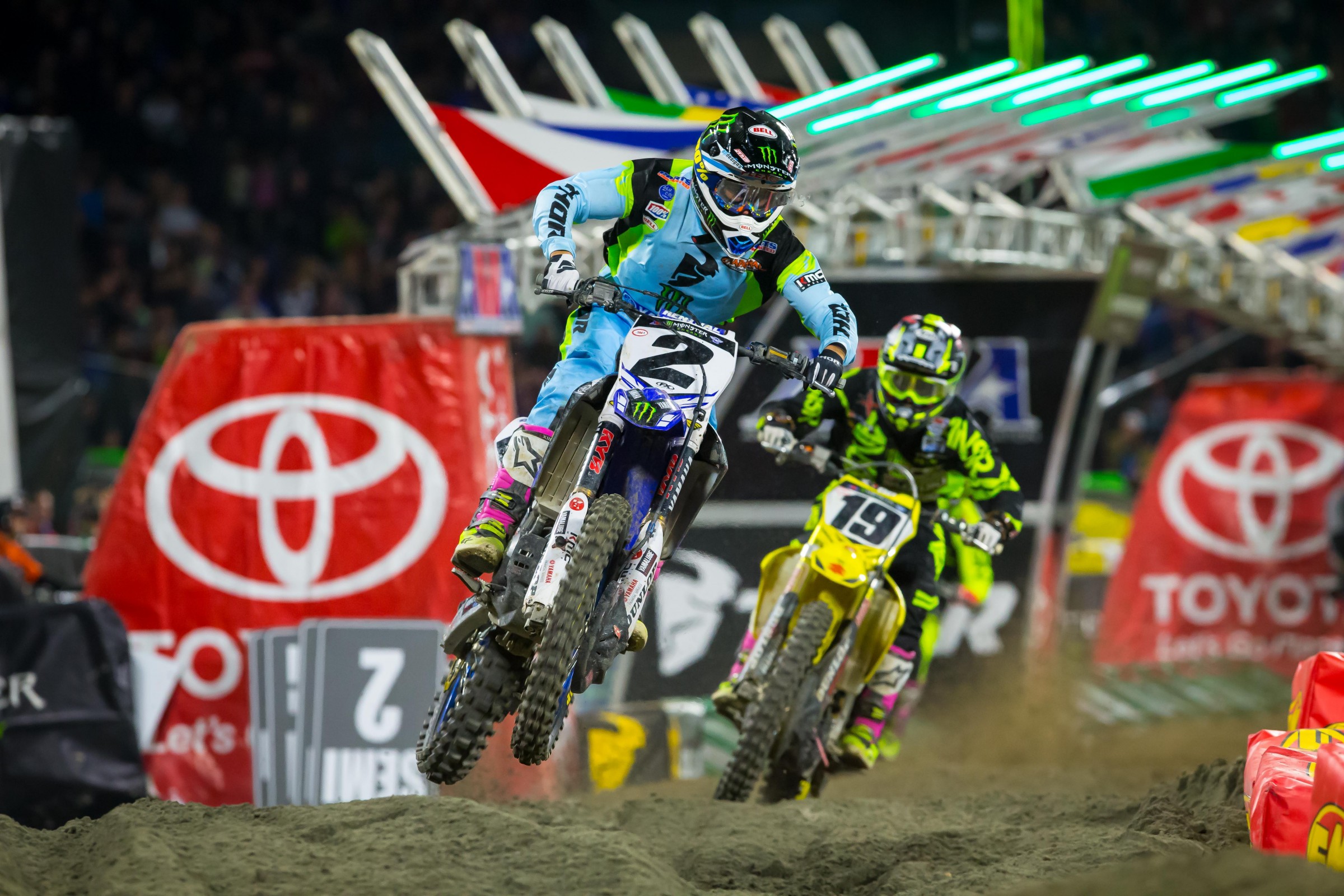 It was clear from practice, though, that Webb and his bike will need a little fine-tuning before they can threaten for the win. He got better as the night went on, but 10th wasn't what people expected. It's also not a problem, though. Webb's career hasn't been built on flash but more on steady progress, and this 450 adjustment might take on the same look. I know Ken Roczen won Anaheim 1 in his rookie season, and Ryan Dungey led almost the entire main event in his before finishing second to James Stewart, so it's possible for rookies to contend immediately, but I think Webb's season will be different. I expect him to quietly get better as the season goes on, and around the 10th or 12th race or so, he'll be mixing it up toward the front and suddenly in contention for a win. Nothing wrong with that. It's how Cole Seely got his win in 2015, and further, it's how Ryan Villopoto announced his real 450 arrival as a rookie in 2009, when he won two of the last three races after struggling early in the season. I can see Webb doing that kind of thing. We might just be laughing about his Anaheim 1, 2017, struggles when he's out there winning the thing a year or two from now.
Pro Perspective (Jason Thomas)
Anaheim 1 is in the rearview mirror for everyone. Whether it was good or bad, it's time to turn the page and move on to San Diego. Hopefully, most of the jitters will subside and you can get down to racing like you normally would. Many of the conclusions drawn at the first round will be turned on their ear this weekend. Having said that, it's really important to come out strong to right the ship after a rough weekend or to continue the momentum after a strong opening round. The track will probably end up being similar to last week with the rain all week, so many of the settings should transfer to San Diego.
Taking what was learned a week ago and applying it to this Saturday will be the key to success. The smartest riders are always improving and learning from their mistakes and triumphs. Whether it was a bad start, an ill-handling bike in the softer dirt, or simply being too nervous in the A1 spotlight, there is always something to fix after the first round. Unless you're Kenny. Then you just try to do it again.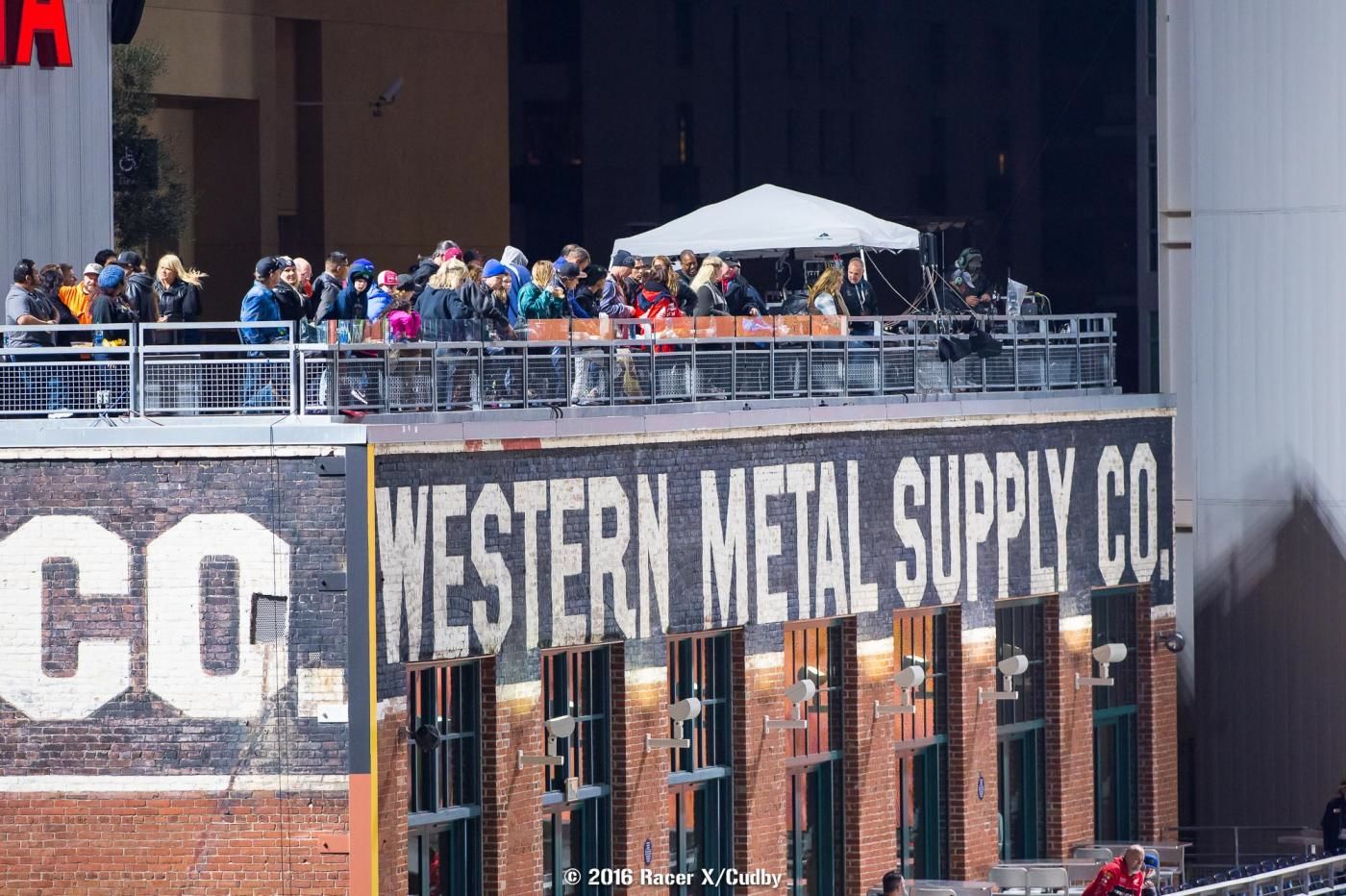 COLD STEW (Steve Matthes)
Yup, Anaheim 1 kicked off without either James or Malcolm Stewart on the line, and that was weird. James Stewart, the second-winningest rider in AMA SX/MX history behind Carmichael, doesn't have a ride, and he released an Instagram statement about that late last week. Brother Malcolm will be lining up, from what we hear, next week as a privateer on an RM-Z450, so that's a good thing. If it's me, I'm trying to be ready for the first race, but it wouldn't be the Stewarts if they didn't do things a little different, I suppose.
The sport's better with James Stewart in it, and I hope he figures things out and comes out like he said he would in that IG post. I've heard he'll be back at some point on a Husqvarna. We've seen him riding Yamahas, and yet others in the know tell me he'll be, like Malcolm, on a Suzuki. Speaking of different, it wouldn't be James Stewart if there weren't rumors flying around about three different bike brands. As I said, racing is better with the #7 out there. He's must-see TV every time he's on the track, and I hope that whatever bike brand he picks, he shows up like Reed in 2011, betting on himself, and gets back to a top-three guy. Please come home, James, we miss you. Or at least I do.
As far as Malcolm, I think he's going to be very good if he's in shape and ready. Mookie's SX skills are on fleek and litfam, as the kids say. Add another top rider into the mix come next week and that's exciting for all of us.
Roczen's Records (Andras Hegyi)
Veni, vidi, vici. This Latin phrase goes perfectly with Ken Roczen's performance at the supercross season opener. The German star came, saw, and conquered at Anaheim 1. Roczen has set a new record by becoming the first rider ever to win the AMA Supercross season opener with three different brands. Prior to Honda this year, Roczen had already won with KTM in 2014 and Suzuki in '15. Roczen has now overtaken Jeremy McGrath, James Stewart, and Jimmy Ellis, all of whom managed to win season openers with two brands. Jeremy won with Honda and Yamaha, Bubba did with Kawasaki and Yamaha, and "Captain Cobalt" did it with Can-Am and Honda.
Since 1974, the first AMA Supercross season, there have been so many Honda superstars, but only two Honda riders were able to win in their first Honda race. McGrath, Ricky Carmichael, Ricky Johnson, Jeff Stanton, Jean-Michel Bayle, David Bailey, Johnny O'Mara, Bob Hannah, Donnie Hansen, Chad Reed—none of them were able to win in their debut Honda race. Since 1974, only Jimmy Ellis won his first race on a Honda, at the '78 season-opener at the old Seattle Kingdome.
For 12 years, Honda has waited outside the winner's circle at the season opener. Thanks to Roczen, Honda has managed to get its first win at the first race of the year since 2005. The winner that muddy night was Kevin Windham, riding for Factory Connection Honda. All told, Honda has won the opening race 14 different times, the most of any brand.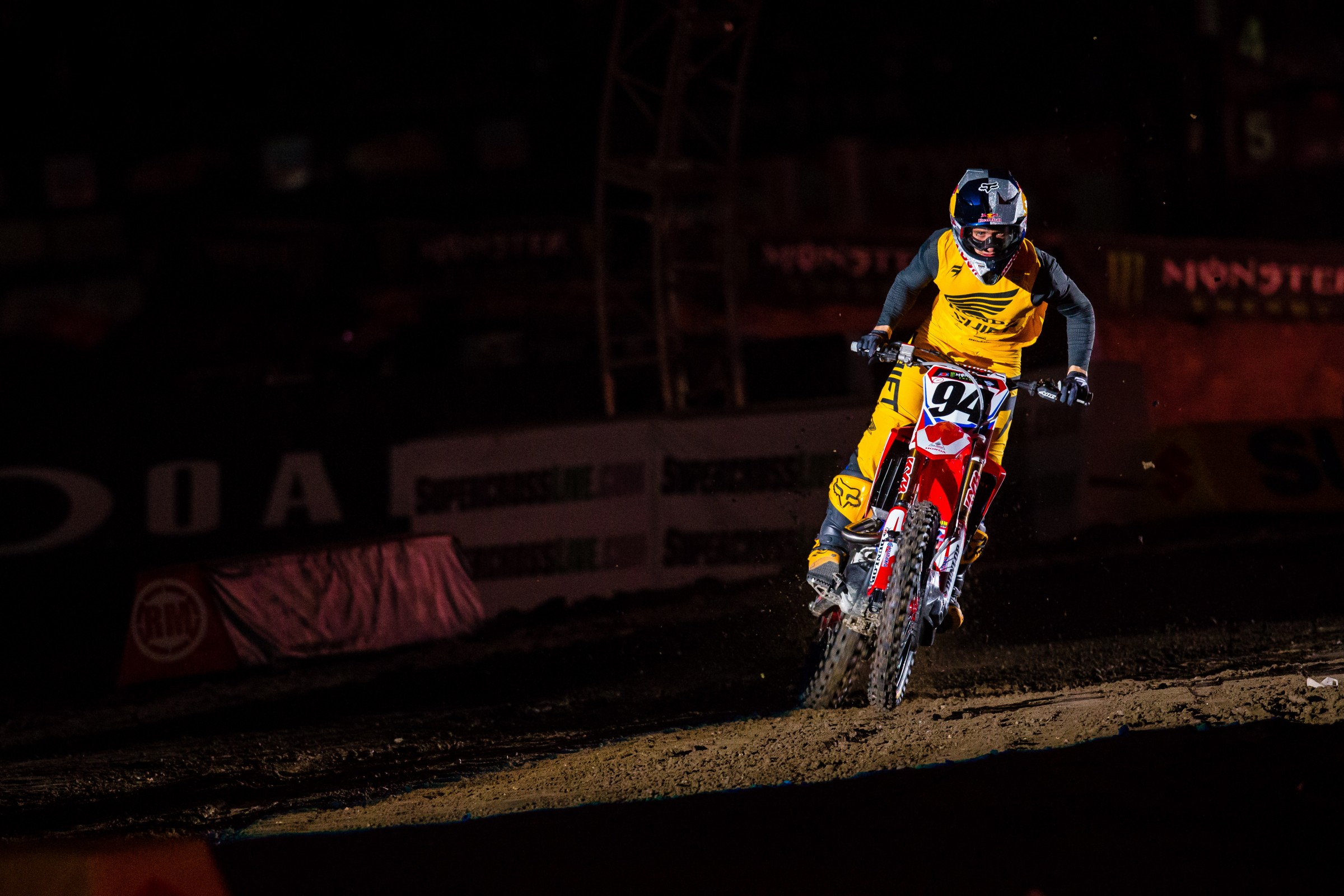 Roczen has now collected his 10th career win in the premier SX class. He is the 20th rider to take 10 wins at least. Ken has also become the eighth rider to win with three different brands. He joins McGrath (Honda, Suzuki, Yamaha), Carmichael (Kawasaki, Honda, Suzuki), Stewart (Kawasaki, Yamaha, Suzuki), Ron Lechien (Yamaha, Kawasaki, Honda), Ezra Lusk (Yamaha, Honda, Kawasaki) and Mike LaRocco (Suzuki, Kawasaki, Honda).
And then there is Chad Reed, who is even more successful because the Australian legend is the only one rider in history of SX premier class to win with four different brands. Reed is the one man who has won with all four Japanese brands: Yamaha, Suzuki, Kawasaki, and Honda
Finally, Roczen has become the 30th Honda winner in SX premier class. Roczen's win also marked Honda's 210th win in AMA Supercross history.
Jeremy McGrath (43 wins)
Ricky Johnson (25)
Ricky Carmichael (18)
Jeff Stanton (17)
Jean-Michel Bayle (16)
Kevin Windham (15)
David Bailey (12)
Ezra Lusk (9)
Johnny O'Mara (7)
Bob Hannah (7)
Trey Canard (5)
Donnie Hansen (4)
Ron Lechien (4)
Marty Smith (3)
Chad Reed (3)
Davi Millsaps (3)
Eli Tomac (3)
Mike LaRocco (2)
Marty Tripes (2)
Justin Barcia (2)
Jimmy Ellis (1)
Doug Henry (1)
Nathan Ramsey (1)
Rick Ryan (1)
Darrell Shultz (1)
Chuck Sun (1)
Steve Wise (1)
Andrew Short (1)
Cole Seely (1)
Ken Roczen (1)
THE NUMBER: 4 (DC)
When TLD KTM's Shane McElrath won Saturday night's 250SX main event at the Anaheim opener, he became the fourth rider from North Carolina to win a 125/250SX main. Charlotte's Damon Bradshaw was the first back in 1989 while riding for the Yamaha factory team. Cary, North Carolina's, Broc Tickle won first on a Yamaha in 2010 and then again the next year on Kawasaki. And of course Newport's Cooper Webb won a bunch of races the last two years on his Yamalube/Star Racing Yamaha.
Here's a stat that McElrath might find motivating as the season goes on: All three of his fellow North Carolinians who won 125/250 SX races went on to win titles too. Bradshaw was the '89 125cc West Region Champion, Tickle won the '11 250cc West Region Championship, and Webb won two straight 250 SX West Region titles before moving up to the 450 this year.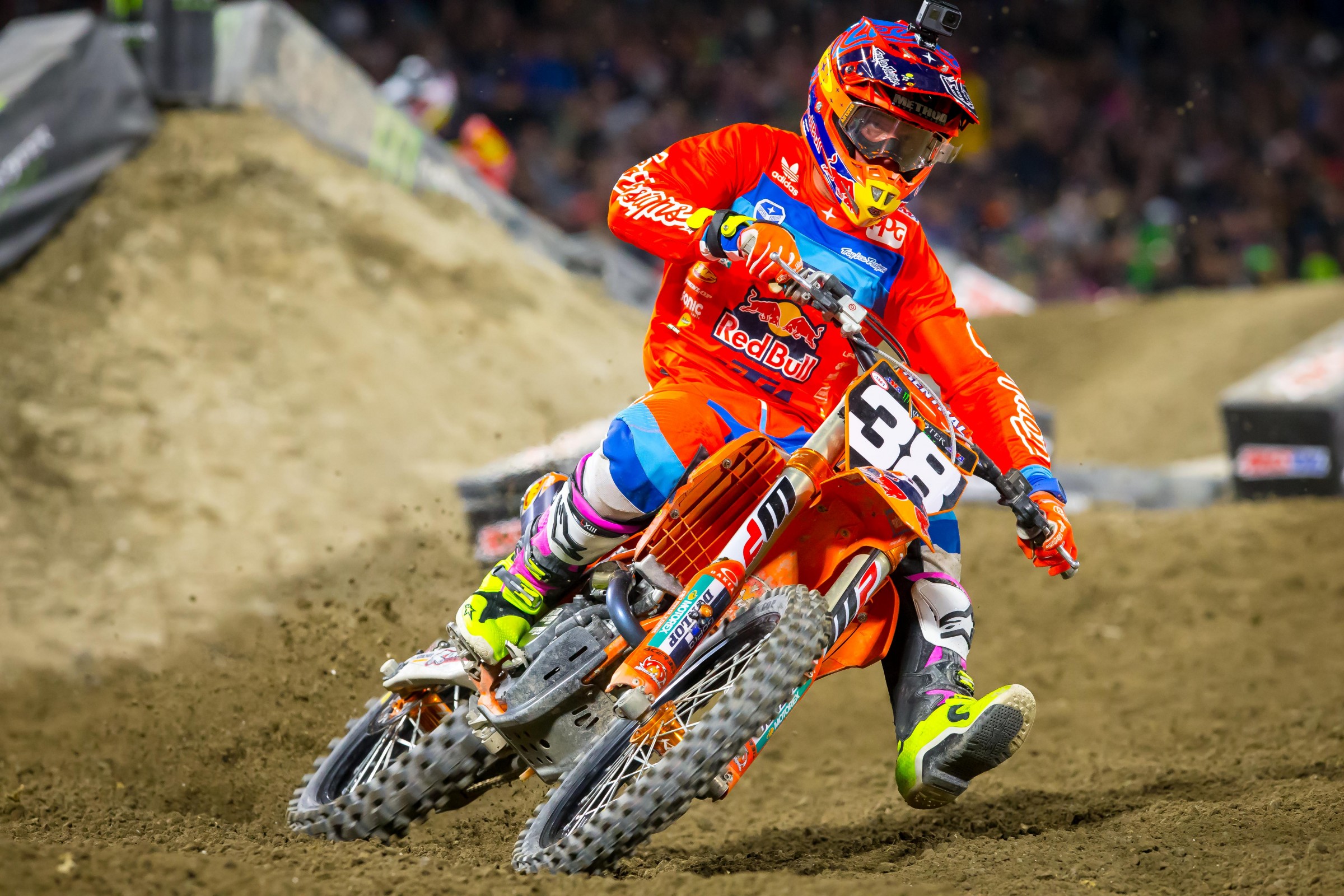 Also, a note on The Vault: Tickle is listed as being from Holly, Michigan, in The Vault, because that's the address he was using at some point for his AMA paperwork. It's his wife's hometown.
Metcalfe Returning Home (Chase Stallo)
Brett Metcalfe is returning home to Australia to race full-time in 2017. Originally from Mannum in South Australia, Metcalfe raced select rounds of the Australian Motocross Nationals in 2015 and 2016, while also racing the Canadian Motocross Championship.
In a deal announced yesterday, Metcalfe has signed with SD3 Husqvarna to contest both the Australian Motocross Championship and Australian Supercross Championship this year.
"The decision was fairly simple for me and my family," Metcalfe said in a team statement. "I'd done some brief stints in 2015 and 2016 with the SD3 team and we have a successful working relationship established with good sponsors. Our 2016 run was in some ways a trial run, and we learnt what a standard Husqvarna FC450 is capable of; we won races and had podiums. I know we have a product that can win, a team and company of people committed to work and most importantly, we want to make it fun and creative for the team. I wanted to be a part of this!"
Metcalfe, 32, debuted in the U.S. in 2003, riding a KTM competing in the 125SX East Region. He spent the next 12 years competing in the U.S. riding for teams such as GEICO Honda, Monster Energy/Pro Circuit Kawasaki and factory Suzuki. In 2010, he finished a career-best second overall in 450 MX. The following year, he collected his first career overall win at the Southwick National. In 2013, Metcalfe signed with Leading Edge Kawasaki to race the Canadian Nationals and won the overall MX1 title that year. He spent the majority of the next three years racing in Canada.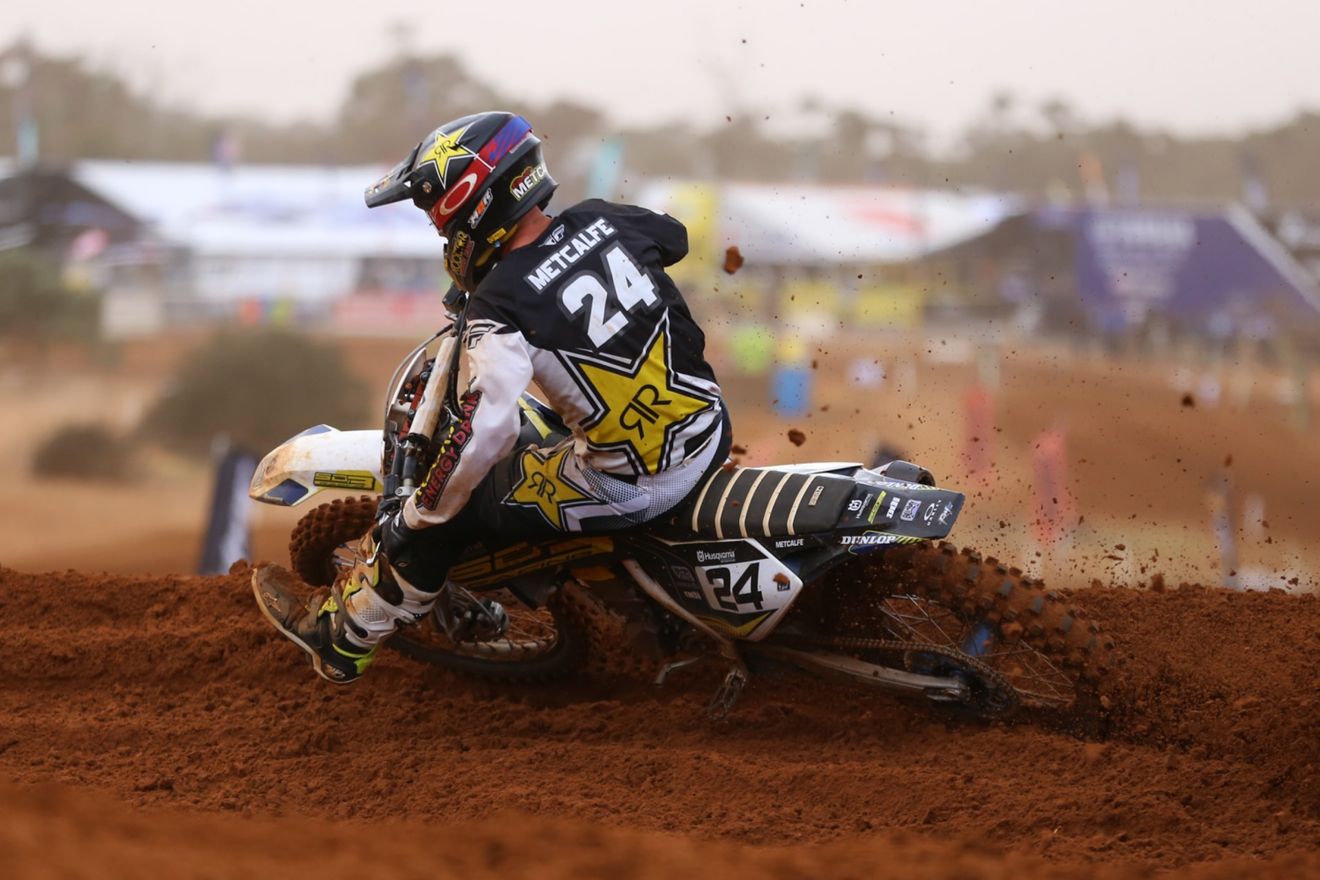 Having spent much of his career racing internationally, Metcalfe said it was a huge factor to bring his family to experience the Australian lifestyle.
"A huge factor is bringing my family down for the season to experience the lifestyle Australia can offer. It will be nice for the kids to visit new places and make new friends and memories. We have a unique team with owner Steve and Dimity McKinnon having four kids, myself with two kids and now Luke and Kirra adding to the clan with a baby expected in March. So the lifestyle for us revolves around family and racing. It just fits right now.
"Last year the competition was intense," he added. "You need to go back many years to find that depth and talent. It was how Aussie MX needs to be! 2017 will be no different. I expect the same players plus a few new entries to run up front. I may be the oldest in the field now, but I embrace that. I want to win more than ever and I believe in myself and my team."
Tuesday Sand Track (Cudby)
I was out doing a shoot for Fly Racing on Tuesday, and we were struggling to find a place to ride. It had been raining in SoCal for days, and all the SX tracks were flooded, so Weston Peick suggested we go to a local sand track. As we rolled up to the spot, it was like a Southwick National practice, with Cooper Webb, Tommy Hahn, Aaron Plessinger, Broc Tickle, Josh Grant, and many others getting seat time midweek before the San Diego SX.
The New Issue! (Weigandt)
Even with all the content we churn out for this website, we don't borrow any of it for Racer X Illustrated, the magazine. Every word and every story in the mag is different from this site, and it costs peanuts to subscribe ($9.98 a year for 12 digital issues, $19.98 for 12 print issues, and $24.98 for both). Even better, we're running a promotion right now with the folks from Rocky Mountain ATV/MC, where ANY new sub gets you a $25 gift card. Yes, buy a $9.98 digital subscription and you get a $25 gift card to buy stuff for you or your bike. I'm cheap as hell. This is not even free—you're GETTING PAID. This is my kind of deal!
A new issue just dropped. The new and different stuff includes an exclusive and very revealing interview with Ryan Dungey, where he gets deep into learning bike setup and how he lives his everyday life between the races. You won't get that interview anywhere else. I put together a story on Monster Energy Kawasaki's prospects for 2017, after getting insight from racing boss Bruce Stjernstrom, Ryan Villopoto, and riders Eli Tomac and Josh Grant. Again, deep, insider info and it's all exclusive to the magazine. Same for our story from the AUS-X Open, starring Chad Reed, Cooper Webb and Ryan Villopoto, and tons of other stuff.
With these prices, and with the $25 gift card, there's literally no reason not to subscribe, and you'll get great new info while you're at it.
SYDNEY SUPERCROSS REUNION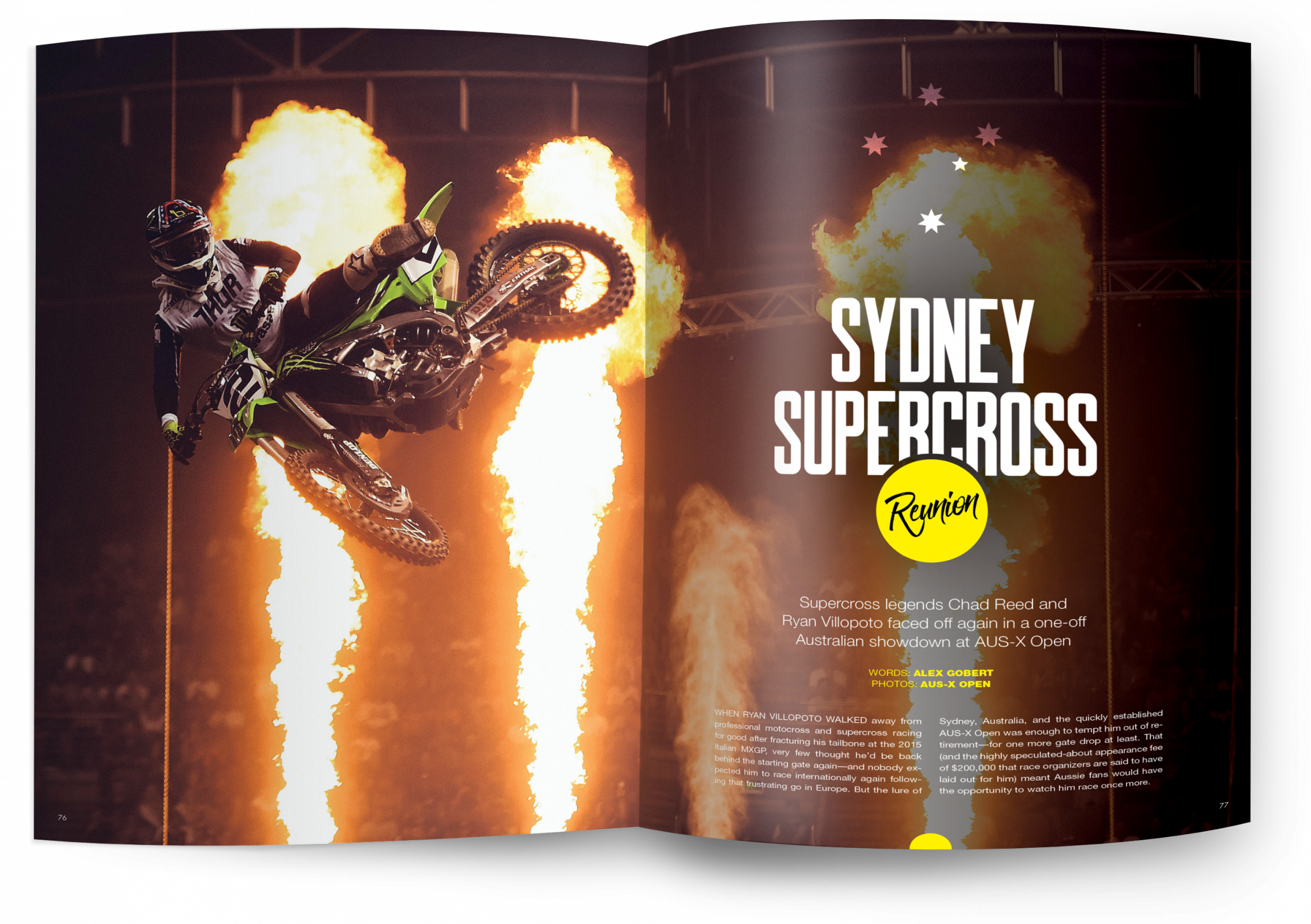 At Australia's off-season AUS-X Open, all eyes were on two very familiar competitors: native hero Chad Reed and the taking-a-break-from-retirement Ryan Villopoto.
THE ROLE MODEL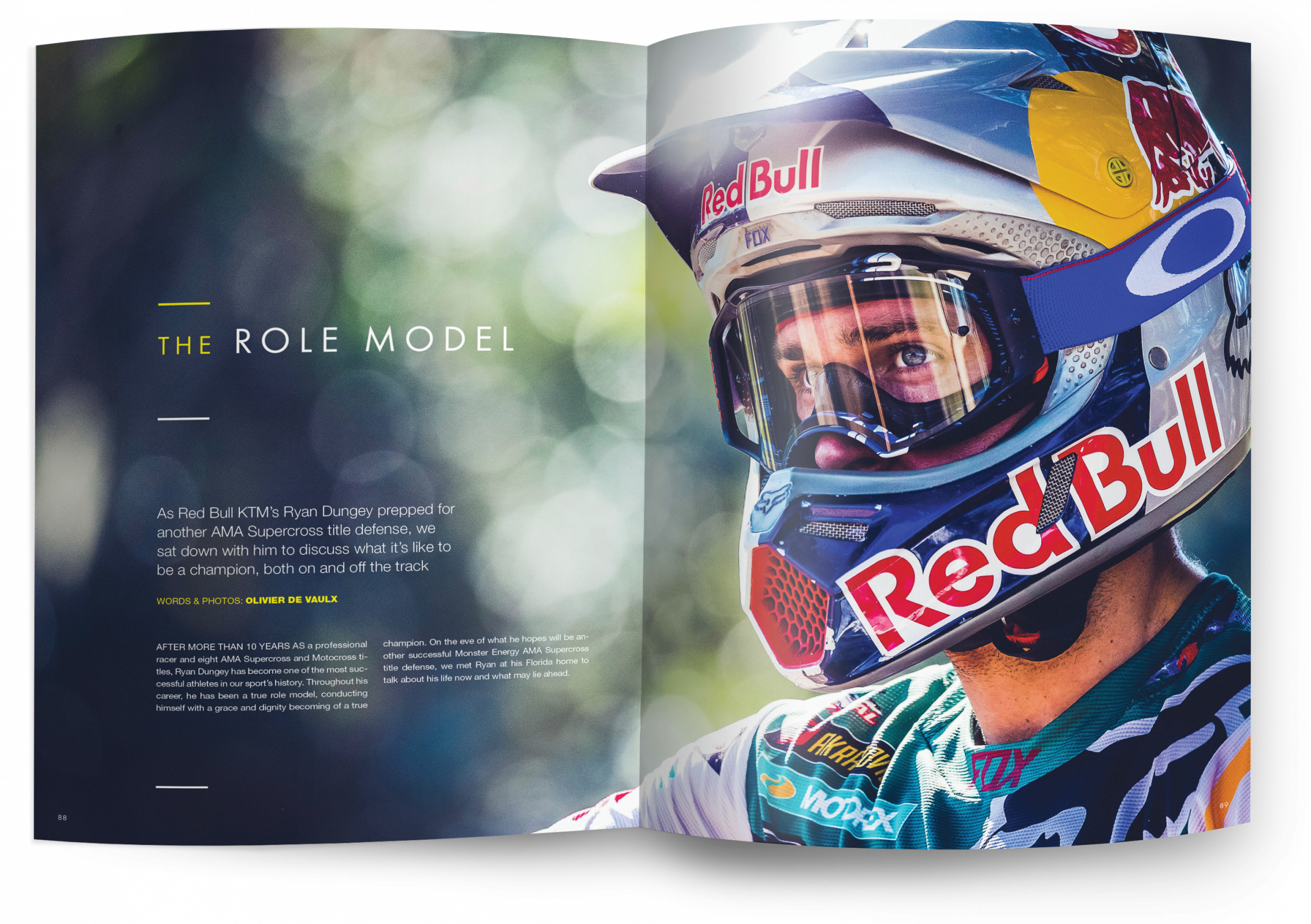 Red Bull KTM's Ryan Dungey has been an exemplary champion, setting the pace for future pros with class, dedication, and plenty of wins.
STARTING OVER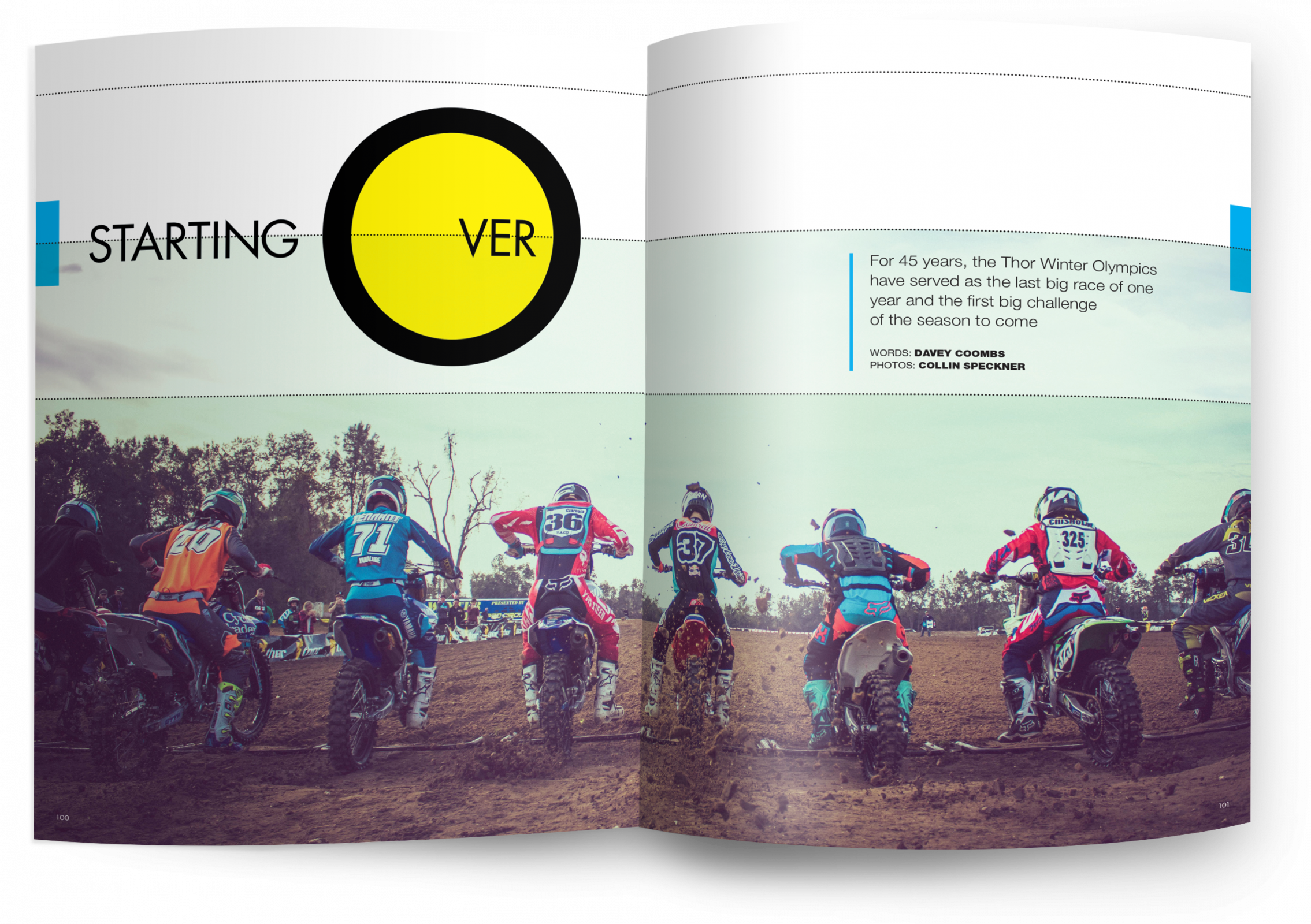 For 45 years, the Thor Winter Olympics have bridged racing seasons, capping one off and serving as the first big challenge of the next.
GREEN LIGHT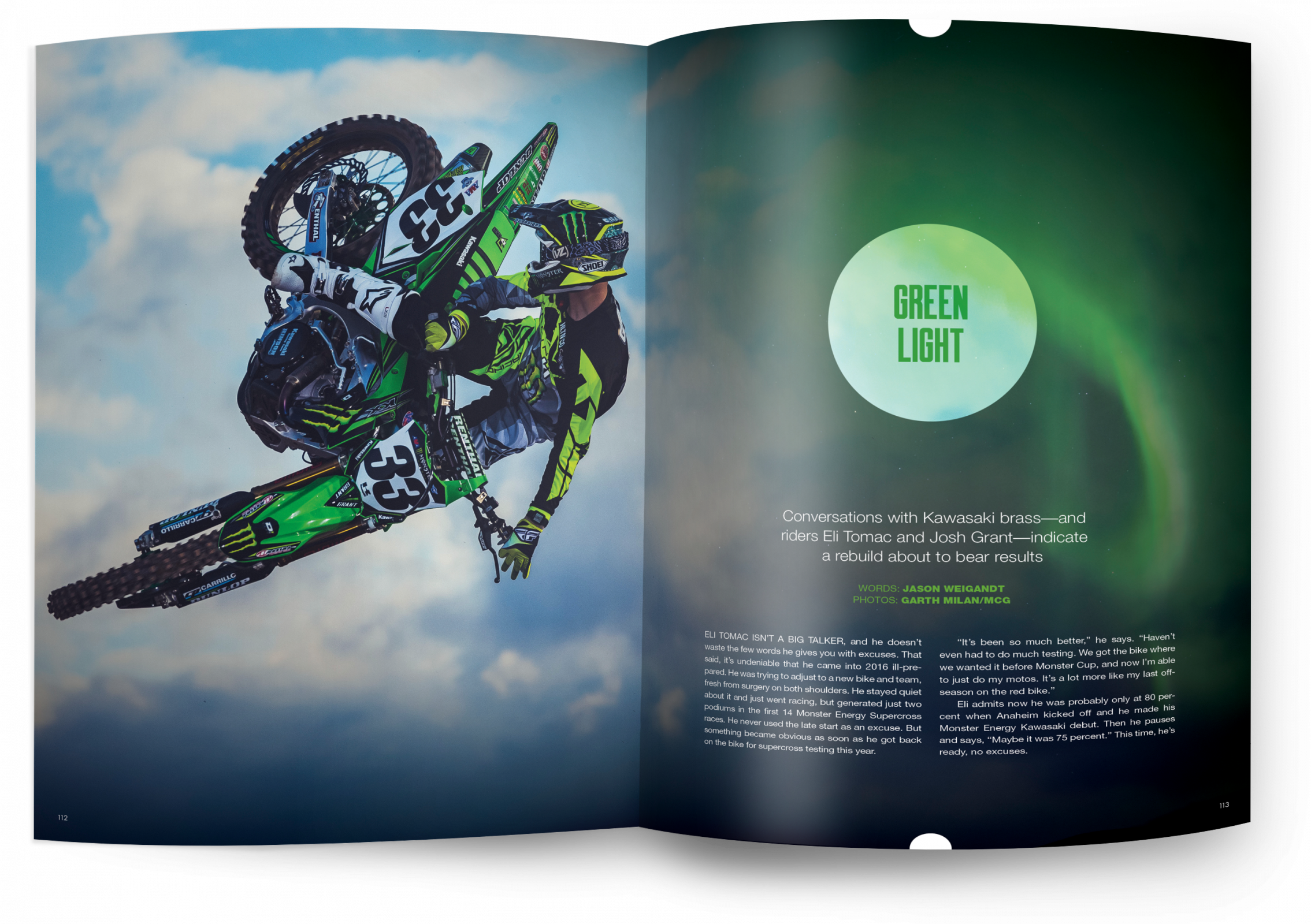 A talk with Kawasaki management—as well as riders Eli Tomac and Josh Grant—about the state of the factory squad and what it expects out of the 2017 season.
ONCE IN A LIFETIME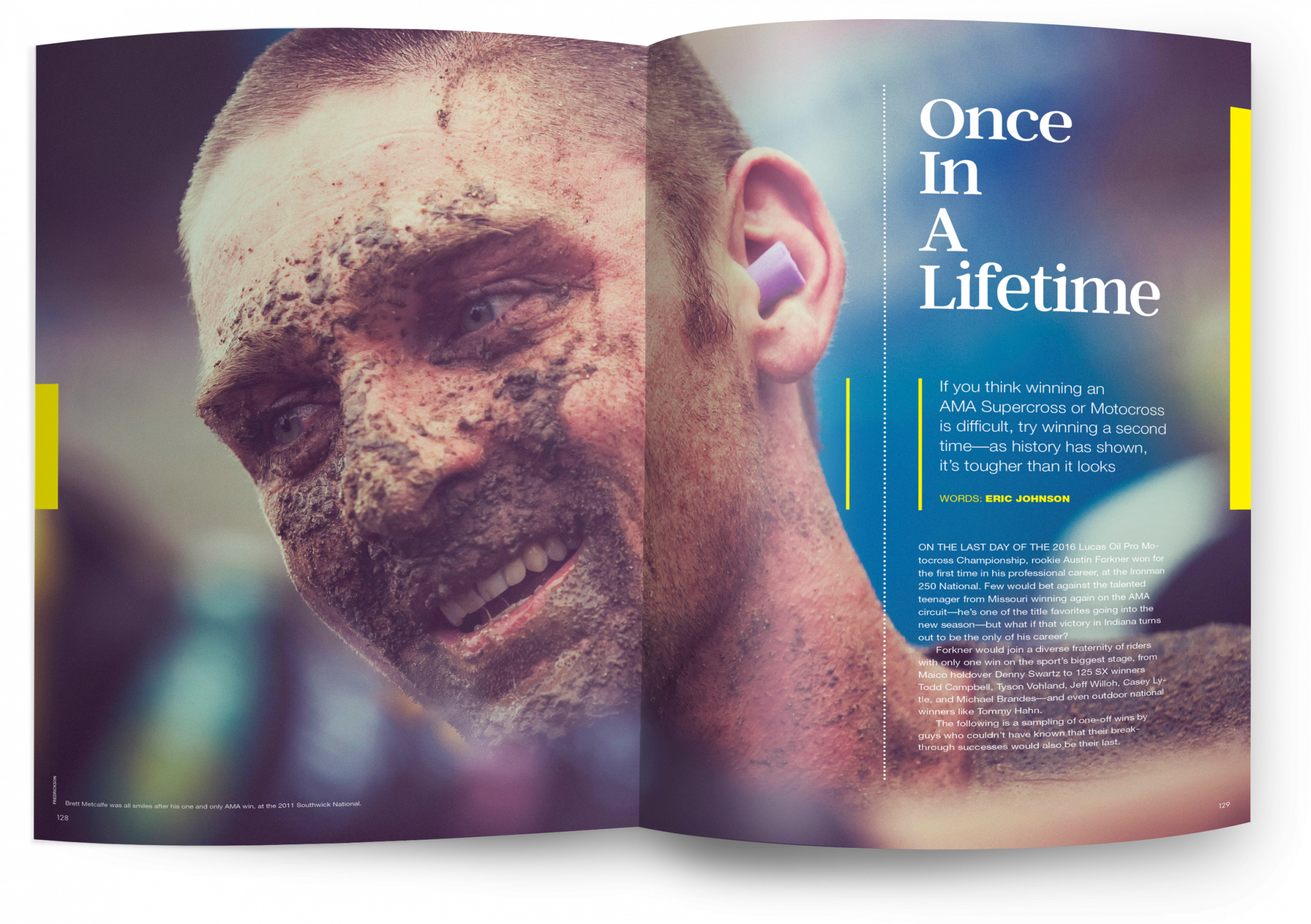 Winning an AMA Motocross or Supercross race is one of the hardest things an athlete can do. Even harder? Winning another one.
The Number: 11 (Andras Hegyi)
Shane McElrath has become the 103rd winner in the small-bore supercross category, which has existed since 1985. He also became the 11th rider who was able to win in saddle of a KTM in 125/250 SX class. And thanks to McElrath, the Austrian brand has collected its 33rd win in small-bore supercross.
KTM winners in 250SX
Marvin Musquin (11 wins)
Ken Roczen (5)
Nathan Ramsey (5)
Jason Anderson (4)
Josh Hansen (2)
Brock Sellards (1)
David Pingree (1)
Grant Langston (1)
Jessy Nelson (1)
Justin Hill (1)
Shane McElrath (1)
RACE(R) TECH (Steve Matthes)
The Friday before A1, I stopped into Race Tech Suspension in the heat of the MX industry—aka Corona, California—to see what was new there. Paul Thede's little suspension and motor shop started in the early eighties and is now thriving with tons of work. Paul's an interesting, smart guy. He started doing suspension for a lot of top racers but got tired of seeing his stuff copied over and over. So he started handing over his technology to suspension shops all over the world by creating his famous Gold Valve kit that can be dropped into any machine out there and improve performance. And he started doing suspension seminars to help out tuners. Some-outside-the box thinking by Paul helped grow his business into this massive "other" source of revenue.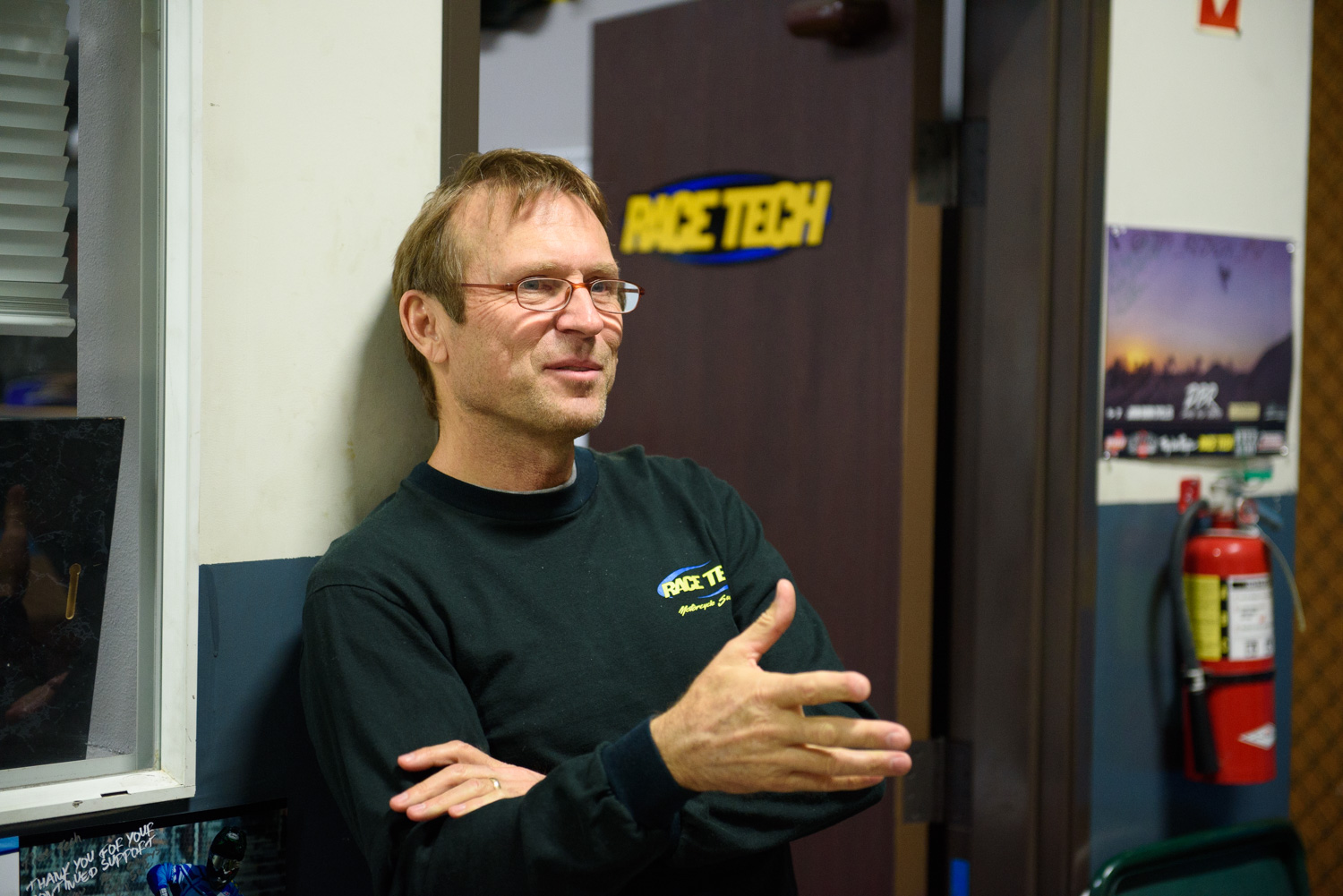 But they still are the suspension company of choice for many in the pits, including MCR riders Mike Alessi, Kyle Chisholm, and Vince Friese. Rob Brown's the man running things in the back, and he told me that working with the guys has been great. They've been happy with the stock Showa components just revalved for demands of SX. They've also got their motor program up and running with state of the art machines to do everything on four-strokes, the flow bench stuff they showed me is always cool, the art of tumbling air and what it can do for a race motor is amazing. Anyways, Paul Thede is always cool to talk to and whatever you need for motor or suspension, check them out. They're one of the OG companies in the sport.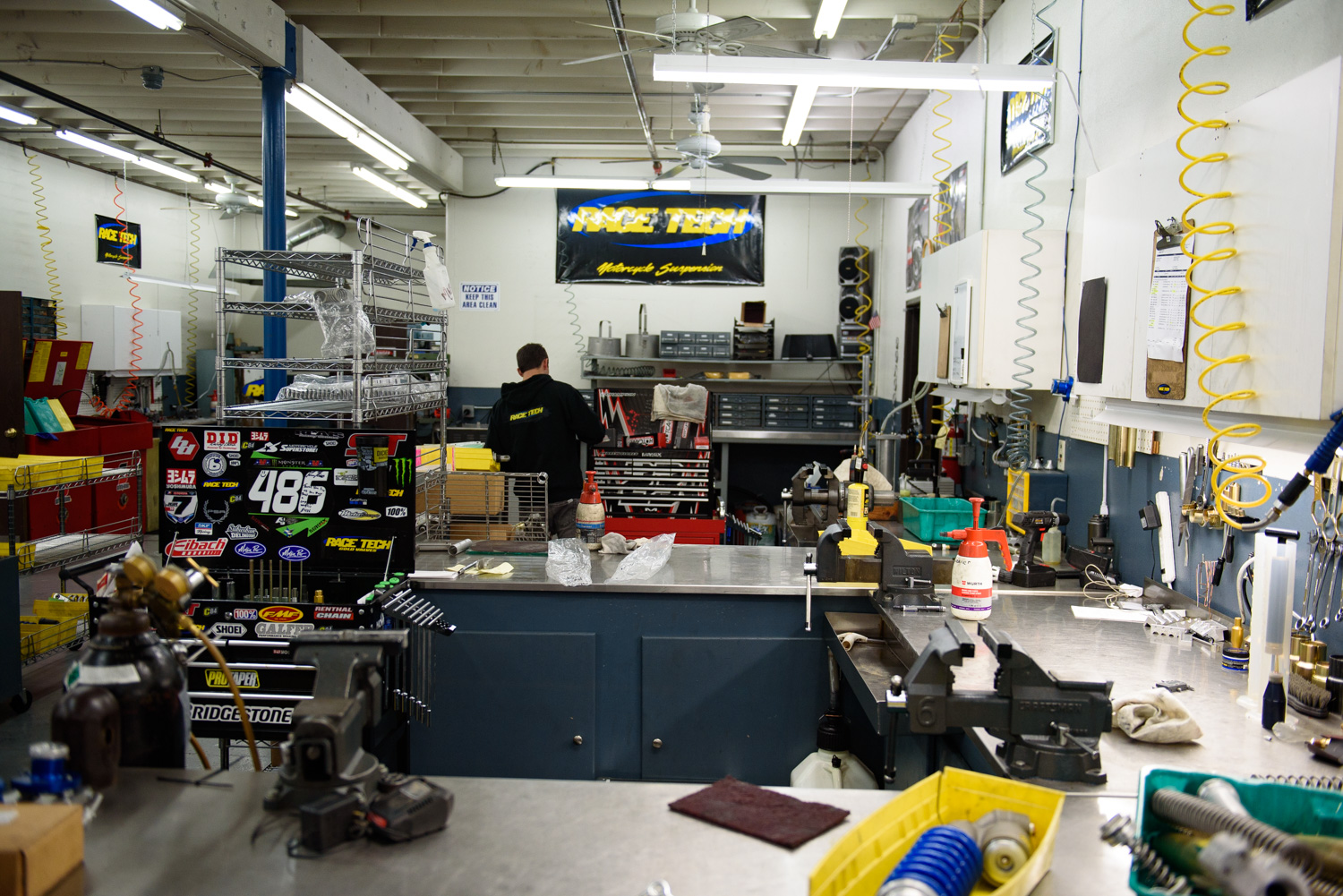 Hey, Watch It!
Racer X Films: 2017 Works SX Bikes
Racer X Films: 2006 Suzuki RM250
Head-Scratching Headline/s of the Week
Brian Deegan Honored by Legends and Heroes Tour during Monster Energy Supercross
"Ever Heard Of Motocross Martial Arts? Let Vin Diesel Explain It To You" – Wired
HOT FRESH PULP LINKS (Matthes)
Our guy Dune Goon ripped some RAW DATA from Anaheim 1 450SX main event and broke down what it all means here.
Moser is back profiling the fifth place guy in each LCQ or the rider that came up JUST SHORT. He couldn't get ahold of Christophe Pourcel (shocking!) but he did speak with Scott Champion about racing Filthy and more here.
Pulpmx's Troy Bendgen (remember him Racer X?) went to opening round of AMSOIL AX in Cincinnati and filed this report here and he talked to the big winner Jace Owen here.
David Vuillemin is back with his weekly look at the races and here's his Anaheim 1 story.
Random Notes
Are you missing race season? Looking for a way to fill your winter months with some excitement? Well we have just the thing to fill your spare time… Racer TV just released 26 full-length episodes from the 2016 GNCC season! These include the 13 shows that aired on NBCSN earlier this year, and an extra 13 episodes. That means for every event there is an ATV and a bike show ready to watch now.
This announcement comes in addition to the over 90 hours of GNCC LIVE streaming coverage that was provided throughout the season. You can view the archived live streaming videos on RacerTV.com as well.
To find out more information on the recent announcement, see the full press release HERE.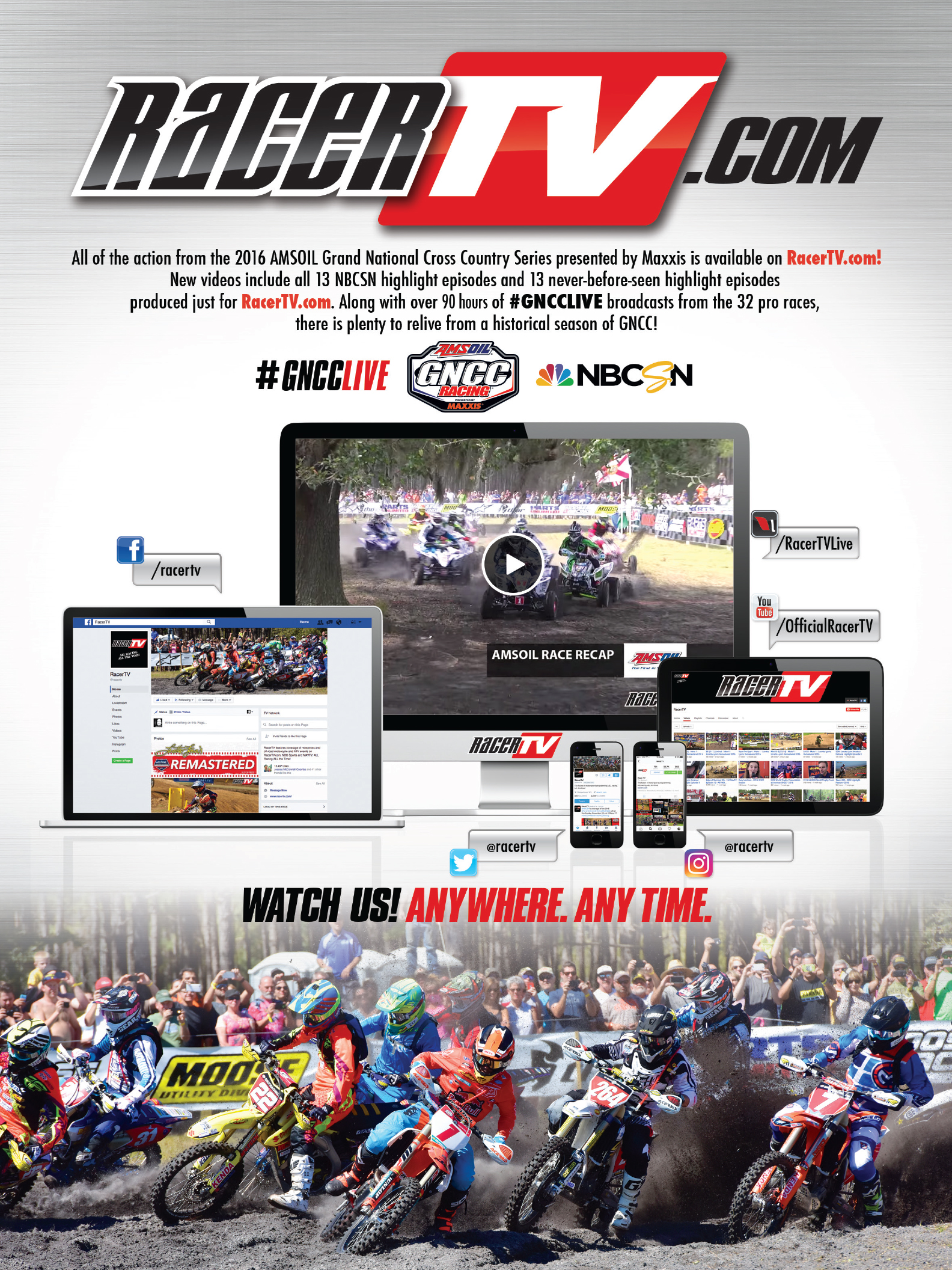 ATTN PRIVATEERS: We got a very cool letter from reader Dave Anderson offering lodging for privateers going to Anaheim 2. Dave lives three miles from Angel Stadium. Here are the rest of the details.
I would love to sponsor a Racer that needs a place to stay and a place for their race rig, box van or whatever they drive, I have 2 guest rooms available and room for RV Parking and I have more room for people in a motorhome in a motorhome garage. Have riders contact me:
Dave Anderson
11436 Rainier Court
Garden Grove California 92841
Cell phone number 323-806-1411
With San Diego SX hosting its fourth annual Military Appreciation Race, everyone at Racer X wanted to support the cause and also extend our gratitude. We're offering $5 off all one-year subscriptions—up to 50 percent off—to active and retired members of the United States Armed Forces. Thank you for your service!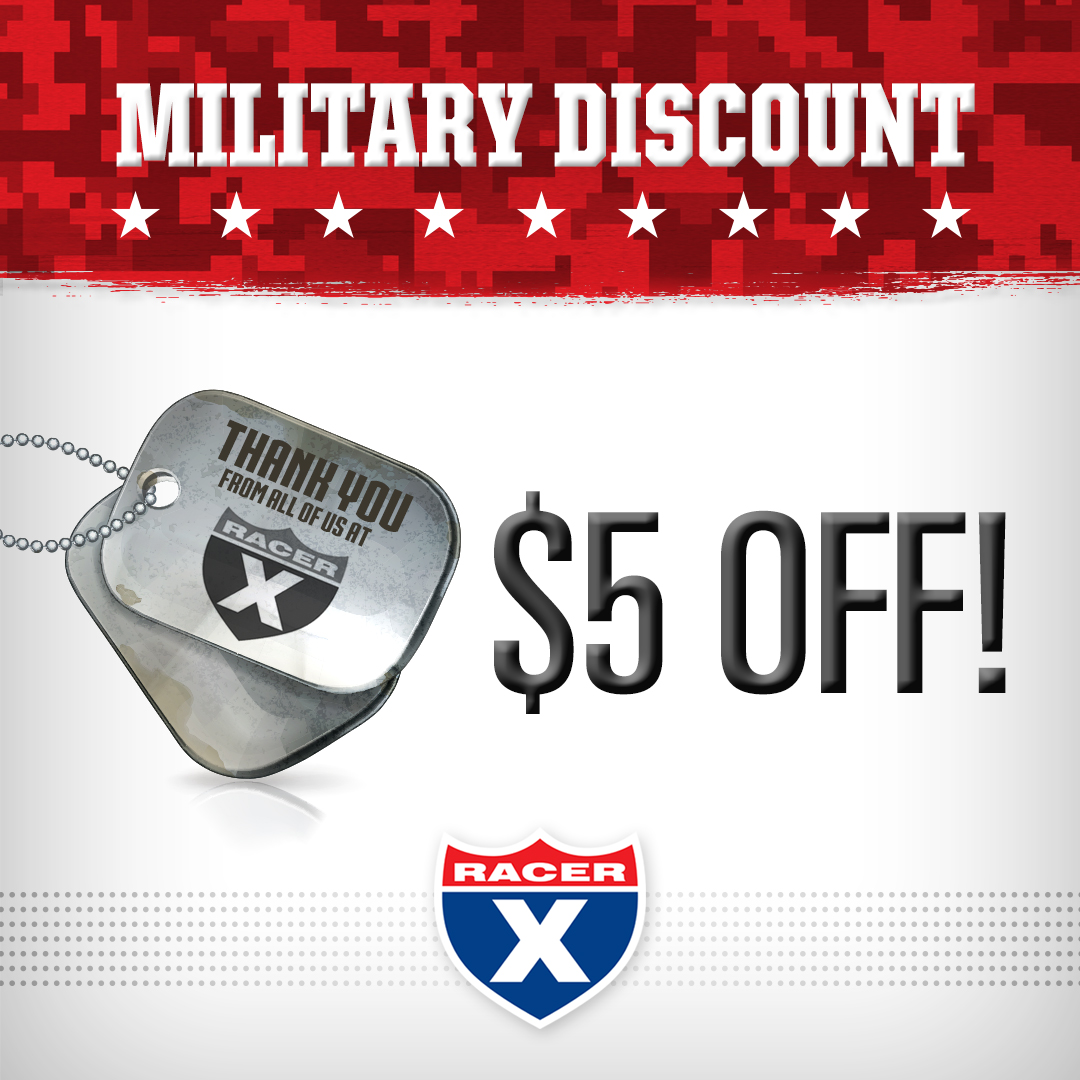 Miss out on our 2017 calendar subscription offer? Don't fret! The 2017 Racer X Calendar: 20th Anniversary Edition is now available for individual purchase at www.racerxbrand.com. Check out our ultra-comfy zip-up hoodies and all of the colors they come in while you're at it.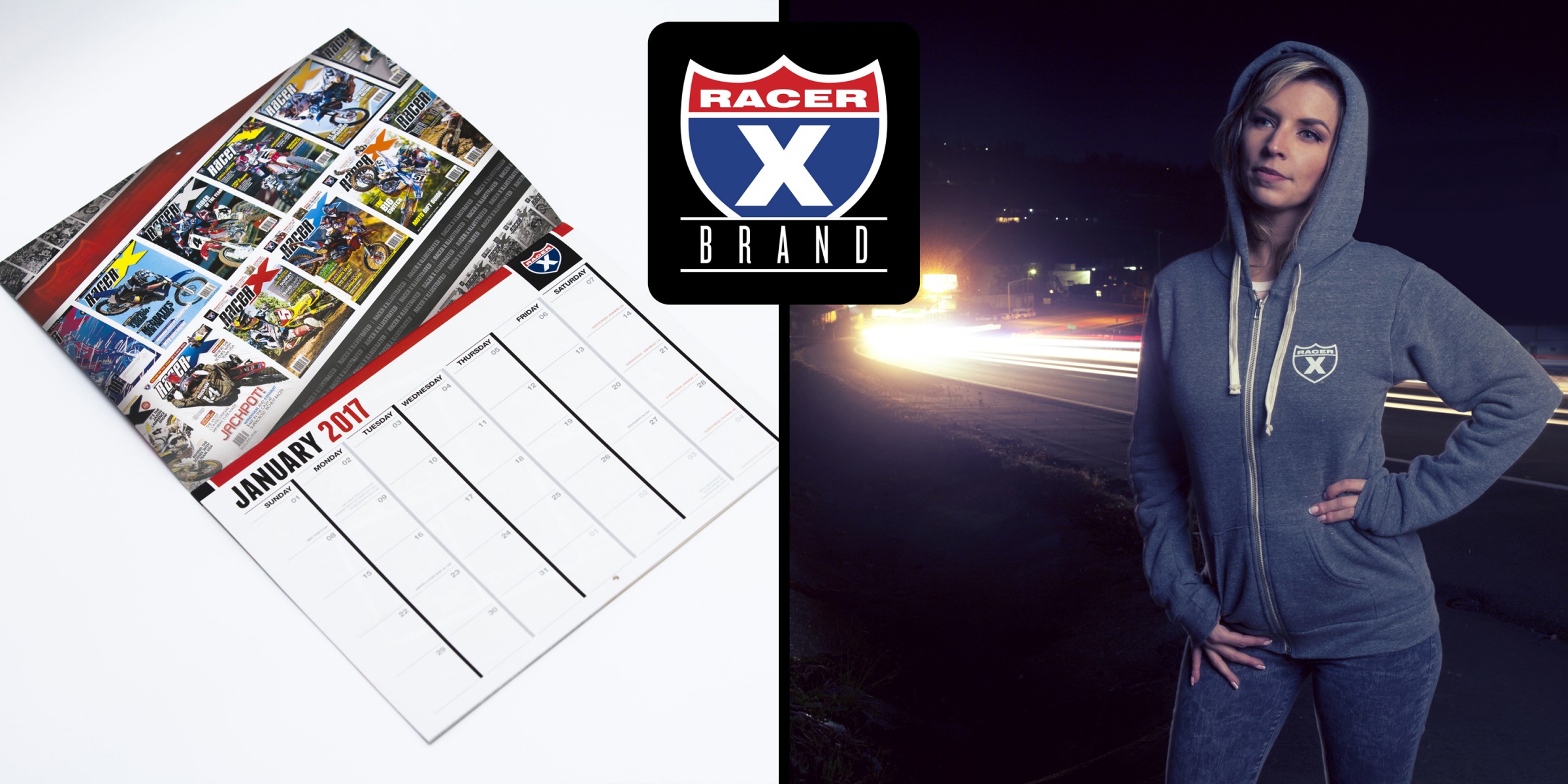 Our condolences on the passing last night of Northwest racing legend Bob Budschat. Born in Fargo, North Dakota, on July 14, 1929, Bob was a tremendous racer in all forms of two wheel competition including a national number in flat track, TT, road racing, plus a top notch winner in hillclimb, enduro, cross country, and motocross. He started racing in 1950 was racing and winning well into the '90s.
He was that local racer that the national riders who came to town feared and yet he would house them as well! Considered one of the founding fathers of motocross in the Northwest he was Honda's first dealer in Seattle and also sold Husky, Maico, AJS, Ducati, Monark, DKW, and Kawasaki.
He understood that to sell those bikes he needed to be the dealer that helped his customer get into the sport. He hosted Ake Jonsson and the Maico team and the AJS factory motocross teams at his dealership when they were here and helped design the Inter-AM course at Startup, Washington, in 1969.
His son Mike Budschat is still deeply involved in the sport and started the Pomeroy Cup Vintage MX series.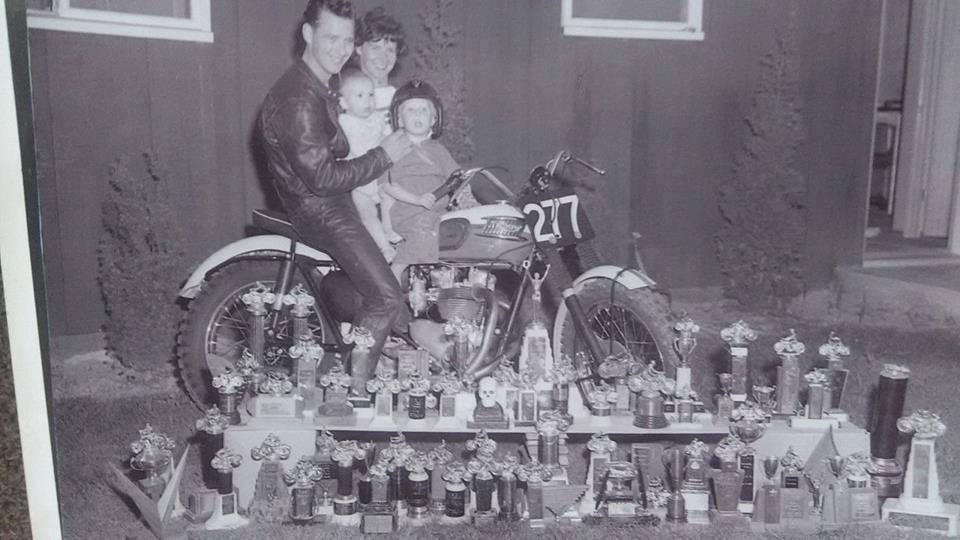 Sadly, there was another loss to the racing world this week. Casey Folks, founder of the Best in the Desert Series, succumbed to the stroke he suffered five days earlier while he was getting ready to throw the green flag on the Parker 250 in Arizona.
Folks started out as a Husqvarna dealer in the sixties, sponsoring riders and soon hosting races too. He started the Best in the Desert Series for motorcycles in 1984, and organized countless races for bikes, trucks, cars and more. Casey Folks was 72 years old. Godspeed.
---
That's all for this week. Thanks for reading Racerhead. See you at the races.