In 2014, while riding for Monster Energy/Pro Circuit Kawasaki, Justin Hill won the San Diego 250SX Supercross and the Dave Coombs Sr. Memorial East/West Shootout in Las Vegas. He finished fourth in the 250SX West Region Championship behind the graduating Jason Anderson, Cole Seely, and Dean Wilson, which made him a hot commodity for 2015. Red Bull KTM wanted him badly, and gave him a good offer to move to the orange machines. But his 2015 season was awash in injuries, highlighted by a second-place overall at the Glen Helen National. Otherwise, it was a tough season, and he moved to KTM's Troy Lee Designs team for '16, hoping for a rebuild. He got it—briefly—when he won the Toronto Supercross and moved into contention for the 250SX East Region Championship.
The very next weekend in Detroit, he knocked himself out in practice, which pretty much put the brakes on his season.
Hill's KTM years didn't pan out, but he's been thrown a life line by his old boss, Mitch Payton. Can he and Pro Circuit find the magic again? He sure seemed positive about it when we talked to him last week.
Racer X: It's almost like the last two seasons didn't happen. I see you with this hat on and this shirt, these Monster Energy/Pro Circuit Kawasaki logos, it reminds me of two years ago.
Justin Hill: Yeah I don't know! It's almost like a weird dream…. it's cool, I'm really pumped, it's amazing opportunity to be able to come back. I like the bike, I like the team, I've got an amazing guy wrenching for me in Shawn Bell, a good friend of mine. All good stuff.
Was potentially going back to this team in the back of your mind the whole time? You usually don't get a chance to go back.
That's the first thing me and my dad said. My dad and I kept a good relationship with Mitch, we never really stopped talking to him. Then after a few rounds Mitch mentioned this to us, he wanted to see how I felt about the idea of coming back. And I told him, "I think very highly of that idea." And my dad said, as well, not many people get that spot riding for Mitch. To get that chance twice, you have to go for it.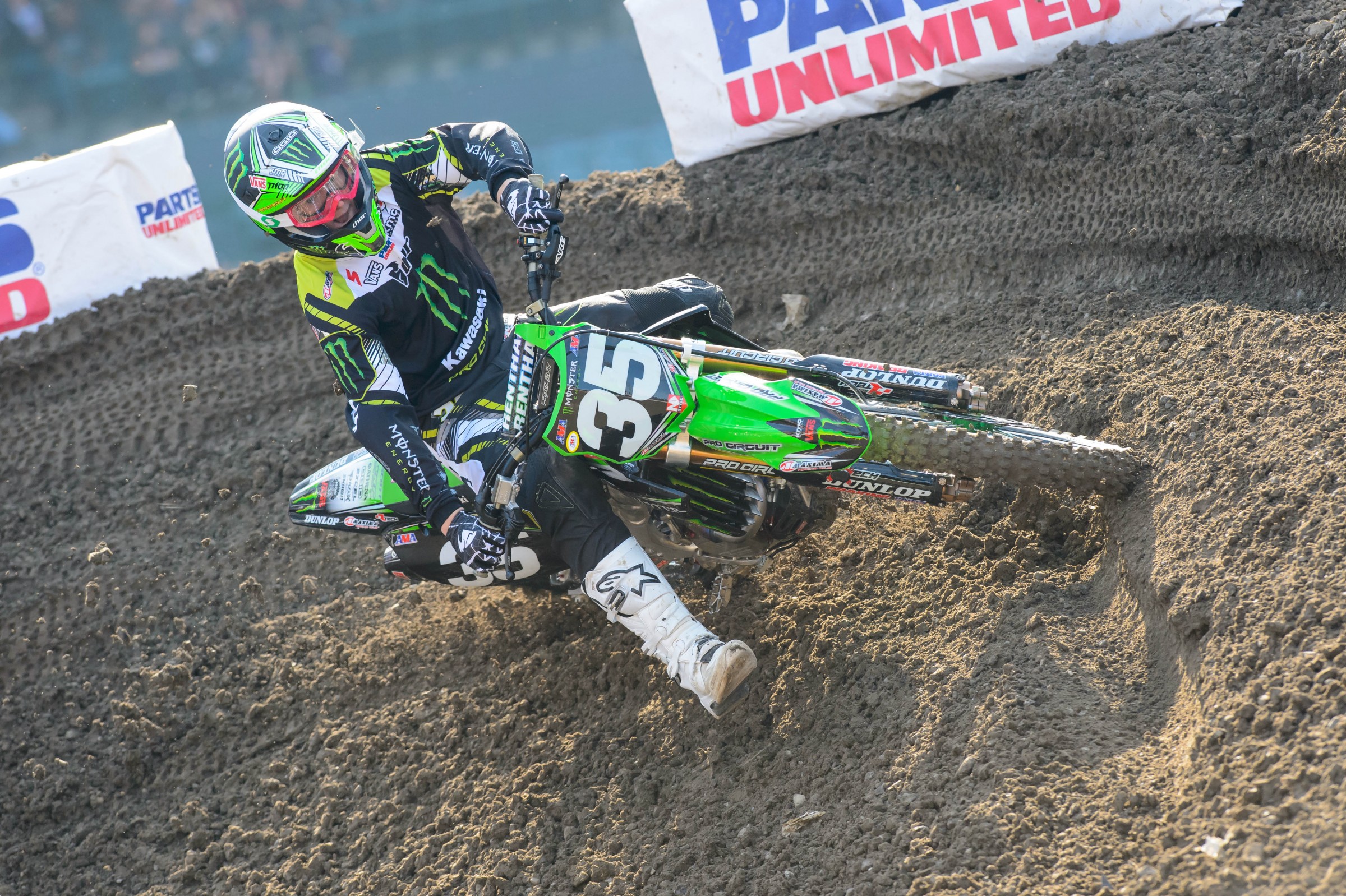 Where are you now, health wise? Because last year it looked like it was going to be good.
Yeah, last year was going really well. I came in 100 percent, I came in without any problems, and I feel I came out strong. The three races I raced in, I thought, were exceptional. I won one of them and I thought I could have brought it [the championship] home. But then I crashed and hit my head, and coming off of last year, when I hit my head a lot, I knew that if I did that again I would need to call it and not just keep on going. I actually tried to come back for Indy, the very next weekend after Detroit. I just started getting all cross-eyed riding and all that, and I just didn't want to go through that again. We decided to wait until outdoors. So I had the rest of the time to get ready for outdoors, and I had given it the proper amount of time, so I didn't have any side effects [from the head injury]. I thought I was riding well. Then within that time, I had a crash again, right before Hangtown. From there it was just spotted—it would feel good, then I would feel bad—it was just spotted. So I just feel like I need to have a solid year. Just feel good the whole time and just focus on my laps. If I can do that I feel like I have the speed to win this year.
You had six days to enjoy climbing back to the top of the mountain—the six days after winning in Toronto. What were those six days like? You had fought back from a lot to get back there.
Oh yeah, I had clawed back, tooth and nail. It was tough, it took me a long time to feel good again after '15, after hitting my head so many times. But after Toronto, I was like "I'm back, I can do this!" That was a great feeling, but then came the immediate let down of the very next weekend. It's highs and lows, but that's how this sport is for everyone. If it wasn't, I'd be battling a lot more dudes than I am right now. It's rough but I'm thankful and blessed to be in this spot. This bike, it's so good.
Well yeah, the '17 is a new model KX250F, so is it significantly different from the '14 you last rode?
It's significantly different. It's more slender, it feels lighter, it goes where you want to go. It just knifes and cuts better than the old one. I don't ever have a feeling like it's twitchy on me. It's stable, and that's what I want.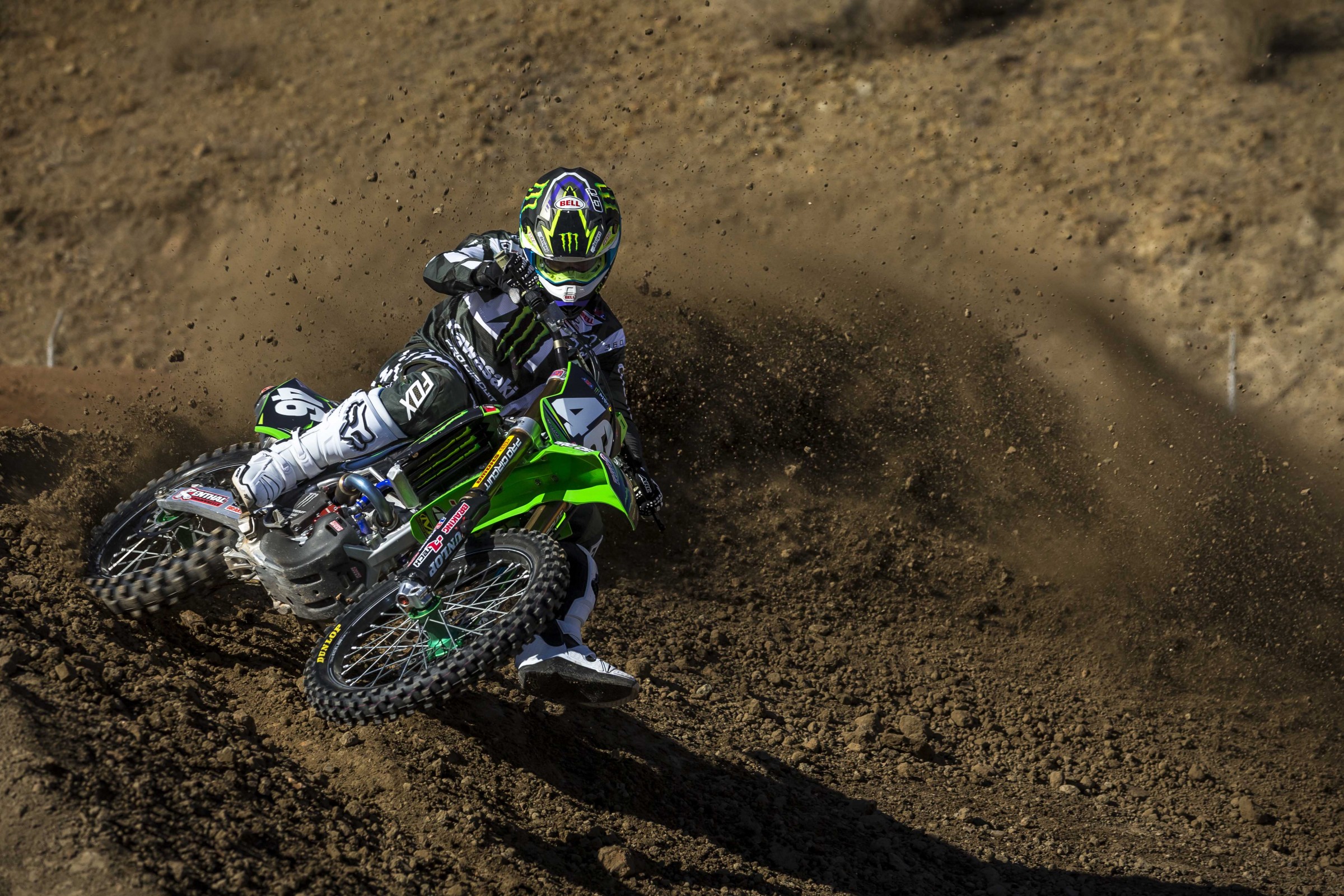 What I've always respected about you and also your brother is that you're actually legit, big fans of this. You're not just someone who happens to be good at it, you really, really love this sport.
Oh yeah, I love dirt bikes! I love dirt bikes! [Laughs]
Every rider must love it to some degree, but I feel like you're at the upper echelon as far as pro riders who follow the races and would generally just be a fan of the sport even if they weren't racing.
I think what I like is, it's such a family sport. My dad raced, my brother raced. I grew up watching my dad and brother race! So I was like "Yeah, dirt bikes are what's up!" I started taking it seriously in my late teens, obviously I was decent at a younger age but I started taking it more seriously later on, so I still enjoy it. I started training with my good friend Johnny Louch again, and he keeps it fun. I think I had been missing that the last few years. We had parted ways just over nothing really, you know how things work. We were still friends, I came back just for fun, just kind of like, "Hey man, let's do some spinning. Let's hang out." It started coming around. I feel young again—and not that I'm old, but I feel like I did a few years ago. I feel like dirt bikes are fun again.
Do you still have the massive collection of dirt bike toys and custom tracks for them?
Oh yeah! The funny thing, me and my friend Matt Bisceglia were talking a few days ago. He asked me if I could build one of those tables for him [table with a toy dirt bike track built in]. So I went to Lowe's and got to work. My big table, I put dirt on that now. My smaller table, that has moon sand on it now. And now, I've built Matt a table, so now we have three tables with different dirt and obstacles. So you're going to see a lot more social media toy bike races coming soon.
Can you go into business making and selling these?
That's so funny, Matt just said the same thing to me. I don't know, anyone can build them for $30 or $40 bucks at Home Depot.
Well yeah, but only if you're handy!
Well most moto kids have a moto dad that's pretty handy, right? You've got to assume they can build some things.
Not my son's moto dad! His dad is terrible—trust me I know. I can't build anything, so he just makes jumps on the couch. So that's where you come in.
Okay, I like it. Dirt tables by J Hill.
You mentioned coming on strong later in your amateur career. And I remember that. What changed for you?
When I was young, Josh [Hill, brother] was pro. I had an injury and I didn't really get right back on the horse from it. I just laid around, got a little chubby, and I watched Josh race. In a way, I was the ultimate fan, because I was going to races and watching races without having to be there—I didn't have a job, I just got to watch. Then Josh had some things go down, he had issues, we saw the bad side of the sport. It was the first time in my life I'd seen that side. So I realized, this sport is gnarly, I can't just float around, I've got to take it seriously. So I was 13 or 14 years old and I started to train. I said "This is what I want, I've got to do this right." I slowly got better, I won some big bike titles. Ryan Holliday at Team Green, he said, "This kid might have something, let's put him on the team." The next year was an awesome year, I won pretty much everything—Loretta's, Mammoth, Monster Cup. Then in 2012 I won some stuff at the first few races, blew my knee out, still raced that week and won some things with a blown out knee. That wasn't fun! I had to take some time off, but by then I had a ride with Mitch locked in. So it's always touch and go. It's always up and down. I just need to have a solid year this year.
Do you think it actually helped to not be all-out with this when you were 10 years old?
I think it helped. I'm so not burnt out on dirt bikes. I'm not bitter toward this at all, and I know some guys are. And I've had enough rough patches to put someone out. I could be bitter, but I'm not at all. It's not always the easiest to get through, but like you've said, I didn't have to go through much when I was young, I was able to just have fun with it. My dad, he's the best coach to learn from. He could have taken me to that level, he could have pushed me much harder. But he pushed my brother really hard and Josh just kind of argued back. So he didn't push me very hard. Although I think I would have dealt with it better than Josh did, I didn't get pushed, so I just kind of learned on my own. I was self-motivated and I think I've grown from that.