­­­For the last two Monster Energy Supercross campaigns, Justin Barcia has lined up at Angel Stadium aboard an AutoTrader.com/Monster Energy/JGR Yamaha YZ450F. And to a significant extent, Barcia's results from the two races—sixth in 2015 and 15th in 2016—have both summed up and symbolized his two-year stint with the bLU cRU. There have been some bad breaks, but also a general longing to get back toward the front of the pack. While the native New Yorker has won two 450 supercross main events during his career—both on a Honda in 2013—victories, try as he might, just did not come his way on the YZ. But now the team, and Barcia, will begin the '17 season with a vivid yellow Suzuki RM-Z450. A bike many insiders believe is much more aligned with JB's aggressive riding style, it just might be the tonic the Coy Gibbs-run team needs to make a full-on run at not only race wins, but perhaps even a title. Back from a somewhat recent European arena rock tour, we called Barcia to get some insight on his brave new sepia-toned world.
Racer X: Justin, where are you this week leading up into Christmas? California? North Carolina?
Justin Barcia: Florida, actually. I moved back down to Florida, probably, like two weeks ago.
We're not even three weeks out from the 2017 opening round at Angel Stadium. How's everything going?
I know! It's coming fast! It's pretty crazy, but yeah, it's going pretty good. We've pretty much got our final set-up and stuff, so I'm just pretty much laying down laps now. It's going pretty good. It's pretty chill down here, you know? It's a little bit more relaxed than other places, so that's why I like it down here right before the season.
You were able to get some racing in during the off-season. I've talked with you about this before: it's always good to get some racing in before the gate drops on the new season, right?
Yeah, it is. Those races [Bercy-Lille, Geneva] didn't go exactly as planned for me, but for me, it was definitely good to do two races on my new bike just because I've never raced a Suzuki before and I just kind of wanted to get my feet wet a little bit. I pretty much raced just a stock bike. I borrowed a bike over there and brought a few parts, so I was a little down on some things in a few spots, but all in all, I'd say it went pretty good. Not too bad. Obviously, I always want to win, so that didn't happen. All in all, I met some cool people and had some fun. It was cool. I've never been in Geneva before, so that was a fun trip.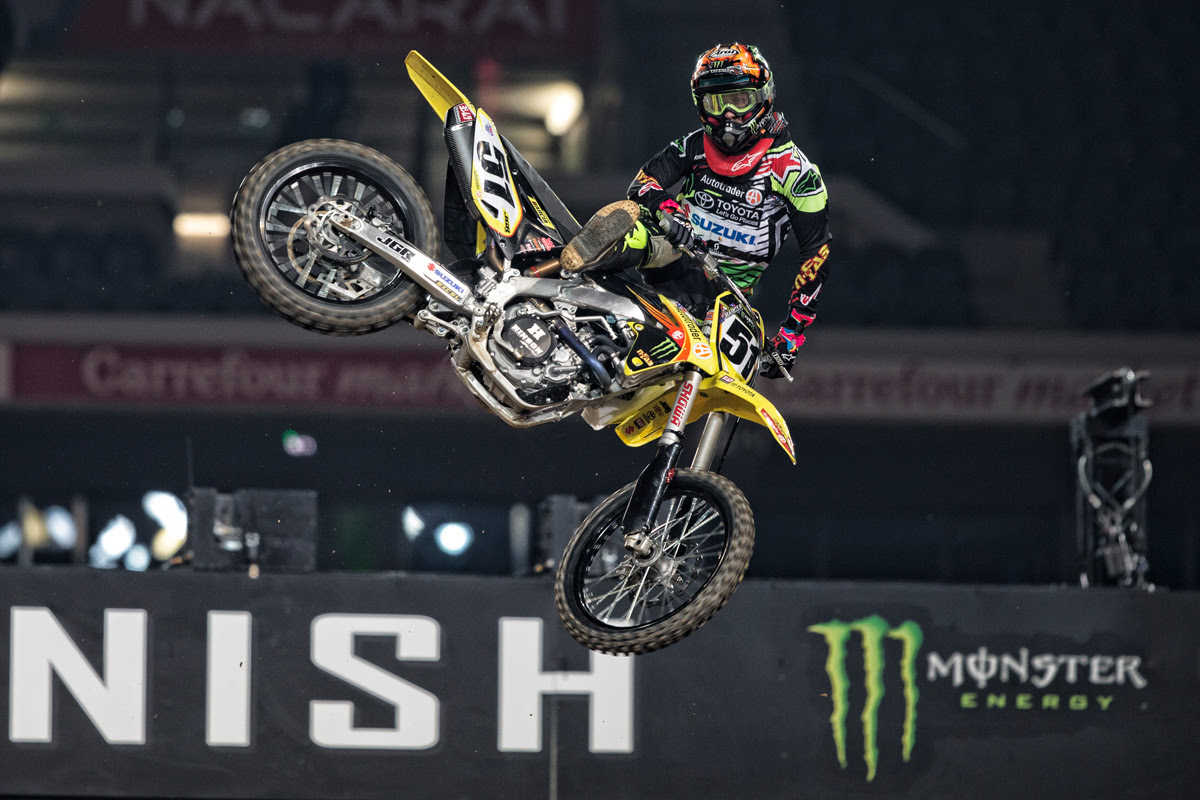 After your European racing tour, when you finally got back home here to the U.S., did you and the JGR team get right to work on the bike?
Yeah, so I flew back to Charlotte and I packed up my stuff and drove down to Florida. I built two new tracks down there. Mark Barnett [1981 AMA Supercross Champion] came out and fixed up my tracks. I rode for three days and the team came down and we did two days of testing and we've pretty much got a good package right now, so I'm happy with where we are at. All in all, I'm very happy with the bike.
First blush, when you got on the Suzuki, did you know you were on something good?
Oh yeah! For sure. I mean, I was definitely looking for a change. The team, they were kind of up in the air with what they were going to do in 2017 and with what stuff. For me, when it all came about, I was super excited. It's a great opportunity for me and it's a great opportunity for the team. I think it's definitely going to be good. I had to get a new contract since the team changed bike brands, so I just re-signed a one-year contract so everything is pretty open right now for everyone, but I think I can go out there and show what I've got. I know I have good speed and stuff and now I feel real comfortable on the bike, so I'm excited to go out there and show everyone what I can do.
Word within the racing community was you wanted off the Yamaha. Thoughts?
I definitely had a lot of issues with the Yamaha, for sure. I just had a lot of bike issues and I was just ready for a change. From the beginning, it never really went the way it should have and everyone at JGR worked extremely hard to make it right, but when the day is done, I think everyone was ready for a fresh start. They had been on Yamahas for nine years. Now, I think everyone seems more rejuvenated and refreshed to go out there and do something on a new bike. I know it was a big change for the team to do this and they took a lot less money. Same for me. I took a lot less money to ride this yellow bike, so I think I have to go out there and show them what I've got.
"I feel more comfortable then ever so I just have to get back to my old ways."
What makes the Suzuki a better motorcycle for you?
It's actually a completely different bike from the Yamaha. It's pretty cool that the chassis has been the same for a long time. At least that's what they tell me. It turns really well. I've struggled with my turning for a while, so when I hopped on it, I rode it stock for two or three weeks and the bike handled so well. The engine is not the fastest engine ever, but the guys got working on it and they got power pretty quick. Right now we have a really good package and we've got everything tuned-up to where it needs to be and I think at this point we're pretty much race ready. My favorite thing about the bike is definitely the turning, for sure. I can really lay it in the turns now like I used to be able to back in the day.
From the Ken Roczen era over there at Suzuki, that seemed to be the word around the pits on the RM-Z450: the bike turned extremely well but lacked a bit in power. But then again, 450 cubic centimeters is probably more power than a guy really needs. All things considered, did Roczen and the RCH team leave you with a good race bike?
For sure they proved that it is a good bike. We pretty much get zero factory support from Suzuki, so we kind of have to start from scratch. But actually it's cool that Suzuki has stepped up. You have the full RCH team and they have helped us and they communicate with us very well and it's been a good start already. It feels right. They help us as much as they can with them having their own factory team with RCH. I think all in all, it's going to be a good partnership for JGR and I hope to be around this situation for a few years, for sure. Obviously it's always nice for a guy to step on a new machine and it's a fresh start, but all in all, I definitely think it's a good move for me and the team and I think I can do good things on the bike. I feel more comfortable then ever so I just have to get back to my old ways.
As far as your rider and mechanic relationship, have you and Ben Schiermeyer caught yourselves saying things like, "Hey, this bike is going to work out well for us?"
For sure. We went to Europe with a stock bike and we brought a head and handlebars and suspension and I think we did fairly well for going up against a few factory guys. All in all, I think we were happy with where we were at and we came home and we fixed those situations that we were having over in Europe. Obviously, it will be a super-challenging year with a lot of good riders and stuff like that, but that's really the least of my worries right now. My worries are myself and getting the bike right and I think I've got the bike right and I have a few more weeks to get the little things that I need to work on dialed-in and I think I'll be right there.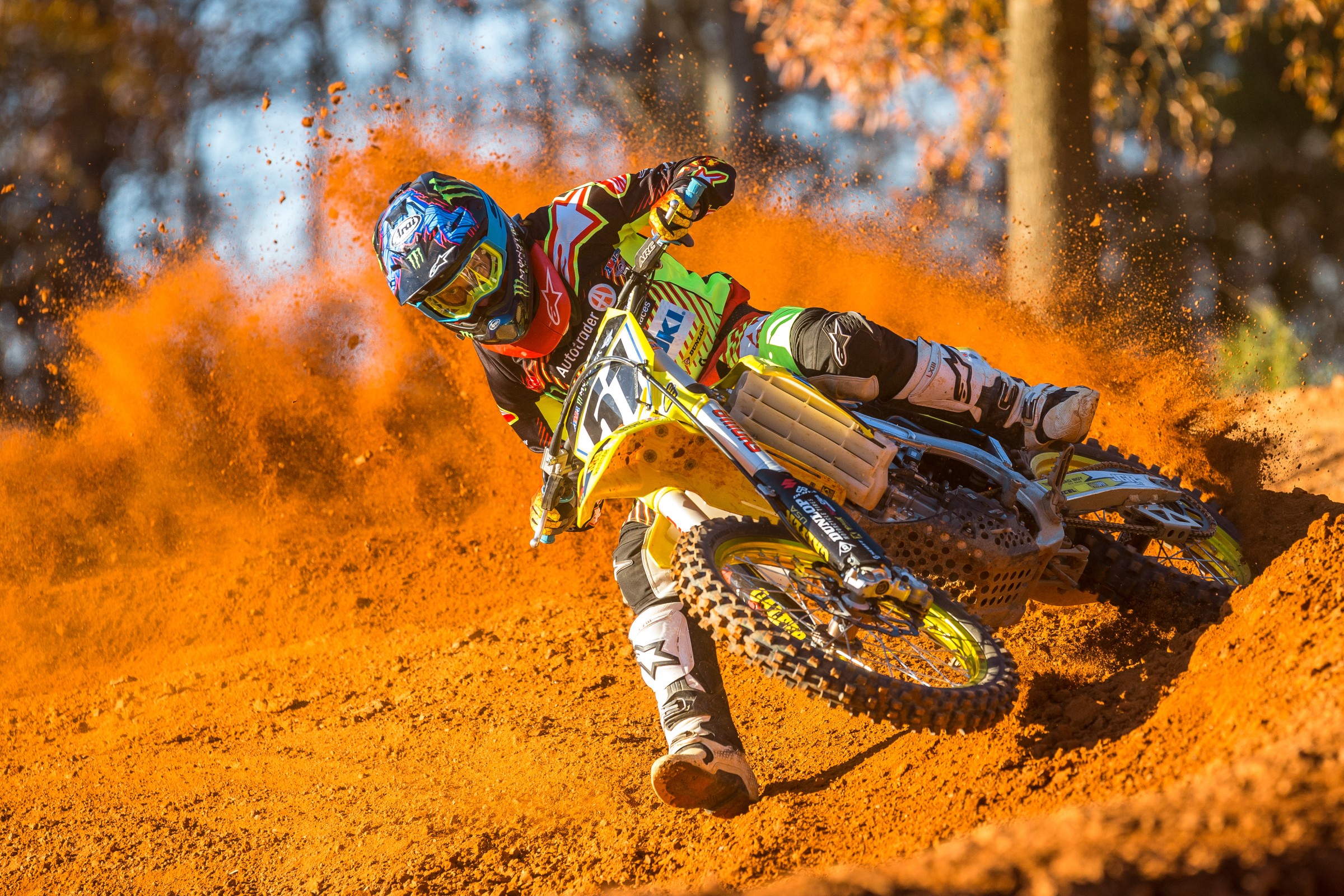 So beyond the bike, you, personally, are all tuned-in with everything and ready to roll?
Yeah, everything is going good right now. I've had the same trainer for a few years now, so I've been doing that stuff and consistently building my base. I mean all in all, we're hitting it hard right now. We have a few more weeks and then we're obviously going to go into race mode, but yeah, we're all good and it's definitely going to be a big year.
I've known you for a while now and you've always struck me as a racer's racer. In other words, when you go to the starting line, there has never been any bullshit or fun and games. It's always been checkers or wreckers with you. How do you see 2017 going and who are you going to have to throw knuckles with?
I mean, you know … every year we talk right before the season and last year I told you I'm ready to go and fight for that win and all this stuff and I ended up injuring my thumb. But even at the first race I ended up getting the holeshot and led quite a few laps before the red flag came. Then after that race, I had to get surgery. If I can do what I did at that first race and during those first few laps—and this time I don't have an injury—I think the year will be really good. I'm really happy with my bike. Last year I struggled right away, so I think all in all, I'll be healthy and be able to do things I want to do on the bike. I think it's going to be a great year to fight for some wins and obviously the goal is always the championship. I've been missing that for a lot of years, so I think I can be up in it this year. Yeah, you can name off 10 guys who can be in it this year, but I'm not really going to get into that. There are a lot of great racers and it's been a stacked class for many years now. It's going to be hard every weekend, that's for sure, but I'm definitely up for the challenge.
Come January 7, 2017, what are you looking for? A step or two up on that box?
Yeah, definitely. That's the goal—to be up on the box. But the goal, for sure, is to get some good starts and if I can get good starts, I'll be right up in the fight, for sure. Fitness is not going to be an issue or anything like that and the bike will be good, so I think we just need to nail our starts and be up in that fight.
The new format with the timed main events and all that … will that make a difference to you?
I kind of heard it was coming for a while now so I've been doing a lot of 25-minute motos on the supercross track. It's a long time out there, but it's no different than an outdoor race. And as an amateur you're always doing 20-minute-plus-two-lap motos, so I think it's not something that's really different, so I think it will be good and it'll good for racing.
So what's going down for Justin Barcia on Christmas day?
Oh, just hanging low down in Florida with the family. Nothing too exciting. Gonna keep the excitement down until we get to Anaheim and then let it rip! [Laughs]