Welcome to Racerhead on a very cold Friday. Winter is here, and there's not a whole lot going on in our part of the country, but out in California and down in Florida, Georgia, and the Carolinas the test tracks are humming with activity. Everyone is getting ready for the Anaheim opener of Monster Energy AMA Supercross on January 7, 2017. This is the heavy-lifting of being in the industry, whether you're a rider or a mechanic, gear designer or goggle guy, series promoter or track builder. Everyone is working through the holidays to be ready for the New Year and start the season fresh.
This week has also been a busy one for photographers. It's like that day in school when they had everyone sit for yearbook photos, only these shooters are helping the riders and teams with autograph stock, program images, future advertisements, and general promotional material. This can often seem like some kind of boring torture for the riders, as they often have to hit the same jump dozens of times, or all line up a certain way for team photos.
One image that caught my eye was Guy B's images of the Smartop/MotoConcepts Honda team. The Mike Genova-owned Tony Alessi-managed team has expanded to five riders, with the addition of Justin Brayton and Kyle Chisholm (250SX West) and rookie Cameron McAdoo (250SX East) to a lineup that already included Mike Alessi and Vince Friese. They are also getting solid support now from American Honda. Add it all up, and MotoConcepts is now one of the biggest teams in the pits, and I wouldn't be surprised to see all three of their 450 riders in a main event. Brayton is coming off winning the Australian Supercross Championship and it sounds on this interview that he's feeling good about 2017 and beyond. Also, check out BrownDogWilson's gallery from the intro that ran on Racer X Online earlier this week.
The bad news is that the team will be supercross-only, just as it's been for the last couple of years. The good news is that Cameron McAdoo is going to have four veterans to learn from, and he could be a sleeper pick in the East Region. He was the winner of the 250 Amateur All-Stars class at the Monster Energy Cup and, as we saw at Daytona's Ricky Carmichael Amateur Supercross, he's got huge potential.
Down the road, Simon Cudby was shooting the Red Bull KTM team, which is probably the strongest lineup for 2017: the red-hot Marvin Musquin, the veteran Trey Canard, and defending AMA Supercross Champion Ryan Dungey. Simon put them through their paces and came away impressed by the camaraderie under Roger DeCoster's tent.
"Everyone was just relaxed and chilled and they all look ready," Cudby says.
Today Simon is shooting the GEICO Honda team, and in the days to come he's also got RCH Racing Suzuki, TLD/Red Bull KTM, and Rockstar Husqvarna. Like I said, this week is busy for everyone!
And speaking of Cudby, congratulations to Simon's daughter Shannon on scoring her first magazine cover shot with this month's brand new issue of Racer X Illustrated. Shannon, who's helped her dad out the last couple of years at the races, now works full-time at WPS/Fly Racing, and she nailed a shot of JGR Suzuki's Justin Barcia on his brand-new Suzuki when Justin was out in Boise, which is where Western Power Sports is located. This marks the first time that we've ever had a cover shot by a second-generation photographer, and it gives Shannon exactly one more cover than I ever shot!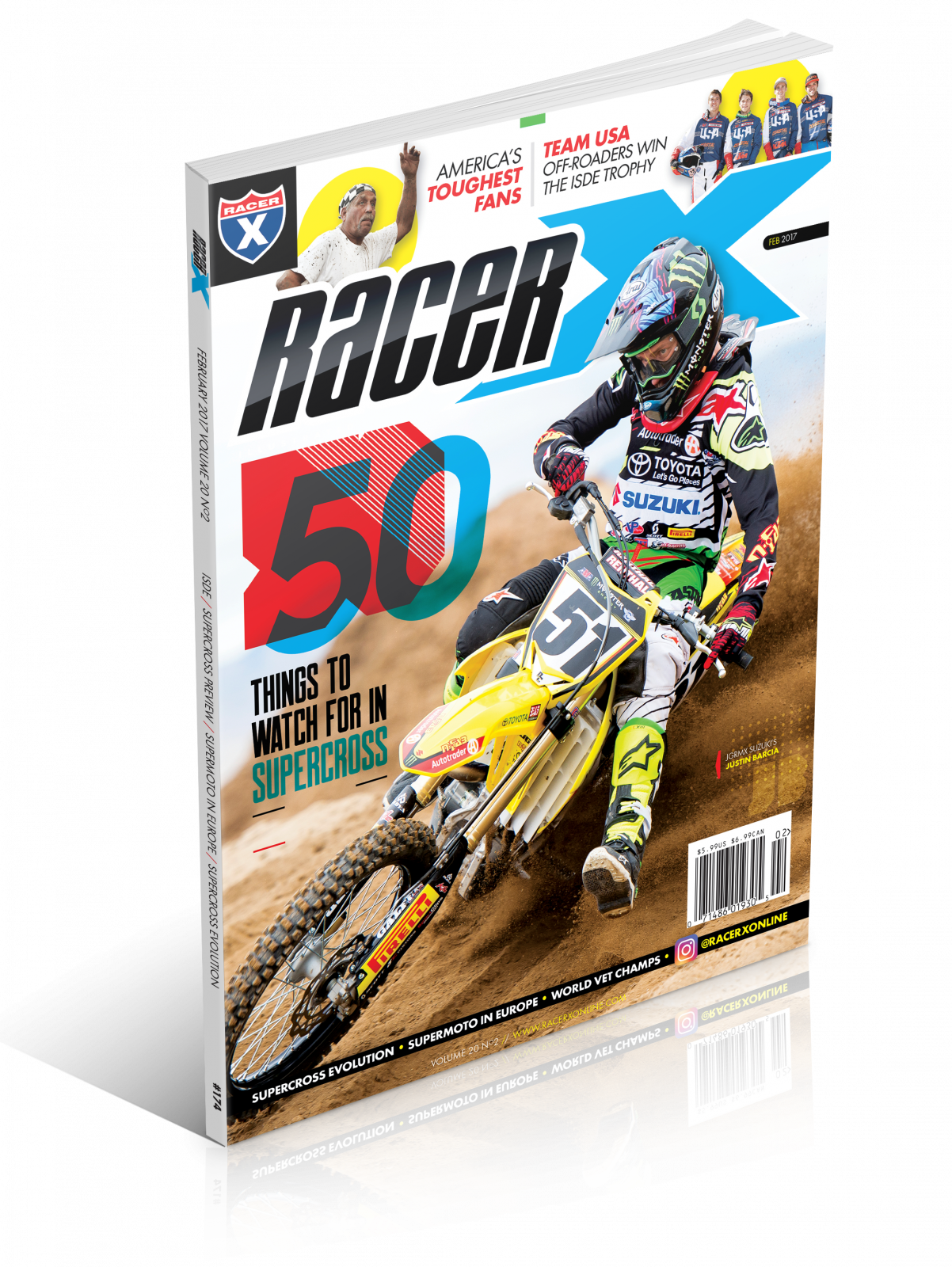 Let's get into what news we do have, beginning with Marvin Musquin.
MARVIN'S WORLD (Andras Hegyi)
French motocrossers have been relevant in the AMA Supercross and Motocross Championships ever since Jean-Michel Bayle showed up here in 1989. With JMB's wild success in 1991, winning AMA Supercross and 250 and 500 Motocross, he inspired an entire generation of French riders to follow him to America. Many have been successful, like Mickael Pichon, David Vuillemin, Sebastien Tortelli, Christophe Pourcel, Stephane Roncada, and Marvin Musquin. Pichon, Pourcel, Roncada, and Musquin all won 125/250 supercross titles, but none of them ever earned the premier-class AMA Supercross Championship.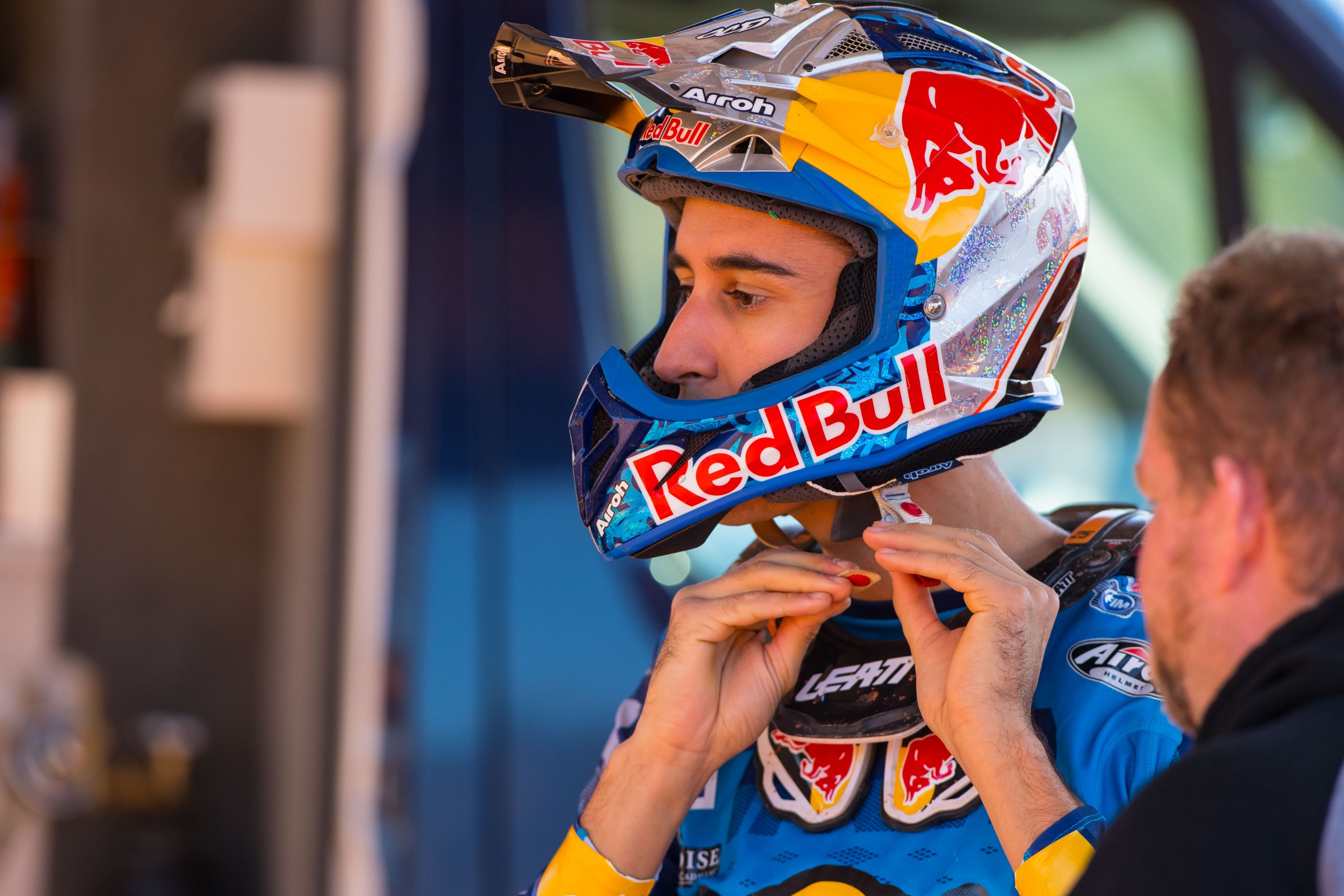 But now it looks like Musquin will ride into Anaheim as a title contender, especially after his fine off-season racing all over the world. The two-time MX2 World Champion did five different events in the last couple of months and collected podiums at every race. He also earned three victories. First he won Red Bull Straight Rhythm with a perfect performance, then he realized his childhood dream to be King of Bercy by winning the most important European off-season event, the Bercy-Lille Supercross, in his native France. After that Musquin became the King of Geneva Supercross for the third time in Switzerland.
Last year was Musquin's rookie season in the 450 Class, and he was reliable and consistent. Now he seems more confident and self-assured on the big KTM. After this fine off-season, Marvin looks like he's the best chance France has of recovering the crown that Bayle practically relinquished back in 1992 when he decided to quit SX/MX to take up road racing.
To Matter or Not to Matter (Jason Weigandt)
Now time for ye olde annual supercross question: do we draw any conclusions from off-season races? The central subject this year is the surging Marvin Musquin, who has won three straight races consisting of Red Bull Straight Rhythm, the Bercy-Lille SX, and now the Geneva SX, as Andras mentioned above. No doubt, Marv is riding well. However, you can add some caveats to each win.
Straight Rhythm is far from a regular supercross race—although he did have Ryan Dungey covered there, for whatever that is worth. He was good in Geneva and Lille, but he had to beat riders like Justin Barcia, Malcolm Stewart, Justin Brayton and Christian Craig there—not quite the likes of Dungey and Ken Roczen and Eli Tomac. And at the one off-season race that had the largest contingent of contenders, the Monster Energy Cup, Marvin finished third behind Tomac and Dungey, and Roczen won two of three races. Dungey also edged him at the SMX Cup the weekend before it.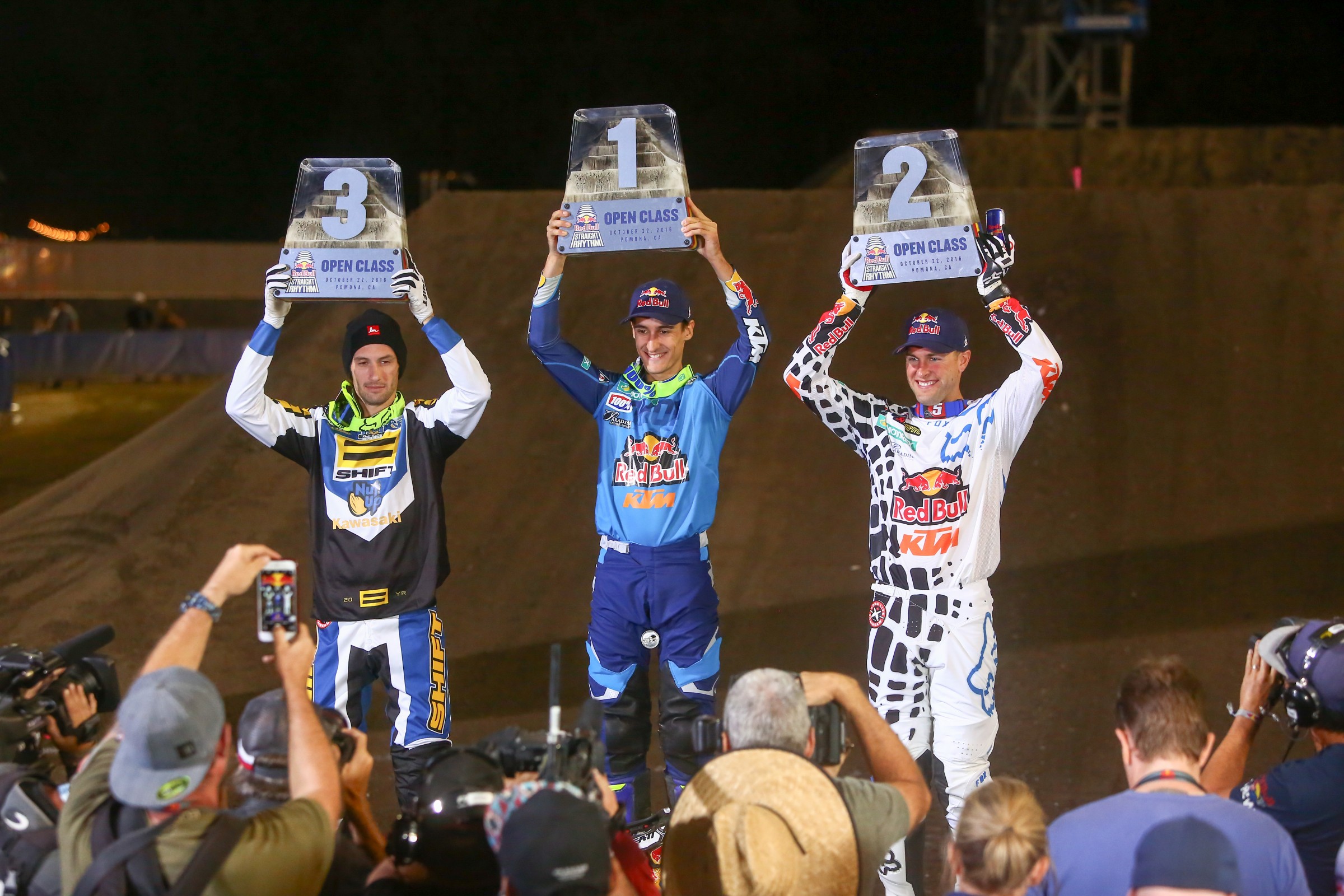 So obviously you can't draw too much from this. It's not like Marvin has been smoking Dungey, Tomac, Roczen, and the full A1 gate every weekend. All we can really tell is he's going much, much faster than he was at this time last year, when he started his rookie 450SX campaign slowly. But how much faster? You have to be careful how much you take from these races.
That might be good for Justin Barcia, meanwhile, who surely would at least expect himself to be at or above Musquin's level but couldn't match him in Lille or Geneva. I got to watch Barcia on his new Suzuki at the JGR test track a few weeks ago, and he looked amazing—like, seriously crazy fast—and I don't remember seeing that same type of thing in previous years when he was on his Yamaha. He didn't have his full race bike at the European races, so that might make a difference, but Malcolm Stewart certainly wasn't on a 2017 works bike either—he doesn't even have one. So we'll see. For Barcia, he has to hope these races have zero indication of how things will go once the regular season starts. Marvin has to hope the regular races go just like this.
It's hard to build actual stats to prove if these races matter or not, since the level of competition varies so much year to year. My gut instinct is that, often, the guys who are flying at the off-season events do not see that transfer over very often. Hey, even Jeremy McGrath was beatable at Bercy, and he never won the old U.S. Open race.
Whatever. We'll be right back here at this time next year to debate the exact same topic.
SX Preview Shows (Weigandt)
And now another ye olde annual tradition: our Racer X Supercross Preview videos. Yesterday we recorded our fourth-annual edition, with myself, Steve Matthes and Jason Thomas in the studio at the Morgantown, West Virginia, Racer X HQ, and David Pingree out getting scoops from ... well, where better than the Angel Stadium parking lot?
These videos are really fun to do, and you'll start seeing them next week. Big credit to video men Andrew "Gloop" Mahey and Kyle "Broke" Scott, and Chase Stallo, who attempts to keep Matthes in line each year with hilarious results. Honestly, the day at the office trying to do these is as much fun as the shows themselves. JT, Matthes, and I were together from 7 p.m. Wednesday, when our flights landed in Pittsburgh, all the way through about 1 a.m. last night, when we made it back from Morgantown to our hotel in Pittsburgh. It was about 30 hours of hanging out, and we literally went down to the final minute bench racing, telling old racing stories, and making predictions for the New Year. We really, really like motocross and supercross. We hope it shows when these videos hit.
What's in the February issue of Racer X Illustrated?
Check out what's in the February issue of Racer X Illustrated. Subscribe now for as low as $9.98 to send someone 13 issues of Racer X Illustrated and a 13-month Racer X calendar that features our favorite covers and riders from the past 20 years. We'll even send you a free Racer X calendar as a bonus!
5O THINGS TO WATCH FOR IN SUPERCROSS IN 2017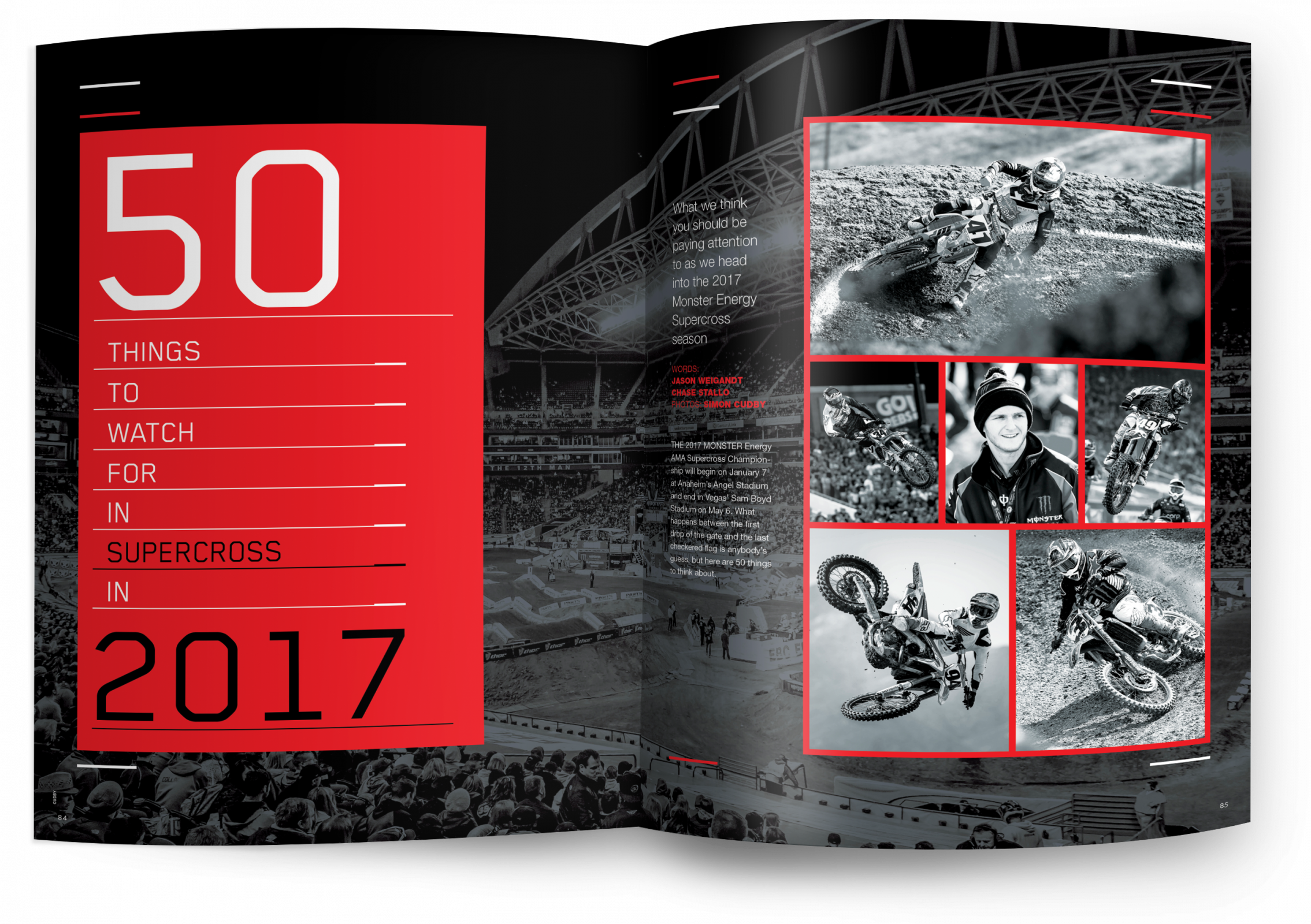 As we near the first gate drop of the 2017 Monster Energy Supercross season, here's what we think you should be paying attention to.
FINALLY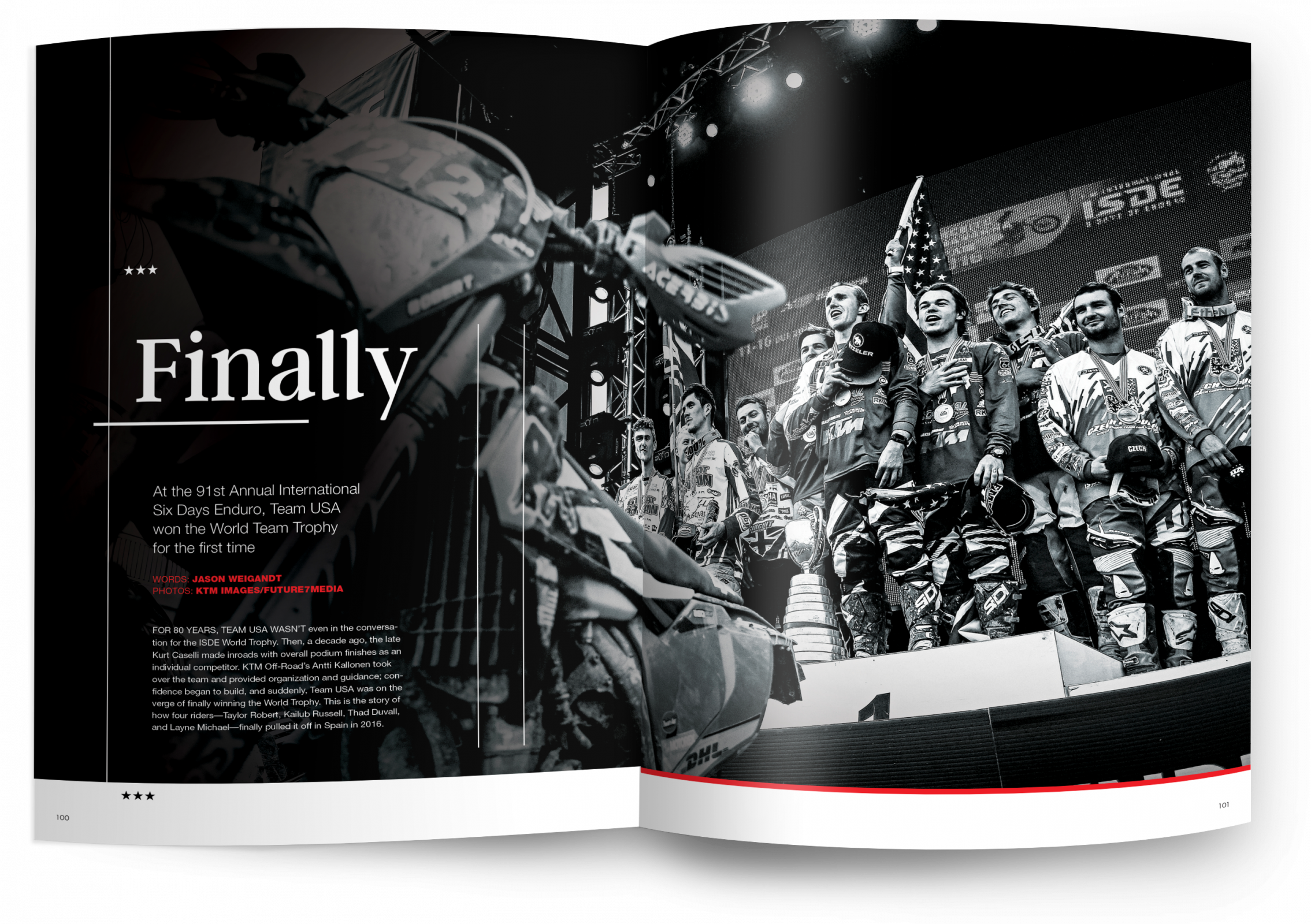 At the 91st running of the prestigious International Six Days Enduro, Team USA won the World Team Trophy for the very first time. Here's how they did it.
RAMP IT UP!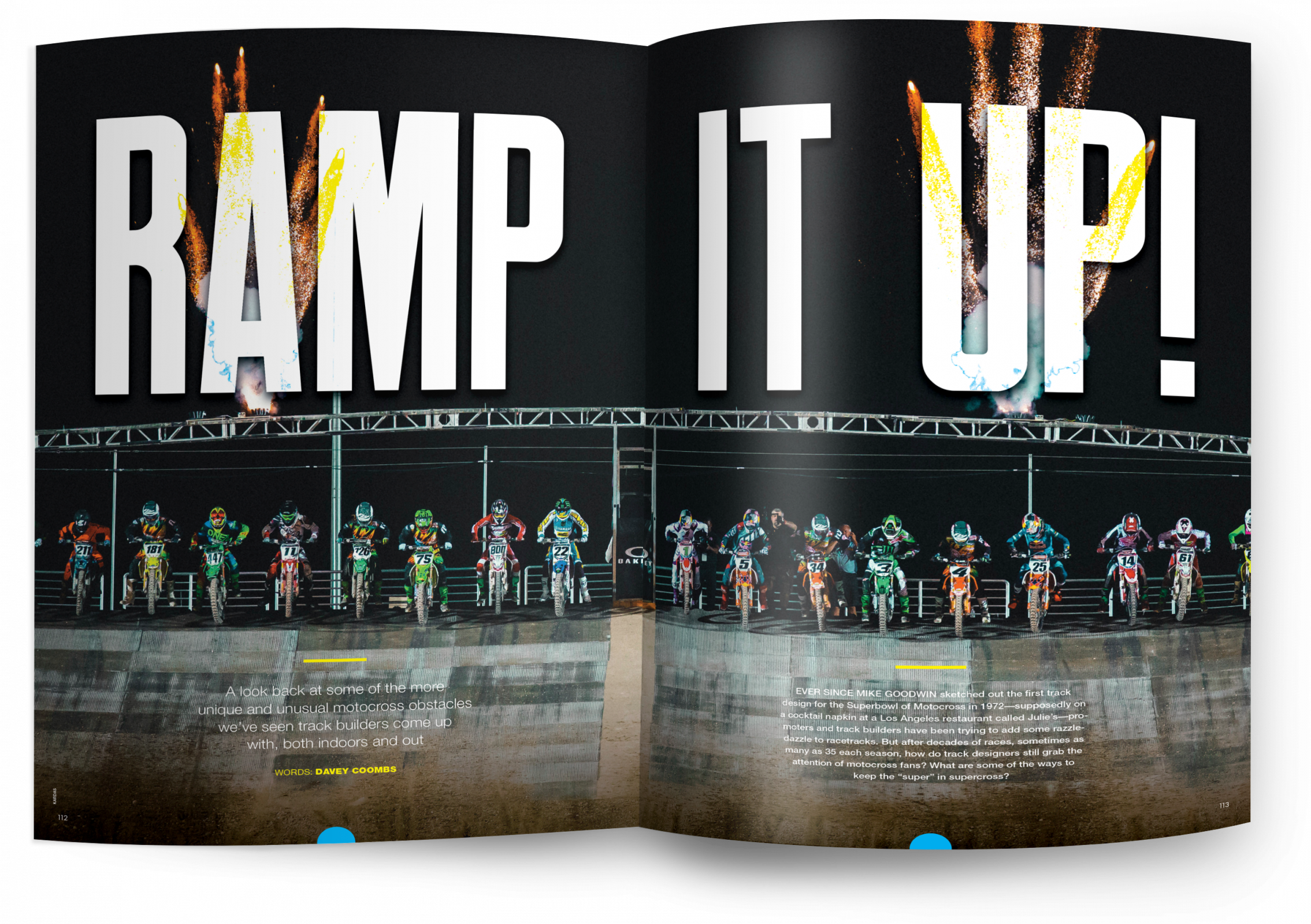 Over the years, track designers have come up with some off-the-wall obstacles to challenge riders. Here are some of the most memorable, from indoors and out.
INTO THE WILD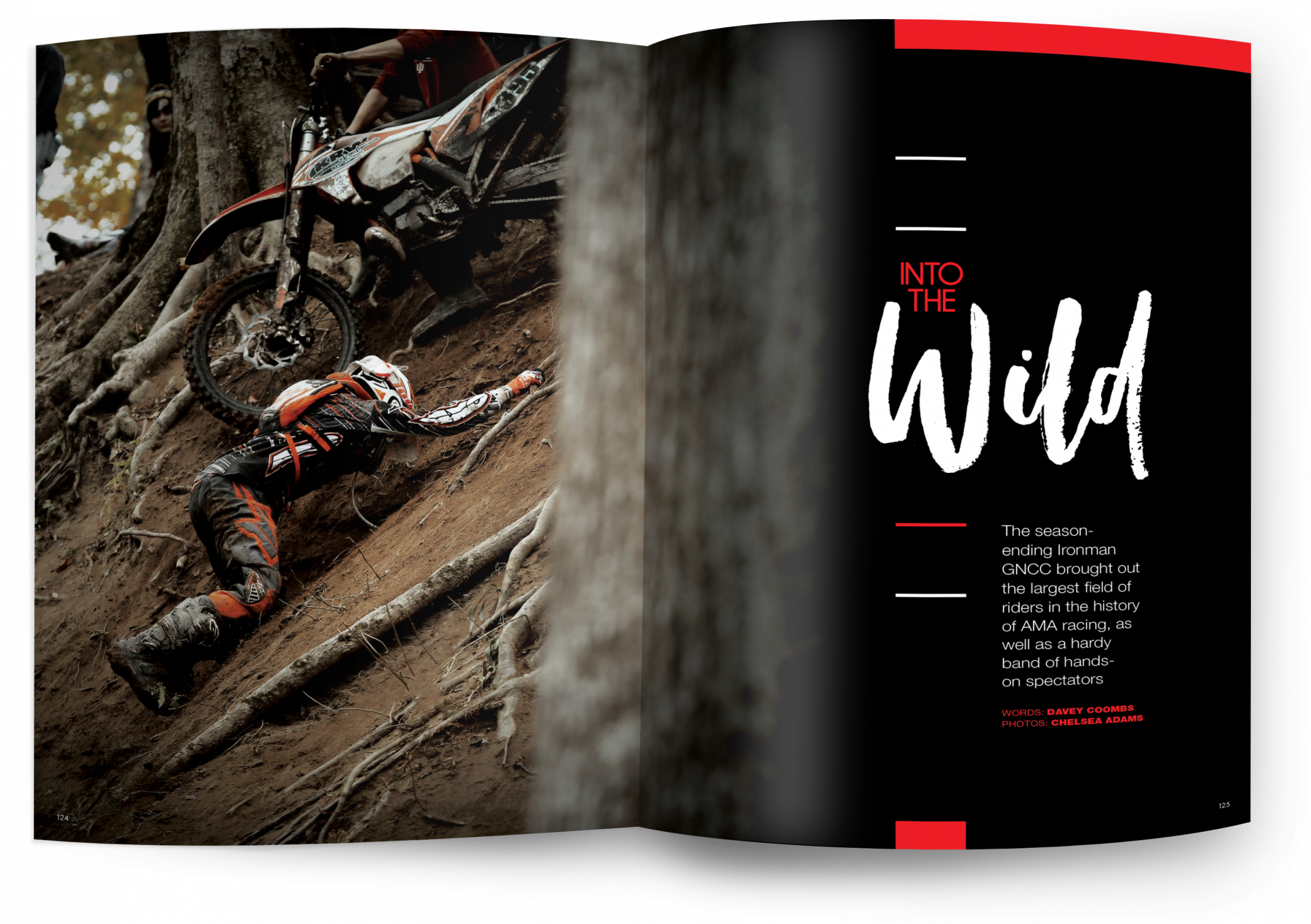 Chelsea Adams brought her cameras to the season-ending Ironman GNCC to find some of the sport's toughest, most dedicated riders—and fans.
IN SEARCH OF SUPERMOTO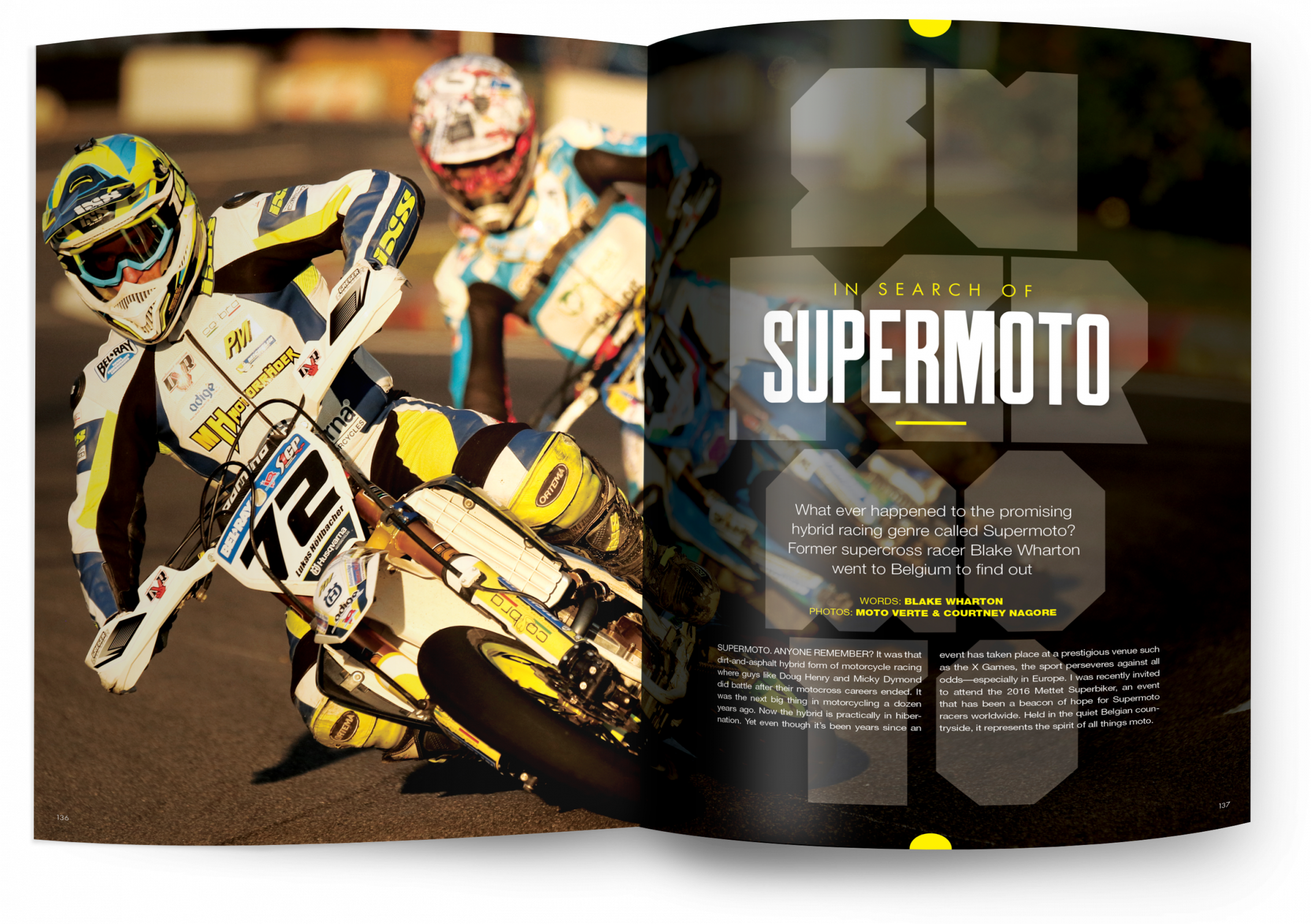 The hybrid sport of Supermoto—part motocross, part road racing—isn't quite as high-profile as it was a decade ago, but it lives on in events like Belgium's Mettet Superbiker.
Australia Bans Tear-Offs (Chase Stallo)
Citing environmental issues, Motorcycling Australia announced this week a ban of the use of tear-offs beginning in 2017. The new rule will force riders to use roll-off systems in all disciplines of off-road and motocross racing.
In the announcement, Williams Event Management director Kevin Williams—promoter of the Motul MX Nationals—said the racing community needs to be proactive about the environment:
"We need to be proactive about the environment and tear-offs are becoming an issue globally. We've all known for a couple of years now that [the] days were numbered for tear-offs. Aside from tear offs being banned in enduro and cross-country competition for the past few years, there are some venues in Australia where you simply cannot run tear-offs, which has been the case for years.
"All the major [goggle] companies have a roll-off system and generally offer systems that can be easily retro fitted to existing goggles in addition to providing ripcord and electric versions. So, no one can say that they can't get a roll-off system easily in Australia. Coupled with that, the price comparison between tear-offs and roll-offs means that usually, roll-off films are far cheaper than tear-offs.
"The average competition rider runs a stack of 20 tear-offs per race. Now multiply that by one hundred and 20 riders over several races a day—that can be up to 5000 plastic tear-offs [on a very muddy day] at one MX Nationals meet."
You can read the full statement from the MA here.
TOY STORY REDUX (DC)
For this week's List, we were showing off some of the hundreds of moto toys we have collected over the years. This afternoon, we got this letter:
Saw the article you did on motocross toys which I appreciate seeing some time given to. Wanted to give you a little more info on Motocross / Dirt bike toys being it didn't look like you really knew what has been out there the last 50 years. I realize that motocross / dirt bike toy collectables may not be something people in our sport think about but for me it's a way to document the progression of our sport and the advancement in technology over the years. Plus I'm a kid at heart and just dig miniature moto toys!
My collection is pretty ridiculous. My oldest Motocross collectable which was made by a toy company out of London England called Britains LTD , was manufactured in 1966 of a 1964 Greeves Challenger 250. That toy will be 51 years old here in 2017! Thats pretty cool to know there is a motocross toy out there hat is over 50 years old .
I could go on for days but am sending you a link to a You tube vid I put up of most of my vintage collection. The collection has grown since I made the video and have some really exclusive and rare MX collectables. I also collect most of the modern MX toys. You mentioned the toy done for Pingree by MiniMotoMe in your article. Ping also had a motocross toy collectable done in his image by Road Champs which I also have in my modern collection.
Enjoy the vid and this should open you up to the world of Vintage MX toys.
Best Regards,
Foster Edwards
Great stuff! Also, we mentioned Kenny Baba on New Ray Toys in the article. As you can imagine, he has quite a collection of his own, as you can see below:
Hey, Watch It!
Racer X Films: Extended interview with Eli Tomac
Racer X Films: 2017 Honda CRF450RX intro
The guys from Throttle Jockey do a lot more than make stickers and graphics. Since 2010, they've been going down to Guatemala with a team of friends to help out the less fortunate and have even started an FCA MX Camp in recent years. Check out the video from their latest trip, where they helped with a much-needed renovation of a local family's home.
Here's Dirt Shark's look at Austin Forkner getting ready to make his Monster Energy AMA Supercross debut:
Random Notes
So you've heard of people wanting to test ride a bike for sale and then stealing it? That really does happen and it happened again today. A 2014 YZ450F was stolen from 3960 East 188th Street in Cleveland, Ohio. Vin # JYACJ18C6EA005828. If you have any information about this bike please contact Ben at 412-491-0381.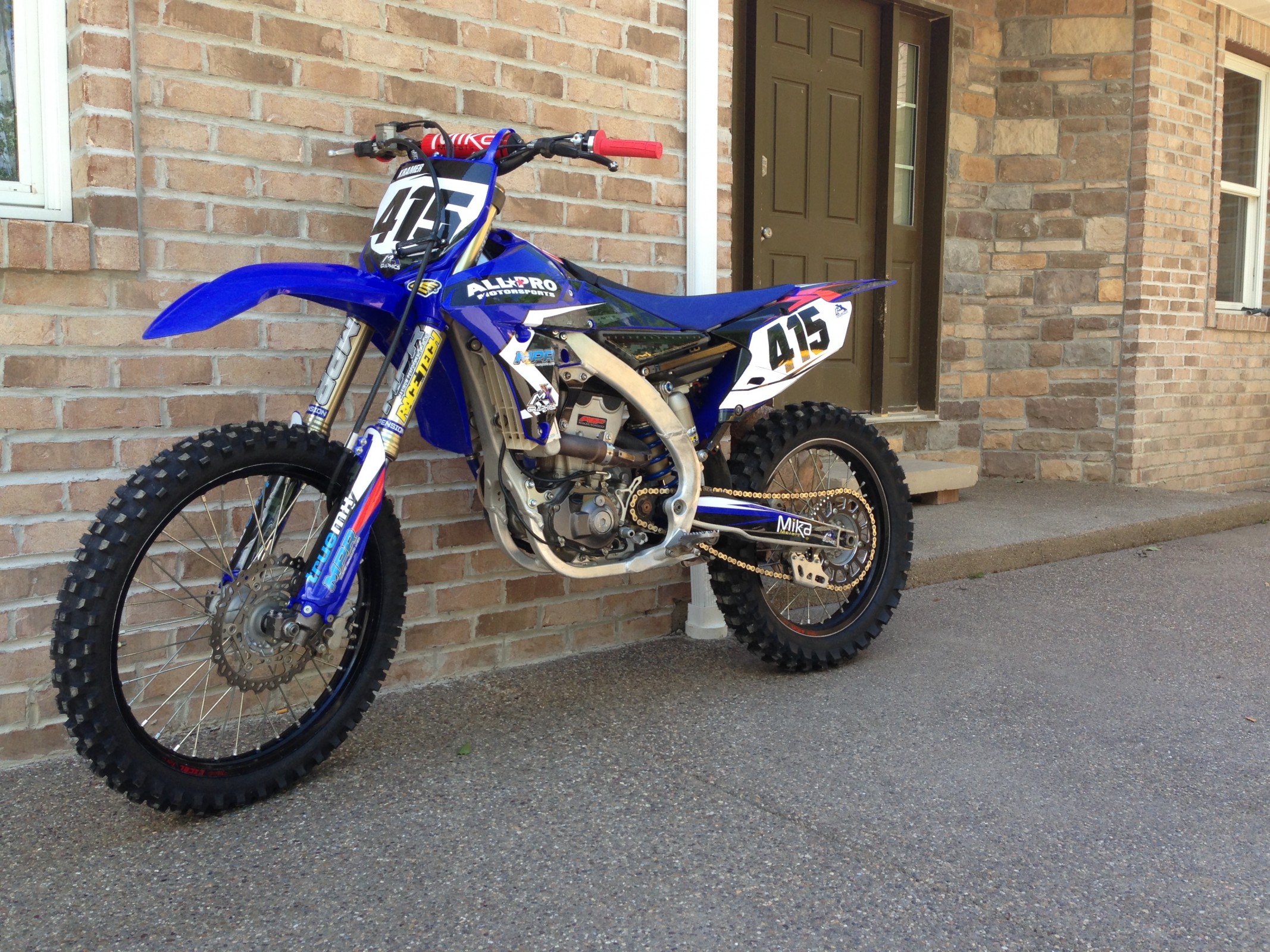 Looking to give someone a gift that keeps giving every month for a full year? Subscribe now for as low as $9.98 to send someone 13 issues of Racer X Illustrated and a 13-month Racer X calendar that features our favorite covers and riders from the past 20 years. We'll even send you a free Racer X calendar as a bonus!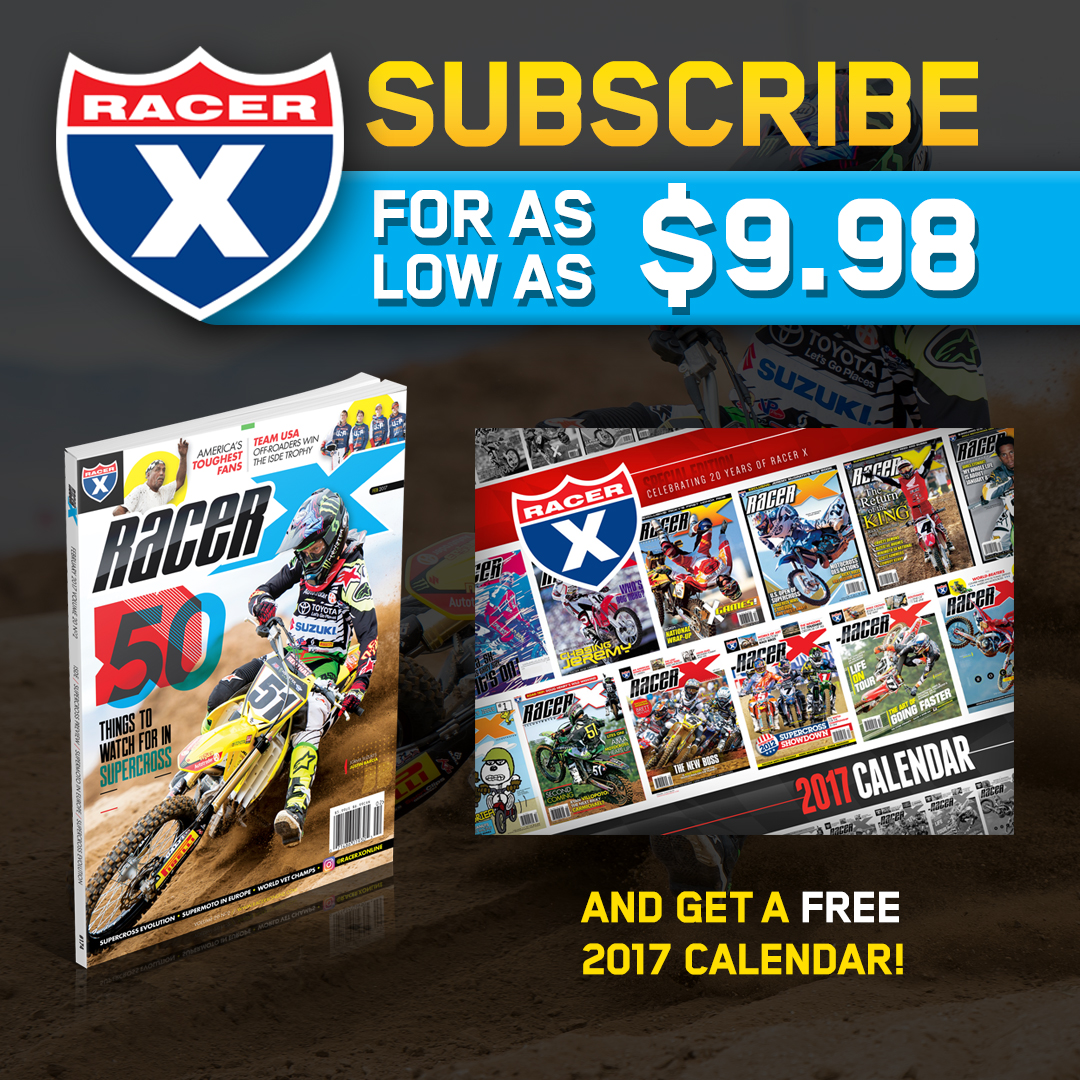 After Ken Roczen made his Honda debut on our December '16 magazine cover, we got a letter from Chris Higgins asking what was going on with Roczen's kick-starter—it was missing from the bike. Here's an explanation from our man Chris Jonnum of Dispatch Media, who worked with American Honda:
"The 2017 CRF450R actually comes standard with a kick starter, while electric start is available as an accessory (not the other way around). The team runs electric start and removes the stock kick-start lever and related parts."
Mystery solved.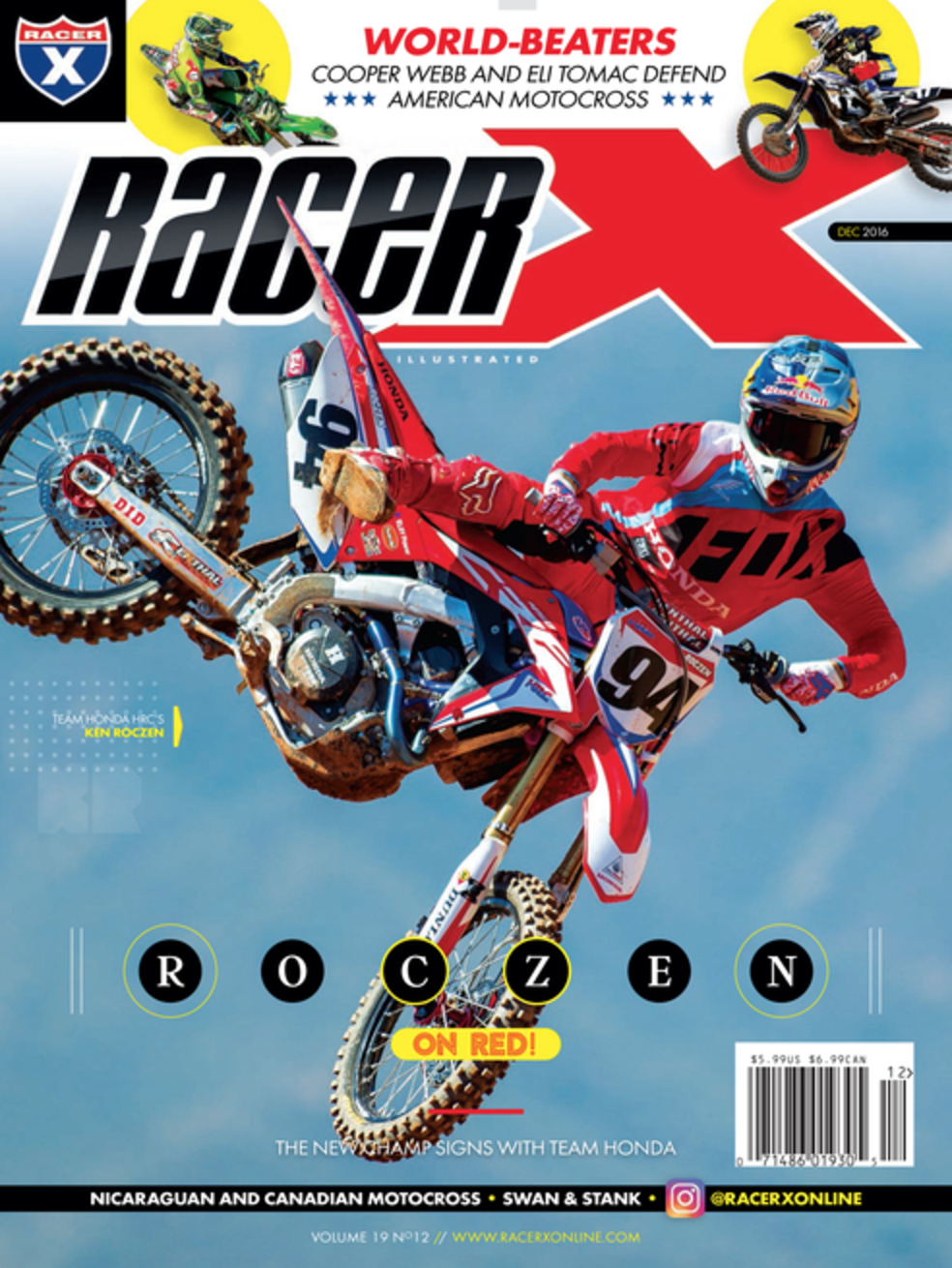 If you can't find the kick-starter on Ken Roczen's new Honda, it's because it's not actually there.
---
For the lastest from Canada, check out DMX Frid'Eh Update #50.
---
That's it for Racerhead—one more week down for the off-season, and Anaheim 1 is rapidly approaching. See you at the races.