Looking for some cool motocross toys for Christmas? Check out some of the little bikes that adorn the Racer X Collection here in our office. Some are rare overseas finds; others are readily found at your local Target or Wal-Mart—or better yet, visit your local motorcycle dealer to see what they might have on their shelves. We asked Kenny Baba from New Ray Toys where we might find some of the race-team replica bikes, and he listed the following:
For this week's List, we thought we would show you just a sample of the aforementioned dirt bike toy collection that could almost fill an entire Toys"R"Us!
EVEL KNIEVEL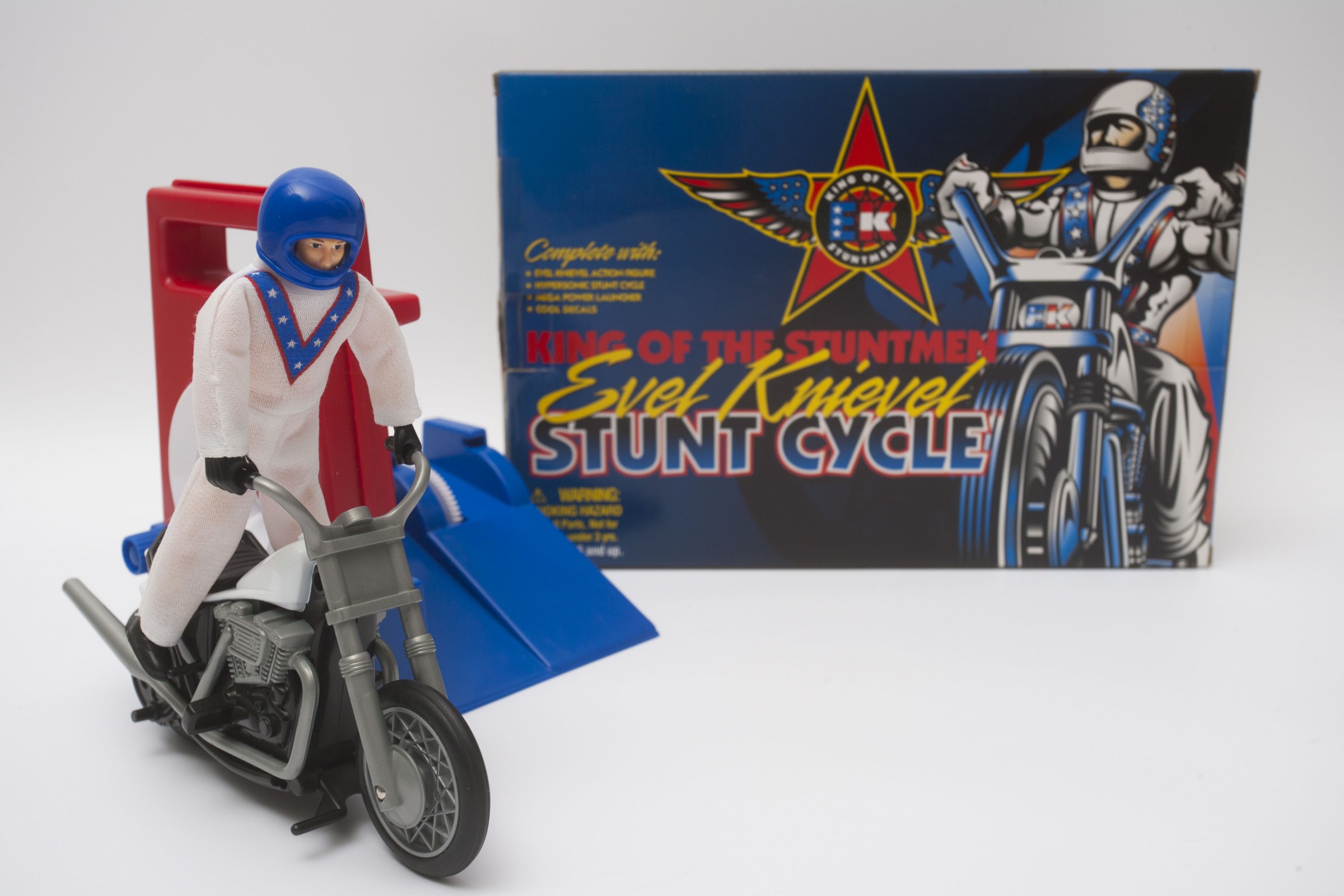 Who didn't love Evel Knievel growing up? We have all the original toys, but here's a more recent set by Playing Mantis, made in China.
OLD CR 250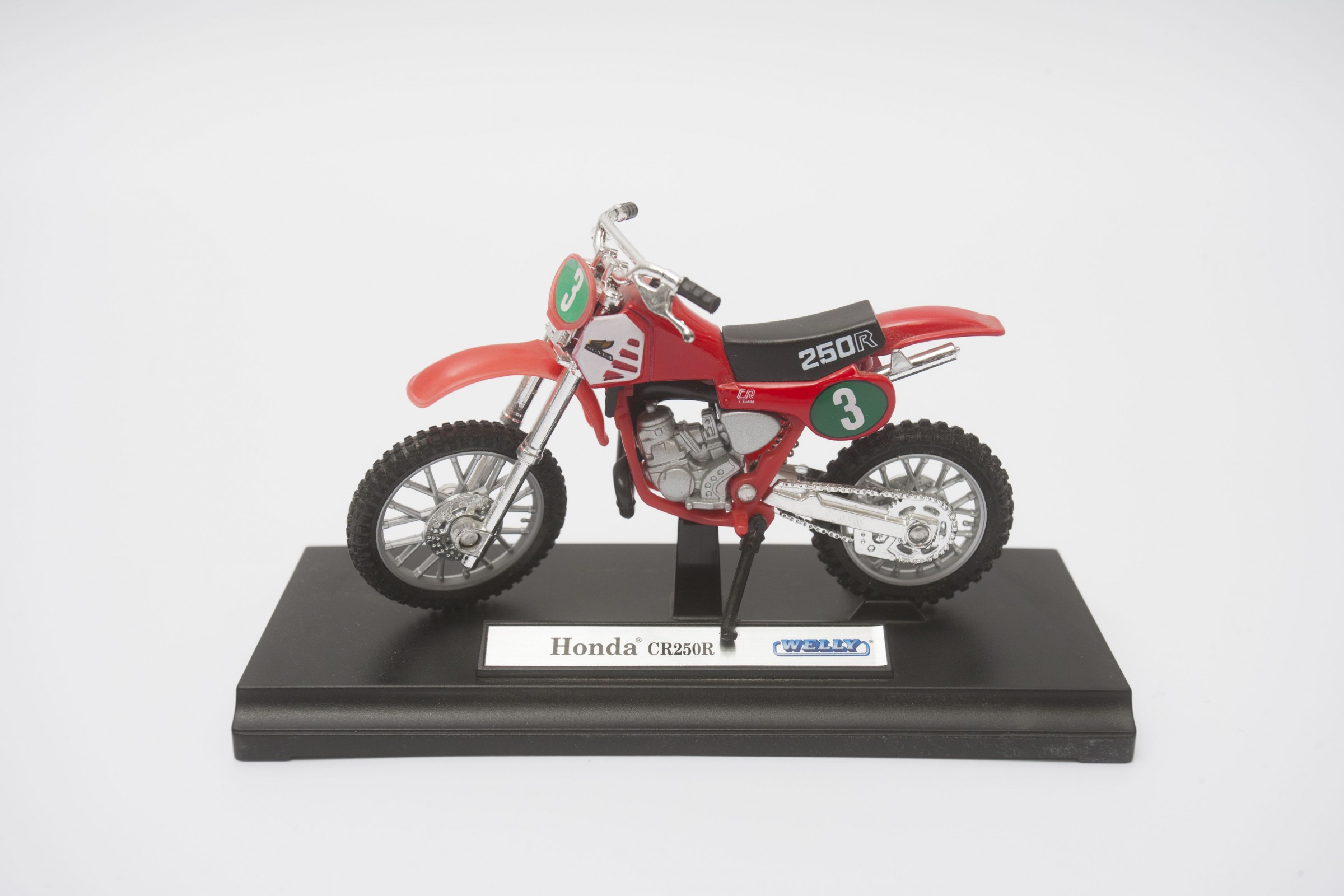 Nowadays you can find really cool motocross bikes by New Ray for guys like Ken Roczen, James Stewart, Justin Barcia, and many more, but that wasn't always the case. But on a trip to Europe some time ago we found this sweet early-80s-looking Honda CR250 by a company called WELLT.
PARIS BIKE #15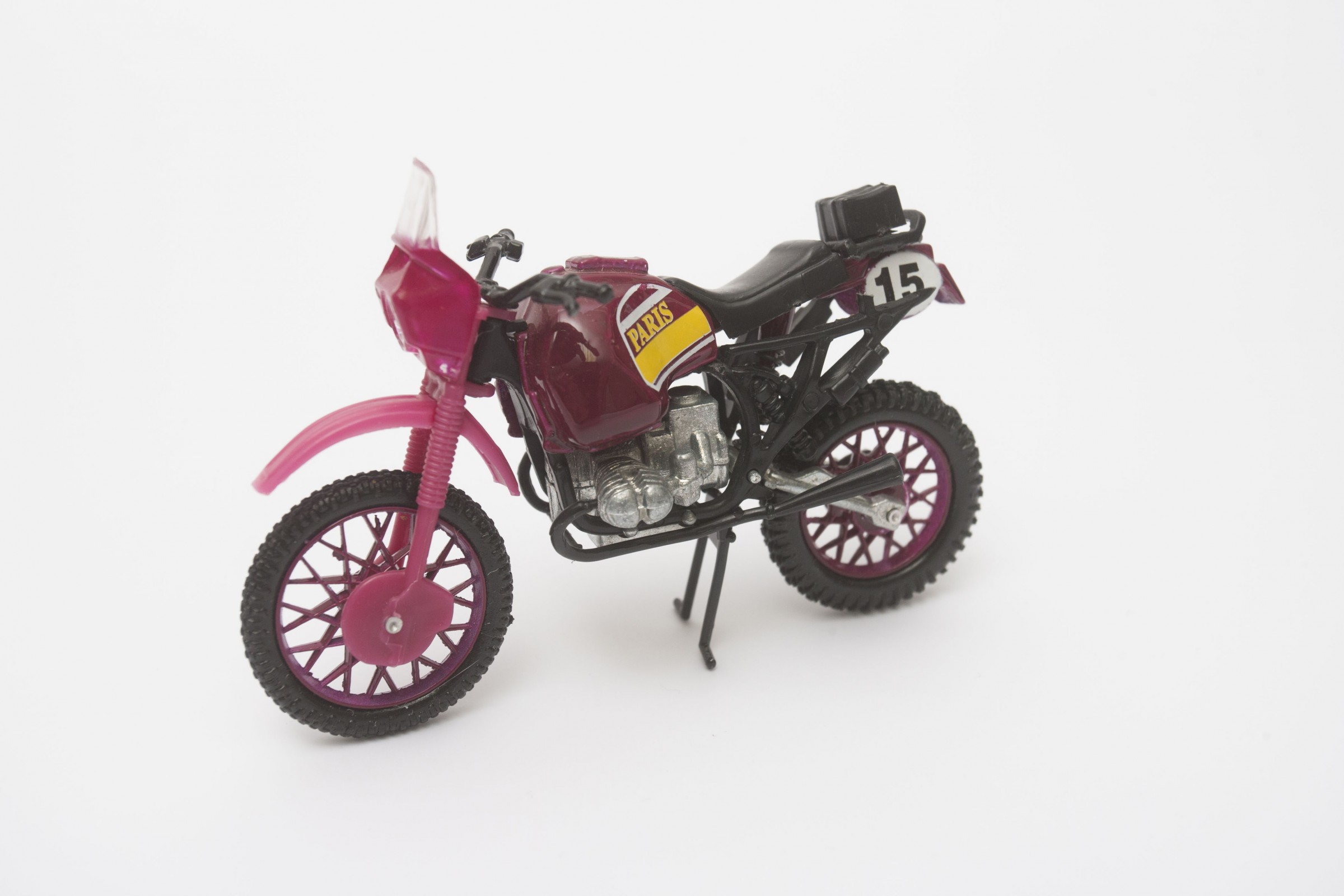 No idea where this Paris-Dakar-looking bike came from, but we're guessing France!
TEENAGE MUTANT NINJA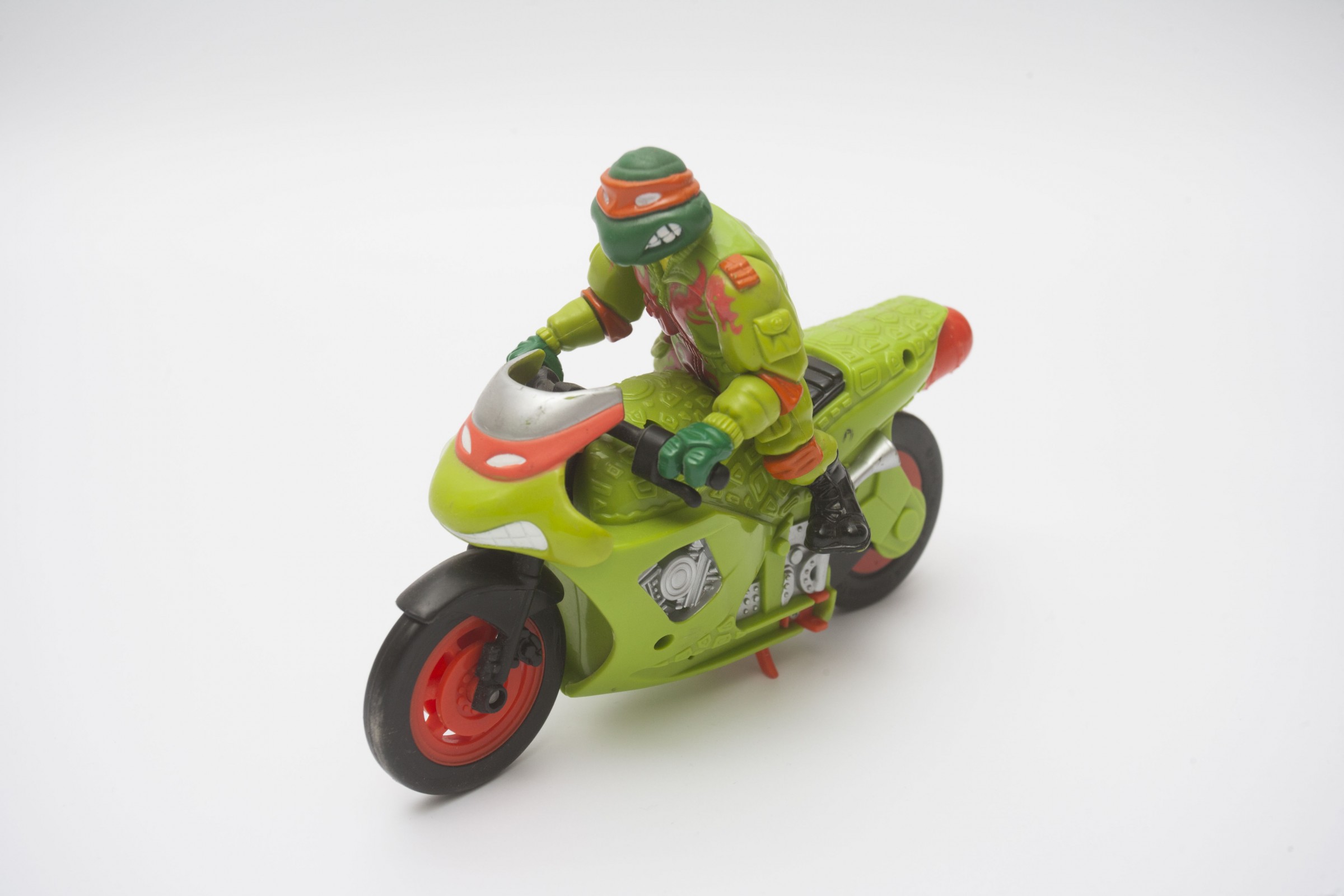 Remember the Teenage Mutant Ninja Turtles? They always had a strong link to motorcycles because their founder, Kevin Brooks Eastman, loved riding dirt bikes. He even sponsored New England off—roader and Blackwater 100 winner Tommy Norton for years.
EXTREME DIRT BIKE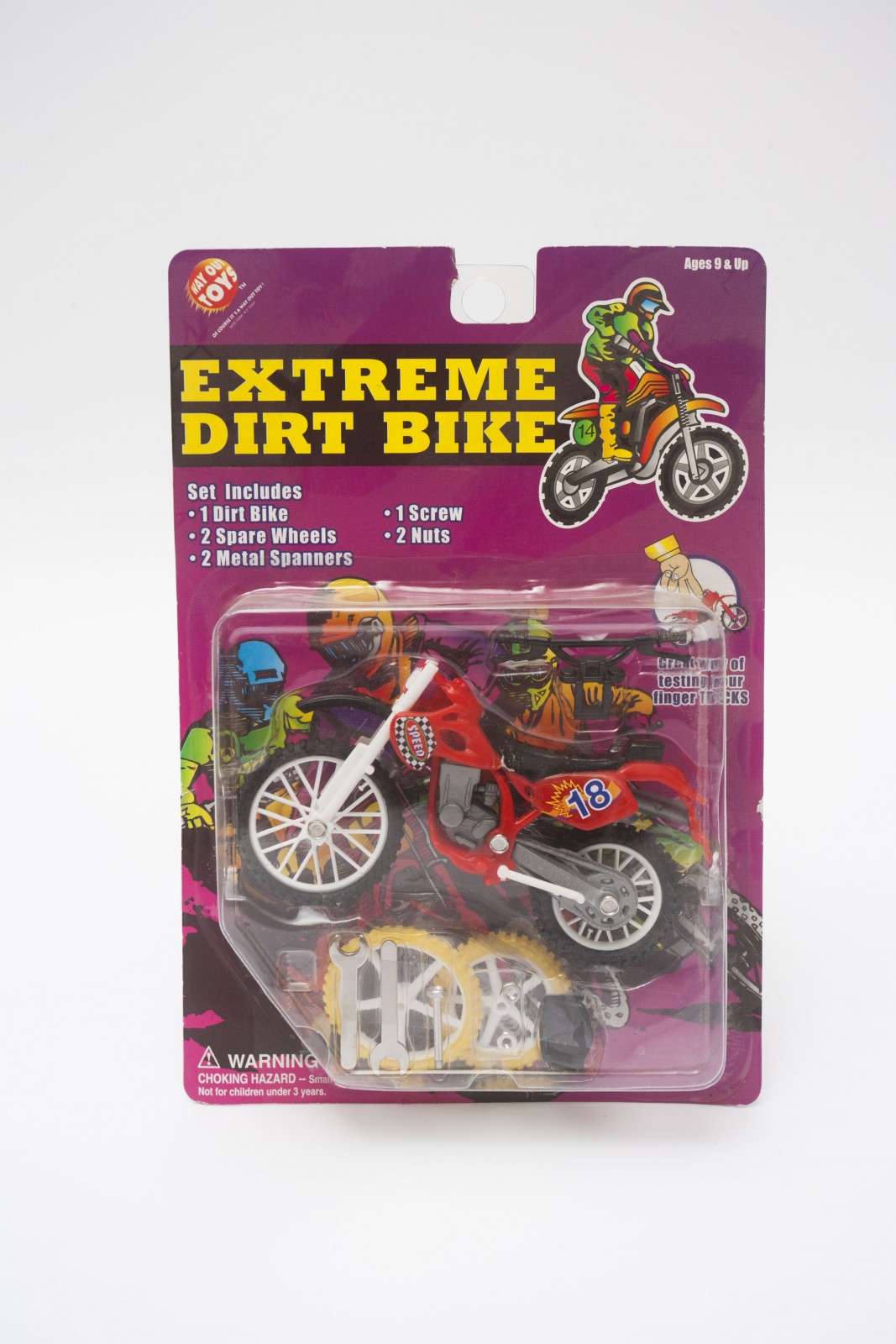 This one came off the rack of the Dollar Store on High Street in Morgantown. Not a bad find!
JEREMY McGRATH HOT WHEELS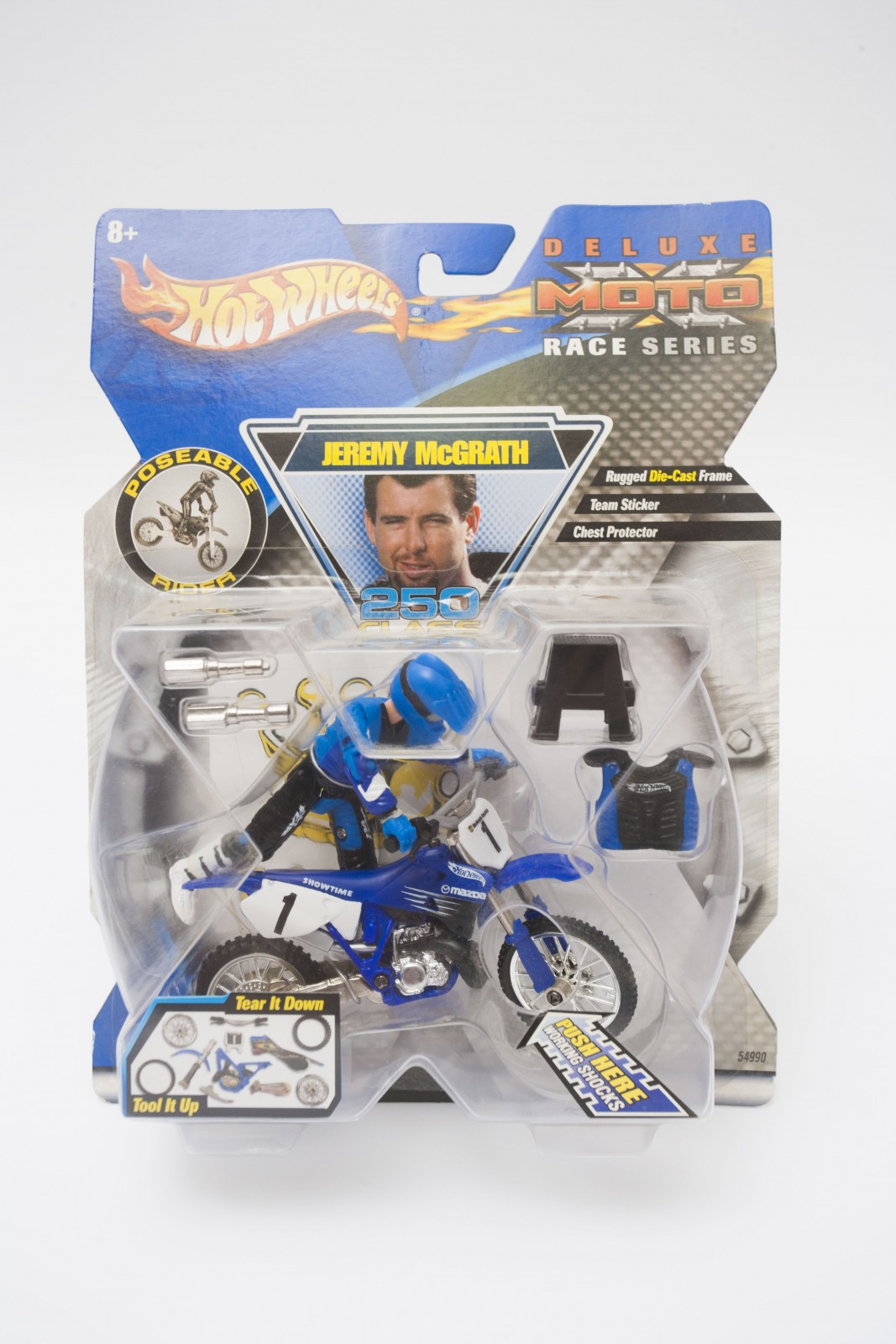 Hot Wheels has been making cars for practically as long as Detroit has, but in the 90s, they started coming up with cool dirt bikes too—including this Jeremy McGrath motorcycle set.
BIG HONDA OFF-ROAD BIKE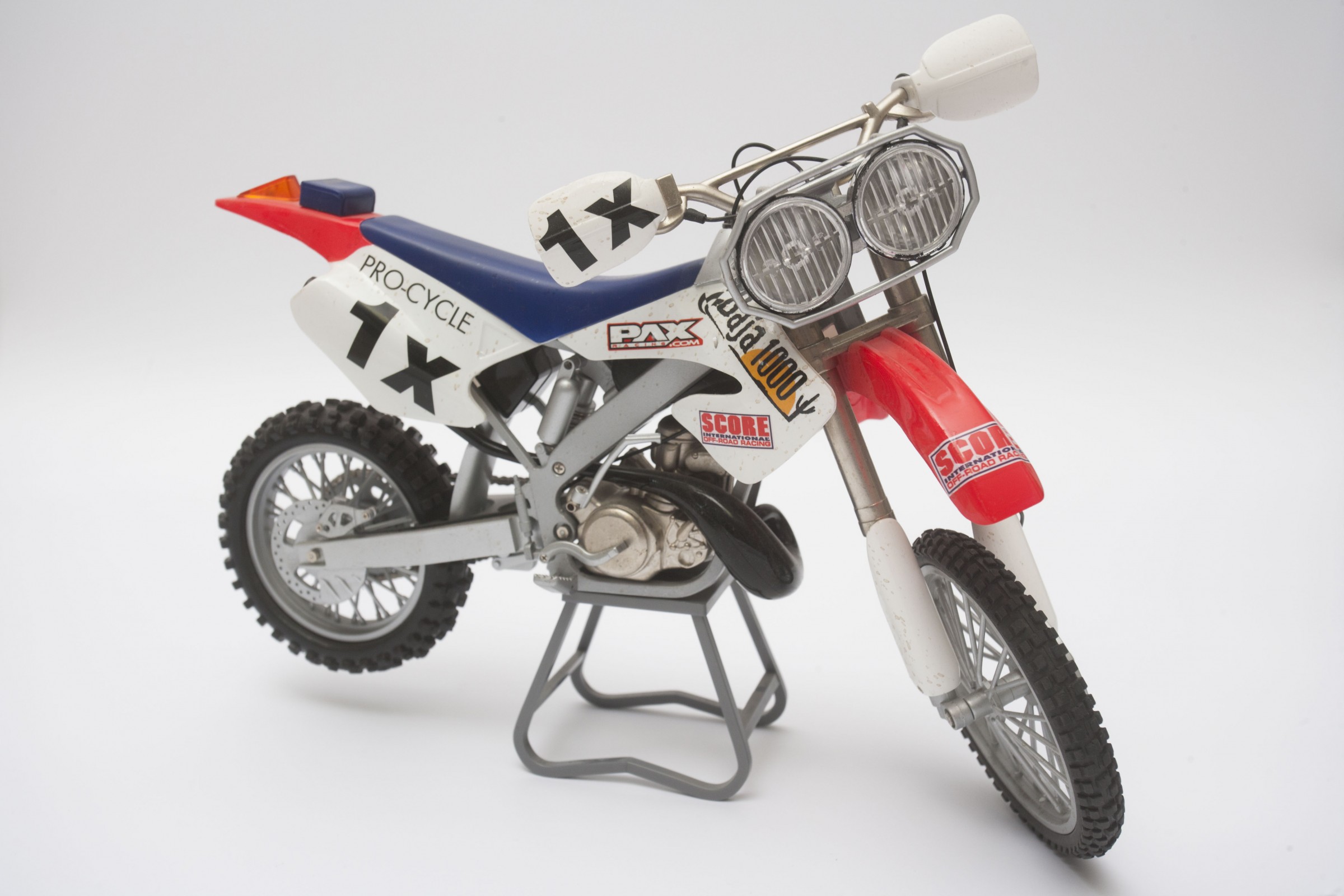 Beautiful New Ray 1:6 scale bike that was a gift, specialized for off-roader Johnny Campbell.
ASSEMBLY LINE HONDA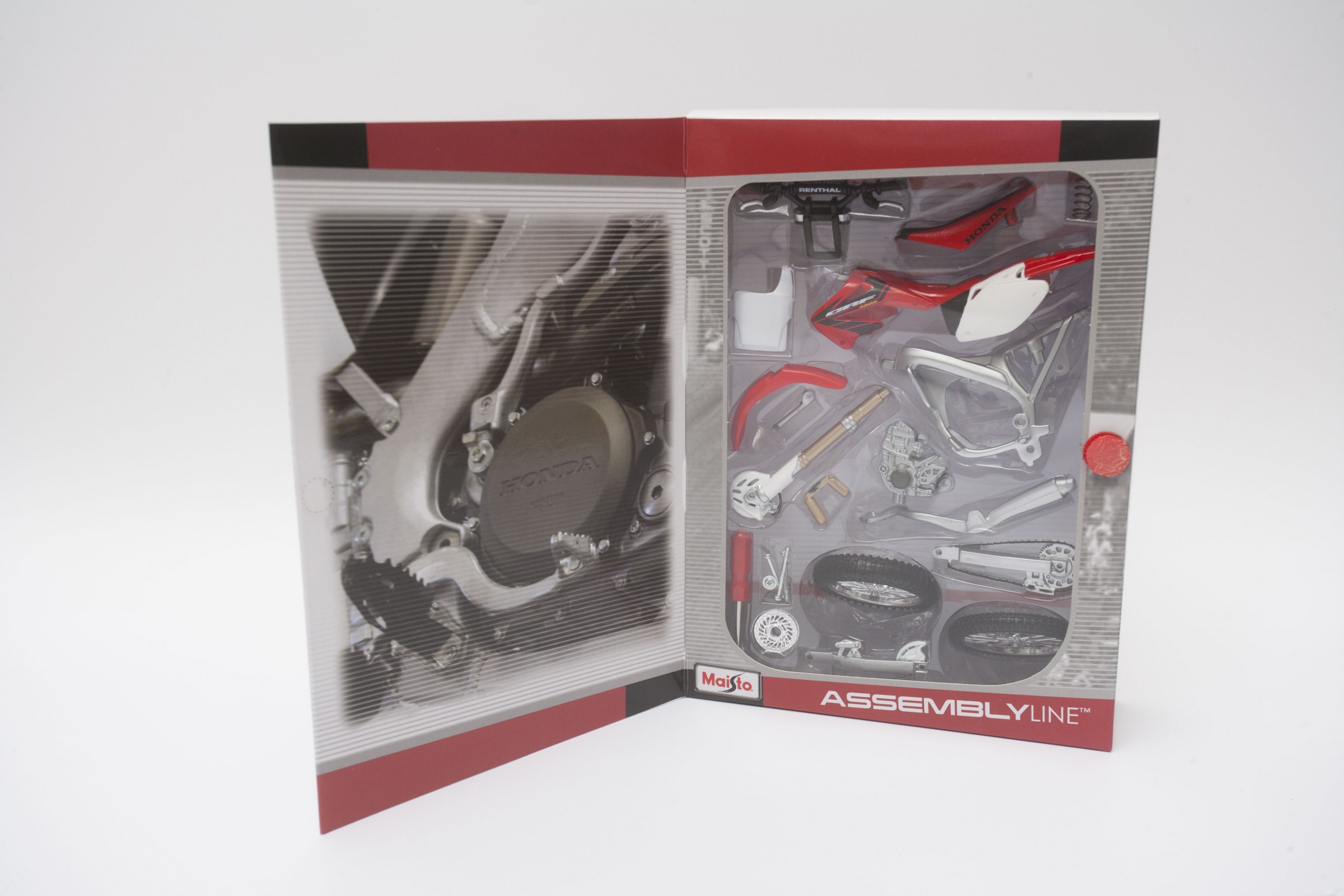 Another cool and creative Honda dirt bike, this by Assembly Line, that you build and take apart on your own.
STEFAN EVERTS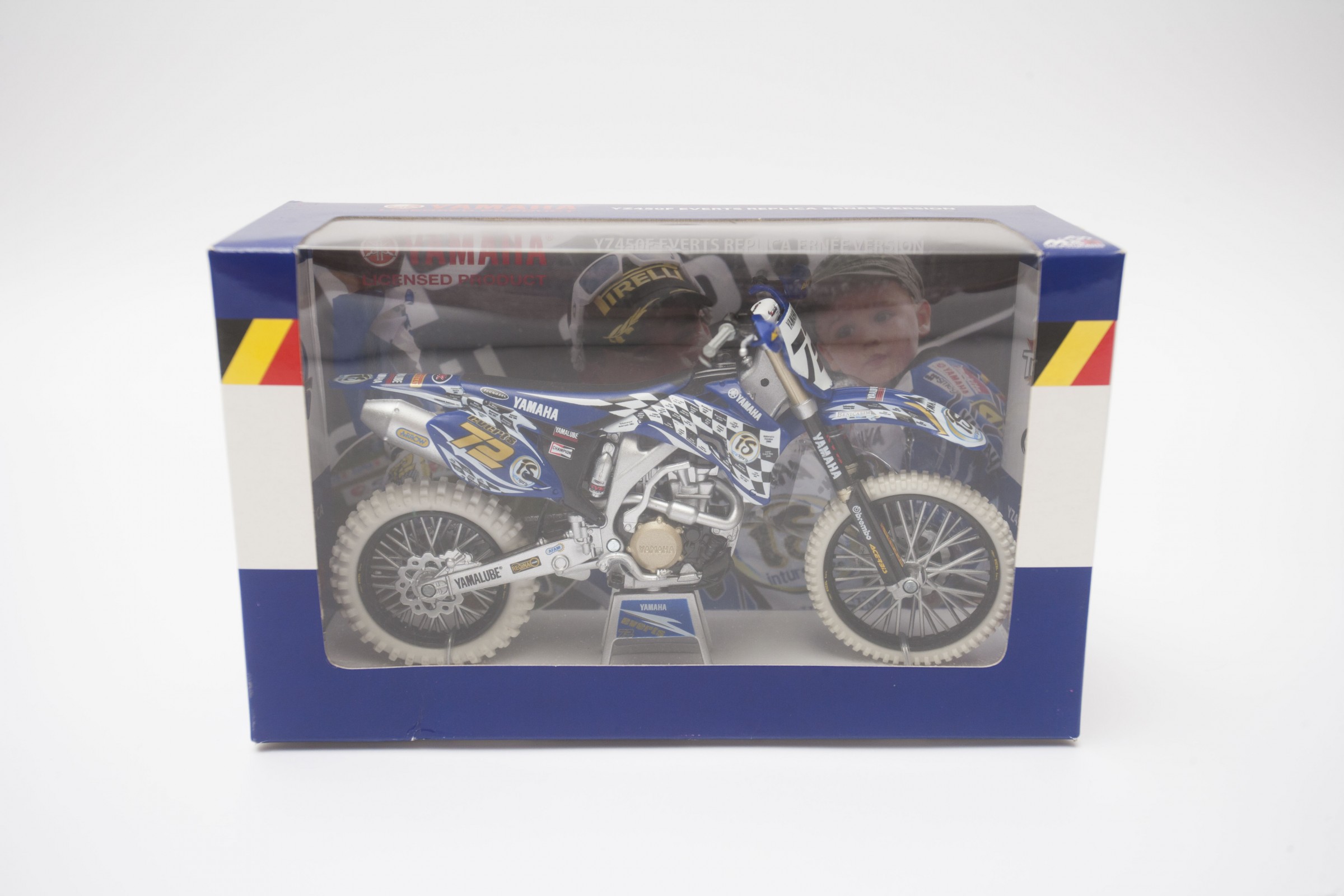 We picked up this Stefan Everts gem at the Motocross of Nations one year, complete with the white wheels #72 once wore while ruling Europe as the King of Motocross.
JAMES STEWART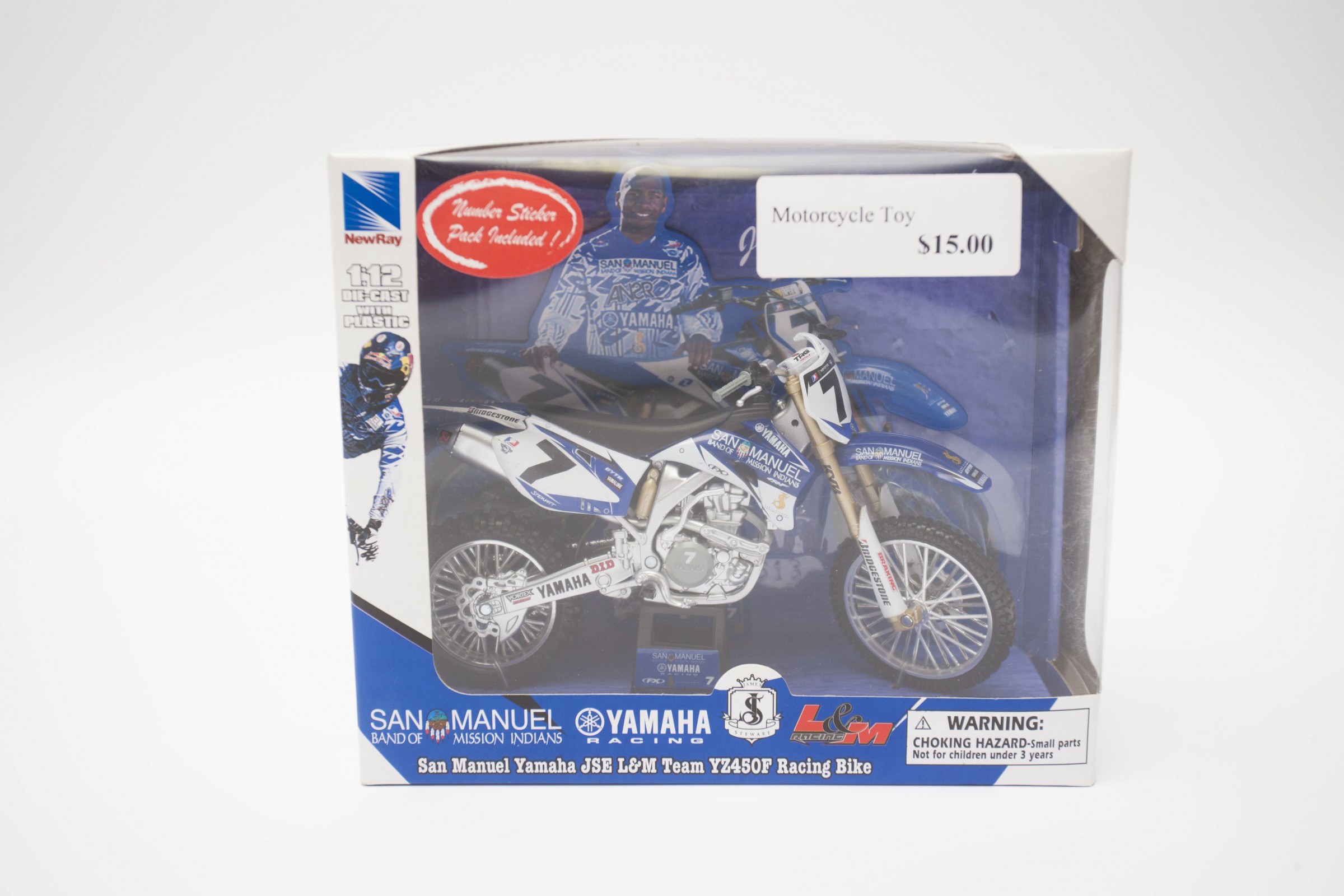 Another New Ray toy, this one for James Stewart back when he was riding for San Manuel Yamaha. We apparently picked it up on the secondary toy market for $15!
RACER X HONDA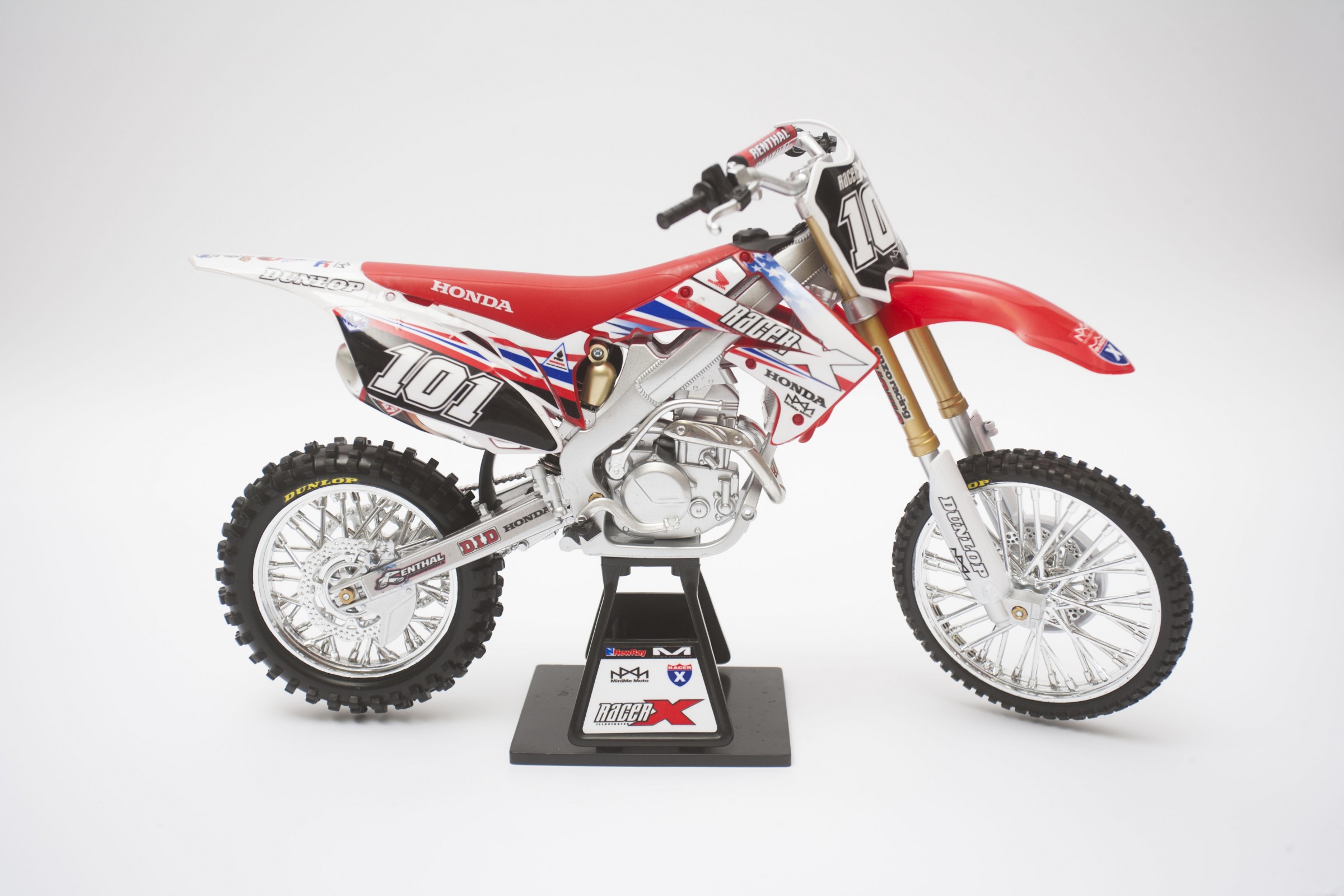 A David Pingree homage? Really? It's actually a custom bike that MiniMeMoto.com sent us for Ping's work in our bike tests and videos. If you want to customize a bike for yourself, check these guys out at www.MiniMeMoto.com.
TEAM USA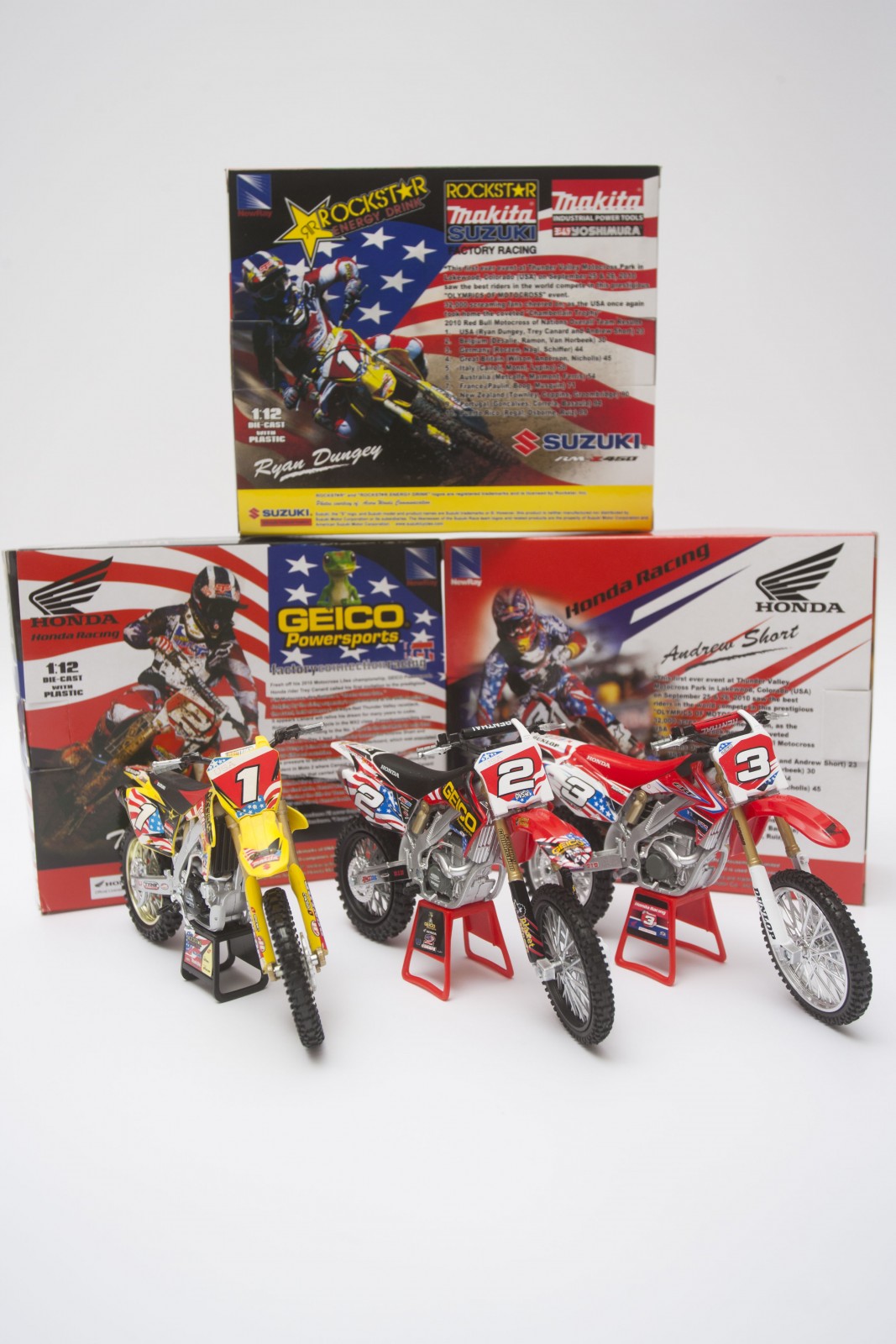 How about all of Team USA from 2010? Here are the bikes that Ryan Dungey, Trey Canard, and Andrew Short rode on the way to a Motocross of Nations win at Thunder Valley, Colorado, courtesy of New Ray Toys.
WINNER VINTAGE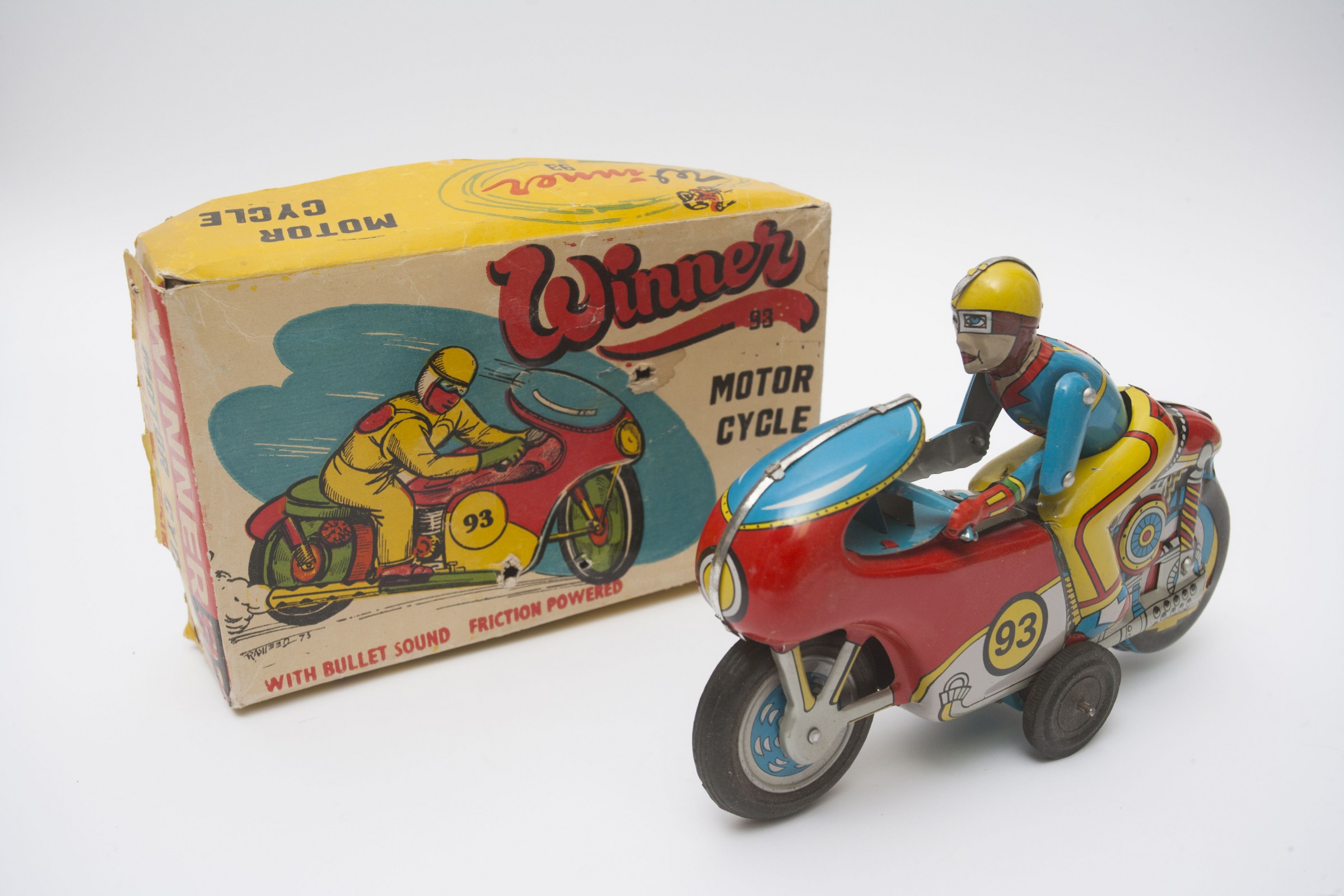 Okay, last one—and maybe the best one if you like the very old school. This one belongs to Rita Coombs, our Voice of Reason, and she has quite a collection of her own, mostly early tin and steel toys crafted in the days before motocross. This one is "Friction Powered" and even has "Bullet Sound," not to mention the actual box. That's old-school!