The annual Lille SX took place this past weekend about an hour and a half north of Paris. This race gave us a few opportunities to see some firsts: like Justin Barcia debuting on the JGR Suzuki, Christian Craig racing a 450 in SX, and David Vuillemin leading everyone in a post race chant of some sort.
Lille is not Bercy. There's no mistaking that. But in some ways it's better than the long-standing Bercy race that ran for 30 years in the heart of Paris. People, including myself, want to compare the two different editions of the race. They're pretty different, so it's hard to really do that. But let's be honest: that's never stopped me before.
Lille is a much better arena than Bercy in terms of being modern with a lot of seats and a big pit area. The floor in the arena is much larger (and the race only uses half of it) so the track is much longer (discounting the tunnels in Bercy, which can't be seen by fans) and more of a U.S. style of track.
The drawback with the arena being bigger is that it loses some of the atmosphere of Bercy. The older Omni Sports Arena in Bercy had a very steep pitch for the seats so the fans seemed like they were right on top of you. In the Lille arena, the fans are just as passionate, but being more modern and away from the track, you don't feel it.
It's still a great race but it's different. I love both Captain Crunch and Raisin Bran Crunch … but they're different, you know?
For the first time in 10 years a Frenchman won the Bercy-Lille SX race. KTM's Marvin Musquin dominated all weekend long. It reminded me of Lille the first year when Eli Tomac couldn't be beat. Marv's been on quite a roll with a win at the Red Bull Straight Rhythm, third at the Monster Energy Cup, and being very fast at the SMX Cup. He was amazing at Lille on a track that was very soft and got rutty. Riders everywhere were making mistakes except for Musquin. (Well, I did see him drop his front end in the whoops in practice and get a little out of shape, but that's about it.) This was a beat down.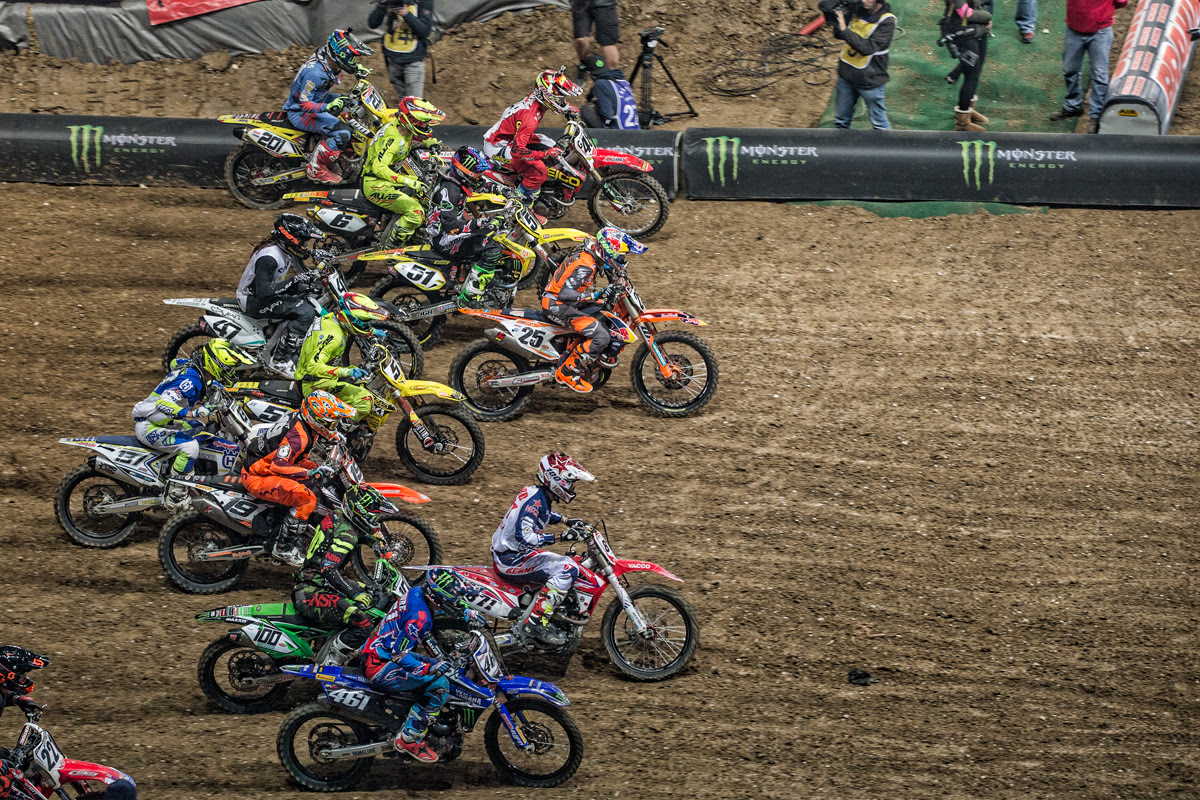 Marvin got the starts and made everything a bit boring up front, to be honest. He looks to be on point for Anaheim 1, but first he's heading to Geneva to race. I'm looking forward to that one, where Marvin will line up against Justin Brayton to see who truly is the "King of the 2016 Off-Season".
As I said, I was excited to see Justin Barcia on the new Suzuki. The JGR guys have made no bones about how they feel the Suzuki will allow their star rider to flourish in supercross this coming year. The Yamahas that JGR used definitely had tons of motor, no doubt about it, but it was a bigger/wider bike that didn't always handle or turn the best. In the 450 class, you can always make a motor fast but you can't always get a bike to handle well. So it's with that knowledge that everyone at JGR is very excited to get Barcia on a Suzuki that everyone knows can turn. Lille was our first chance to see how this experiment was going to work.
Annnnddd … I think the jury's still out. Sorry man, I can come on here and make some judgment of Bam Bam if you want, but it wouldn't be fair because I saw some good (second overall via 2-2 scores) but also some bad (getting caught and passed by Cedric Soubeyras and Malcolm Stewart). The reason the jury is out was because Justin's bike was far from the full-race bike he'll be on at Geneva (maybe) or Anaheim 1. He had a cylinder head and cams along with suspension on a very production-ish RM-Z450. It was old school to be sure and I remember what it used to be like as a mechanic going to Europe. Stock bike with parts bolted on. The last few years these teams have shipped over entire race bikes and that's a huge difference.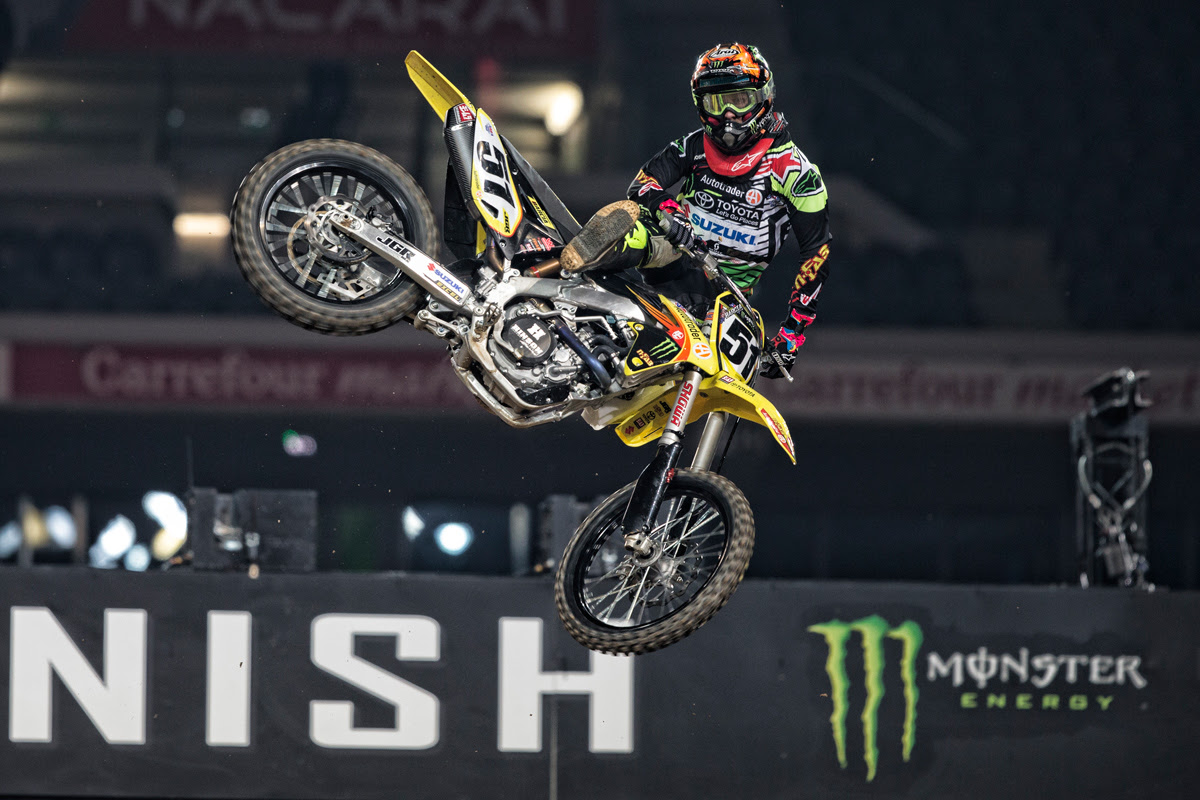 And look, Marv was amazing, but he was one of the guys on his full race bike from KTM Austria (it was the same bike he rode at the SMX Cup), so that's definitely an advantage for him. Listen, I don't think had he been on Barcia's or Stewart's set-up that he would have lost, but I do think it would have been closer. Full race bikes make a difference, bro.
Malcolm Stewart rode pretty well and if you know Mookie, and I don't really, but I have spent some time around him, you know that he's a fan favorite at these races. He's always smiling, taking photos with fans, and seems to be enjoying himself. He caught Barcia in night one before he told me arm pump struck. In night two he caught, passed, and pulled away from the #51 until he tipped over in a turn and bent his rear brake back. That was it for Mookie. He coulda, shoulda, woulda had second overall without the tip over but as it was, he was off the podium. When I got back to his pit after Sunday's race I expected him to be angry but he was smiling and laughing and talking about how he needed a brake snake (his brake pedal got bent).
As most of you know, Stewart (along with his brother James) doesn't have a ride for 2017. He told me that if he has to, he'll be at Anaheim 1 in a sprinter van on some brand of bike as a privateer in the 450SX class. He said he's down to race outdoors (there's some perception out there that he doesn't want to do it) and if he's got nothing, he'd be ready to fill-in for a team at the first sign of injury, which unfortunately we all know will happen.
Christian Craig has never raced an official 450SX before (he did Monster Energy Cup once) and he headed over to Lille to get some prep in for what will probably be the 250SX West Region. Craig is teamed up with coach David Vuillemin (a deal that came from DV coming on the Pulpmx Show each week) and this was their first chance to work together at a race. Well, they worked together when DV wasn't getting hounded by his French buddies, fans, or signing babies. The guy is the all-time King of Bercy-Lille you know.
Craig got an absolute terrible start on Saturday. Seriously, it was so bad that the flagman put out the barriers before he got to the first turn. Lille used a metal grate behind the gate like the Monster Energy Cup and like the GPs are going to use next year and CC spun or something off it real bad. So he never got a chance to race with everyone on Saturday although his practice times were pretty good.
On Sunday he gated much better but Musquin, Barcia, and Stewart pulled way from him by the end of the race. Luckily for him, Stew fell and he went 4-3 for third overall. He looked fast and was one of the only guys consistently jumping this quad all weekend, but it didn't add up to great finishes. I did introduce him to the great Jean-Michel Bayle (who came up to me and said, "This is Mike's kid?") and after they talked Christian said that guy was a legend. I like when modern riders acknowledge the older dudes (and this just in: JMB is WAY outta Craig's age range) and recognize what they did, because a lot of these modern dudes don't know much about the past greats.
The best Euro rider there (outside of Musquin because, well, you know) was a familiar one named Cedric Soubeyras. Ol'Soubs has been racing in Europe for a long time (he even raced against JT for Pete's sake!) and showed up in America a time or two. (He raced the 250SX East Region in 2016.) This dude has always been fast, but this year he kicked it up a notch. Now riding a Suzuki and a new number (ditching his familiar #120) Cedric caught Barcia in Saturday's heat race and they put on a slam-fest that was HIGHLY entertaining. Soubeyras held his own but I mean, c'mon, he's NOT going to win a battle of block passes and take-out moves against Barcia. That's like Weege winning a cheeseburger eating contest versus me. [Editor's note: especially if someone has to pay for all the burgers they eat.] As we all predicted, Barcia ended that battle with the patented "I'm going to stop, aim for the exit of the turn in a straight line and hope I bounce off you to correct myself" move.
Still, Soubeyras was very good all weekend long.
World Motocross Champion Romain Febvre was there and last year I thought he got better every time he got on the track despite very little supercross experience. The dude can scrub like no other. This year wasn't so good for the #461 (can we please do something with these amazing Euro riders with three digit numbers? Gajser #243, Cairoli #222, and Febvre. It's ridiculous. We used to bag on "area code" numbered dudes, now they're the stars) as he went down hard first practice on Saturday while attempting the quad. That hurt his leg and knocked some wind out of his sails. And he had trouble with the fairly-big whoops as well. He crashed out of Sunday's main event also. Not a great weekend for the Romain warrior.
Well, that's it. Another Lille come and gone. Will we be back next year? Will we go back to Bercy? Will the race go to a new arena being built by the Paris airport? All rumored but nothing confirmed.
Thanks for reading, email me at matthes@racerxonline.com if you want to chat!