Well, night two here in Lille, France looked at lot like night one with Red Bull KTM's Marvin Musquin dominating the heat race, the Super Pole and the main event to win the prestigious King of Lille trophy. The French crowd had a French winner for the first time since 2008 when Christophe Pourcel took the overall win.
Musquin took off in his heat race, winning with ease over Malcolm Stewart, while Christian Craig, Cedric Soubeyras and Justin Barcia swapped aluminum in a heat race that got a bit heated at times. Barcia escaped with the win though.
Musquin got the holeshot in the main event and was never challenged from there as he stretched out a big lead lap after lap. Behind him it was Craig on the GEICO Honda and Justin Barcia on the JGR Suzuki early on with Barcia getting by Craig when Christian took longer than he wanted to sneak around the inside of a turn.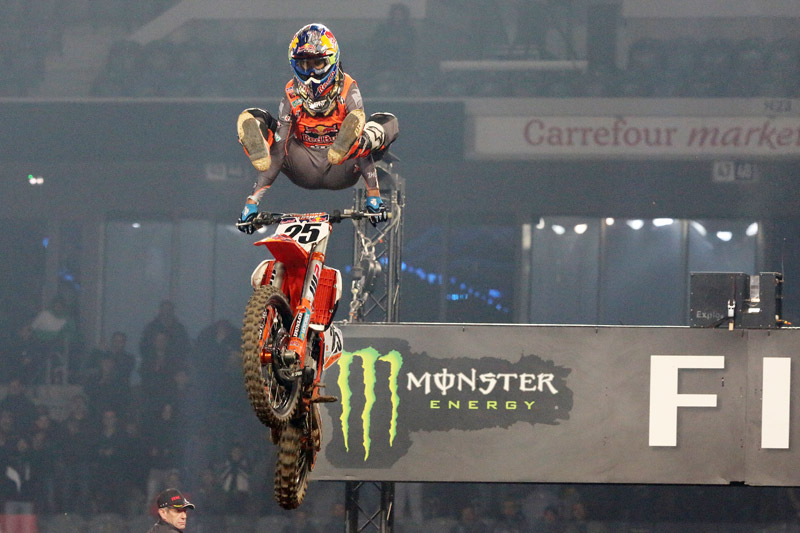 Barcia was then caught and passed by privateer Malcolm Stewart on the Honda and it looked like Mookie would be able to get 3-2 scores on the weekend and take the runner up overall spot behind Musquin, but he went down in the same spot that Craig had trouble with and Barcia zoomed past him. Stewart's rear brake was bent backwards and he lost even more time trying to kick it back forward.
Barcia pulled away from Craig to settle the battle for second but out front it was Musquin who put on a riding clinic for the second night in a row. This comes off his great rides at the SMX Cup, the Monster Cup and the Red Bull Straight Rhythm.
"I'm of course delighted with my results here, when I was a kid I was dreaming to race this supercross and finally today I'm the King," said Musquin after the race "It's the fourth race in a row that I scored a podium and it's my second win; here everything was perfect, my riding on this technical track, my bike, my agressivity on the bike. You always need to get used to the ground when you race in Europe, I felt more and more comfortable and could play with my KTM. Thanks to KTM, to Roger and to Red Bull for the support they provide me to race those European Supercross."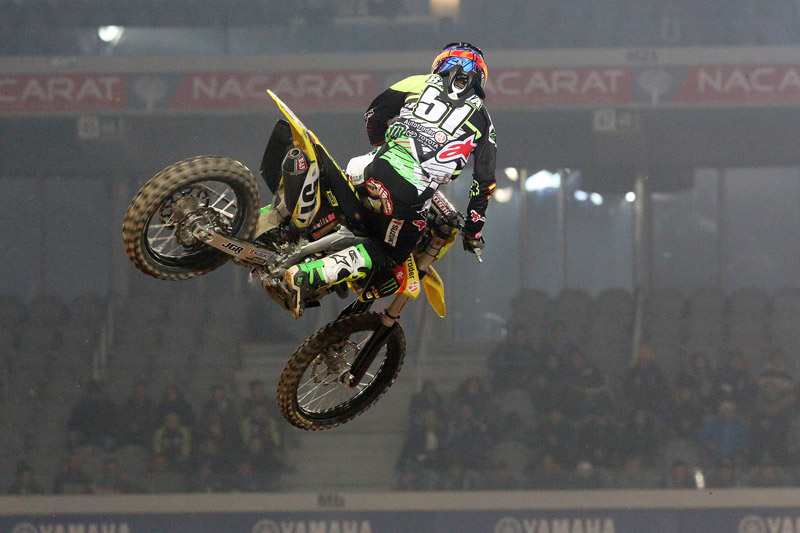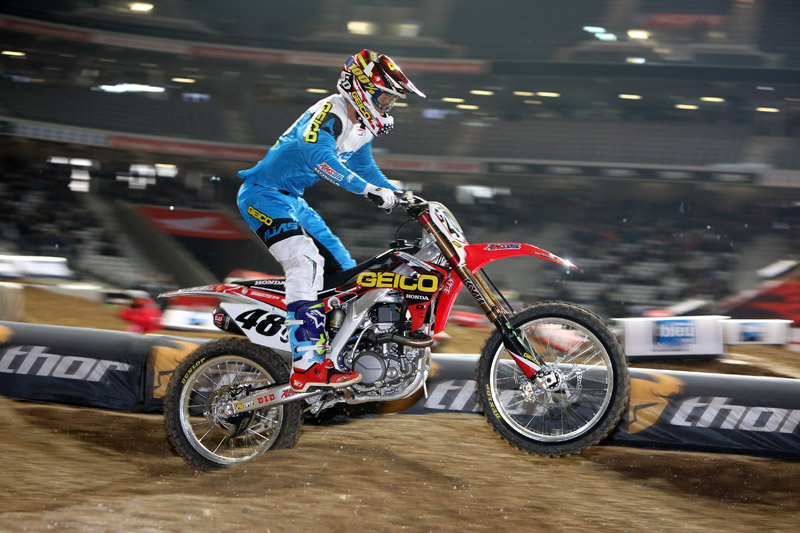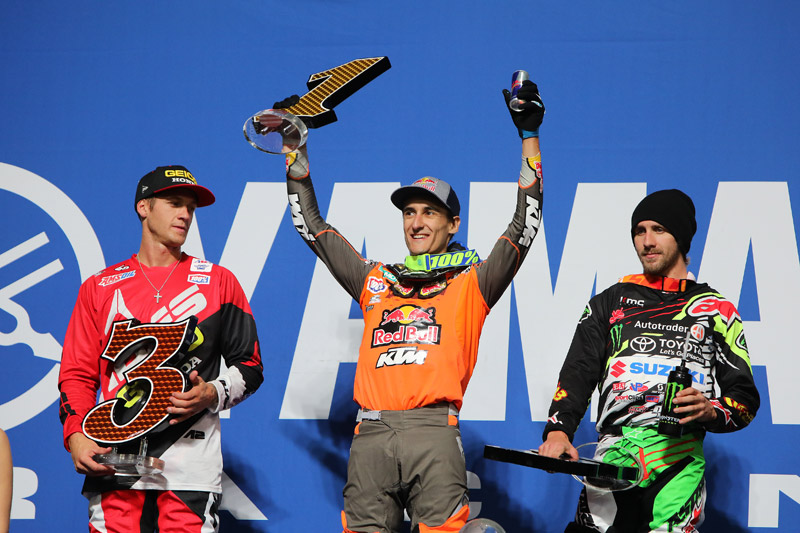 World Champion Romain Febvre had a rough day with crashes dominating his weekend and Xavier Boog broke his wrist in a crash with Jordi Tixier in the whoops. Also Monster Kawasaki's Tommy Searle adapted slowly to the weekend despite lots of track time. In the end Searle's weekend wasn't that bad considering a mechanical and a crash that left him with a hurt hand.
Results SX1 : 1.Musquin (FRA, KTM) ; 2.Barcia (USA, Suzuki) ; 3.Craig (USA, Honda) ; 4.Soubeyras (FRA, Suzuki) ; 5.Teillet (FRA, Honda) ; 6.Stewart (USA, Honda) ;; 7.Coulon (FRA, Suzuki) ; 8.Izoird (FRA, Honda) ; 9.Searle (GBR, Kawasaki) ; 10.Escoffier (FRA, Husqvarna) ; 11.Ballanger (FRA, Honda) ; 12.Rombaut (FRA, KTM) ; 13.Febvre (FRA, Yamaha) ; 14.Ramette (FRA, Suzuki)
King of Paris Lille Overall: 1.Musquin, 2 pts ; 2.Barcia, 4 ; 3.Craig, 8 ; 4.Soubeyras, 8 ; 5.Stewart, 9 ; 6.Coulon, 15 ; 7.Izoird, 17 ; 8.Ramette, 20 ; 9.Teillet, 21 ; 10.Searle,