Fairplex
Pomona

,

CA
Red Bull Straight Rhythm
Red Bull Straight Rhythm
Josh Hansen | Privateer Kawasaki | Third Place – Open Class
Racer X: So how did your day go?
Josh Hansen: Today was cool. I had a lot of fun. The first practice it was kind of hard to remember the track a little bit. As much as you think it's pretty easy just to go straight it's kind of tough. Technical to remember certain areas and you have to be so precise at that intensity. It was cool. It made racing close and we all came down to the end every single time. It was rad.
You glad you came?
I was super pumped. Red Bull kills it on events. I hope they do more.
What'd you think about these speed checks?
That kind of hindered me a little bit but it was cool. It slows it down because it brings people back together so I think it's a good thing. I thought what they did today was really a good job. The best thing is nobody was hurt, so that's something pretty positive to take out of today.
What'd you think of the whole track layout?
The track was sweet. I thought they did a good job. They had certain sections that were really technical, and they had certain sections that were pretty basic where it was kind of half and half where people were really good in one area and not so hot in the other. So it really kind of broke it down but it was rad.
Where do you think you excelled today in terms of the track?
I would say right off the start, the whole tight, technical sections right at the beginning really helped me. When it gets in the fast areas I was kind of struggling a little bit, where when it got kind of easier, as weird as that sounds. But the technical really plays a favor in my part. I feel a little bit more at home in that area.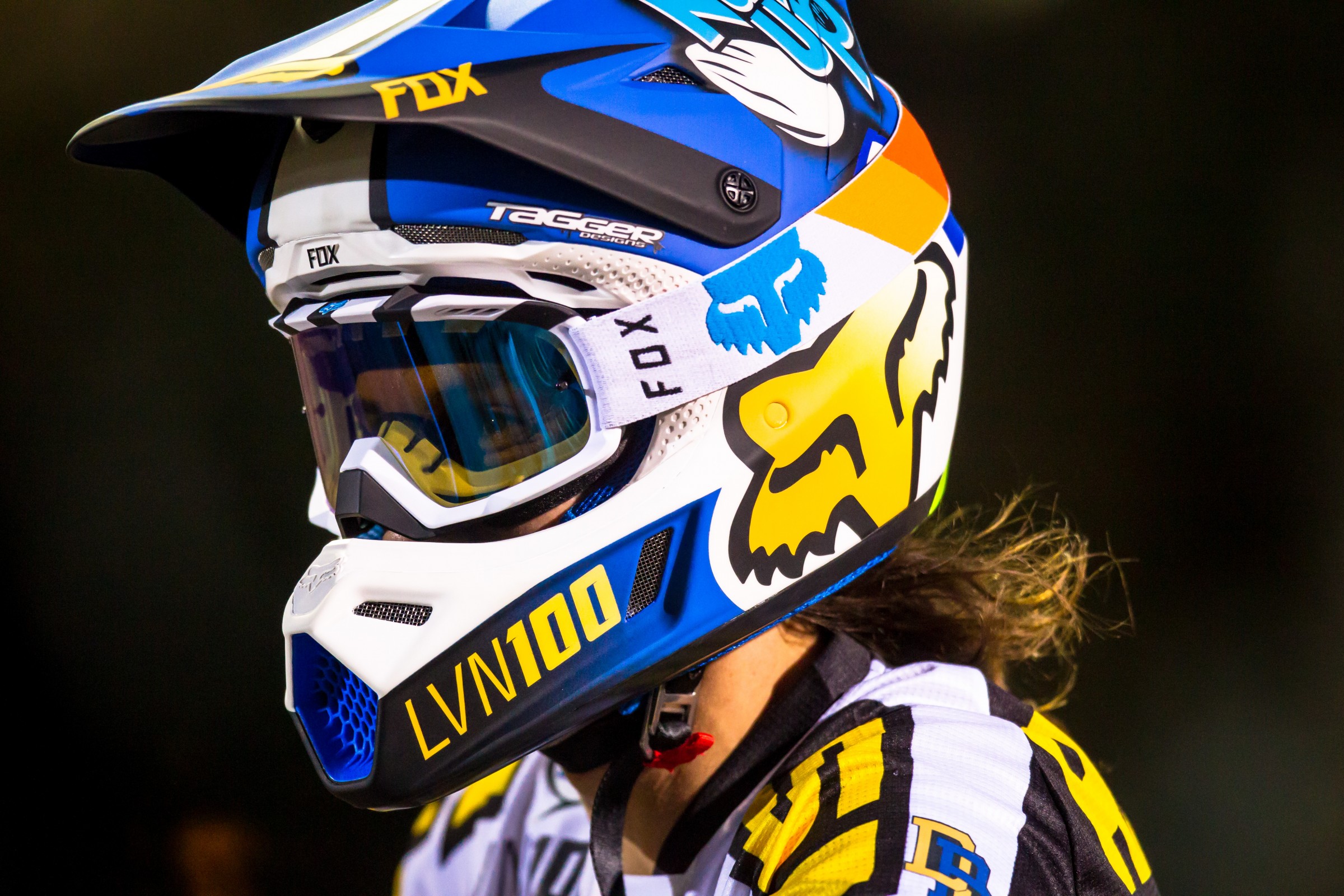 You pulled the quad off the dragon's back on the third one with [Ryan] Dungey. Was that something you were planning or just kind of went for it?
No, I did it in practice today. I did it all day. That was something I really wanted to put it down to Dungey and I just made too many mistakes and went a little too far on the tabletop. That kind of screwed me up, and then he had the whoops speed. I really thought maybe I could improve my time to maybe try to eliminate him or whatever, put him back, and I just had to eliminate a couple of mistakes. But take all the positive, it was a great day. It was cool.
You actually killed the KTM podium sweep in both classes….
That was ridiculous. It felt awkward being up there, Red Bull KTM, Kawi? We're not working with any energy [drink companies] so I'm definitely the odd ball in the whole group.
Are you going come back next year?
Yeah, that's the plan. I'm trying to work it out right now. I want to get back into racing. It's been a while since I've been kind of back doing it. This was kind of the first go-around. It's cool to be back. Took the whole last year off, this year really. See what happens. I'm trying to get back out there.
So how's everything coming together?
Slowly but surely. It's a little harder for sure. It's not as easy as it used to be to be able to pull sponsors and money. It's coming along though. It's going in a positive direction, it's just been a little slow.
But you are looking for the 450?
That's what I want to do. If I do 250 it's just because I don't have the funding to do it, and sponsors want me to do a full series. So if I can't do a full series in 450 then I kind of have to go towards 250. So I'm really trying to work the money side and trying to go 450. That's really important.
---
Trey Canard | Red Bull KTM | Fourth Place – Open Class
Racer X: How was your night?
Trey Canard: It was good. It was nice to do something to kind of get the bugs worked out. First race for a new team in a long time, so it was exciting. I had a lot of fun. Marvin [Musquin] and Ryan did good. Just a really good vibe all around today.
How are you feeling on the new bike?
Feeling good, man. It's a process for sure, but more than anything I just want to continue to build and be ready come Anaheim. But I've really enjoyed it. It's been a really good experience for me and I really love the bike.
So the transition's been good for you?
Yeah, it's been pretty seamless. The biggest thing for me is I was off the bike for a couple months with having a concussion during the last bit of the outdoors. It's always tough to come back from something like that. Just happy I'm on my way.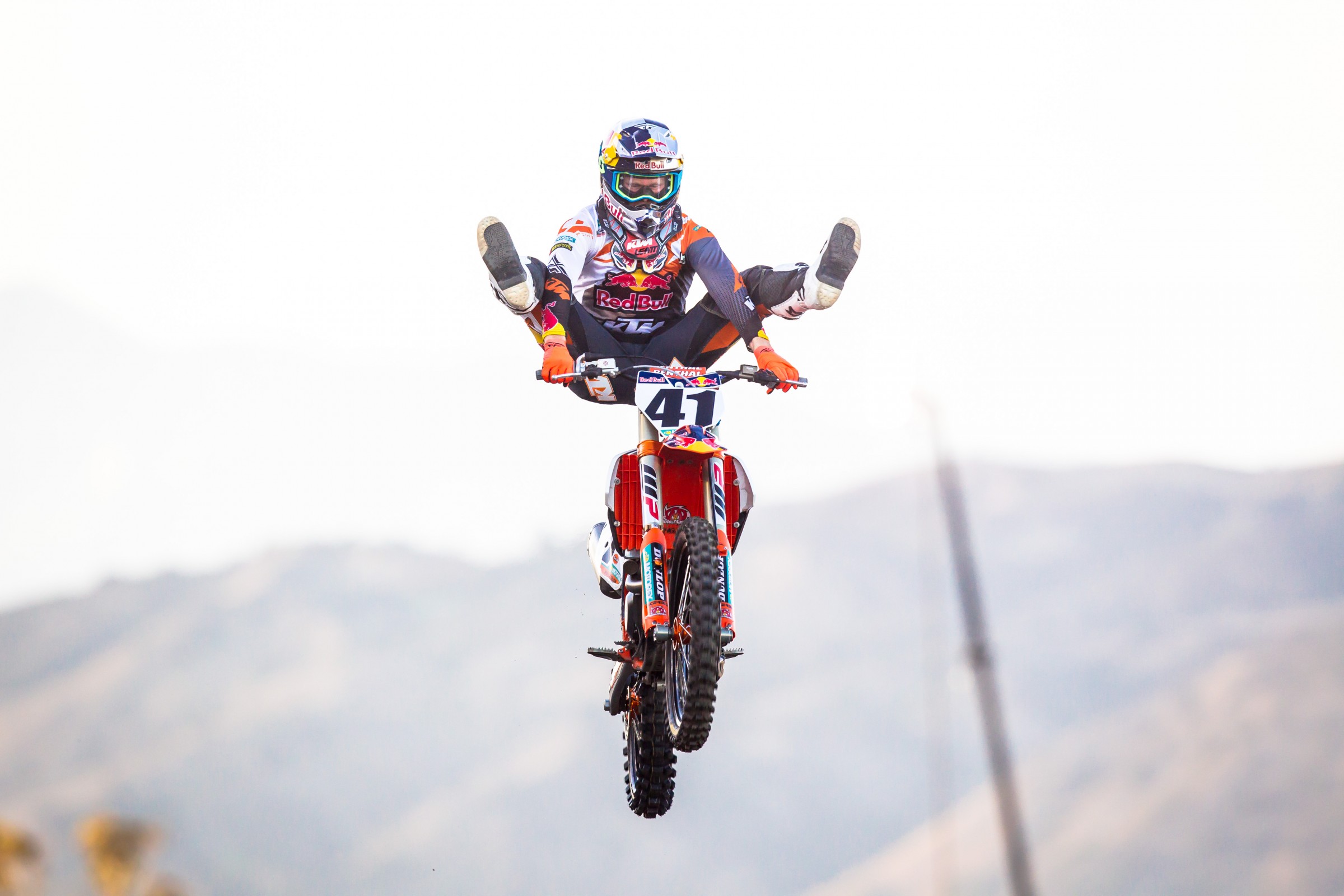 How is it feeling now? Do you feel any side effects of that still?
No, I was really conservative about it. I wanted to make sure that I did everything right. It's not something to play around with, your head. So I just wanted to do it right. I feel like this is a new chance for me, a restart if you will. I'm excited about it.
What were your expectations coming into this race?
Really I just wanted to get out of here healthy. It would have been cool to win or podium but all in all just wanted to get out of here safe and have a little fun, which I did. I'm really glad I did it. It really helped me kind of loosen up a little bit. It was just nice to get behind a gate drop even if it was a two-man gate.
So you're glad you got a race under your belt before the season kicks off?
Yeah, for sure. I would have liked to have done Monster Cup but I don't think I was quite ready for that race situation. I'd only been on the bike a few weeks.
This was just a little bit less intense?
Yeah, this is a lot different. That's a 20-man gate and it's high speed and the track's always slick and weird. I just feel like it was important for me to be cautious.
Do you have any other off-season plans for racing?
No, I'm going to stay at home and just try to be ready.
---
Mitchell Oldenburg | TLD/Red Bull KTM | Second Place – Lites Class
Racer X: So how do you think your day went?
Mitchell Oldenburg: It was good. Started off a little slow in free practice. I don't know, I just wasn't really putting my stuff together. Then the last run of our qualifier I ended up putting everything together and I was fastest qualifier. It helped me out really good in the brackets. I won my first bracket, won my second bracket and I was in the final with my teammate Shane [McElrath]. I gave everything I had and just came up a little short. It was a good day. It was a lot of fun. Really stoked on this event that Red Bull put on and I'm ready for next year.
What are your thoughts on the track today?
It was a lot of fun. I don't think there was anything too crazy on it. I think if you wanted to go big you could and if you didn't then you still could take a safe route through that was really fast. It was a good track. I'm really pumped on the rhythms that they put together and all that. There was nothing too crazy. Everything was fairly easy but at the same time challenging. Its kind of one of those things where it's easy to over-jump and easy to clip because you're going in a straight line. You never slow down, so you carry a lot of speed through the whole track. But I really enjoyed it. It was a fun track.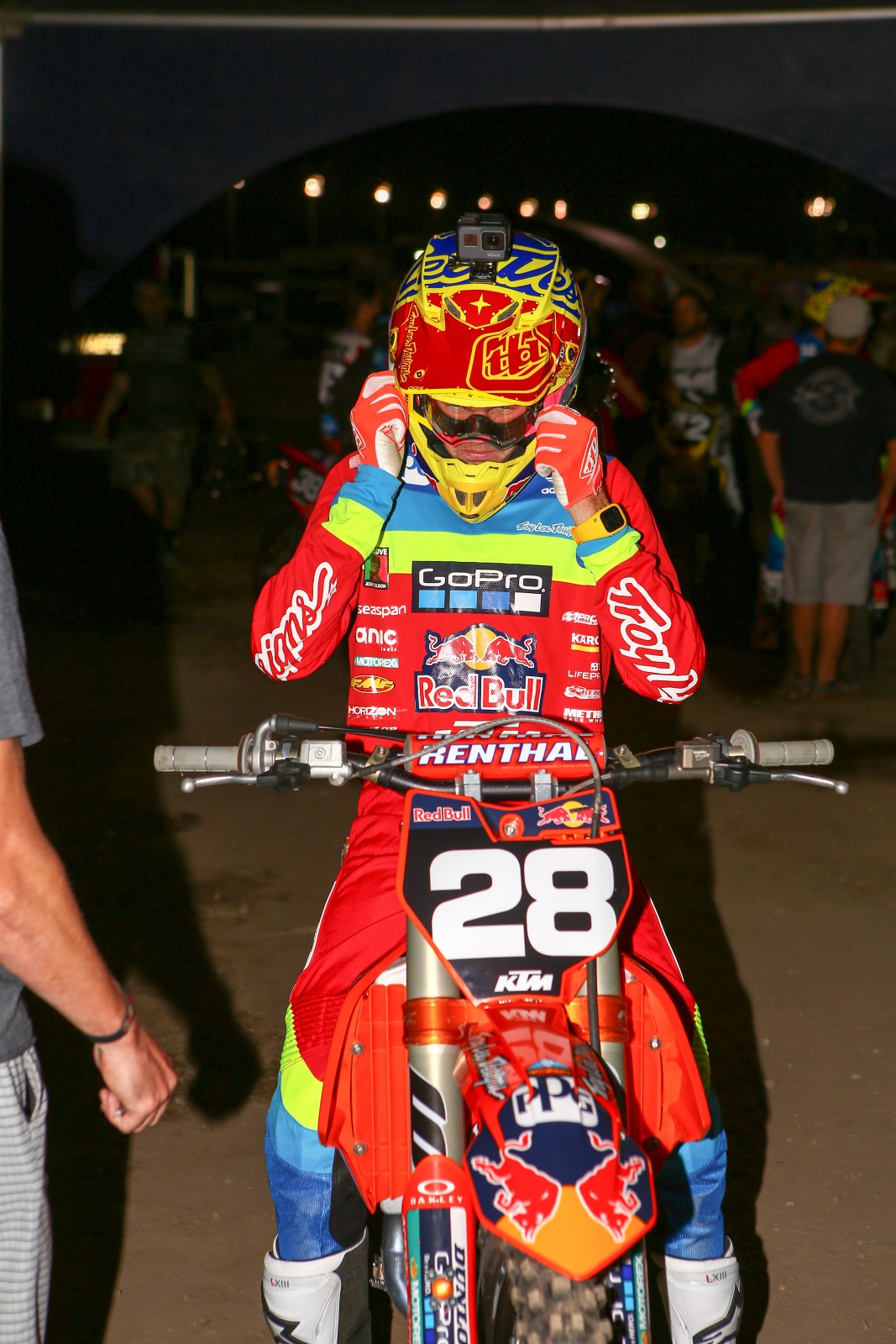 What did you think about the speed checks?
I like the speed checks a lot actually. I was expecting actual walls. They're kind of just like small tabletops with big lips. I was pumped on that. I was expecting the walls and having to go over them. But it was fun. It broke up the rest of the track. It broke it up into sections so it was a lot easier to remember and get everything down.
Where do you feel like you excelled tonight?
I felt like my starts were pretty decent. I struggled in the rollers, the whoops quite a bit. The final I actually felt like I hit them the best. But the sand to the finish line I felt like was my section where I could really push it and try and make a run on someone.
You made up a lot of time there. I think in the first one in the final you sent it pretty hard at the end, you did a little neck slammer.
Yeah, I was trying to get there. I saw earlier in the night that Hansen did that to Dungey. I was just a little bit behind so I was just go for it. If we get it we get it, if not we're going to lose anyway. It was close, but it was a great night.
---
Ronnie Mac | FMF | Lost in first round of Lites Class
Racer X: How was your day, Ronnie?
Ronnie Mac: I got signed up for the race. My carburetor was all 10-times gelled up and just wasn't running right. So we got the boys in there after qualifying and we cleaned everything out. We got her tuned up good. Did a couple test runs. Went into the main event, wasn't quite confident with the machine but the first time was just a test run. Then we got out there and I was ready to win the rest of the event. They came in on me and Red Bull knew that I was coming and they said, "Hey, you got to let this Michael Jordan win this race." So I let Michael Jordan win, and they offered me $2 million to let him win. So I took the $2 million, and left.
So what's next with the two mil?
A lot of child support I got to pay down. But whatever it's going to do for me. I'll take $2 million over $20,000 any day of the week. So who's the real winner?