Maggiora Park
Maggiora

,

Italy
Motocross of Nations
Motocross of Nations
A Team USA press conference was held on Friday afternoon at the Ironman National in Indiana, which actually presented the first chance to see all three team members together. When the team was announced three weeks ago at Unadilla, Jason Anderson was still back home, working his way back from injury. But by the weekend, Anderson was not only back at the races, he and teammates Cooper Webb and Alex Martin had their bikes, gear, graphics and numbers all set for a Team USA dress rehearsal.
Unfortunately, it started raining right as the press event was about to begin, which led to a bit of a scramble, but ultimately all three riders headed inside the press tent to answer questions from the media.
The highlight? When Cooper Webb said he gave the team "100 percent" odds of taking the win, the room erupted in cheers. Read on for more.
Alex Martin | MX2

Racer X: Alex, you've raced this event twice before as a member of Team Puerto Rico, but it will surely be different this time. Talk about the pressure of being on Team USA.
Alex Martin: I was saying I can't speak about the pressure first-hand, but I will say that I think being over there twice for Puerto Rico, and the second time seeing my brother race for Team USA, I was able to kind of see first-hand through him how much pressure was on him, and especially in Latvia when he broke his foot and had to get some serious pain medication to race through that. Just the heart and things that went into that race for those guys was pretty impressive. I think that will help me a little bit with that type of experience.
It's weird being on a 250 in that race. It's one of the few races ever where you'll be out there on the track with big bikes and racing against them. Also, the team will have to figure out who picks what starting gate. Just talk about that whole weird experience.
Yeah, that's definitely something different. Sometimes you have to substitute your gate pick. I don't really know what the start's like yet over there. I haven't seen it. But if the inside favors the 250 maybe that's something where Cooper gives me a good gate so I can get a holeshot. I guess we'll find out when we get over there what the start looks like.
Did you race the 250 the other years you did it for Puerto Rico?
Yeah.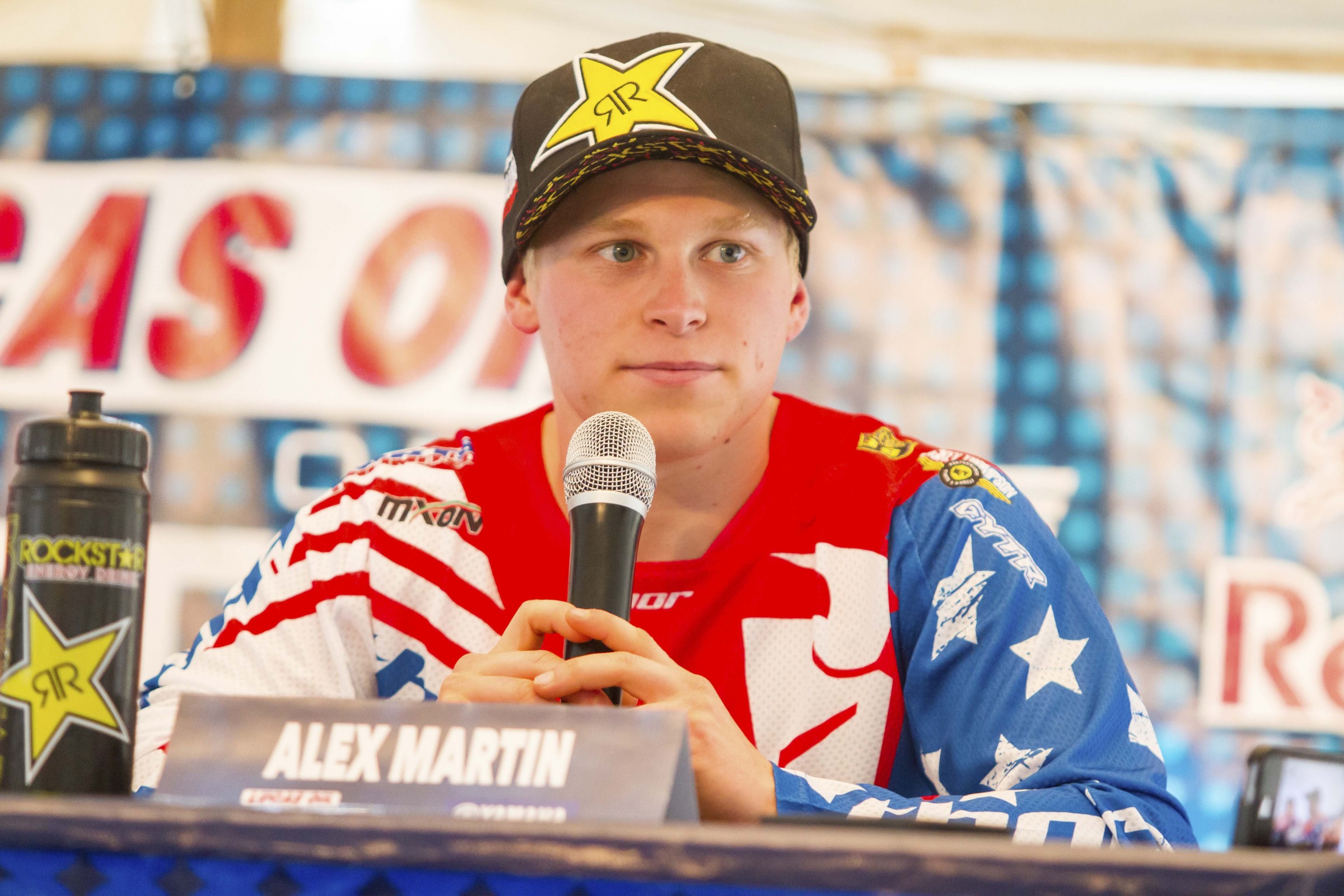 So what is it like actually racing on the track against 450s and just being in the middle of that?
When you're in the moment it's really not that much different. In a way, it's one big race and there's separate battles. You're kind of battling with the other 250 guys in a sense. It's almost more important if you make sure you finish ahead of, like, France's 250 guy. And then you just kind of let your teammate finish ahead of their 450 guys. In a way I know we're all racing against each other but I think that's the biggest thing, just trying to focus on beating the other 250 guys.
What were the odds that you would have some day put on being on Team USA when you were over there for Team Puerto Rico? Can you throw a number on that? What you thought the chances of elevating to this level?
Honestly, probably less than 10 percent. If you would have asked me when I was racing for Team Puerto Rico I would have probably said zero percent! So, pretty cool.
What do you credit this to? This wasn't even a surprise pick. It was like, "Yeah, Alex. He's been fast all year. Why not?" What do you credit this huge improvement really from last summer and this one, too?
That's been a question that's been asked quite a bit since Hangtown. I can answer that a lot of different ways, but I think there's a lot of things that go into my success this year. The team, the training and everything. First year on a factory bike, training with [Gareth] Swanepoel. There have been a lot of things that have helped me out. I'm just fortunate to be in this position. Kind of halfway through outdoors I was kind of thinking about it to myself, like there is a chance that I could race for Team USA. Pretty excited and honored to be able to take advantage of that opportunity.
Are any Puerto Rican fans going to be upset that you've turned your back on them? You're a traitor now! Treason!
To be honest if you live in Puerto Rico you need to learn how to surf. Cooper surfs way better than any of us, so he's more Puerto Rican than the rest of us.
It has to be a fairly exclusive club of brothers that have raced in Motocross des Nations. Can we think of anybody else?
I guess in American motocross maybe Stewarts but obviously Malcolm's never raced for Team USA. So I guess no one else in America yet. I don't know in terms of other countries what brothers have raced.
There's the Pourcel brothers, but overall that's a strange scenario. Just talk about how weird that is. The last three years now it's been a Martin on the team, one or the other. That's pretty cool.
[Laughs] They'll probably introduce me as Jeremy Martin in the press conference!
---
Cooper Webb | MXGP

Racer X: I think on the outside people will say this hasn't changed. You raced a 450 Yamaha last year, raced a 450 Yamaha this year, but now you're in MX1, and you have a year of experience. Is that any different actually, the way it is this season?
Cooper Webb: I think it'll be a little different, honestly. I think we'll be racing against obviously more 450 guys. Last year I didn't quite have as much experience or time on the 450, so that'll be the other thing. This year I've been riding the 450 a lot more. The bike's come a long, long way since even last year. So that's always a nice thing. Once we hop on the bike and have a good base setting, that's nice. To be in the MX1 class usually the schedule is a little bit different [than the Open class, which Webb raced last year]. We'll have a break, which I think will be nice. The biggest thing is you're in first qualifying race and then your first moto of the event. That kind of sets the tone. But other than that, we're all going there and racing against everybody. You've obviously got to do what you can in your class but it's all about the lowest points, total. So we've all got to play our part. I would say that's the biggest difference.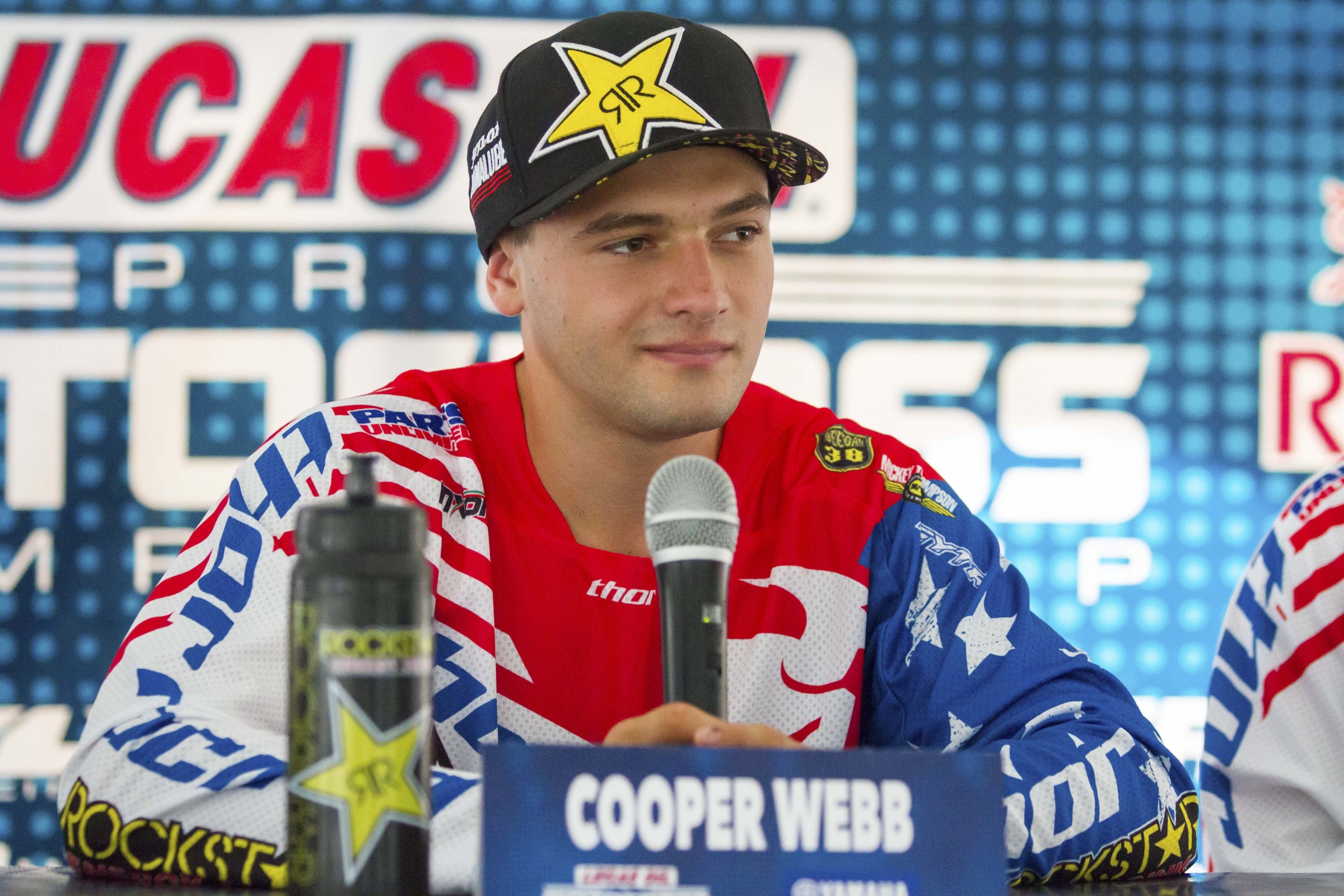 It was a crazy atmosphere last year because the French team was the home team and they were doing well. What was that atmosphere like? You were challenging Febvre for a while battling for the moto win. What was the crowd like at that point?
It was unbelievable. Honestly it was something… Even in the qualifying race that's when we had a really good battle. Every corner, every straightaway you could hear the French crowd just going for him. Any pass attempt or when he passed me the whole crowed erupted. And then I'd go to pass him back and it is just silence! So it was definitely interesting. Even all the fans coming off the track. I honestly expected a lot more trash talking and fans like that but they respected us a lot. But they were all about their home team and their home crowd. So it was hard to be the favorite but we went and we did our part. I think a lot of people had already kind of picked France to win last year before the event even started. So to go there and do well, until the last moto we were actually leading, so it was definitely a pretty high-pressure situation but at the same time we all did our part. The French team was strong and they're obviously strong again this year. It will be nice not being in France, even though we are still in Europe. Those guys definitely had some home advantage, absolutely. So I think this year it'll be a little better being in Italy.
Have you gone back and looked at any of the historic races from that track?
No, not really. I haven't at all. I looked at some videos and stuff like that. I actually talked to Chad [Reed] a little bit. He went over there not too long ago and rode. Definitely doing our homework. We'll be the best we can be.
---
Jason Anderson | Open

Racer X: Where have you been? How have you been? How are you feeling?
Jason Anderson: Yeah, for sure I've been missing a little bit. But at the same time I've been training, getting ready and just riding. I broke my collarbone and separated my AC joint right after High Point, which was kind of a bummer. Since then I took a little bit off. Got surgery and was out for about four weeks. Back on the bike and me and Marvin [Musquin] and Dunge [Ryan Dungey] have been riding. Excited to get the call from Roger [DeCoster]. He asked if I was interested and I was definitely very hesitant at first because I don't want to go if I'm not be able to perform at my best, but I feel like we've got a team that can win. I'm up for the challenge.
If you're motoing down there in Florida, can you get enough reps in? Do you feel like you'll be right where you would have been normally if you had not gotten injured? Or are you a little worried about the amount of time you have?
To be honest, I feel like I'm in a really good position. Usually the 450 guys do 17 supercrosses and 12 outdoors. You're coming off the last outdoor and to do des Nations is pretty tough, to want to be able to keep racing and stuff like that. For me, I've had the summer off so I really want to get back to racing. I've been training for the past month and a half or so. It kind of sucks because I've been training and I have nothing to base myself off of on the weekends. I want to go racing. I don't want to keep training for nothing. When I got the call from Roger to see if I was interested it took me a couple days, but it was good because I had something to look forward to and something to train for. And to do it for my country, to do it with these dudes, I think it's going to be a great. I definitely feel like we can do some damage.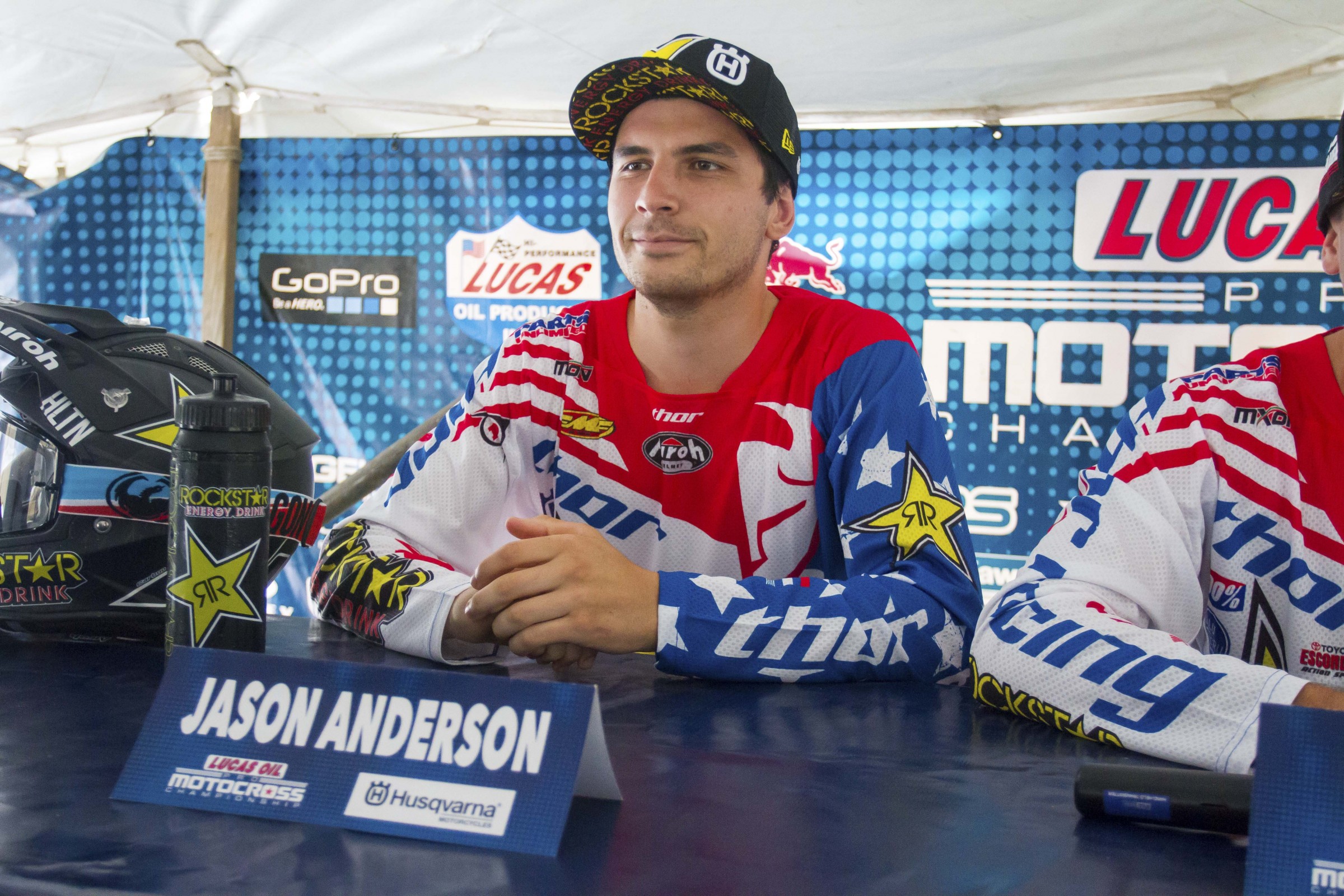 Have you talked to these guys or some other people about what the event is like and what you need to do know? Have you tried to get experience because you haven't been there yet?
Yeah, I train with Marv and Dunge. They've been to des Nations probably ten times total between the both of them. So they've been kind of telling me how it is. Not really giving me tips but just telling me what it's like. I've been definitely watching some YouTube just to check out the track in Italy. Actually, I have that MXGP video game, they have that track on there so I've been riding that a little bit! But for the most part I've been just checking on YouTube. I'm just pumped to go. I really feel like I'm riding good right now and I'm fresh and I want to race. I feel like it's a great opportunity. I think we can do it.
You seem like a no-nonsense kind of guy. So if you had fans cheering for other teams and stuff and all of that pressure, do you say, "I'm a racer, I'm cool with that?" Or is that actually worrying a little bit?
No, I don't think that really worries me too much. I kind of just go out there and do my best. I feel like I'm pretty realistic. I feel like when I go out there I'm just going to try to get good starts and just go for it. Obviously you've got to be smart. We got to make sure we're consistent. But really you have to just do your best and worry about yourself. I'm not too worried about the pressure.
---
Open Floor
Racer X: Cooper, you're the Team Captain, so we'll swing this one to you. Give us the odds. Talk about your chances of winning with the team you guys have assembled?
Webb: I would say 100 percent. I think we're going to work really well as a team together. Like Jason said, we have three guys that want to go and want to win. I think that's the difference. We don't have the egos and all that. We just want to go and do our thing and really prove everybody wrong.
You're racing the Charlotte MXGP and maybe Glen Helen now. You did that last year, racing Glen Helen before going to des Nations. Does that extra race against those guys and learning their format and learning how their riding style is and the track breakdown help you?
Webb: I'm just doing Charlotte. I'm not going to do Glen Helen this year, just we have some more tests again. But I do think it helped a lot last year being able to race against all the top European riders and the format. There are a lot of things that are a little strange, even just going up to the gate and the qualifying races. There's just a long period of racing and practice. Saturday's a full day and then Sunday is all that obviously matters. So you learn not to go all out on Saturday; save yourself for Sunday. Just really set yourself up the best way possible. Not going out there and killing yourself on Saturday. So I think that helped in a sense, but at the same time I think it'll be a little different at the Charlotte race. Obviously it's a man-made track and stuff. We'll see how it goes and then Glen Helen is going to be good. I would say it helped to learn the format but at the same time last year I was just learning the 450 and just wanted to go racing because I hadn't really been racing due to an injury. So I think it helped, but at the same time doing that race wasn't like what made or broke it.
Are there any teams in particular that you guys are keeping an eye on? Italy looks strong this year, France is always strong. Now with Switzerland, Belgium and with the Netherlands, too.
Webb: They're all going to be strong and they're all going have their weaknesses and their advantages. There's just so much that could happen. It's like that with racing in general. But at the same time, I think when it comes down to it you're going to have to have speed and endurance, just like a normal. There are obviously other things that go into it but I think that any of us match any of the guys out there. I would say we are all probably in the best shape out of a lot of the guys out there. Sometimes you kind of have to put that in the back of your head. Say if there's a guy that's faster than you in your class, but the other two riders on his team are nowhere to be found. Then it's kind of mentally tell yourself, we can maybe get away with this guy beating you if you don't feel comfortable running his pace or whatever, because his team isn't really in it. I think that's the biggest thing. There's going to be fast riders and they're going to be a lot of people going for that moto win, but like I said, what I've learned is it's the lowest score gets it done. You don't have to go out there and win every race. It's eliminating those mistakes and being smart but consistent.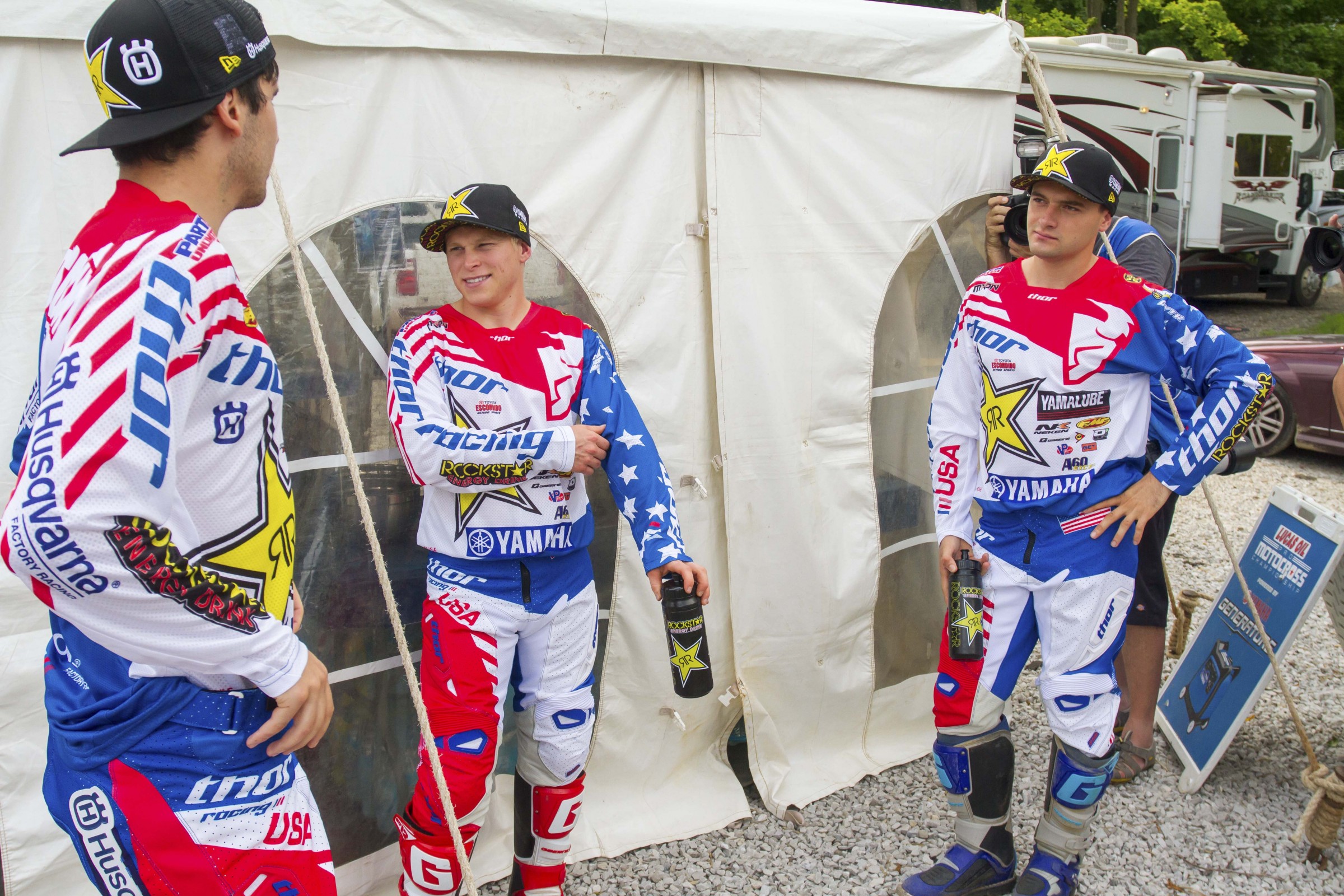 For all three of you: Was there any hesitation to race this at all after supercross, the nationals, and then a few of the off-season season races that you were going to do already?
Webb: There wasn't hesitation really for me. At first I really wanted to do it [the 'Nations] on the 250 just because I feel obviously very comfortable on it. But after we kind of put some thought into it, it made maybe a little more sense to go ahead and be on the 450. Obviously it's a team race. Then when I saw the things with Eli and all that [Eli Tomac asked not to participate in the event], I wasn't sure. I was really hoping that Jason would do it. So until he kind of committed I was a little bit on the edge. But at the end of the day I think I was going to go no matter what.
Anderson: For me, obviously coming off injuries and stuff like that, I was pretty hesitant. But I just kind of rode a little bit and saw how I was riding. It's kind of an opportunity that doesn't come around all the time. I definitely felt like I had the time to be prepared. Even from now until then we've still got a full month that we can even get better than what we are right now. And definitely you've got to have a little bit of pride in you. You've got to want to do it. Even if I didn't race all year, if I got the opportunity to go, I would go no matter what.
Martin: Same goes for me. It's a huge honor to be on Team USA, so no hesitation at all. I think coming off of probably my best career outdoor season, it's basically just the cherry on top to be able to finish out the season on Team USA with the win. It would be a huge accomplishment for my year, and for all three of us. I'm beyond excited and pumped to be a part of the team. Hopefully bring back that cup for this year.