Ah, France: home of an endless supply of motocross talent, avid and boisterous fans, some historic tracks and the current MXGP World Champion – Monster Energy Yamaha's Romain Febvre – who dazzled in front of an appreciative partisan public for the second time in a row (third if you include the Motocross of Nations at Ernee last October) and for the third time this season.
St Jean D'Angely is all hard-pack and stony hill climbs, sheers drops, switchbacks and tasty ruts and lines. Its amphitheatre setting also means that it harnesses a hefty dose of atmosphere and the French crowd's vocal enthusiasm for the progress of their riders swirls around the valley site.
With Febvre in place they had a ready made hero and with HRC's Gautier Paulin crashing from a clear Pole Position on the last lap of the Qualification Heat on Saturday and subsequently forced out of the event due to limited vision around a swollen eye, the stage was set for the twenty four year old. With current MXGP series leader Tim Gajser having fallen in the same heat and entering the gate in thirteenth it was easy to think that the Slovenian star might not be in play for this tenth round of eighteen but St Jean would bear witness to the first real duel between the two standout riders in the class at this time.
Leaving Red Bull KTM's Tony Cairoli alone to the tune of some thirty seconds in the first moto Febvre and Gasjer set a mean pace through a combination of fearless, assertive and studious riding. Febvre led, was shadowed, caught and passed by Gajser and then watched the Honda man's lines to stay with the nineteen year old and create a tense chase that only increased in nerves as the pair threaded through pockets of backmarkers. On the last lap Febvre attacked only to have his outside line blocked on the step-up and Gajser – who has a 100% podium record in his rookie season – claimed his ninth chequered flag (for an almost 50% win ratio).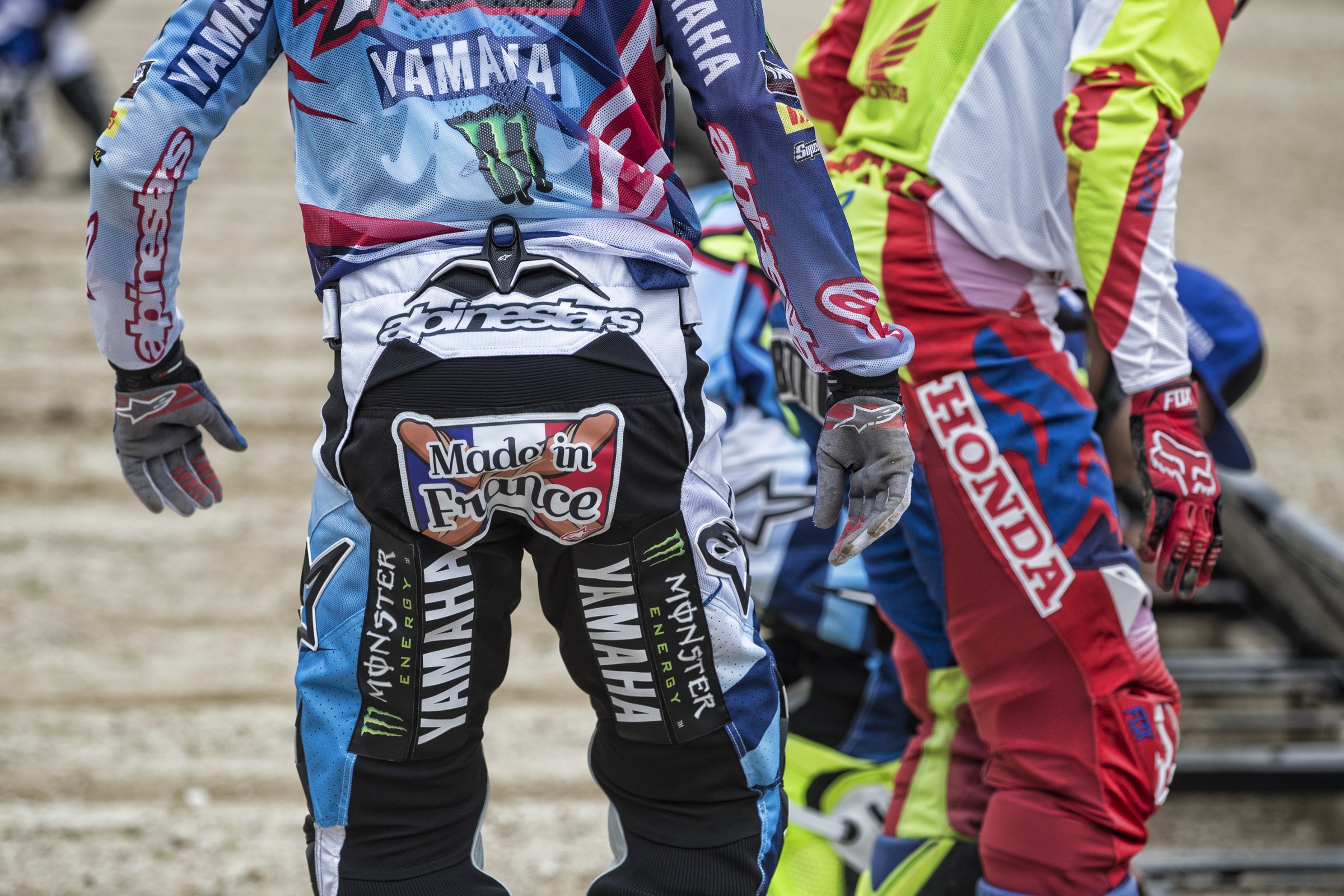 While there is evident respect between the rookie of 2015 and the new premier class 'beginner' there doesn't seem to be much in the way of love. Febvre, clearly annoyed and disappointed to be undone rode directly back to the Yamaha set-up in the paddock once across the finish line. To everyone's excitement both protagonists exited the first corner of the second moto side-by-side (and survived a first turn mess that scooped up Cairol and Jeremy Van Horebeek among others) and immediately resumed their affairs. This time Febvre set the pace and made life as difficult as possible for Gajser to follow his wheel tracks and also negotiate the backmarkers. Gajser was willing but in the final stages of the race the gap widened slowly and after one of the many French rocks spiralled up and hit his wrist, the Honda athlete seemed to accept that this would be Febvre's day and the gap between the duo in the world championship would maintain at 24 points.
"The track was not so difficult, it was slippery but not that bumpy," Febvre explained. "You had some lines but one was much faster than the others so you end up in the same and it's difficult to make the difference; one mistake means you can hear the engine behind you and you have to be ready to fight."
"I think Villars was a little bit more special because it was closer to my place, about one hour driving, so I had a lot of family and close friends," he added when asked to compare this latest triumph to his very first on home turf last summer. "Anyway, it is nice to win the home GP because everywhere on the track you can feel the crowd close and really behind you. It gives you more motivation."
Gajser/Febvre head almost every statistic of the MXGP class this year (podiums, wins, moto victories) except for 'laps lead' with Cairoli showing that he is rapidly trying to gain full fitness to be able to trouble the duet at full song. The Sicilian had two falls in the second moto and would only classify fourth overall behind a solid HRC's Evgeny Bobryshev (the Russian saying afterwards in the press conference "I'm happy but these two boys make me feel a bit like an amateur!") meaning a 60 point deficit to Gajser. Cairoli was almost resigned to the challenge of closing the gap against a youngster that has not missed the podium all season but the former champion knows that there are still three sandy races to come and some favourable tracks. In fifth place was Monster Energy Kawasaki's Clement Desalle who posted another top five overall, his second in a week and it will be curious to see if he can raise his level to re-start his run of spoils. Desalle won a premier class Grand Prix every year from 2009-2014 and was only interrupted by multiple injuries last season.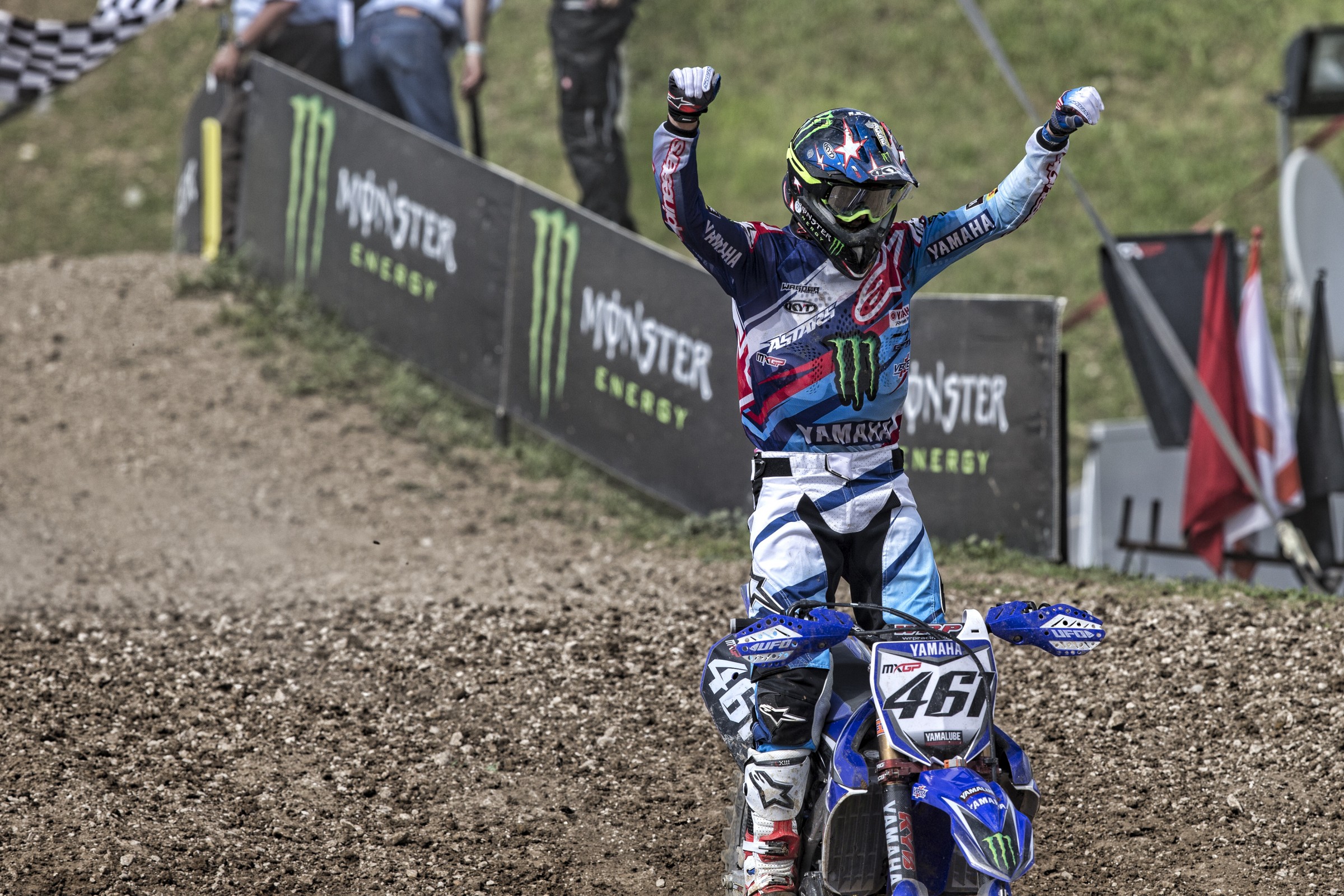 Would Paulin have made a difference? On Saturday's evidence then perhaps 'yes' but the Frenchman is in the same boat as Cairoli and Desalle in needing to find the extra ten percent physically and in terms of race speed to match the 'squash' imposed by the two other protagonists. A disappointing day in terms of starts for Rockstar Energy IceOne Husqvarna's Max Nagl and Van Horebeek was also dealing with a small crack in his right hand. A broken right hand bone meant that Wilvo Virus Performance KTM's Shaun Simpson left the Grand Prix early to seek treatment. Monster Energy DRT Kawasaki's Tommy Searle showed some promise by touching the top five in the second moto but a small crash and repeated rear brake fade problems for the former MX2 Grand Prix winner inhibited his progress and he was eleventh overall. Encouraging speed also from Red Bull KTM's Glenn Coldenhoff who hasn't been able to place the works 450SX-F where it needs to be in the pack.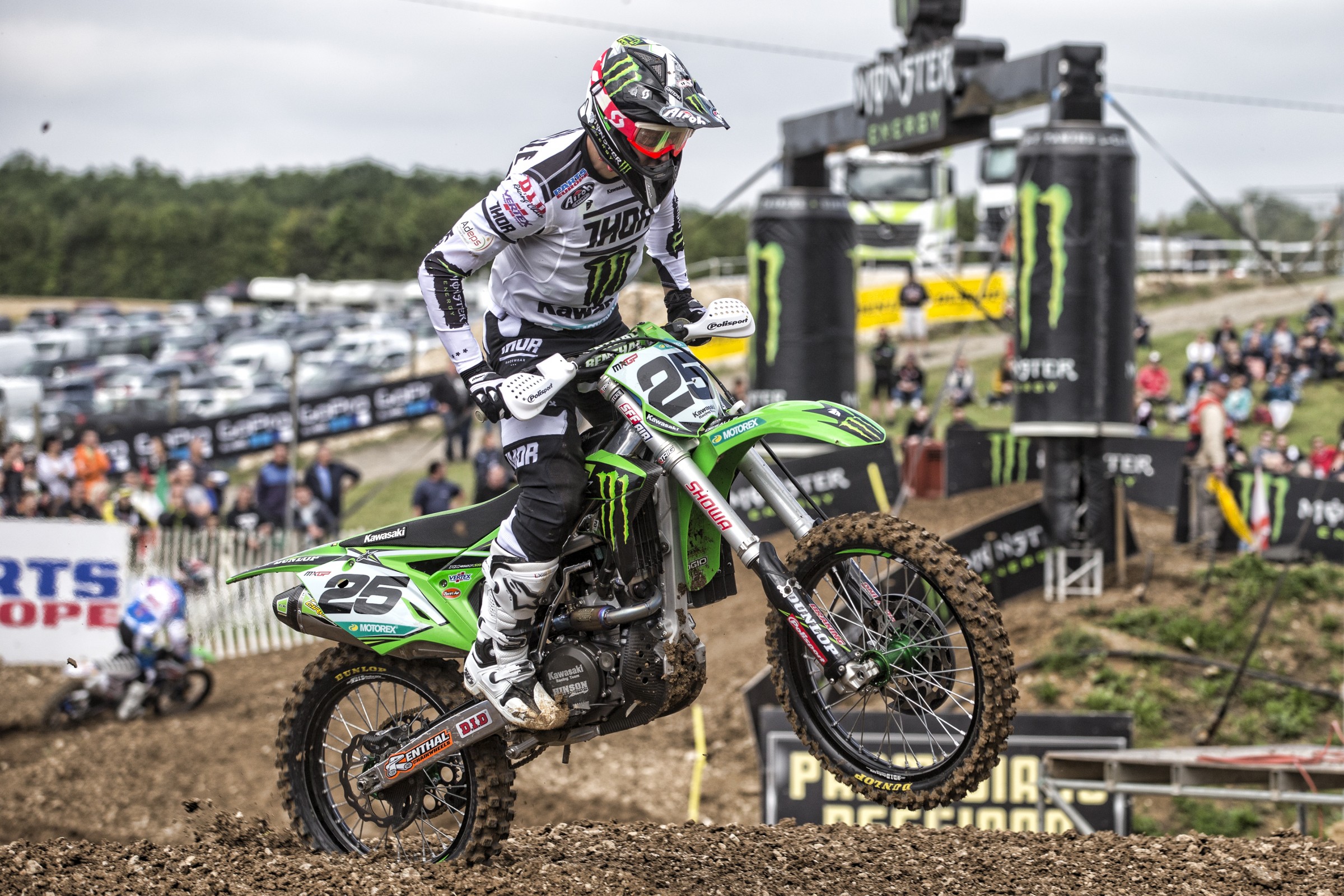 Regular readers of this report or even the most casual of MXGP followers will already know who ruled in MX2. Red Bull KTM's Jeffrey Herlings didn't have the easiest of rides to his tenth win in a row, nineteenth moto win from twenty and the fifty-seventh success of his career at the age of twenty-one. His first moto start required a slow build-up from outside the top ten as the Dutchman was wary of the watered soil. He eventually caught and passed impressive Kemea Yamaha rider Benoit Paturel (second, and on the podium for the second time in a week in just his second MX2 term) by cutting large chunks of time out of the Frenchman's lead in just two laps. The second moto was more formulaic but Herlings had to deal with a spiky Rockstar Energy Husqvarna's Max Anstie who launched terribly in the first race but nailed the holeshot in the second. The Briton gave Herlings reason to keep an eye on his pitboard. Behind there was an entertaining tussle between Paturel, Suzuki's Jeremy Seewer and Red Bull KTM's Pauls Jonass. It would be Seewer who filled third place overall and restart his run of podium finishes after notching six on the bounce earlier in the season. The Swiss also eeked out his gap over Jonass in the standings to 31 points while Herlings now has a cavernous hole of 134 and almost three Grands Prix with eight to go.
There will be few more frustrated MX2 riders than Dylan Ferrandis. The Monster Energy Kawasaki athlete failed to produce a start on two occasions and saw the attention of the fans switch to Paturel as he could only recover to fifth overall. There was also more controversy with the Frenchman's tendency to pull across Herlings out of the gate. The second moto launch was very explicit in this regard and Herlings was privately fuming after the race. As St Jean emptied on Sunday night there was talk that the FIM would want to talk with both riders on the eve of the next event in the UK although it is hard to see how Herlings has much to do with the situation. The Dutchman said he was nowhere near Ferrandis as he crashed in the first moto after the obvious gamesmanship to open that second moto.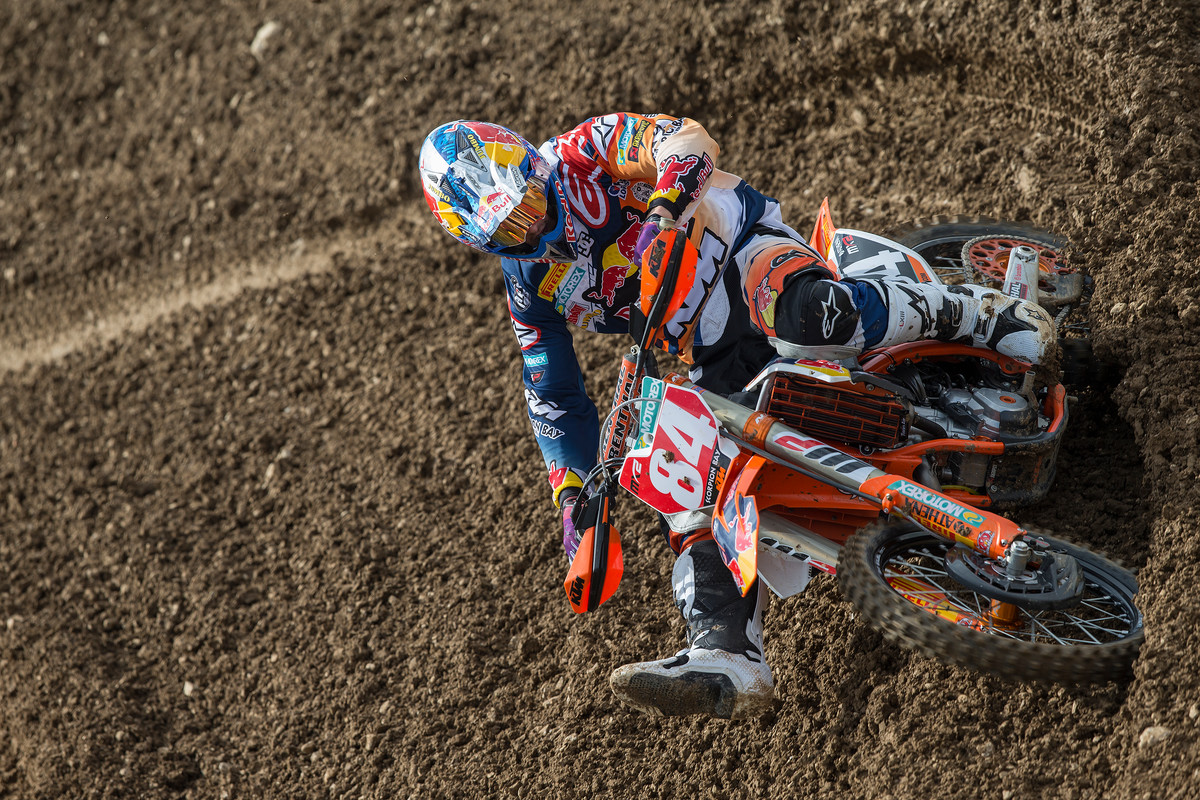 Rockstar Energy Husqvarna's Thomas Covington was back on the bike and pain-free after dealing with two recent injury problems. The American said he had only ridden the works FC250 "three or four times" since convalescing and there was some rustiness on display in France as he took points in the first moto but crashed in the second.
St Jean burst at the seams with a support card that featured two European classes and the latest instalment of the FIM Women's World Championship. Yamaha's Nancy Van der Ven talked up her victory over home favourite Livia Lancelot in terms of the mental edge it would provide for the three remaining rounds. A first-moto tumble was the cause of Lancelot's second place finish while reigning number one Kiara Fontanesi earned her first podium on a privateer Honda in third.
While Stephen Rubini ruled EMX125, it was another American who gave the star spangled banner a good airing on the PA system (and for the first time since Covington's success in Mexico last year) as Bud Racing Kawasaki's Darian Sanayei not only walked the EMX250 box for the fourth time in 2016 but ran to a 1-1 moto haul for his maiden win. Brandmate Hunter Lawrence is out of the contest with a knee injury that requires surgery but Sanayei is just 63 points adrift of St Jean runner-up Thomas Iker Olsen with four rounds to go.
The vast and popular Matterley Basin circuit will host the British Grand Prix in two weeks time and will see the first GP appearance in fifteen years by Yamaha's Chad Reed. Will the Australian have anything to add to the party?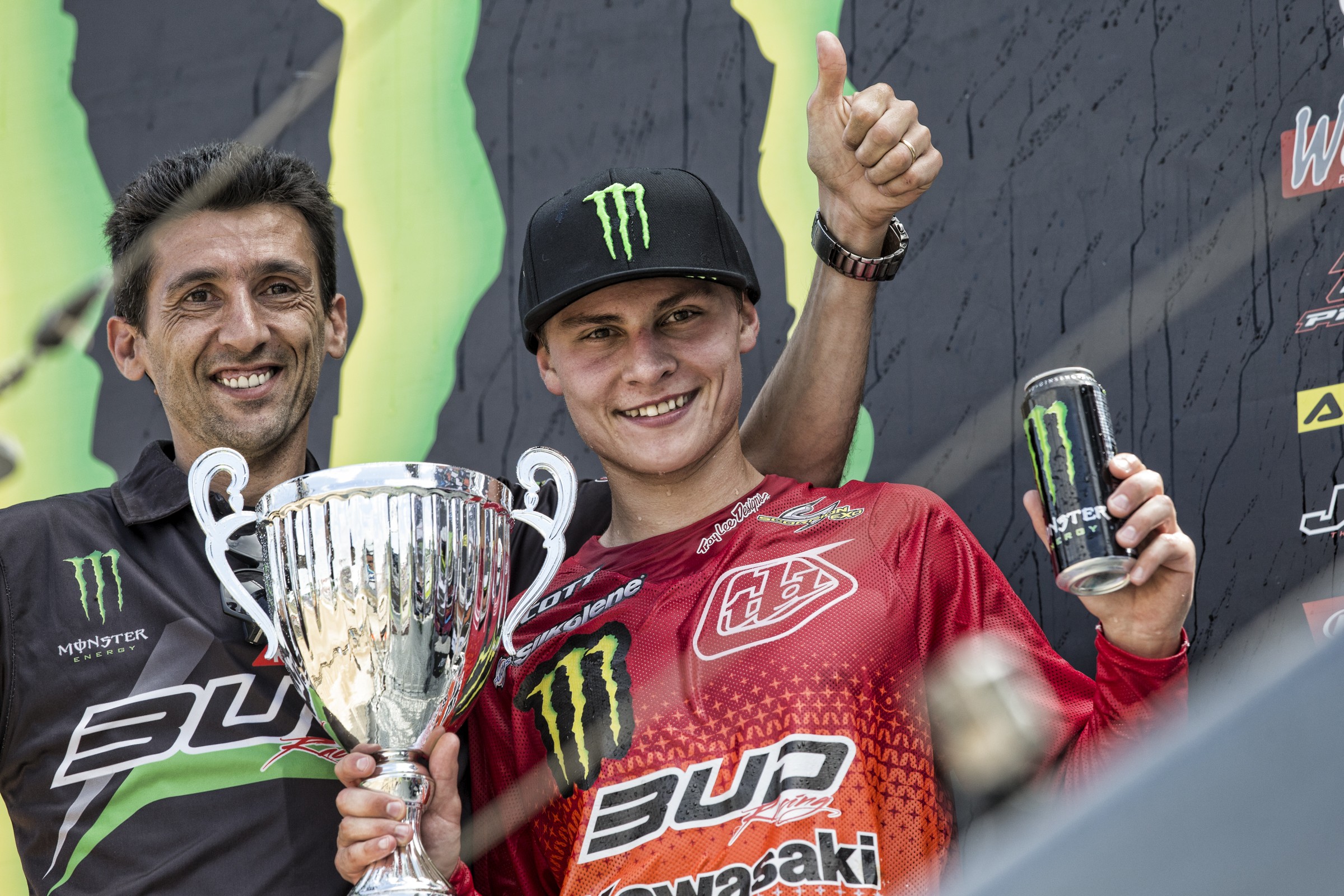 MXGP Overall Top Ten: 1. Romain Febvre (FRA, YAM), 47 points; 2. Tim Gajser (SLO, HON), 47 p.; 3. Evgeny Bobryshev (RUS, HON), 38 p.; 4. Antonio Cairoli (ITA, KTM), 34 p.; 5. Clement Desalle (BEL, KAW), 31 p.; 6. Glenn Coldenhoff (NED, KTM), 28 p.; 7. Valentin Guillod (SUI, YAM), 28 p.; 8. Maximilian Nagl (GER, HUS), 25 p.; 9. Jordi Tixier (FRA, KAW), 21 p.; 10. Dennis Ullrich (GER, KTM), 19 p.
MXGP Championship Top Ten: 1. Tim Gajser (SLO, HON), 432 points; 2. Romain Febvre (FRA, YAM), 408 p.; 3. Antonio Cairoli (ITA, KTM), 372 p.; 4. Maximilian Nagl (GER, HUS), 342 p.; 5. Evgeny Bobryshev (RUS, HON), 333 p.; 6. Jeremy Van Horebeek (BEL, YAM), 293 p.; 7. Shaun Simpson (GBR, KTM), 210 p.; 8. Valentin Guillod (SUI, YAM), 208 p.; 9. Kevin Strijbos (BEL, SUZ), 204 p.; 10. Glenn Coldenhoff (NED, KTM), 184 p.
MX2 Overall Top Ten: 1. Jeffrey Herlings (NED, KTM), 50 points; 2. Benoit Paturel (FRA, YAM), 42 p.; 3. Jeremy Seewer (SUI, SUZ), 38 p.; 4. Pauls Jonass (LAT, KTM), 32 p.; 5. Dylan Ferrandis (FRA, KAW), 29 p.; 6. Aleksandr Tonkov (RUS, YAM), 29 p.; 7. Brian Bogers (NED, KTM), 27 p.; 8. Samuele Bernardini (ITA, TM), 24 p.; 9. Max Anstie (GBR, HUS), 22 p.; 10. Petar Petrov (BUL, KAW), 20 p.
MX2 Championship Top Ten: 1. Jeffrey Herlings (NED, KTM), 497 points; 2. Jeremy Seewer (SUI, SUZ), 363 p.; 3. Pauls Jonass (LAT, KTM), 332 p.; 4. Benoit Paturel (FRA, YAM), 293 p.; 5. Aleksandr Tonkov (RUS, YAM), 269 p.; 6. Petar Petrov (BUL, KAW), 230 p.; 7. Dylan Ferrandis (FRA, KAW), 229 p.; 8. Samuele Bernardini (ITA, TM), 228 p.; 9. Max Anstie (GBR, HUS), 227 p.; 10. Vsevolod Brylyakov (RUS, KAW), 209 p.