Americans Lead the Way in Japan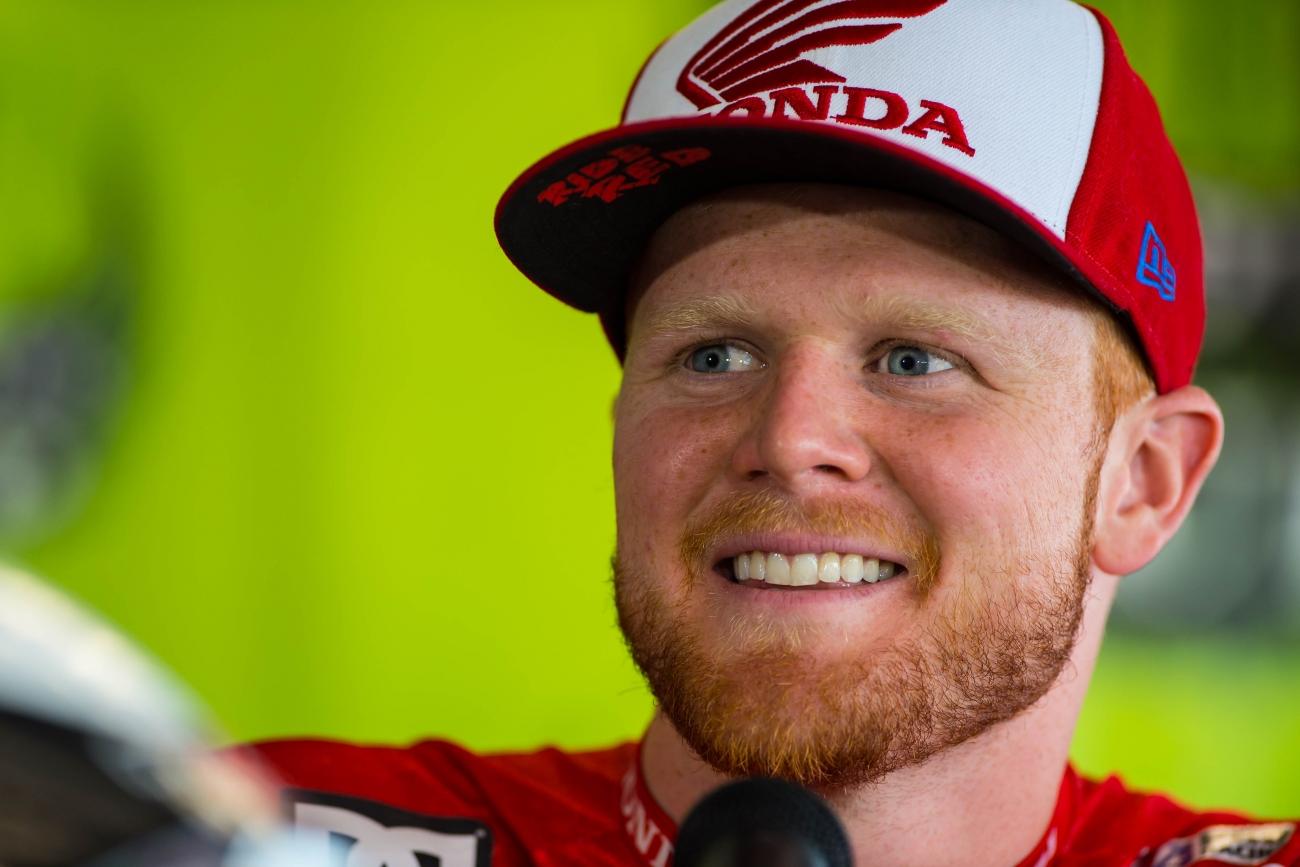 In a rare off-season motocross matchup that included top riders from both the U.S. and Europe, Team Honda's HRC's Trey Canard and Yamalube/Star Racing's Jeremy Martin won the overall at the All-Japan Motocross Finals in Sugo, Japan. Canard split MX1 moto wins with Cooper Webb, and held off race-long pressure from FIM MXGP World Champion Romain Febvre for the overall win.
In MX2, it was AMA 250 Motocross #1 Jeremy Martin beating FIM MX2 World #1 Tim Gajser for the overall, though the two split moto wins. Look for more coverage and photos later on Racer X Online.
MX2 Moto 1
1 243 Tim Gajser 0: 31: 51.748 (17 laps) 0: 00.000
2 111 Jeremy Martin 0: 32: 15.053 (17 laps) +0: 23.305
3 888 Katsuya Takeshi 0:32: 17.698 (17 laps) +0: 25.950
4 317 Toshiki Tomita 0:32: 39.834 (17 laps) +0: 48.086
5 31 Takenaka Junya 0:32: 50.892 (17 laps) +0: 59.144
6 32 Notsuka Tomohiro 0:33: 02.444 (17 laps) +1: 10.696
7 1001 Koga Futoshimoto 0:33: 21.649 (17 laps) +1: 29.901
8 34 Okano St. 0:33: 22.366 (17 laps) +1: 30.618
9 46 Yokozawa Tsubuseyume 0:33: 28.401 (17 laps) +1: 36.653
10 777 Lewis Stewart 0: 33: 42.032 (17 laps) +1: 50.284
11 113 Tanaka Masaki 0:33: 59.674 (17 laps) +2: 07.926
12 63 Tsuji Takuto 0:31: 57.731 (16 laps) -1 lap
13 37 Shinichi Inoue 0:31: 58.593 (16 laps) -1 lap
14 49 Ikemoto Ryo汰 0:32: 01.151 (16 laps) -1 lap
15 1003 Hozuma Kobayashi 0:32: 02.532 (16 laps) -1 lap
16 60 Ryota Watanabe 0:32: 03.787 (16 laps) -1 lap
17 952 Ishiura Ryo 0:32: 04.631 (16 laps) -1 lap
18 41 Saito bulk 0:32: 07.965 (16 laps) -1 lap
19 48 Kamakura Taiki 0:32: 09.886 (16 laps) -1 lap
20 38 Ogawa Kohei 0:32: 13.394 (16 laps) -1 lap
MX2 Moto 2
1 111 Jeremy Martin 0: 32: 04.797 (17 laps) 0: 00.000
2 888 Takeshi Katsuya 0:32: 27.263 (17 laps) +0: 22.466
3 317 Tomita Toshiki 0:32: 41.739 (17 laps) +0: 36.942
4 32 Notsuka Tomohiro 0:32: 52.936 (17 laps) +0: 48.139
5 243 Tim Gajser 0: 33: 02.758 (17 laps) +0: 57.961
6 31 Takenaka Junya 0:33: 30.874 (17 laps) +1: 26.077
7 113 Tanaka Masaki 0:33: 36.213 (17 laps) +1: 31.416
8 46 Yokozawa Tsubuseyume 0:33: 48.306 (17 laps) +1: 43.509
9 37 Shinichi Inoue 0:33: 54.223 (17 laps) +1: 49.426
10 38 Kohei Ogawa 0:33: 57.813 (17 laps) +1: 53.016
11 1001 Koga Futoshimoto 0:33: 59.165 (17 laps) +1: 54.368
12 777 Lewis Stewart 0: 34: 02.205 (17 laps) +1: 57.408
13 49 Ikemoto Ryo汰 0:34: 04.492 (17 laps) +1: 59.695
14 41 Saito bulk 0:32: 10.516 (16 laps) -1 lap
15 50 Michiwaki Ukyo 0:32: 15.877 (16 laps) -1 lap
16 1005 Uchida Atsushimoto 0:32: 16.890 (16 laps) -1 lap
17 60 Watanabe Ryota 0:32: 18.100 (16 laps) -1 lap
18 1007 Sugaya Takashikai 0:32: 19.484 (16 laps) -1 lap
19 952 Ishiura Ryo 0:32: 26.524 (16 laps) -1 lap
20 63 Tsuji Takuto 0:32: 29.855 (16 laps) -1 lap
MX2 Overall
1. Jeremy Martin (2-1)
2. Katsuya Takeshi (3-2)
3. Tim Gasjer (1-5)
4. Toshiki Tomita (4-3)
5. Notsuka Tomohiro (6-4)
MX1 Moto 1
1 117 Cooper Webb 0: 33: 23.971 (18 laps) 0: 00.000
2 241 Trey Canard 0: 33: 29.417 (18 laps) +0: 05.446
3 461 Romain Febvre 0: 34: 01.021 (18 laps) +0: 37.050
4 1 Ryo Narita 0:34: 33.340 (18 laps) +1: 09.369
5 2 Ogata Makoto 0:34: 59.113 (18 laps) +1: 35.142
6 44 Kojima Yohei 0:35: 09.562 (18 laps) +1: 45.591
7 4 Atsuta Yoshitaka 0:35: 13.101 (18 laps) +1: 49.130
8 8 Fukaya Koichi 0:35: 15.780 (18 laps) +1: 51.809
9 331 Hiroaki Arai 0:35: 17.782 (18 laps) +1: 53.811
10 500 Yasuhara Zhi 0:35: 21.016 (18 laps) +1: 57.045
11 16 Tanaka Kyoyo 0:33: 38.905 (17 laps) -1 lap
12 11 Ikeya Yuta 0:33: 50.050 (17 laps) -1 lap
13 10 Ito Masanori 0:34: 01.790 (17 laps) -1 lap
14 15 Hiroshi Hoshino 0:34: 03.811 (17 laps) -1 lap
15 12 Masaaki Suzuki 0:34: 12.683 (17 laps) -1 lap
16 822 Mihara Takuya 0:34: 34.946 (17 laps) -1 lap
17 7 Hoshino advantage 0:34: 36.112 (17 laps) -1 lap
18 61 Island Kawasaki Yu 0:33: 27.776 (16 laps) -2 laps
19 22 Shiraishi Sho也 0:33: 56.242 (16 laps) -2 laps
20 21 Taisuke Nakamura 0:34: 31.080 (16 laps) -2 laps
MX1 Moto 2
1 241 Trey Canard 0: 33: 35.272 (18 laps) 0: 00.000
2 461 Romain Febvre 0: 33: 37.027 (18 laps) +0: 01.755
3 117 Cooper Webb 0: 34: 29.865 (18 laps) +0: 54.593
4 1 Ryo Narita 0:35: 05.923 (18 laps) +1: 30.651
5 2 Ogata Makoto 0:35: 08.147 (18 laps) +1: 32.875
6 4 Atsuta Yoshitaka 0:33: 45.584 (17 laps) -1 lap
7 331 Hiroaki Arai 0:33: 47.143 (17 laps) -1 lap
8 8 Fukaya Koichi 0:33: 52.169 (17 laps) -1 lap
9 822 Mihara Takuya 0:33: 55.944 (17 laps) -1 lap
10 500 Yasuhara Zhi 0:33: 56.632 (17 laps) -1 lap
11 44 Kojima Yohei 0:34: 21.982 (17 laps) -1 lap
12 13 Kitakyo Yoshiki 0:34: 25.095 (17 laps) -1 lap
13 15 Hiroshi Hoshino 0:34: 27.115 (17 laps) -1 lap
14 10 Ito Masanori 0:35: 02.204 (17 laps) -1 lap
15 11 Ikeya Yuta 0:32: 21.845 (16 laps) -2 laps
16 61 Island Kawasaki Yu 0:34: 07.167 (16 laps) -2 laps
17 22 Shiraishi Sho也 0:34: 45.706 (16 laps) -2 laps
18 12 Suzuki Masaaki 0:35: 33.277 (16 laps) -2 laps
19 21 Nakamura Taisuke 0:35: 33.429 (16 laps) -2 laps
20 16 Tanaka Kyoyo 0:16: 35.551 (7 laps) -11 laps
450 Overall
1. Trey Canard (2-1)
2. Cooper Webb (1-3)
3. Romain Febvre (3-2)
4. Ryo Narita (4-4)
5. Ogata Makoto (5-5)