Welcome to Racerhead and yet another "welcome to the off-season" message, only this time we mean it! Well, we mean it unless you're Yamalube/Star Racing Yamaha's Jeremy Martin and Cooper Webb, because then you're in Japan to race the last round of the All-Japan Series at Sugo. This is a race that Webb won last year while Martin was hobbled by the foot he broke at the MXoN in Latvia, and with this being Yamaha's sixtieth anniversary, they're also shipping over Romain Febvre, the 2015 FIM World Champion from France. Webb will be riding a 450 again and will get a rematch against Febvre from the MXoN, where Romain was the best in the field in both of their motos. All three will likely be riding yellow bikes, as well, as Yamaha is likely to go back to its traditional racing colors for this event.
Adding even more spice is the fact that Honda HRC decided to send a couple of big hitters of its own to maybe spoil Yamaha's party—Trey Canard and 2015 MX2 World Champion Tim Gajser—making this much more interesting. While no one will likely be going 100 percent, there will be a lot of corporate pride on the line, and Gajser, who's said to already be trying to get to America full-time by 2017, will have something extra to motivate him. He's also planning on doing some SX here in January. (If you haven't watched it yet, check out the Slovenian in the FMF War Machines video doing a GoPro lap on the Hungarian "dream track" called Dirt Park.)
Back here in the States, everyone can finally take some real time off, with the Monster Energy Cup and Las Vegas in the rearview mirror, not to mention Red Bull Straight Rhythm, the MXoN, the USGP.… September is usually the month off for everyone but those racing in the Motocross of Nations. By November, it's almost full-blast getting ready for the start of Monster Energy AMA Supercross, and December is something of a blur as the days go by and Anaheim gets closer. Fortunately, there's a later start (January 9) in 2016 and that's good news for everyone.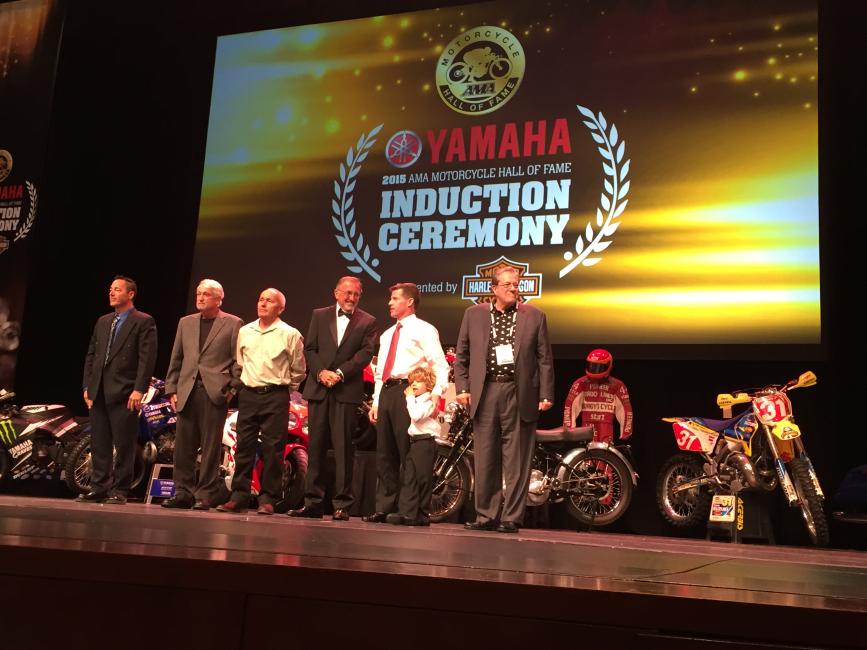 As I mentioned last week, I missed the Monster Energy Cup so I could be at the AIMExpo and the AMA Motorcycle Museum Hall of Fame induction ceremony, where Yamaha's Keith McCarty and five-time GNCC star Rodney Smith joined a few other highly influential and successful people going into the Hall of Fame. You will find both Keith's acceptance speech further below (Rodney's hasn't made it online yet), and both are outstanding. Congrats to both men on a well-deserved honor.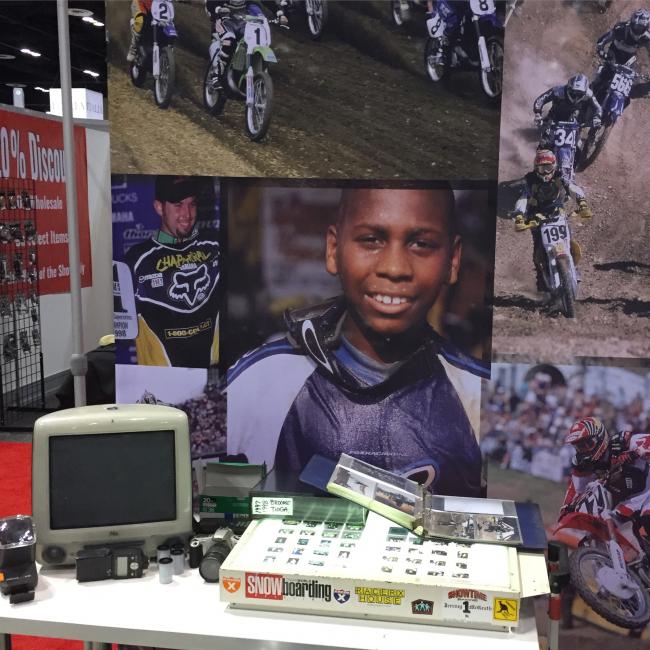 Finally, we had an NPG meeting last week with all of the promoters, and it presented the first chance for Southwick's Keith and Rick Johnson (no, not that RJ, but he says he's older and the original!) to sit down with all the other promoters and start to get a feel for what it will be like when the series returns on July 9, 2016. I have a feeling that Southwick '16 will be the biggest race the Wick has ever hosted, and Keith is really stoked on the track he and John Dowd have been working on, which is a return to its original counter-clockwise direction.
I doubt there are two people in this world who have turned more laps at Southwick than KJ and Dowdy, so it's really cool that they are working together to get "the sandbox" ready for Lucas Oil Pro Motocross. With Monster Energy Supercross also heading back to New England at Gillette Stadium on April 23, and then Southwick in July, motocross fans up there must be even happier than football fans were when Tom Brady's suspension over those deflated balls got overturned!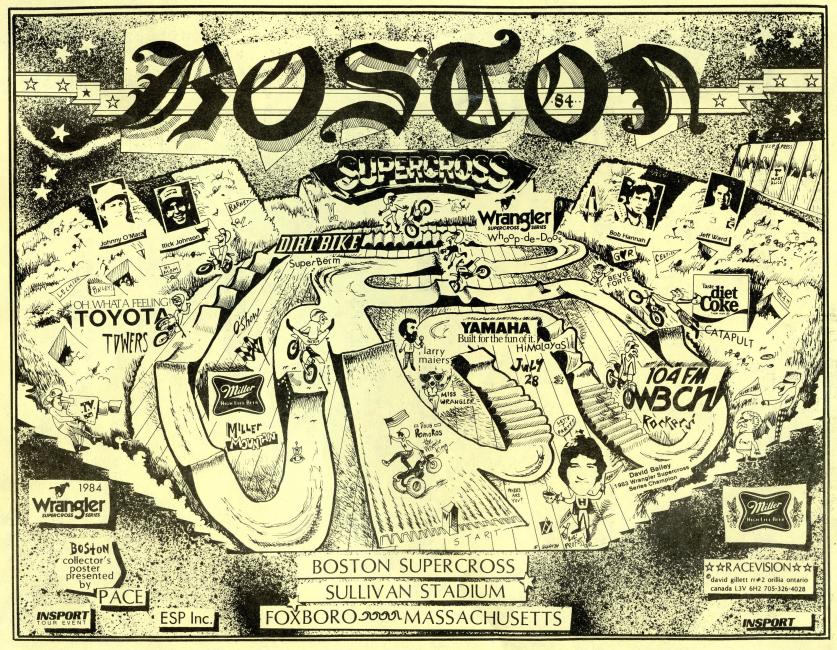 SILLY SEASON (Chase Stallo)
With the last major race of the 2015 season over—in the United States, at least—it's the traditional time to talk about who's going where. For good or bad, though, there isn't much to report. Ryan Dungey, Ken Roczen, Trey Canard, Justin Barcia, Cole Seely, Blake Baggett, Weston Peick, Andrew Short, Justin Brayton, Davi Millsaps, Wil Hahn, and Christophe Pourcel, among others, are either entering the second year of a two-year deal or in long-term contracts. The one major shoe to drop was Eli Tomac, who announced his decision to leave GEICO Honda, the team he's spent his entire professional career with, for Monster Energy Kawasaki last week.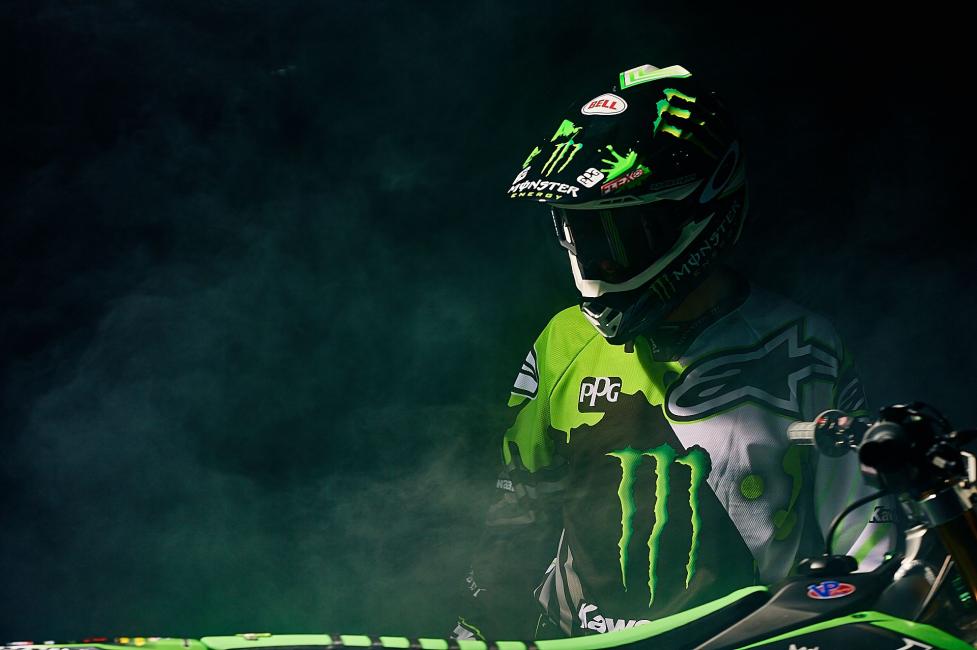 "This is just a team that I have always just looked up to. Seeing Villopoto's success, you know, looking at the guy who was winning all the races, and you wonder why he is winning everything," Tomac told Racer X last week. "I looked at that and it was something I wanted to get to, and I believe that I can do the best I can do on this team…. I feel like I have more potential with this team and with this chassis, so that's where I'm at with it right now."
With Tomac's deal done, we now wait on veteran Chad Reed, who closed down his TwoTwo Motorsports team earlier this summer and raced the Monster Energy Cup on a one-race deal with Yamaha. A Yamaha deal seemed all but certain early in the off-season, with Justin Bogle rumored to be serving as a second rider, but now it's all in limbo. Surely Reed will find something, but when and where are still very much up in the air.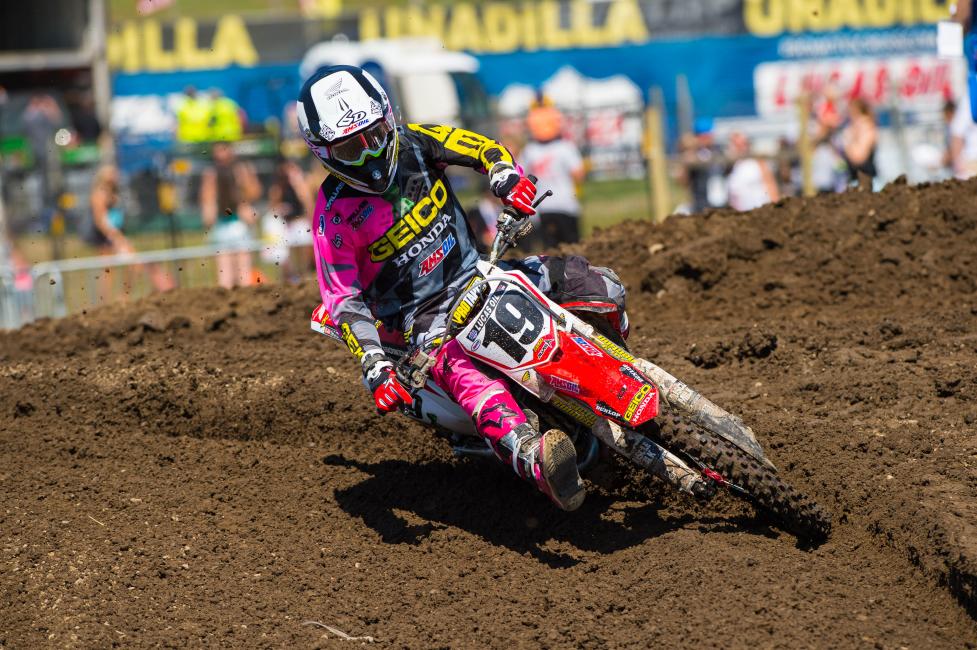 As for Bogle, reports are that he will return to GEICO Honda in deal similar to Eli Tomac's last year, where he pitted with the HRC Honda team. Nothing is official at this time.
Another rider still on the market is Josh Grant, Reed's former TwoTwo Motorsports teammate and also rumored to be in the running for a second spot with the new Yamaha team. Word has been rather quiet, so we'll have to wait and see where he lands.
We released our first (of many) silly season reports earlier today, so make sure to check it out.
PRO PERSPECTIVE (Ping)
I was busy rescuing cats from trees (as Matthes likes to say) the past few days and didn't get to weigh in on the racing last weekend, so I'll use this space. In 3 on 3 the guys talked about the constant switching back and forth between air and spring forks and KYB and Showa. It probably seems like a fiasco from the outside, but I can assure you that within each team…it is an absolute fiasco.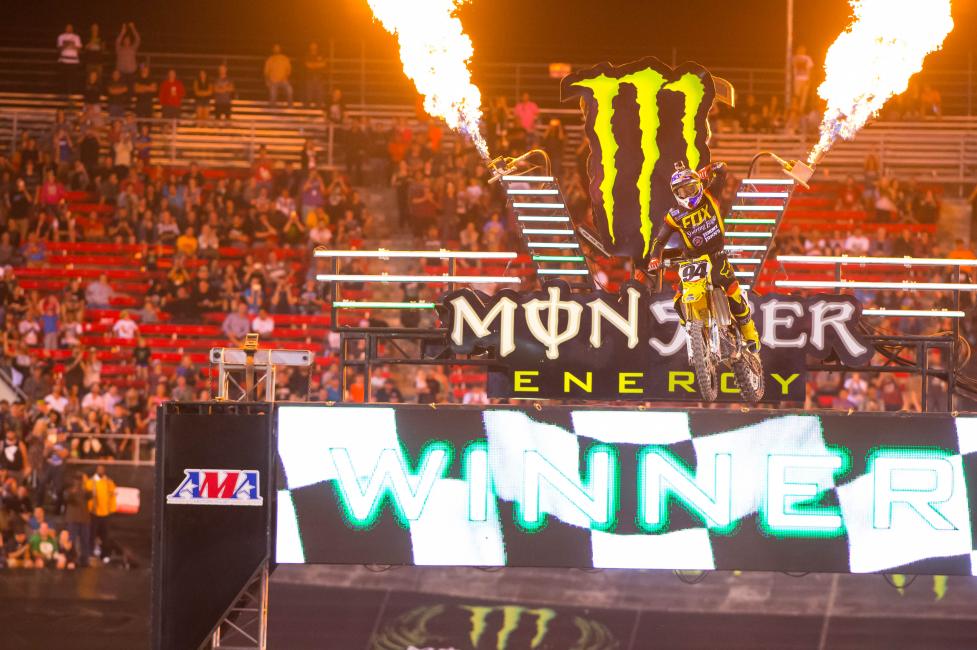 Logistically, you have to commit to one system and stick with it, because you are ordering at least three sets for every rider on the team. One set goes on their practice bike, one goes on the race bike, and the spare is rotated to the race bike while the other set is getting serviced. I'm sure different teams have different methods, but this is likely pretty standard. That doesn't account for sets that are used for test bikes, either. When you start adding up the cost of each set you are talking some serious cash.
I get a lot of questions about how the manufacturers feel about their riders racing with a brand they aren't selling on their production units. From what I understand, the Japanese manufacturers all play nice with both brands since they are Japanese companies as well. Oftentimes you will see one model with KYB and another with Showa. While it probably drives the marketing teams nuts, the bottom line is that the teams will do whatever they can to make the riders happy, comfortable, and confident. Confidence is a huge part of the puzzle in a championship season, so if a rider wanted to run a Showa shock and KYB forks with a WP sticker on his helmet, I'm guessing the team would greenlight it.
Speaking of WP, the company that has been known as a KTM/Husky product launched a push of their Japanese OEM setups this week in an effort to get a piece of that market. If you follow the GP series at all you'll notice that several of the top teams and riders on Japanese brands are running WP suspension and having success with it. Having ridden Christophe Pourcel and Martin Davalos' race bikes recently for a video here on the site, I can tell you they have an incredible product. WP is going to become a major player in the racing suspension game in the very near future, so keep an eye out for it.
I was pretty surprised at the results of both Reed and Stewart at the MEC, and then I reminded myself how little that race matters in terms of 2016 potential. Remember that Davi Millsaps won in 2014 and looked amazing, only to fall flat during the regular season. As the other guys mentioned, nobody is ready for this race, so it's more a matter of who gets starts and stays out of trouble.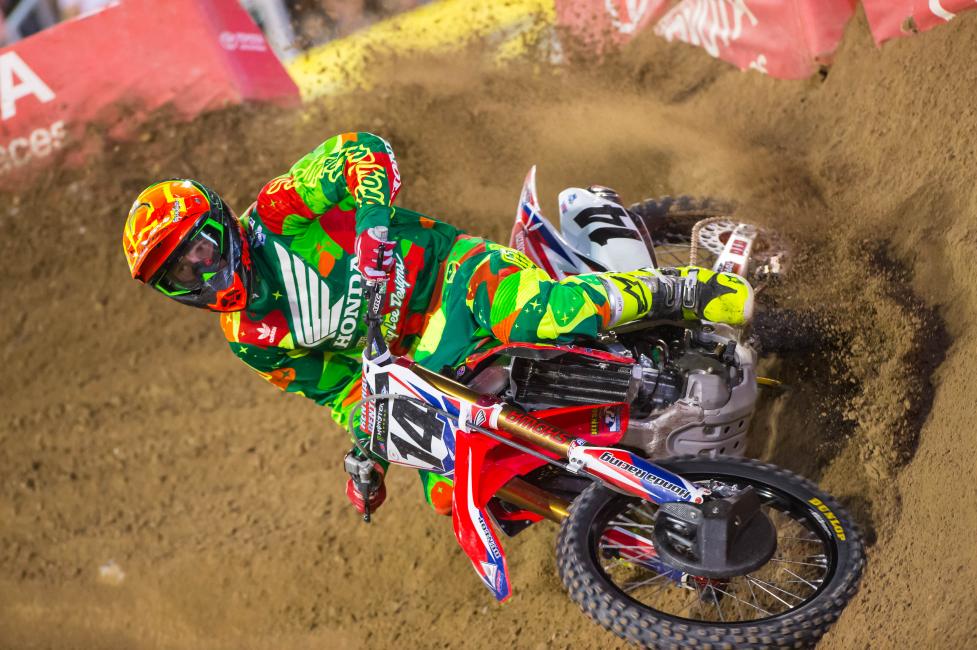 Speaking of trouble, did anybody else see Trey Canard go flying into the scoring tower and think back to his pass on Ryan Villopoto during his rookie season? It was eerily similar. I'm glad Trey is okay and as fast as ever.
One guy we didn't get to see last weekend was Cole Seely. I bumped into him at a Troy Lee Designs function recently and he is just about set to get back on the bike. He feels great but his doctors are making sure he is 100 percent before he hits the track again. Cole had a pretty phenomenal supercross season last year, and if he has a good two months leading up to A1, he should be a threat to win races every weekend.
ROCZEN ROLLS (Andras Hegyi)
There are many foreign motocrossers who were successful in the United States. Back in the 1970s, Roger DeCoster (Belgium) won four Trans-AMA titles while racing for Suzuki. In the early nineties there was the French legend Jean-Michel Bayle, who was the only rider in AMA history to win three championships in a single season. In this millennium, Chad Reed (Australia) has more wins than any import in the history of Monster Energy Supercross, and Grant Langston (South Africa) has a vast collection of titles and race wins. Now the German rider Ken Roczen is trying to get his name up there with those legends.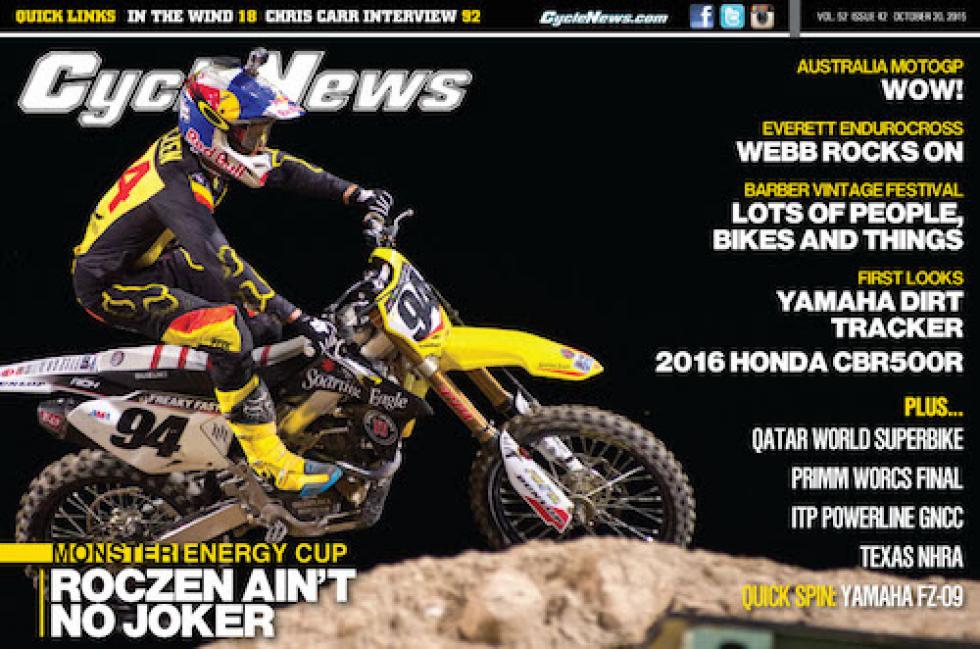 After so many problems in 2015, Roczen seems to have turned himself around in a hurry. He won the last moto of the 2015 Lucas Oil Pro Motocross Championship in Indiana, then underwent back surgery on August 31. Within weeks he was racing the Red Bull Straight Rhythm and finished a close second to James Stewart. Last weekend he won the Monster Energy Cup against a very strong field. In winning the three-heat race, the RCH/Soaring Eagle/Jimmy John's Suzuki rider emerged as the first foreign winner of this important off-season test. Remember, he started out the last two years of Monster Energy AMA Supercross with Anaheim wins. Right now he's looking like a preseason favorite if he can keep the momentum going.
MORE "OFF-SEASON" RACES (Chase Stallo)
Does the season ever really end? As DC mentioned in the opener, Cooper Webb, Jeremy Martin, Trey Canard, Tim Gajser, and Romain Febvre are in Japan to race the last round of the All-Japan Finals this week. Webb raced the event last year and went 1-1 in the 450 Class.
Japan isn't the only race to look forward to this off-season—there is also supercross in Bulgaria, France, Germany, Italy, and Australia. Here's a quick guide:
Australia
October 31 – Adelaide Showground – Wayville, South Australia
November 21 – Jimboomba – Queensland
November 28 – Allphones Arena – Homebush, NSW
December 5 – Knights Stadium – Sunshine, Victoria
Germany
November 6-7 – Kings of Extreme - Leipzig
November 13-14 – ADAC SX - Stuttgart
November 20-21 – ADAC SX – Munich
November 27-28 – ADAC SX – Chemnitz
January 8-10 – ADAC SX – Dortmund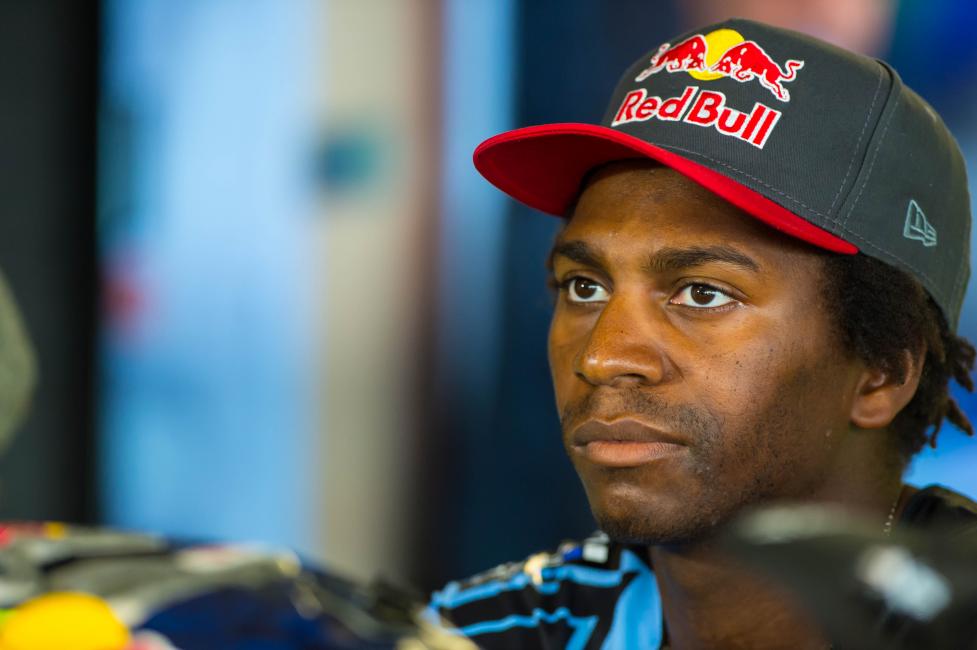 Other
October 31 - Bulgarian Supercross – Sofia, Bulgaria
November 7 - Genova Supercross – Genoa, Italy
November 14 - Paris-Lille Supercross – Lille, France
December 4 - Geneva Supercross – Geneva, Switzerland
LONG WAY AROUND (DC)
Two of my lifelong friends, Jeff Cernic of Cernic's Racing and Tom Carson of Asterisk, decided to get on a pair of Suzukis and ride about 1,200 miles after the Monster Energy Cup. They're were out in California checking out motorcycle shops and destinations along the way, like Cycle West in Petaluma, when they ran into Ernie Cabral, a 76-year-old veteran who is still racing today! They also found themselves in a coffee shop called Cafe Scooteria in Sonoma, which I have never heard of but plan to visit next time I head to Hangtown!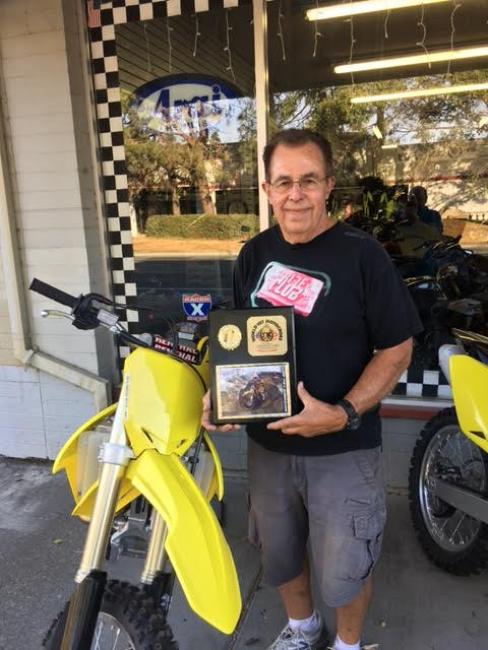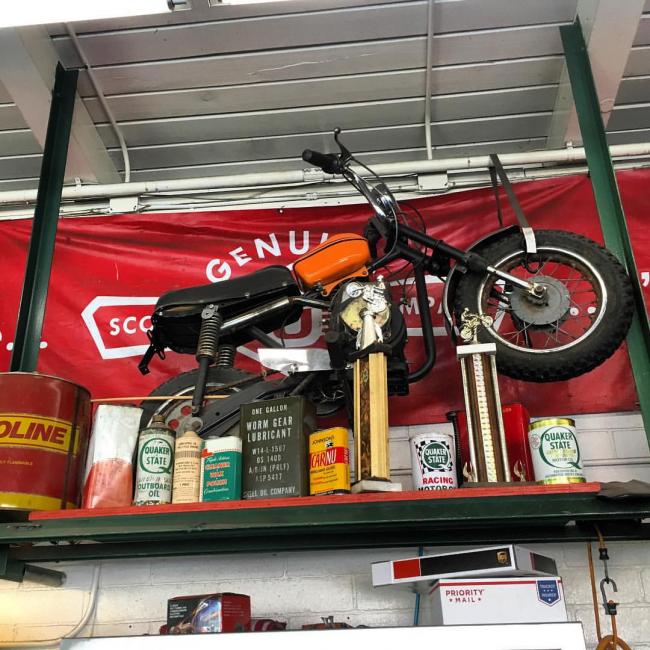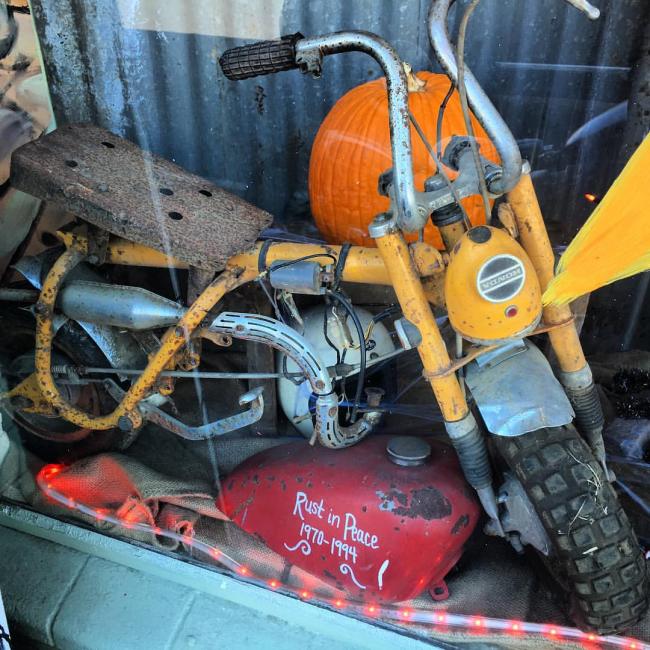 HEY, WATCH IT!
Thanks to "bonseff" on the Vital MX board for posting a link to the greatest lawyer commercial ever:
Our Finnish friend Kusti Manninen sent us these videos of Honda minicycle prospect Emil Weckman and Honda legend Rick Johnson, each doing an intro in Japanese ahead of a big trip to Japan. In RJ's case it was for the Tokyo Supercross; Emil is going to race the All-Japan Grand Prix on his CRF150. The idea for his video came from RJ's back in 1989!
Tony Cairoli, the eight-time FIM World Champion and all-around good guy, had a tough season in 2015 due to an injury he suffered in one of those Saturday afternoon qualifying races for Sunday gate picks. Last weekend he took a trip to Brazil for a working vacation, winning the Brazil Cup. With the new rule offering championship points for Saturday races in the hopes of making them more meaningful (rather than just doing away with them) and nineteen rounds scheduled for 2016, Cairoli didn't seem very thrilled with either as he spoke to Brazilian journalist Mau Haus of www.brmx.com.
Keith McCarty's acceptance speech for the AMA Motorcycle Hall of Fame: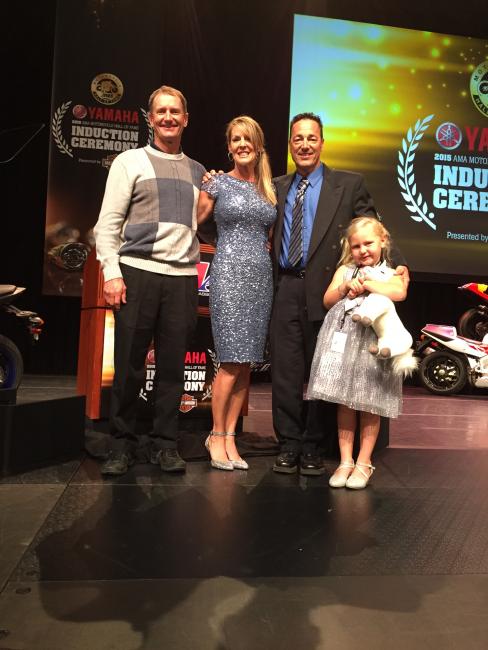 RANDOM NOTES
For more from Canada, check out DMX Frid'Eh Update #42.
The Man himself, Roger DeCoster, posted this photo on his Facebook page of the recent Namur reunion to honor Andre Malherbe, from the paved road near the Monument Café. That's where Hakan Carlqvist famously stopped for a chug of beer on his way to a win at the old Citadelle circuit in the eighties. (From left: Sylvain Geboers, Harry Everts, Roger DeCoster, Håkan Andersson, Michele Rinaldi, André Malherbe, Jean-Claude Laquaye, and Joël Robert....)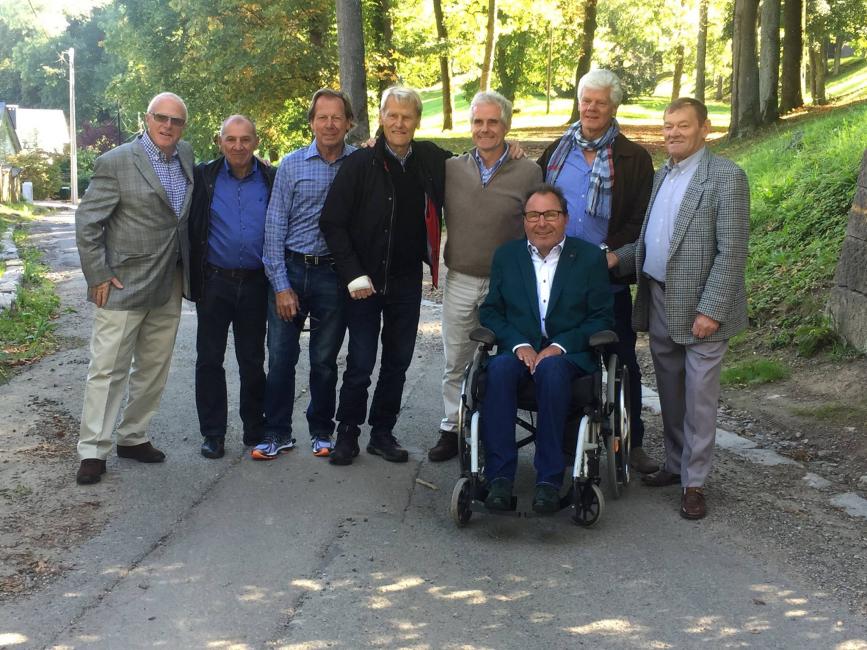 FLASH TRIVIA: How many world titles are represented in this photo?
A reader named Travis sent us a photo of a poster he's had for years but can't quite figure out who is riding the Husqvarna (circa 1970, probably Saddleback). Anyone know who this is?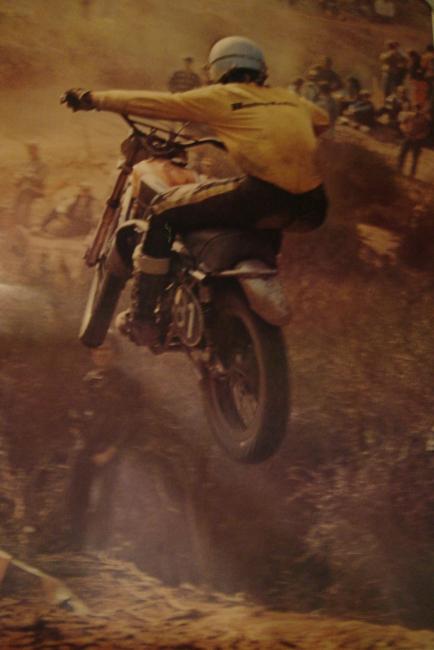 Also, Ricky Carmichael posted this for Kyle Bentley just as we were going to press here:
On Aug 9th 2015 my cousin @grump2pump was injured in an motorcycle accident which left him in an induced coma in ICU fighting for his life. Since then he's made significant gains, but a long road lies ahead of him for a full recovery. Fortunately I've been very blessed in my career path and have great relationship with many of the most talent riders in SX & MX. In those relationships I'm able to acquire many personal items which I'm going to auction off to try and help my family with medical cost as the bills keep coming in. I've listed all the items on eBay under my personal account Bentley.kyle on eBay. All auction items are signed jersey's which include riders Carmichael, Hart, Roczen, Reed, Tickle, Pourcel, Musquin, Webb, Anderson, Wilson, Millsaps, Weimer, Short, Brayton, Tonus, Allredge, Savatgy, Plessinger. All available on EBay with NO RESERVE for a 10 day auction ending Monday Nov 2 at 12pm. The Bentley Family appreciates all the support.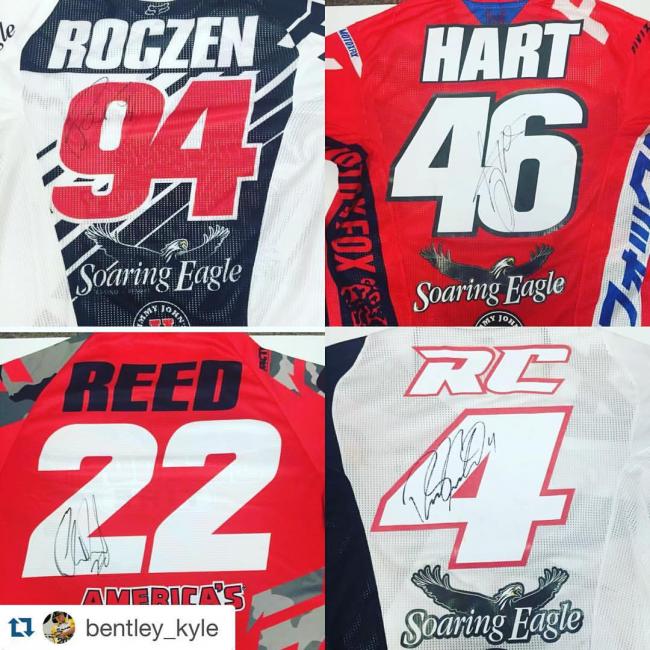 Don't miss out on a chance to get one of these limited edition Jeremy McGrath cover shirts! You can get one by SUBSCRIBING for as low as $9.98 through the next couple weeks, but we won't be printing any more after that, so get yours while it's still available. You can check out the rest of the December '15 issue that features The King on the cover HERE.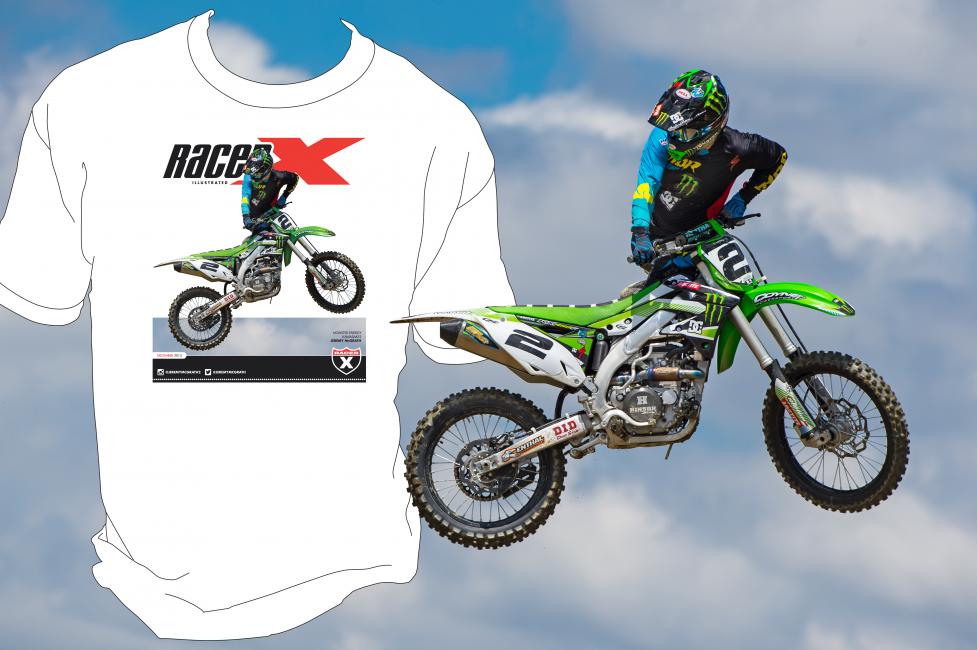 That's it for Racerhead. Thanks for stopping by—see you at the races.
FLASH ANSWER: Twenty (Everts' four, DeCoster's five, Anderson's one, Rinaldi's one, Malherbe's three, and Robert's six).