Sam Boyd Stadium
Las Vegas

,

NV
Race Center: Monster Energy Cup
Monster Energy Cup
As all of us now know so well, last April at the MXGP of Trentino at Pietramurata in Italy, Ryan Villopoto, who was only four rounds into the 2015 FIM World Motocross Championship, crashed and broke his tailbone. While the multifold American champion may not have known it as he hobbled off the track in pain, his career as one of the world's most decorated motocross and supercross racers of all time was over.
Essentially going radio silent in the ensuing months, RV, and the messages he sent about what his future in the sport that made him a multi-millionaire, were cryptic and indecisive. That is until July 9, 2015, when, in the form of a press release, he let it be known that he was retiring immediately.
It took us as a bit of a surprise this past Saturday at the Monster Energy Cup in Las Vegas that Villopoto not only greeted the crowd during opening ceremonies, but suited up in his racing gear and climbed aboard a full-on Monster Energy Kawasaki works KX450F to go out in the two Cup Class timed practice sessions. On the same second as the times posted by Ken Roczen, Ryan Dungey, Chad Reed, Justin Barcia—not to mention all others—it was apparent RV still had the right stuff.
After downloading what he had learned from the sessions to the Kawasaki technicians, RV waved us into the team truck.
Racer X: Ryan, you're out here with your entire team around you, all kinds of fans are surrounding the pit area to get a look at you, and you've created something of a commotion each time you've gone out there and put some laps in on this Monster Cup track. All this considered, one could be easily fooled into thinking this is still the 2015 supercross series and you're still a part of it. Thoughts?
Ryan Villopoto: Yeah, it's cool; it's a different feeling. Now there's no pressure, you know? It's a really fun feeling. Racing, you know, racing as a whole, adds other elements of pressure. Everybody works so hard—the team and stuff—and I'm kind of like the foundation of the team. No matter if I put all the work in, and they put all the work in, if we have a mistake, or things don't happen, it makes everything so tough. You see it all the time where a guy works really hard but gets hurt and the whole team just suffers. Now it's cool to be here and riding with most everybody on a serious level, kind of testing everything in race conditions. It's nice to be here and be involved with the team and still be able to ride with those guys.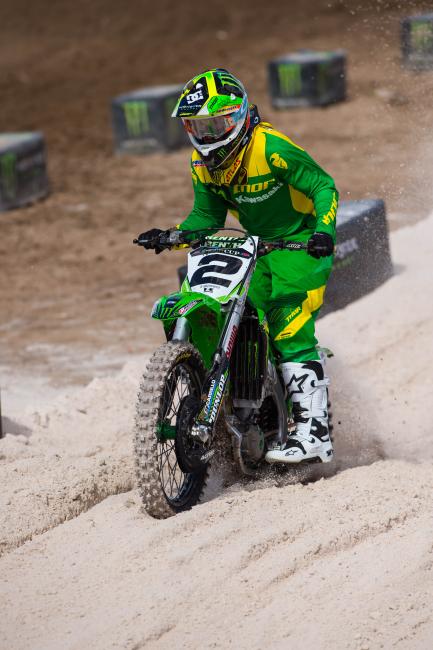 How were your lap times out there? Were they competitive?
I think everybody is pretty close. I don't know what they are. I think I was seventeenth. Everybody's times were really close. To be honest, I've only spent two days on a motorcycle since I crashed, and that was on a two-stroke two days ago.
How did you feel riding amongst all those guys?
The track is pretty easy; it's not a full-on supercross track. We were able to jump everything and ride it pretty hard. By no means could I race. I'm not in race shape, and speed-wise I'm not there. I could get around the track still, and that was cool.
How were the other guys around you while out on the track?
Yeah, everybody was cool. I don't think anybody thought that this was for real. I got the call basically to come and ride opening ceremonies and do a lap with the past winners. To do that, I would have had to be able to ride the track, so I did the laps out there to be able to ride opening ceremonies.
Does any of this make you want to race again?
Like I said, it's fun right now and it's fun to be here just kind of riding practice, but I don't have any stress right now being here riding. The stress adds a whole other deal to this. Like I said, I've dealt with that stress enough, and that's not a good feeling. I mean, everybody has a different limit and can handle a different amount of it. That's not a realistic question because, yeah, I'm having fun now, but I'm not racing.
I just ran into Eli Tomac, who is out there with all the Kawasaki team members—the same team members that worked with and for you—and I know he is observing how the team works and interacts. Have you talked with Eli much? I mean, we all know he's here to fill the RV void, and that's going to bring a lot of pressure to him.
Yeah, but everybody who lines up on the line has that, you know? Especially if they have a team behind them. I mean, everybody feels like that. I haven't spoken with Eli too much. I just flew in here yesterday.
So what have you been up to now that you're a retired man? Have you been enjoying yourself?
Yeah! I've been traveling a lot and basically wrapped up my stuff in Europe. I've been traveling for work, but not traveling for pleasure stuff. The last thing I want to do is go on another plane. I've also been doing stuff at home.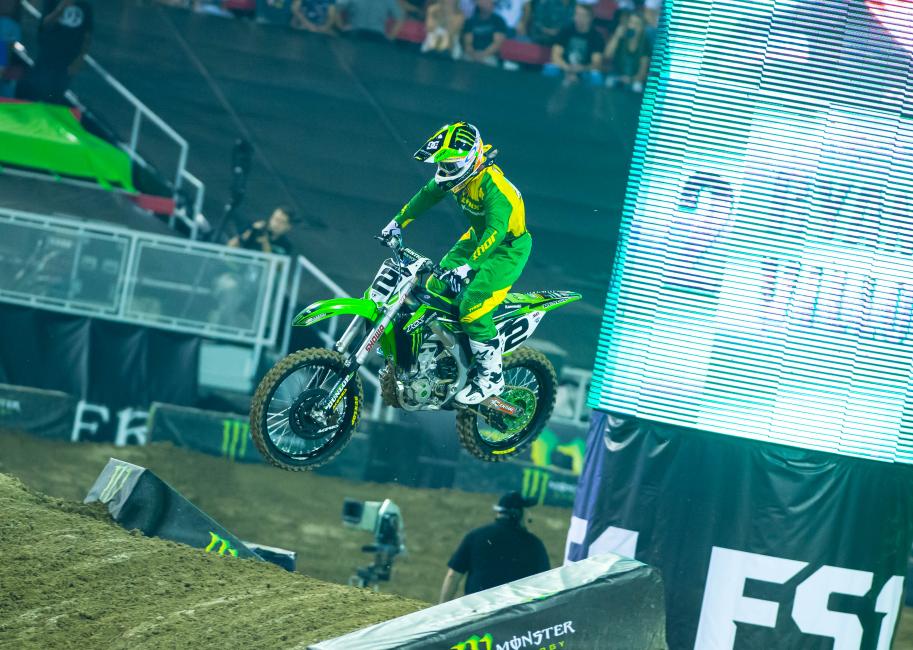 Hunting and fishing?
That's coming up. I'm going to try and do some of that here real soon. I'm trying to figure out what that new normal is.
Trying to figure out the new normal—is that intimidating at all?
No. I think a lot of people are scared of that, but just like anything, you have to try and figure it out. We figured out how to race, we figured out this, we figured out that. We'll figure it out.
If today is any sort of indication, will you continue to work with Kawasaki?
That's my plan. We're waiting to work some stuff out with those guys. Yeah, we're going to see how it goes. I'd like to. We'll see what they want to do.
In the future, if you could pick and choose any races to compete in, a your-own-terms sort of deal, would you do it?
No. You can't step in and do that. I haven't done any training, and I haven't ridden at all. Even here, this isn't a real supercross track. You have to be ready to go. You have to be riding and be training to be able to do that. This is ten laps here tonight. Even when you are in peak shape, this isn't easy.