Sam Boyd Stadium
Las Vegas

,

NV
Race Center: Monster Energy Cup
Monster Energy Cup
It had been since the Las Vegas round of Monster Energy Supercross since Kyle Partridge had been on a gate. Over the weekend he showed up at the Red Bull Straight Rhythm on a new CycleTrader.com/Rock River Yamaha YZ450F. He spoke about the details of his deal on Tuesday.
"I kind of was going back and forth with the people from Rocky Mountain, and then Christina [Denney] from Rock River called me," Partridge says.
Partridge said that Denney showed interest in him for the 2016 season and wanted to get him on the bike as soon as possible to get acclimated. He will be riding under the Rock River team semi for the Monster Energy Cup this weekend as well, though he has not yet signed a deal with the team for 2016. He's hoping that with a great result this weekend, a contract can be worked out.
The debut ride at the Red Bull Straight Rhythm was fun according to Partridge. After qualifying he was matched up with Team Chiz's Kyle Chisholm in the first round.
"I didn't have too much trouble in that round, and I won the first two races right away, which advanced me to the quarterfinals with [Ryan] Dungey," Partridge says.
Last year Partridge showed impressive speed in the Straight Rhythm event, and this year he was doing it again. Going head-to-head with the defending supercross and motocross champion would be no easy feat; however, Partridge kept an open mind.
"I figured if I could keep him close until I got to the whoops, I would have a good shot at winning at least one of the runs," Partridge says.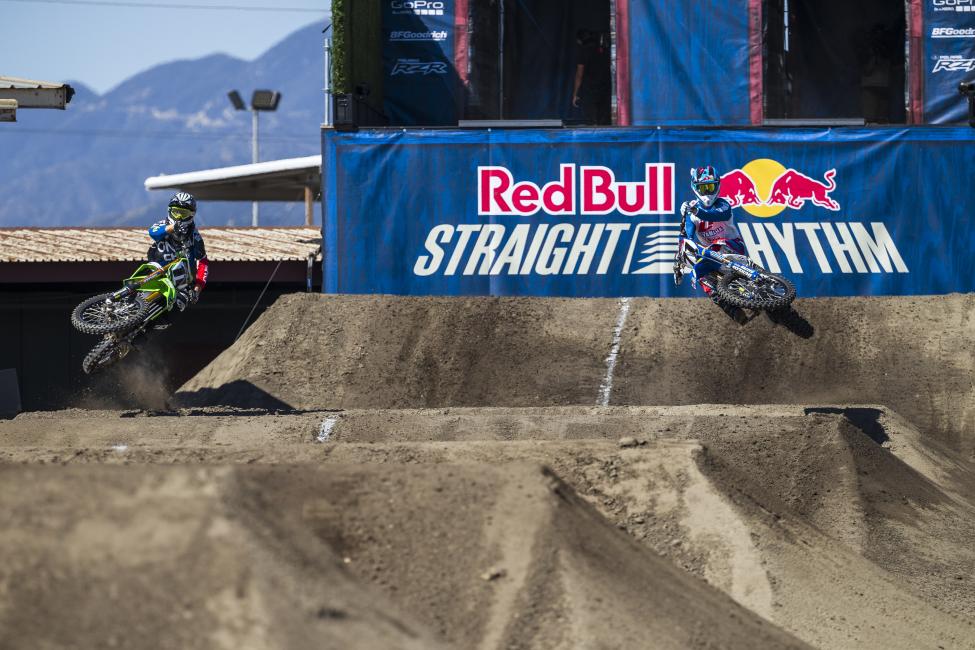 The strategy almost worked in the first run when Partridge pulled closer to Dungey in the whoops, but he went too far on the single after them. Dungey would take the win by a bike length.
Partridge would make a mistake at the beginning of the second race, which was enough for Dungey to pull away for the win.
"It was cool for me because I got to race with one of the baddest guys on a dirt bike. The crowd seemed pretty juiced on it, so it was good for all of the sponsors and myself," he says.
"I think just having a positive attitude in everything I do lately has really affected my riding. I'm just having more fun at the races."
Partridge turns 29 in November, and as a veteran of the sport, he feels that he is only getting better on the bike the older he gets. In supercross, he finished twenty-first in the final 450 standings with the Rocky Mountain ATV/MC team. He raced the entire series on the same engine and said that the team did the best they could with the resources they had. He had a shot at finishing inside of the top twenty but broke his finger at East Rutherford.
He went on to race the final two rounds, and after supercross he had his finger repaired and sat out the Lucas Oil Pro Motocross Championship.
"I was able to make enough money in supercross to where I could take the summer off and be a dad," Partridge admits. "It was way more rewarding to do that then beat my body up all summer."
A break from racing is just what Partridge needed. He spent his summer at the BMX track, the skate park, trampoline park, and the lake with his 6-year-old son, Landon. Taking the time off also ignited the hunger inside of Partridge to do well.
"I think just having a positive attitude in everything I do lately has really affected my riding," Partridge says. "I'm just having more fun at the races."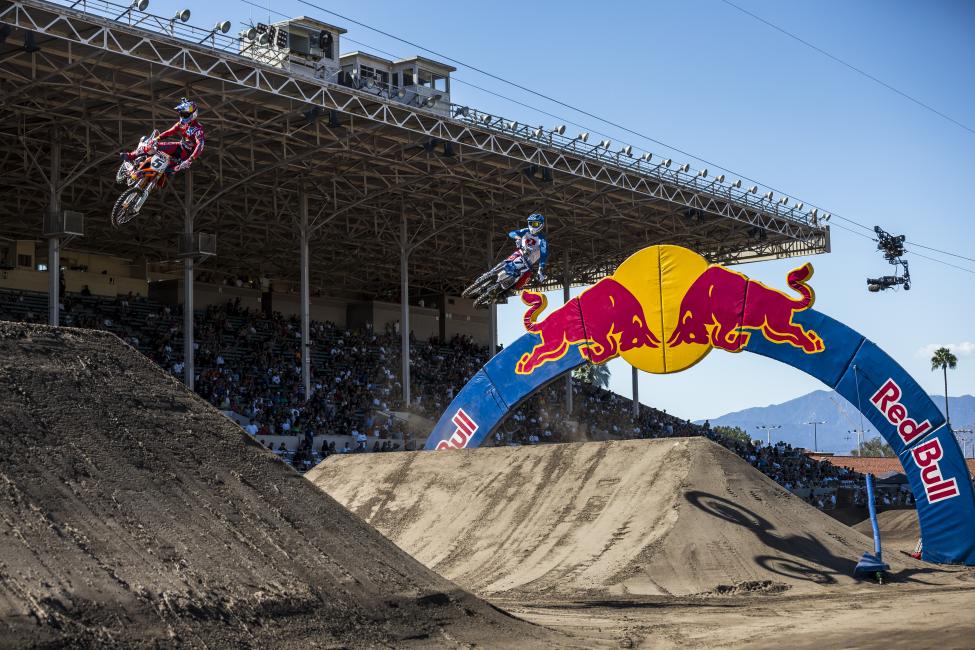 Part of that fun has been a building process that started last season. Partridge set small goals for himself at the beginning of the 2015 season that he was able to accomplish. In years past he would often set too high of a goal and end up crashing while trying to reach it.
Another major part of this confidence boost is from Partridge's trainer Charles Dao of Icon Fitness. The two started working together at the end of last year, and Partridge is more than pleased with the results.
"He's just a genius," Partridge says of Dao. "He's the best trainer I've ever worked with, period."
Looking forward to the Monster Energy Cup this weekend, Partridge is going in with confidence. He knows that he has a solid program backing him with good people who want him to do well. It's the type of program that he has been looking for the past several years, and he's excited to be a part of it.
"Everything in my life right now is going really well," Partridge says. "I'm super excited for what's to come."