Mad, Moto Van Jumping Moto Jumps
I caught the video below, which is apparently from 2011, on Jalopnik earlier this week. It's of a guy named "Crazy Benny" tripling a 1980s-era Toyota van at a local motocross track. This is an amazing feat for a number of reasons: 1) It takes major cojones and not everyone is blessed (or cursed) with a set that big, and 2) LOOK HOW DAMN FAR HE JUMPS!!! This screams Baja Acres. Make it happen, gents.
Yogi Bear
Last week, New York Yankees legend Yogi Berra died at the age of 90. Known just as much for his "Yogi-isms" as his ten World Series titles and three MVP awards during his career, Berra left a lasting legacy—both on and off the field. Famous quotes such as "It's like déjà vu all over again," and "Baseball is 90 percent mental. The other half is physical," made Yogi unique. Yogi Bear is a cartoon character that was accompanied by Boo-Boo Bear on adventures through Jellystone Park. The Associated Press got a bit confused on which Yogi had passed away.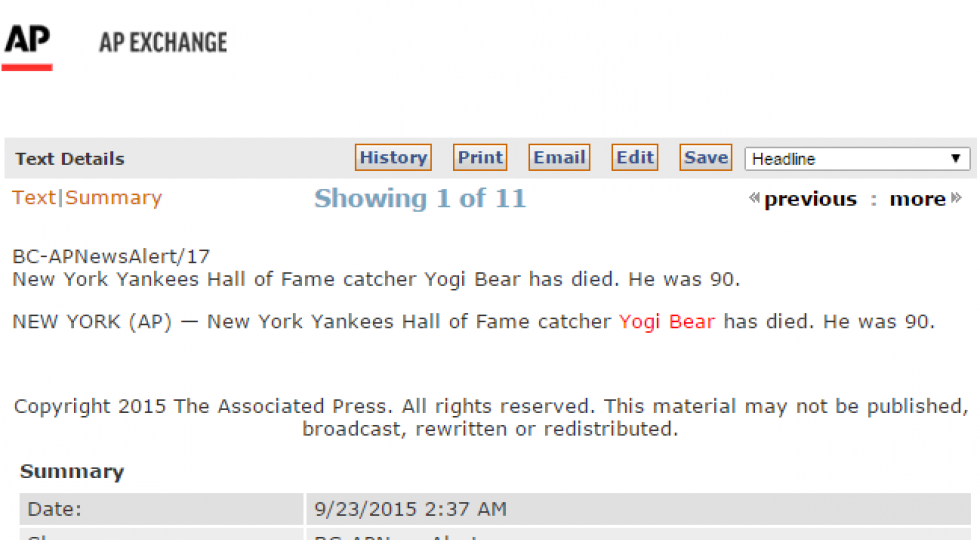 The ironic part of it is that Yogi Berra, the baseball player, actually sued the creator of Yogi Bear, the cartoon character, for defamation, only to later withdraw the suit. Now you know. Don't worry, AP, mistakes happen to the best of us—hell, I probably have five in the previous sentence.
Surfing Dogs
Now let's watch some dogs surf.
Bro Frisbee
The video below shows a couple of pals hanging out and throwing the Frisbee. But, oh, no—it's not your casual game of Frisbee in a yard or at a tailgate or on the road. Nope, these two have taken Frisbee throwing to new levels. Two thoughts: 1) This is pretty impressive—the throw that is. Anyone can sit and hover over water. That's not all that impressive, and 2) Who in the hell has time to pull off such elaborate stunts? Seriously, this probably took hours.
What the Motocross of Nations Means
Jason Weigandt, editor of this site, tweeted this out on Sunday: "USA didn't win but is there any race that engages you more than that?" I think it sums up the Motocross of Nations perfectly. There is no other race like it—and it's not even close. The fans, the atmosphere, representing one's country, the pressure…and on and on. Monster Energy, title sponsor of this year's race, talked with current and former racers about what exactly the Motocross of Nations means to them.
BMX Video

The video above is pretty cool. Nothing spectacular, but good. That is, until you're made aware that the entire video was shot with an iPhone 6 Plus. That's pretty impressive. The guys at Mashable shot the video and even offered a few tips:
Pro Tip: when shooting video on an iPhone always use focus/exposure lock. Hold down your finger on the area you would like to expose and focus to until the phone shows "AE/AF LOCK". If you're lighting or focal point changes on your next shot make sure to reset again. Your shots will be more useable and consistent to use in your edit.
Check out the entire piece here.
GP Crash

Man, there have been some down-right scary crashes in Formula One this year. The latest was from last weekend's Japanese Grand Prix where Red Bull's Daniil Kvyat lost control of his car in qualifying, slid into a wall, and flipped over before landing back on the ground. Luckily, the Russian was unhurt in the crash. Lewis Hamilton would win the race, while Kvyat finished thirteenth.
•
Reporter Hit By Car
Bro, there's a car there!
Cashing in on Halloween
Americans love Halloween. It provides you with a chance to party, wear stupid costumes, and go out on a random weekday. What's not to love? And according to a report from the National Retail Federation, most do love it. Last year Americans spent $6.9 billion on Halloween, per the report. That's a lot of money. More from Esquire:
"Around 68 million Americans will wear costumes this year…And the costume costs add up: $1.2 billion goes to adult costumes, $950 million goes to kids' costumes, and $350 million goes to pets' costumes. Candy is the second-largest expense, since 93.7 percent of shoppers will spend a total of $2.1 billion on the sweet stuff. Other costs include decorations ($1.9 billion) and greeting cards ($330 million).
More here.
Jag Drift
This is bad-ass. That is all.
[h/t: Jalopnik]
E-Sports
This isn't your grandparents' sports league—that's for sure. E-sports, or professional gaming, are on the rise. According to a recent Sports Illustrated article, an estimated 32 million people in the U.S. are interested in competitive gaming. ESPN has recently tapped the market, adding gaming to X Games and televising a competition last April. (It only drew a 0.1 rating, per SI.) And now, Turner Sports and WME-IMG are trying to corner the young market. Per Sports Business Daily, Turner and WME-IMG have partnered to create a new competitive gaming league, which will be "carried exclusively on TBS on Friday nights." More from the article:
The companies would not release details of the deal or say how much they are investing in it. They described the deal simply as a long-term one that took about a year to negotiate. The yet-to-be-named league kicks off next year with two 10-week seasons that will be produced from Turner's Atlanta studios and carried exclusively on TBS on Friday nights.
"I don't think any property has a better hold on that young male audience than e-sports," said WME-IMG Chief Content Officer Mark Shapiro. "While it has been consoles and online and in-arena up until now, adding that last component of such a powerful medium as television to the equation will ultimately take this to another level."
The plan is to produce the league from Atlanta, a city that Turner expects to become e-sports' East Coast capital, Daniels said. The regular season will be shot with a live, studio audience on a TBS set; the playoffs and championship game could move to a local arena. "We've already had inquiries from several arenas that are interested in potentially being the home," Shapiro said.
Read it all here.
Pastrana on Late Late Show
Earlier this week, Travis Pastrana and members of the Nitro Circus crew made an appearance on the Late Late Show with James Corden (yeah, I'd never heard of him either). The appearance featured your typical freestyle tricks performed in a parking lot, but also came with a nick kicker, as Pastrana jumped the freestyle ramp in a RZR with the host. It's pretty awesome.

Watch the full episode here.
Roller Skater
I'll leave you with this….
Read more about the impressive 8-year-old here.