This weekend's FIM Motocross of Nations is almost here, and we have been counting down the days with our Monster Energy Team USA Countdown, which chronicles each American victory at the event. Today we reach 2010. If you missed any of the previous years, you can view them all here.
On August 18, 2009, word came down in the form of an FIM press release. "We are extremely proud to bring the prestigious FIM Motocross of Nations to the Denver area in 2010," stated Mr. Giuseppe Luongo, president of Youthstream. "In 2007, we brought the event to Maryland, and it was one of the most successful motorcycle races accomplished in the USA. In 2008, we promised the entire world, both fans and industry, that we would return the event to the USA on a regular basis. Now, in 2009, we are glad to announce that we have fulfilled that goal, with the 2010 Motocross of Nations being held the last weekend of September."
The man had spoken—it was on. The sixty-fourth annual edition of the Motocross of Nations would run at David Clabaugh's Thunder Valley Motocross Park on Sunday, September 26, 2010.
Jump ahead a year, and on August 16, 2010, the American Motorcyclist Association officially announced the members of Team USA. AMA 450 Pro Motocross points leader Ryan Dungey would once again be named team captain and would ride the MX1 class on his Rockstar/Makita Suzuki. Joining him would be Honda-supported Motocross of Nations rookies Trey Canard (MX2) and Andrew Short (MX3).
Keen to keep Team USA's five-year win streak, well, streaking, team manager Roger DeCoster was pleased with the team both he and assistant team manager Mitch Payton had put together. "I believe this is one of the strongest teams the U.S. has ever fielded," DeCoster said with heavy praise. "With his win last year in Italy, Ryan Dungey will lead the team in MX1, while Canard and Short will serve as strong complements in MX2 and MX3."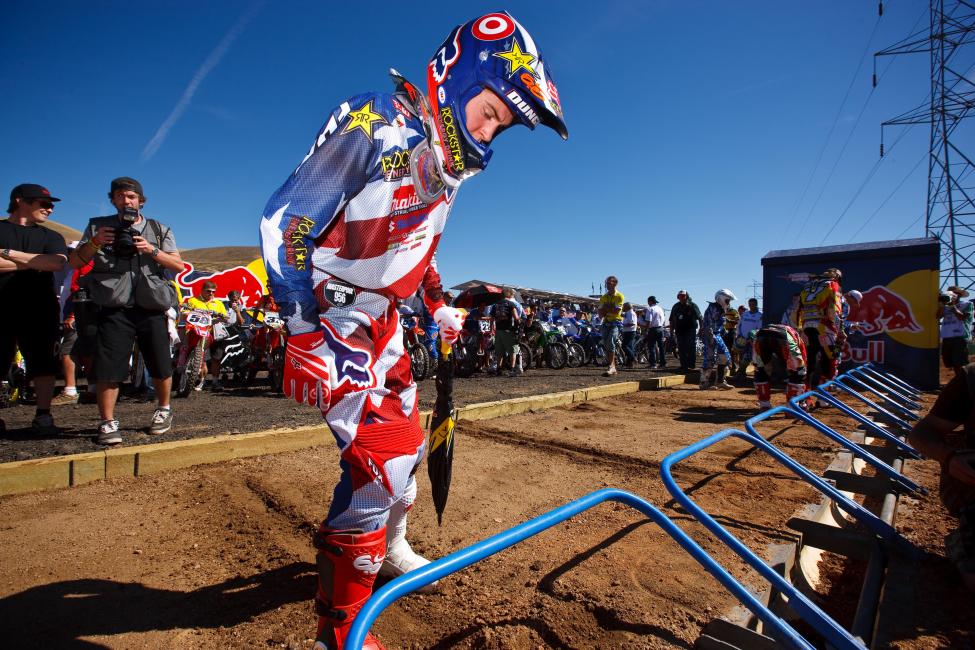 Throwing another log on the raging fire of Team USA pride and confidence was Trey Canard, who remarked, "Man, this is just incredible. I was lucky enough to be a spectator at the 2007 Motocross of Nations from Budds Creek, and I knew then that this is something I wanted to be a part of someday."
Added Andrew Short, "I'm really excited to race in Colorado." Rightfully so, as Short cut his competitive racing teeth on the hard, fast local tracks of the Centennial State.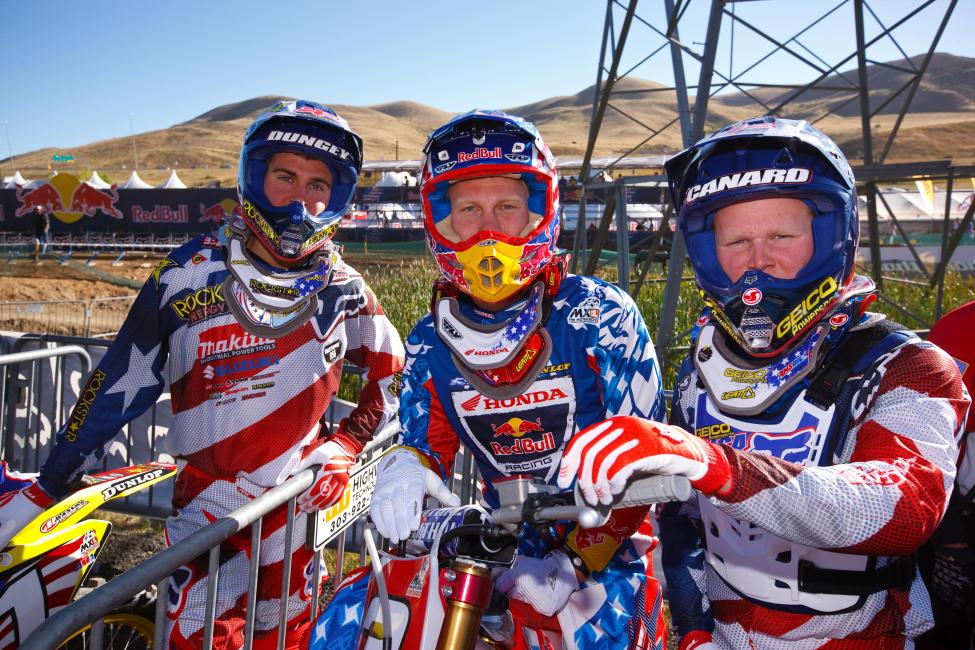 Saturday, qualifying day at the Motocross of Nations, went well for the Americans. Both Canard and Short rode their Hondas to victory in their respective qualifying races, while Dungey, concurrently, placed fourth behind winner Antonio Cairoli of Italy in the MX1 race.
"When we launched out of the gate for the MX1 qualifying moto, I almost went down after the rider next to me had some trouble," Dungey explained of his off-song result afterward. "As a result, I was deeper in the pack than I would have liked, and I slowly moved my way through into fourth. I'm not very happy with the result, but both Trey and Andrew were impressive in their qualifying motos and took the win, which means Team USA will have first gate pick all day tomorrow."
With nearly thirty thousand fans perched upon the hills surrounding the Thunder Valley circuit—nearly all of them Americans festooned in some sort of red, white, and blue get-up—all eyes were on Yankees Ryan Dungey and Trey Canard as they idled out of the parc fermé and took their designated spots on the starting gate for the curtain-raising MX1/MX2 moto.
Seven thousand feet of altitude and summer-like heat be damned, when the thirty-second girl turned the card sideways and walked off the start straight just as the pack roared out of the hole in a detonation of flying dirt and blinding dust, it was Spaniard Jonathan Barragan earning the holeshot, with Dungey immediately behind in second. Meanwhile, way back in the dirt of the first turn, Canard and fellow American Zach Osborne (who was riding for Puerto Rico) frantically tried to untangle their bikes after they had managed to take each other out. Starting dead last, Canard got back on the CRF250R and took off like a scalded cat.
Up front, Dungey had found his way into the lead, with Cairoli's eyes firmly affixed on the back of the Minnesota native's #1 jersey. It was a showdown between the FIM World Motocross MX1 Champion and Dungey, now the AMA Pro Motocross 450 Champion, and they were close. Yet, try as he might, the Italian could not get a hook in the American, and Dungey methodically pulled out to a five-second lead, which he would hold to the checkered flag. At one point, Cairoli, going for it, tried to stretch a big triple jump and came up short, hurting his ankle a bit. Racing through the field on a dramatic charge, Canard had managed to minimize the damage of the crash (literally and figuratively) by getting back to eleventh.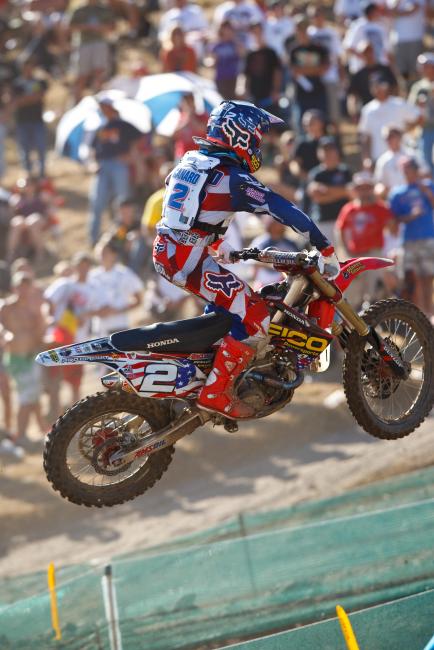 "I just knew I had to go, but we were stuck, and I couldn't," Canard explained of the first-turn gaffe with Osborne. "I just tried to remain calm. I made sure I did what was right and rode with a level head." Back in the pits between motos, Canard worked on gathering both his wits and his composure before suiting up again for the Open/MX2 moto.
In moto two, the Colorado contingent present at Thunder Valley collectively screamed and jumped up and down when homeboy Andrew Short ripped off a razor-sharp holeshot to lead the field around the first turn. Behind the local was New Zealand's Ben Townley and Germany's MX2 ace Ken Roczen. Roczen showed everyone why has was, arguably, the fastest young racer in the world when he zapped the leading Open duo and began to run for daylight on his RM-Z250. Even at a major power disadvantage with the altitude, Roczen was putting on a show.
Short's run in second place wouldn't last long, however, as Townley dove in way too aggressively on him after the finish-line jump, violently taking out the American's front wheel. Short and the Honda went flying in different directions, both bike and rider slamming into the Colorado dirt. Dazed and confused, Short staggered to his feet.
"I was pretty dazed; Townley hit me so hard," said Short, who would only be able to get back to thirteenth place by the end of the moto. "I was just trying to get everything sorted again, and then I got the bike up and realized the clutch lever was gone. I knew I couldn't give up and tried to get going."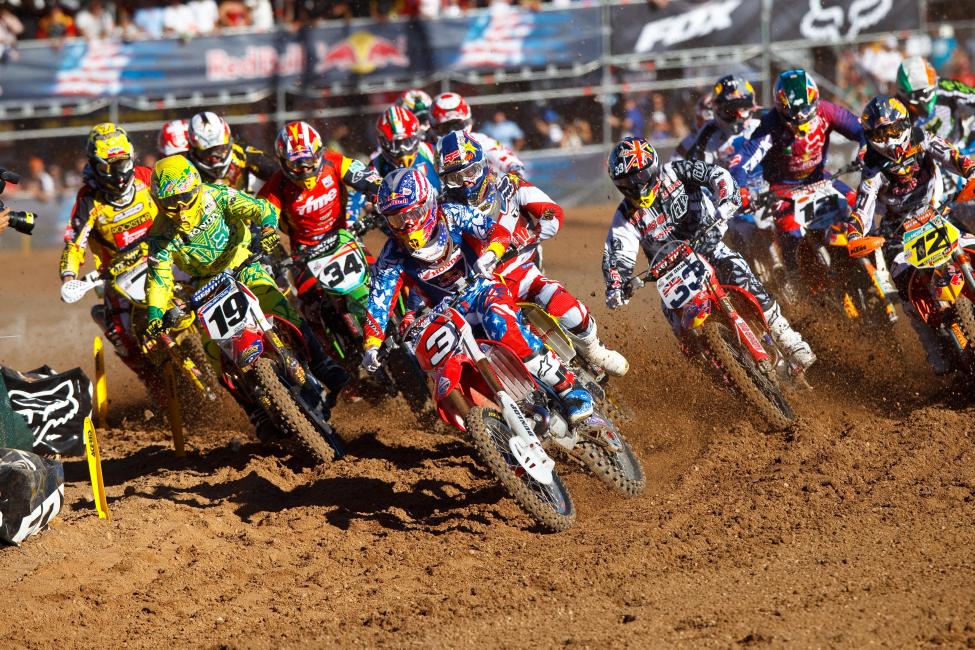 Townley ultimately won the moto—and the ire of the American crowd—while Canard had charged back from a lowly fourteenth-place start to flash across the finish line in seventh. As an interesting historical footnote, American Kyle Regal, who was competing for the Puerto Rican team, managed to catch and pass Roczen by the end of the moto and place a dazzling second.
When all the requisite post-moto arithmetic was done, it was determined that Team Germany was leading the Motocross of Nations over Team USA by 5 points. When the updated scoring of the race was announced over the public address system, what had been a loud and raucous crowd of patriotic American motocross fans had gone eerily quiet as harsh reality set in and the chance of a European upset was very much at hand. Nervous time was upon everyone who had a hand in the American effort.
To a large extent, the story of the sixty-fourth edition of the Motocross of Nations was told by the end of the first lap of the final moto. All season long, Short had been ripping incredible holeshots on his Honda, and, now, battered and bruised, he needed one more than ever with the Motocross of Nations on the line. Short rose to the occasion and yanked off yet another spectacular holeshot with Dungey immediately behind him in second. Germany's shot at flying back to Europe with the Peter Chamberlain Trophy went up in smoke when Max Nagl bailed on the first lap and subsequently crashed again while trying to berserk his way to the front. There was much pressure on Germany's third member, Marcus Schiffer, who was not quite at the GP-winning levels of Roczen and Nagl, but needed to come through with at least one big score, and then two once Nagl faltered. He end up sixteenth in the moto, and Germany would fall short, but he would have his chance again a few years later….
A few laps into the final moto, Short, realizing he wasn't a match for Dungey on the day, politely waved his teammate by, and the two would finish one and two. It was over. Once again, Team USA, in something of a close call, had managed to do all the right things in moto three to win the Motocross of Nations by 7 points over Team Belgium (23 to 30). Germany wound up third at 44 points.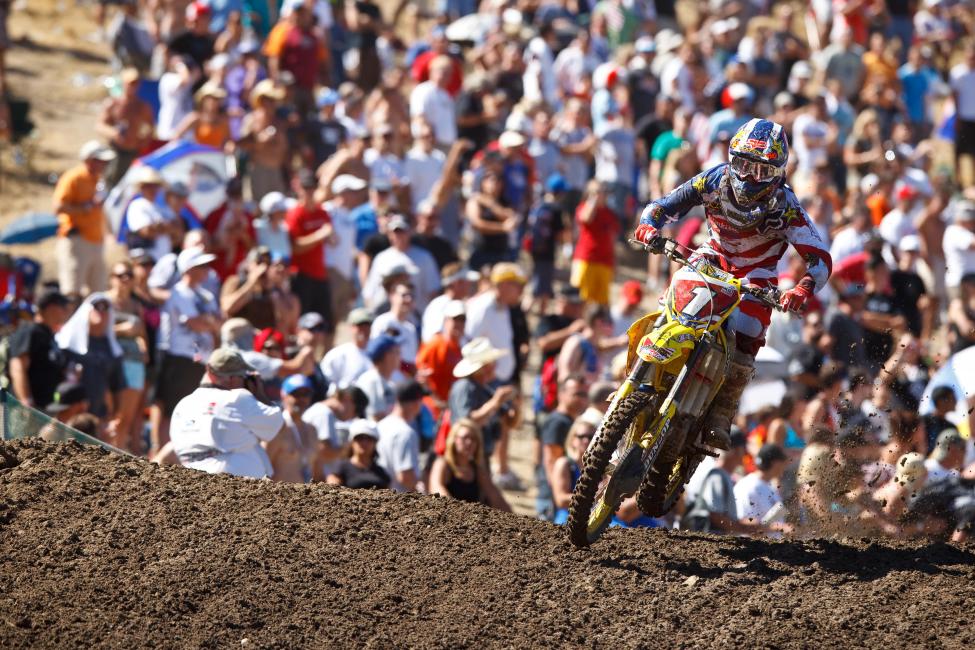 "We never quit; we always kept pushing, no matter what the outcome was," Dungey said after the moto.
But perhaps the happiest man in all of Colorado that evening was Andrew Short.
"This is the biggest moment of my career, and especially with it being here in Colorado in front of all my family and friends. Just to be associated with Ryan and Trey, Mitch, Roger, my whole team at Honda…. The whole atmosphere was awesome. It couldn't have gone any better. I'll never forget this day for the rest of my life, and I couldn't be happier just to be successful. To win is truly amazing."