Counting down the days to the 2015 Monster Energy FIM Motocross of Nations in France, we're looking back at each of the twenty-two winning versions of Team USA. Today we reach 2000. If you missed any previous years, you can view them all here.
At the RedBud AMA Motocross National on July 4, 2000, Frenchmen Sebastian Tortelli and Stephane Roncada swept the 250 and 125 Classes and left the race holding the point leads in both divisions. Over in supercross, another Frenchman, David Vuillemin, finished off a superb rookie season with four wins and second in points behind the great Jeremy McGrath. As kids, these French riders were schooled via a special program for French athletes, and as adults they were reaping the benefits and threatening to take over the motocross world. Plus, back in Europe, Frenchman Frederic Bolley was working on his second straight 250 World Motocross Championship. France was also hosting the Motocross des Nations at Saint-Jean-d'Angély. The nation had never won the event before, and the team of Tortelli, Roncada, and Bolley were ready to complete the take over.
Meanwhile, the once-mighty Team USA effort had stalled. After the team dominated in 1996, the Belgians handled the Americans on home turf in 1997, and then again in the 1998 event at Foxhills in England, which was a mud bath (Stefan Everts put on one of the greatest mud-riding clinics ever that day). The 1999 event took place in Brazil, but American hopes, pinned partially on young star Ricky Carmichael, died in the first turn of the race when he crashed and broke the throttle cable on his KX125. The other team members, Kevin Windham and Mike LaRocco, did okay, but Italy took the win.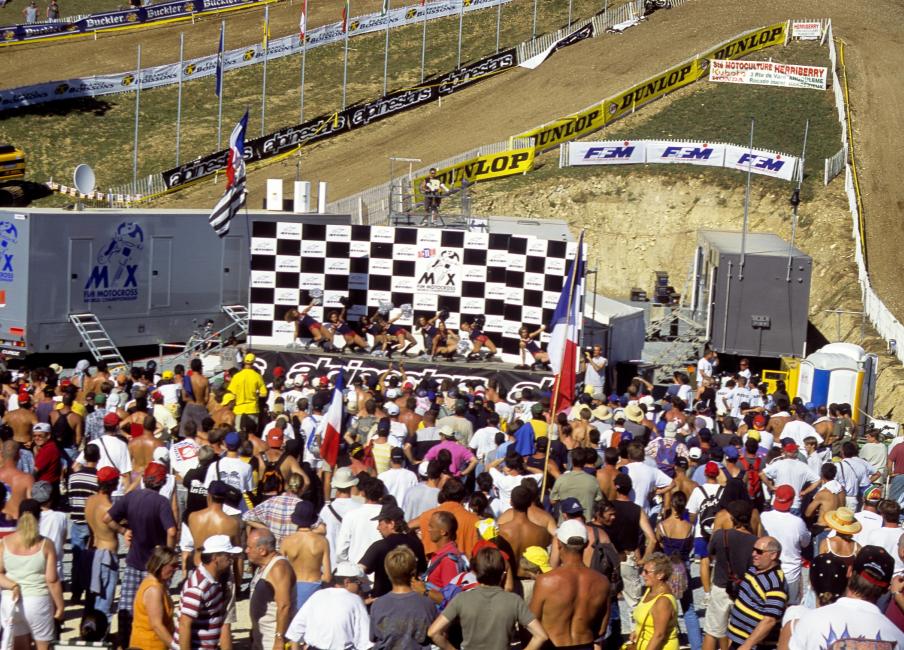 After thirteen straight from 1981 to 1993, Team USA only won once from 1994 through 1999, with only an overall moto win in the mud by Doug Henry in '98 to really crow about. The team needed some new energy.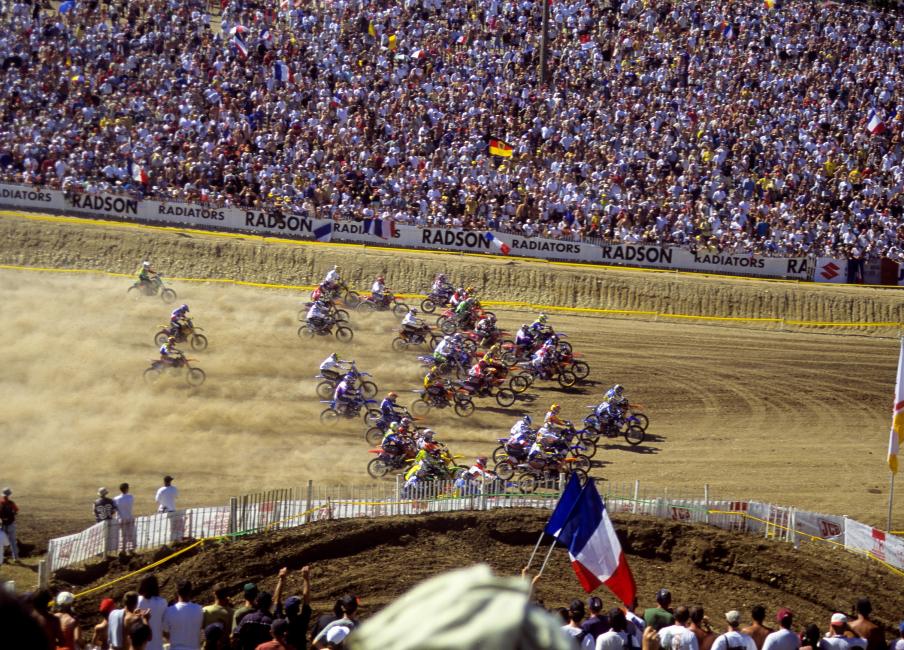 They found it late in the summer. In the AMA Nationals, Carmichael and rookie Travis Pastrana caught fire late and overhauled the title efforts of Tortelli and Roncada. Both Carmichael and Pastrana would be part of Team USA. But what about a third member?
Well, they actually found one in Europe, as Ryan Hughes was stationed over there attempting to win the 250 World Championship. A strong first year overseas in 1999 set Hughes up for a promising 2000, but he broke his wrist early in the year, and his season was mostly a washout. Undaunted, Hughes raised his hand and put his European experience to work as the team's third member. Luckily for the Americans, the old 500 class was gone from the event, and Hughes could race his familiar 250.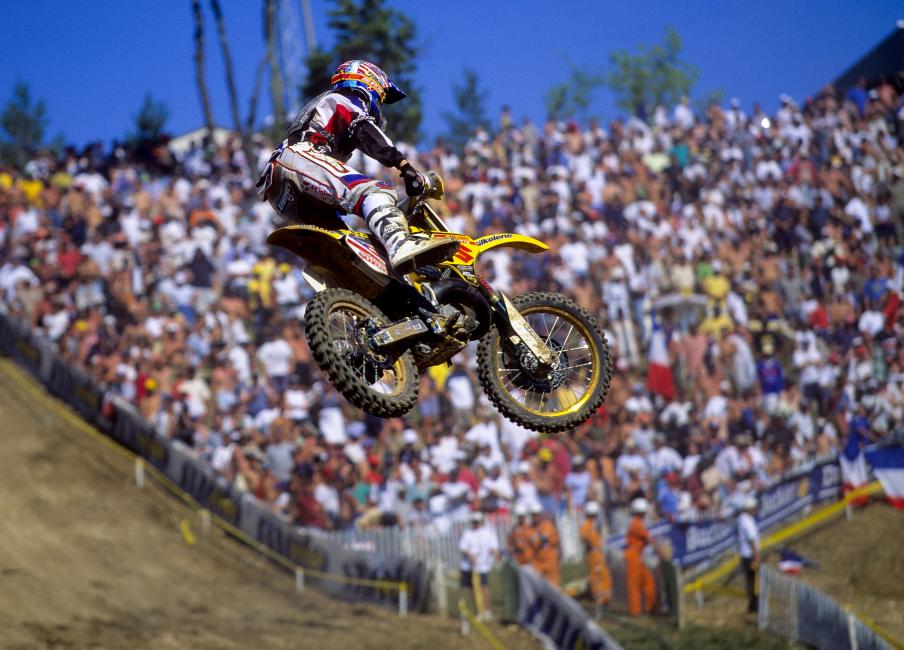 With new superstars Carmichael and Pastrana on board, this Team USA had some buzz going (to help, this magazine and website got a push going with a "Team USA still matters" campaign, complete with a sub website and, of course, some free stickers).
Still, the team could have run into a potential buzz saw on France's home turf, and also Pastrana would have to battle new 125 World Champion Grant Langston, of South Africa, who had already signed up for a move to the U.S. in 2001.
Here's footage of the event; go to 7:14 to see a typically crazy move from Pastrana, and then a killer battle between he and Langston in Saturday's 125 qualifier.
Unfortunately, the USA versus France battle never got going. Bolley, now the two-time 250 World Champ, got roosted by a rock in the first moto and broke his nose, which basically eliminated him and Team France from contention. He gamely tried moto three with his nose taped up, but could only complete a few laps. His double DNFs ended any chance of a French victory.
The races were quite good, though. In the first moto, Great Britain's James Dobb led most of the way with Hughes behind him. Then Dobb's bike began to slow and Hughes stole the lead in the last corner to get a dramatic moto win—and end any "weak link" talk. Back in the 125s, Pastrana, Roncada, and Langston put on a show as expected. Langston raced through the 250s early while Pastrana was down in the first turn. Travis charged through and caught Ron-Ron late in the race, then, in typical Pastrana fashion, jumped over Roncada on a huge downhill jump to make the pass. He would take second in the 125s behind Langston.
In moto two, Carmichael did what he did: took command and checked out for a dominant moto win on his Kawasaki. Pastrana struggled with a twisted knee, while Roncada beat Langston in the 125 group (Langston took the overall for the class).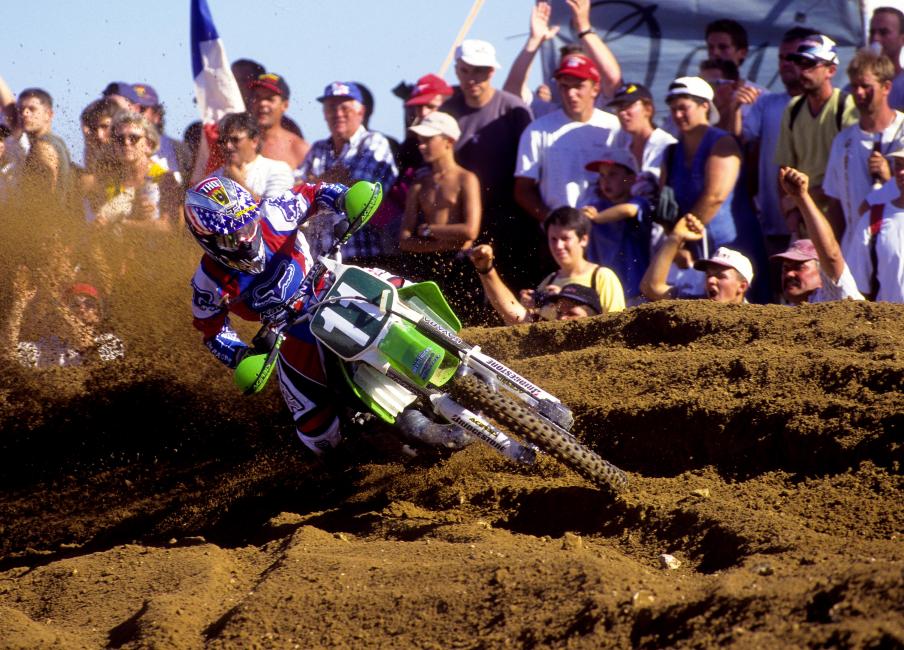 With Carmichael and Hughes winning both motos outright, and Pastrana holding a second in a 125 moto, things looked good for an American win by moto three. Hughes, though, who had barely raced all season, was drained. Carmichael quickly took control by getting into the early lead, before the French finally found something to cheer about: Tortelli, riding like a man possessed, made the move on RC to take the lead and the moto win. Carmichael brought it home in a safe second and Hughes posted a solid fifth, more than enough to seal the win.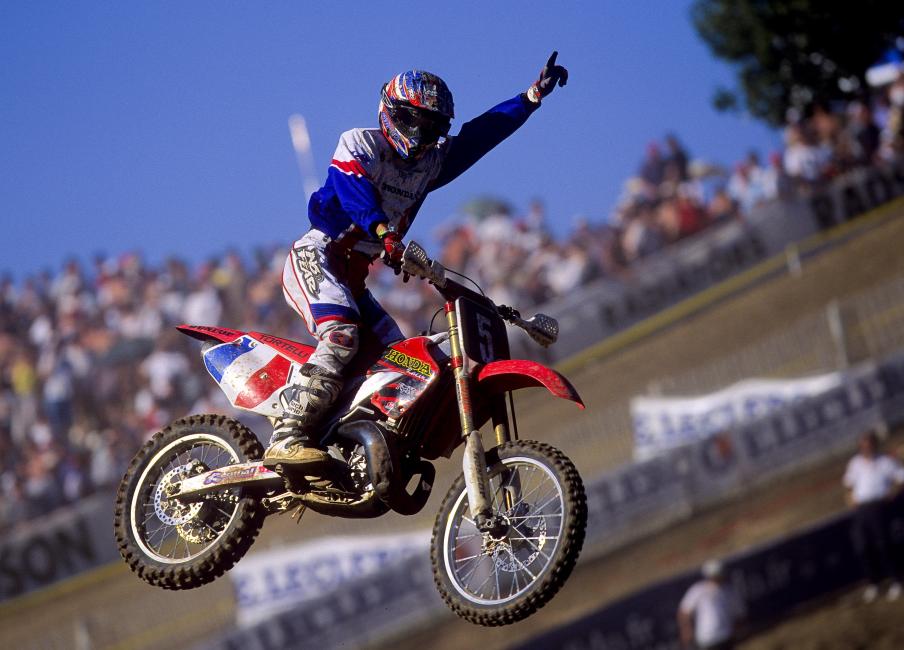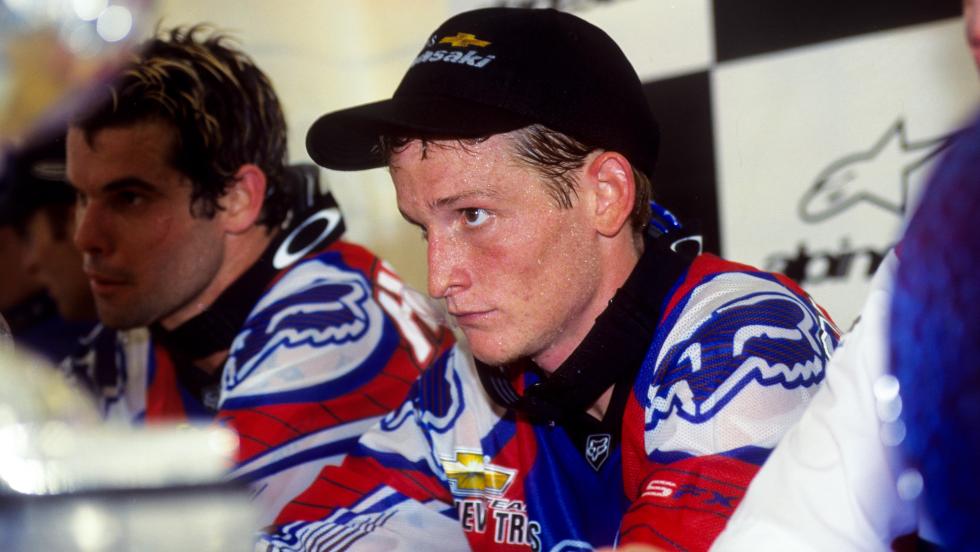 In the end, this one wasn't close, as Italy finished a distant second. For the first time in four years, Team USA was back on top, and with talent like Carmichael and Pastrana lined up (and a kid named James Stewart obliterating the amateur ranks and looming on the horizon), the future looked good for another win streak.
Alas, that didn't happen. See you tomorrow!