AXO Releases TMKP Knee Protector
For the last fourteen years AXO has been selling the best conceptualized knee guard on the market, the TMKP. The TMKP has been fully re-engineered to offer riders added functionality as well as now becoming CE Approved. The protector has a new riveting design that allows for much smoother movement between the two layers of protection on the knee and lower thigh all while fully covering the patella when in motion. A new strap design and closure system makes the TMKP more practical to take on and off as well as more comfortable while riding. Additional ventilation holes will keep you cool and a fully removable and washable inner liner makes for easy cleaning. All of these upgrades to an already world class knee protector make the TMKP the most advanced and functional protector on the market.
The TMKP is now available to purchase at www.axo.com. It comes in two colorways: black and fluorescent yellow. MSRP is $55.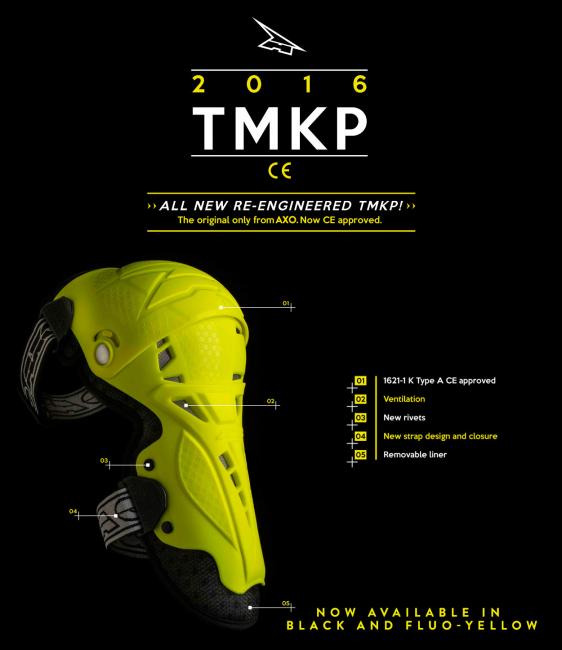 Details:
New riveting design, third generation with replaceable c-clip
Two layers of protection that include the knee and lower thigh
Single hinge system offers lightweight and durable design that resists pinching
Fully covers patella when TMKP is in motion
Extra ventilation
1621-2 K Type A CE approved protection with stronger plastics
New elastic straps for maximum adjustability
Removable/washable inner liner