In America, September 11 has become a day of reflection. We will never forget the events of 9/11 in 2001 and the way the whole world changed in the matter of just a few hours. If you were alive then, chances are you remember exactly where you were when you saw or heard the news about what was happening in New York City; Washington, DC; and later in a field in the middle of Pennsylvania. Then we think of the firefighters and policemen and paramedics and everyone else who rushed to those scenes to try to help….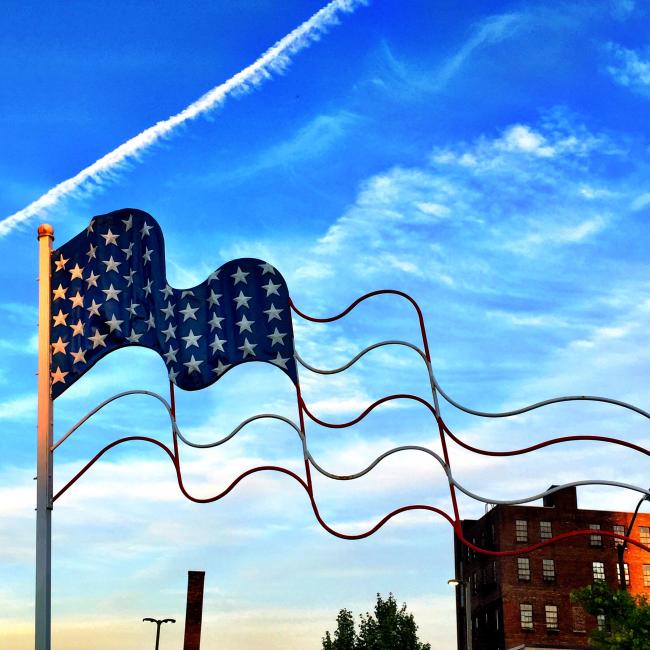 In the days and weeks that followed, we began to see just how much the world had changed and how different our role as a nation had become. We were soon at war, and a lot of men and women died in service to this country. It's ongoing even now, fourteen years later, and it may never fully end. But it did bring us together as a country, at an astonishingly terrible price, and we can never forget those who died as a result not only of 9/11, but everything that followed in its aftermath.
I still have all the newspapers and magazines that followed in the days and weeks after 9/11, and every now and then I look at them with my son, who wasn't yet born, and try to explain a little bit at a time just what happened that day and some of the reasons why, even if none of us probably fully understand it all ourselves. But the paper I wish I had kept was the one that was actually from September 11, 2001, the day of the terror attacks. That's record of what the world used to be like, before anyone had ever really heard or thought of jihad, the Al-Qaeda, Islamic Fundamentalism, the Taliban, Mosul, IEDs, shoe bombs, ISIS.… That's a world our kids won't ever know, because what happened on 9/11 will never be forgotten in this country.
TEAM USA 2001 (DC)
Folks come here to read about motocross, so let me veer off to the 2001 Motocross of Nations. Team USA was all set to go and poised to defend the victory they achieved the previous year in France. Ricky Carmichael would make his debut there on a 2001 Honda CR250, having left Kawasaki the day after the last national of 2001 at Steel City. He was to be joined by Pro Circuit Kawasaki rider Mike Brown (KX125) and Suzuki RM250-mounted Kevin Windham. Needless to say, defending a trophy in Belgium suddenly didn't seem so important. A collective decision was made by all members of the team to respectfully withdraw, as airline travel—let alone overseas airline travel—wasn't something anyone was anxious to do. So the bikes and prep and work that the respective teams of those three riders—not to mention Roger DeCoster, the AMA, and everyone else involved with Team USA—was for naught.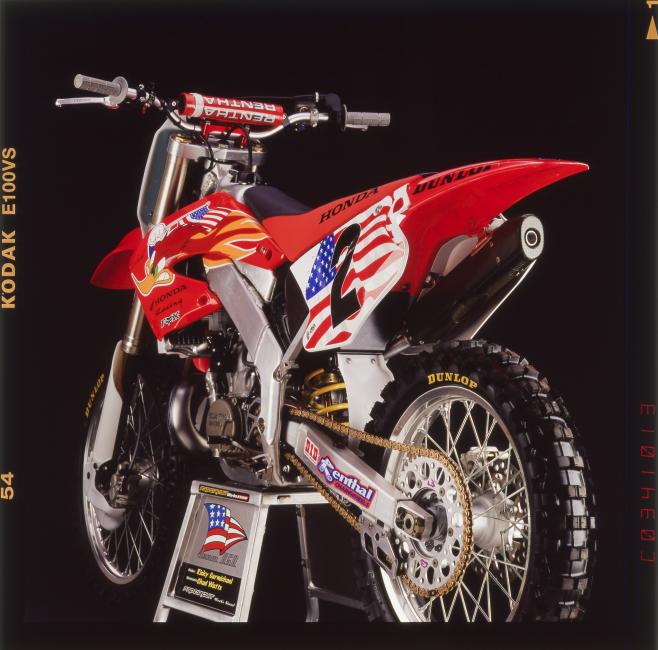 The race was still run, and it ended up being a historic day for France. David Vuillemin (whose mechanic and parts were stuck in the U.S., so he raced an unfamiliar bike), Yves Demaria, and Luigi Seguy became the first French team to win the Motocross des Nations (and they're the reigning champs this year too). Belgium finished second, New Zealand third.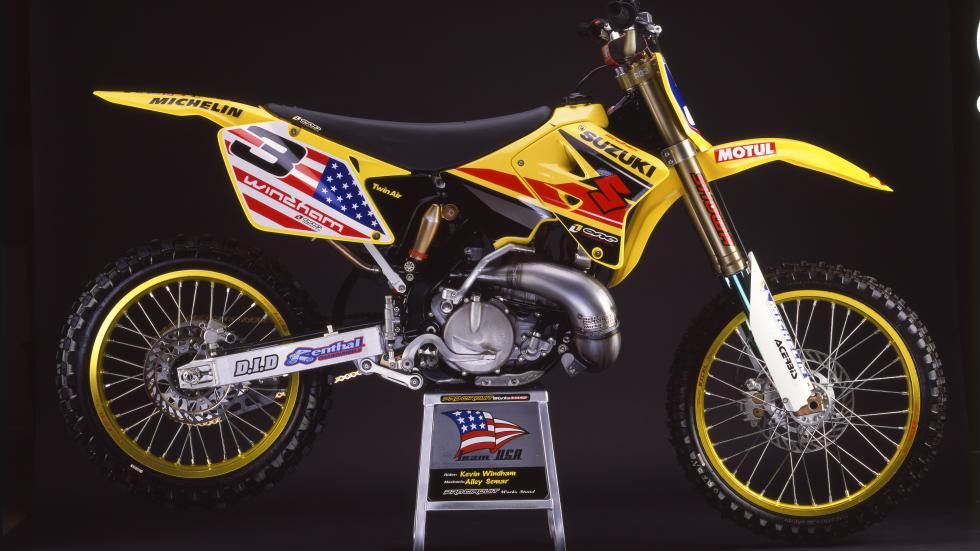 Carmichael and Windham would get another chance to ride (and win) for Team USA, but for Mike Brown, that would have been his one and only shot. He was hoping to be selected in 2002 as well, but that got all sideways after the defending 125 National Champion damaged his knee at High Point. Then the race, set for Competition Park out near Hemet, California, was canceled anyway.
But back to 2001. Knowing how good Brownie has always been in the woods, I like to think he would have been right at home in the forest of the Citadelle track at Namur, and you know Carmichael and Windham would get the job done, just like they did together in 2005 in France. So even though Brown never got to ride for Team USA, he should always be considered part of its history.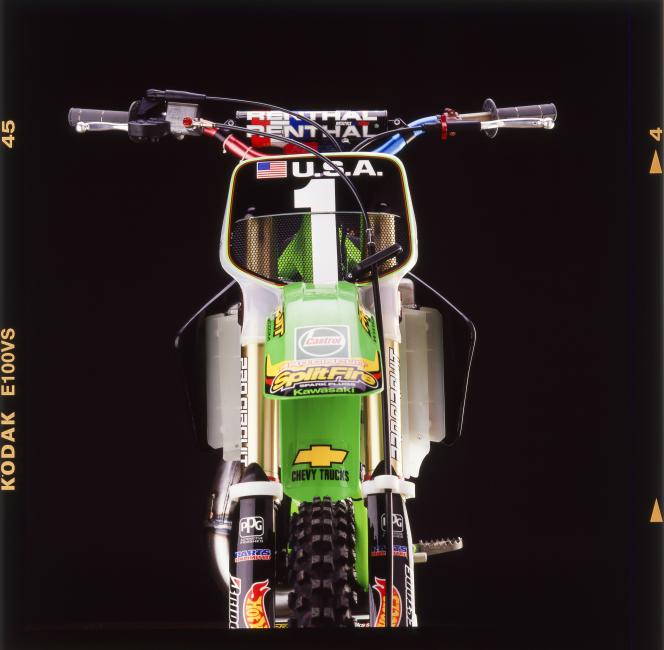 STRAIGHT BENCH RACING RHYTHM (Weigandt)
Yesterday was a good day. I got to host a pre-race show for this year's Red Bull Straight Rhythm alongside Travis Pastrana, Grant Langston, and David Bailey. Yes, THE David Bailey. The actual RBSR race runs on October 10 at the Fairplex in Pomona (and this year they've moved the event from a drag racing strip to a horse racing track!), but the pre-race show will be available online in a week or two. You'll want to watch it, because few can bench-race like #199, GL, and the Icon. Pastrana and Langston raced the event last year, so they had inside knowledge, and Bailey is brilliant as always. In fact, the highlight of the whole show (in my opinion) was Bailey producing his own fantasy Straight Rhythm bracket of past racers. He made a 1980s bracket with names like O'Mara, Lechien, Glover, Barnett, Ward, Johnson, and himself. He also drew up an all-time SX bracket, with added names like McGrath, Carmichael and Stewart. (Can you imagine seeing MC and JS7 side by side in their primes?) Check out the web show in a few weeks to see Bailey's brackets.
Of course, once the four of us started going, we really couldn't be stopped. The Red Bull folks would motion for us to take a break and we'd immediately continue the conversation while they reset their cameras. Somewhere along the way, I steered Pastrana and Langston toward their 2001 season, where they were rivals on 125s. These two can tell some stories, and some of the stuff was mind-blowing! My favorite part? Nearly every story ended with "then Mike Brown took me out." That 2001 AMA 125 National Championship battle is now the stuff of legend, and it's high time I get these dudes to talk about it. Getting an hour or so of Travis' time might not be easy, but it will be oh so worth it. He just lights up when you ask about his racing days, too. He could describe every jump combo from last year's Straight Rhythm, as well as seemingly every lap of his battles with Langston, including a showdown at the 2000 Motocross des Nations.
You won't see Langston or Pastrana racing this year's RBSR, because a lot of current riders now want in. Alongside last year's winner, James Stewart, you'll see Ryan Dungey and Ken Roczen added to the event, and Marvin Musquin graduates from last year's Lites win to a 450. These are going to be amazing matchups. Want to try to predict who wins in a Roczen-Stew showdown? Man, this will be good.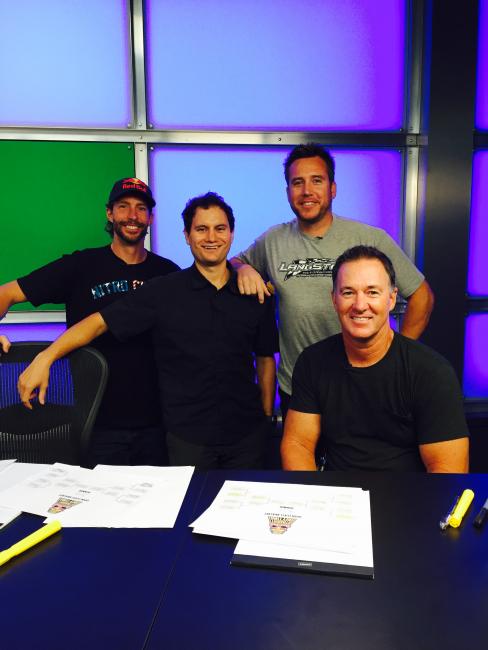 JOEY SAVATGY'S FIRST COVER (Jordan Roberts)
Congrats to Monster Energy/Pro Circuit's Joey Savatgy for grabbing his first Racer X cover! The November '15 issue began mailing out to subscribers earlier this week, but you can check it out right now at www.RacerXdigital.com. Want to get a full year's worth of the magazine sent to your house? Click HERE to subscribe for $19.98. You'll get a free pair of Racer X socks to boot!
USGP APPROACHES (DC)
The U.S Grand Prix makes a return to Glen Helen Raceway next weekend and will act as the final round of the 2015 FIM World Championships. Romain Febvre has already been crowned MXGP champion, but the MX2 Class could go down to the wire. (They have a round this weekend down in Mexico, which you can watch live on www.mxgp-tv.com.) Glen Helen last hosted a GP in 2011, and they are hoping this time more top U.S.-based riders will turn out. We know Star Racing's Cooper Webb, Red Bull KTM's Marvin Musquin and Dean Wilson, and Rockstar Husqvarna's Jason Anderson and Christophe Pourcel have signed up, as have veterans like Josh Grant, Wil Hahn, and BTOSports.com KTM's Davi Millsaps. The TLD/Lucas Oil KTM 250 team, as well as Monster Energy/Pro Circuit Kawasaki, will be there for the MX2 action. Also, look for the return of eight-time FIM World Champion Tony Cairoli, who was a part of a terrible rash of injuries that decimated the ranks of top talent like Jeffrey Herlings, Max Nagl, Clement Desalle, Jeremy Van Horebeek, Steve Frossard, and of course Ryan Villopoto.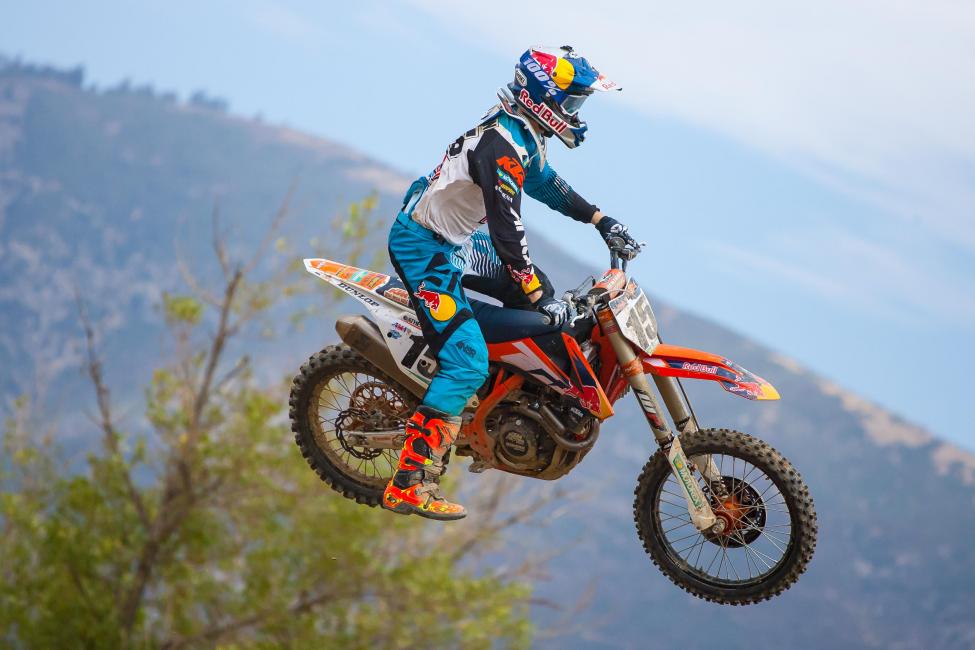 The track will likely be similar in design to what Jody Weisel and Karl Scanlon built for the 2015 FMF National back in May, and it will be interesting to see how it sets up differently given the fact there will be much fewer riders at the GP (but they will spend more time on the track). Here's a glimpse of some of the guys practicing, courtesy of Vital MX.
Also, check out how you can earn yourself as much as $10,000 if you can correctly pick the Double Trifecta that's being set up by longtime Glen Helen sponsor South Point Hotel & Casino. The first 5,000 fans arriving at the race and buying a ticket will have a chance to pick the overall podium of each class. If you get all six right (and in correct order) over the two classes you will win either all of the $10K or an even share if there are other winners.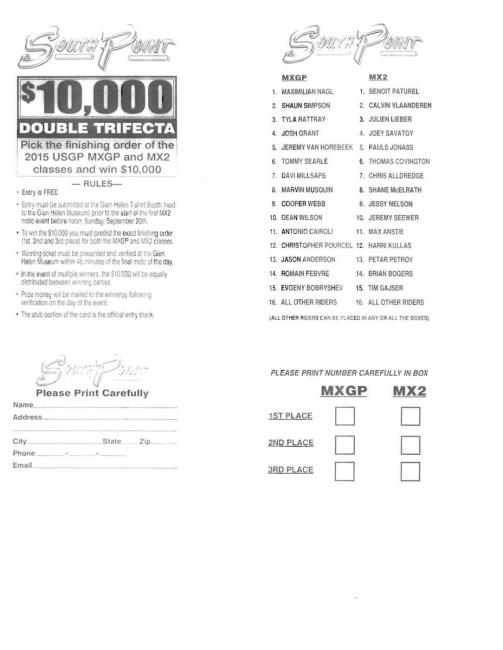 You can still purchase advance tickets for the USGP next weekend at Glen Helen Raceway right here.
SLOVAKIAN EXPRESS (DC)
If you're a fan of off-road racing, you've probably been watching the reports trickle out from Slovakia from the International Six Days Enduro. At the start of the week Team USA was running strong, with GNCC #1 Kailub Russell and the versatile MXer-turned-off-roader Ryan Sipes leading the way for the U.S. World Trophy team. Russell was leading everyone after two days, only to injure his knee badly on the third day and drop out. Then Thad Duvall had trouble with his ignition, and Taylor Robert got caught up in a controversy in which eight riders from four different countries were all disqualified for missing an Observation Check. They all appealed, then were allowed to continue, and now are apparently reinstated, but with two men out, winning the World Trophy is pretty much impossible.
The good news is that Sipes, who hails from Kentucky, is still leading the overall individual results, at least upon the last report on Cycle News.
DC VET NATIONAL (Nick Koester)
The 2015 Dave Coombs Sr. Vet Homecoming at High Point Raceway is fast approaching. Come race with us on this special weekend as we celebrate our motocross heritage and the memory of "Big Dave" with all of our friends old and new. We will offer a wide selection of vet classes for all skill levels, as well as support classes for our younger racers. Spend Saturday night with us and bench-race over adult beverages, live music, and vintage movies. This is a laid-back event that is sure to bring back cool memories. Click here for more information and follow High Point MX on Facebook, and new Instagram account @highpointmx for more leading up to the big weekend!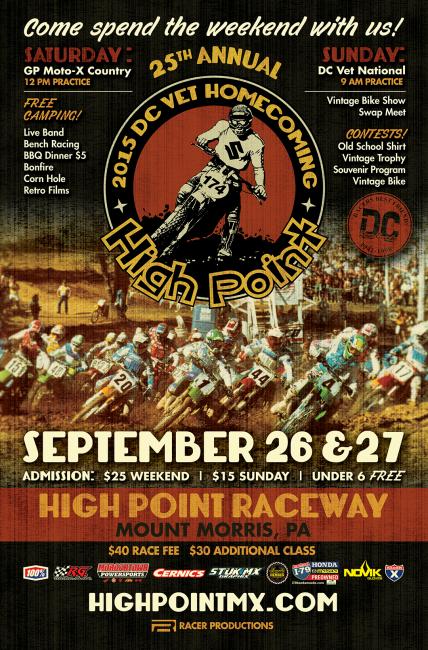 BRIAN DEEGAN MAKES A WISH COME TRUE (Chase Stallo)
The photo below popped up on social media recently. A 4-year-old named Jesse, who has a cancerous brain tumor, was photographed with a sign saying he wanted to meet his idol, FMX great and Metal Mulisha founder Brian Deegan.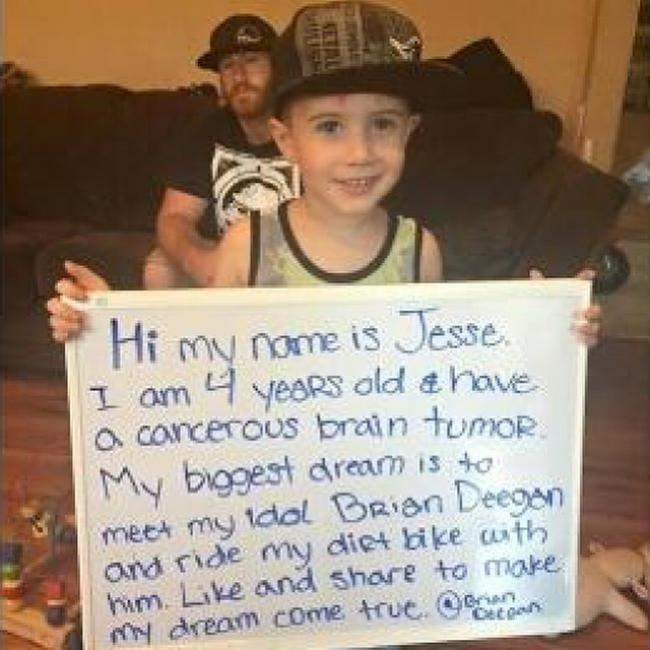 Yesterday, I saw a few posts on Deegan's account of him riding and hanging out with Jesse, along with a few other riders. I don't know much more about the story, but it's one of the coolest things I've seen this year. Good on you, Brian and crew.
HEAD-SCRATCHING HEADLINES OF THE WEEK
Rocker Bret Michaels to headline annual Deacons of Deadwood Charity Ball
Motocross champ Adrienne Cooper gave up kidney, career for 10-year-old boy (ESPN.com)
HEY, WATCH IT!
We saw Austin Forkner at both Loretta Lynn's and the Edge of Summer MX in Michigan and we were impressed to say the least. He was at the recent Baja Brawl and MXPTV captured some raw footage of the Monster Energy/Pro Circuit Kawasaki prospect who will make his professional debut next summer in the Lucas Oil Pro Motocross Championships. Watch him send it at the 1:05 mark in a bid to pass a couple of 450s.
Hard to believe that one year ago Romain Febvre was a little-known Husqvarna rider on his way to his first MX2 Grand Prix win in Mexico, in what would be his last day of eligibility in the MX2 class. Now he's the MXGP World Champion (with a few races to spare) and will lead the home French team at the Motocross of Nations in two weeks. Check out this championship video right here.
Here's a blast from the past: the 1959 British Grand Prix at Hawkstone Park.
RANDOM NOTES
Women's professional motocross (WMX) is making a comeback, and that doesn't just mean on the track! WMX is stepping up its social-media efforts by creating a brand new Instagram account. Along with the new account, the previous Facebookand Twitter accounts will continue to be monitored and updated more frequently. Make sure to follow @RaceWMX and always use the official hashtag of #RaceWMX.
For the latest from Canada, check out DMX Frid'Eh Update #36.
Simon Cudby stopped by to visit the ANSR gang and got a sneak preview of the team kits they've built for Team USA's Jeremy Martin and Cooper Webb and Great Britain's Dean Wilson for the Motocross of Nations—check them out!
Finally, things out in Utah are getting sticky following the sale of Miller Motorsports Park to a Chinese conglomerate.
Thanks for reading Racerhead. See you at the races.
#neverforget