Welcome to Racerhead and the off-season. The Lucas Oil Pro Motocross Championship ended last weekend in Indiana with what was a truly awesome race, with a beautiful, rough track, some drama good and bad, a new WMX Champion, a fun Legends race, and of course the climax to the Jeremy Martin-vs.-Marvin Musquin title. Yamaha was the big winner in that 250 Class showdown, as Star Racing's Martin got the title, his rookie teammate Aaron Plessinger got his first win, and the three members of Team USA—Martin, his other teammate Cooper Webb (who won the first moto but crashed out of the second), and team captain Justin Barcia—was introduced in full gear. And Red Bull KTM's Ryan Dungey wrapped up his season with a win in the 450 Class, followed by some off-the-cuff comments that ruffled some feathers in Europe.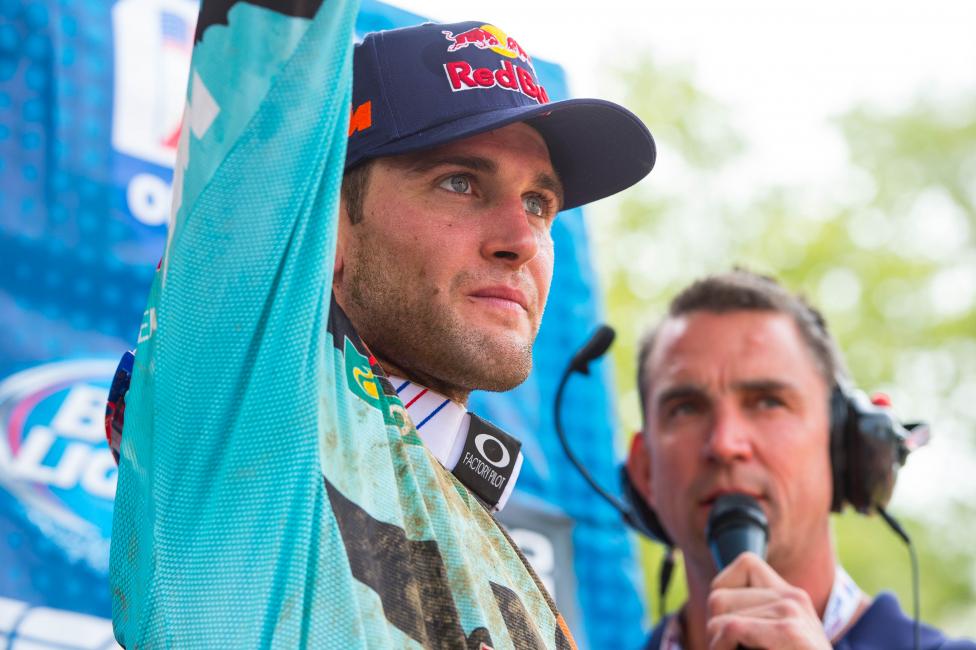 In a nutshell, Ryan doesn't like the looks of the hard-pack tracks over there, and he has enough competition here to keep his hands full, so he's not really interested in following Ryan Villopoto's star-crossed travels abroad. But rather than just say that, he jumbled his words and tried to explain them from vacation in the Caribbean, then just said the heck with it and went back to the beach. But our old friend MXGeoff couldn't stand that Dungey implied something negative about the tracks, and he's been letting Dungey have it with both barrels—maybe forgetting all that Dungey has done to promote motocross in general and the Motocross of Nations in particular over the years, going year after year when other top stars bowed out. It's been that kind of week all around if you're active on social media and the forums.
I happened to be at races on both sides of the ocean this year, and fans on either side of the Atlantic can do all of the partisan bickering they want, but we live in two entirely different cultures of moto—America largely influenced by supercross and a huge domestic industry, Europe influenced by a drive for some kind of globalization. Regardless, the perceptions and realities—and the differences—are never the same when you just see the races from afar.
For instance, Trentino in Italy is arguably the most beautiful setting of all, but the track wasn't much; Glen Helen, on the other hand, does not exactly offer the best scenery on the West Coast, but the track is fantastic. Budds Creek may be be a former GP and Motocross des Nations track, but it was a muddy mess this time; Maggiora is next year's MX of Nations track, but it was also muddy mess. Shaun Simpson won one weekend in Belgium and was "absolutely thrilled," then was "absolutely thrilled" the next weekend with a fourth at Unadilla. Washington's Darian Sanayei went to England for an EMX race and won one moto convincingly, then had problems the next; Italy's Kiara Fontanesi came to Indiana and won one WMX moto convincingly and then had problems the next. Neither won, but both seemed to really enjoy the experience. Tim Gajser, Valentine Guilloid, and of course Romain Febvre are the real deal; so are Joey Savatgy, Aaron Plessinger, and of course Eli Tomac. Too many guys got hurt qualifying in Europe; too many guys got hurt practicing in America.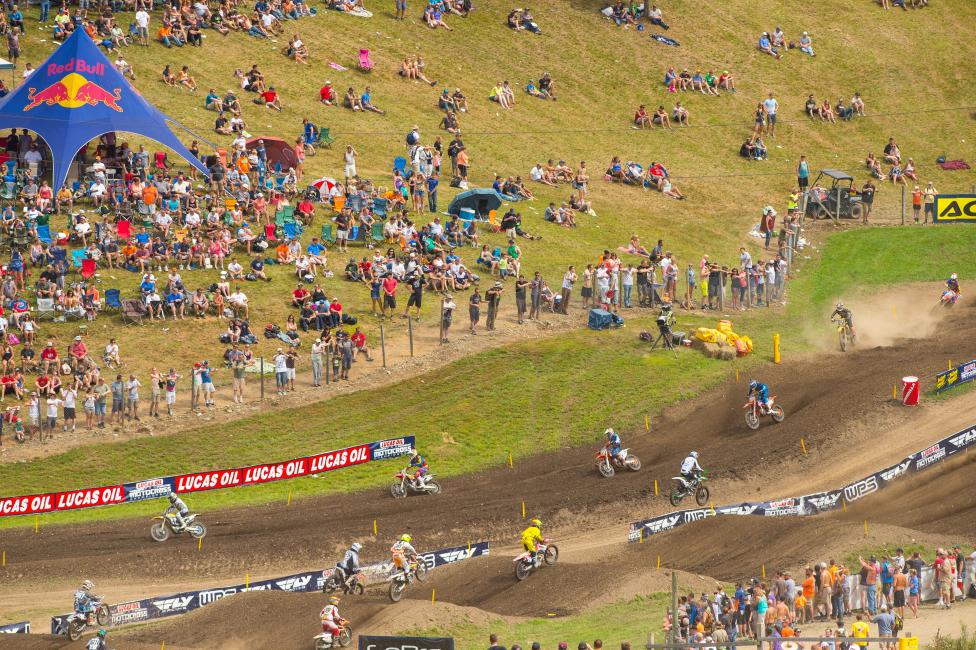 My point is, we may think one side is better than the other, but they are very much alike … yet obviously different. As fans, we watch every national, every MXGP, every supercross. It's a great time to be a fan, no matter where you live. So what the hell are people arguing about? Motocross is awesome. Anywhere.
Back to reality. While this may be the off-season, of course it never really ends. As soon as we were off the road from the Ironman National with the well-traveled Racer X Toyota Tundra, it was time to pile back in and head northwest to Michigan for this weekend's big Edge of Summer MX at Soaring Eagle Casino Resort near Mt. Pleasant. I attended this event when it debuted last September and it was a true blast, though it was also unfortunately scheduled in conflict with the epic Baja Brawl, also in Michigan. This year the casino was able to move the date, and now a big crowd is expected, including the whole RCH/Soaring Eagle/Jimmy John's Racing team (Ken Roczen, Broc Tickle, and owners Ricky Carmichael and Carey Hart—only Tickle will probably actually race). Mike Alessi and the MotoConcepts Racing gang are here, as are a bunch of top privateers. Even the GOAT, Ricky Carmichael, is racing Saturday. Should be a lot of fun, and a few guys are going to go home with a bunch of cash.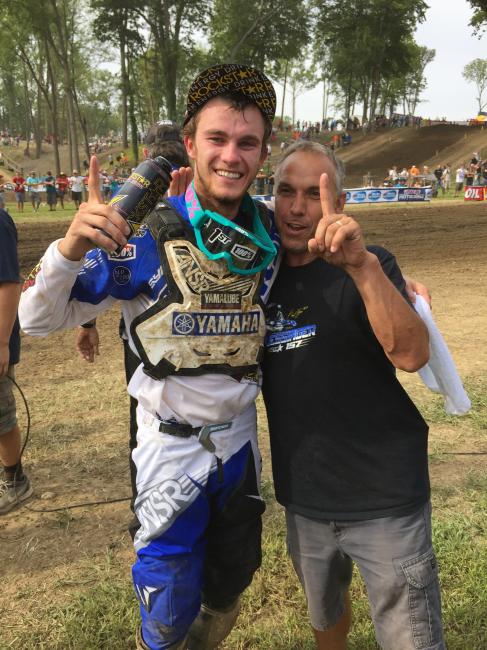 I found it coincidentally cool that Aaron Plessinger's whole family and a bunch of friends were there at the Ironman National, as he's originally from Ohio. And his father, Scott, won the Ironman GNCC twice during his heyday as a factory off-roader. The man the race is named after, the late GNCC legend Bob "Ironman" Sloane, was from Indiana and used to race ATVs on Saturday and bikes on Sunday, and he was a title winner on the quad and almost as fierce on the motorcycle. Well, his son was there this weekend, helping out as a caution flagger in the second turn, and his widow, Shiela, was helping out on the front gate. Finally, Plessinger's longtime friend and rival Jeff Russell is basically the promoter of the Ironman event, and his own son, who grew up riding in the Ohio woods just like Aaron Plessinger but stayed in the woods, won the Jack Pine Enduro in Michigan. His name is Kailub Russell, and he was there at the Ironman, too, helping out on the track. Big weekend for a couple of old friends from Ohio!
Okay, let's get into the week that was, beginning with our Karaoke King.
INDIANA AWESOME (Jason Weigandt)
We didn't get a good gauge on this Indiana race last year because of the rain. I knew the place had potential because I've been to a dozen GNCCs there, and the fans, the terrain, and the dirt are all exceptional. The surrounding area is dead flat, which makes for easy parking, pits, and spectating, yet the facility hosts some massive hills in the back. It's just like RedBud in that respect. You can drive an hour in any direction and not spot a single hill, yet there's LaRocco's Leap and the ski jump and a ton of ups and downs in the switchbacks. In Indiana, we get the Godzilla uphill jump, a huge downhill leap, and another uphill triple all rolled into the layout. Oh, and about a mile down the road is Ironman Hill, which makes Godzilla look like King Kong (did you know King Kong is supposed to be 60 feet tall in the movies, and Godzilla is supposed to be 500?). Go do a YouTube search for GNCC Ironman Hill and you'll see some action.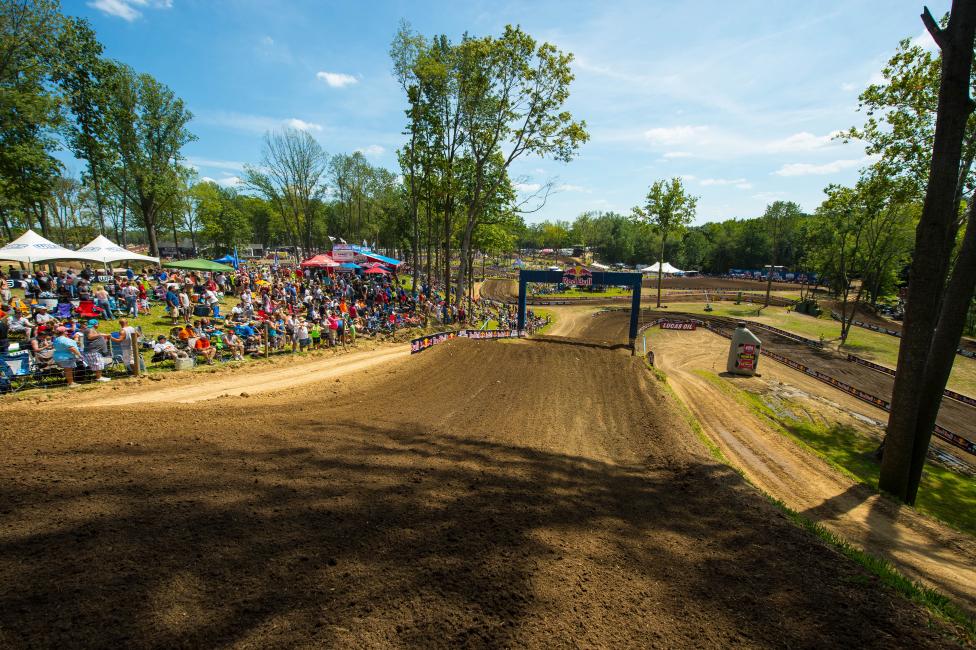 Oh, so yeah, back to the motocross racing. If you watched the race, you saw that the track was good. But you had to be there to get the atmosphere. The Legends Race had everyone pumped up, there were huge jumps and great weather (Indiana's a pretty ideal place to race in the summer), the 250 title was on the line, and the 450s were packed with talent. I know the 450s weren't the main focus because Dunge had the title, but the class was still quite stacked. We were lucky this year that only a few riders (headlined by Eli Tomac) went out with injury, but several also came back, like Trey Canard, Dean Wilson, and Justin Bogle. In that first 450 moto, the battle from third to tenth was one of the most intense I've ever seen. Unfortunately, the 250 title deal fizzled out with Marvin's bike problems, but it was still an enjoyable ride.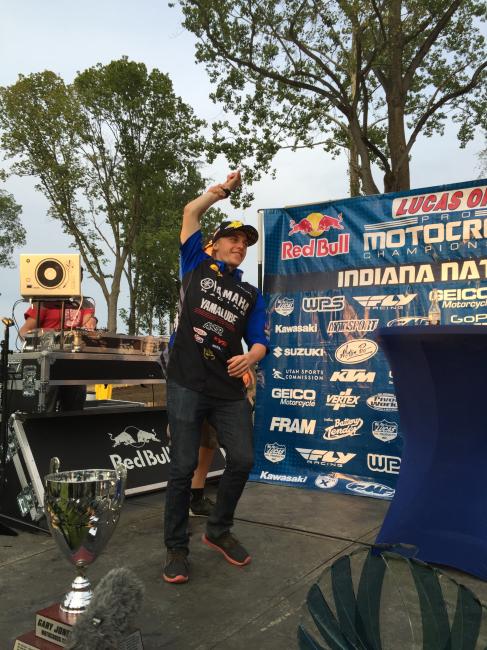 One of the forgotten parts of this season-long struggle is how likable Jeremy and Marvin are. They went at it from 250 East supercross in February until the motocross season ender in August, and you never heard a cross word toward each other. The fans seemed to respect both as well, and people were heartbroken for Marvin, even if they were pulling for Jeremy. You couldn't get two nicer guys to be in a battle like this, and I think the fans had a real appreciation for that. And everyone here at Racer X Online hopes that Marvin's brother Mika makes a 100 percent recovery from the big crash he had last weekend in Europe.
There was a banquet, beer, and barbeque bash down by the starting line on Saturday night. The Star team asked the DJ to play Sonny and Cher's "I Got You Babe" and invited Jeremy Martin and Cooper Webb to the stage to dance with each other. Someone made a video last week with Jeremy and Cooper's faces set to the song, because Cooper had been there to help Jeremy in Utah, and it was pretty popular. Well, the team had a laugh about it and Jeremy and Cooper even danced together for a moment on the stage. Good stuff. I also made a few jokes that cut deep, as usual, and we handed out some awards and everyone then showed appreciation for the Bud Light National's title sponsor.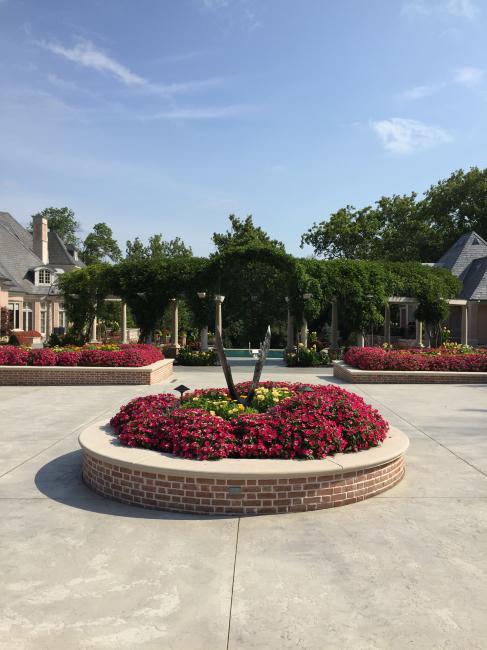 Then came another shindig at the Lucas estate on Sunday morning. This place is incredible (check www.lucasestate.com for today's info, or this story about the history of the place). Forrest Lucas bought it at auction for $3 million, and everyone there remarked at what a steal that was. This place used to be called the Hilbert Mansion and was built by Stephen Hilbert, the CEO of Conseco. Then Hilbert and his company got in hot water and filed for bankruptcy and couldn't sell the place. It sat until Mr. Lucas made an offer, got it, and then fixed it up. It was the nicest (and also only) million-dollar estate I've ever been to, and if they invite the motocross folks back next year, I bet the crowd will be much bigger, because anyone that went will say "Yeah, that was legit." It's always cool to see riders and teams in that environment as well, with stars like Ryan Dungey, Ken Roczen, and their respective teams just hanging out and bench racing. All in all, a good end to the season. When's the next one starting? I can't wait.
THE NUMBER: 8 (Andras Hegyi)
Thanks to the rookie Aaron Plessinger, Yamaha got its eighth win in the 250 Nationals' final round. This means a brand new record for Yamaha in 125/250 history: Yamaha exceeded its own record from one year ago of seven victories in the small-bore category. This season they got eight via Jeremy Martin (five), Cooper Webb (two), and Plessinger.
This is the fifth season in which Yamaha got the most wins among all the brands in the class. Yamaha had the most 125/250 National wins in 1976, '78, '92, and '14—all championship seasons. In eight different seasons, the brand with the most wins wasn't champion: '83, '86, '90, '91, '01, '03, '09, and '12.
Considering the quantity of wins in a single season, Kawasaki is the most successful brand around. The Greens were able to win in all the twelve rounds in 2011 in this division, making them the only one brand in 125/250 National MX to have a perfect season.
For Honda, the most successful season was 1996, when they were able to get nine wins, with Steve Lamson on his way to the championship. Coincidentally, Lammy is now the team manager for Star Racing Yamaha, which means he had a hand in all of the wins for Martin, Webb, and Plessinger!
Suzuki hit its peak in 1991, collecting eight 125 National wins—not enough to clinch the title. The champion Kawasaki's Mike Kiedrowski, whose brand only got three wins.
KTM got its most wins in 2001. The Austrian brand celebrated five wins but was unable to get the title after Grant Langston's wheel collapsed in the final moto at Steel City.
In 2014 Jeremy Martin gave Yamaha its first 125/250 National title since Jeff Emig in 1992. Now he's become the first Yamaha rider to get two consecutive titles in small-bore category since Broc Glover in 1979. That was the third of Glover's three straight titles, something no one else has ever done in this class on a Yamaha, but obviously Martin now has a chance in 2016 to threepeat like Glover.
Martin is the eleventh rider in 125/250 National history with at least two titles, and the ninth rider with at least two consecutive titles: Marty Smith (1974-'75), Broc Glover ('77-'79), Mark Barnett ('80-'82), Micky Dymond ('86'-87) Doug Henry ('93-'94), Steve Lamson ('95-'96), Ricky Carmichael ('97-'99), and Ryan Villopoto ('06-'08).
Quick trivia: Who is the only rider to have won titles in this class on two different brands of motorcycle?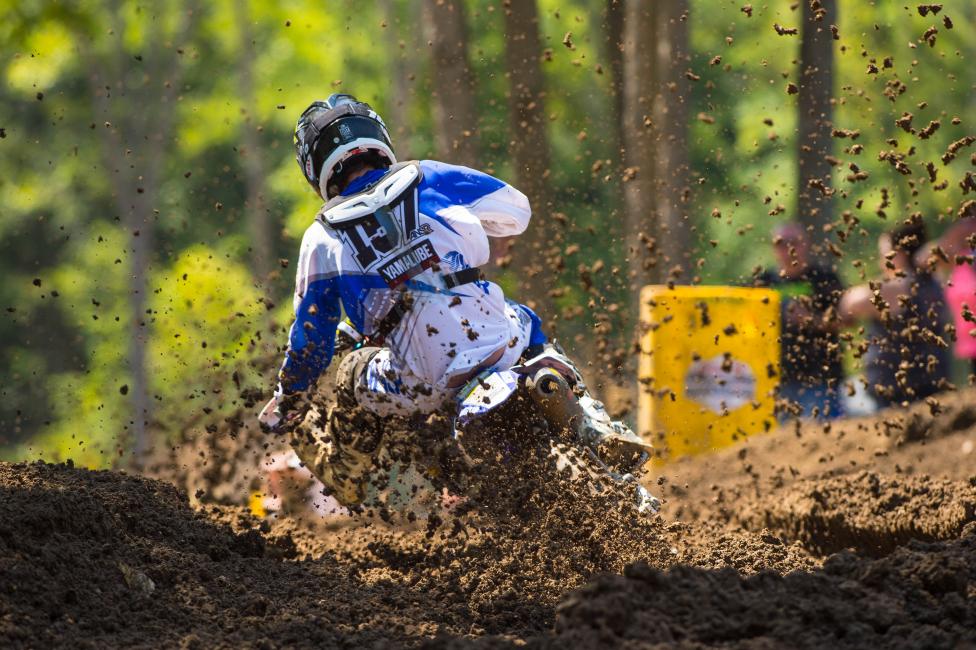 The Bogle Monster (Matthes)
Silly season so far has been a bit of a dud because most riders are already locked into deals. We definitely haven't seen the craziness of past years, but hey, these things happen. We know Eli Tomac is going to Monster Energy Kawasaki (probably to be announced end of October) and from what I hear Wil Hahn is going to be staying green for another year.
And of course we're waiting to see what Mr. Twenty-Two does next year as he rides a Yamaha 450F and presumably waits to see if Yamaha comes back with a factory effort backed by Monster like everyone seems to think they will. I get varying responses on this—some people say it's a lock that Yamaha will be back while others seem a lot more pessimistic. Whatever the case, Chad Reed needs a home and we wait to see where that is.
The highest-profile rider left is GEICO Honda's Justin Bogle, who is moving up to the 450s and seems to be left with dwindling options. It's just one of those years where there aren't many spots open, and Bogle may be forced to take a one-year deal with someone and wait his turn for a factory ride to open up. I heard from guys close to the situation that Kawasaki, long thought to be a favorite to land him, won't be putting a third bike out there.
So if not Kawasaki, where? Honda doesn't seem interested in doing a third guy; JGR, Yoshimura Suzuki (who I hear is getting True Value Hardware as a title next year), and Red Bull KTM are full, as is BTOSports.com KTM.
One team that is trying to woo Justin is MotoConcepts, with team manager Tony Alessi attaching to Bogle on social media in an effort to, I guess, show him they're serious. And you know what? MCR owner Mike Genova cold-called the PulpMX Show last Monday to talk about the team's chase for Justin as well as their schedule for next year.
Genova confirmed they have spoken to Bogle's agent and they do want him on the team for 2016. They'll be on Hondas, and Mike Alessi is coming back. Although Vince Friese doesn't have a signed deal, Genova seemed confident that he will be back as well. One thing that may scare Bogle away is that the team will not be doing Lucas Oil Pro Motocross. It seems they'll be doing the same partial schedule they did this past summer with some American nationals, some Canadian nationals, and maybe even GPs again. This could be a sticking point for Justin, or maybe not. If you're Justin and the money offer is right, maybe you take the Honda (that you're familiar with) and use supercross 2016 to put in some great rides, then when there are more spots open for 2017 you slide in there.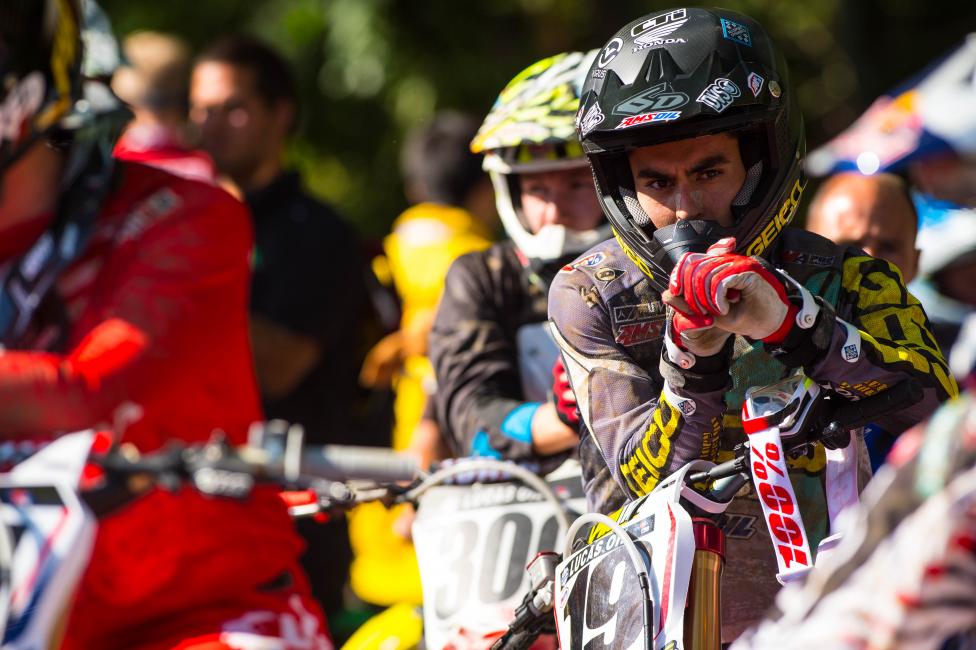 PRO PERSPECTIVE (Jason Thomas and David Pingree)
Ping: It's crazy how quickly another season has come and gone. While the outcome for the champions may have been written on the wall before the first gate dropped (Dungey and Martin were both expected to do well), there were some big surprises this summer.
Justin Barcia finally got himself back in the game. It kind of came out of nowhere, but once Justin found the top of the podium, he went on a tear. A couple seasons ago, I thought Barcia was poised to be the next superstar in the sport, but a couple of injuries and some bad luck seemed to derail that momentum. Now, after finishing the 2015 season on a high note and signing a multi-year extension with what appears to be a good home, he finds himself coming into the 2016 season as one of the guys expected to win again. I'm really stoked for Justin and the AutoTrader.com/Toyota/JGR Yamaha team; they are due for some wins.
And while we're talking about fast riders with bizarre facial hair, we have to mention another pleasant surprise this year—Joey Savatgy. While the absurdity of his beard is only eclipsed by the duo of Barcia and his mechanic, Ben, Savatgy has been consistently putting in great rides and finding himself up on the podium. Joey's riding has been a bright spot in an otherwise depressing season for Monster Energy/Pro Circuit Kawasaki, and they have to like their chances heading into the off-season.
And the last guy who has been very impressive all year long is Aaron Plessinger. This guy has been on it, and I can't wait to see what he brings in 2016. At several supercross races he posted the quickest times in the main event, and he just capped the Nationals with his very first win. If he can dance, he's a total triple threat.
JT: With riders constantly rising and falling in the ranks, there are always a few who jump off the page when you look back through a season of results.
As Ping said, Justin Barcia is the name that immediately comes to mind. He had such a rough-and-tumble year and a half coming into this summer that I would never have picked him to be the threat he was. At the midpoint of the outdoors, he may have been the best rider in America. His last few rounds weren't quite as spectacular, and I personally think he wore himself down with bicycle races and maybe overdoing it a tad out of sheer enthusiasm. In any case, he was much better than we had seen him since 2013, and it was a refreshing change. If he can keep this high level going into January, he will make supercross that much more exciting.
I know Jeremy Martin is the two-time defending champion, but we kind of expected that to be a likelihood, right? To me, his brother Alex was more impressive with his ability to podium at times and even win a moto at Budds Creek. Alex has been at this game for quite a while now, and to see a marked improvement like we did was rare. (And congrats on getting engaged, A-Mart!) Surely it has to be attributed to his move down south and joining his brother in training. Alex was a threat both indoors and out this year, and with his move to the full factory Yamalube/Star Racing Yamaha team, I expect him to be a legitimate threat for podiums again in 2016.
Last but certainly not least, the return of Christian Craig was another welcome surprise. He rocketed out of the gate at Colorado to a top-five overall in his first race back. He was in the mix all day long and proved that he has something to offer his GEICO Honda team. He was rewarded with a full contract for 2016, and if he comes into the season at 100 percent, look for him to be a factor. Christian has talent on a level we don't see too often, and if he finds a way to maximize it, look out.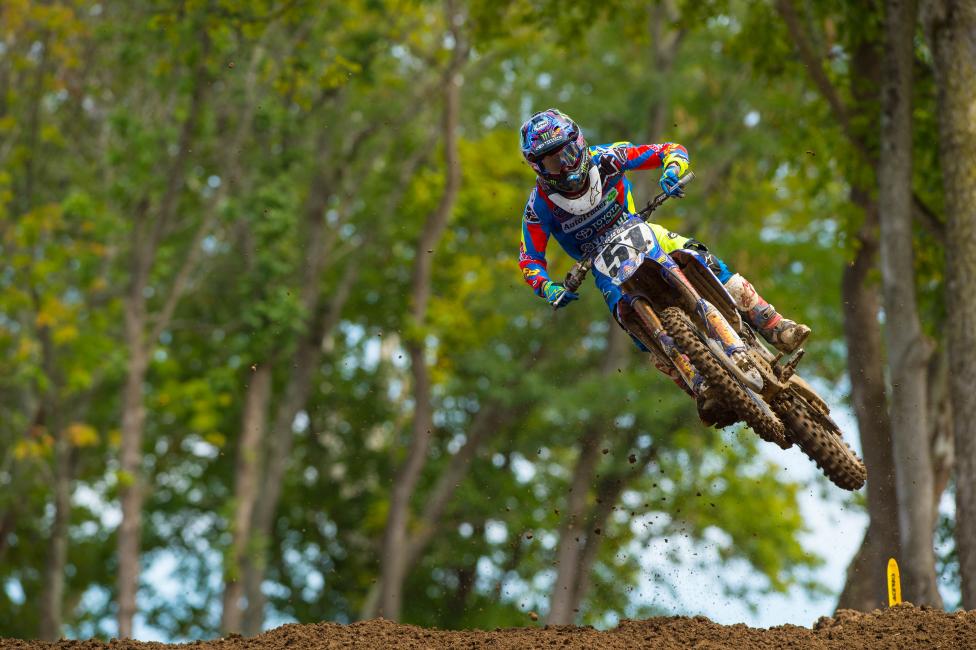 DUNGEY LIKE CARMICHAEL (Andras Hegyi)
This is the fifth consecutive season where Ryan Dungey was able to get at least eleven podiums, something that only Ricky Carmichael has done before. Carmichael got at least eleven podiums in every season between 2002 and 2006 (including all 12 wins in '02, '04, and '05). Dungey has earned at least eleven podiums every year since 2011. His best season was '12, where he got on all twelve podiums.
Oh, and that Flash Trivia question: Who is the only rider to have won 125/250 National MX Championships on two different brands of motorcycle? The answer is Mike Kiedrowski, who won in 1989 on a Honda CR125 and then again in 1991 on a Kawasaki KX125.
MAD MAX AND FEBVRE FEVER (Andras Hegyi)
The British fans and Kawasaki can believe in Max Anstie more and more. They can hope that a thing that seemed unimaginable not long ago comes true, because Max really has a chance to be MX2 World Champion. Besides James Dobb and Tommy Searle, Anstie is the third British rider to get at least three GP wins in a 125/MX2 season, and all of Anstie's wins were double-moto sweeps. This season he became the first British winner in the history of the Latvian GP. Then in Lommel, Belgium, he became the very first rider to get GP wins with two different brands on that nasty, deep sand track. And last weekend in Mantova he became the first British winner on that sandy Italian track. Max missed the GP of Thailand due to injury and was only 19th in the overall points after two rounds. In the ninth round Anstie had a 188-point gap behind the points leader. But Anstie could cut the gap by an astonishing 150 points (with help from the injuries and ultimate departure of Jeffrey Herlings), and by now he has only 38 points and is ranked third overall with three rounds to go: Holland, Mexico, and the U.S. During the last three GPs, Anstie cut 73 points of his gap. He will need some help, but he has a true chance to be the first British world champion since 2001 and the first Kawasaki world champ since 2006. And remember this: the young points leader, Pauls Jonass, has yet to win a race!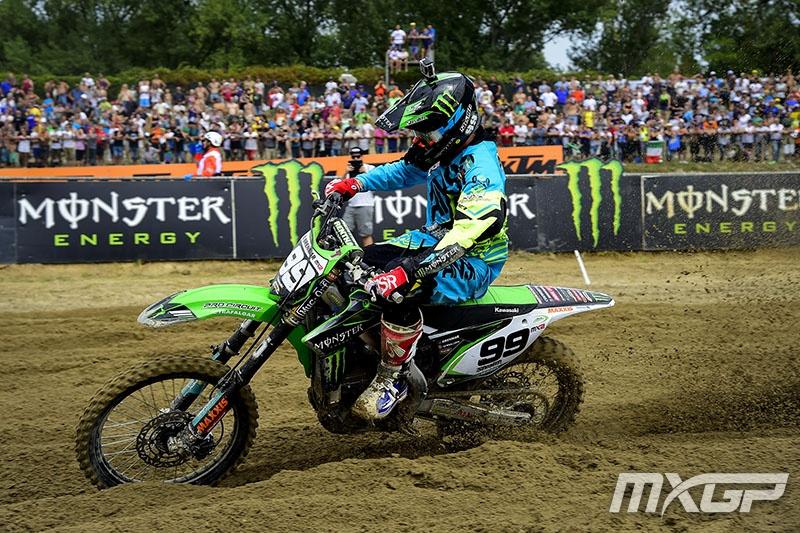 This Sunday at Assen, in the Netherlands, a brand new sand track will debut (look for video below), which plays right into Anstie's hands. Assen may also host the crowning of a new MXGP champion as the French upstart Romain Febvre has a chance to lock it up. Last weekend in Mantova, Italy, Febvre took his sixth GP win this year and increased his advantage in the points. The Yamaha factory rider now has a 101-point gap over Honda's Gautier Paulin. Febvre became the eighth French racer to get at least six GP wins in a season, joining Jacky Vimond, Jean-Michel Bayle, Mickael Pichon, Sebastien Tortelli, Fred Bolley, Yves Demaria, and Marvin Musquin.
Who would have thought at the beginning of this much-hyped showdown between Tony Cairoli and Ryan Villopoto that they might be crowning 450 rookie Romain Febvre champion with three races yet to be run?
THINGS YOU COULDN'T GET AWAY WITH TODAY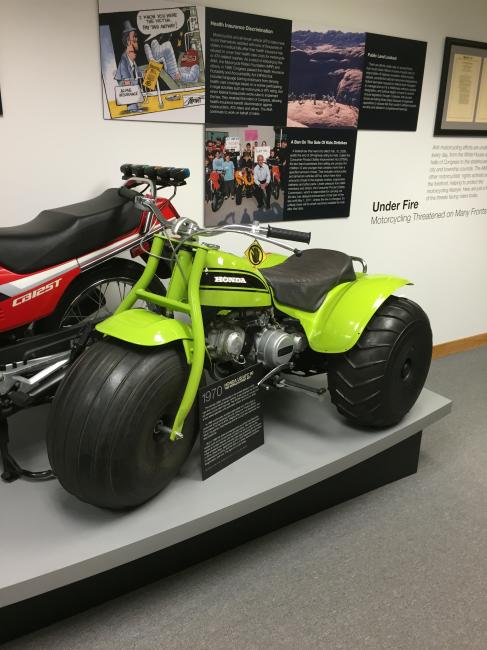 HEY, WATCH IT!
Here's a preview of the MXGP track they're building out of sand at the Assen TT circuit in the Netherlands. The race will take place on Sunday.
HEAD-SCRATCHING HEADLINES OF THE WEEK
"ITALY NAMES WEAKEST MXDN TEAM EVER" - www.motocrossactionmag.com
HOT PULP LINKS
Our guy Troy Bendgen takes a look at the top twenty in the 250 Class in his weekly column here.
Swizcore talks about the Martin/Musquin title chase in his weekly column here.
We had Jeremy Martin, TIM FERRY (!!), Kris Keefer, Mike Genova, Grant Langston, and Ping on the Pulpmx Show this past Monday here.
RANDOM NOTES
Shan Moore's Trials & Enduro News is live online and the September is ready to view—and, as always, it's FREE! This issue covers everything from Jeff Stanton riding the Jack Pine Enduro this past weekend, to the Tennessee Knockout, to the recent World Trials in Rhode Island. If you want some real "Inside Baseball" on some motorcycle sports that aren't regularly covered in any other publication, you should check it out.
Kevin Windham's annual Ride Day/Party in the Pasture event is set to take place on November 20-21. Proceeds from this year's event will benefit the Asterisk Mobile Medical Unit and the Road 2 Recovery Foundation.
The Ride Day will take place on Friday and Saturday on Kevin's private track. The Party in the Pasture starts at 5 p.m. on Saturday night, and Kevin's special guest will be Travis Tritt. BBQ, freestyle motocross, raffle, live auction, helicopter rides, karaoke, bonfire, and Tritt's show will cap off the weekend.
Ride Day: Ride Day (2 Days) Friday 12 p.m.-4 p.m. and Saturday 9 a.m.-4 p.m., $75 per rider
Ride Day (1 Day) Saturday 9 a.m.-4 p.m., $50 per rider
Spectator charge covers Friday and Saturday $20 each
All children age 6 and under can ride or spectate for free
Riding will be in designated classes with the 51cc bikes on a separate track. Each rider is permitted to ride in one class only. Classes available are:
51cc 4-8
65cc 7-9
65cc 10-11
85cc 9-11
85cc 12-14
100cc-150cc 12-16
250 A
250 B
250 C
450 A
450 B
450 C
Camping: RV camping spot for two days. Camping opens Friday at 10 a.m., $40 per RV. There are no RV hook-ups available for the entire weekend.
Party in the Pasture: Travis Tritt will be Kevin's guest this year at the Party in the Pasture on Saturday, November 21. $30 per person advance purchase ($40 day of show) All children age 6 and under are free. Music starts at 5 p.m.
Directions: From Centreville off HWY 24/33 in Centreville, Take Lower Centreville Road (turn right by Vines Mobile gas station) approx. two miles to Ash RD. Turn Right. Approx three miles on Right. Look for the signs. GPS address: 1585 Ash Rd. Centreville MS 39631.
For more information on Road2Recovery and upcoming events visit Road2Recovery.com or contact Anita Button at (602) 578-5339.
If you weren't able to get a free Trey Canard beach towel with your subscription at the races this summer, don't fret; you can now get one for free (while supplies last) with any $25+ purchase at www.RacerXbrand.com!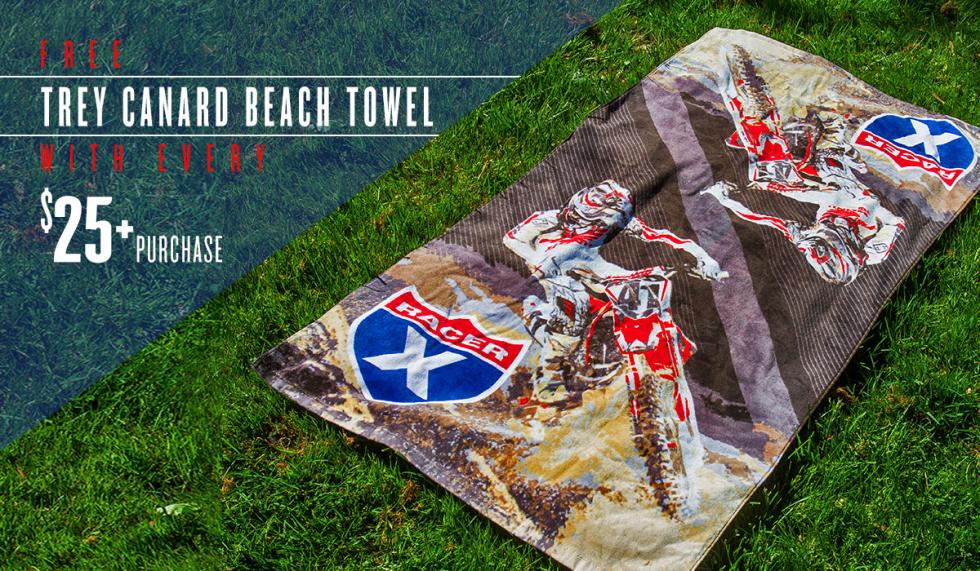 It seems as if Women's Professional Motocross (WMX) is making a comeback, and that doesn't just mean on the track! WMX is stepping up their social media efforts by creating a brand new Instagram account. Along with the new account, the previous Facebook and Twitter accounts will continue to be monitored and updated more frequently. Make sure to follow us @RaceWMX and always use the offical hashtag of #RaceWMX!
The 2015 DC Vet National at High Point Raceway is fast approaching! This is the 25th anniversary of the event and Racer Productions is planning a full weekend of racing and activities for the entire family. Visit bit.ly/15VetNational for more information and stay tuned for more.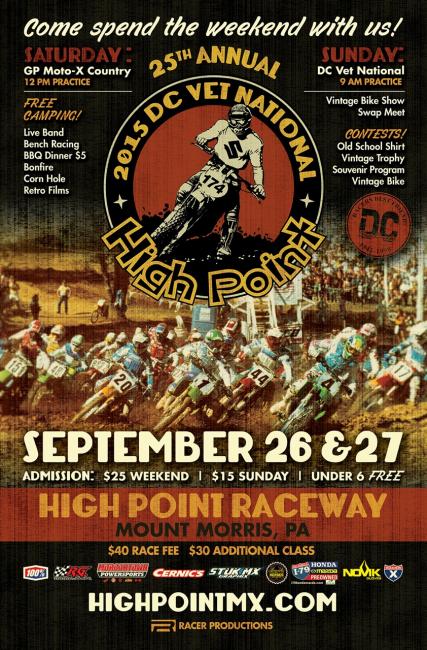 Thanks for reading Racerhead. See you at the races.