Unadilla Motocross
New Berlin

,

NY
Race Center: Unadilla
Lucas Oil AMA Pro Motocross Championship
Welcome back to Racerhead and the stretch run of the Lucas Oil Pro Motocross Championship. We are at Unadilla, the first track ever to host an AMA-sanctioned professional motocross race, way back in 1970. That was two years before the AMA started a national championship series; the event was the opening round of that year's Trans-AMA Series, which pitted top European riders against the new-to-scrambles Americans. Tomorrow's event will also have some international flair, with series regulars like Christophe Pourcel and Marvin Musquin (France), Ken Roczen (Germany), and the finally-back-from-illness-and/or-injury Arnaud Tonus (Switzerland) and Dean Wilson (KTM) joined by Great Britain's Shaun Simpson. The KTM rider crossed the Atlantic right after sweeping both motos of Sunday's Belgian MXGP at Lommel. He will be set up under the Red Bull KTM tent on the #274 bike.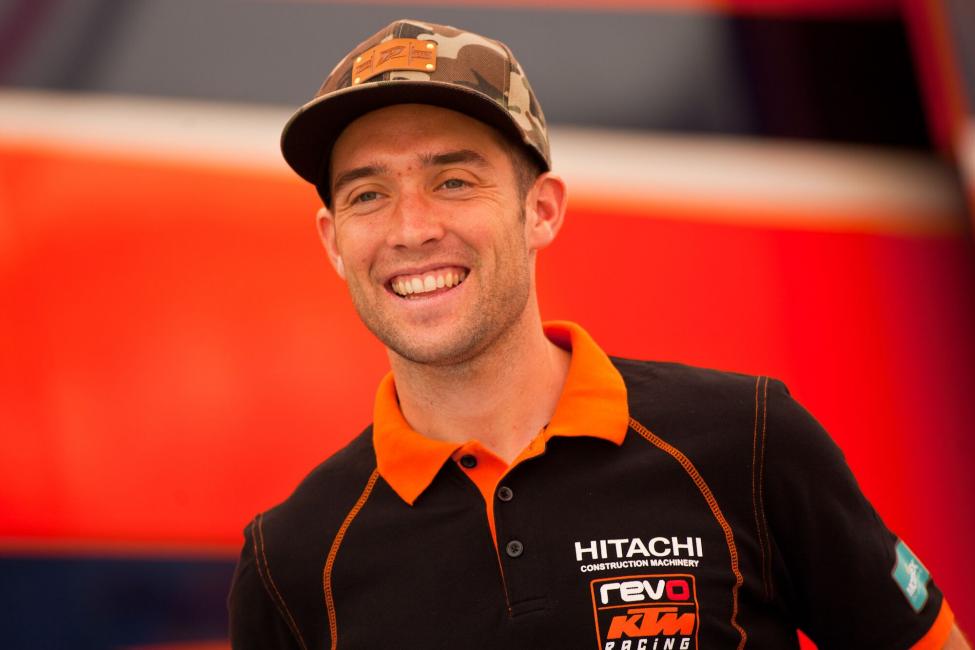 You can watch tomorrow's races live on www.promotocross.com and MAVTV beginning at 1 p.m. ET, and then NBC for the second 450 moto at 4 p.m. ET and NBC Sports for the second 250 moto at 5:30 p.m. ET. The weather is gorgeous and they are expecting another massive crowd.
Unadilla of course has a long history with international riders and events, having hosted numerous 250cc Grand Prix events, as well as Trans-AMAs and Inter-Ams and the 1987 Motocross of Nations. Musquin and Pourcel have won here in recent years, and this national is often visited by GP riders on off-weekends (like Gareth Swanepoel and Clement Desalle a few years back). I'm not sure how Simpson will do, but he's definitely got momentum, and he looks like he was going fast and having fun at yesterday's press ride. I hope he does well, and I look forward to speaking with him later this afternoon.
We will also be hearing about Team USA tomorrow afternoon from the AMA's Kevin Crowther and Team USA manager Roger DeCoster. I expect a slight surprise in the lineup, as well as a common theme for the FIM Motocross of Nations. And speaking of the FIM, it's only a matter of days before James Stewart is finally off his suspension. I don't expect to see him at the last two rounds of the series at Utah and Indiana, but for sure at the Red Bull Straight Rhythm event and the Monster Energy Cup later this fall.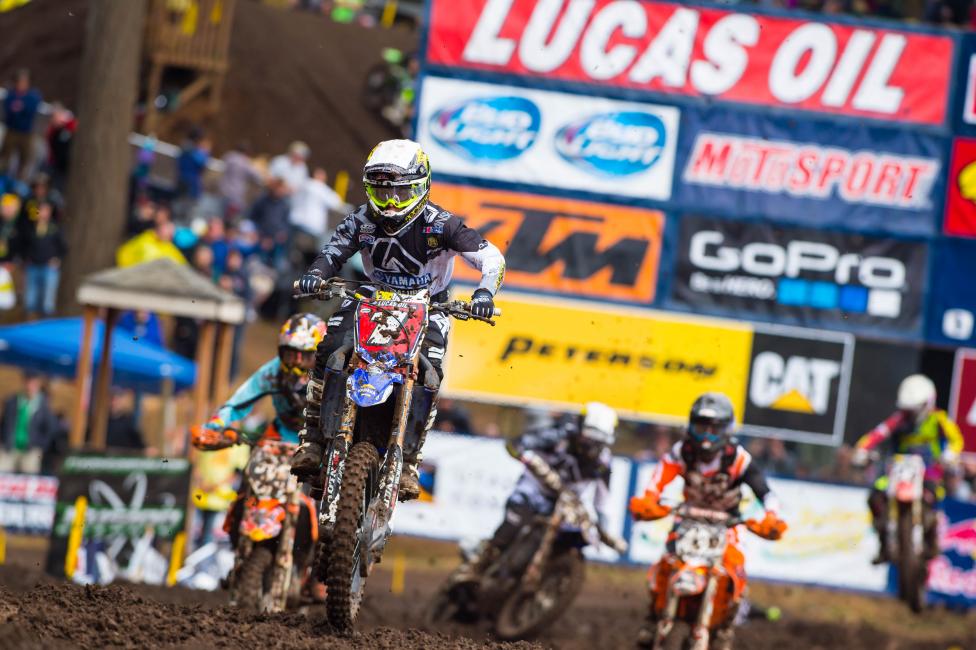 As far as the series goes, Red Bull KTM's Ryan Dungey is comfortably out front in the 450 Class, and his teammate Musquin is back in the hunt in the 250 Class after Yamalube/Star Racing Yamaha's Jeremy Martin had a tough go in the mud at Washougal two weekends ago. One of Jeremy's crew told me that he "played it too safe" at Washougal and paid for that with a couple of crashes that cost him valuable points. I expect Martin to bounce back quickly, but these last six motos are going to be fantastic. I look forward to seeing how this all pans out, then I look forward to seeing Marvin and Jeremy go at it again in France next month in the MX2 class at the MXoN—if Jeremy is in fact the 250 pick.
Let's get into the week that was right here….
WHAT'S NEW (Jason Weigandt)
I can't believe we have this much to discuss this late into the season. We're at round ten of Lucas Oil Pro Motocross, seven months into the race season, and here's what we're talking about: Dean Wilson returns, Justin Bogle returns and makes his 450 debut, last week's GP winner Shaun Simpson is giving it a go, Trey Canard is just getting back at it, Christophe Pourcel owns this track, Justin Barcia has been giving Ryan Dungey fits and is from New York.... Heck, I even hear Davi Millsaps will be hanging around the BTOSports.com KTM truck this weekend to talk about his new deal. And all this is just from the 450 Class. In the 250s, there are just four points between the title contenders, and you also have Cooper Webb playing the ultimate spoiler. Incredible!
Unadilla makes a great backdrop for all of these stories, as it's still probably the most storied track on the schedule. This track has tested them all, from Joel Robert and Roger DeCoster (as both racer and manager) to today's superstars. Last year's event was damned good, Canard winning a furious final moto with Dungey, Ken Roczen, and Eli Tomac draped all over him. That was a live NBC moto and the perfect way to explain to a noob #ThisIsMoto. You had a rough, rutted track with huge jumps and multiple lines and four studs just bashing on each other for thirty-five minutes. I'm getting pumped just thinking about this! So this weekend, there will be no riding out the string or wait until next year. This is a big event with a lot of storylines and plenty to watch. Damn, can't we just get started right now?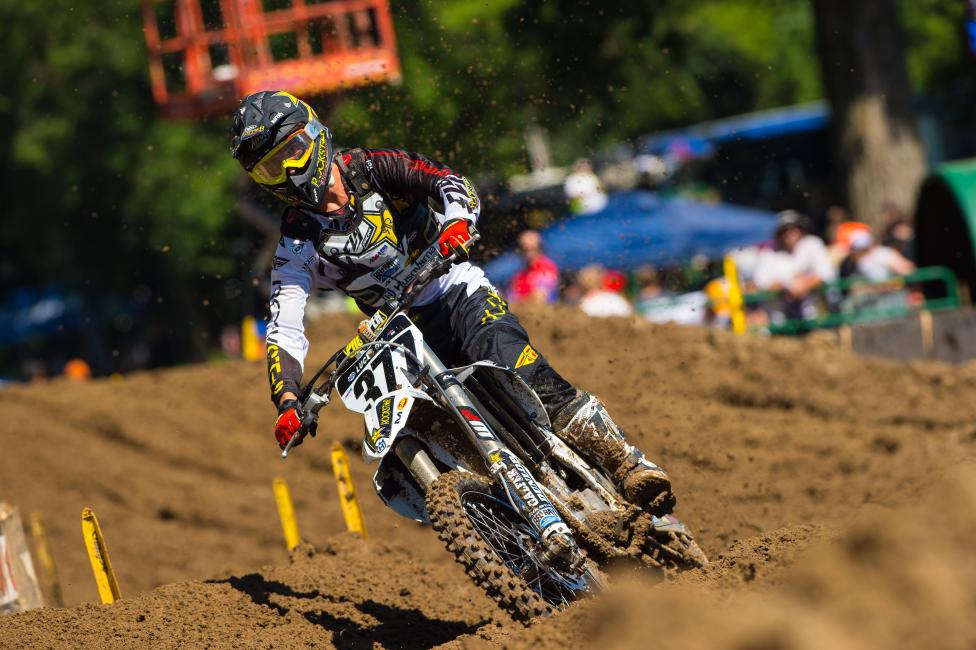 PRO PERSPECTIVE (Jason Thomas)
Unadilla always presents challenges for racers and team personnel. The track is tough enough with the roost and rocks, but that's not what I'm referring to in this instance. For the West Coasters, flying all the way across the country during the summer can lead to all sorts of travel delays and mishaps. Over the years, I have seen and heard numerous horror stories getting to upstate New York. David Vuillemin, for example, ended up driving all night from Chicago to make it in time to actually race. Our own Steve Matthes has resorted to flying in on Thursday night because of repeated troubles inbound from various West Coast departures. Heavy summer travel on Fridays coupled with long flights and bad weather can make for an ugly recipe.
Another aspect not often addressed is the brutal time change that the East Coast rounds represent. For the West Coast, they are fighting a three-hour time change at an event that already starts early. Add that to the nearly hour-long drive for most staying in Utica, and you're getting wakeup calls somewhere around 5:30 and six a.m. With the time change, that feels like 2:30 to three a.m., and for anyone who has woken up for their workday at 2:30 a.m., it's not a refreshed feeling.
Not only that, but most riders have a tough time sleeping the night before the race anyway due to nerves and anticipation for the following day. Don't get me wrong—no one is asking for sympathy here. Riders at this level are living the dream, but races like this one do present their own challenges. So if you happen to be walking through the pits and see your favorite rider stumbling around in a zombie-like trance, keep in mind that he probably isn't even awake yet. Better yet, hand that man a cup of coffee, grab yourself maybe something a little more relaxing to sip on, and enjoy Unadilla!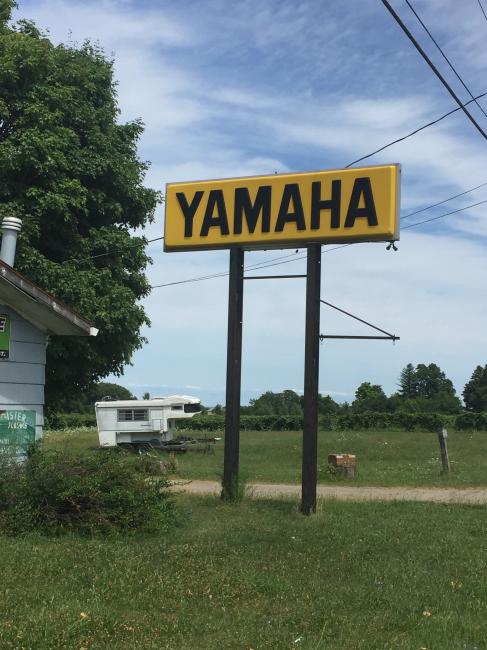 THE NUMBER: 4 (Andras Hegyi)
Back at Washougal two weeks ago, Aaron Plessinger garnered his first Lucas Oil Pro Motocross podium, giving Yamaha its fourth different podium performer this season (Cooper Webb, Alex and Jeremy Martin). This is the third time the brand has had four riders get podiums in a 125/250 season. Among the brands, Suzuki had the most podium riders in a 125/250 season back in 1992, with six. And Honda has had at least four podium riders in the most 125/250 seasons eight different times. Kawasaki had two seasons with at least four podium riders.
1976 Honda (Marty Smith, Don Kudalski, Steve Wise, Broc Glover)
1978 Suzuki (Mark Barnett, Danny Chandler, Brian Myerscough, Ron Turner, Mark Gregson)
1986 Honda (Micky Dymond, Larry Brooks, Guy Cooper, Willie Surratt, Jeff Leisk)
1989 Honda (Mike Kiedrowski, Guy Cooper, George Holland, Donny Schmit, Larry Ward)
1990 Suzuki (Guy Cooper, Mike LaRocco, Larry Ward, Donny Schmit, Ron Tichenor)
1991 Suzuki (Guy Cooper, Denny Stephenson, Erik Kehoe, Mike LaRocco, Larry Ward)
1992 Suzuki (Guy Cooper, Ron Tichenor, Larry Ward, Steve Lamson, Ezra Lusk, Mike Healey)
1993 Kawasaki (Michael Craig, James Dobb, Ryan Hughes, Robbie Reynard)
1997 Honda (Steve Lamson, Scott Sheak, Robbie Reynard, Stephane Roncada)
1998 Honda (Steve Lamson, Scott Sheak, Michael Brown, Jason McCormick)
2001 Yamaha (Nathan Ramsey, Larry Ward, Damon Huffman, Ernesto Fonseca)
2003 Yamaha (Craig Anderson, Brock Sellards, Ivan Tedesco, Kelly Smith)
2004 Kawasaki (James Stewart, Stephane Roncada, Matt Walker, Paul Carpenter, Troy Adams)
2005 Honda (Michael Brown, Ryan Hughes, Joshua Grant, Andrew Short)
2009 Honda (Trey Canard, Justin Barcia, Blake Wharton, Brett Metcalfe)
2010 Honda (Eli Tomac, Trey Canard, Blake Wharton, Justin Barcia)
2015 Yamaha (Jeremy Martin, Alex Martin, Cooper Webb, Aaron Plessinger)
RED-WHITE-AND-BLU (CRU) (Steve Matthes)
We're going to find out who's going to represent Team USA at the annual Motocross of Nations tomorrow at Unadilla, but if my sources are to be believed, it's an all-Yamaha squad of Justin Barcia, Jeremy Martin, and Cooper Webb. Webb's going to ride the 450 in the MX3 class, it seems. It'll be the first time Team USA is all on one brand since England in 2008 when it was all-green squad of James Stewart, Ryan Villopoto, and Tim Ferry.
You'll notice no Ryan Dungey on that list, despite Ryan looking to clinch his third 450 Class title real soon. From what I've heard, Ryan is looking to have a bit more of an off-season this year, as KTM's already committed to the USGP at Glen Helen and he's personally committed to Red Bull Straight Rhythm and the Monster Energy Cup in Las Vegas. Add in the fact that the MXoN is more than a month away from the last national in Indiana and it's understandable that Ryan is begging off after six straight years of heading overseas for the stars and stripes. Of course this won't satisfy everyone out there, but I get it.
Even with Dungey, Team USA is an underdog in my eyes coming in, with France naming MXoN hero Gautier Paulin, Marvin Musquin, and soon-to-be MXGP world champion Romain Febvre the favorites on their home soil. This should be a great race. Webb on the 450 is definitely spicing it up and he's raced the bigger bike before over in Japan. With the JGR crew providing the machine, I have no doubt it will be top-notch.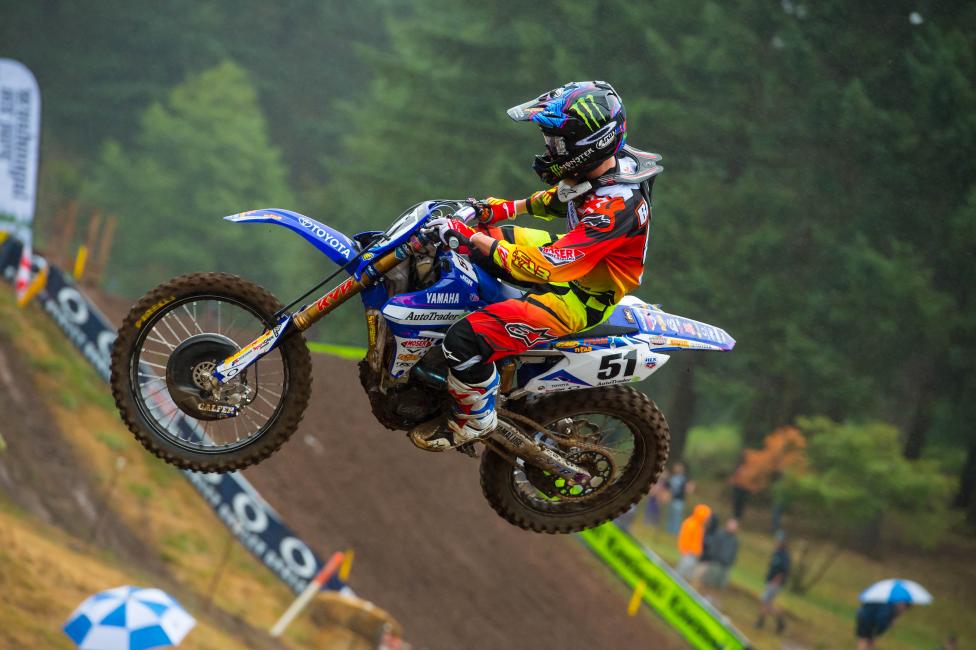 A SECOND CHANCE (Aaron Hansel)
Let's face it: this sport can be brutal, and I'm not just talking about gnarly tracks, punishing mud races, or thirty-plus-two in suffocating heat. I'm talking about finding, and keeping, a way to get there in the first place. In the beginning of the season, Zack Williams had a way, but after Millville that changed.
"The team I was on, RSR Honda, wasn't really happy with my results," Williams explains. "I was kind of bummed on my results, too, and it got to the point where they started saying if I wasn't going to improve they were going to have to cut me. Their expectations were top-fifteens and top-tens, and I just couldn't. So after Millville I got cut. I think they were thinking I was just all of a sudden going to do so much better, but I was trying my hardest on their equipment, and I just couldn't get it done."
Frequently, this is where these stories end, but fortunately for Williams, who had to skip Washougal (he'll miss Unadilla too), his dark cloud of unemployment turned out to have a silver lining when he picked up some support from Tenkom Motorsports for the final two rounds.
"The team was started by a doctor named Ken Ginkel," Williams says. "He started it and got race bikes for four guys. My neighbor/buddy Joe Perron was riding for them but he got hurt, so they're letting me ride the bike for the last two races. The bike seems really good, and I always wanted to ride Yamahas, so this could be a perfect fit. I definitely want to be in the top twenty, and if I can put in a breakout ride on that Yamaha I'll be more than happy. I'm a free agent for next year, so I'm trying to keep my options open."
In a sport that can be so unforgiving, it's nice to see someone getting a second chance. If you're interested in supporting Williams in 2016, he can be reached at zackwilliams76@aol.com.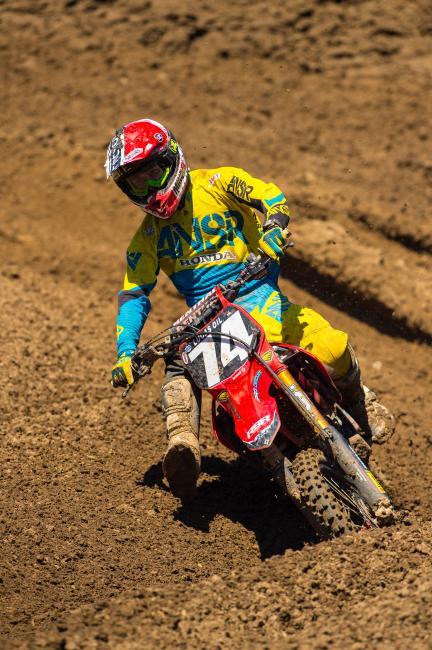 LEGENDS RACE (DC)
While at Loretta Lynn's, Tim Cotter of MX Sports came up with a cool idea: invite some of the legends of motocross who still like to ride to the Ironman National in Indiana for a match race of sorts. RCH Racing team owner Ricky Carmichael immediately signed up, as did Jeff Stanton, Tim Ferry, and Kevin Windham! The race will take place just before the first motos of the final round of the series, and look for more names to be announced as we dial in more legends for the race. Hopefully this will become a regular feature at select rounds of the series, and it will be great to see these guys back out on a motocross track, even if it is just for fun!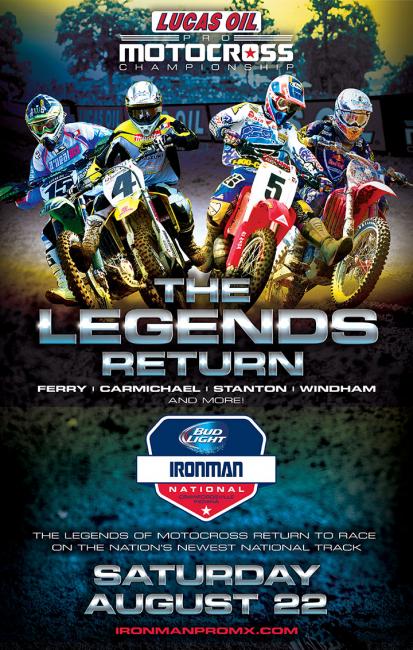 INTROS OUT EAST (Jordan Roberts)
It's been an exciting and atypical week for the staff at the Morgantown HQ. A lot of the hustle and bustle takes place in the American motocross hotbed of Southern California, but this week, Husqvarna and Kawasaki went mobile and headed out east to show off their all-new 2016 models.
First up was the 2016 Husqvarna Media Launch. The iconic Swedish brand and now Austrian manufacturer welcomed editorial staff from around the world at the nation's capital in Washington, D.C. Within view of the White House, rooming and presentations took place in the rather swanky W Washington D.C. hotel, and track time was held under an hour away at Budds Creek. As if four brand new motocross models weren't enough, the whole Rockstar Husqvarna team was there to spin some laps before the Unadilla National. Christophe Pourcel and Zach Osborne even took a break from their practice schedule to hop on the new '16 production models, which are far from their factory rides but a glimpse into the future nonetheless. That's not to say the stock bikes are to be written off by any means. The new Huskies are completely new and redesigned from the ground up. It's a bold move to make such drastic changes from the previous production models, but they managed to produce bikes that practically antiquate their '15 lineup in every fashion.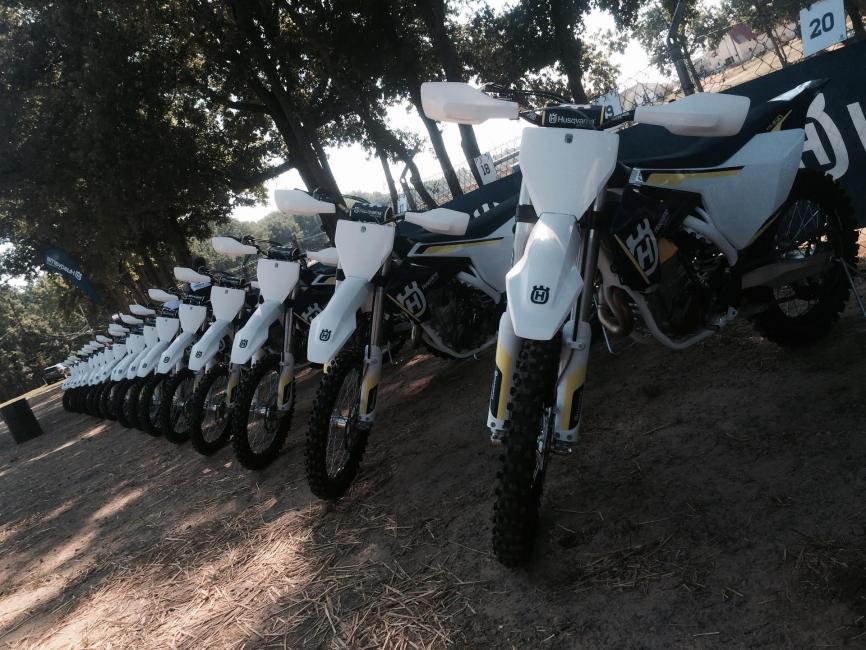 The 2016 Kawasaki Press Launch was held in our hometown hills of Morgantown, West Virginia. We were able to sleep in our own beds for this one, but Kawi had all accompanying staff from other magazines roomed downtown in a new luxurious hotel just a couple blocks away from West Virginia University. The bike presentation was held just on the other side of town in an airplane hangar—not the usual hangout spot for us locals. After the presentation, we had two days to test their all-new KX450F just 15 minutes away at High Point Raceway. Jeremy McGrath was on hand to show us the fast lines around the track and hang out to chat about the bike and everything in between during breaks. It's funny how that can make a grown man feel like a teenage girl at a Bieber concert.
All fandom aside, the track was churned out for various conditions over the course of two days to get an all-encompassing feel of the new slimmed-down KX. It was great to have a familiar setting to take in all of the new bike changes. We even had our own mechanic, Travis Murphy, on hand to make any changes we wished as well as provide recommendations for some settings that meshed well with the conditions. It doesn't get much more factory than that.
A lot of publications focus mainly on the new models that are being presented, which is of course the end game for both manufacturer and media, but what's not talked about is the first-class presentation and effort put forth by the OEMs. From the production line to the dealership, they're very serious about having fun.
Check back next week for Racer X Films from both intros.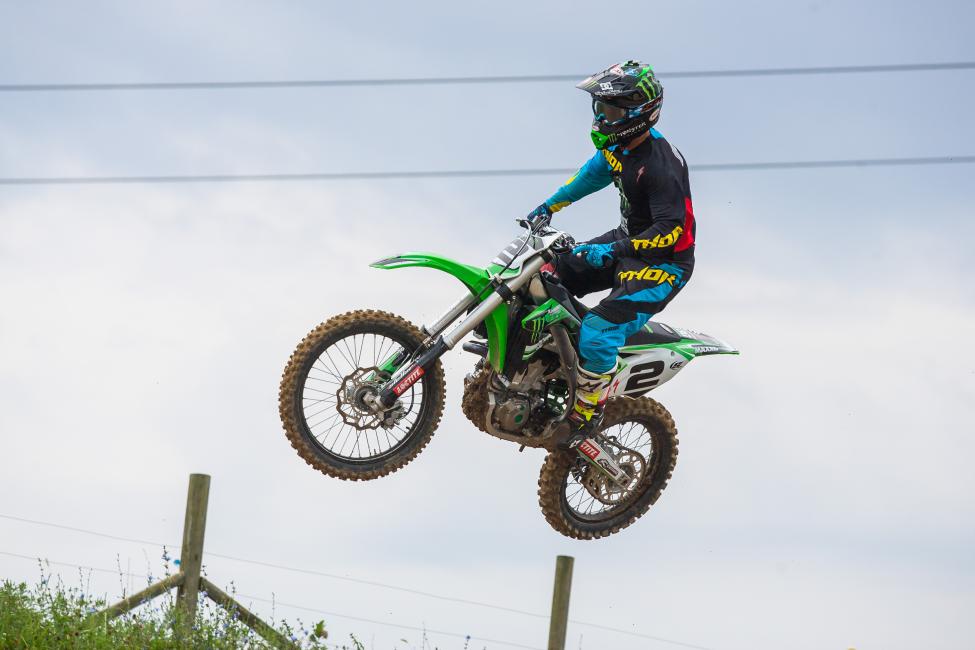 THREE COUNTRIES (Andras Hegyi)
The GP of Belgium at Lommel last weekend brought historical successes for British, Bulgarian, and Latvian motocross.
Let's start with the Brits, who were the pioneers, trailblazers, teachers, and inventors of motocross. They have had many successes in the FIM World Motocross Championship, including eight world titles, 146 GP wins, and sixteen MXoN titles. But Lommel was a special success for Brits, as Shaun Simpson won in MXGP and Max Anstie won in MX2. This marks the first time in the history of this series that British riders swept a Grand Prix. (And don't forget Brad Anderson and Jack Bintcliffe sweeping the EMX300 and 150 Class, respectively.)
Motocross is very popular in Latvia, but Latvian motocross riders have mostly earned successes in sidecar motocross (five world titles and 51 wins in all). The Latvian driver-passenger pair of Kristers Sergis and Artis Rasmanis is legendary in sidecar motocross. But this year a Latvian motorcycle rider has become a center of interest thanks to the teenaged KTM factory rider, 18-year-old Pauls Jonass, who became just the second Latvian rider to podium in the series. (Ten years ago, Aigar Bobkovs had a podium in MX3.) Jonass has picked up five podiums so far, and with his consistency he is now the overall points leader in MX2, a first for a Latvia racer.
Finally, 21-year-old Bulgarian Petar Petrov is one of the most surprising racers in MX2 this season. Petrov has ridden in small-bore class since 2010 without any significant results. But this year Petrov has become famous at a stroke. First, he was signed by factory Kawasaki, substituting for the injured Dylan Ferrandis, then he was picked up for two more seasons. At the GP of Belgium he got his first podium in the GPs. Not since 1983 has a Bulgarian rider podiumed in the Grand Prix series; prior to Petrov's success, only Dimitar Rangelov had managed to do that. Rangelov raced in the 250cc World Championship in the early 1980s. Rangelov had five podiums and one GP win, at his home race in 1983. Also, Rangelov was third in overall points standing in 1980.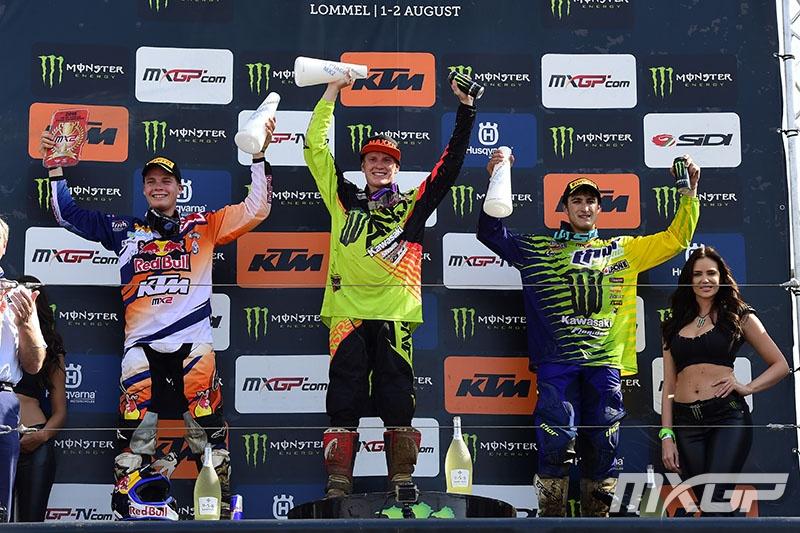 HEY, WATCH IT!
Red Bull KTM's Dean Wilson is finally back in the saddle and he put on the VitalMX helmet cam for One Lap Around Unadilla.
PULP LINKS
Troy wrote this cool privateer story on Gannon Audette who's not letting his one and done ride at Star Yamaha define him here.
JT takes a look at the 450 silly season for 2016 here.
JT and Chase Stallo join me to talk about Unadilla and Davi Millsaps signing among other things here.
The N-Fab Racer X Fantasy Moto Podcast Show is here.
RANDOM NOTES
Set up your spot in the infield with this 30x60 towel featuring HRC Honda's Trey Canard! Just stop by the Racer X booth on vendor row to subscribe or renew and get 13 issues of Racer X Illustrated plus a Trey Canard beach towel for just $25!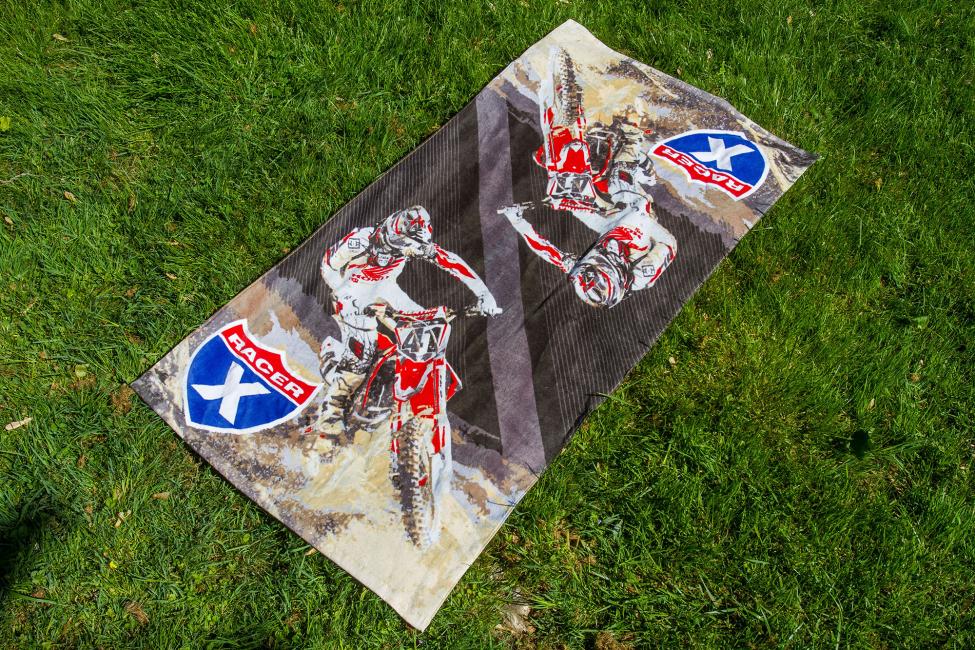 Don't forget stickers are always free at Racer X! Be sure to stop by and get your 2015 Unadilla event sticker.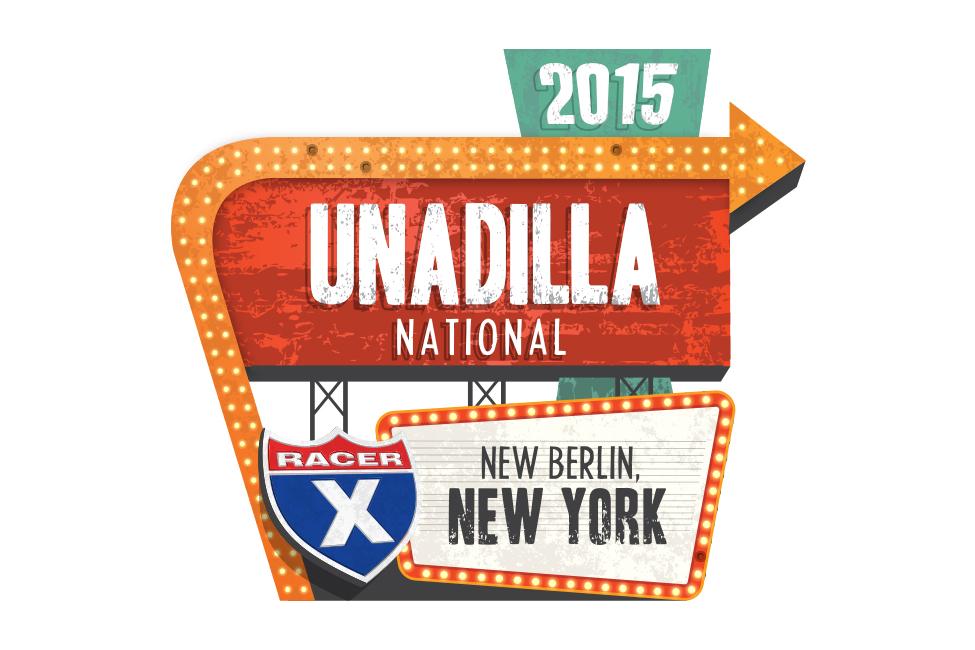 VonZipper is sponsoring the Unadilla round of Racer X MotoDynasty Fantasy Motocross and will be giving out prizes to the winners of each class. Click HERE for a chance to win.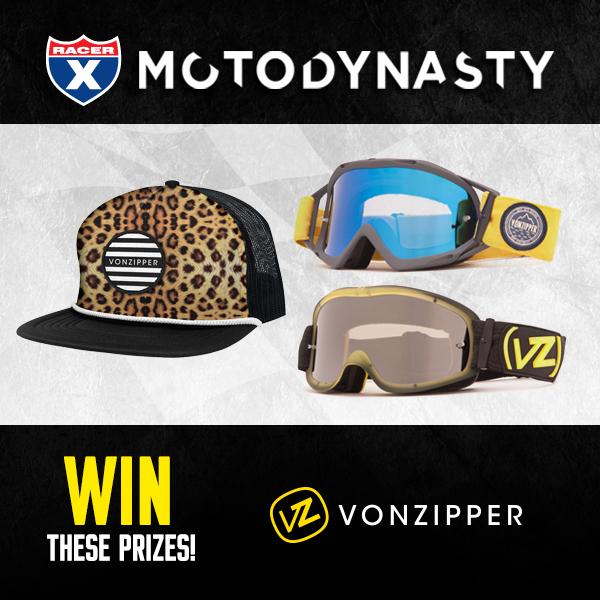 Soaring Eagle Resort & Casino will once again host the Edge of Summer MX event on August 28-30 for some of the nation's top professional dirt bike and ATV racers, who'll be battling it out for more than $62,000 in purse money right on the grounds of Michigan's Four-Diamond casino and resort, voted the No. 1 Favorite Casino by Midwest Gaming & Travel.
And back for 2015 will be none other than the most successful motocross racer of all time, Ricky Carmichael, his RCH Racing business partner and freestyle MX legend Carey Hart, and their RCH/Suzuki Factory Racing team.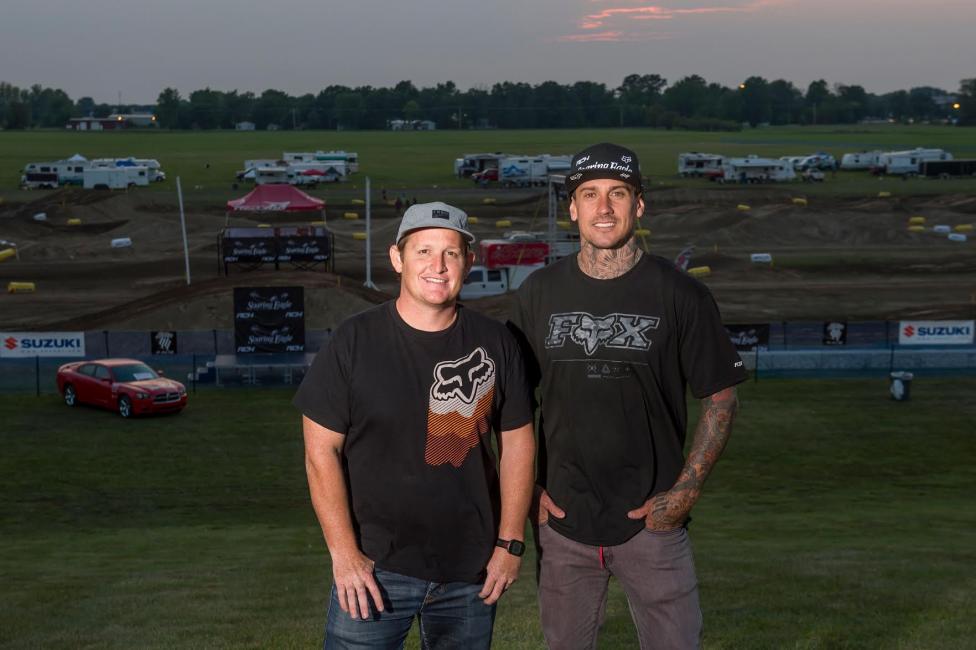 We were there last summer and we are going again this year—it's a blast! Here's all of the info you will need if you want to attend to either race or watch it all go down:
What: Soaring Eagle Casino & Resort's Edge of Summer MX event
When: Aug. 28-30
Time: Friday's Pro ATV final motos are at 3 p.m. and 5 p.m.; Saturday's Pro MX (dirt bikes) racing finals begin at 6:30 p.m. Gates open daily at 6 a.m. for amateur practice and racing, beginning at 9 a.m. Friday, 8 a.m. Saturday and Sunday.
Where: Soaring Eagle Casino & Resort, Mt. Pleasant, Mich.
Who: The Midwest's top amateur and nationally-ranked pro motocross and ATV racers battle for a $62,000-plus purse.
Tickets: Just $25 per day/$40 for the entire weekend and are available at the gate.
More information: www.redbudmx.com and www.soaringeaglecasino.com.
After two years of work, Malcolm Smith's long-awaited autobiography, Malcolm! The Autobiography, is finished, printed, and on its way to Malcolm's Southern California store via ocean container. Expected arrival of the bulk shipment is October or sooner, which means customers can expect their books to be shipped at that time. Of course, books are available for immediate order (and October delivery) from Malcolm Smith Motorsports at www.malcolmsmith.com or www.TheMalcolmBook.com. Retail price is $49.95. Copies will also be available at the Barber Vintage Festival at Barber Motorsports Park near Birmingham, AL, (Oct 8 – 11), where Malcolm will officially unveil the book to the public. In addition, Tucker Rocky will distribute the book to motorsports dealers across the country. For the 400-page, 11x11" hardbound book, Malcolm teamed up with longtime motojournalist Mitch Boehm, a thirty-year industry veteran who edited Motorcyclist for fifteen years and who also worked at Cycle World and American Honda. Make sure you grab a copy and add it to your bookshelf!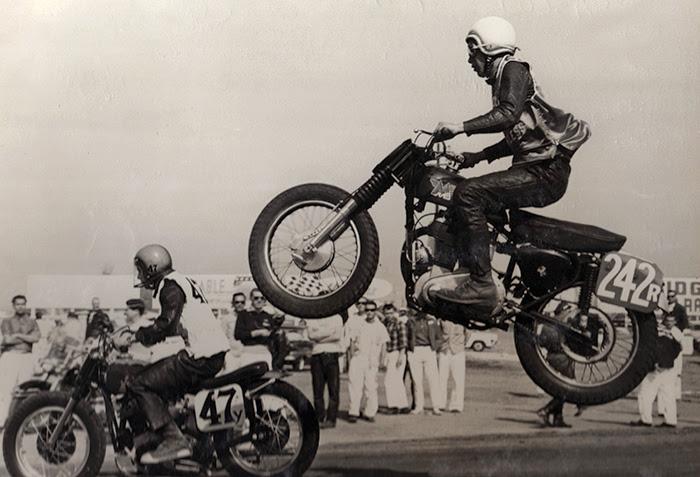 Subscribe or renew now and we will send you a FREE Ken Roczen cover T-shirt!
The cost for a one-year subscription is just $20, but you have to act now—this offer is available for a limited time only and good only while supplies last. Just click on the banner for more details, then subscribe and get yourself a free Ken Roczen Cover Tee!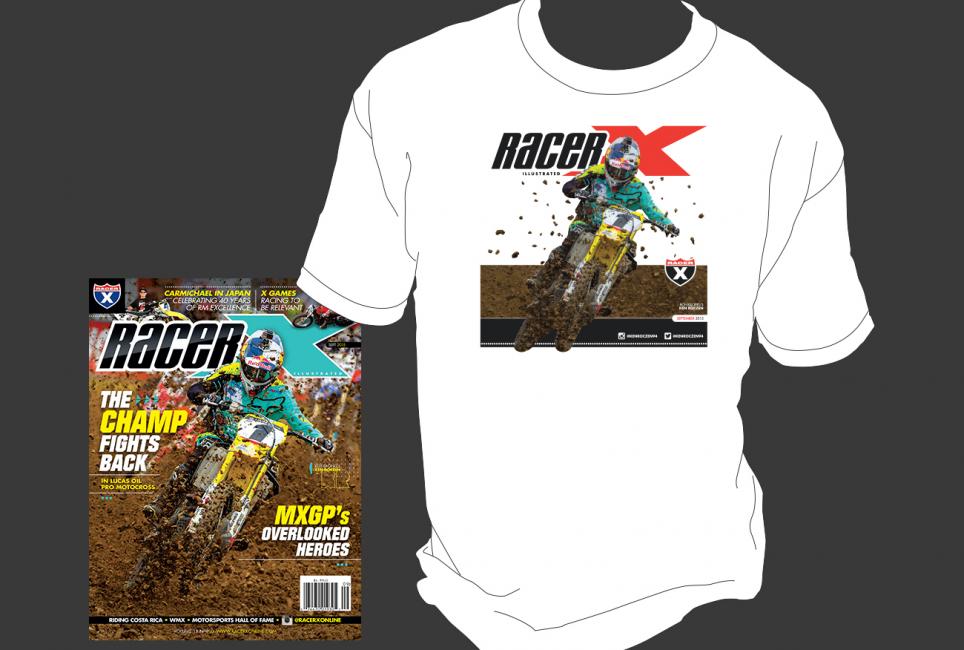 That's all for this week. Thanks for reading. See you at the races.