Welcome to Racerhead, this time coming to you from high above Spring Creek MX Park, which we just flew over on our way to tomorrow's big race. The Lucas Oil Pro Motocross Championship picks back up in Millville, literally home to two of the fastest young men in the 250 Class, series points leader Jeremy Martin and his rising brother Alex. (This is also the home state of 450 Class leader Ryan Dungey.) As one of the bench racers in my office pointed out, this may be the first time since the Sunshine State days of Ricky Carmichael leading the 450 Class and James Stewart leading the 250 Class in 2004 that the two championships were led by riders from one state (or country, for that matter).
You can watch all the races on MAVTV (first motos) and NBCSports (second motos) as well as the live and free stream here at Racer X Online and www.promotocross.com. Race time is 2 p.m. Eastern, with the 250s going off first, then the 450s. If the weather works out—and that's always a big IF these days—it should be an epic day. And it may be the first time since Tyson and Tallon Vohland finished a 125cc supercross together on the podium some twenty-five years ago that have two brothers stood on the podium in AMA competition.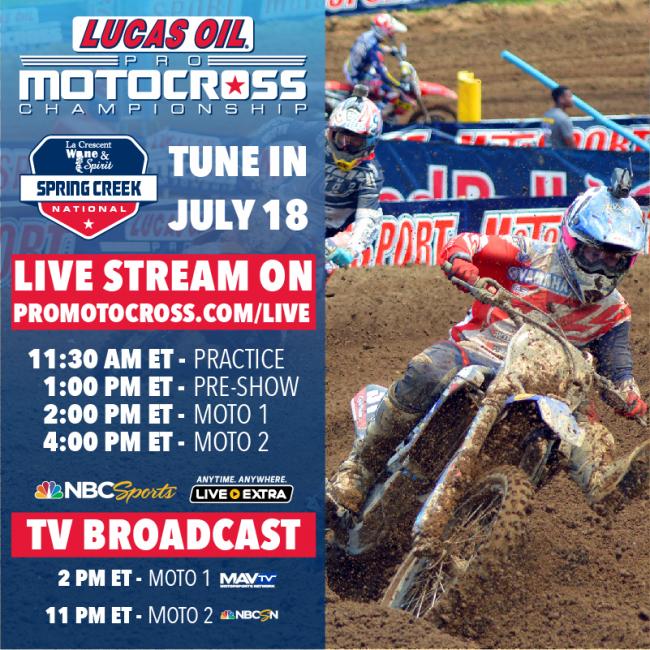 Of course last weekend was an off-weekend, and a lot of stuff has happened since then. As we discussed last time, Ryan Villopoto announced his retirement from racing when his lower-back injury from April was not healing the way he and everyone watching had hoped. Now we're left to bang elbows as we bench-race over his place in the motocross/supercross records books. (I personally have him third, behind RC and MC, with remarkable numbers, titles, and influence that we will see on young riders for years to come.) He truly was the fastest man of his time—no offense to other all-time greats still out there like Ryan Dungey and Tony Cairoli (or soon-to-be-back-out-there James Stewart and Chad Reed). RV's departure may sting for some, but I personally wish he had done it fourteen months ago when he was over supercross and ready to head to the woods for hunting, fishing, living, and just being normal. Some of the GP folks are giving him grief for pulling the ripcord, but he was in overtime anyway when he decided to go abroad. It doesn't change anything for me—he was one of the fastest men I have ever seen on a motorcycle, and I will always remember him for what he did, not what he didn't.
It's funny, but on the way to the airport I heard a guy on ESPN ripping people who still pulled for Tiger Woods in golf, even though he has struggled for years. He mentioned Michael Jordan "in a Wizards uniform" as a similarity, implying that #23 somehow lessened his legacy by playing past his prime and with a team that wasn't the Chicago Bulls. To me, RV's misadventure in Europe was just that: a misadventure where he went into overtime (with some obvious influence of others) that didn't work out. It doesn't change who he was—maybe the most badass and complete racer since a certain #4 called it a day. His "bonus" season should not be a blemish on his career, and fans should be happy he gave it a go. But this life—twenty-nine races between SX and MX, after years of racing minicycle and amateur events—is not easy. I respect Ryan for trying Europe, but I am absolutely okay with him saying "That's all, folks."
As for Spring Creek, there are lots of things happening that should make this an exceptional race. Besides the "home race" situation for the Martins and Dungey and several other very talented young men, it's almost time to choose Team USA for the Motocross of Nations. It's a weird year, in that the race falls just six days after the last GP, at Glen Helen, which is five weeks after the last national. Next year will be different, as I understand that Glen Helen will be earlier in September, and the last national will be on Labor Day Weekend in Tennessee. Our workhorse and team captain has long been Ryan Dungey—he shares the record for consecutive Team USA starts with AMA Motorcycle Hall of Famer Jeff Emig—and he may or may not go to France this year. I hope he does and takes the red-hot JGRMX Yamaha rider Justin Barcia with him, as well as Yamalube/Star Racing's Jeremy Martin. Ironically, the other Martin, older brother Alex, may end up racing for Puerto Rico again, which could lead to the most amazing battle the MXoN has ever seen: two Martins, both Minnesotans, racing together for the win, but one with the Stars and Stripes and the other with the star of Puerto Rico. But all three Team USA guys would be veterans of the event, and experience there can be priceless.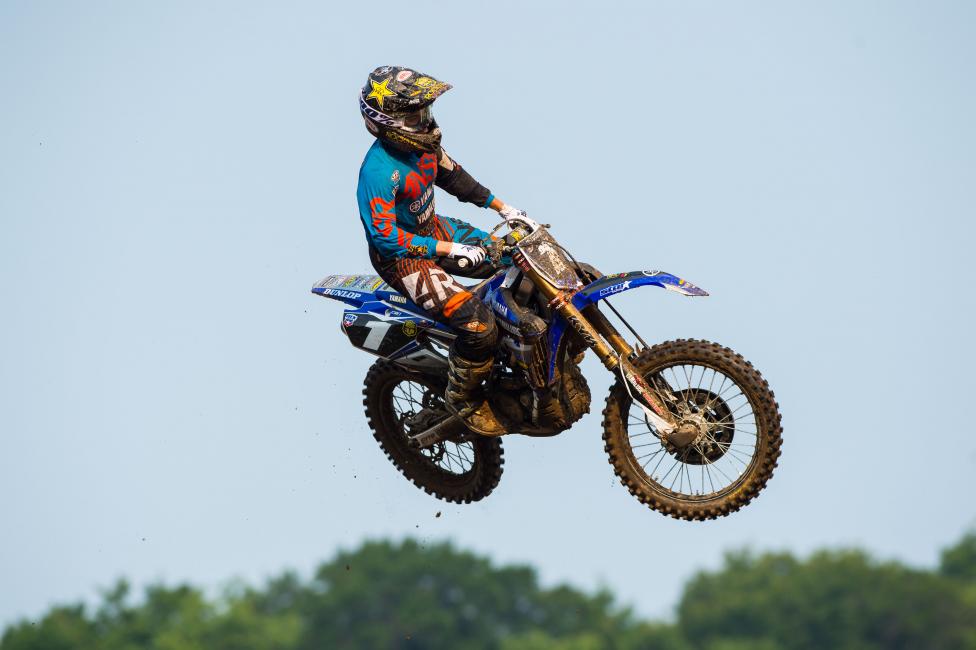 Some of you might be wondering where James Stewart could fit in, since his FIM suspension is up on August 11. If I were James, I would stick with my plan: supercross, supercross, supercross. He's healthy, rested, and soon to be off the bench. Don't come back for the last two nationals, let alone the FIM's MXoN. I have this really strong feeling that when #7 comes back (as of now, it will be the Red Bull Straight Rhythm race), he might possibly be better than ever. He has things to prove (again), and the year he took off must have done wonders for his motivation and his maturity. His time to heal whatever injuries he may have had, and also—strangely—the prescribed medication he was using is now legal, as he has been granted the TUE (therapeutic-use exemption) he lacked that caused all the trouble. While it would be great if Bubba lined up for Team USA, I think he should focus on next year and a renewed run at the #1 plate in Monster Energy Supercross and Lucas Oil Pro Motocross.
Okay, flight coming in to Minneapolis, so I should wrap this intro up. I can't wait to see Josh Grant back out there, as well as Andrew Short and Cole Seely. Arnaud Tonus' unlucky season continues—he hurt his shoulder just as he was ready to race—and so does the raging battle between Jeremy Martin and Marvin Musquin. Make sure you watch tomorrow. Spring Creek should be epic!
SUNDAY RUNDAY! (DC)
If you live in Minnesota or are staying after the race, please consider attending Ryan Dungey's Minnesota Major ride/walk to benefit St. Jude's Children's Hospital. Dungey has been hosting this event for several years, and he mentioned it on the NBC network coverage of RedBud two weeks ago. It takes place Sunday morning in St. Paul, and folks get to cycle or run along the scenic St. Croix and then the Mississippi, all to benefit the hospital's children's unit on Sunday. Ryan himself will get it all started at 9 a.m. Sunday, and I have personally committed to the 5K run that morning. I plan on beating Steve Cox, Mitch Payton, and Bevo—those are my podium challengers. Please attend if you're in the area, or help a good cause with a donation. Check it out here.
THE NEWS (Jason Weigandt)
I've followed this sport so closely, I still think of calendar years in terms of how the races went. The first thing that comes to mind when I hear 1993 is "Jeremy McGrath wins as a rookie." Or 1996 "Jeremy's near-perfect season." Or 2002 "Carmichael to Honda." I got married in 2008, but the first thing that comes to mind is the controversial Chad Reed-Kevin Windham battle in supercross [Ed Note: We hope Weege's wife isn't reading. - Chase], and 2010 is defined by Ryan Dungey rolling the field as a rookie, not the birth of my daughter [Ed note: See above. - Chase]. I'm serious. Her birth means more to me than Dungey's win—it's a more memorable moment—but when I hear "2010" I immediately think "That's the year of Dunge on a Suzuki." Don't tell anyone in my family about this, please.
This year might go into the memory banks as another Dungey year, as he looks to lop off the 450 titles both indoors and out. However, you could define 2015 more by huge news that goes beyond the results. Dungey and KTM's rise has been a nice story, and one we've talked about plenty, but the bigger headlines this year spilled off of the track: RV moves to Europe, RV retires, Millsaps gets terminated, Chad Reed closes TwoTwo Motorsports, James Stewart's winding road with WADA and the FIM. Even Chad Reed's black flag and Fly360 camera stories were huge.
As a racing year, it hasn't been the most exciting. But those other headlines are huge, massive plays, with big impacts on big stars and big teams. Our web numbers here prove it, because the controversial stuff usually outstrips the racing stuff for hits. The Chad Reed/Trey Canard black-flag dustup at Anaheim was the ultimate story, because it involved both racing and controversy and is still this site's most popular story—not just this year, but ever.
Strange to have so much happen in one year, so now I'm left wondering if it's a coincidence or a sign of what's to come. The world, in general, keeps gravitating toward the gossipy news, stuff that brings out our opinion online, since we have so many ways to share it now. Small, quick, dirty stuff compared to straight boring facts. Yes, the defending SX champ could have moved to the GPs at any time, but pre-internet, would it have sparked such a heated debate? Would the Millsaps rumors have been quite as crazy? Would the world have fallen as hard for TwoTwo if Reedy himself weren't exposing his thoughts and feelings on social media so effectively? Maybe these things would have been just as big, but I have a feeling our new media are changing the conversation.
The conversations are also being changed. This sport isn't as simple as it used to be. Outside sponsors, social media, online videos, and the alphabet soup of FIM/AMA/WADA/USADA didn't used to exist, and those things have had an impact. There wouldn't have been a James Stewart controversy this season before drug testing. Ryan Villopoto wouldn't have a ton of outside sponsors like Monster Energy involved in his Grand Prix foray.
These days we're moving from big news story to big news story the way we used to only move from race to race. We'll see if this is just a strange year or a sign of the times.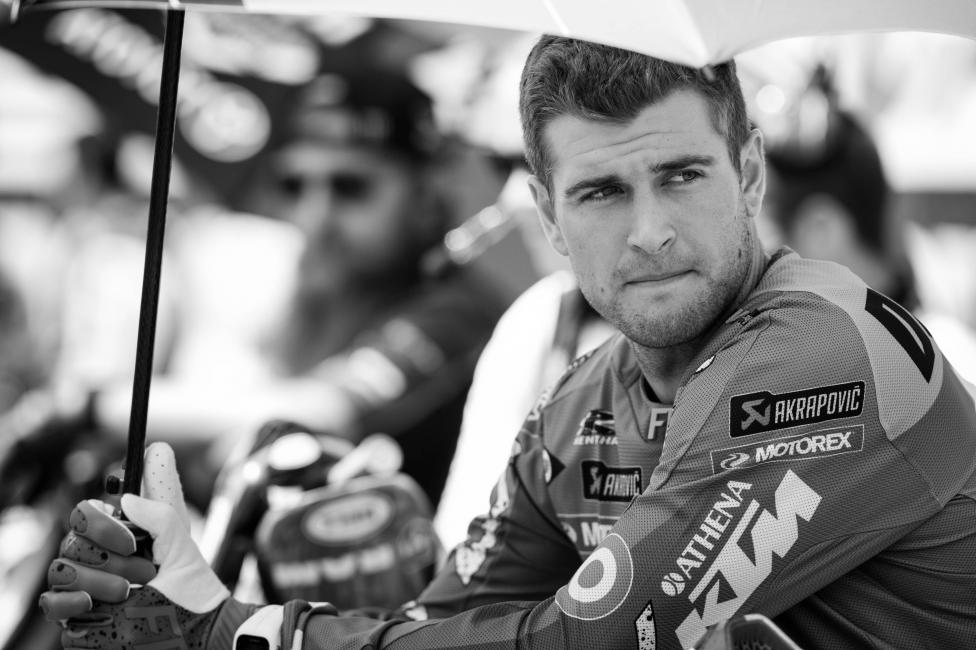 WHAT TO DO BETWEEN WINNING NATIONALS (Weigandt)
Justin Barcia and Autotrader.com/Toyota/JGR Yamaha welcomed a special guest to their MX test track this week. Austin Coleman, a 5-year-old with cystic fibrosis, has always dreamed of riding his dirt bike alongside a pro rider, so the Make-A-Wish Foundation reached out to Feld Motor Sports and JGR to make it happen. The team built a pee wee track for Austin to ride on, hooked him up with fresh graphics and gear, and let him rip alongside Barcia, who was happy to take an afternoon to help Austin live his dream. Pretty cool story, and we'll have more on it next week. Just know that Austin was one happy dude!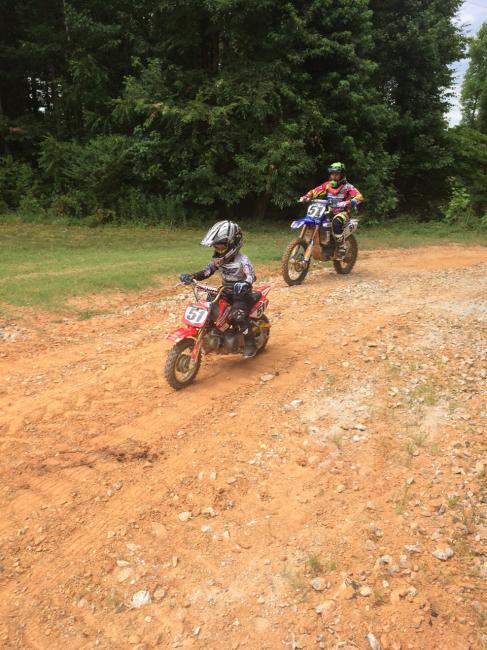 GRANT'S PASS (Steve Matthes)
It's interesting to me that when Wil Hahn went down with an injury at Anaheim 1, the Monster Energy Kawasaki guys never replaced him with anyone else. When you asked the guys there about it, they gave you the question, "Who's free and can be any good?" I didn't really have an answer. When the team fired Davi Millsaps at the end of Monster Energy Supercross and wasn't showing up to the last few rounds, there was still no intention to hire a fill-in rider. When asked why, I got the same response.
This is a team, though, that at one time hired Nick Wey, Fabien Izoird, Travis Preston, Billy Laninovich, Ricky Dietrich, and Branden Jesseman as fill-in riders when riders like Ryan Villopoto, Jake Weimer, and Tim Ferry were hurt, so I don't know what's changed from the massive roll-over to fill-in riders to now, but something definitely has. (But I do know I got a Tim Ferry reference in Racerhead, which is always awesome.)
Anyway, Wil Hahn's hurt and will be out at least a couple of races, so the green team picked up Josh Grant for the rest of the Lucas Oil Pro Motocross. The #33 has been homeless since TwoTwo Motorsports folded up, and rather than just fill Hahn's spot, they've already committed to him for the rest of the season, which means either Hahn's injury could be serious or, since Bruce Stjernstrom came in, Kawasaki's been more open to putting someone else on the bike.
As far as Grant, well, this is a big chance to secure a ride for next year. From putting out a cryptic Instagram post where he hinted about retirement to landing on a factory green bike, Grant's got to decide what he wants to do here. If he puts in some good rides and jells with the team (that's a big thing with these guys), then he has a shot at the second slot there in 2016. I know the team's talked to Justin Bogle, and I'm sure Hahn has a chance at staying, so add in JG's name to the mix.
Also, Kyle Chisholm's been there the whole time. He's been the top Kawasaki rider at some races, yet the team has effectively passed him over three times now for a fill-in ride. It would be really easy for Chiz to move over there, since he's his own team. Someone send a fruit basket and flowers to Chiz, because I'm sure he's bummed right now.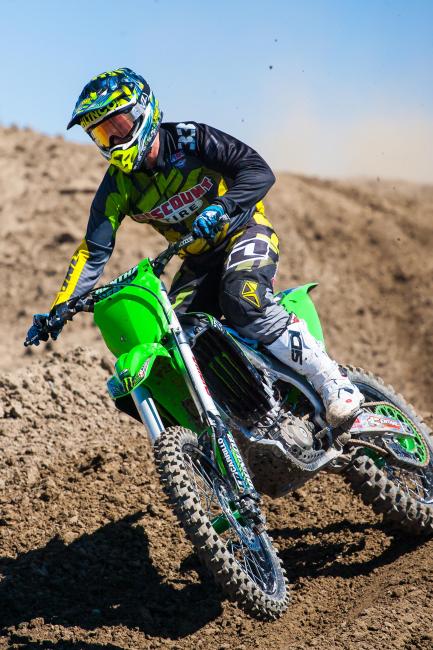 PRO PERSPECTIVE (David Pingree and Jason Thomas)
PING: Step one to becoming a fill-in rider: be unemployed. I found myself in this spot in 2002 after inking a deal with Red Bull KTM for supercross only. I was bored after a few weeks and got a call to fill in at the Shark Energy/Plano Honda team that summer. It's a marriage of convenience, really. The rider wants to go racing and the team needs somebody to ride its bike. Expectations vary, but in this day and age you have to have a rider on the track representing your key sponsors.
This weekend should be easy for Josh Grant. He is riding, essentially, the same bike he's been riding all year, and he has the backing of factory Kawasaki. What could go wrong? The hard part when you get an opportunity like that is not riding beyond your ability. You get a shot at a factory ride that late in the game and you feel like you have to be the guy who steps up and hits three-pointer after three-pointer when you are really only capable of putting in a couple layups. What I'm saying is that Josh should set some attainable goals and build on them from week to week and not try to be too amazing in the first moto this Saturday.
JT: Becoming a fill-in rider is really the ultimate intersection of necessity and opportunity. By definition, the fill-in rider doesn't have a full-time gig; otherwise he wouldn't be available. This scenario isn't all that uncommon, as the elite rides are tough to attain, and teams pop up and disappear seemingly all the time. Some riders over the past few years have turned this fill-in role into a much more appealing concept, though.
Tommy Hahn, Ivan Tedesco, Michael Byrne, and Phil Nicoletti all come to mind as riders who entered a season with the fill-in role as their designated position on a team. That's a newly created job on the motocross scene, and most teams can't afford to carry another rider with the costs associated. For the teams that can, though, it's a great insurance policy against injury and all the potholes riders face throughout a twenty-nine-race season.
As for how to become a fill-in rider, the biggest attribute the rider can offer is the potential for a solid result. A rider's ceiling is more valuable on the open market than any other factor. When a team is in need, the proposition of picking up a rider who is capable of putting their machine inside the top ten is a godsend. There aren't many of those floating around out there, but in Josh Grant's case, this was the perfect fit. Josh was left without a team to finish out this summer, and Monster Energy Kawasaki is left without a rider because of Wil Hahn's absence and Davi Millsaps' dismissal. Josh is ready to roll, and with just a few setting changes, he should have a very small transition period. I expect to see him do well right away based on how easy this adjustment should be.
This may be the best fill-in fit I can remember in recent memory. Now it's up to Josh to go sell his services for 2016. Can he go out and impress just as we have seen so many times from the SoCal speedster? I'm betting he can. As someone much smarter than me once said, sometimes when the door closes, a window pops open. Josh's window is wide open and waiting under the Monster Energy Kawasaki awning.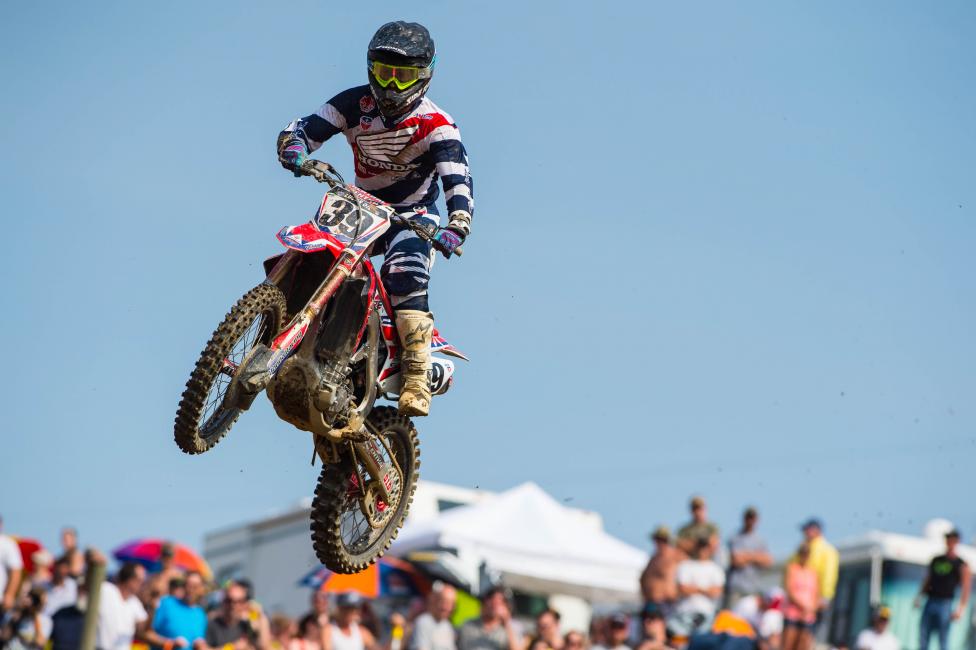 MAY 29, 1983 (DC)
In each issue of the magazine, we pick one unique or dramatic race from yesteryear and do a one-page story on it. The featured races have ranged from the "Night the Lights Went Out in Las Vegas" (1995) to the super-muddy High Point National of 2001.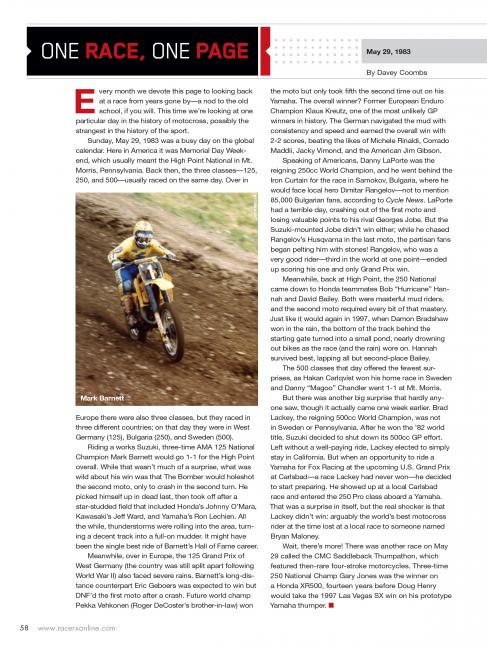 However, in the August 2015 issue we wrote about one day with a bunch of interesting things that happened all over the world. On May 29, 1983, there was the triple-header at High Point that saw Mark "Bomber" Barnett go from dead last to first in a 125 moto that included Jeff Ward, Johnny O'Mara, and Ronnie Lechien; Bob Hannah beat David Bailey in a thunderstorm in the second 250 moto; and the late Danny "Magoo" Chandler won the Open Class.
But the really interesting moment of that day for me took place in West Germany in a 125cc Grand Prix. That race was also blasted by rain, and the winner was a real shocker: Klaus-Bernd Kruetz, a Honda rider who was actually a former enduro champion, beat everyone in the mud to become one of the most unlikely Grand Prix winners ever. I say that because I had never heard of the man, and I consider myself a pretty serious student of the sport.
Well, this being the communication age, I found Kreutz on Facebook and sent him a message out of the blue, asking if he happened to have any photos from that day more than thirty years ago, because Cycle News didn't have any in their coverage of the race, nor did any U.S. magazines of the time. Well, it took a while, as Klaus had to find some, but we finally got three photos of Klaus-Bernd Kreutz: two of him from that muddy win in West Germany and the other from a dry race. Here's the feature and the photos.
THE NUMBER: 3 (Andras Hegyi)
Zach Osborne keeps rewriting the statistics in the saddle of Husqvarna. The Virginia-born motocrosser became the first Husqvarna rider in the AMA's small-bore category to get three podiums in a season. And with this result he became also the most successful Husky rider of all time in 125/250 National history. Osborne overtook the Swedish import Nils-Arne Nilsson. Nilsson got two podiums with Husqvarna in 1975 and until this year he was the Husqvarna record holder in this class. In fact, before Osborne's performance Nilsson was the only Husky rider with two podiums in 125/250. And thanks to Osborne it's the first time since 1975 that Husky got three podiums in a 125/250 season. Forty years ago, when Nilsson got his two, New Jersey legend Mickey Kessler also got a podium with a Husqvarna 125. Now the question is simple: Can Zach-O get the Husqvarna their first win in 125/250 history this season?
RYAN DUNGEY WINS AN ESPY (Chase Stallo)
Earlier this week, Red Bull KTM's Ryan Dungey became the first motocross/supercross racer to win an ESPY for Best Action Sports Male Athlete. Dungey won the award over X Games SnoCross gold medalist Tucker Hibbert, skateboarder Nyjah Huston, snowboarder Mark McMorris, and freestyle motocross rider Josh Sheehan.
Wrote Dungey on Instagram: "Wow! Just found out we won the ESPY for 'Best Male Action Sports Athlete'! It's a very exciting day for the Sport of Motocross/Supercross and how far we have come to achieve this award! Without a doubt wouldn't have been possible with out my wife and family, friends, sponsors and most importantly you fans. Thank you all for you support, love, and votes, and everyone who had a part in making this dream come true, So very Thankful and Blessed."
Dungey is the first athlete not named Nyjah Huston or Shaun White to win the award since 2007. The win for Dungey was something of an upset, as Huston had won in consecutive years and was considered a favorite again after winning X Games gold in June and the 2014 Street League Championship. The award is based on fan voting, and Huston's social-media presence—3 million followers between Facebook and Instagram—was expected to carry him to a third consecutive award.
Travis Pastrana is the only other motorcyclist to win the award. Back in 2007, he was recognized for his double backflip in 2006 and winning three gold medals at X Games in Moto X Best Trick, Moto X Freestyle, and Rally Car Racing.
TEAM USA JR. (DC)
To Americans, Verdun, France, is just another place in the beautiful French countryside, the site of a single battle in World War I that cost them more men than all of America's war combat deaths combined. That was one hundred years ago. Now it's the site of many, many memorials, as well as a motocross track. And for the annual Masterkids International MX event, Team USA brought a baker's dozen thirteen riders to compete. Their top scores were four wins, a runner-up, and a third-place finish, and that was enough for the Team USA kids to top the rest of the world. The Americans were led by Casey Cochran (51cc), 85cc riders Jesse Flock and Ethan Mann, and big-bike rider Andy Kost in the 21-and-Under Open class. Hopefully our real Team USA can match the kids and get back on top at the Motocross of Nations in September, also in France.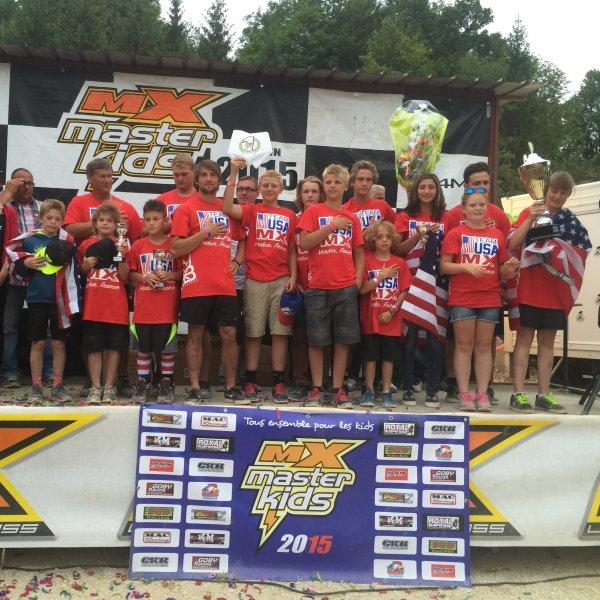 THE NUMBER: 6 (Andras Hegyi)
Thanks to Suzuki's victory in Latvia last weekend via Glenn Coldenhoff, six different brands have been able to get a Grand Prix win in the newly rechristened MXGP class. Since 1957, there have been 152 different series in nine different categories: the former 500, 250, 125, 650, MotocrossGP, MX3, MX1, and the current MX2 and MXGP. But there have been only six seasons in which six different brands were all able to win rounds of a particular championship series.
1957: In the first season of the FIM Motocross World Championship, when there was only the 500cc category, the field was consistent and balanced. During nine Grand Prix races, six different brands were able to win. The English-built Matchless, Norton, AJS, and BSA brands all won races, as did the Swedish-made Monark and the Belgium's FN. But 1957 was the only time in the history of the former premier class that there was six different winning brands. The 500cc class existed until 2002.
1975: The former 250cc class had the most seasons with six different winning brands—it happened four times. Forty years ago the Austrian brands Puch and KTM won races, the Czechoslovakian CZ, the Spanish-made Bultaco, and Japanese brands Suzuki and Yamaha were all able to win a GP.
1978: Bultaco, KTM, CZ, the German-made Maico, and Japanese brands Honda and Kawasaki in the 250 Class.
1980: Honda, Suzuki, Yamaha, CZ, KTM and Husqvarna, which were still being built in Sweden at the time all won 250 Class GPs.
1984: Husqvarna, KTM, Honda, Suzuki, Yamaha, and the Italian-made Gilera were all able to win.
2015: Husqvarna (Max Nagl), Kawasaki (Ryan Villopoto), Honda (Gautier Paulin), KTM (Tony Cairoli), Yamaha (Romain Febvre), and now Suzuki (Coldenhoff).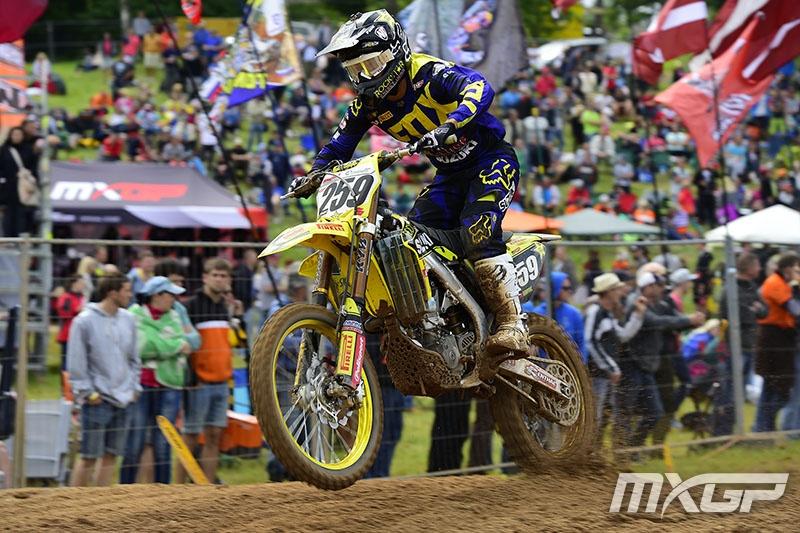 NINE LIVES (Steve Matthes)
One of the rumors I'm hearing out there has to do with former 250SX and MX champion Ivan Tedesco. The now-retired Tedesco has been helping out RCH Suzuki with some testing as well as being the now-injured Adam Cianciarulo's coach on the weekends. It seems that he's more in demand now, as whispers have him looking at taking his testing skills to Kawasaki or maybe a team manager role with Rockstar Husqvarna. Stay tuned to see where Ivan ends up. Sounds like he's got some options.
FANTASY COMING TO LORETTA'S (Chase Stallo)
With the 34th Annual Rocky Mountain ATV/MC AMA Amateur National Motocross Championship presented by Amsoil approaching—just nine days away as of this writing—Racer X and MotoDynasty are happy to announce that fantasy motocross is coming to Loretta's.
Gameplay will feature three classes—250 A, 250 B, and Supermini—with players picking the top twenty in each class per moto. Holeshot and moto winner bonuses will also be in play. Prizes will be announced shortly. Sign up to play today.
MAD MAX (Andras Hegyi)
American fans probably remember Max Anstie from the seasons he spent here trying to make a dent in the Lites/250 Class. Max was young and fast, but he could never quite pull it all together to get himself a win. Since returning to Europe he has definitely gotten faster, and last weekend he went 1-1 in Latvia in the MX2 Class. In doing so he has has broken an almost two-year stranglehold by Jeffrey Herlings as the only rider able to win both motos at one races since the last GP of 2013 to 2015 GP of Sweden.
Also, Anstie is the fifth rider to win GPs in MX2 with two different brands, as he also got a win last year while riding a Yamaha. Before Anstie, fellow Englishman Tommy Searle won on both KTM and Kawasaki, the French rider Gautier Paulin won on Yamaha and Kawasaki, current Red Bull KTM rider Marvin Musquin won on first Honda and then KTM (and he did it in the same season!), and Germany's Ken Roczen won with Suzuki and then KTM.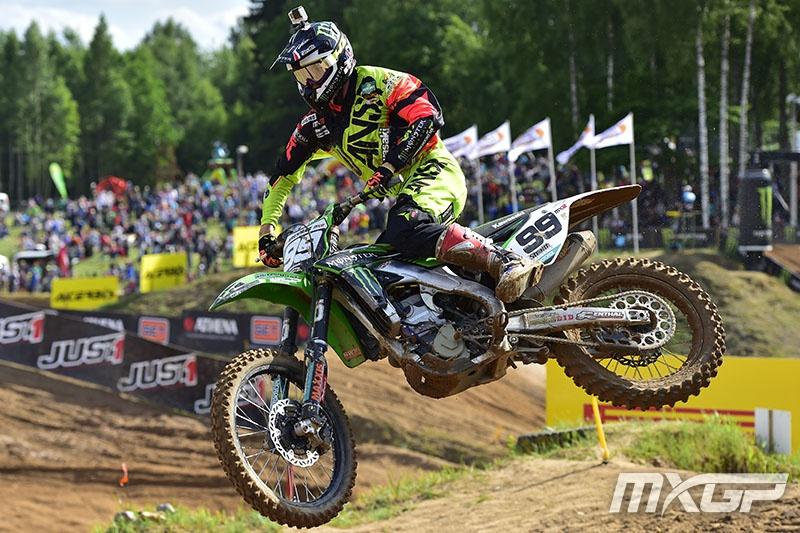 2016 AMSOIL ARENACROSS SCHEDULE (DC)
The folks at Feld Entertainment Motor Sports just posted their schedule for the 2016 Amsoil Arenacross Championship and it looks like they have broadened the schedule and given riders out west an easier both on Ricky Carmichael's Road 2 Supercross. Here's the schedule:
| | | |
| --- | --- | --- |
| Date(s) | Venue | City |
| January 9-10 | US Bank | Cincinnati |
| January 15-17 | Royal Farms Arena | Baltimore |
| January 22-24 | PPL Center | Allentown, Pa. |
| January 30-31 | Greensboro Coliseum | Greensboro, N.C. |
| February 4-7 | Broadmoor World Arena | Colorado Springs, Colo. |
| February 13-14 | CenturyLink Center | Omaha, Neb. |
| February 20-21 | Amalie Arena | Tampa, Fla. |
| February 27-28 | BJCC Complex | Birmingham, Ala. |
| March 12-13 | Cajun Dome | Lafayette, La. |
| April 2-3 | Citizens Business Bank Arena | Ontario, Calif. |
| April 9-10 | Salinas Sports Complex | Salinas, Calif. |
| April 16-17 | Tacoma Dome | Tacoma, Wash. |
| April 22-24 | Ford Idaho Center | Nampa, Idaho |
| May 6-8 | Orleans Arena | Las Vegas |
WHAT THE HELL MOMENT OF THE WEEK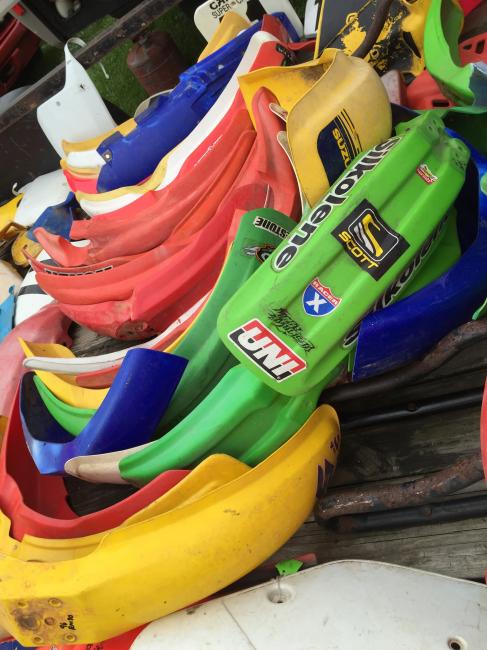 HEAD-SCRATCHING HEADLINES OF THE WEEK
50 Cent Has Filed For Bankruptcy
Time for him to get rich again or die trying... –Vice.com
Questions About Performance-Enhancing Drugs in eSports Raised Again
Online feature about professional electronic gamers using Adderall and other drugs to help their focus. –Breitbart.com
NEVER FORGET
Back in 1972, the first standalone AMA Motocross National took off at Road Atlanta's old MX track. The winners were longtime KTM man Barry Higgins (500) and his fellow native New Yorker Sonny "Sal" DeFeo. I have been searching for years for photos of this race, with little luck. But at the amazing AMA Vintage Days at Mid-Ohio (a must-attend for anyone who loves the old school, vintage bikes, bench-racing, and Schlitz Beer (helloooo, Ohio!)), the AMA's Vintage Motorcycle Days is an amazing weekend.
Anyway, I bought a program from the 1972 Inter-Am at the old Mid-Ohio MX Park and one of the pages was this Goodyear ad featuring DeFeo winning that first AMA Motocross National wearing a new Goodyear tire (in two of three motos). That's just badass, period, because so little exists from that first race—yet here we are with live TV, comprehensive industry and factory support, and the whole social media guerilla network that doesn't miss anything.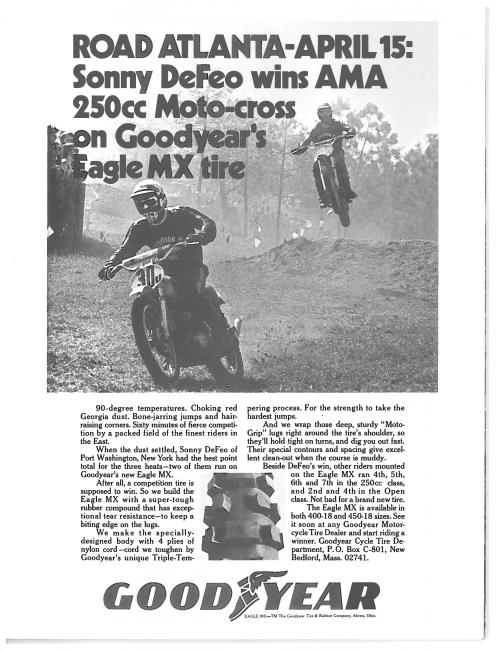 HEY, WATCH IT!
Check out this fantastic tour of Guy Cooper's personal museum in Oklahoma.
And here's a cool video of Ricky Carmichael's recent trip to Japan with Suzuki, as well as an RCU session with some very fast young Japanese riders, produced by Sony with @ActionCam and/or #ActionCam.
The Baja Brawl is coming up Labor Day Weekend, and Matt Wozney posted this preview video.
Here's the Direct Motocross recap of the Gopher Dunes National in Canada.
RANDOM NOTES
If you're going to Loretta Lynn's to camp next week for the biggest race of all, the Rocky Mountain ATV/MC AMA Amateur National Motocross Championships, look for me or Mike Eby or Chase Stallo or Nicole Cesa (the 30-second girl) on a riding lawnmower, ready to cut the grass at your campsite, free of charge, as a welcome-to-Loretta's gesture. Beverage tips are always appreciated—it gets hot down there and a cold drink is always a good idea—but the service is free. Look for the guy/gal in the Evel Knievel costume on a mower. When we mow, that's how we roll.
Rochester, Minnesota's local newspaper, the Post Bulletin, featured articles on Ryan Dungey and the Martin brothers prior to this weekend's La Crescent Wine and Spirit Spring Creek National.
Subscribe or renew now and we will send you a FREE Ken Roczen cover T-shirt!
The cost for a one-year subscription is just $20, but you have to act now—this offer is available for a limited time only and good only while supplies last. Just click on the banner for more details, then subscribe and get yourself a free Ken Roczen Cover Tee!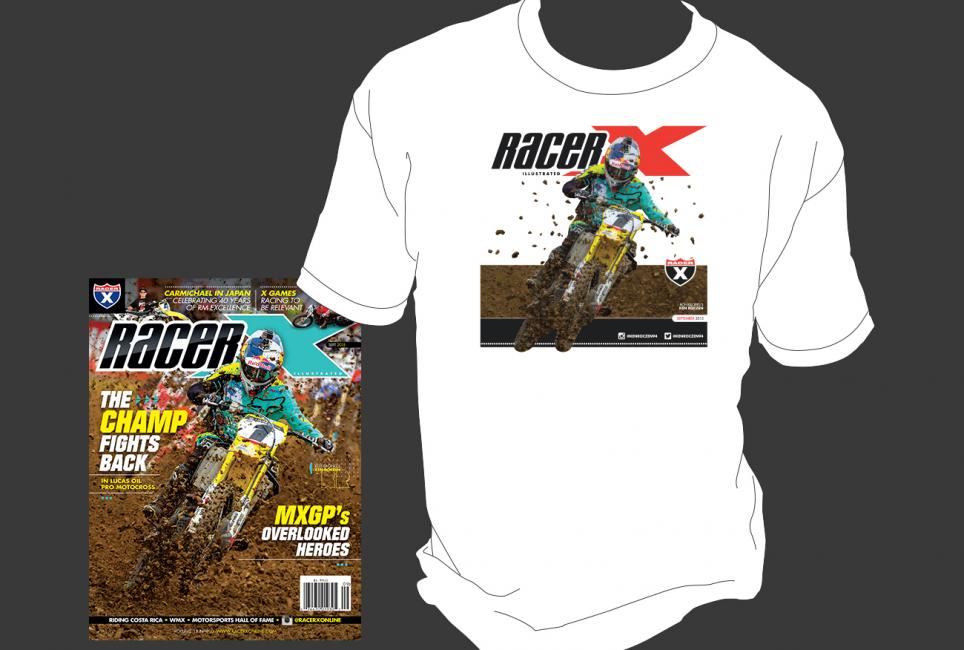 Dragon Alliance is sponsoring the Spring Creek round of Racer X MotoDynasty Fantasy Motocross and will be giving out prizes to the winners of the (250, 450) class. Click HERE for a chance to win.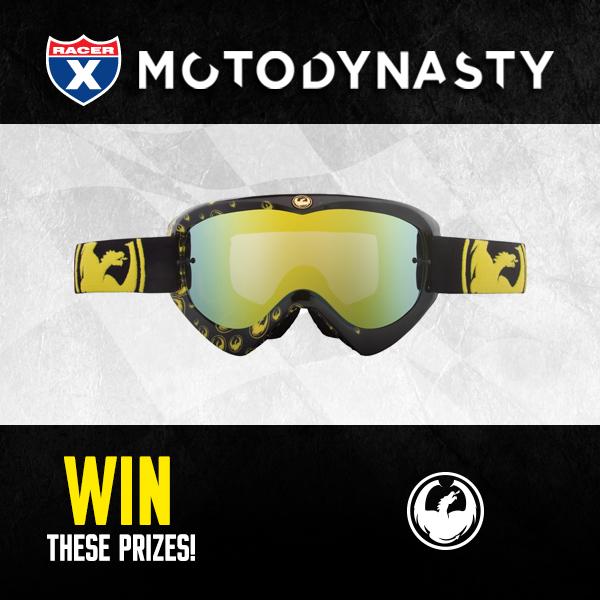 Set up your spot in the infield with this 30x60 towel featuring HRC Honda's Trey Canard.
Just stop by the Racer X booth on vendor row to subscribe or renew and get 13 issues of Racer X Illustrated plus a Trey Canard beach towel for just $25!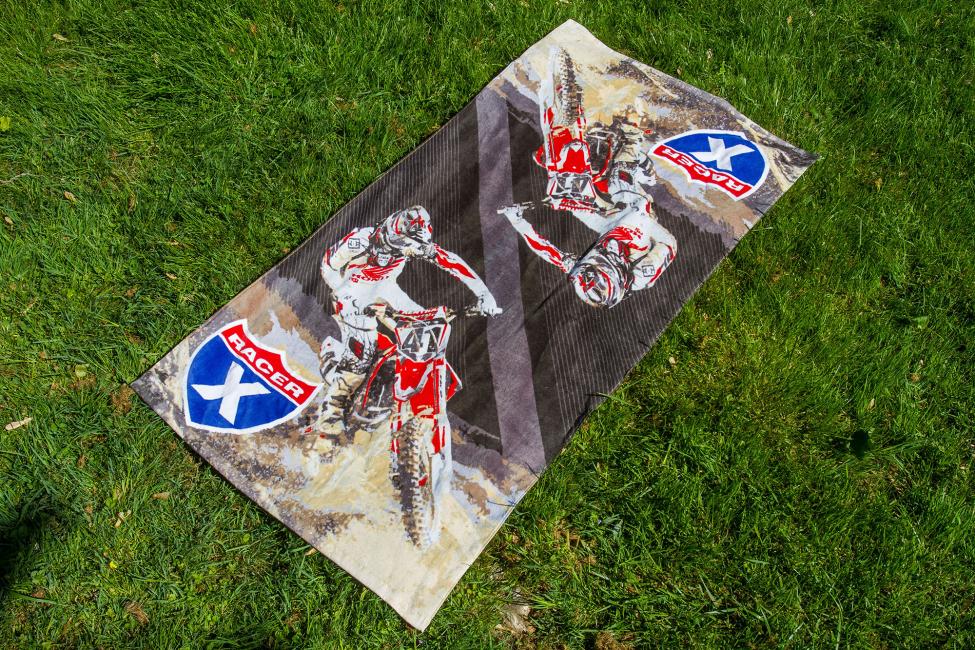 Don't forget, stickers are always free at Racer X! Be sure to stop by and get your 2015 Spring Creek event sticker.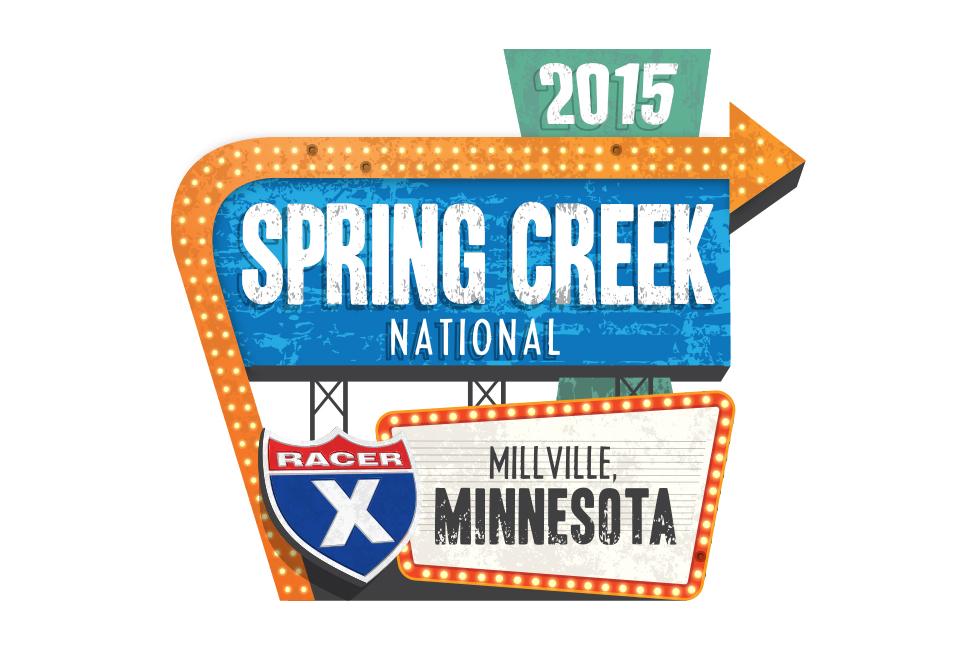 That's it for Racerhead. Thanks for stopping by, and thanks for reading. See you at the races.