Budds Creek Motocross
Mechanicsville

,

MD
Race Center: Budds Creek
Lucas Oil AMA Pro Motocross Championship
Welcome to Racerhead, coming to you from not-so-sunny Budds Creek in Maryland. After a weekend off we're almost to the halfway mark of the 2015 Lucas Oil Pro Motocross Championship, with the GEICO Motorcycle Budds Creek National as the sixth of twelve rounds. In case you forgot, Red Bull KTM's Ryan Dungey is well out in front in the 450 Class, though RCH Racing/Soaring Eagle/Jimmy John's Suzuki's Ken Roczen beat him at the last round at High Point—his first win of the summer and the team's first win ever. In the 250 Class, it's Dungey's teammate Marvin Musquin out front now with the red plate, not his close rival and defending champion Jeremy Martin of the Yamalube/Star Racing Yamaha team, after Musquin swept High Point.
You can watch all of the action tomorrow beginning at 1 p.m. (ET) on MAV-TV and Racer X Online, as well as www.promotocross.com. The second motos air live at 3 p.m. (ET) online as well as NBC Sports at 9 p.m. (ET).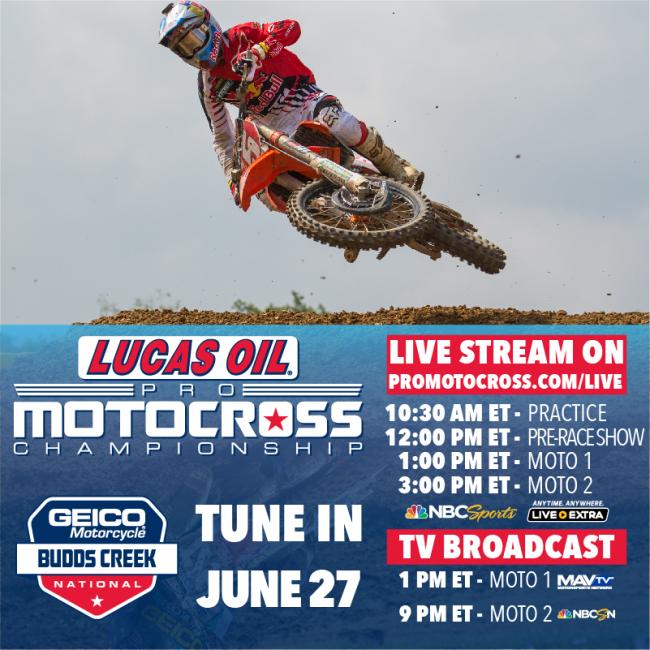 I'm not sure whether it's a coincidence or something else, but this was a really bad week for Kawasaki riders. Like "Black Tuesday," only Green. First came the news we all worried was coming: Chad Reed had decided to close the doors of his Discount Tires/TwoTwo Motosports team. Reed underwent shoulder surgery for a problem that's hindered him since a crash at the Santa Clara Supercross back in April. Reed struggled in the first four rounds, and after High Point he decided that not only was it time to get the shoulder worked on, but to cease the operations of his own race team. I applaud Chad for doing his own thing for so long, and doing it pretty damn well. He's already started the process of looking around for what would likely be a supercross-only deal for the next season or two. If he's healed and more focused on racing, rather than running an entire racing program, he's still a contender—never count Chad Reed out.
Of course Reed stopping meant that not only were all of his team staff let go, but his teammate Josh Grant as well. Grant posted on his social media that he is considering retirement, though he didn't make it official.
That very same day, former world champion and all-around great guy Tyla Rattray announced through an interview with Adam Wheeler's OTOR online magazine that he was going to retire at the end of the 2015 FIM Motocross World Championship. Rattray, who hails from South Africa, is teammate to Ryan Villopoto on Monster Energy Kawasaki in Europe. The veteran is not having the season he hoped for, and sounds like he's ready to get on with the next chapter of his life.
As for Villopoto, he hasn't been heard from much lately, following his brutal crash at the Grand Prix of Italy back in April. MXGP fans have been waiting for him to return, but there are signs starting to pop up that he may not be coming back any time soon—actually, he may never come back. Stay tuned on that one.
And finally, yet another Kawasaki rider, Matt Lemoine, posted that he too is leaving the circuit, as his Jab Motorsports team is not racing the remaining rounds due to financial concerns.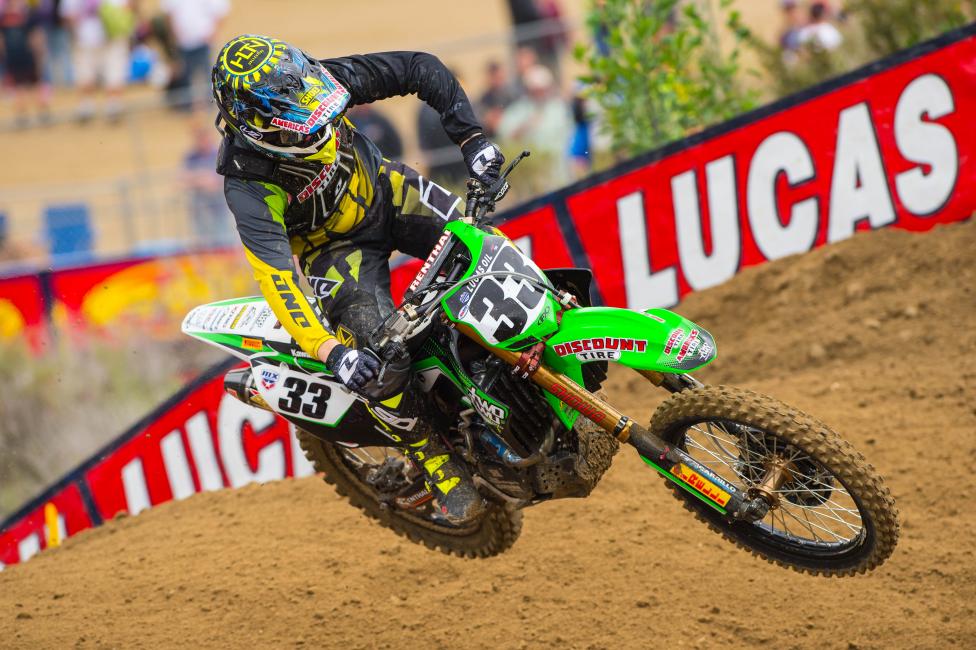 READY, SET, BREAK! (Jason Weigandt)
After a crazy round one at Hangtown, Ken Roczen talked to us at Glen Helen's media day to explain his back problem. At that time, he told me he didn't expect to get his full fitness back until the first break in the championship. That time is now, and you can already see Kenny's rise: a first with a moto win in Tennessee, and then the overall at High Point (and he would have won the Thunder Valley overall if not for a flat tire with a lap to go). Kenny's on the rise.
This will be an interesting trend to watch, because in past years here in the U.S., Kenny has started the season strong only to fade a bit down the stretch. Last year, Budds Creek was a turning point. Kenny had the 450 pack covered until this race, when Ryan Dungey outdueled him and started a surge, just as Kenny started to fall off a tad. They ended up nearly equal in points as the season finale loomed, but Kenny's mud prowess at the Indiana round gave him an edge. In 2013, Kenny owned the first part of the 250 season, but he dropped off a bit in the second half just as Eli Tomac caught fire.
Now the scenario is reversed. If anything Kenny has had plenty of downtime due to the ankle and back injuries earlier this year. He should be fresh. He's also given a lot of credit to his new trainer, Clint Friesen, and he seems to be getting stronger. We shall see if this year Kenny comes on strong in the second half in the same way Ryan Dungey did it last year.
One more note on these two: Dungey has quietly become dominant in the 450s at this track, winning the last three 450 Class overalls here, and four in the five years he's raced here.
By the way, if you take Roczen and Dungey out of this picture (kind of the same way Tomac was forcibly removed a few weeks ago), you'd have an amazing duel for the top spot. Just a few points separate Jason Anderson, Justin Barcia, and Blake Baggett. That's three teams, three brands, and three riders that would love to beat each other (Anderson has birthed a rivalry with Baggett, and Barcia notoriously doesn't really like any of his competitors). So, while it's merely third, these guys want it. This one could be as fun to watch as the battle up front.
Finally, a shout-out to my buddies in the Amsoil Grand National Cross Country Series, which is now on summer break after last week's gnarly Snowshoe GNCC. Kailub Russell won again, giving him wins in all but one race this year, but he had a challenge most of the day from Thad DuVall. I wanted to interview these guys after the race, but they stuck around Snowshoe for a few extra days for an ISDE training session/fund raiser/riding school. The ISDE program keeps getting more serious for the American riders, with the goal of someday (soon?) taking the World Trophy Team title for the first time ever. We shall see in Slovakia this September.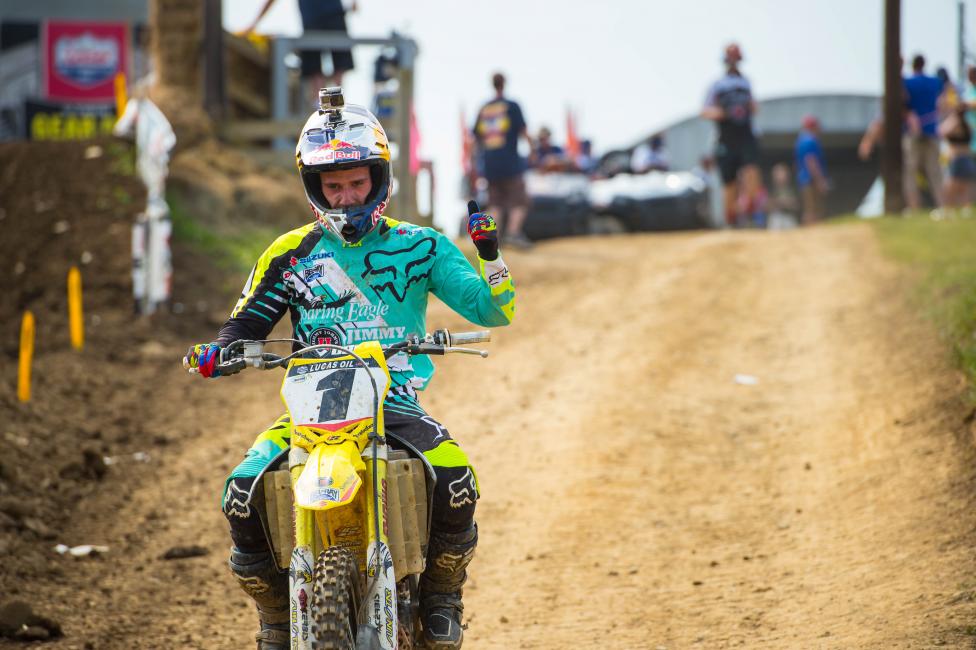 THE EVOLUTION OF STAR (Chase Stallo)
The silly season has gotten off to a early polarizing start with Yamalube/Star Racing Yamaha locking Alex Martin in for the 2016 season. Martin, of course, will join his younger brother Jeremy as well as 2015 SX West Region Champion Cooper Webb and 2015 SX Rookie of the Year Aaron Plessinger. In the last few years, Star Racing has gone from an afterthought to one of the most powerful teams in the industry.
Last year, Jeremy Martin became the first Yamaha rider since Jeff Emig in 1992 to win a 250/125 MX AMA Pro Motocross title. The title was the first for Jeremy and the team. A year later, Webb dominated the Monster Energy Supercross 250SX West Region to the tune of six wins in eight rounds. His bid to become the first Yamaha rider in history to win a 250/125 SX regional title and the proceeding 250/125 MX title was cut short due to an ankle injury first sustained in Vegas. Now, the team has added another formidable punch in Alex Martin.
"He will be a great addition to the team, and the dynamic created by having brothers on the same team will definitely bring a new level of camaraderie and competition to the team," said Star Racing owner Bobby Regan.
Jeremy Martin is trying to repeat as 250MX champion in 2015 and trails Marvin Musquin by just eight points heading into Budds Creek. Emig wasn't able to repeat in 1993, losing out to Doug Henry by nine points.
| | | |
| --- | --- | --- |
| Round | Jeff Emig - 1992 | Jeremy Martin - 2014 |
| 1 | 6th | 1st |
| 2 | 7th | 1st |
| 3 | 11th | 3rd |
| 4 | 2nd | 2nd |
| 5 | 1st | 7th |
| 6 | 1st | 1st |
| 7 | 1st | 2nd |
| 8 | 5th | 1st |
| 9 | 1st | 3rd |
| 10 | 1st | 2nd |
| 11 | | 8th |
| 12 | | 1st |
*Note: Only ten rounds were run in the 1992 AMA Motocross Championship.
VITAL MESSAGE (DC)
No, not the Vital MX message board, but rather a ReduX column by Jason Weigandt called "The Influencers." In case you missed it, Weege did a piece on the economy of the last half-dozen or so years and the profound effect it's having on the local motocross scene. I've had a half-dozen people here at Budds Creek mention it to me the last couple of days, and all agree with what Jason wrote and are also trying to figure out how to get things turned around, back to where people raced more than just riding instead. Going to a local race is a time-consuming, all-day affair, and it pretty much always has been. So what is different now? Our attention spans, our life schedules, our children on electronics rather than minicycles, the price of motorcycles themselves... It's all conspired to really hurt racing at the local level. I'm not sure how to fix or change any of that, but like all of the folks who mentioned the column to me—from John Ayers to Eric Johnson to Jimmy Albertson—I have my thinking cap on, trying to process all that's changed in the last decade. Check out "The Influencers" right here and let me know if you have some solutions or ideas, I'd love to hear them.
Actually, there was something about Vital MX to add here. We got a note this week via the Pro Motocross Facebook page from a Slovakian motocross fan spending the summer working in Virginia, asking is any "good guys" could maybe give him a lift to Budds Creek because he doesn't have a car and there's no easy train or bus route here from where he's living. So I posted a message on the Vital MX board to see if anyone could help, and I was blown away by the response! Several folks volunteered, but MXerDW stepped up and is headed to Virginia to pick Marek Vano up right now. That's what motocross is still all about.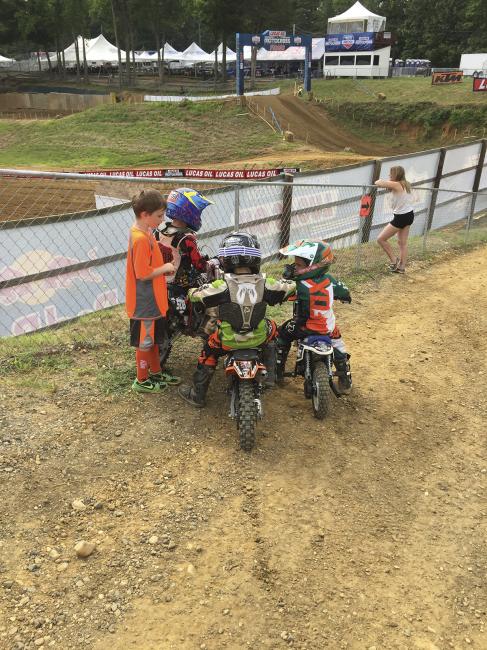 THE NUMBER: 10 (Andras Hegyi)
Chad Reed got ten wins in all with TwoTwo Motorsports. In 450SX, he took six main-event wins, as well as four 450 pro motocross wins. He got all four of those outdoor wins in 2011. With his own team, Reed was most successful in 2011. He was second in supercross, while in the 450 Nationals he finished third.
Reed got records in both SX and MX with his own team. In supercross, he became the only rider who could claim wins with four different brands: Yamaha, Suzuki, Honda and Kawasaki. Reed also became rider with most podiums in Monster Energy Supercross history, when he overtook Jeremy McGrath in 2011. (Jeremy has 111 podiums, while Reed now has 126 podiums.)
Reed also became the first rider in SX history who would win in eleven different seasons in the premier class: 2003-'09, '11, '12, '14, and '15.
And in 250/450 motocross Reed became the only non-American to win with three different brands. After having won with Suzuki and Kawasaki as a factory rider, he could also win in the saddle of Honda with his own team. (He also won a 125 national while riding for Yamaha of Troy). Among the American riders there are three who also were able to win with three different brands: Marty Tripes won with Yamaha, Honda, and Husqvarna. Mike LaRocco won with Suzuki, Honda, and Kawasaki, and Ricky Carmichael also won with Suzuki, Kawasaki, and Honda.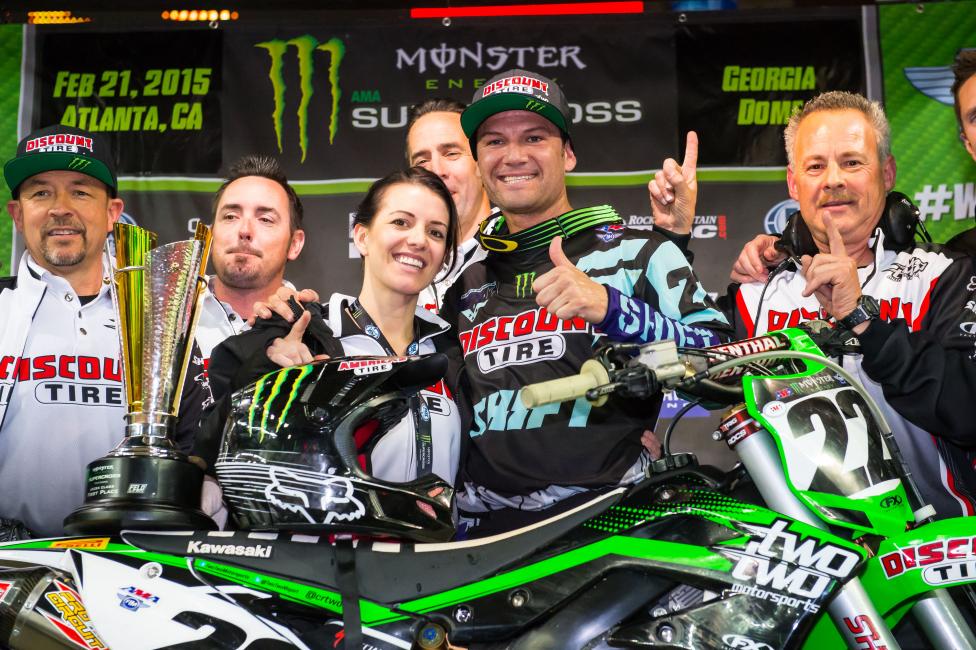 ROMAIN FEVER! (DC)
Okay, his name is actually Romain Febvre, and he is blowing minds in Europe right now. He's taken the red plate with three straight MXGP wins—the first three of his career—and he jumped from fifth to first in the point standings as Tony Cairoli struggles with a hand injury from a qualifying race at his home race in Italy and points leader Max Nagl had the misfortune of fracturing his ankle last Saturday in a qualifying race at his home GP at Teutschenthal, Germany. (And now that I think of it, Clement Desalle also got hurt in a qualifying race, but it wasn't in Belgium.) Through it all, Febvre has risen in his rookie year on the 450, and he's become the darling of many fans who tuned in to watch Ryan Villopoto take on Cairoli, only to have that not exactly pan out.
Recently, Eric Johnson was working on a history piece for the magazine and got into a bench-racing discussion with the legendary French journalist Xavier Auduoard of Moto Verte and MX Magazine. EJ asked about Romain's seemingly sudden rise and Xavier explained that Febvre is "pretty good at anything two-wheels, like BMX," and then attached this video of Romain from back in 2012, right after he became EMX2 European Champion.
"He never was a mini-bike hero, like [Jean-Michel] Bayle was, though he did start at a late age and took quite a long time to figure out what he could do," Xavier explained. "Febvre actually explains in that video that he was still racing district races in 2012 plus an occasional Supermoto and was just 'gonna give a try' to that EMX2 Championship, which he ended up winning ahead of Dylan Ferrandis."
He added that like a lot of top European stars he now lives in Belgium near Lommel and he is also the reigning Netherlands MX2 champ, "So yes, he is good in the sand as well!"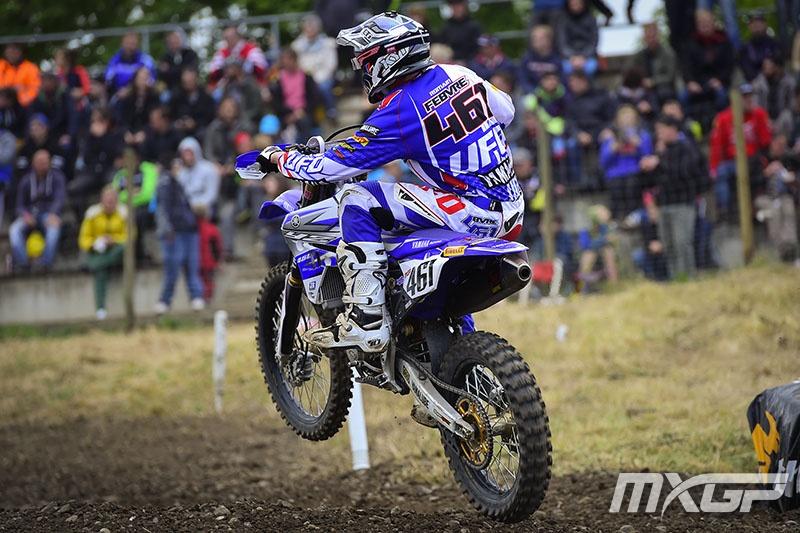 THE NUMBER: 3 (Andras Hegyi)
Speaking of Romain Febvre, he has made both Yamaha and French people very happy and hopeful. The rookie is the first Yamaha rider in four years to lead the premier class. In 2011, the other French Yamaha rider, Steven Frossard, led the former premier class, MX1. At the time Frossard was also a rookie in the saddle of Yamaha. He finished second in the points standing that year.
Also, Febvre's three straight wins mark the first time since 2006 that Yamaha was able to win three consecutive races. Nine years ago, it was Belgian legend Stefan Everts who did the hat trick.
Febvre also became the fifth Yamaha rider of any nationality who was able to win in three consecutive GPs in premier class. In 1973, Hakan Andresson of Sweden won three straight 250cc GP races on the original Yamaha Monoshocker, and then in 1982 the American Danny LaPorte made the hat trick, also in the 250 Class. In 1986 Jacky Vimond made a hat trick in former 250cc category, while Everts won nine consecutive GPs in former MotocrossGP in 2003, then he won 12 consecutive races in MX1 in 2006. They all have something else in common: Andersson, LaPorte, Vimond and Everts all became world champions in those years, which is a very encouraging and promising sign for Romain.
HEY, WATCH IT!
Troy Adamitis and his creative team have produced another moto masterpiece, this time with MX Nation, a web-based series starring Ken Roczen, Ryan Dungey, and Jason Anderson. The season premiere is called "New Beginnings" and you can watch it right here.
Check out JGRMX Yamaha rider Phil Nicoletti wearing the Vital MX helmet cam for the "One Lap Around" video Guy B. produces during each press day.
(Note: The downhill double that was there about which Phil expresses concern was gone before the sun went down yesterday.)
RANDOM NOTES
Headed to Budds Creek? Don't miss your chance to spend all day in the pro pits with the Racer X All-Day Pit Pass!
For $50, you get thirteen issues of Racer X Illustrated plus an all-day pit pass. If you're buying more than one pass you can get a multi-year subscription, or you can give the subscription as a gift. This offer is good for both new and renewing subscribers. (For your convenience, the full purchase price includes the Racer X All-Day Pit Pass and the required GA ticket.)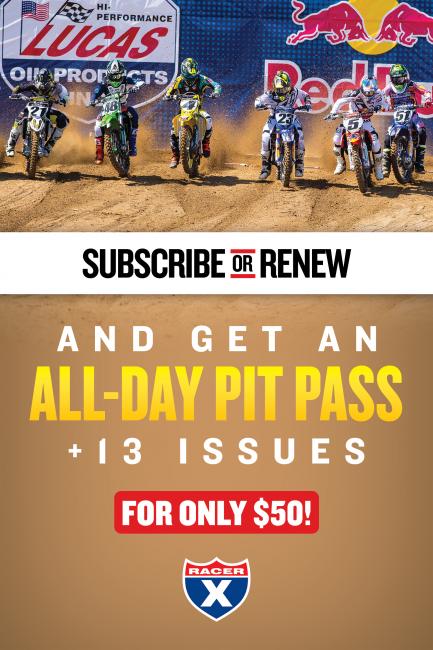 Set up your spot in the infield with this 30x60 towel featuring HRC Honda's Trey Canard.
Just stop by the Racer X booth on vendor row to subscribe or renew and get thirteen issues of Racer X Illustrated plus a Trey Canard beach towel for just $25!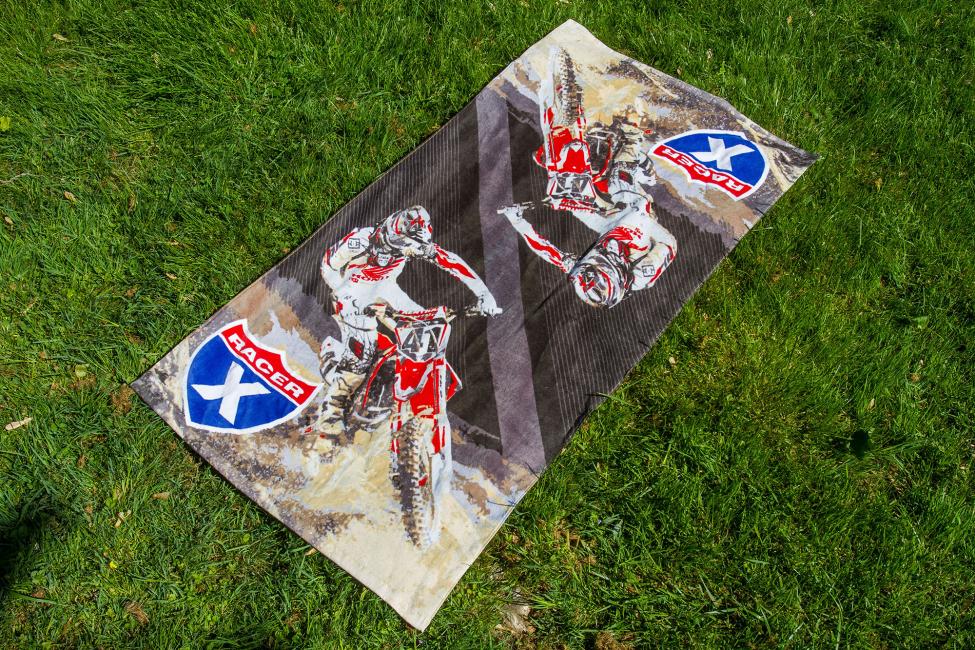 Don't forget stickers are always free at Racer X! Be sure to stop by and get your 2015 Budds Creek event sticker.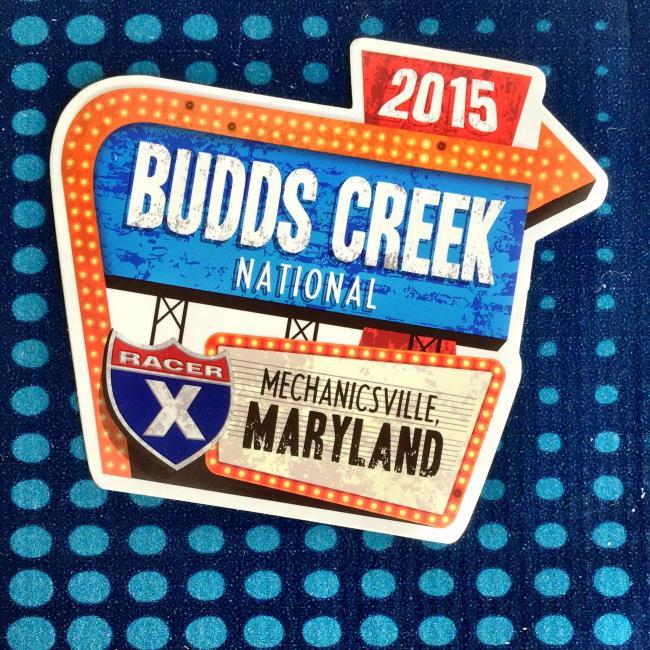 Subscribe now or renew and we will send you a FREE Eli Tomac cover T-shirt!
The cost for a one-year subscription is just $20, but you have to act now—this offer is available for a limited time only and good only while supplies last. Just click on the banner for more details, then subscribe and get yourself a free Eli Tomac Cover Tee!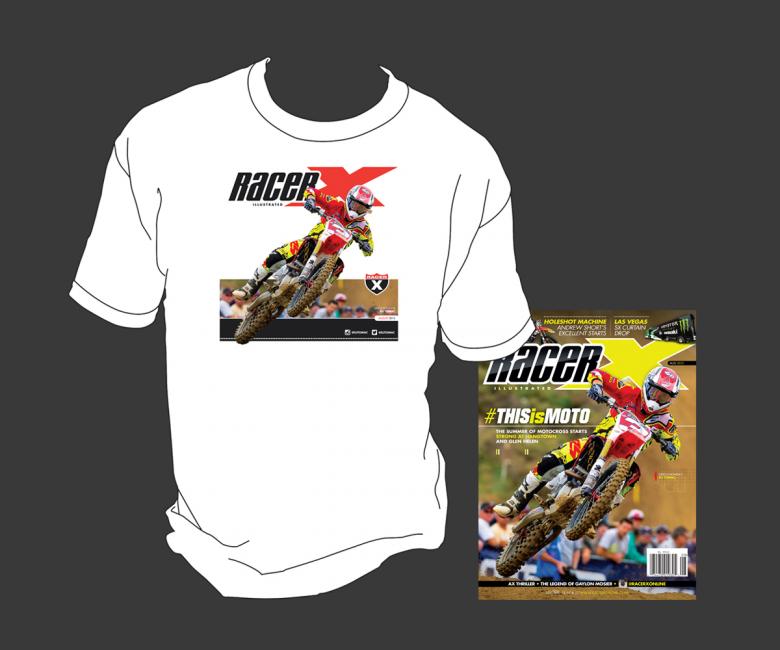 Stance is sponsoring the Budds Creek round of Racer X MotoDynasty Fantasy Motocross and will be giving out prizes to the winners of each class. Click HERE for a chance to win.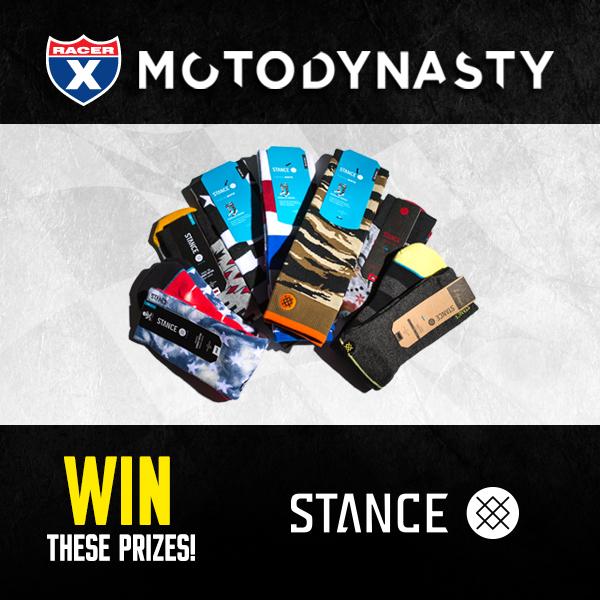 For more from Canada, check out DMX Frid'Eh Update #25.
That's it for Racerhead. Thanks for stopping by. See you at the races—even the wet ones!