Welcome to Racerhead as we near the end of a very long week, which ends with the running of the 39th Annual UPMC High Point National. It's the hometown race for Racer X Online and MX Sports, so everyone has been working overtime. The track has been revamped by the Racer Productions crew and Randy Poulter (who did an excellent job), and the place looks great—we just need the threatening thundershowers to hold off!
All four motos will air live on television tomorrow beginning at 1 p.m. (ET) on MAVTV and then at 3 p.m. (ET) on NBC Sports Network. You can watch the live stream right here on Racer X Online or tune in to www.promotocross.com. Hopefully you will enjoy the new track as much as Friday's amateurs and WMX riders did, and certainly as much as the guys who rode press day yesterday. The old "Hip" jump is gone, but there's a new Bud Light Launch that's big and safe and the guys were having a lot of fun on it. Check out this little Instagram clip I made of super-stylish privateer Daniel Herrlein on Thursday.
I've been here helping out since Tuesday afternoon, having returned from Muddy Creek by way of Indianapolis, where I was invited to co-host the KTM Business Meeting along with Jason Weigandt. This was the fourth time I have been to the KTM meeting, and it was far and away the biggest and best dealer meeting they've ever had. All their top U.S. athletes were there, from supercross #1s Ryan Dungey and Marvin Musquin to off-road stars like Kailub Russell, Cody Webb and Ivan Ramirez, to satellite teams like BTOSports.com KTM's Andrew Short and Justin Brayton, Fox Canada's Kaven Benoit and team manager Jean-Sebastien Roy, and the TLD KTM team of Jessy Nelson, Shane "1" McElrath, and Mitch Oldenburg. The team managers were all there, too, which meant we got to do some bench-racing with Roger DeCoster. The Man was rightly proud of all that KTM has done since he and his sidekick Ian Harrison joined up five years ago, and the whole meeting had a feeling of success given how well KTM's Ready to Race strategy has translated from race wins to bike sales.
Unfortunately, I missed the riding sessions on Tuesday over at Ironman MX (which also has had some changes), but I did hear one story that was really cool about the day before, when the Ironman track was practically flooded by a fierce thunderstorm. The Red Bull KTM team was there to do a little testing and prepping for the business meeting, but it was looking bleak due to all the rain. But then DeCoster suggested to Dungey that he ride anyway because they have yet to have a mudder with their new bike.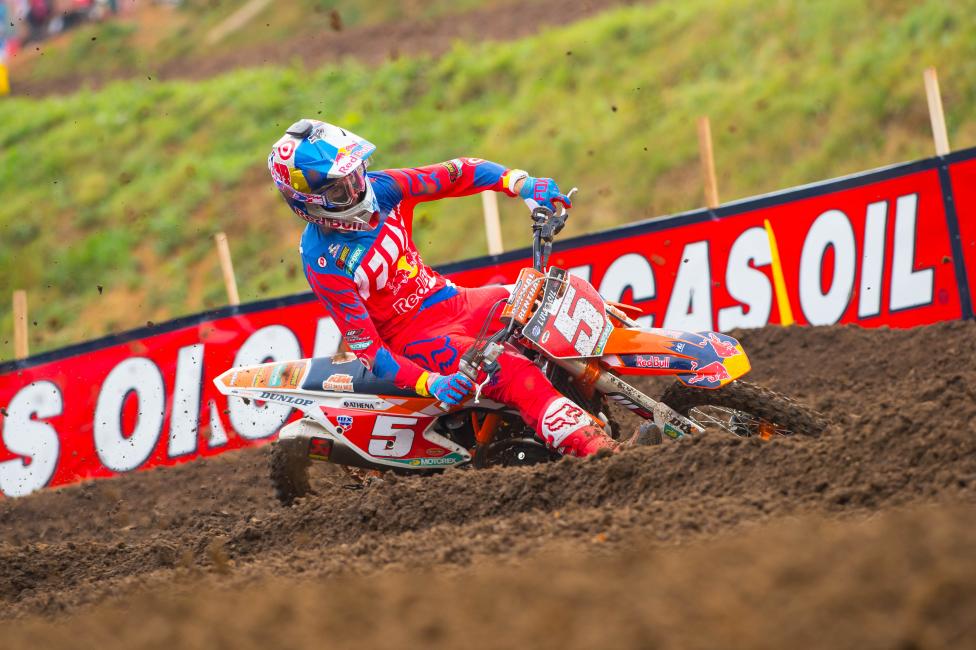 "Roger said we should probably ride because that way we will have some experience and know what it might be like if it ever does rain," Dungey told me. Then he went out and did an entire moto by himself, caked in mud. "By the time I was done, the bike had a hundred extra pounds on it because it was so sticky and heavy!" If it does rain tomorrow, Dungey and the other KTM riders who eventually joined him have some very recent mud-riding experience to rely on!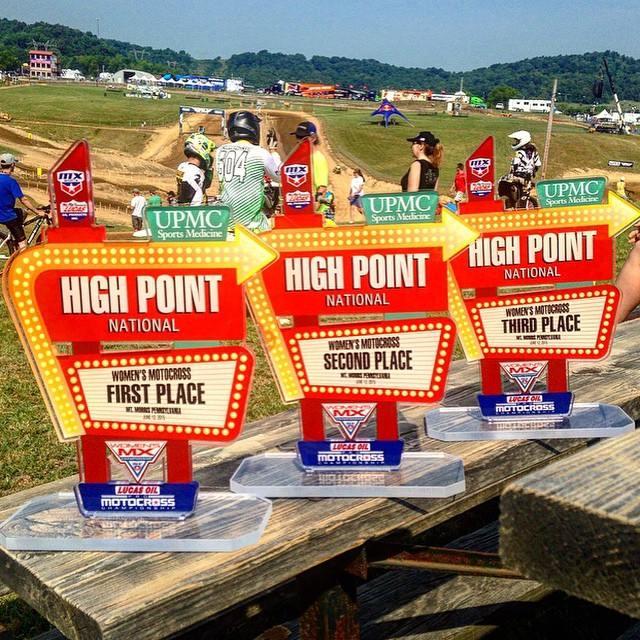 So now we're at High Point, the fifth round of a twelve-race series that is absolutely flying by. Yamalube/Star Racing Yamaha's Jeremy Martin earned another win last weekend to hold on to the red plate, though Marvin Musquin did some fantastic work recovering from a second-moto crash. When these two finally end up in a battle together, it's going to be epic.
And congratulations to Aaron Plessinger on leading for the first time in the second 250 moto—he had it until about the halfway mark, which he said "felt like an hour," before the veterans ran him down. But that time and experience out front is no doubt going to be put to good use next time he gets out front.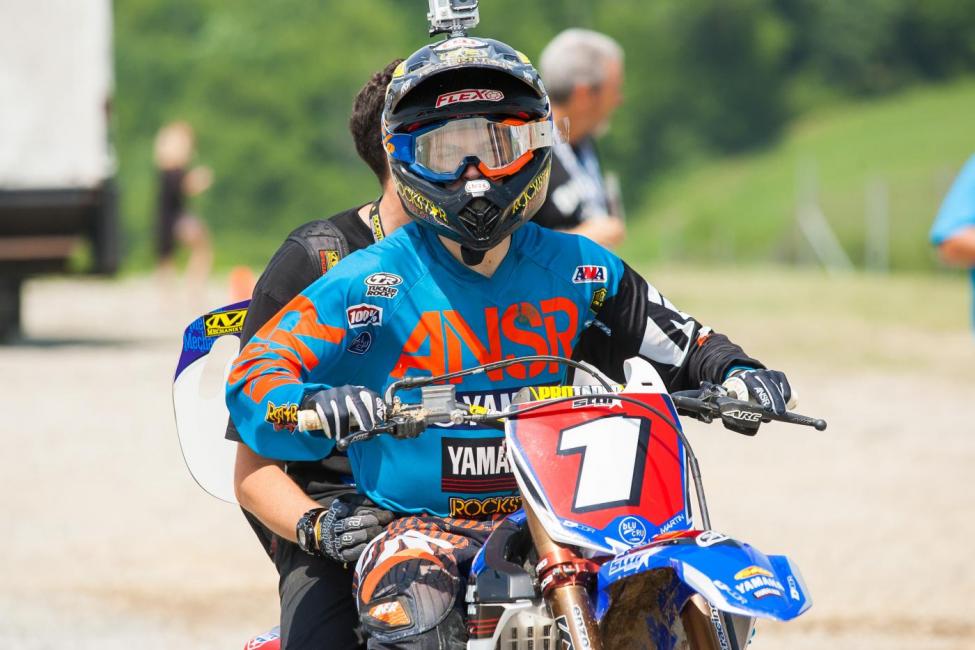 The 450 race was also interesting because we finally saw Ken Roczen at what looked like full speed in the second moto on his RCH Racing/Jimmy John's Suzuki. Like Martin and Musquin, Roczen and Dungey really haven't had much straight-up battling together either, but now that Ken is finally getting up to speed after his back injury, it could happen tomorrow (and we could see that breakout ride from Jason Anderson and a first national win for Husqvarna since who knows when). Watch it all live tomorrow and hopefully it will be a great show.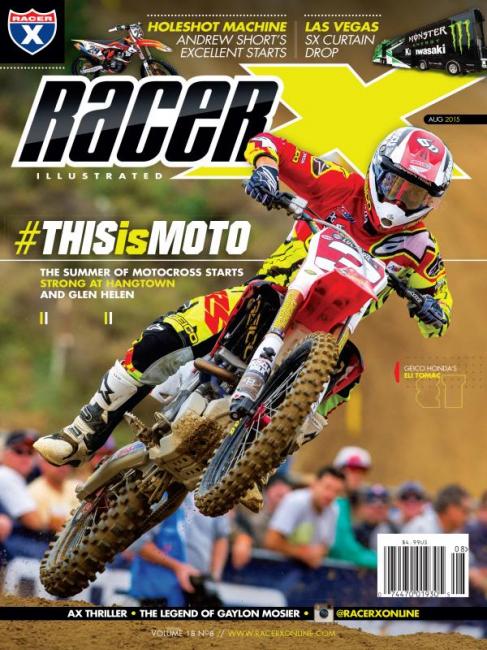 And we had another string of unfortunate timing on our covers with Eli Tomac landing on Page One of our brand new issue of Racer X Illustrated, which went to print two days before Eli's big crash at Thunder Valley. Look for it on newsstands soon, and get well soon to Tomac.
CAREER-HIGH POINTS (Jason Weigandt)
In 2005, Mike Alessi won his first AMA National, at High Point. In 2006, Ryan Villopoto did the same. In 2007, Josh Grant won his first AMA National, again at High Point. In 2010, Tyla Rattray took his first. That was a nice run of firsts, and it didn't seem like a coincidence either. Most trackside veterans say the first win takes a little bit of luck, where the rider is tricked into winning before he actually has the confidence to believe he's a winner. Each of those four first wins came through consistency, not outright domination. Alessi went 1-2, Villopoto 2-1, Grant 1-3, and Rattray 2-2. Someone else opened the door each time and let these guys break through. Could it happen again?
High Point seems to breed such shenanigans. The ruts and off-cambers make this track technical and tricky, and the weather can change throughout the day. That makes it harder for the favorites to nail each moto. 250 Class dominators Jeremy Martin and Marvin Musquin are not immune to weird luck, and if each flubs one moto, the door could be opened again. Who could walk through? In my mind, Lucas Oil/Troy Lee Designs KTM rider Jessy Nelson and Monster Energy/Pro Circuit Kawasaki's Adam Cianciarulo are breaking away from the rest of the 250 pack in a battle for "next-best" to Martin and Musquin. So they'd be the favorites to do it.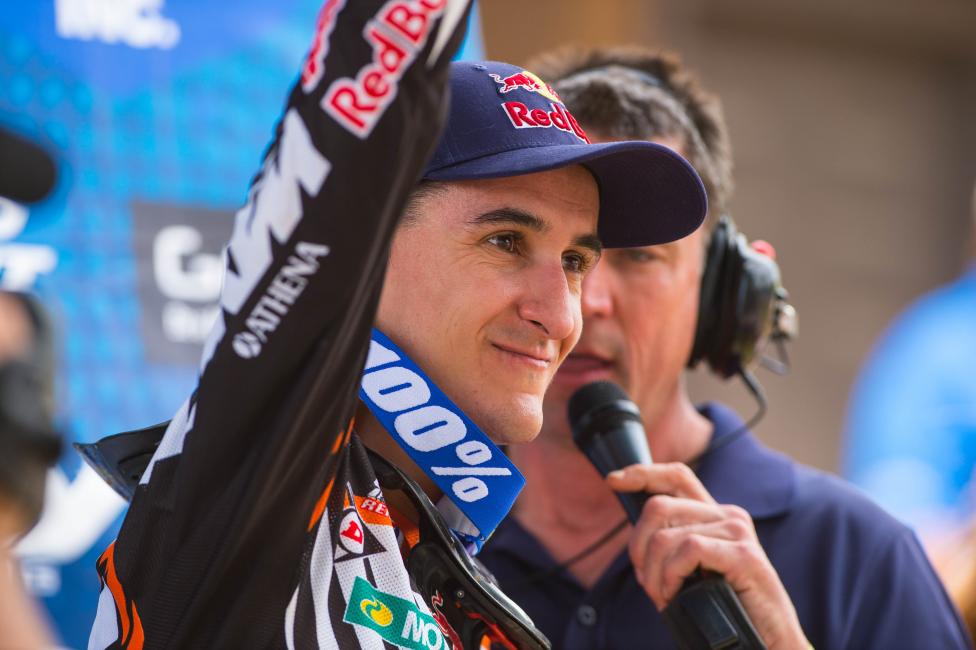 But I think it will come down to Musquin. The Frenchman is very good on this track, with all its jumps and ruts and technical terrain. He won the overall here in 2013 and held off his capable teammate Ken Roczen the whole way to take the second moto, marking his first moto win in the U.S. Marvin was also super fast on a similar track last weekend at Muddy Creek. He has to minimize the mistakes and take advantage of a track that works so well for him. Once we get into the sandy stuff at RedBud and Millville, for example, Jeremy Martin will be on fire. So this one is Movin' Marvin's move, but if he makes a mistake, don't be surprised if someone breaks through for their first first.
THE HIGH POINT? (Steve Matthes)
Although I've called this race "Mt. Morris" for years thanks to MXA, it's basically known as High Point. Watching Jeremy Martin's helmet cam (thanks, VitalMX!), it looks like it's undergone some significant changes. I'm interested to see how it all turns out and I hope the weather cooperates. There's a 60 percent chance of showers pretty much throughout the day. Let's cross our fingers and hope it turns out okay, but then again, this is Mt. Morris, so I think there's a good chance it does rain.
If that happens, get a CR250 and call Damon Bradshaw! And if he needs a tuner, call me! That's right, folks, my one and only supercross or motocross overall win came at High Point in 2000 working for Kelly Smith. It was a tad muddy that day, and Smith went 1-4 for the overall win, KTM's first in AMA SX or MX. I have heard through some "sources" (I'm not going to give away my source, but his name rhymes with "Schmeege") that there was no acknowledgment of said victory at the recent KTM dealer show that DC and Weigandt hosted. I understand there were a lot of photos and videos of KTM's highlights, but somehow this 2000 High Point win didn't make the cut. I'm not happy about this; my people will be in touch.
Anyway, back to the race. I'm looking to see if anyone can stop the Marvin Musquin and Jeremy Martin train in the 250 Class and the Dungzen (new name!) domination in the 450 Class. I was encouraged by Jason Anderson's ride at Muddy Creek. And I think his second-moto charge was more impressive than his second-place in the first one. Last week had to help his confidence, and the dirt and obstacles of High Point aren't that different than those of Muddy Creek.
THE NUMBER: 40-60 (Andras Hegyi)
Red Bull KTM's Ryan Dungey reached a couple of big milestones with his win at Muddy Creek. Dungey collected his 40th AMA National career win. And he has gotten the 60th podium for KTM in a 250/450 national.
Since the beginning of AMA Motocross Championship in 1972 there have been 123 different winners in all categories. Among the winners there are 32 riders with at least ten victories and 15 riders who reached 20 wins. There are eight crossers who have at least 30 triumphs, but there are only three riders with 40 victories. The most successful rider is Ricky Carmichael, who got 102 combined AMA Pro Motocross overalls. The GOAT got 76 wins—it's an absolute record regarding any categories—and he got 26 wins on his 125. Behind Carmichael is James Stewart with 48 wins, 28 of them on the 125—he is the all-time record-holder in the small-bore category—and he has got 20 wins in 450. Now Ryan Dungey has reached the 40. Dungey earned seven wins in the 250 Class and now has 33 wins in 450.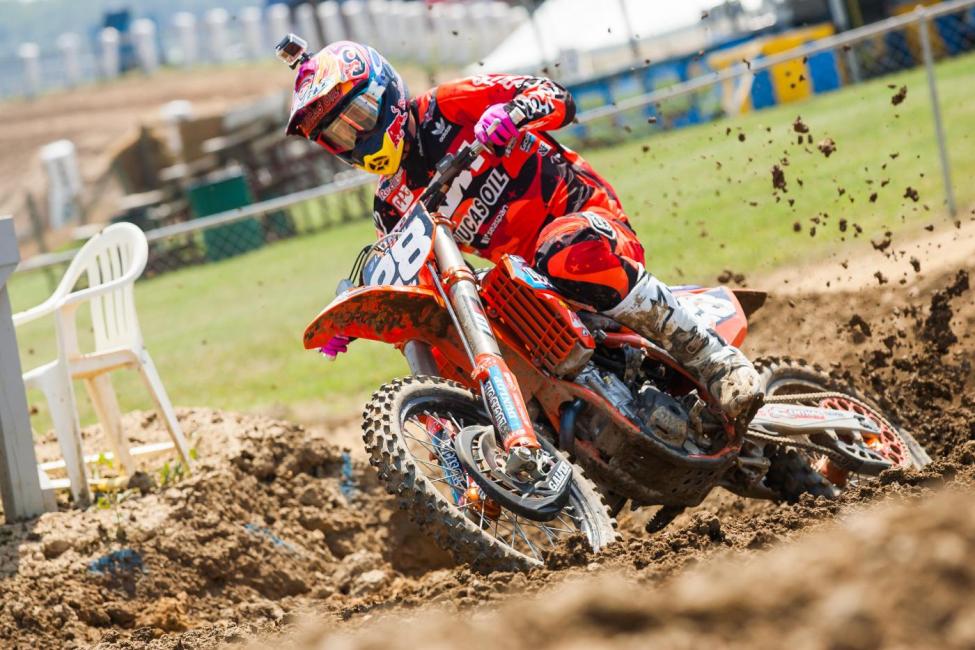 Before that, KTMs imported into America by John Penton were called Pentons, and John Franklin earned a podium on one at the 1974 Gran-Am National at Hamersville, Ohio. Then an actual KTM got on the podium in 1979, ridden by Frank Stacy at Southwick. Then between 1980 and 2000 there was no podium for KTM in the big-bike class. The Austrian brand was able finally again to get podium in 2001 with John Dowd, again at Southwick. Between 2001 and 2011, KTM got eleven podiums in all. But the true turn happened when Ryan Dungey arrived in 2012. Since then KTM has 48 450 Class podium, the most of any brand. From 2012 up to Muddy Creek they have 48 podiums, Honda has 27, Suzuki 21, Kawasaki 20, and both Yamaha and Husqvarna have two.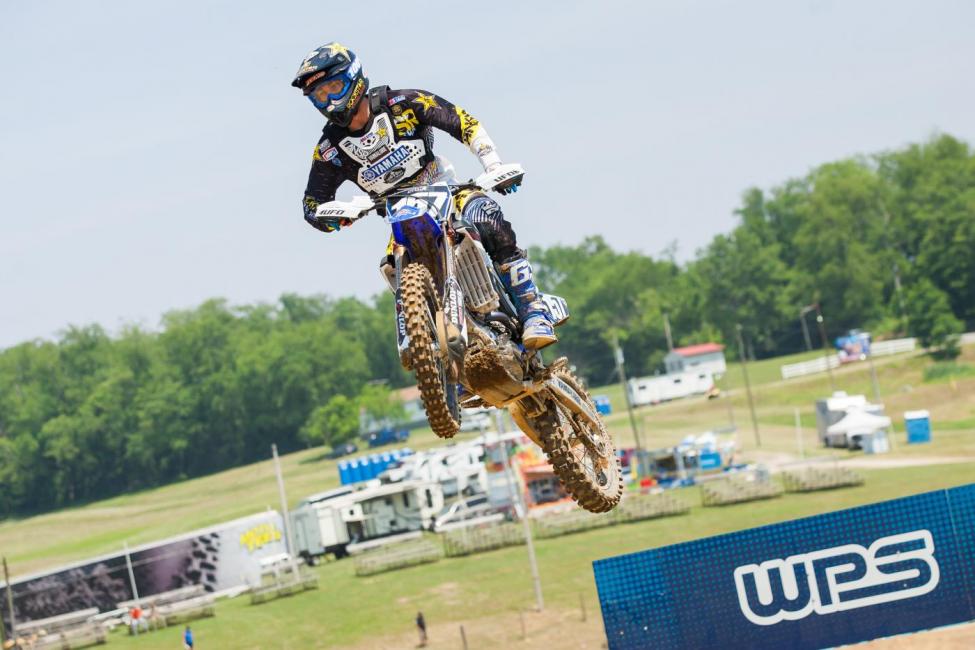 FELD REPLACES STOLEN BIKE (Weigandt)
Back at the Atlanta 2 Supercross, bikes from privateers AJ Catanzaro and Josh Cartwright were stolen from the pits. Catanzaro's bike was somehow recovered thanks partly to social media (yes), and you can read our story with him here. But Cartwright appeared out of luck, until just now. Here's his letter to us:
The Atlanta 2 Supercross race was a crazy day for me. In Dallas and Atlanta 1, I made the night shows but came up short for the main events. With two attempts under my belt, I felt confident for Atlanta 2. Saturday morning, when we arrived at the privateer parking lot at the Georgia Dome, I noticed the lock was gone from the side door of my trailer. I looked inside and my practice bike was gone. As we walked around we saw AJ Catanzaro had the same unhappy look on his face. His bike had been stolen as well. We were both stunned and in disbelief, since the parking lot was a secured area provided to us by the event promoter. You had to show race credentials to a security guard to get in the privateer parking lot, so how could this happen? My practice bike was a reasonably new YZ250F. While it was mostly stock, it did have a duplicate of my SX race suspension and I had just put a set of Raptor Titanium footpegs on it. From the perspective of a privateer, losing your practice bike is devastating. Fortunately, FMF had my race bike locked in their truck inside the stadium pits. So things could have been worse.
I ended up having a great night. I got the holeshot in the LCQ and held on for third place to make my first main event. My lifelong goal has been to make a supercross main event while attending college, so this was a huge accomplishment for me and my family. Our pits looked like I'd won a championship, not third in an LCQ.
We heard they found AJ's bike so that was encouraging. Over the next few days we had images of these guys riding stolen bikes on social media. We determined one picture was my bike because of the grips. I use the blue ODI Emig Lock On grips on all of my bikes. They are easy to spot because they have Emig's name in really big white uppercase letters on them. We stayed in touch with the police for the next few weeks, but they eventually stopped calling and we assumed they had given up and I was simply out of a bike.
Then last week Feld Motorsports contacted me with some fantastic news. While the police never found my bike, the folks at Feld felt responsible for it and they were working to get me a replacement. They got me a new bike and shipped it to the dealer of my choice, and I just picked it up. We all know racing fans like to voice their opinions on social media and the internet. The Georgia Dome and Feld took a lot of online heat for the bikes being stolen, but they have taken responsibility and have done the right thing by replacing my bike. Every privateer and racing fan will appreciate that. I'd like to thank Feld's Director of Supercross Dave Prater for all of his efforts on making this happen.
WATCH IT
Take a lap around the newly reconfigured High Point Raceway with Jeremy Martin as the AMA 250 Motocross Champion and current points leader wears the Vital MX helmet cam for one lap around.
TAKE OFF, EH? (Matthes)
Round three of the CMRC Rockstar Canadian Nationals is taking place at Wild Rose MX Park in Calgary. Last week the race was on Vancouver Island, one of the most beautiful places I've ever spent time in, but the actual Nanaimo track where the race was held is not beautiful at all.
Both points leaders had bad days. Jimmy Decotis blew up a motor in moto one and could only get a fourth in moto two. Brett Metcalfe fell, got bad starts, and finished third. Metty still leads MX1, but not by much. There's a tight group of riders within the top four. The MX2 class sees Nanaimo winner (and defending champion) Kaven Benoit as the points leader on his KTM 250 two-stroke.
The fans in Calgary are going to see some spice this weekend at the Smartop/MotoConcepts team's world tour of motocross continues with a stop in Calgary after two Grand Prix. Mike Alessi and Vince Friese will be in the MX1 class. This is a race that Mike won last year, so it should be interesting to see how he fares against the same riders.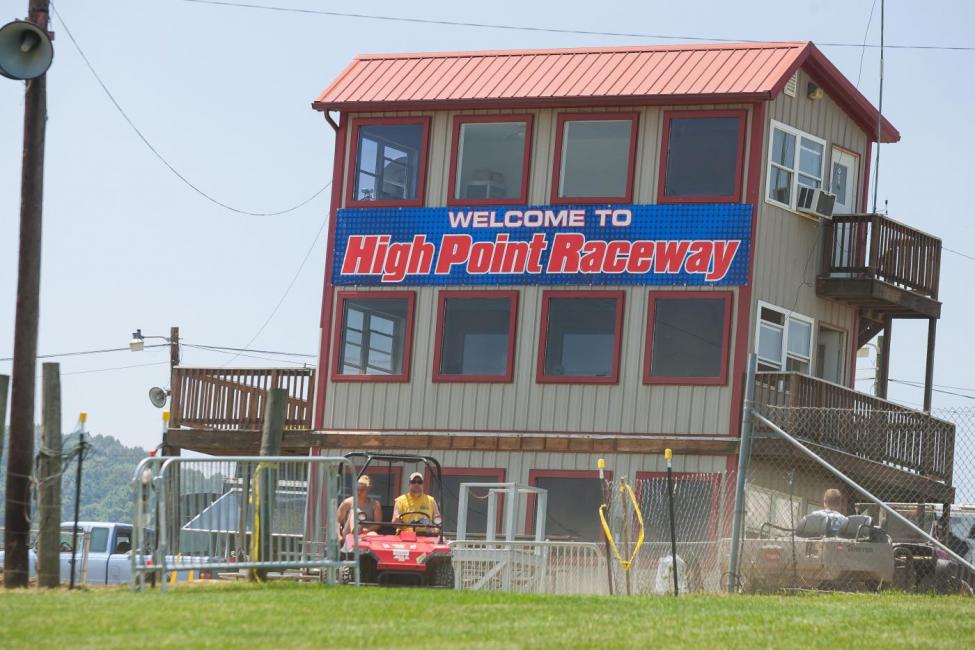 PULPMX LINKS (Matthes)
Jason Thomas grades the top ten in each class with four rounds down here.
Nick Wey, Chase Stallo, and JT join me on the Fly Racing Moto:60 show to talk about High Point here.
Swizcore writes about missing Villopoto here.
David Vuillemin answers some questions about Muddy Creek here.
Moser gets up in Kyle Cunningham's new ride in his Short Comings column here.
And Lissimore has a photo report of round two of the Canadian nationals here.
RANDOM NOTES
Headed to High Point? Don't miss your chance to spend all day in the pro pits with the Racer X All-Day Pit Pass!
For $50, you get 13 issues of Racer X Illustrated plus an all-day pit pass. If you're buying more than one pass you can get a multi-year subscription, or you can give the subscription as a gift. This offer is good for both new and renewing subscribers. (For your convenience, the full purchase price includes the Racer X All-Day Pit Pass and the required GA ticket.)
Quantities are limited, so preorder your Racer X All-Day Pit Pass HERE before they sell out.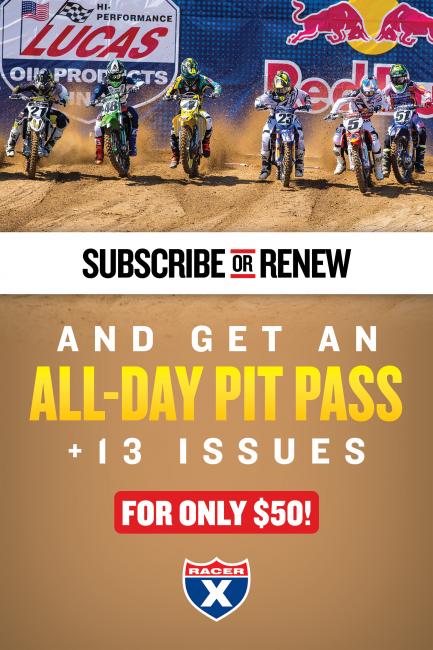 Set up your spot in the infield with this 30x60 towel featuring HRC Honda's Trey Canard! Just stop by the Racer X booth on vendor row to subscribe or renew and get 13 issues of Racer X Illustrated plus a Trey Canard beach towel for just $25!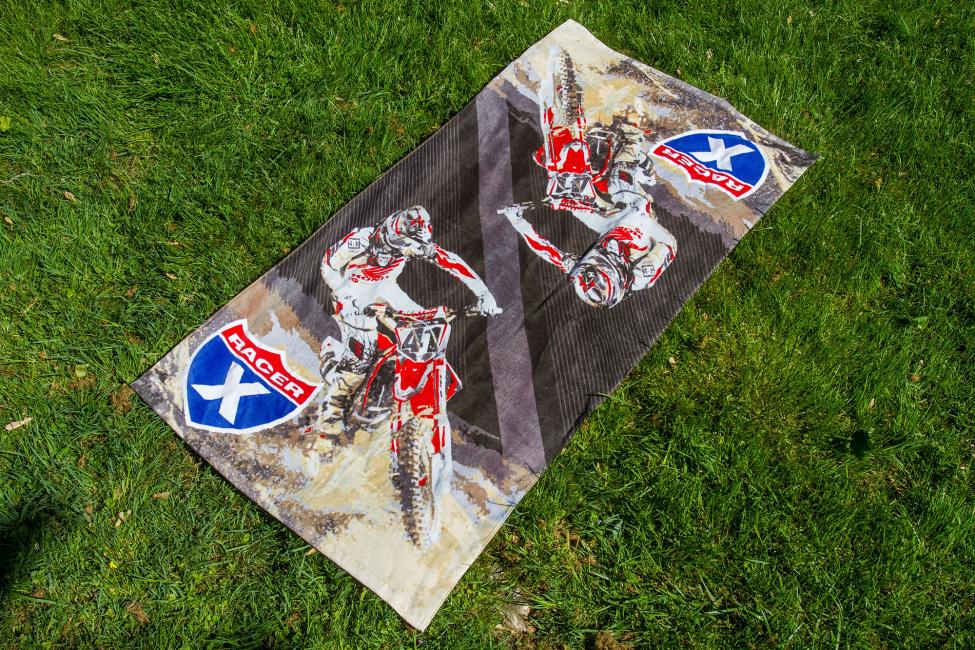 Don't forget, stickers are always free at Racer X! Be sure to stop by and get your 2015 Tennessee event sticker.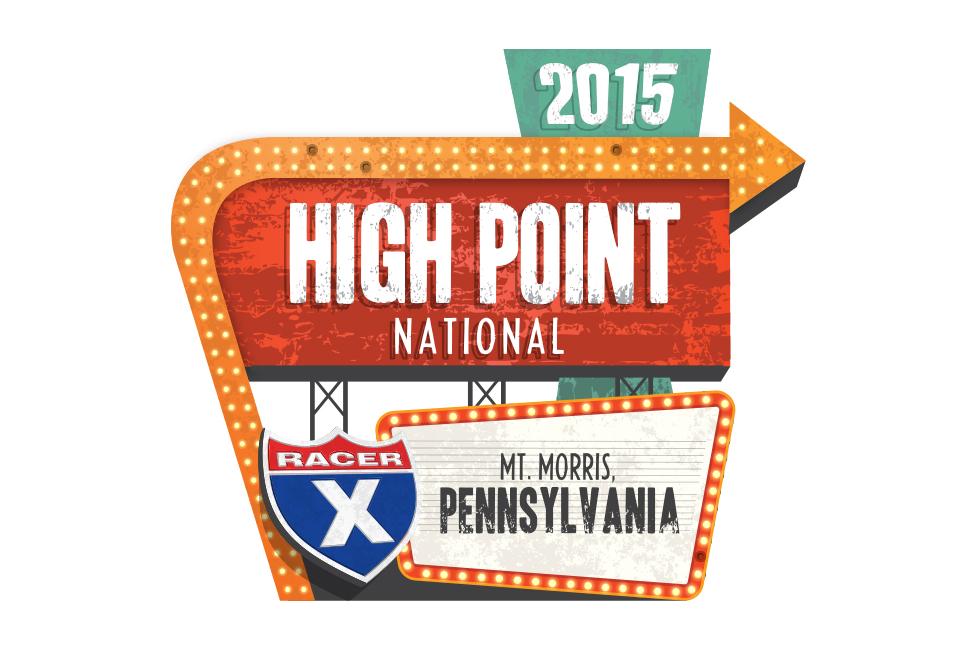 Fly Racing is sponsoring the High Point round of Racer X MotoDynasty Fantasy Motocross and will be giving out prizes to the winners. Click HERE for a chance to win.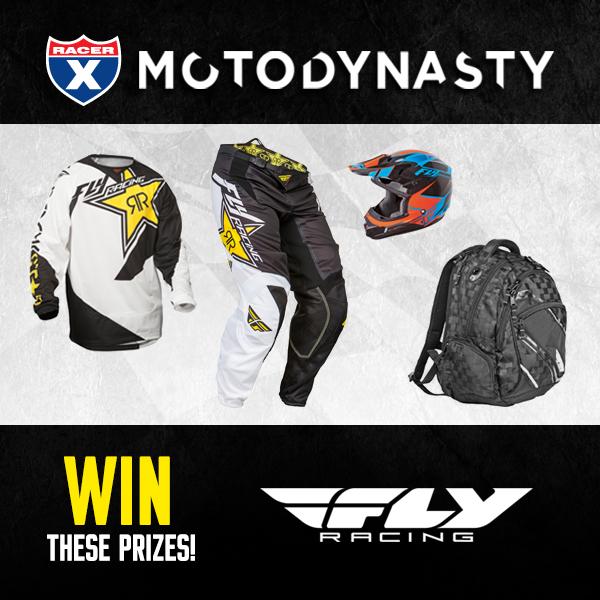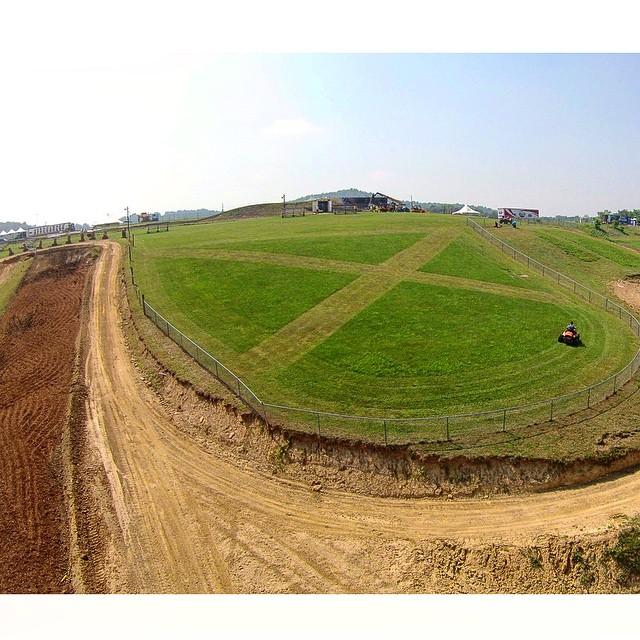 That's all for this week. Thanks for reading—see you at the races.