In seventeen rounds of Monster Energy Supercross, Kyle Chisholm was on the verge of the top ten and was inside it as well. However, with only a few rounds of Monster Energy Supercross remaining, Chisholm wasn't sure if he would be able to race the Lucas Oil Pro Motocross Championship this summer. The good news is that more help arrived and Chisholm was able to throw together a program to get to all of the races this summer.
Chisholm started out the Nationals similar to supercross, finishing eleventh in the first moto and taking home thirteenth overall on the afternoon.
We caught up with Kyle after a Milestone testing session to get his take on the first round and his new support for the Nationals.
Racer X: What's up, Chiz?
Kyle Chisholm: We're wide open. I just got done with some testing, and now I'm headed to the chiropractor.
Oh, man, the chiropractor? How often do you go there, once a week?
Yeah, I try to. It's good to get everything adjusted so your muscles don't pull, and it puts everything back into place. It's good to do that, and I try to go as much as I can. I've got to take care of myself. I'm getting old [laughs].
Where were you testing at today?
Since we aren't allowed to practice at Glen Helen the week of the race we were out at Milestone. Milestone is the place to go on Wednesdays out here. It was okay. The track wasn't very good for testing today, though. That's how it is out here. I'm ready to go to Florida already. I'm spoiled and used to riding with Byrner [Michael Byrne] and Chad [Reed]. The tracks are always really good—it gets rough, and it's good practice. I don't mind being out here in California at all, but the riding is better back at home. We'll go back in a couple weeks.
Yeah, the good thing about the outdoors is that the majority of the races are on the East Coast.
Yeah, that's for sure. It makes it nice and the training is good. It's nice to just be back there with a good group of guys. It's Chad, Byrner, and I with a small group of guys. It makes training better and we push each other. It's good.
Let's talk about the opener a bit. At Hangtown you were right there in the mix for a top ten. Were you pleased with your performance?
It was okay. The first one you just always have to get through it. You don't know where you are going to be exactly, and you just have to do your best and just improve on it. So, yeah, thirteenth is where I ended up and I went 11-13. I'm not that pumped on it. You know, I want to be in the top ten. I honestly didn't ride that great. I struggled with my suspension setup, which is why I've been working on it this week and trying to make it better. I tied for eleventh and was only 1 point from tenth. If I had passed one more guy in each of the motos, I would have been tenth overall. It was a thirteenth, but in my eyes it was almost a tie for tenth. There were like four of us tied or within a point of one another. My starts weren't that great. I'm getting some help from Kawasaki, so my motors are a bit better for outdoors. Not only are they helping me out, but also I've got a few companies helping me out with that. I've got more power now, so I pulled a wheelie on both of my starts. I've got to get that down a little better. If I can start in the 5–10 range, it will be a little easier to run that pace. That's the plan, and we are going to try again this weekend.
You're not far from where you want to be. It's been that way all season for you. What were you testing today that you felt needed to be better at Hangtown?
Pretty much. I really want to be, and I know I can be, fifth through tenth every weekend. I really want to win obviously, but realistically 5-10—I feel like I can be there. The only problem with that is that there are about fifteen guys that can be in there. You know what I mean? I think just better starts, getting more comfortable on the bike, and messing with my setup a little more will be the key. There's no practice like the race, and it's hard to duplicate that during the week. For me, not being on the same bike in previous years and on different suspension companies, we were kind of guessing going into the race. Then you get there, get through it, and you see what you need to work on. Then it's even more guessing through the week because you can't replicate the tracks during practice. I just go off of that feeling that I was looking for during the weekend. It's never going to be perfect especially from one race to the next. You have all of the factors and variables every weekend. I just look for a setup that is going to be consistent and that works the best overall. You're always going to fine-tune it, setting clickers and sag. If you can get an overall comfortable feeling, that you're confident in, you can always adjust it. If you know a bump is going to kick you a certain way you're ready for it. When you aren't quite sure with it and you are uncomfortable, that's when it's unpredictable. I'm trying to look for that good, comfortable feeling that works everywhere for me. That's what everyone is trying to do for the most part. We will try again this weekend. The race is the best test for it, and we'll see how it goes.
You said that Kawasaki has stepped up and helped you with your motors. A couple weeks ago you didn't even know if you were even going to be able to do the entire outdoor series.
Yeah, I didn't know for sure. I wanted to, but I didn't know if the funding was going to be there for it to make sense. I'm spending a lot of my own money doing it this year, which is stressful. However, it's going pretty well. I didn't want to spend the summer at home on the couch. I always do everything I can to make sure I can stay out here racing. To anyone that is reading this, I'm always open and looking for a big sponsor or supporter to step up and help my program. You know, anyone inside or outside of the industry who wants to help me out—I'm definitely looking for that. I want to do this again next year if I can. I'm always looking for a good sponsor to come on board to help funding. I feel like I have a solid foundation as far as bike sponsors and people that I'm working with. I think I have a very good package; it's just you always need that funding to do things the way I want to do them. Yeah, like you said though, I wasn't even sure if I was going to be able to do the outdoors. I made it happen and I'm doing my best. That's all I can really do right now. I don't want to be at home. I know I can do better, so I'll just continue working and get up to where I want to be.
You have built your own team from scratch and have gotten a lot of support. How big of an accomplishment is it to get Team Chiz inside of the top ten?
It's been awesome, and it makes it a little bit more rewarding doing it on my own. It's a lot more work, which makes it more stressful on me at the track. Opposed to being on a factory or factory supported team and having everything taken care of. Obviously I would completely be open to that. I would love being on a team again, but my next-best option is doing this on my own with good support and people behind me. I'm thankful for Kawasaki. They are in an odd situation with how their year has gone, with injuries and other stuff with their riders. They obviously want more bikes out there. I was the second-best finishing Kawasaki rider at Hangtown behind another privateer. Metty [Brett Metcalfe] is doing his own thing for the first couple of races. I think Kawasaki saw that out of me every weekend in supercross. My worst finish since Daytona in supercross was a twelfth. We were right there around the top ten. I'm really thankful with them stepping up. They've helped me out so much by giving me another bike, some spare engines, and some parts. I was definitely lacking in that department all during supercross.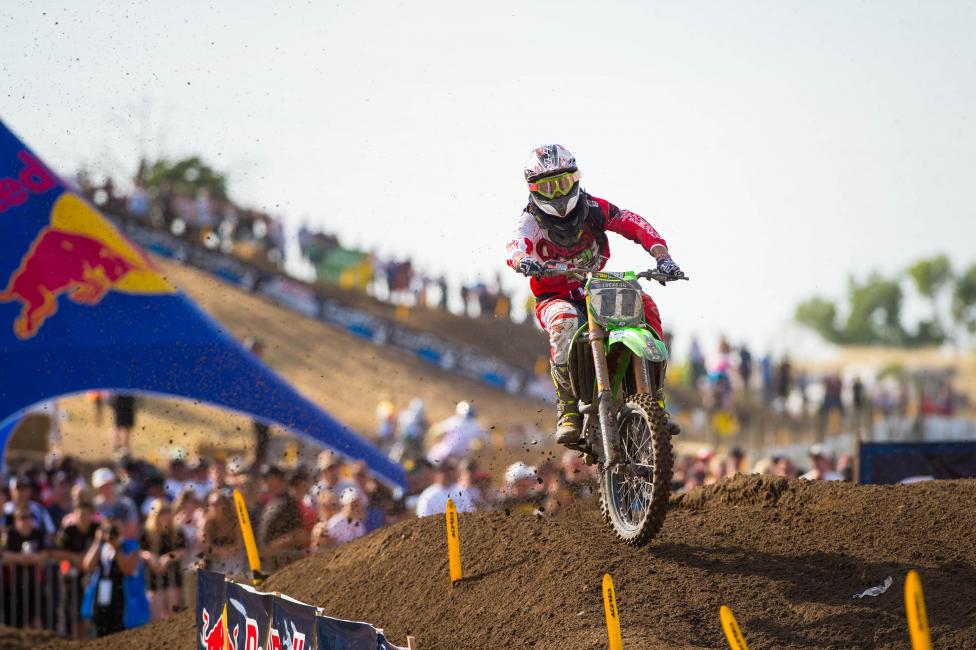 You're one of the veterans of the 450 Class now so you'll know the answer to this question better than some other guys. What was the pace at Hangtown like compared to past seasons?
Well, obviously [Eli] Tomac was on another level. I think he was riding a different track than everybody else at the first race. The pace every year gets better and better. I always think about if I could go back to 2010 or 2011 with where I'm at right now, I could be on the podium. It gets better and better every year and more guys move up. The field gets deeper, and it gets younger guys coming up. I've been in the 450 Class a while now, but I'm only 27. I'm not one of the older guys, as there are quite a few guys older than me. I only raced two years in the 250 Class. I've been in the 450 Class a while it suits me better anyway. This is my ninth or tenth year as a professional racing full-time. I know what it takes, and I know what to do and what not to do for the most part. You're constantly learning, and if you're not you won't get better. I've got that going for me, and I try to use that to my advantage to get better.
With all of this attention focused on racing and testing, I bet your golf game has just suffered.
[Laughs] Dude, I have literally golfed maybe a handful of times since September or October of last year. I normally try to golf at least once a week. Whatever my off day is during the week, I'll try to go get some golf in. I have literally golfed a half a dozen times since November. My golf game is terrible and I've got to get out there and play.
Yeah, man. What the heck have you been doing? You're slacking!
[Laughs] I don't know, man. Oh, speaking of golf, I just pulled into the chiropractor's office, and I've got my buddy Ricky Fowler's dad is here. I just pulled into the parking lot and he's right here. We are both going to get adjusted. So, yeah, speaking of golf, there you go. I need to go golf!
Right on! Well, I'll let you get into your appointment on time. Thanks for taking the time to do this. You can thank your sponsors now.
Team Chiz; Westfall Auto; rickyfowler.com; Pretty Rebels; Performance Tuning; Kawasaki; TwoTwo Motorsports; TiLube; Twin Air; Pro Taper; Rekluse; Engine Ice; TM Designs; Action Sports Canopies; Bolt Motorcycle Hardware; CP/Carillo; Web Cam Camshafts; Dasa Racing; Cometic; Dunlop; Galfer; UFO; Split Designs; Ohlins Suspension; Noleen Suspension; FMF; Matrix; Dubya USA; Works Connection; HJC Helmets; Oneal; Sidi; X Brand; Virus; my wife, Britney; my mechanic, Mike; the Reed family; Michael Byrne; and my buddy Sean.