Hangtown Motocross Classic
Rancho Cordova

,

CA
Race Center: Hangtown
Lucas Oil AMA Pro Motocross Championship
For weeks David Harvey, his family, and fellow Dirt Diggers had been working on a masterpiece of a trophy: glass-encased six-shooters and 150-year-old currency celebrating the Old West and the Dirt Diggers' rich heritage as the oldest ongoing professional motocross race in America. The winners' sets weighed nearly forty pounds counting the handcrafted frames, and the runner-up and third-place prizes—single six-shooters encased in old frames—were museum-quality pieces as well. There was no way to put them on public display before the race, so they sat in one of the rooms inside the Hangtown announcer's tower.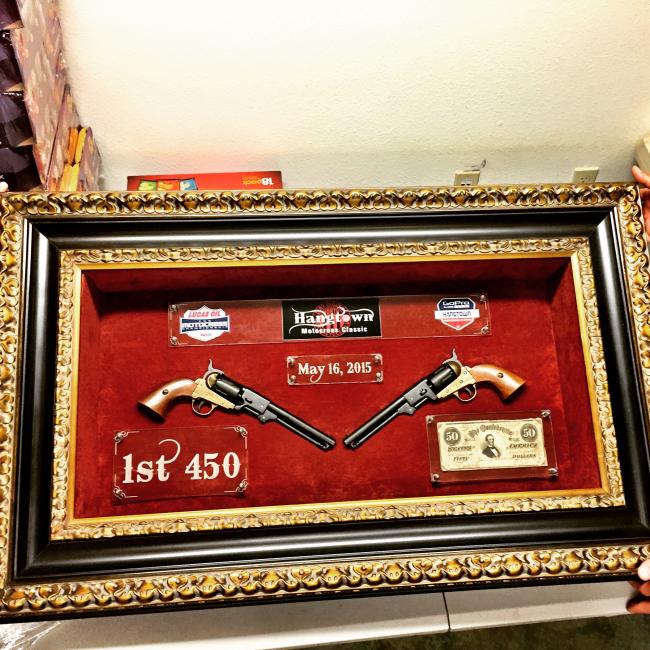 Knowing that I have a seriously high history-geek factor, Harvey showed me the guns and told me the stories of each piece and the work it took to pull it all together. He told me if I saw any riders who might be interested in seeing them to just let him know. I immediately thought of Eli Tomac, and when I stepped outside to go look for him, Jeremy Martin, his brother Alex, and "Filthy" Phil Nioletti came by. Jeremy is of course the reigning 250 Lucas Oil Pro Motocross Champion and won Hangtown last year, so I grabbed the three of them and took them into the room to see the Dirt Diggers' trophies.
"I don't think I could even lift that myself!" said Jeremy, the Yamalube/Star Racing Yamaha rider. His brother Alex, of the CycleTrader.com/Rock River Yamaha team, concurred (though I'm pretty sure they could lift it, and I'm certain AutoTrader.com/Toyota/JGR Yamaha's Phil Nicoletti could!). They stared at the trophies for some time and asked a few questions, and then headed back out for the track walk.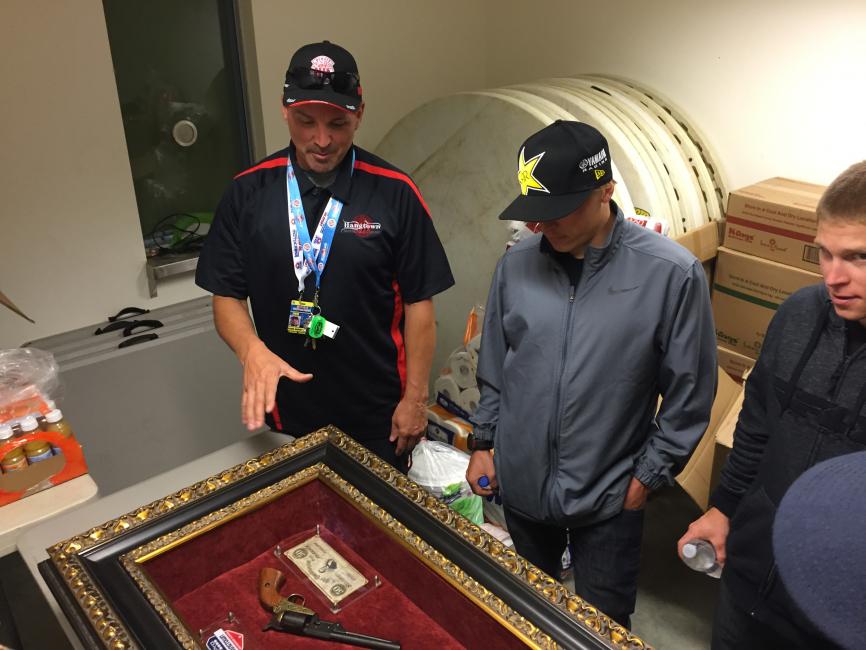 Twenty-four hours later I wasn't surprised that Jeremy Martin was given the chance to lift that trophy up over his head, but I was truly bummed that Alex, in his best all-around outdoor ride ever, just missed out on the podium, finishing fourth overall. I have a feeling he would have appreciated that trophy even more than his younger brother, who has built quite a collection of national trophies in the last couple of years. Here's hoping that Alex (not to mention Filthy Phil) get one of these prizes to place on their respective mantles back home.