Hangtown Motocross Classic
Rancho Cordova

,

CA
Race Center: Hangtown
Lucas Oil AMA Pro Motocross Championship
The week before the 47th Annual Hangtown Motocross Classic outside Sacramento, John Tomac called the Racer X office. He was looking for the Dirt Diggers North Motorcycle Club's logo because Eli wanted to put it on his race jersey for the opener. The Tomacs have a history with Hangtown and the Dirt Diggers—Eli won the first pro race he ever entered with the 2010 Hangtown 250 National—and they wanted to show their respect for the Dirt Diggers, a group of hard-working motorcycle enthusiasts who always deliver a great event for their loyal fans and the industry. And then on Saturday, with the logo featured prominently on the front of Eli's Alpinestars' jersey, he then went out and murdered their track. How's that for showing some respect?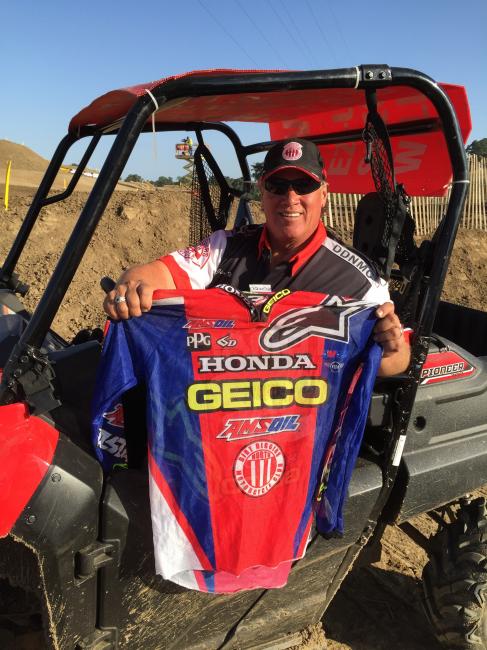 The Eli Tomac who won Hangtown on Saturday was much different than the one who won back in 2010, and so is the Hangtown track. It's been in a steady state of improvement for many years, but it was nowhere near as rough five years ago as it is now. The perfect mix of rain, imported sand, and a touch of track prep made this the roughest Hangtown since the old days, back when the race was held at a much sandier track called Plymouth. As for Tomac, when he won back in 2010 he literally gave it everything he had on his #243 Honda CRF250R, leaving him with little in the tank come the next round at Freestone, Texas. There he nearly melted down on a very hot day, and the fatigue and damage it did to his system seemed to stay with him for the rest of summer.
Tomac seemed to leave it all on the track on Saturday, too, building a ridiculous minute-thirty lead in the second moto ahead of Red Bull KTM's Ryan Dungey, who later admitted they went the wrong way with bike adjustments after finishing second to Eli in the first moto. The difference between now and 2010 is that Eli obviously has a lot more in the tank. He's a veteran who knows how to manage and maintain his fitness—having an iconic mountain-bike legend for a father helps—and not over-do it. He may have looked like he was riding on a rail out there, but he just really likes the rough stuff, and his bike was in perfect working order.
Of course one race does not make a championship, and the astute Dungey and his team will no doubt use this experience and knowledge to get right back in the hunt (and they will see another rough racetrack at Glen Helen, which means there's no time to waste). No matter, what Tomac did on Saturday, throughout both motos and until the very end, was as dominant as it was impressive. So rather than to try to explain how well he rode, how about we just show you more of what he rode on, as shot immediately after the second 450 moto at Hangtown, because nothing can put his performance in better perspective than the stage itself.