Ken Roczen Has Stress Fracture in his Spine [Update]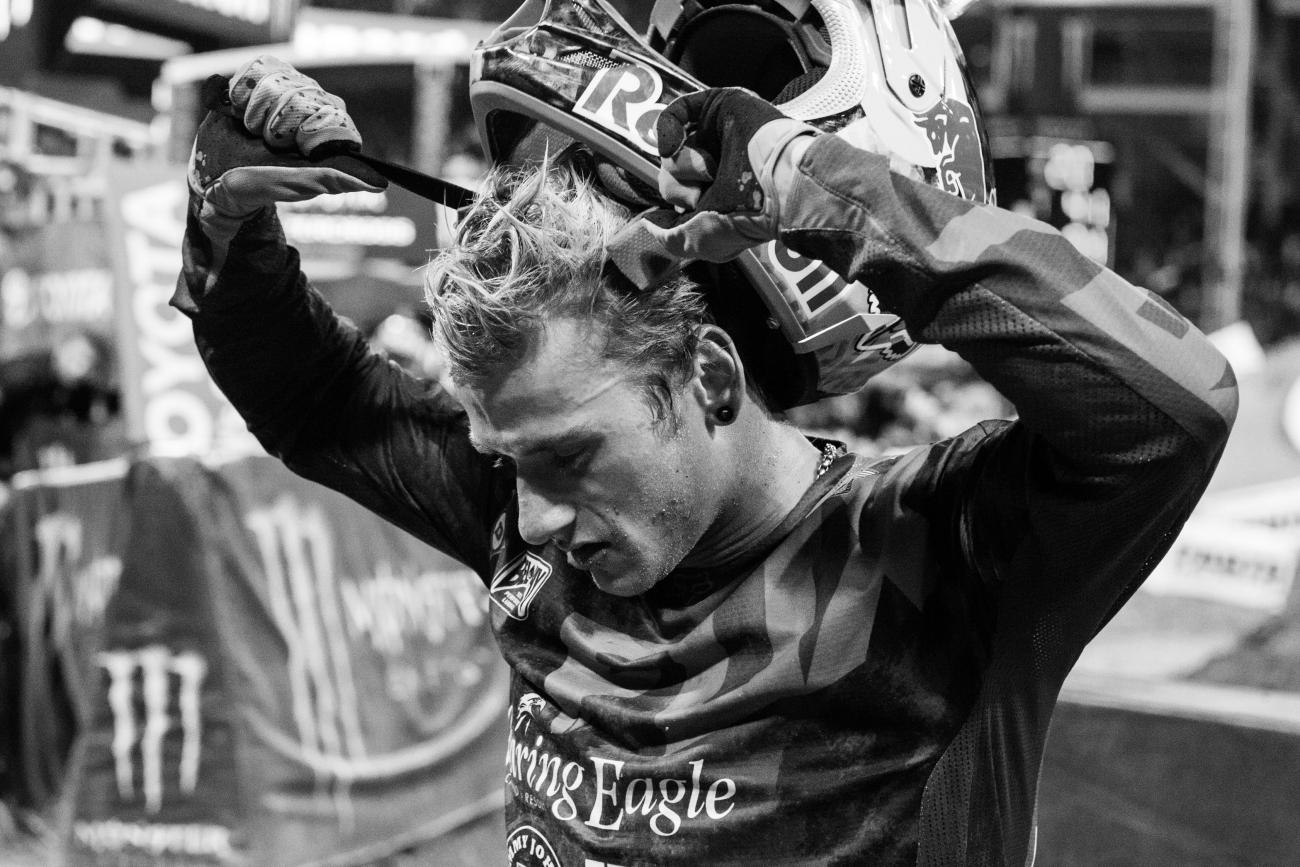 Hangtown Motocross Classic
Rancho Cordova

,

CA
Race Center: Hangtown
Lucas Oil AMA Pro Motocross Championship
Ken Roczen was in obvious pain at the 2015 Lucas Oil Pro Motocross season opener Saturday at Hangtown. The defending 450MX Champion tried to manage the pain in practice, coasting around to qualify twenty-fourth. The pain appeared to be too much in the first moto, as he faded back to nineteenth. Although he looked much better in the second moto, you could tell something was amiss as he soldiered through to a fifth for twelfth overall.
Following the second moto, Roczen told NBC Sports Network's Georgia Lindsay that he had a stress fracture in his spine and had spent time in the hospital the previous week. Last night, Roczen issued a statement on Instagram explaining his injury.
I have a stress fracture in my spine. after laying flat in bad for 6 days straight I didn't think I was gonna be able to swing a leg over a bike. But I did haha. tough week/weekend but we managed to get some points. Thank's to all my sponsors for being behind me.
We will have more information as it becomes available.
[Update: May 19]
RCH Racing released their weekly team press release today and it contains more information regarding Roczen's back injury. According to the release, Roczen "irritated" a pre-existing back injury less than a week prior to Hangtown. How Roczen sustained the injury was not disclosed. In a statement, Roczen said he hadn't ridden since May 7 due to the injury.
"Coming to Hangtown, I didn't know if I would be able to ride or not," he continued. "I struggled big-time. The track was gnarly and if you're not riding for eight or nine days and you come straight to that, it's really tough to get in a rhythm. But, we managed to get some points in the second moto."
RCH co-owner Carey Hart elaborated further on Roczen's injury. "Kenny has an L5 pars fracture," he said. "It's a stress fracture and basically comes from prolonged pounding and extension, over time. We're evaluating him day by day. He's been cleared to race because it can't really get any worse. It's going to be painful, but it won't get any worse. He may need surgery down the road but we're hoping he can grind it out until the break. Broc had another solid weekend and said he felt great after the second moto. I'm looking forward to seeing how he does this weekend."