Hangtown Pre-Entry List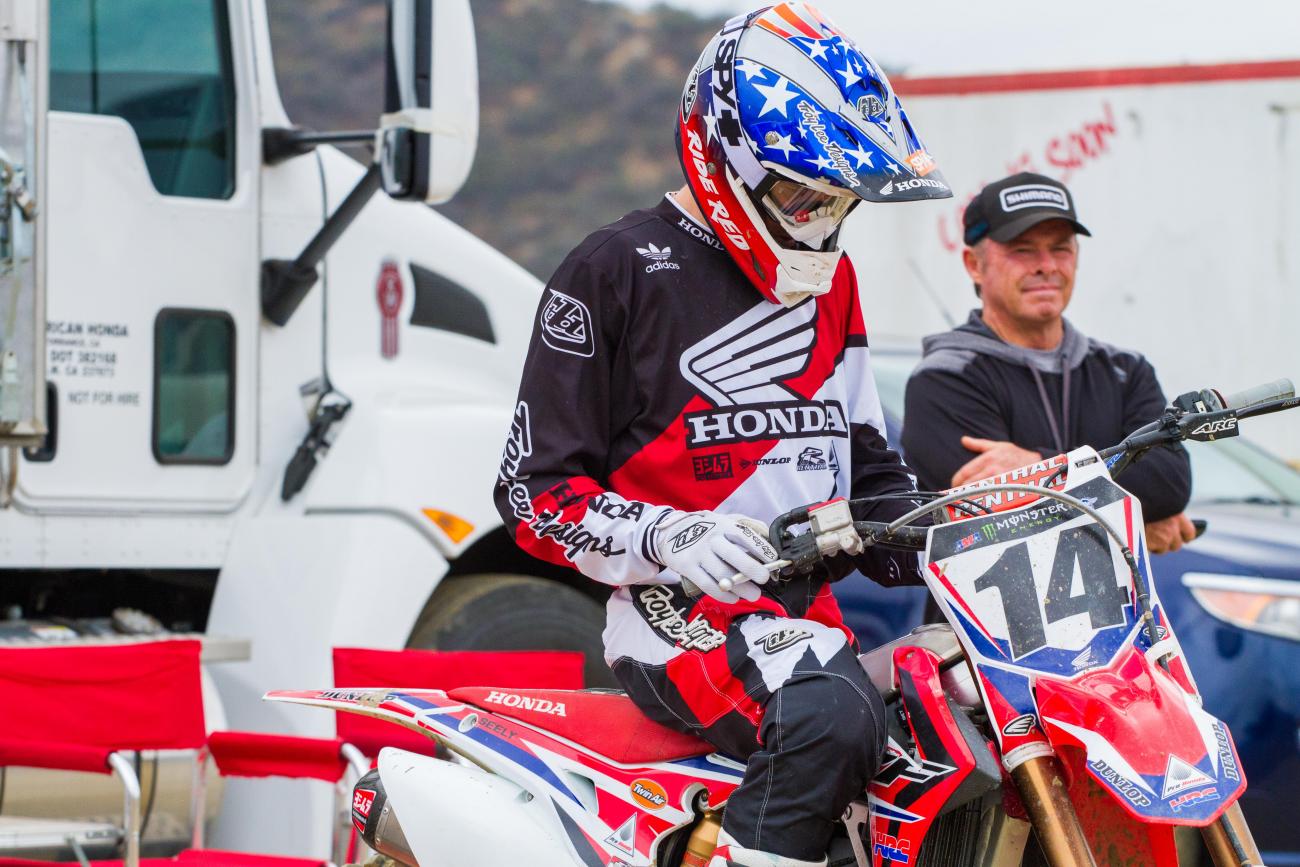 Hangtown Motocross Classic
Rancho Cordova

,

CA
Race Center: Hangtown
Lucas Oil AMA Pro Motocross Championship
The 2015 Lucas Oil Pro Motocross Championship kicks off this weekend in Sacramento, CA, with the 47th Annual GoPro Hangtown Classic. Ken Roczen will defend his crown in 450MX against challengers Ryan Dungey and Eli Tomac among others. In 250MX, Jeremy Martin looks to repeat his 2014 success against Cooper Webb, Justin Bogle and Marvin Musquin.
You can catch the first motos live on MAVTV starting at 5:00 pm ET. Second motos begin at 7:00 pm ET on NBC Sports Network. In addition to television coverage, all races that air on NBC and NBCSN will be live streamed on NBC Sports Live Extra, NBC Sports Group's live streaming product for desktops, mobile devices and tablets. Race coverage airing on MAVTV will be live streamed on ProMotocross.com.
Below is the official pre-entry list for the opener.
450 Class
| | | | | | |
| --- | --- | --- | --- | --- | --- |
| Racing No. | First Name | Last Name | Class | Brand | Team Name |
| 1 | Ken | Roczen | 450 | Suzuki | Soaring Eagle | Jimmy Johns | Suzuki Factory Racing |
| 3 | Eli | Tomac | 450 | Honda | GEICO Honda |
| 4 | Blake | Baggett | 450 | Suzuki | Team Yoshimura | Suzuki Factory Racing |
| 5 | Ryan | Dungey | 450 | KTM | Red Bull | KTM |
| 10 | Justin | Brayton | 450 | KTM | BTO Sports | KTM |
| 14 | Cole | Seely | 450 | Honda | Team Honda | HRC |
| 20 | Broc | Tickle | 450 | Suzuki | Soaring Eagle | Jimmy Johns | Suzuki Factory Racing |
| 21 | Jason | Anderson | 450 | Husqvarna | Rockstar Energy | Husqvarna Factory Racing |
| 22 | Chad | Reed | 450 | Kawasaki | Discount Tire | TwoTwo Motorsports |
| 23 | Weston | Peick | 450 | Yamaha | AutoTrader | Toyota | Yamaha | JGRMX Team |
| 24 | Brett | Metcalfe | 450 | Kawasaki | Metty 24 | WMS | Kawasaki |
| 33 | Josh | Grant | 450 | Kawasaki | Discount Tire | TwoTwo Motorsports |
| 39 | Fredrik | Noren | 450 | Honda | Motosports.com | GPI | Honda |
| 43 | Mathew | Lemoine | 450 | Kawasaki | JAB Motorsports |
| 45 | Vince | Friese | 450 | Honda | MotoConcepts |
| 46 | Phillip | Nicoletti | 450 | Yamaha | AutoTrader | Toyota | Yamaha | JGR team |
| 48 | William | Hahn | 450 | Kawasaki | Monster Energy Kawasaki |
| 51 | Justin | Barcia | 450 | Yamaha | AutoTrader | Toyota | Yamaha | JGRMX team |
| 69 | Ronnie | Stewart | 450 | Suzuki | My PRBC |
| 76 | Evgeny | Mikhaylov | 450 | KTM | Absolute Race Technology | MotoOption | AXO |
| 84 | Jesse | Wentland | 450 | Honda | RSR | Starr Cycle Honda |
| 92 | William | Clason | 450 | Honda | |
| 111 | Michael | Sleeter | 450 | KTM | |
| 120 | Todd | Bannister | 450 | Honda | Advanced Concrete |
| 123 | Kevin | Rookstool | 450 | Suzuki | Rookstool Racing |
| 130 | Tommy | Hahn | 450 | Honda | Motosports.com | GPI | Honda |
| 131 | Noah | McConahy | 450 | Honda | BWR | K1 Speed |
| 161 | Todd | Carlson | 450 | Honda | Tacoma Motorsports |
| 177 | Derek | Stephens | 450 | Suzuki | Stephens Racing |
| 181 | Dustin | Pipes | 450 | Suzuki | TPJ.com | Fly Racing |
| 186 | Ray | Obermeyer | 450 | Yamaha | Obermeyer Racing |
| 196 | Trevor | Whitmarsh | 450 | Yamaha | Vickery Motorsports | Dirtcandy Graphics | Johns Collision Repair |
| 204 | David | Gassin | 450 | Honda | |
| 207 | Sean | Collier | 450 | Kawasaki | Fasthouse | Gasper Racing |
| 262 | Harrison | Drummond | 450 | Honda | HD2 Racing |
| 285 | Tony | Archer | 450 | Kawasaki | Traders Racing |
| 291 | Kyle | White | 450 | Honda | K1 Speed | BWR Engines | SSi Decals |
| 294 | Joshua | Camarena | 450 | Yamaha | Camarena Racing |
| 314 | Alex | Ray | 450 | Honda | K1 Speed | BWR Engines | SSi Decals |
| 348 | Jason | Brooks | 450 | Yamaha | 3D Racing | Factory Connection | Motorsports Nation |
| 377 | Christophe | Pourcel | 450 | Husqvarna | Rockstar Energy Husqvarna Factory Racing |
| 381 | Kinser | Endicott | 450 | Kawasaki | Endicott Racing |
| 429 | Justin | Jones | 450 | Honda | Bonanza Plumbing | Hinson | Honda |
| 430 | Dylan | Summerlin | 450 | KTM | Schaeffer Oil Racing |
| 436 | Jason | Bunch | 450 | Yamaha | Bunch Racing |
| 442 | Greg | Pamart | 450 | Kawasaki | MKS Motokiks |
| 444 | Derek | Currie | 450 | Honda | RHM |
| 453 | Jordan | Reynolds | 450 | KTM | Cand D Motorsports |
| 481 | Sergey | Astaykin | 450 | KTM | SMX Motorsport |
| 482 | Riley | Brough | 450 | Honda | RMX |
| 504 | Sean | Lipanovich | 450 | Honda | SLMX School |
| 505 | Cyrille | Coulon | 450 | Kawasaki | SR75 | Molson UK Racing |
| 509 | Alexander | Nagy | 450 | Suzuki | Nagy Racing |
| 523 | Miles | Daniele | 450 | Yamaha | Jalonen Ranches |
| 535 | Joey | Peters | 450 | Yamaha | MGX Unlimited |
| 542 | J.B. | Buller | 450 | Suzuki | Buller Racing |
| 548 | Broc | Schmelyun | 450 | Yamaha | Blue Buffalo Slater Skins | Yamaha |
| 600 | Connor | Olson | 450 | Yamaha | Two Tire Take Over |
| 618 | Sylvain | LeGad | 450 | Yamaha | Xtreme Miller Yamaha | EVO Motosport |
| 670 | Dylan | Schmoke | 450 | KTM | Schmoke Motorsports |
| 703 | Justin | Rando | 450 | Yamaha | Northeast Financial Group LLC. |
| 745 | Adrian | Roman | 450 | Kawasaki | Roman Racing |
| 774 | Preston | Tilford | 450 | Yamaha | Pasha Racing |
| 875 | Johnny | Hopper | 450 | Kawasaki | SUN Enterprises | Team Green |
| 897 | Blake | Ballard | 450 | Yamaha | Forever Two Wheels | PCP Motorsports | Haeseker |
| 917 | Drew | Thomas | 450 | Kawasaki | Mikes Cycle | Haeseker Racing |
| 933 | Reno | Evans | 450 | Suzuki | PCP Motorsports |
250 Class
| | | | | | |
| --- | --- | --- | --- | --- | --- |
| Racing No. | First Name | Last Name | Class | Brand | Team Name |
| 1 | Jeremy | Martin | 250 | Yamaha | Star Racing | Yamaha |
| 16 | Zachary | Osborne | 250 | Husqvarna | Rockstar Energy | Husqvarna Factory Racing |
| 17 | Cooper | Webb | 250 | Yamaha | Yamalube Star Racing Yamaha |
| 19 | Justin | Bogle | 250 | Honda | GEICO Honda |
| 25 | Marvin | Musquin | 250 | KTM | Red Bull l KTM |
| 28 | Jessy | Nelson | 250 | KTM | Troy Lee Designs | Lucas Oil | Red Bull | KTM |
| 31 | Alex | Martin | 250 | Yamaha | Cycletrader.com | Rock River | Yamaha |
| 32 | Justin | Hill | 250 | KTM | Red Bull | KTM |
| 37 | Joseph | Savatgy | 250 | Kawasaki | Monster Energy | Pro Circuit | Kawasaki |
| 38 | Matt | Bisceglia | 250 | Honda | GEICO Honda |
| 40 | Shane | McElrath | 250 | KTM | Troy Lee Designs | Lucas Oil | Red Bull | KTM |
| 44 | Zachary | Bell | 250 | Husqvarna | Rockstar Energy | Husqvarna Factory Racing |
| 50 | Adam | Cianciarulo | 250 | Kawasaki | Monster Energy | Pro Circuit | Kawasaki |
| 52 | Mitchell | Oldenburg | 250 | KTM | Arma Energy Racing |
| 55 | Kyle | Peters | 250 | Honda | Motosport.com | GPI | Honda |
| 57 | Jackson | Richardson | 250 | Honda | XPR Motorsports |
| 62 | Anthony | Rodriguez | 250 | Yamaha | Yamalube Yamaha Star Racing |
| 66 | Chris | Alldredge | 250 | Kawasaki | Monster Energy | Pro Circuit | Kawasaki |
| 71 | Cole | Martinez | 250 | Kawasaki | Monster Energy | Thor | Kawasaki |
| 74 | Zack | Williams | 250 | Honda | |
| 80 | RJ | Hampshire | 250 | Honda | GEICO Honda |
| 88 | Dakota | Alix | 250 | KTM | KTM Orange Brigade Lites |
| 95 | Nick | Gaines | 250 | Kawasaki | Traders Racing |
| 126 | Jordon | Smith | 250 | Honda | GEICO Honda |
| 148 | Trevor | Reis | 250 | Yamaha | Maxima Oils | Motoworldracing.com |
| 157 | Aaron | Plessinger | 250 | Yamaha | yamalube | yamaha | star racing |
| 180 | Bryar | Perry | 250 | Yamaha | Transportation Services | 180Decals |
| 195 | Keaton | Ward | 250 | KTM | Ward Racing |
| 211 | Tevin | Tapia | 250 | Yamaha | TnTracing |
| 217 | Ryan | Breece | 250 | Yamaha | Breece Racing |
| 273 | Conner | Elliott | 250 | Yamaha | |
| 278 | Parker | Anthony | 250 | Kawasaki | Bigfoot Racing |
| 283 | Nicolas | Gonzales | 250 | Yamaha | |
| 284 | Cody | Church | 250 | Kawasaki | |
| 320 | Colby | Sorensen | 250 | KTM | A&J Oilfield Service Race Team |
| 340 | Steven | Lopez | 250 | Yamaha | Braap Shop Yamaha |
| 343 | Luke | Renzland | 250 | Yamaha | CycleTrader.com | Rock River Yamaha |
| 351 | Eric | Grondahl | 250 | Honda | Alias MX |
| 367 | Hunter | Sayles | 250 | Yamaha | |
| 376 | Chris | Canning | 250 | KTM | Manchester Honda KTM |
| 397 | Brandon | Scharer | 250 | Suzuki | 397 | RaceTech | STR |
| 434 | Daniel | Baker | 250 | KTM | KTM Orange Brigade LItes |
| 435 | Scott | Agostini | 250 | Honda | Huntington Beach Honda Racing |
| 450 | Hayden | Mellross | 250 | Honda | |
| 488 | Jake | Lyon | 250 | Honda | Lyon Racing |
| 497 | Brock | Leitner | 250 | Kawasaki | Leitner Racing |
| 522 | Cole | Zitterkopf | 250 | Yamaha | Zitterkopf Racing |
| 537 | William | McDonough | 250 | Yamaha | McDonough Construction |
| 574 | Brian | Burns | 250 | KTM | |
| 585 | Bradley | Ludwigsen | 250 | Honda | Ludwigsen Racing |
| 636 | Keith | Knight | 250 | Yamaha | Haeseker Racing | Roseville Yamaha |
| 659 | Justin | Freund | 250 | Yamaha | Freund Racing |
| 711 | Mitch | Van de Montel | 250 | Honda | MXATV.com |
| 715 | Kele | Russell | 250 | Yamaha | Alliance Steel | NoToil | Flo Motorsports |
| 768 | Cole | Shondeck | 250 | Yamaha | Shondeck Racing |
| 781 | Justin | Lee | 250 | Honda | Lee Brothers Racing |
| 825 | Zachary | Peddie | 250 | Yamaha | Driven MX |
| 882 | Michael | Kimmerle | 250 | Kawasaki | Dirt Candy | Kawasaki |
| 912 | Jacob | Wever | 250 | Yamaha | Team Knees |
| 929 | Travis | Bell | 250 | Honda | Bell Racing |