There is no competition for MXGP Rookie of the Year so far. Yamaha Factory Racing Yamalube have worked their magic with another new recruit: Romain Febvre—a 23-year-old former European Champion who gained his first MX2 podium finish in 2013, first victory in 2014, and a podium finish in just his sixth GP in the premier class on the potent YZ450FM after leading his first laps.
We caught up with the likeable #461 after his champagne celebration for third-place overall at last weekend's Grand Prix of Spain, a celebration that has been a while in the making thanks to his unexpected top-five speed from the outset of the campaign.
Racer X: You have been close to this all year with your starts and speed. Does it feel a bit like "finally"?
Romain Febvre: It's really nice to be on the podium, but it's not like "finally" because I knew I had the speed but needed two good motos together with two good starts, particularly on a track like this [Talavera de la Reina] where it was really difficult to pass. All weekend I had a good feeling. The guys in front were a little bit faster in first race, and I told myself to really focus hard on the start for the second one and I was third into the first corner. I then started to pass riders.
At that point you were nearly two seconds a lap faster than anyone else. The traction you got down the hill to pass Max Nagl was freaky. Where did that pace come from?
[Laughs] I was feeling really good. I had some great lines, and like I said to the team afterwards, I was very quick at the beginning, but it wasn't like I was going at 110 percent. I was just trying to be smooth and I was catching the guys. The flow, let's say, was there.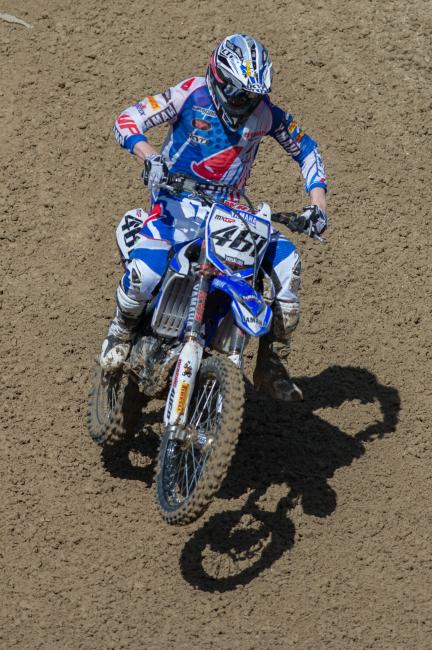 You got to the front of MXGP for the first time. How did that feel?
Good and nice to not feel any pressure and just be out there. It wasn't easy…but I felt confident. Then I made a mistake [he stalled the bike and gave Tony Cairoli the chance to fight back]. It was my fault and I know that Cairoli did the same thing a few laps before the end.
Does that make you feel better? If an eight-time world champion can also stall in that corner…not like a rookie?
Hmm, not really. I need to cut out the mistakes. I mean, it's nice to get on the podium and the team is really happy, but when you're leading a moto then you want to win. In my head I was thinking, "this is mine, I want to do it," but…
I was doing the TV commentary and said on air that, knowing you, you'd be very angry at yourself for that moment.
[Laughs] Yeah, but at the time I was like, "Start! Quick!" And Cairoli wasn't far away and passed me straight away. I wanted to catch him immediately again, but I was a bit too aggressive and he was able to make the gap to five seconds. From there it was hard to get near him. I wasn't sure at the end if I was on the podium, so I didn't cross the finish line with much excitement. I was waiting for the pit board—it was nice.
With those injuries [a hernia and a broken upper arm] in the winter, realistically this good start to the season shouldn't be happening.
For sure. Many people say I am the surprise this season, and at the beginning of year it was not easy and the team was a bit scared, I think, because the winter didn't go well with those two injuries. It was pretty difficult for me also. When you're a rookie people are looking at you and judging if you made a good choice with the team and the bike and the class. It created some pressure, but everything is going so well with the team and the bike works so nicely. I'm not making too many big errors, and I'm always close to the top five. The goal is to be consistent and try to improve, and I think I'm doing that job, but, as always, it can be better.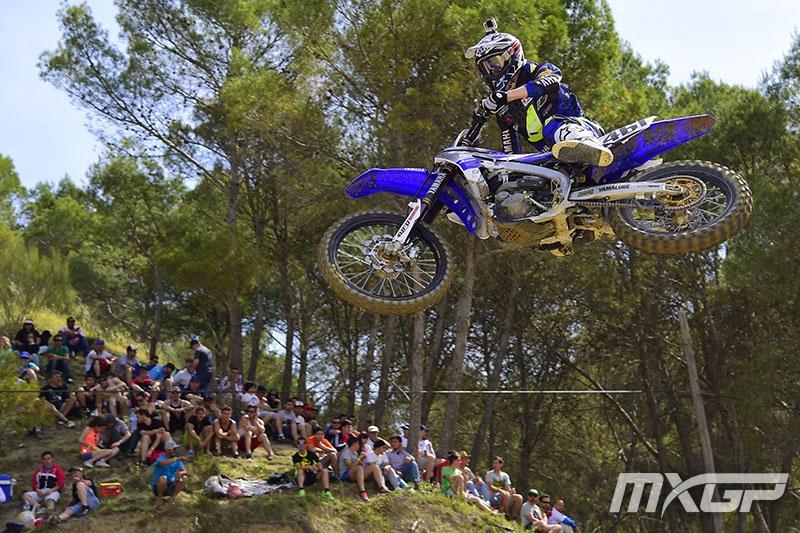 In pre-season you were taking that pressure away by saying, "new team, new bike, new class," and commenting that you didn't know where you'd be in MXGP, but a podium has happened by round six so you must have had an inkling deep down. And now just two more positions to go.
For sure. Yamaha trusted me. I felt when I first tried the bike that we could probably do something quite special in the first year. The handling was just so good for me. I went testing in Italy last week to try something on the engine, and I was talking with Michele Rinaldi [team manager] and we chatted about how my feeling on the 450 is quite easy and how this came about so quickly. When you come from the 250 sometimes you need a while to get used to the other bike, but it went fast for me. I hope I can keep in this way towards the end of 2015 and get better for next year.
You have only been full-time in GP for four years. Your first career podium was only at the beginning of 2013. Things are moving so fast for you, and I don't think there is another rider with your rapid scale of progression.
Many people tell me that and say, "Look at you and your progression." At the moment I don't really want to look back too much. I don't need to. The goal is to be world champion, and I will try everything I can to make this goal happen. It's true that it [his career] has gone fast, and five years ago when I decided to come back to motocross [Febvre quit the sport as a junior to try two years of Supermoto], I had new motivation and the chance to always have good people around me, even when I started my first year in European class and then the world championship. Those people made the difference, and I always tried to believe in myself and I think it's working.