Sam Boyd Stadium
Las Vegas

,

NV
Race Center: Las Vegas
Monster Energy AMA Supercross Championship
I'm not a sabermetrician, a scientist, or an economist, so maybe that's why I couldn't understand how a boxing match with 16,000 spectators could jack up prices all over Las Vegas. My plane ticket was double the usual and hotel rooms had tripled. The MGM Grand Garden Arena fits 16,000 fans. How could this Mayweather vs. Pacquiao fight jack up prices for hundreds of thousands of Vegas tourists?
I didn't understand until I got there and looked around and saw Mayweather vs. Pacquiao shrapnel everywhere. Seemed like every person in the casino was wearing a fight T-shirt or Mayweather's "Money Team" hat, many of which were probably knock-offs and weren't even actually contributing any money to the actual Money Team. I even saw people wearing souvenir fight T-shirts at the supercross while the fight was actually taking place.
Why would you run the souvenir fight shirt if you weren't actually at the fight? Isn't that strange? I guess people just wanted to say they were in Vegas when it happened. Maybe people are going ask "Where were you during the fight of the century?" like people ask today about the Kennedy assassination or the moon landing, or 9/11. I suppose there's a certain amount of respect to be given if you're hardcore enough to have actually been in the same town on the same night as the fight. In this case, it was all about being part of the action and getting some attention. That's where Las Vegas excels
I found that a theme throughout the racing weekend too. This first weekend in May, which always holds both a big boxing match (seems to run in conjunction with Cinco de Mayo) and the Monster Energy Supercross final, now also hosts both the Amsoil Arenacross final and a round of GEICO EnduroCross. EnduroCross has been racing the night before the supercross for several years now; arenacross was a new venture. In the past they've tied arenacross amateur racing into other parts of Vegas races. For example, the day after the old U.S. Open they'd hold a full day of amateur AX racing. This is a different deal, bringing the pro riders in so supercross fans in town can watch them mash it up.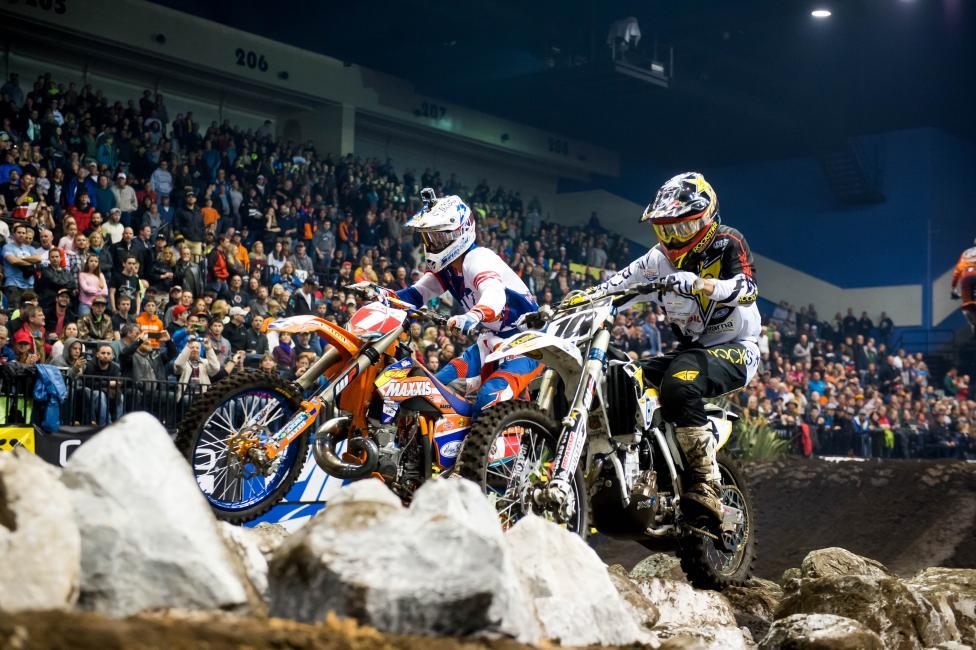 Let's face it, too: the supercross finals aren't exactly the NBA finals either. By the time we get to race 17, the 450SX championship is usually over. That means Las Vegas is the chance for the little guys to shine. The 250SX East-West Shootout puts a bigger spotlight on the small-bore class. Maybe the EnduroCross winner gets a little extra attention from the supercross set. And now the arenacross champ holds up a #1 plate in front of more discerning eyeballs.
Thus it became a weekend of the sideshows. Ryan Dungey is already Monster Energy Supercross Champion, and he also won the Vegas SX. We know this. Elsewhere, the battle for respect was on.
I started over at the Orleans Arena to watch EnduroCross practice. The EnduroCross world is still in transition, as its GOAT, Taddy Blazusiak, no longer competes. Taddy tired of the transatlantic travel and stays home in Europe now. He was the biggest name and the biggest winner in that sport, but Cody Webb did edge him straight-up for the championship last year.
The problem is that Cody Webb still isn't as famous as Taddy. In fact, Cody was so unknown and underpaid that he's still a full-time college student studying for an Engineering degree! He's now moved from the factory Beta team to a KTM under the RPM tent, but bottom line, as good and friendly and talented as he is (and as cool as it is that he's pursuing a degree and a championship), he's still not quite a household name. For these secondary-type series, that's important, and races like Las Vegas can help make a star out of Cody like they once did for Taddy.
The other rising star of EnduroCross is Colton Haaker. He and Webb are both trials riders from northern California, and they jumped into EX headfirst. Haaker could really take off from here. When I first met him five years ago, he told me he was modeling his personality and interviews on Travis Pastrana. He's the rare rider who wants to be a star, not just a racer, and he's trying to build an Instagram following for now, with big plans for other racing later. Haaker has already qualified for pro motocross Nationals, and he wants to do more. Winning in EnduroCross is good, but in the search for respect and fame, he wants more.
"Being an EnduroCross specialist is cool, but I think off-road riders … when Ty Davis was racing or some other stars, they went to East Coast and they raced," Haaker says. "They went to GNCC. They went to Hare and Hound. If there was EnduroCross, they were going to race it. And they were awesome all around. Ty Davis won a supercross championship. He won everything that he entered. That's, I believe, what an off-road rider is at heart, and that's what I think a lot of us are achieving again."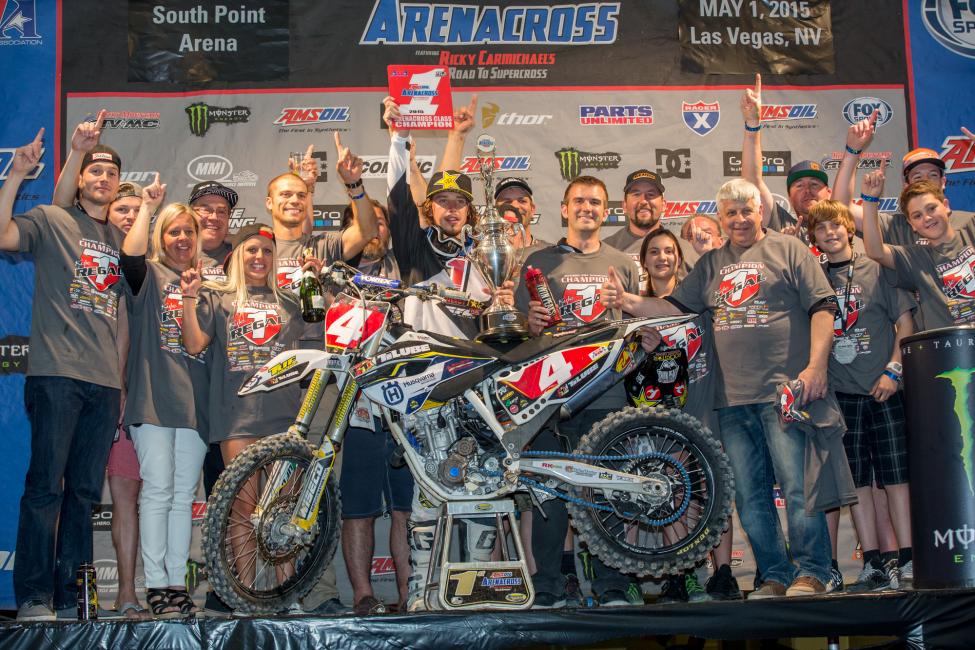 After EX practice I headed to South Point Casino to watch arenacross—me, Matthes, and JT even hosted a live webcast throughout, and it was a star-studded affair with guests like Chad Reed, Tyler Bowers, title contenders Kyle Regal and Jacob Hayes, Arenacross GOAT Buddy Antunez, Justin Brayton, Jim Holley, Wil Hahn, Nick Wey, and others stopping by. This is what the arenacross set wanted from the "same weekend as supercross" gig—big, important people watching and respecting what these riders can do. For a few hours on Friday night, Kyle Regal and Jacob Hayes were at the center of the motocross universe. They were made to feel important, and that's important.
And Hayes vs. Regal delivered, complete with a knockout blow. This wasn't a win by decision—oh, no, it was everything arenacross has always claimed to offer, but this time in front of an audience that was ready to pay attention. Hayes straight-up clobbered Regal in a turn and smashed his own bike in the process. Coolant came spewing from the water pump like a geyser just for dramatic effect—it was the best water show in Vegas this side of the Bellagio fountains.
Now, taking a dude out to try to win a title isn't the most honorable thing, but it's somehow fitting for arenacross. This is a series that hangs its hat on aggressive racing, a series that features built-in rules to mix up the points and the starts and the results. It's a race, but it's also a show, and we'd just spent five hours on a webcast saying "Anything can happen!" so you can't say this wasn't expected. Or exciting! Hayes didn't win the title, but he's more famous now than he was last Thursday. Regal becomes the reclamation project of the year. When you're the little series, any attention is good attention, and these guys both got some.
After I interviewed Regal it was back to the Orleans, because EnduroCross was still going! Haaker won the race and took the points lead. He and Webb will probably duel all year long, each trying to raise their profiles—and the sport's—as they go. Do you think it's a coincidence that the EnduroCross opener took place in Daytona during Bike Week, round three took place in Las Vegas during the supercross weekend, and the finale takes place in Ontario, California, right in the heart of the SoCal industry?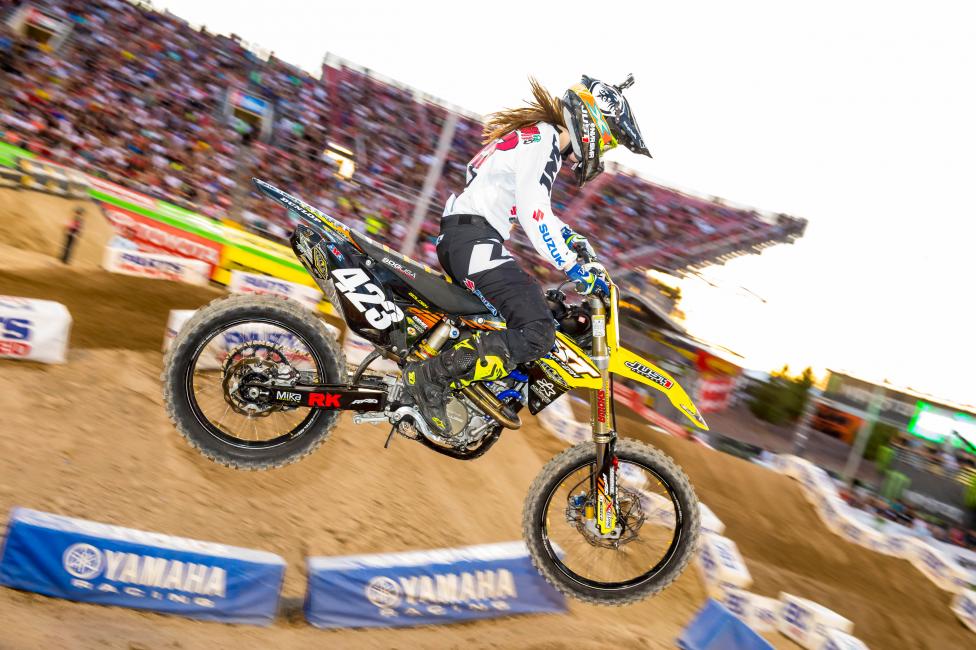 Supercross came the next day, and Marvin Musquin vs. Cooper Webb was about to take center stage. It was the only drama left for SX 2015 … until Webb crashed out in practice. Too bad, because it was fixing to get good.
Webb's injury only placed more attention on the lack of entrants in the 250 East-West Shootout. Without points or a shiny new truck on the line, a lot of riders chose to save it for the Nationals. This is not a move I'd recommend, because we all know in the fickle world of supercross, one race win can make a career. (Okay, Musquin holeshot and checked out, but that's hindsight. If Musquin had crashed in the first turn, the door might have been open for someone to take a first career win, plus big bonuses. And by the way, the Vegas race did have an extra-large purse. One SX win can make a career—just ask Darryn Durham, who won in New Orleans in 2012 and had to miss basically three full seasons of racing until he finally ran out of chances. Or Josh Hansen, who won at Indianapolis in 2004 after James Stewart crashed out in practice, then got a mega-dollar KTM ride the next year. Any chance you have to win your first supercross, I say you go for it.)
There was one 250 rider who took full advantage of the situation, though: Vicki Golden. She finally made the night show, becoming the first female rider to do so. Some wanted to talk trash on the deal because the small field improved her odds of making it, but the facts are she was thirty-fifth fastest out of forty-one riders (Webb didn't record a timed lap), so she wasn't the slowest rider out there. She also didn't finish last in her heat (she finished seventeenth) or LCQ (sixteenth). If you don't think she belonged, you've got to say the same about the riders she legitimately beat, and I don't see anyone blasting the dude who finishes sixteenth in the LCQ any other week.
Of course, she got a whole lot of extra attention, including cameras on her while running well outside a qualifying position in her heat. Some will say that's fair and some will say that's foul, but it was all in character for the weekend. Everyone was getting a little extra attention anyway.