Hangtown Motocross Classic
Rancho Cordova

,

CA
Race Center: Hangtown
Lucas Oil AMA Pro Motocross Championship
As they have for the last nineteen years, the red seats of Sam Boyd Stadium in heat stricken Las Vegas stood over the last dance of 2015 Monster Energy AMA Supercross, an FIM World Championship. Later in the night, those seats would be filled with fans looking to watch the last battle of the season. Well under the radar sat Justin Barcia. Battered and bruised—both physically and psychologically—the last five months have been brutal for the normally sensational Yamaha racer.
After a somewhat slow start to the season—Barcia only broke the top five once during the opening phase of the stadium tour—things went from bad to worse when "Bam Bam" was badly hurt during a mid-week test session before San Diego. Having healed up during the ensuing weeks, he finally returned to the fray at round thirteen at NRG Stadium in Houston to try and tune up before one curtain came down (supercross) and another curtain was drawn up (motocross).
Coming off a disappointing three-race run that included Houston, Santa Clara, and East Rutherford, Barcia was now in Vegas and trying to keep his head up.
"I guess I'm excited for this supercross season to be over. It was a tough year," Barcia sighed while sitting upon a workbench stationed in the JGRMX team transporter. "There were a lot of things going on, and nothing worked out the way I wanted it to, both on the track and off the track. It was super-challenging for me. Right now I've just been working hard on outdoors and trying to get in the right places so I can do that. I just want to charge into outdoors."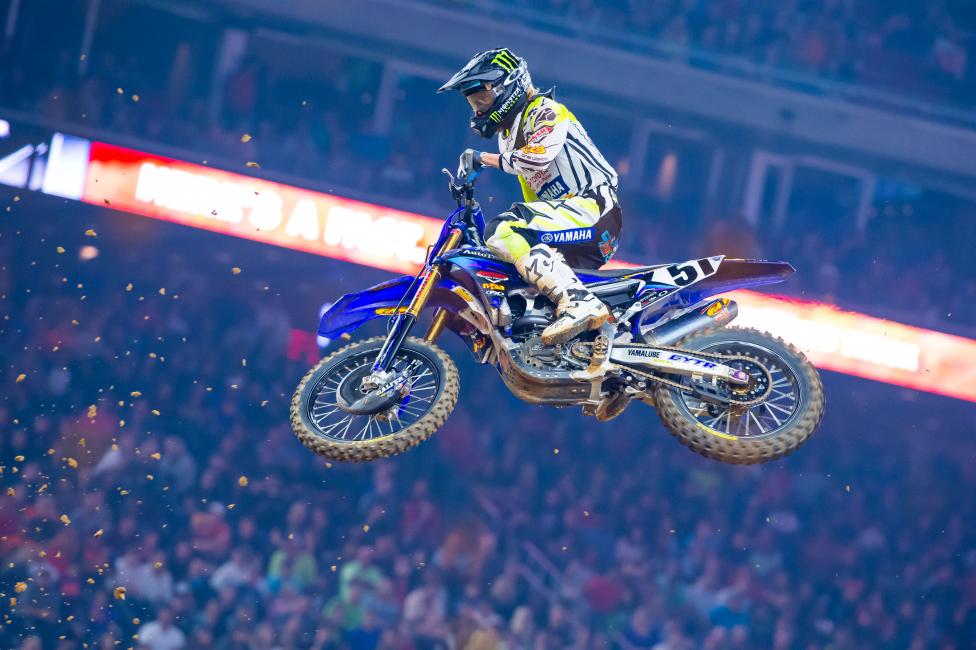 Straining to remain as positive as possible during this Las Vegas fly-by, Barcia conceded that he really wasn't yet up to speed from the practice crash that cracked his pelvic bone.
"I feel alright, like I feel good on the bike and stuff like that, but the speed I have is not quite race speed yet," Barcia admitted. "I'm probably at 60 or maybe 70 percent, I guess you could say. Physically, I feel good. I'm just a little slow on the bike. I'm healed-up for the most part, but I had some big crashes in Jersey last week, so that kind of set me back a little. But, yeah, training-wise I've been riding my bicycle a lot and doing a lot of outdoor motos. I'm just kind of focused on that and finishing off here in Vegas and staying safe and healthy, and look to the outdoors."
The beauty of racing the American circuit is that if the supercross season doesn't follow the planned script, a second chance is afforded in the shape of the Lucas Oil Pro Motocross Championship. Staged on the sweeping, high-speed, natural terrain circuits of this nation, it's full-on motocross in every sense of the word, and it's a word Barcia likes the ring of.
"I feel good about outdoors," he said. "I go to California next week to do some testing and ride some different racks. I'm excited. I think it will be good. I really want it to be good, and I feel it can be good. Our bike is extremely fast and we've got the suspension dialed. Yeah, it'll be a good year."
By working through his injury and the subsequent rehabilitation that came with it, Barcia kept himself in reasonably good fighting shape. Furthermore, while his closing segment of supercross hasn't lit the world on fire, it has allowed Justin to race himself back into form and to be prepared for the drop of the gate at the Hangtown Motocross Classic.
"I really do think I'm ready. I'm definitely going to Hangtown to be in the fight, for sure. I want to be in the championship hunt," Barcia said. "I feel like it's definitely possible, and I feel like I should be battling for wins and podiums all year and staying consistent. My supercross season, in the beginning, I was super-consistent and was near the top five and stuff like that, but that's not what we were looking for. It wasn't going to plan, but I was more consistent than I have I've ever been. Then I had the injury. I feel like outdoors will be good."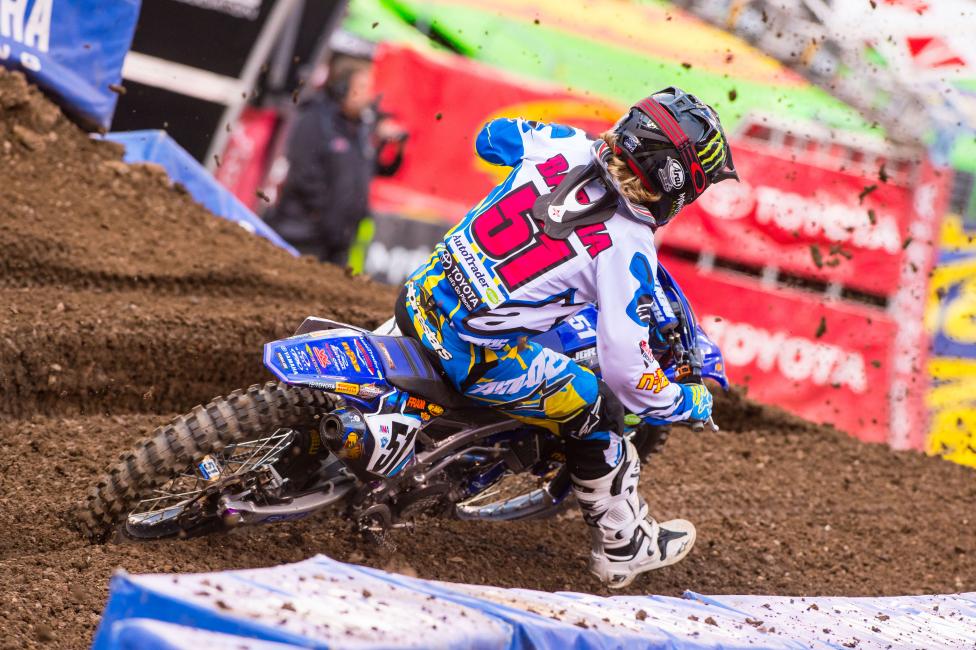 A rough-and-tumble year thus far and one he is very eager to recover from, Barcia admitted that it has been tough, and will be tough, to try and remain patient on the racetrack. He's hoping to rebound with strong results, but he's getting tired of waiting.
"Oh, for sure it's hard to stay patient!" he says. "And then when I come back to the races I'm not ready, it's definitely super-tough. There are over five guys that are going to be fighting for the championship this year. It will be a tough one, for sure. I definitely won't be happy if we're not on the podium a lot, and we should definitely be winning some of those races, for sure."