TUF Racing/TiLube Rockstar Husqvarna's Kyle Regal grabbed this year's AMSOIL Arenacross Championship in dramatic fashion, keeping his cool when title rival Jacob Hayes tried to take him out. But Regal's been through much worse than a block pass or two, as just three years ago his once-promising professional career appeared to be over. With arenacross he's found a new home and a new lease on racing, and he's not ruling out another try in supercross someday if he could land a solid 250SX ride.
For now, though, he'll just celebrate this championship. We talked to Regal after the smoke cleared.
Racer X: You've won the title. How does it feel?
Kyle Regal: I don't really feel like it's sunk in yet. I felt like it would be a little bit different, but it's been a deal where I've worked hard all year all long. It was hard work today, and I don't really feel like it's settled in yet and really hit me. I'm pumped. The whole team's been amazing all year long, and I can't thank them enough. The Husqvarna was something that I was questioning when I first made the decision, and the reason was, when I got the bike from the factory I ran sixty-five pounds of air for the first two days I rode it. As soon as I dropped the air pressure I said this bike will win. I've been on a program all year long. It's hard work during the week, but obviously it pays off when you're winning races and obviously winning the championship. Doesn't matter how hard you sweat and how hard it gets; it all pays off now for sure.
After the first main event—Jacob Hayes got the win in that one—what was the plan going into main event two? Tell us how you were feeling going into that one.
Honestly, I approached the whole day that I wanted to be the fastest. I wanted to be the guy that was the fastest. I wanted to win everything, but it was a deal where I knew I had to win. I felt like I didn't get myself in that position in the heat race. It goes by quick, and in the heat race the track's pretty easy, so a lot of guys are going fast. It was a fresh track. The Lites guys hadn't even ridden it yet, because we had a different schedule tonight. Usually the Lites guys race before us and then they get all the lines in, so when we came out for our first heat it was a wide-open track. The whoops were easy. Then, by the end of the night, I felt like in the first main event I was the guy to win. I felt like I had a lot of speed after the rhythm section to the finish line. So it was a deal where I was killing the sweeper, killing the triple out, and I felt amazing through the whoops. Like I said, the bike, all year long I've felt like I've been the best through the whoops. It might have been almost too good because I caught [Chris] Blose too fast and I couldn't even react when he got squirrelly. I just stayed committed and it didn't pay off and I smoked his bike over the bars. Clutch lever was bent straight down, so then I didn't have a clutch. Somehow I got up, got going. I was like, man, he's [Hayes] in first. There's a guy in-between us. I would really like to get second, and I did that. So then it was a one-position race for the second race. It's not like supercross—there's only one point between each finishing position here. So if I finished behind him [in the first main] all I had to do was beat him in the next one. I knew that and I just kept grinding. Once I caught him it was a deal where just set your sights on him. I just kept going, kept going, kept going. If I would have tripled out the last lap, I think I might have even got him in the whoops, but I messed up in the rhythm section, struggled with that a little bit. That was one of my main focuses tonight, was getting the on-off clean in the rhythm and then tripling out. And I missed it on that second to last lap, so I ran out of time.
[For the second main] got the bike put back together. We had to change a couple parts and the whole team was on it, kept me calm. My trainer, the whole time, he's just like, one race at a time, one race at a time. That's how we approached the day. Every time I approached the track, it was something new we were trying to get better at. I feel like that worked to my advantage. The second race came off the start and we were locked bars, me and Hayes, all the way through the tunnel. I was literally on the right side in the wall. I don't even know how I saved it. Muscled back to the left, got him, and then came through the whoops pretty decent, I thought. No one could be really that close to me how I hit the whoops. And out of nowhere I get blown out right here on the track. And when I got put on the ground I was like…
What was your first thought at that moment?
I was like, you've done it before. You just did it in the race before. You can win this—you can come back. You've done it before. Put it down and when I looked up I saw his bike explode in smoke.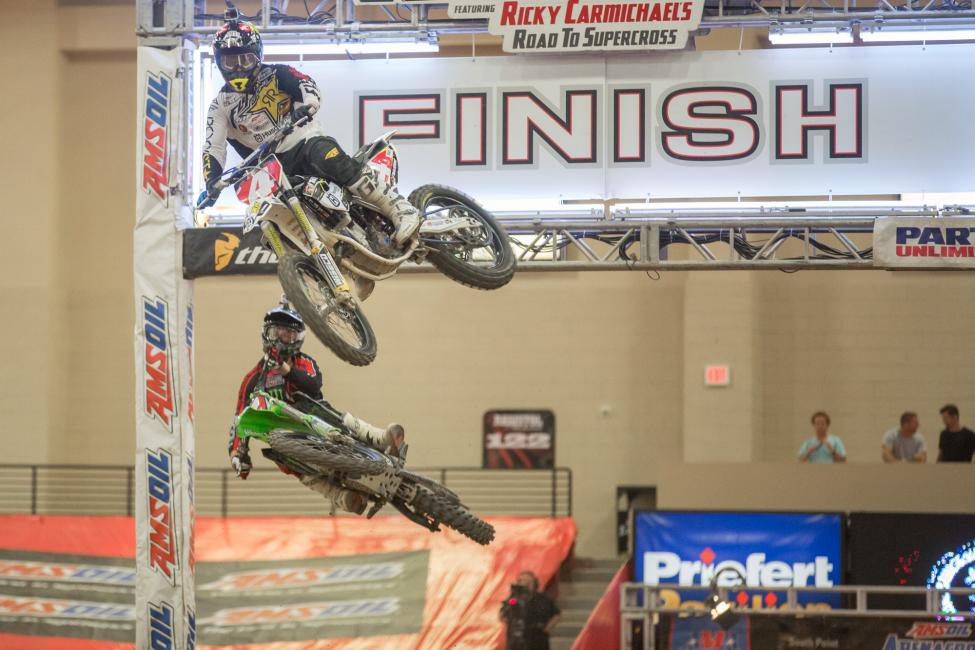 So you knew?
I knew his bike was smoking, but this has happened to him before when he hit my teammate and his bike didn't blow up. So obviously first comes to mind is charge back, keep pinning it. It's a fifteen-lap race—anything can happen. I saw him like a straightaway ahead, and I caught him from a straightaway behind in the moto before, so I was like, you can do it again, you can do it again. Just kept pushing him. About two laps later I saw him rolling [jumps]. He rolled and then he tried to clean me out in a turn. And then I was like, "Man, you can't race like that." That's how he's been racing a lot all year, and I knew it was going to come down to that. But I felt like when he hit me the first time, when he cleaned me out and his bike exploded, I felt like he knew it was a position where he knew I was faster and he had to make a move as soon as he could. If he didn't do it there, he wouldn't have had a chance. Don't blame him for that, but sometimes karma sucks and comes around to bite you.
So were you unbelievably pissed off, super angry when you were on the ground, or were you actually calm enough to say "I can come back?"
I was 100 percent calm and came back. I wasn't mad at all. Obviously I was mad I got cleaned out, but it was a deal where I've been put in that position and I knew what I had to do to grind back. It comes back to my program during the week. Days like this are a little bit easier and that's not exaggerating. I bust my ass during the week and it's a deal where it's harder during the week. My program during the week is harder than the race day. Stuff like this, just rebound back from it and, like I said, I knew there was fifteen laps.
You're an arenacross champion now. What's next for Kyle Regal?
Honestly, I made a deal with myself that I want to maybe do a couple select outdoor races, and if I can maybe get a little support from Husqvarna and maybe do a little two- or three-race deal. I feel like I'm really strong outdoors and that suits a lot of my style. I feel like coming off a championship and stuff like that… Going to have a little bit of fun here tonight, and then back on the grind come this next week and training my kids that I have during the week. That's my summer job, is teaching kids and I love doing it. I'm going to continue doing that and maybe do a lot of riding with them.
You were so good outdoors at one time, but your supercross experience, you don't actually have a lot of races under you belt. I'm almost surprised that you adapted to arenacross this quickly. Did you expect to pick it up as quickly as you did? Two seasons, you're a champion.
For sure. It's been a deal where if anyone knows my past, when I used to live at Underground, my parents owned it. Chad Johnson, ex-arenacross champion, I used to train with him when I was like 15, 16 years old. So I got a lot of experience, and even him in my corner through that, I've seen what he's gone through. And, yeah, I could have been 15, 16 years old at the time, but you actually learned a lot of the technique and saw what he was going through when he was going for championships. I just felt like I was in a good position, obviously, to learn from him and just use it to my advantage.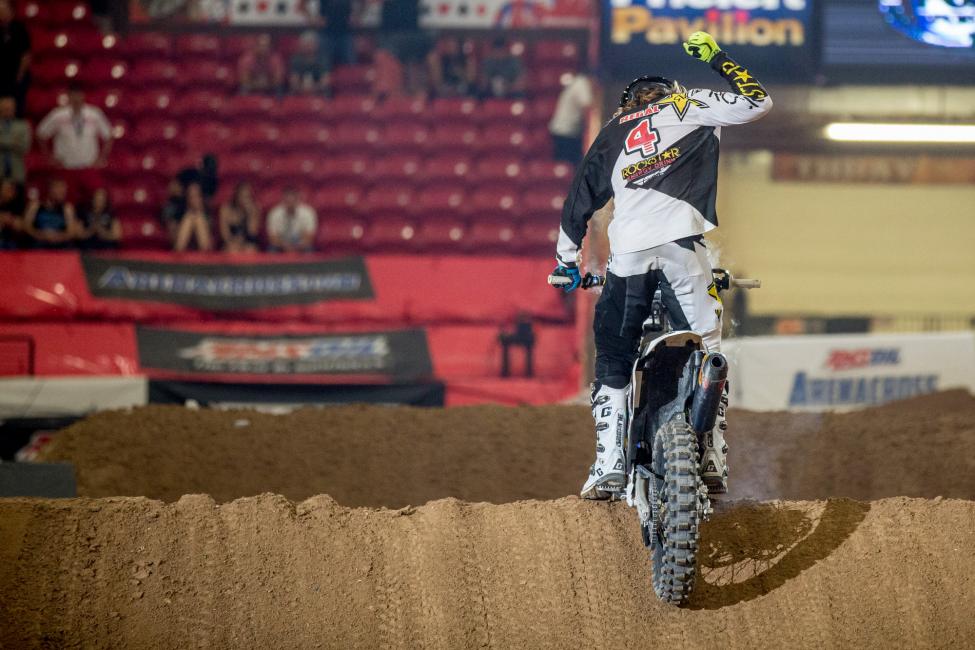 This year you kind of got off to a slow start, but midway through the season you started winning, and then you didn't stop. What changed?
Honestly, I felt like my program was lacking a little bit at first. We got the bikes a little bit late. But if you go back to the first round I was leading the first round and checking out and then I ran into the wall. And with the inversions [inverted starts] and stuff like that, sometimes it doesn't put you in a position to win an overall or get you into a position to win a race because the races are so short. But at the beginning, I think it was the third round was when I got my first win, and then after that it just came natural. Once you get the first one out of the way—it's literally what everyone says—once you get the first one out of the way, you just keep cranking them out.
From where you were two or three years ago when supercross didn't work out. Then it all kind of flamed out with a JGR deal outdoors; you had injuries. Did you expect to resurrect yourself like this? I'm sure there were some dark days.
For sure. I actually was on the Pulp show this week, and Kenny Watson had brought it up. He goes, "Dude, I'm super proud of you." But it's been a grind. I know the downward spiral. You see rider after rider go down it and then never come back. It was a deal where you just got to come out of it. You got to believe in yourself and no matter what keep working hard every day. Like I said, my program during the week has been insane this year, and I feel like it shined throughout the season, especially here as of late. No matter what the situation is. I was coming from the back row I think the last…this is the only one I haven't started in the back row the last three weeks. To come from the back row and even get on the podium is something you don't see often in arenacross, and I felt like I did a good job with that. Taking advantage of the inversions and getting good starts from the back row has been one of my strong points. I did the work and I was able to do it.